As I might have already mentioned before, one of my favourite things about Morocco as we went around for 14 days, was how different all the cities we visited were. I'm not just talking about how different the landscapes were, even though of course they were as well, some being larger coastal towns, some larger cities inland, some located up in the mountains or in the desert etc. The vibes and atmospheres of the cities also changed, if not more then at least just as much, as the sceneries.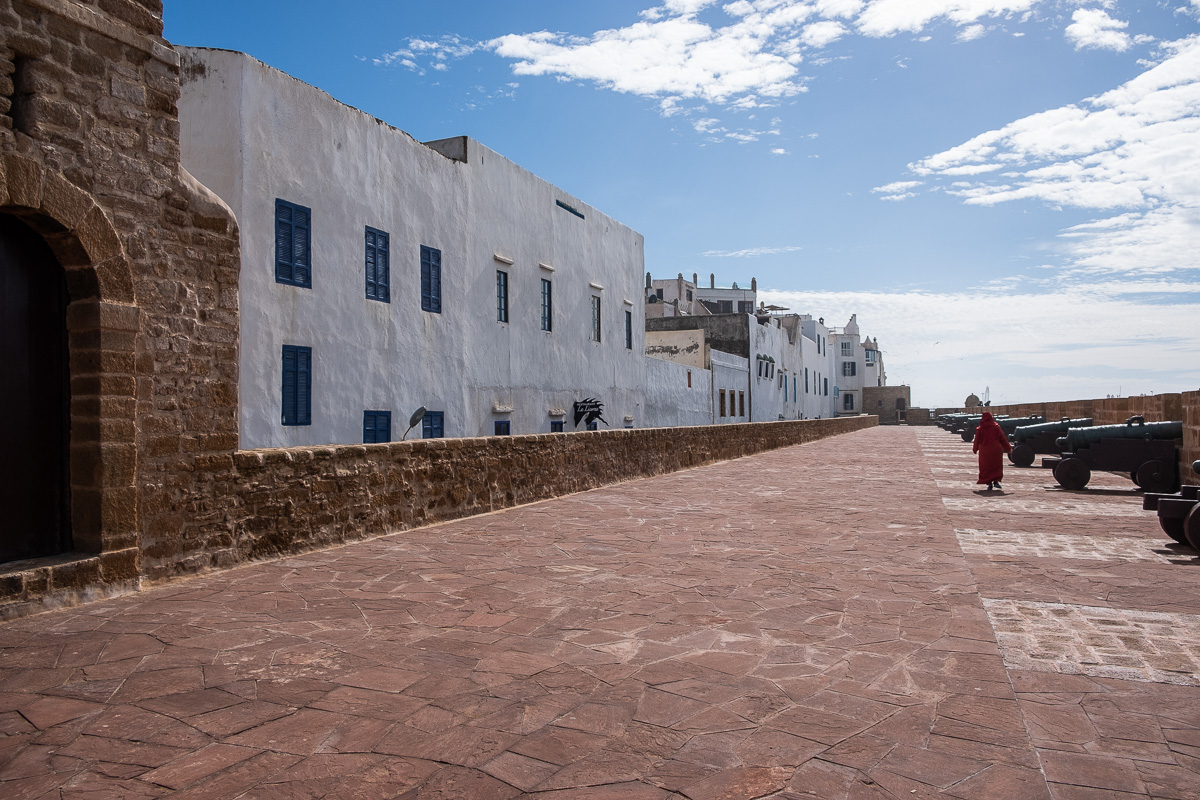 Essaouira, which we sadly only managed to make time for a day trip to, is a coastal town south in Morocco, about a 3,5 hours bus drive from Marrakech, or 3 hours from Agadir. Shortly after we'd arrived the city, I could already sense that the vibe of the people in this city was way different from the more hectic vibes of Marrakech, which we came from. People seemed more relaxed, maybe even more friendly, but not in a "I will smile to you now, so that you might buy something of me in two minutes" kind of way. I instantly enjoyed Essaouira.
Both the architecture in, and the medina of Essaouira, are listed on the UNESCO World Heritage-list, and Essaouira is an old city, dated as far back as the year 100 before Christ. Essaouira, also called "The windy city of Africa", was popular amongst pop stars and hippies in the 1960's and '70's due to it's relaxed vibe, and even though I only visited in 2018, the vibe definitely attracted me as well. Essaouira is still to this date very popular amongst surfers, but because we visited Essaouira in November, aka winter, we did not hit the beach.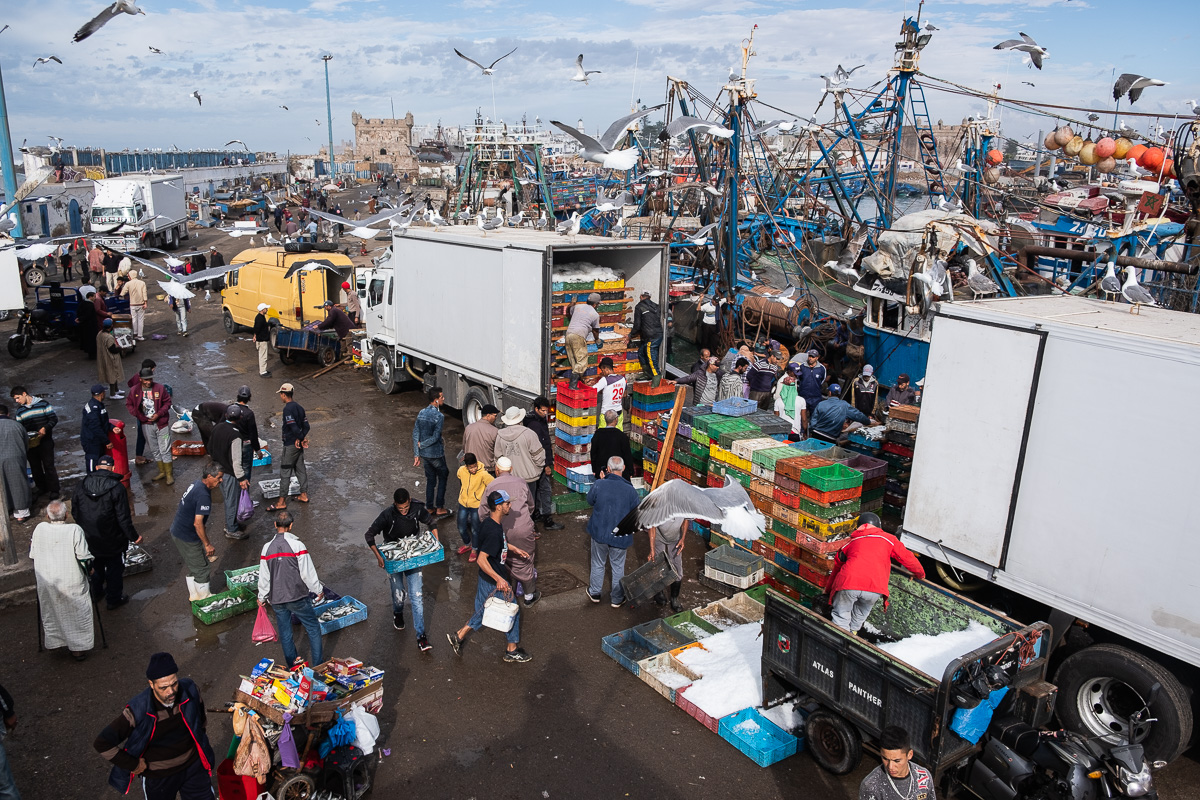 The Essaouira fishing port was our first stop, and boy did we get lucky. We arrived at the fishing port just after numerous fishing boats had come in from sea, and the port was flocked with seagulls, fishermen and curious tourists. So many perfect motives for two photography geeks! "Well, if neither of us gets pooped on by these seagulls it's a miracle", Thomas laughed as we entered, cameras click-click-clicking, and the both of us dancing around to avoid said poop.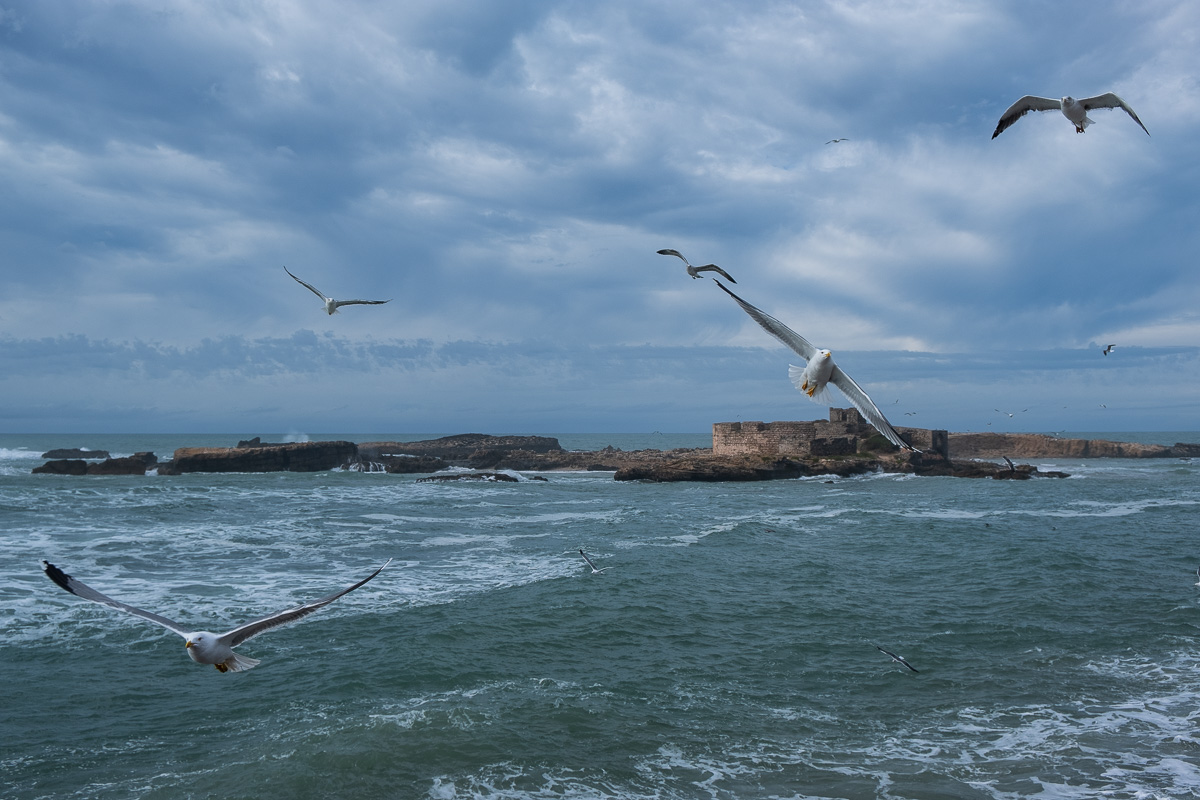 Even though it's Chefchaouen that really is "the blue pearl" of Morocco, Essaouira definitely has a lot of blue as well. Flower pots, small boats, window frames, all lovely painted in shades of blue. The fishing port is definitely a must see!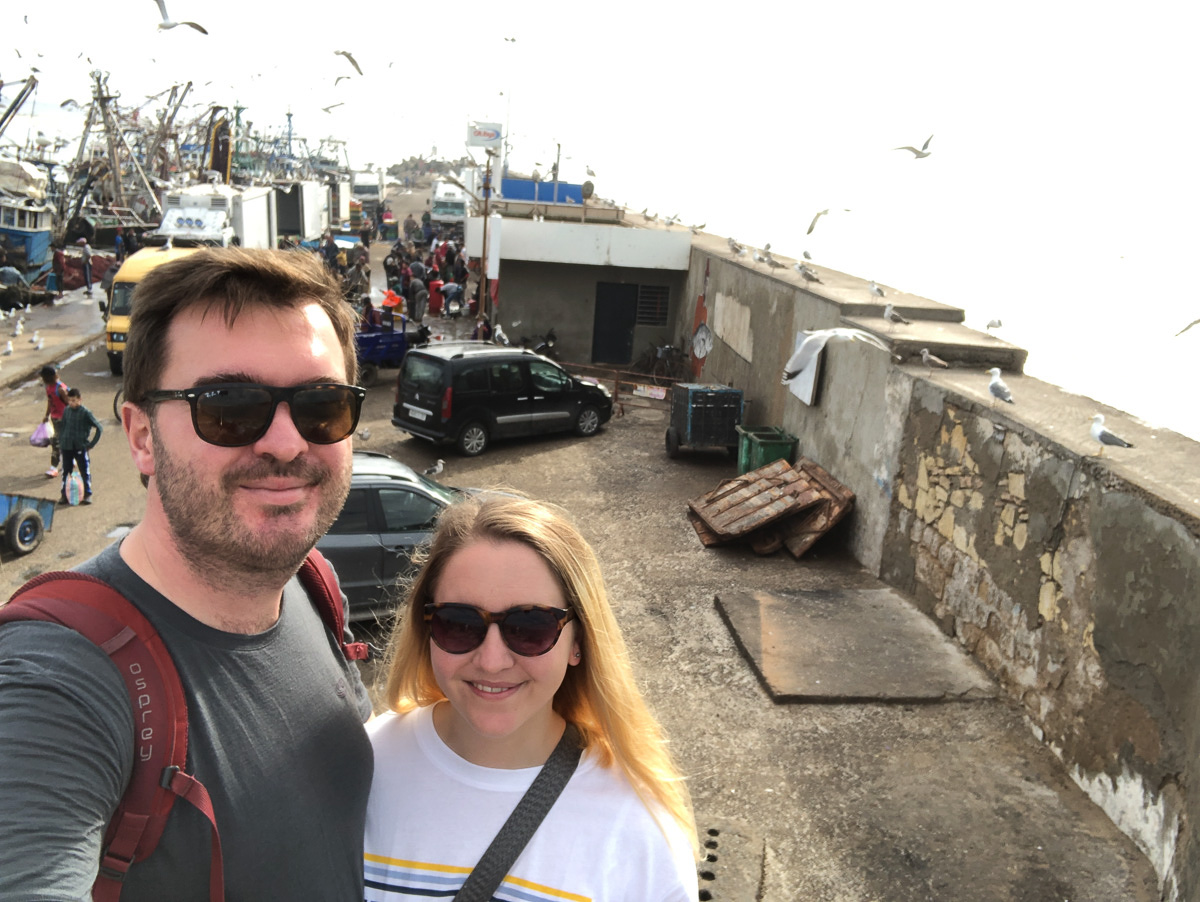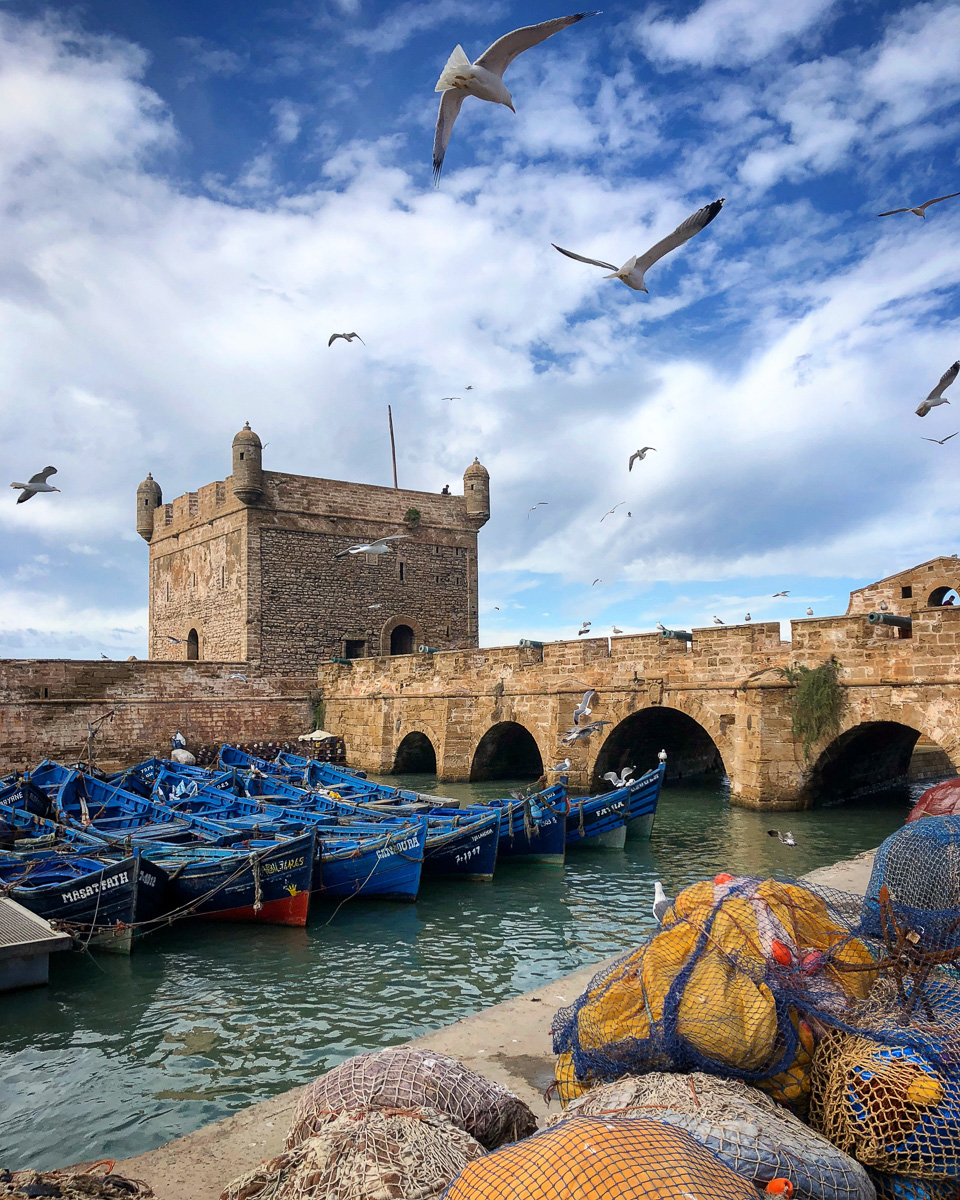 Even the busy fishermen seemed more relaxed than most of the inhabitants in the other Moroccan cities we'd visited, a smile to a fisherman, and pointing at his fishes while pretending to take a photo of it (while keeping my camera down, I'd learned how stressed a lot of Moroccans seemed to be at having a camera near themselves) earned me a huge smile and access to the fishes.
As we tumbled out just outside the most busy part of the fishing port, happily realising we had indeed managed to not get any poop on us at all, I noticed a man. Or, to be honest, I smelled something cooking, and turned my head, and then saw a man. He was standing next to a grill, BBQ-ing fresh lobsters. Much to my amusement, again my question of taking a picture granted me a smile also here, and when I asked if I could take one of him as well, he willingly posed for me.
The medina of Essaouira also felt more relaxed than in the others cities we'd been to. We also had the time to check out a few galleries, and some smaller shops where craftsmen willingly showed what they had up for sale, and offered freshly brewed Moroccan mint tea. Again I noticed how much more relaxed the people in Essaouira seemed than in Marrakesh, a friendly smile while shaking my head and saying no thank you to offers of buying carpets, jewellery or paintings resulted in nothing more than a smile, and a few "have a lovely day".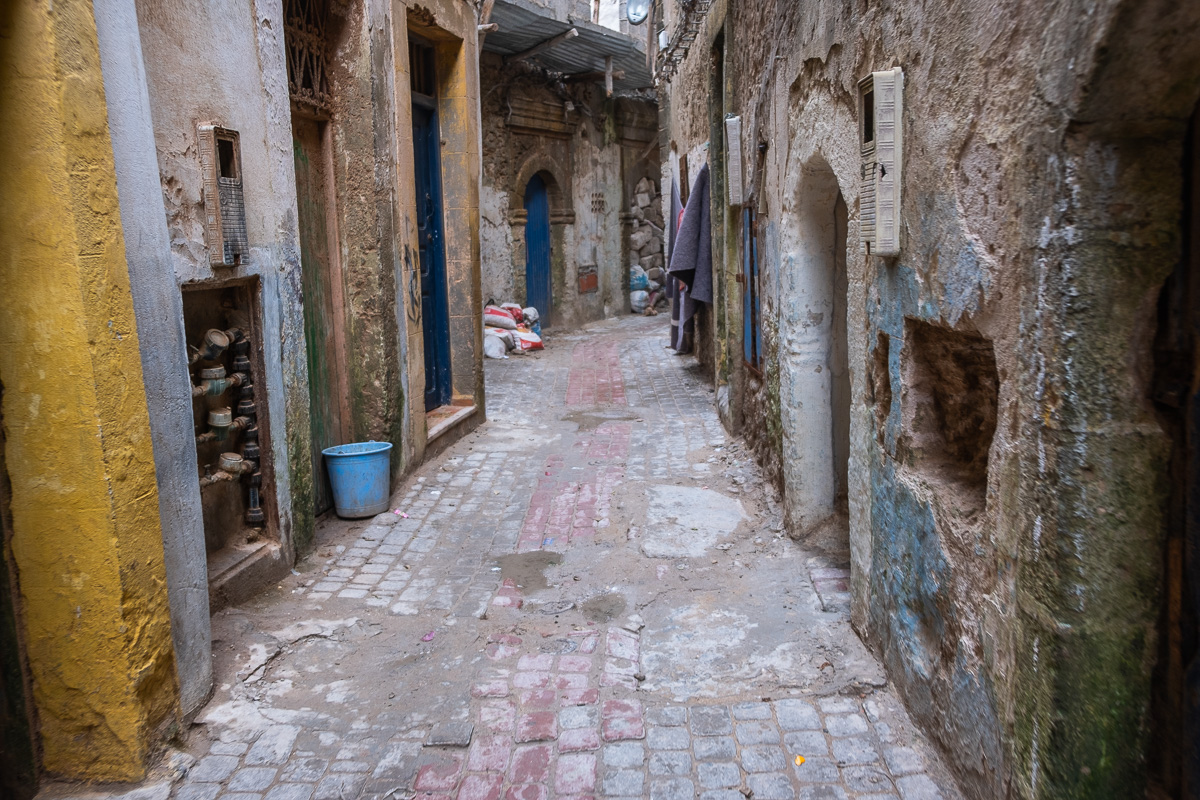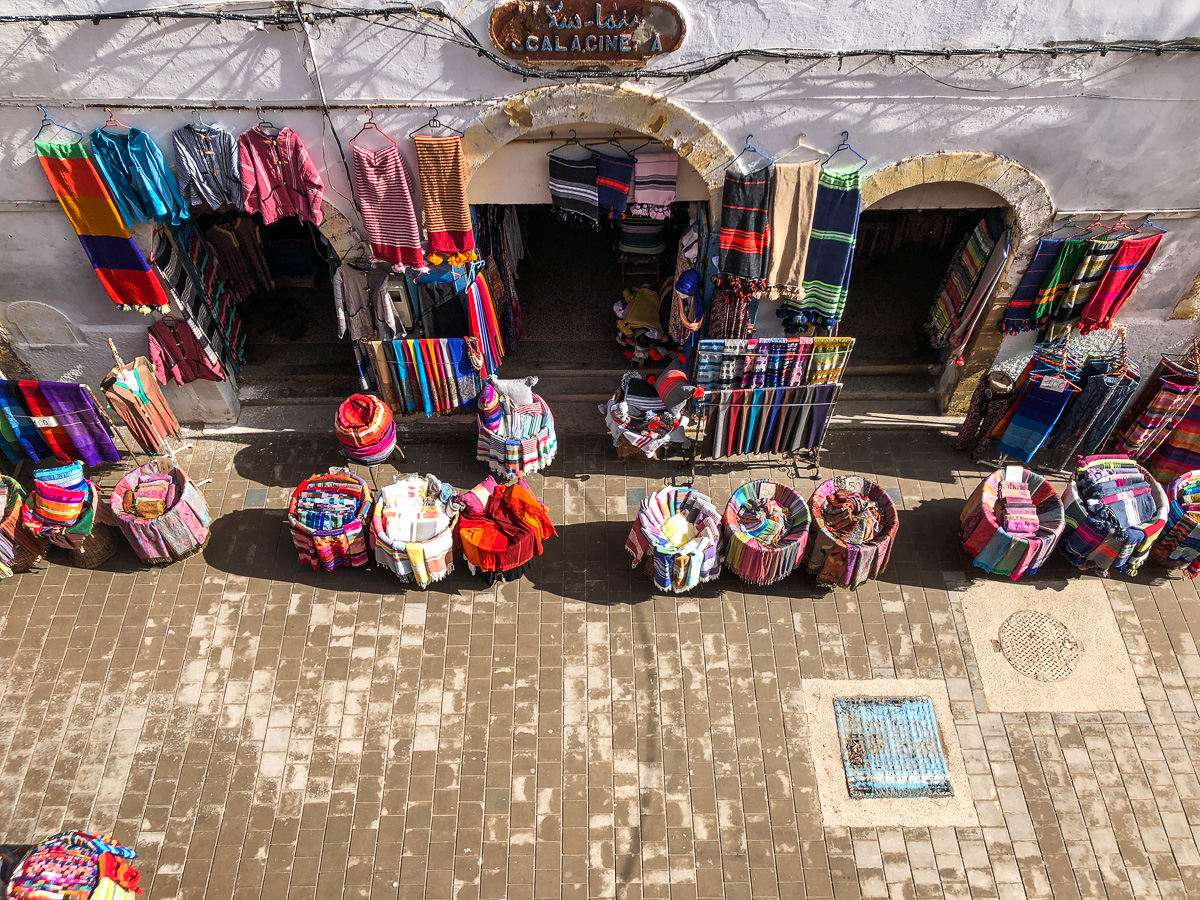 Between walking at the fish port, and getting lost in the medina, we of course made sure to get enough coffee, ice cream and food. And Essaouira had it all! We tried everything from an actual decent ice coffee (actually pretty hard to come by in the tea loving country which Morocco is), freshly pressed juice next to the sea, lunch from a local kebab shop with a really friendly owner and ice cream on the square in front of the port. Oh, and a cone of grilled chickpeas, warm and fresh, gently sprinkled with spices and handed out in a newspaper. Yum!
Just as the rain came in over Essaouira, breaking up the peaceful vibe with people hurrying to save the goods from their shops which was spread out over the pavement in the medina, our bus to Agadir was scheduled. And while I leaned back in the seat, Thomas, a random man and myself being the only one on board of the bus, I saw Essaouira disappear behind us, as the rain poured down. Next time I visit Morocco Essaouira will definitely be more than a short day trip, that's for sure!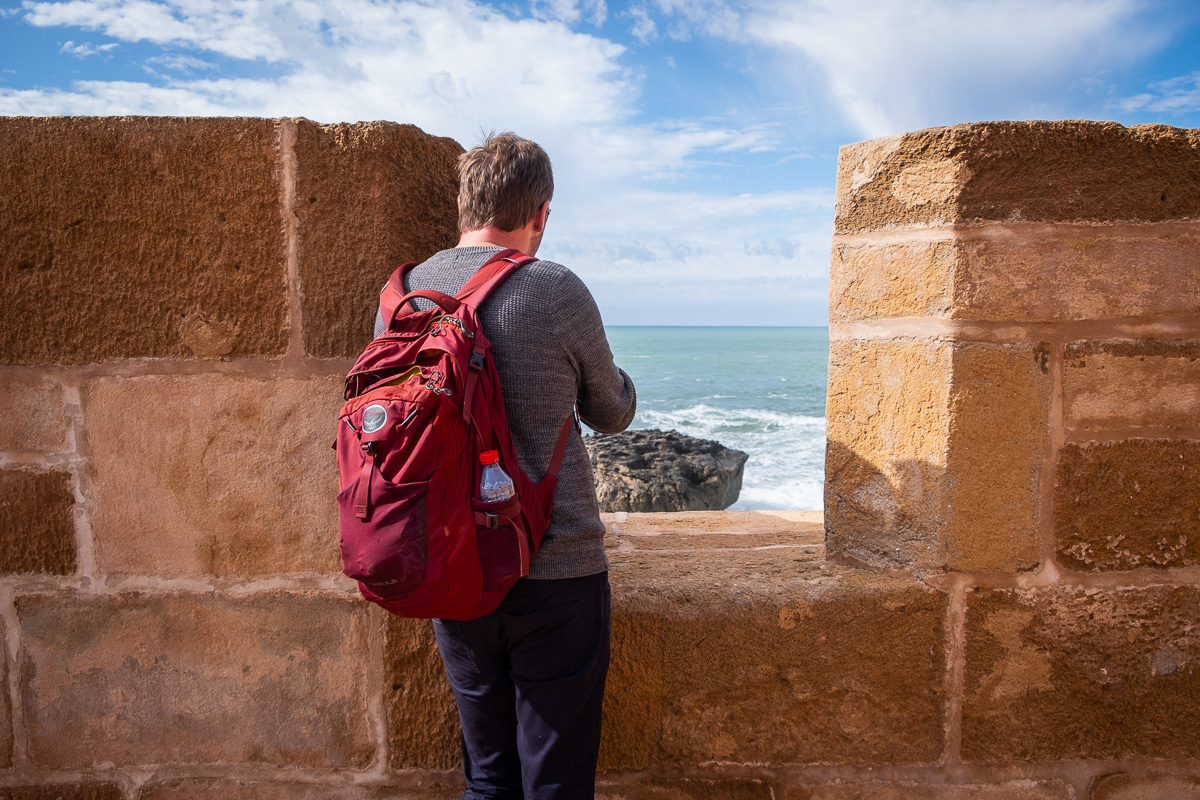 Essaouira daytrip details

Transport method: CTM bus
Location before: Marrakech, 3,5 hours
Location after: Agadir, 3 hours
Price:
Bus Marrakech 80 MAD (71 NOK/8,3 USD)
Bus Agadir 70 MAD (62,65 NOK/7,3 USD)
---
You might also like