With its spectacular nature, tall mountains whom end abruptly and go straight down into the fjords, endless white beaches and those famous wooden fisherman lodges, the islands of Lofoten are a sight for sore eyes.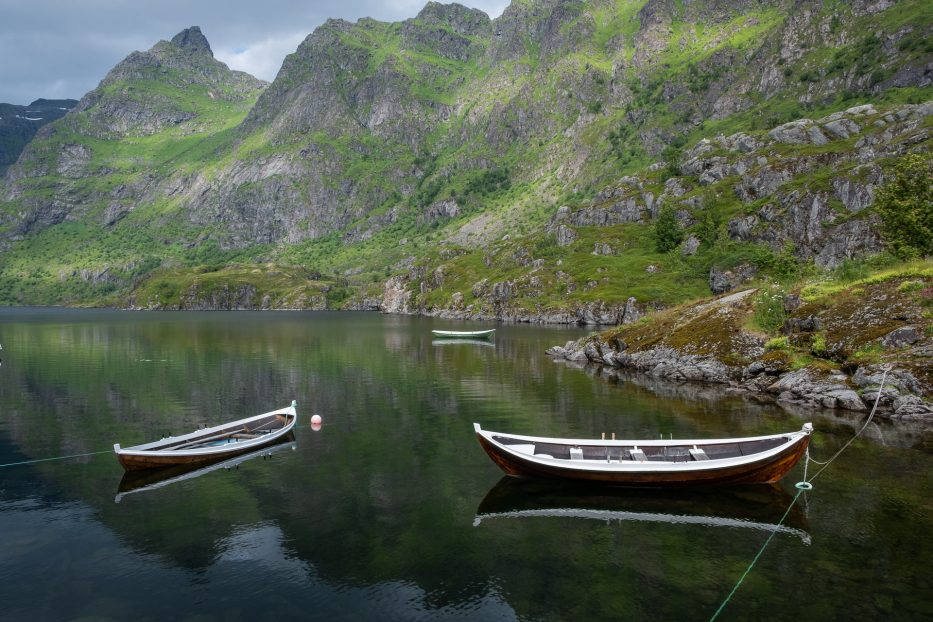 I'd been to Lofoten once before, back before digital cameras was a thing. Ever since, I have always yearned to go back. So when we visited Bodø, which is quite close by, there was not a single doubt in my mind. I had to make Lofoten a priority! And so we did.
We had a very limited amount of time to spend in Lofoten, so instead of spending all our time stressed out in the car, trying to see it all, we decided to just focus on Å and Reine, and spend all our time there. In other words, this means we will have to go back later again to discover more places in Lofoten. I don't mind this a bit. In this guide I will share some of my favourites things to see and do from our brief Lofoten adventure.
---
First things first: How to get to Lofoten
In order to get to Lofoten, you have a couple of different ways to between: driving, flying in, or arriving by ferry. Which option you should go for depends on where you're going from, and where you want to visit.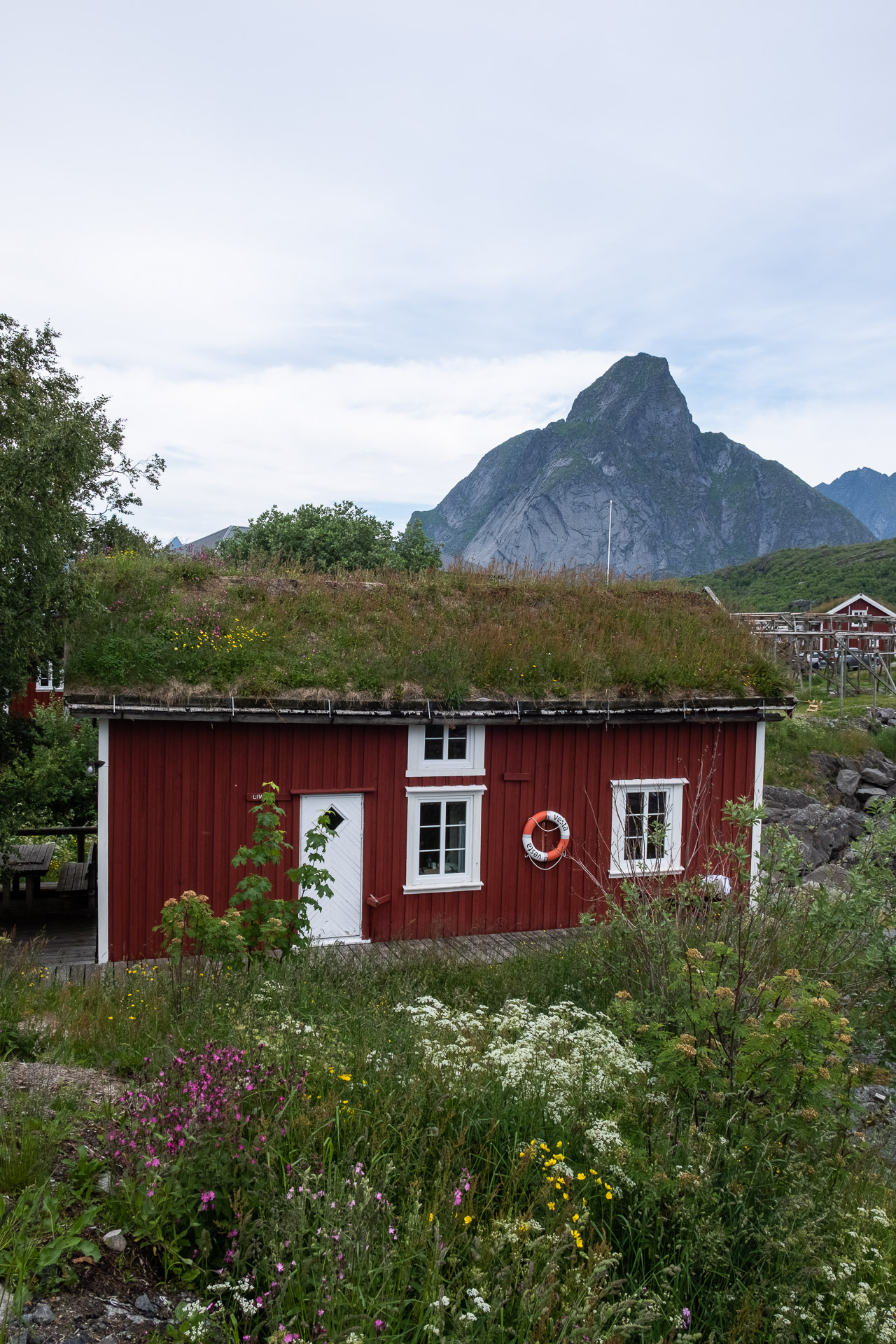 The two airports in Lofoten are called Svolvær and Leknes. You can fly in from several cities in Norway with Widerøe. The closest international airport is Evenes, located between Harstad and Narvik on the mainland of Norway. Alternatively one can also fly into Bodø.
The most traditional way to get to Lofoten is a car ferry from Bodø. The ferry arrives in either Moskenes, Røst or Værøy. How often this ferry goes varies during the year, but it's at least once a day. You can book tickets in advance online for the ferry, but it's also possible to show up on the day of departure and buy tickets directly.
Make sure you arrive early (at least 2 hours before departure) in order to secure your ticket. The ferry is available both for those travelling with a car, on bicycles or just walking. You also have the option to get to Lofoten by Hurtigruten.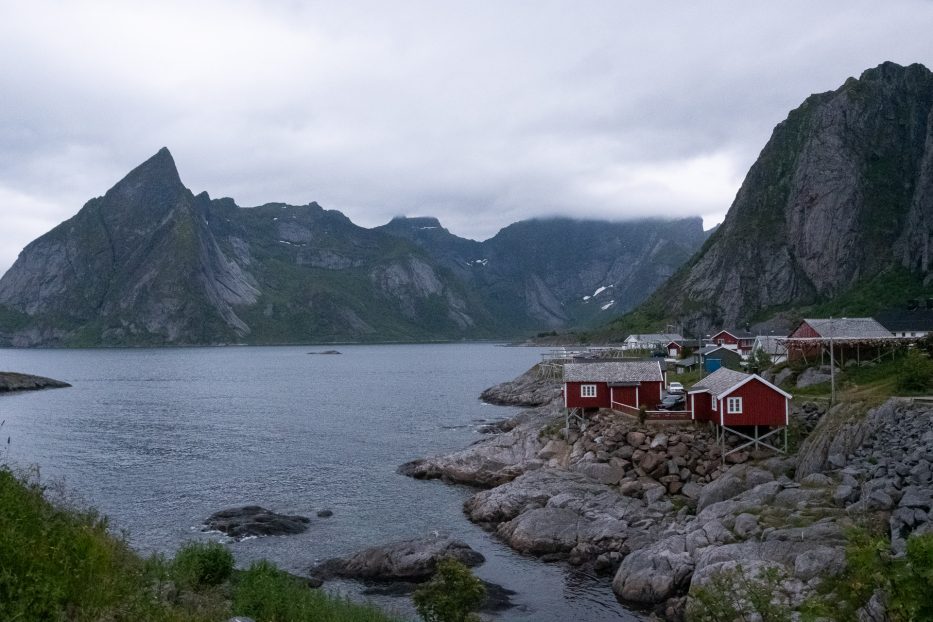 If you fly into Evenes, you can rent a car and drive the E10 in order to get to Lofoten. I have yet to try this route myself, but I've heard it's very scenic.
When we visited Lofoten, we rented a car in Bodø and took the ferry. As we visited during the high season, it was only possible to book the ferry in advance if you travelled with a car (a good thing to be aware of). The ferry ride between Bodø and Moskenes was about 4 hours.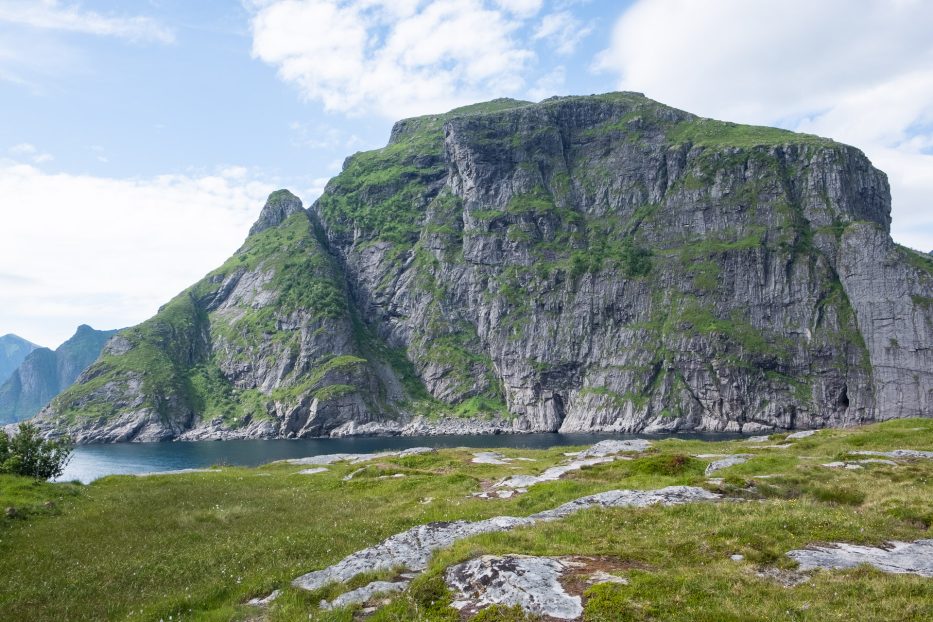 ---
A few things about Lofoten
Lofoten has dramatic nature, with steep mountains and gorgeous beaches. It is both an archipelago, consisting of several small and bigger islands, and a district located in Nordland, Norway. Traditionally, fishing has been the main way of income to the inhabitants of Lofoten. Nowadays the travel and the fishing industry is about equal.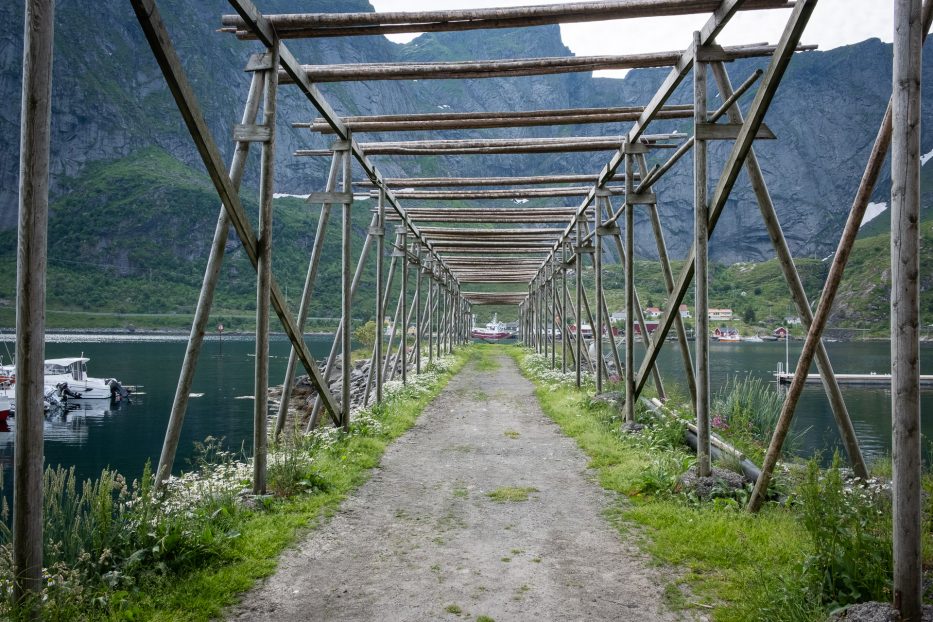 The "No camping" signs
In Norway there exists a thing called "allemannsretten". This is a right which allows everyone to go wild camping outside (with some exemptions being on private ground and a few other).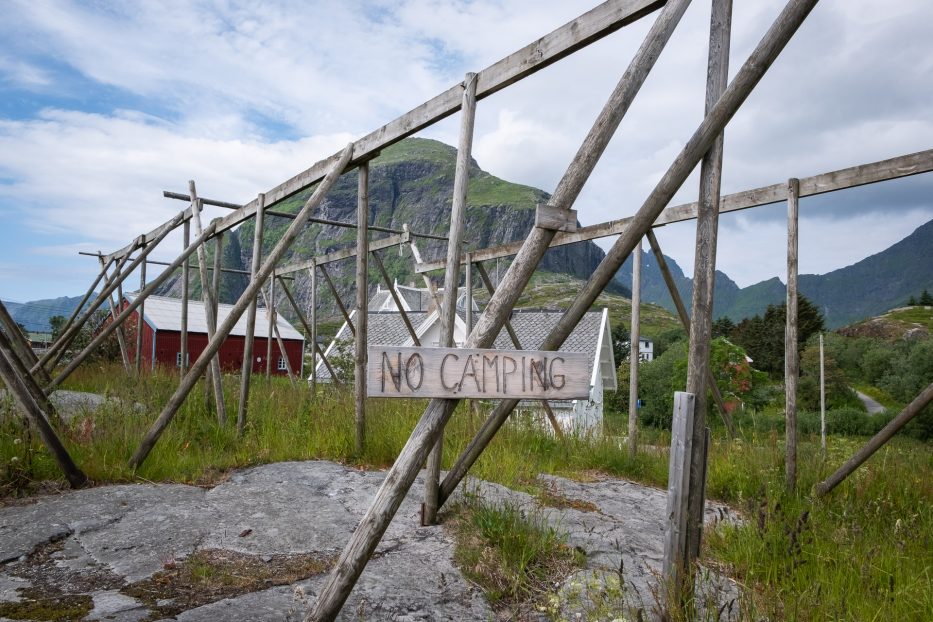 However, during the last years, loads of signs with "No camping" has popped up all over Lofoten these last few years. This usually means the area is private. Please be a considerable tourist, and camp in a designated spot or at least not in someone's garden.
Bridges controlled by lights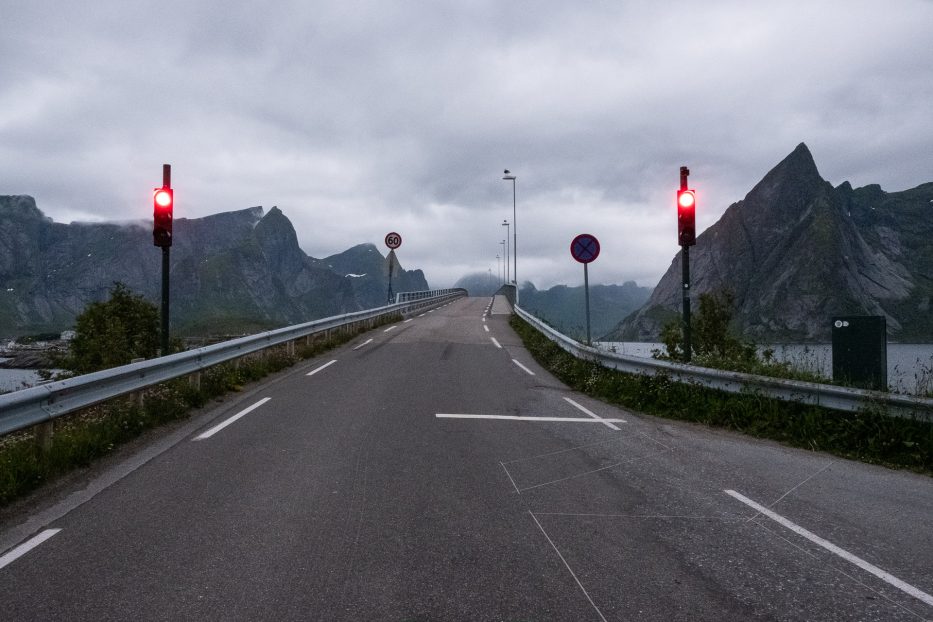 Between several of the islands which Lofoten consists of, there is bridges. These are pretty narrow, meaning there is only one lane. To avoid fully chaos on the bridge, they are regulated with lights.
Stockfish (and dried fish heads)
Stockfish is a product resulting from a long natural drying and maturation process. The fish (which is usually cod) gets hung up on racks from February until the beginning of June. In June they get stacked on shelves in a climate room for another month, before being sorted.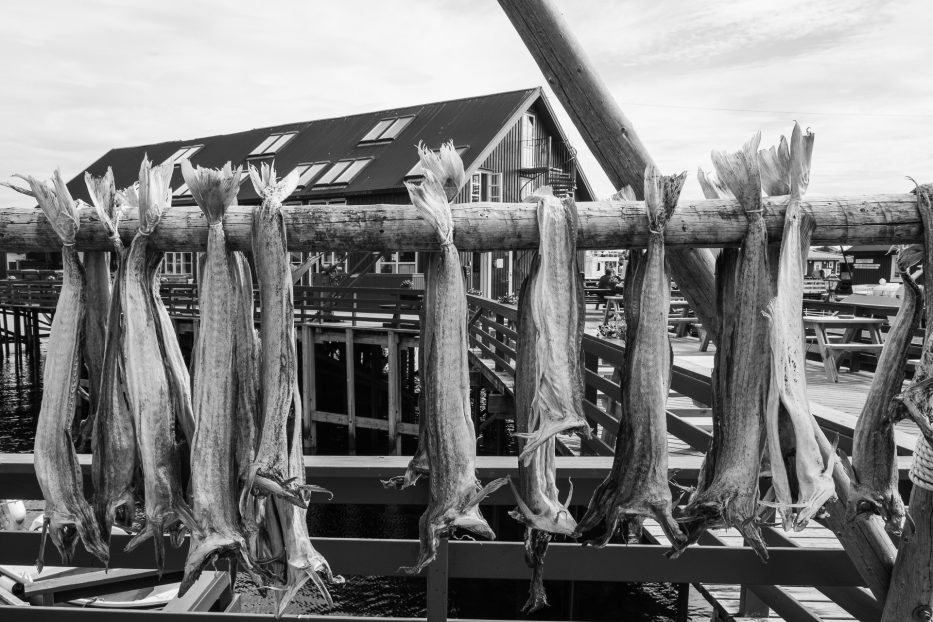 You can also see (and buy) dried cod heads in Lofoten. Most of the heads are sold to Africa, mainly Nigeria, where they are used in traditional dishes.
---
The village of Å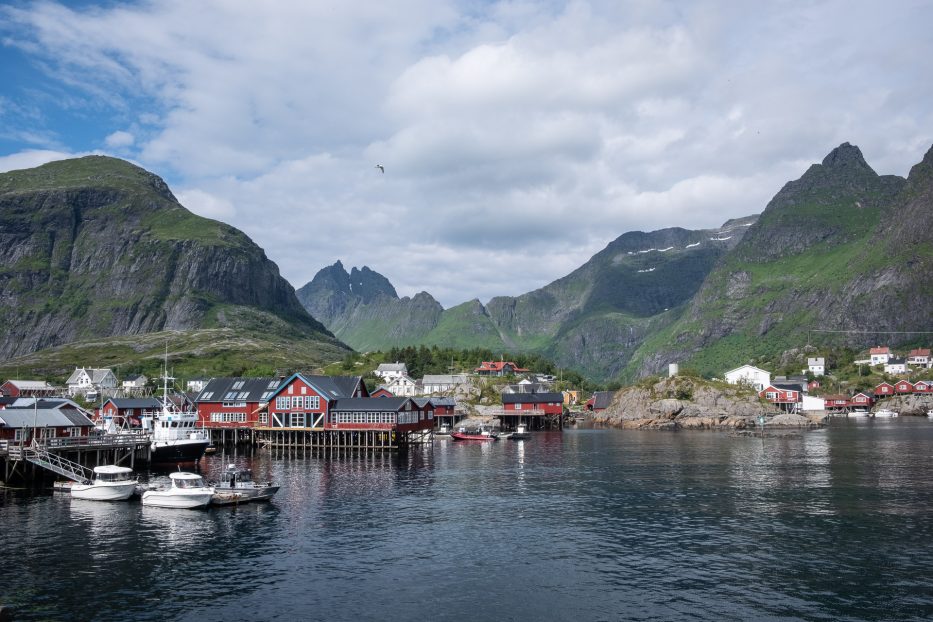 If you follow the road E10 all the way to the end, you end up at Å. Å is both the last letter in the Norwegian alphabet and the southernmost small village in Lofoten.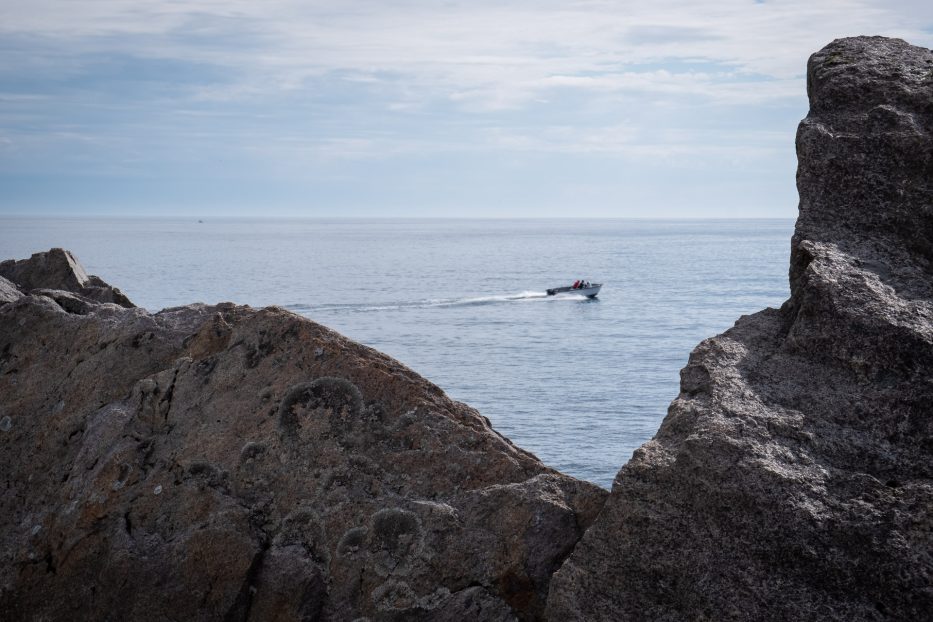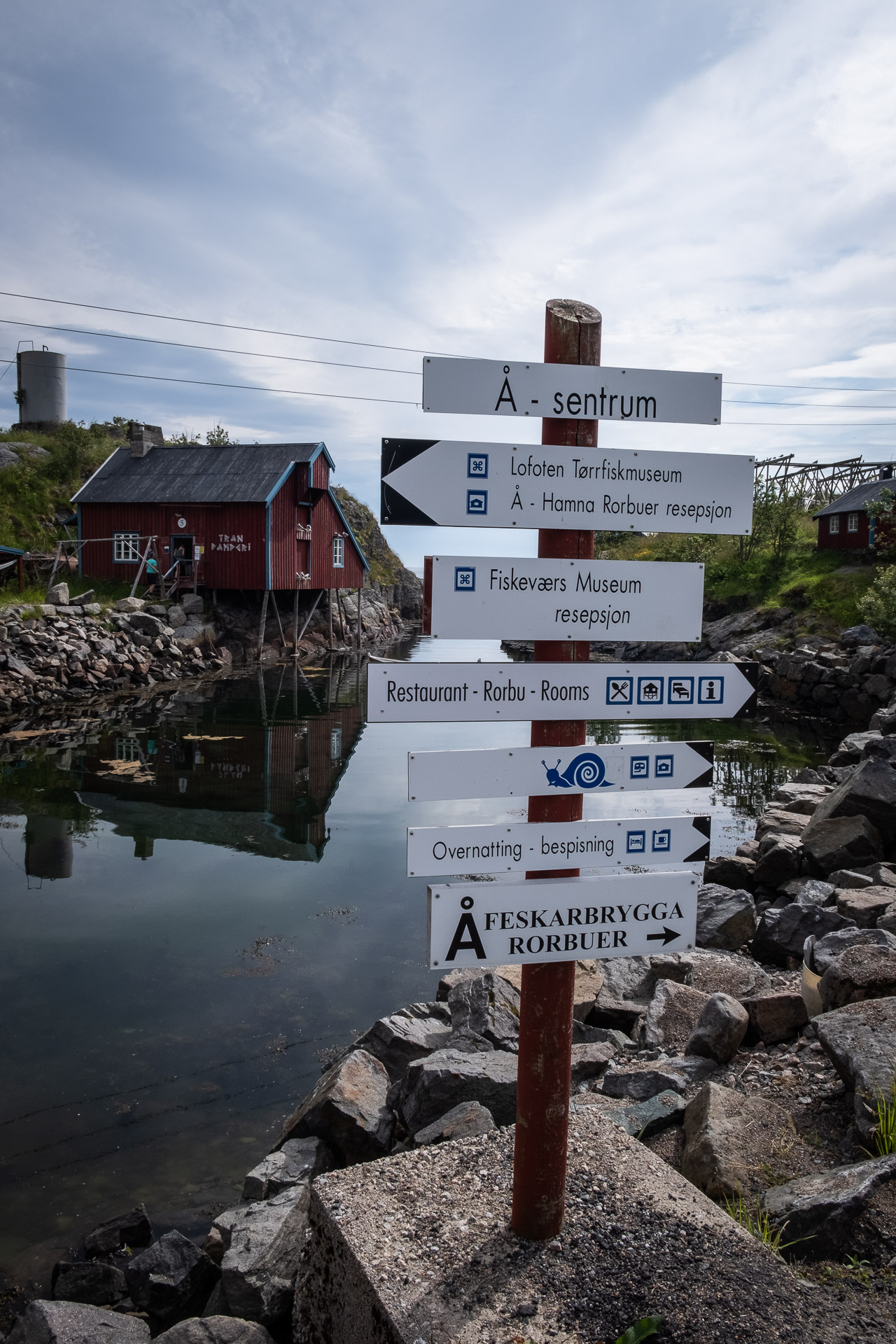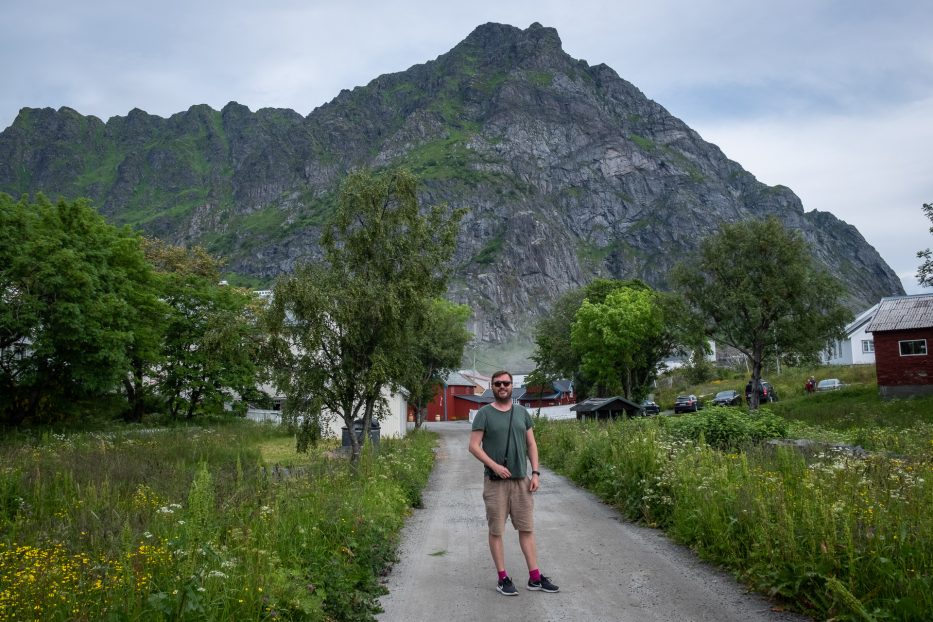 Å is a popular destination to visit for tourists. This is both due to the fact that it is the best well-preserved traditional fishing village in Lofoten, and because it is located really close to Moskenes, where the ferry arrives.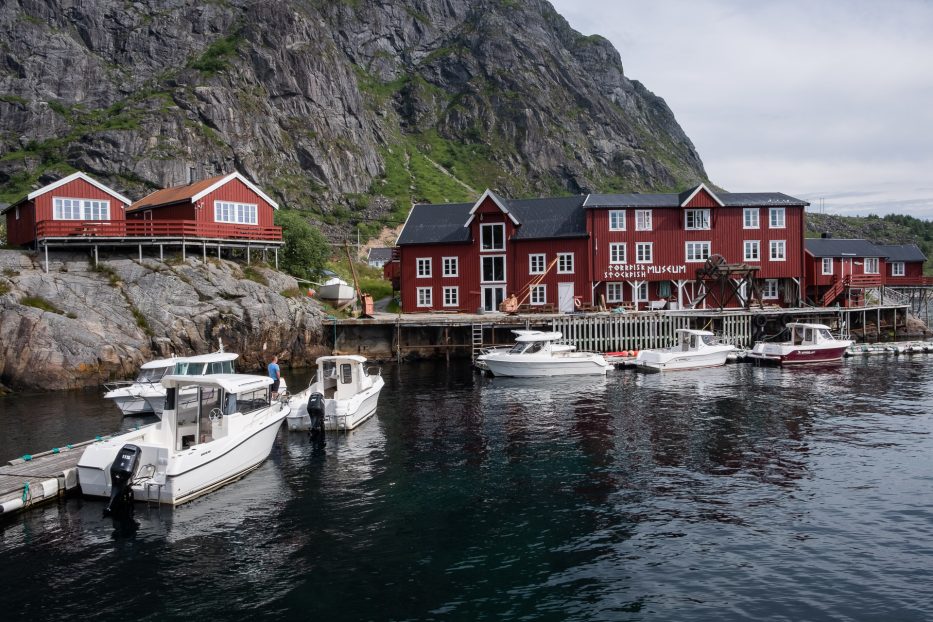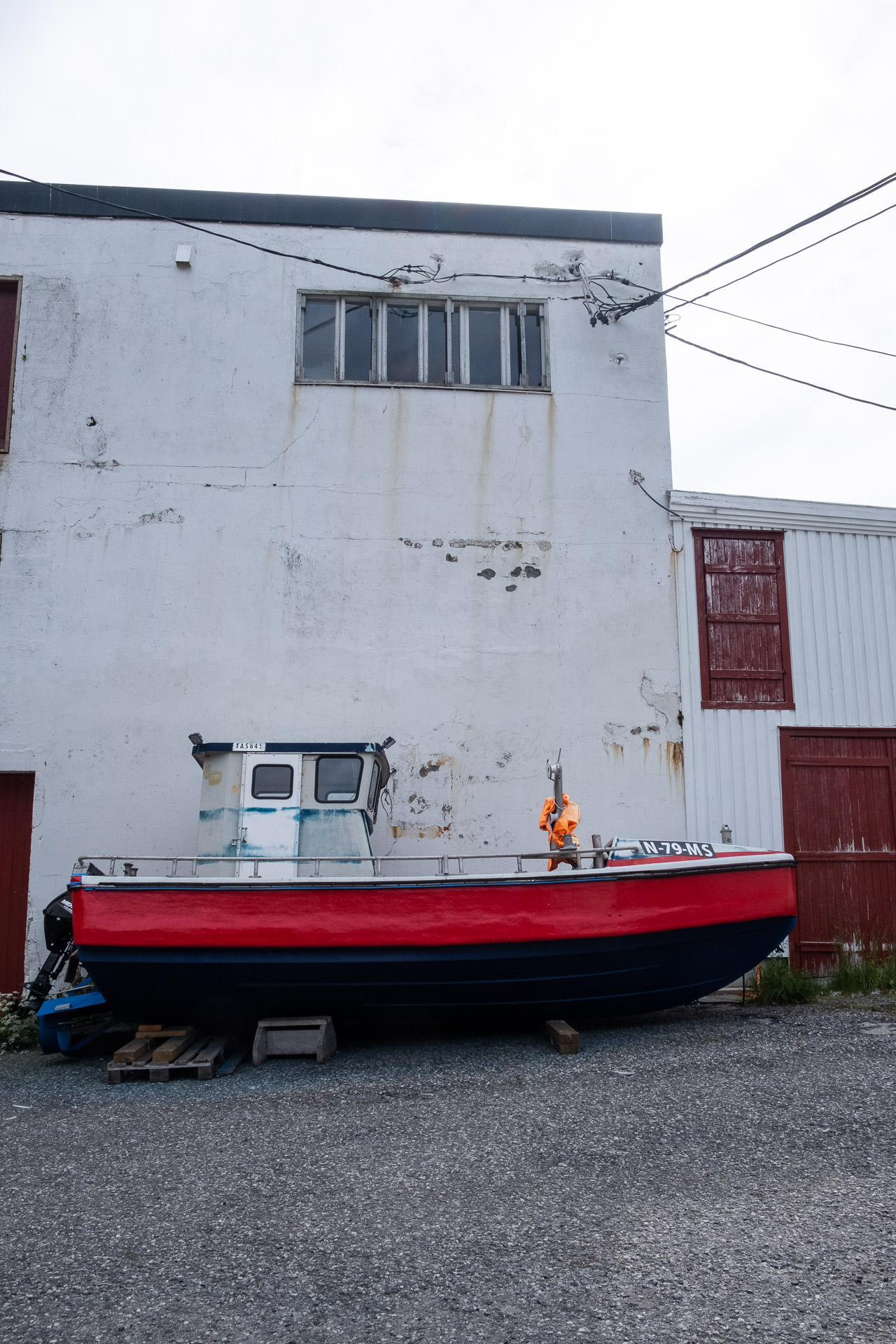 ---
The village of Reine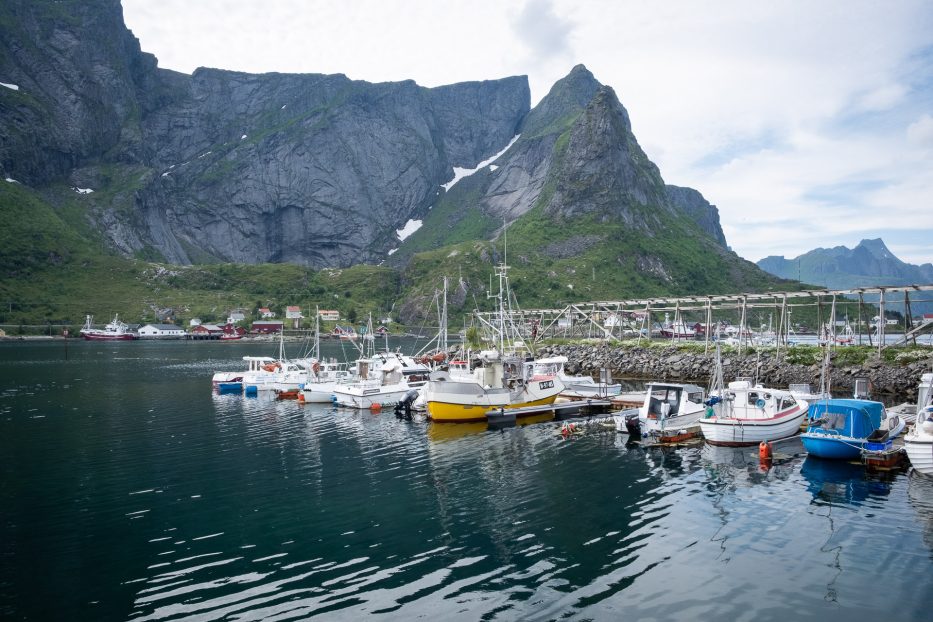 Set just at the foot of the famous Reinebringen lies the fishing village of Reine. It is small, quiet and picturesque. With its location being just a mere 9 km away from Moskenes, where you can arrive by ferry, it's a popular destination for tourists. It's also located about 10 km away from Å.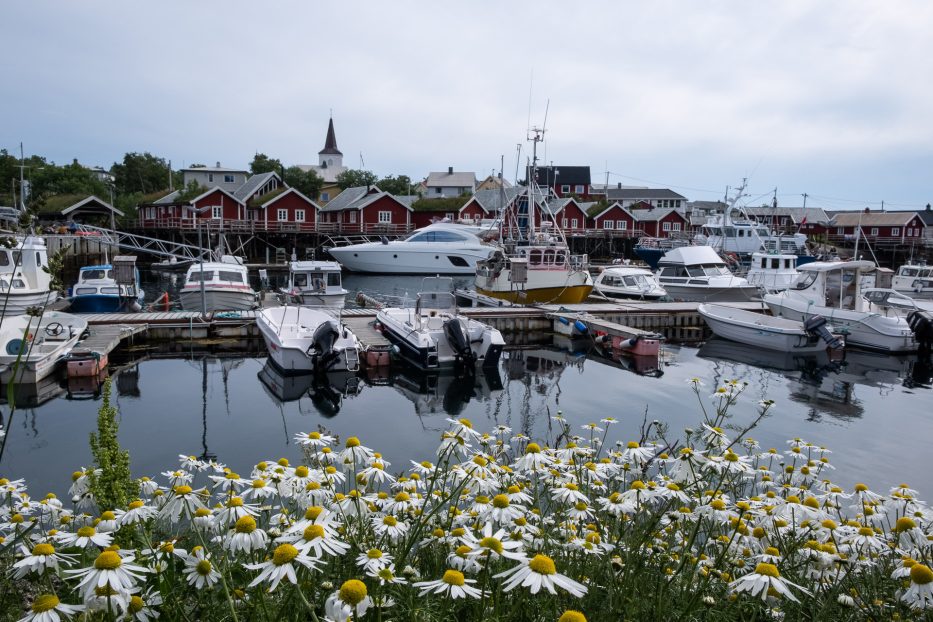 Reine consists of several smaller islands, Sakrisøy and Hamnøy, and one of the most popular things to do here (besides hiking) is to stay in a rorbu.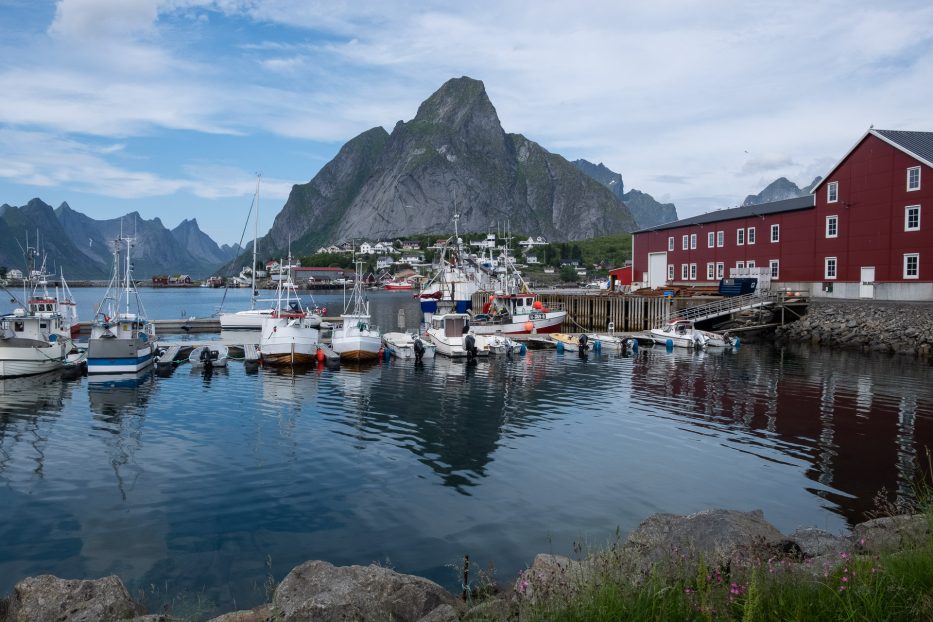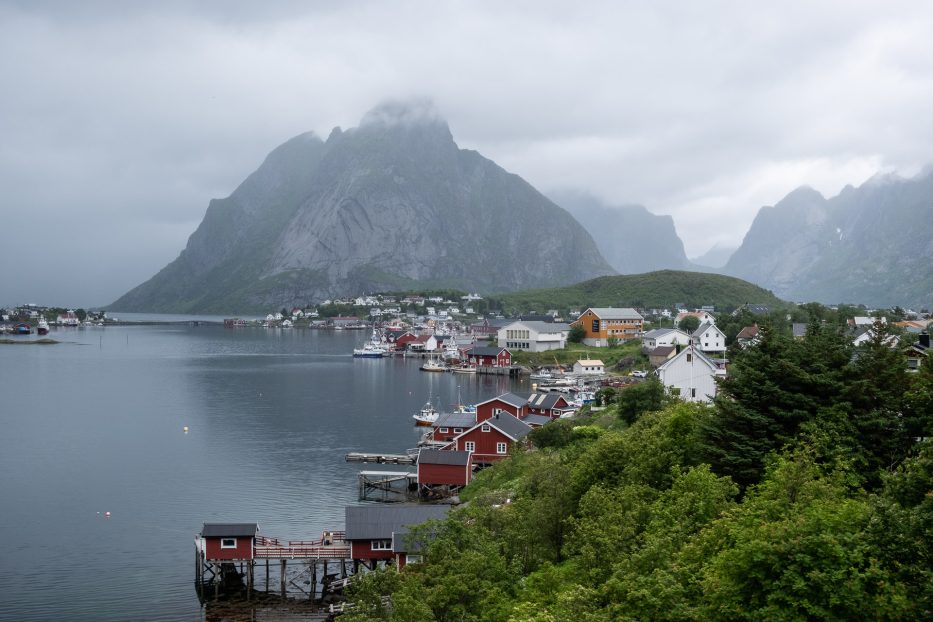 ---
Sleep in a "rorbu" – Eliassen rorbuer (Hamnøy)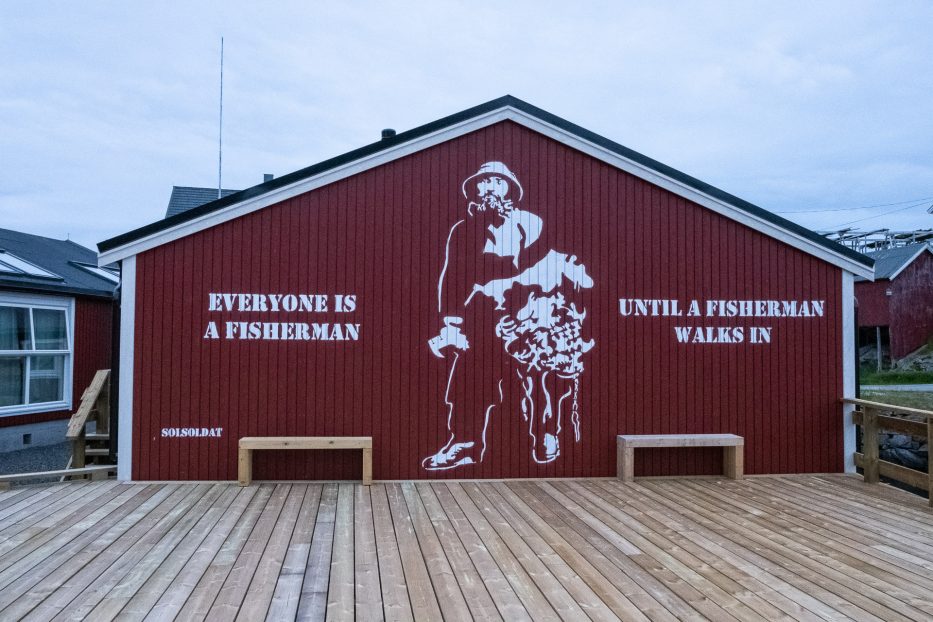 A rorbu is a type of traditional small house, used by fishermen. It is located on land, but with the poles of one end in the water, giving easy access to the boats. The standard of the rorbu is much higher it was originally. Nowadays they are mainly used for housing tourists.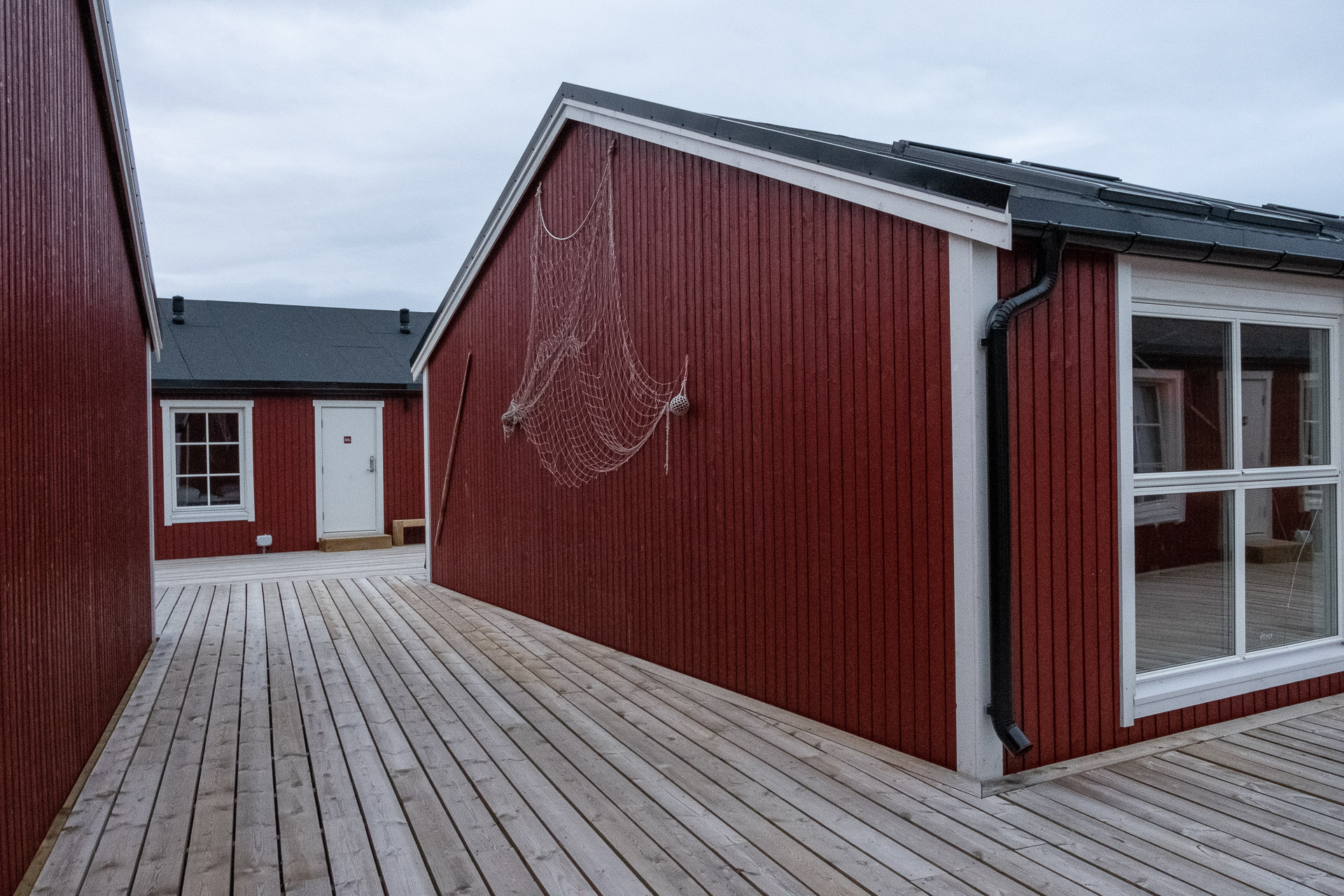 The Eliassen rorbuer is the oldest fisherman's cottage resort in Lofoten and is located at Hamnøy. The oldest cabins are from 1890. Most of the cabins at Eliassen have been fully renovated over the years, and yet their genuine character and décor remains.
Eliassen rorbuer is a short drive away from Reine and Reinebringen. Also located here is the restaurant Gadus, which serves a delicious combination of Italian and local Lofoten food.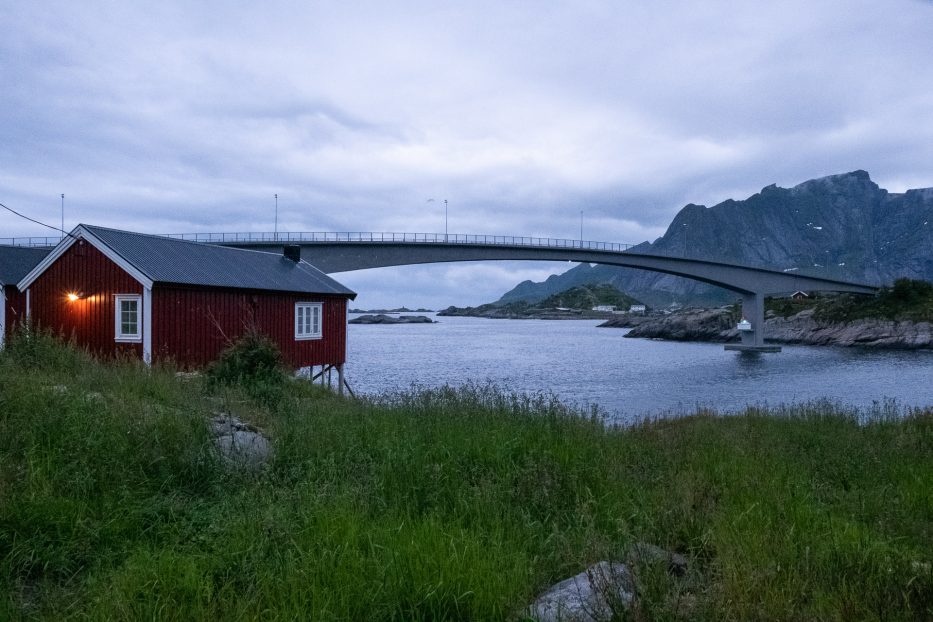 ---
Catogården – more than just a boutique home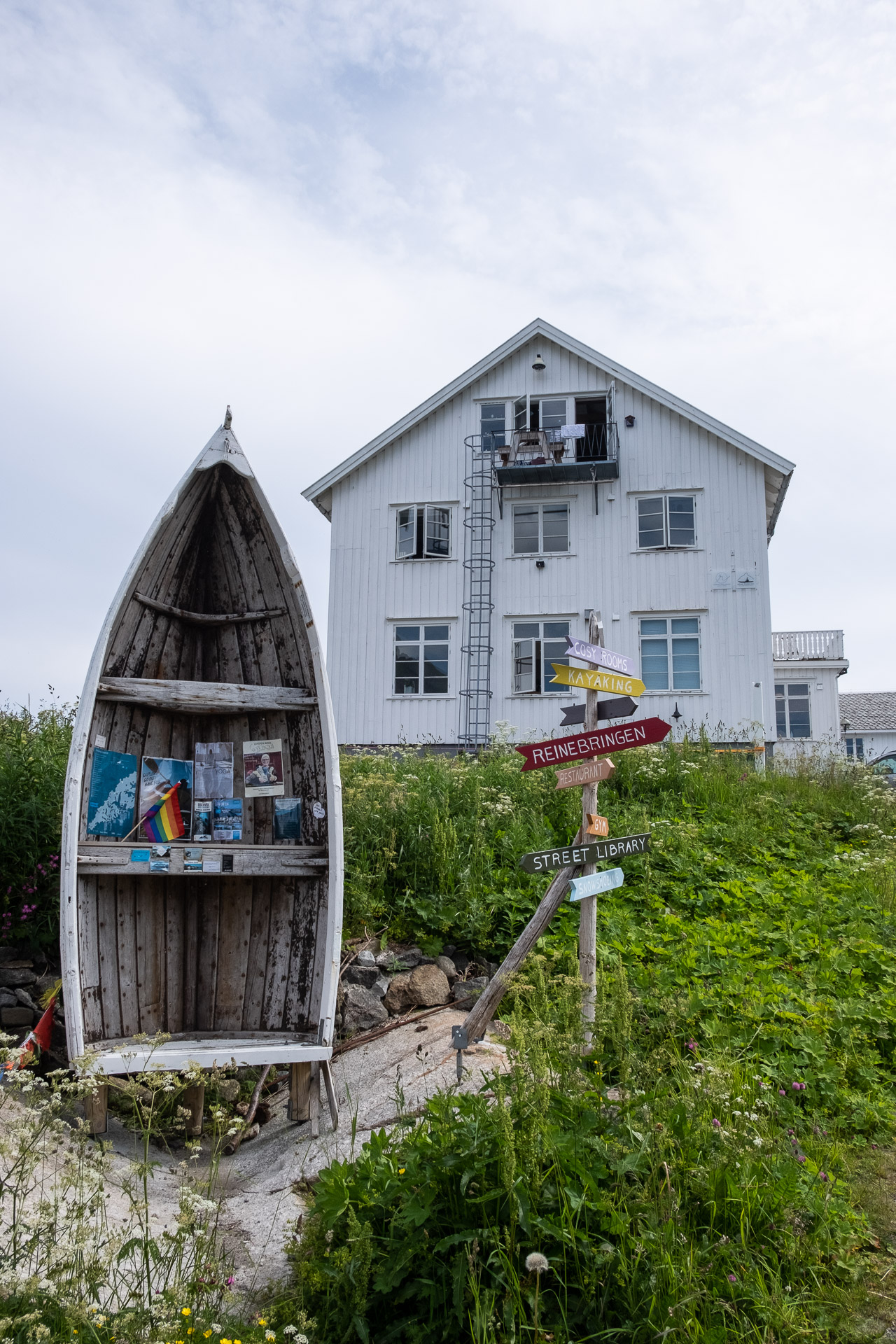 Catogården is a boutique hotel located in Reine, Lofoten. Here all rooms are different except for one thing – they all have a spectacular view from their windows. Every morning at 8am you can participate in a free 90-minute Kundalini yoga class, and there is also gym equipment you can use as much (or as little) as you want.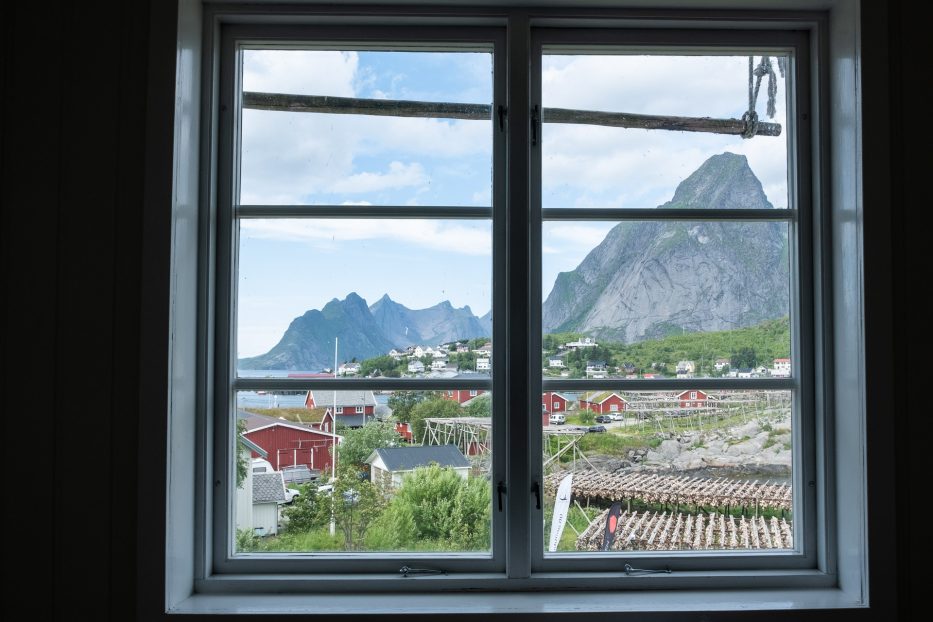 The original house of Catogården dates back to 1775. However, this house went up in flames during WWII, and was later rebuilt. Since 2016, the owner of Catogården, Runhild Olsen, has had volunteers from all over the world coming to help form Catogården to what it is today.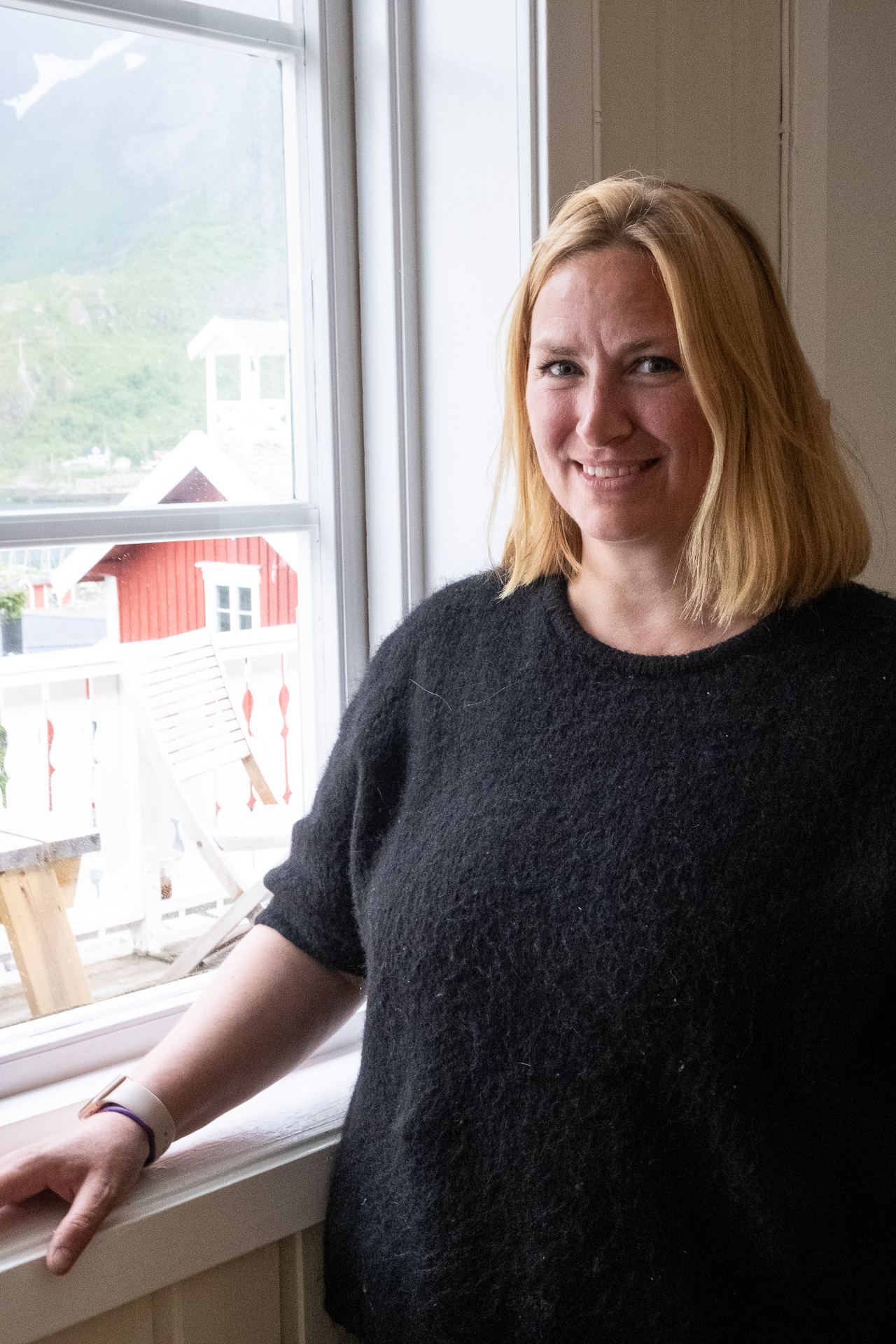 As a guest at Catogården you have your own room, but you share bathroom with other guests. However, this is not an issue, as there are six of them. There is also a common living room, with a fireplace and a barista machine, and a balcony.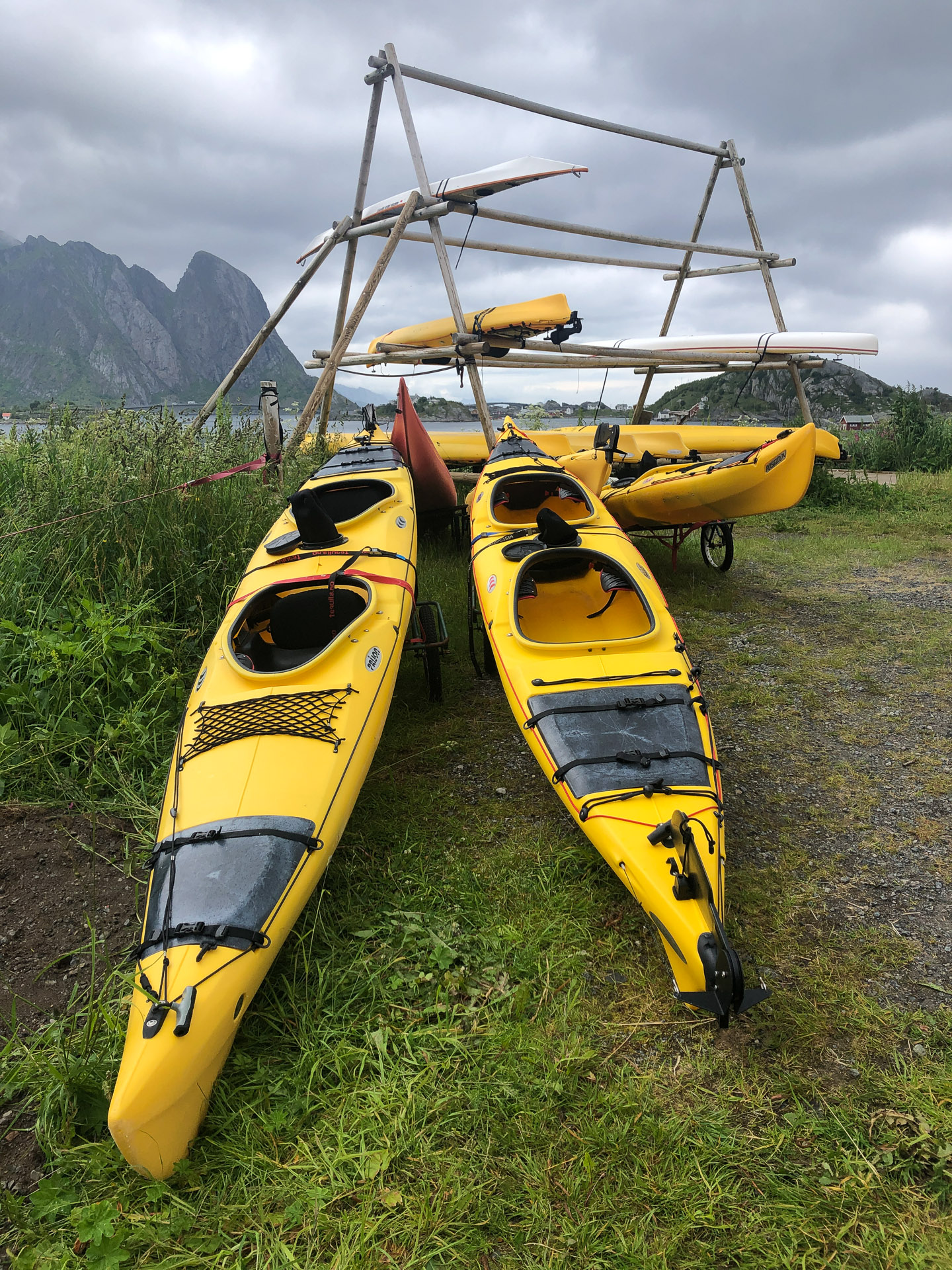 Catogården is more than just a bed to sleep in. Here you can get as much or as little as you want. You can also schedule several activities at Catogården, such as kayaking. This is where we stayed when hiking Reinebringen, as it was within walking distance from the mountain. It is also where I watched people hike in the middle of the night (yes, that's how close it is). A great place with a special vibe!
---
Hike Reinebringen
(448 meters above sea level/1566 steps)
Reinebringen is one of the most popular hikes in Lofoten, although it is not one of the tallest mountains. As we stayed in Reine when visiting Lofoten, a hike up was the obvious thing to do.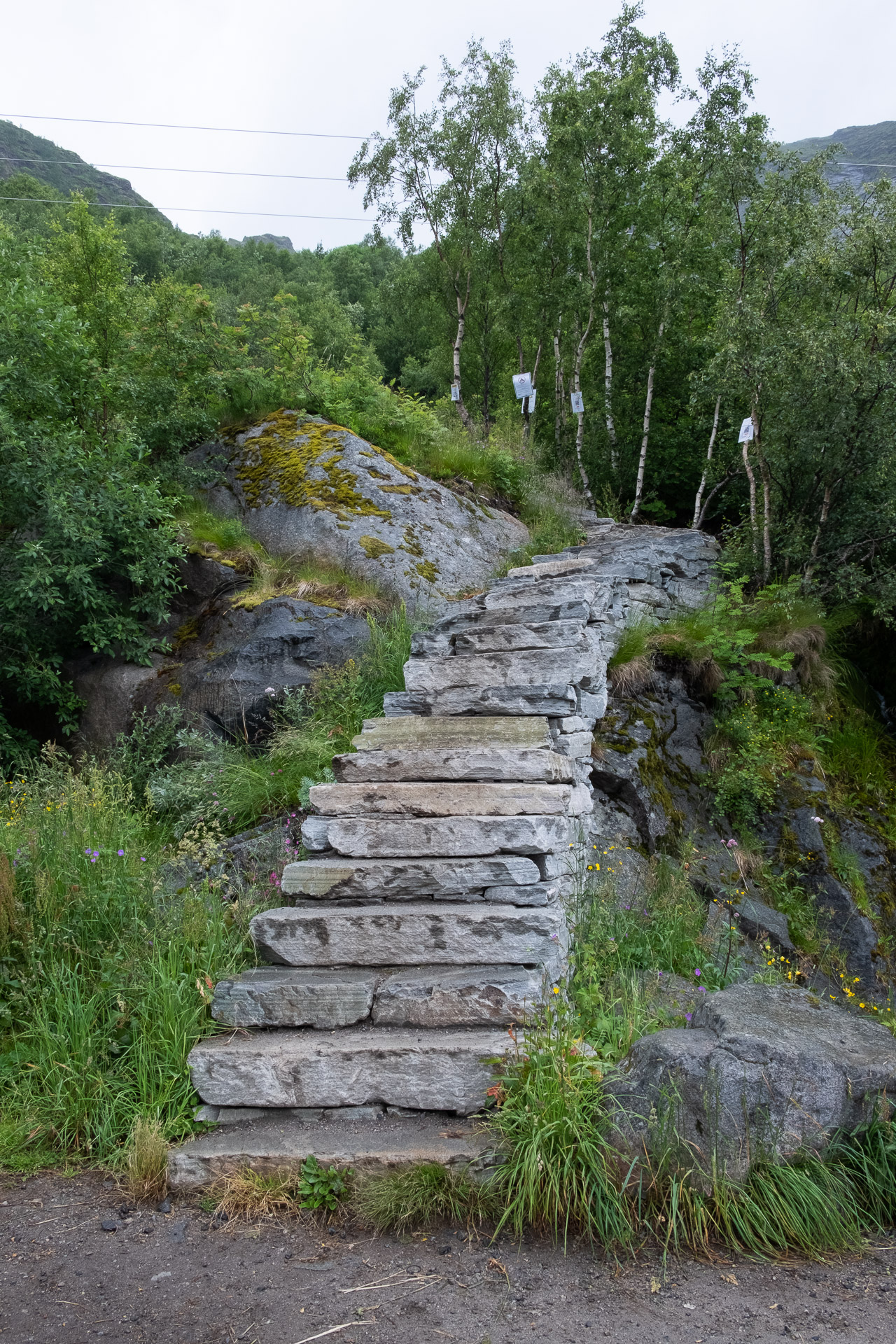 Although Reinebringen has a built-in sherpa step it is still quite a challenging hike, and it's rather steep. It is not recommended to hike Reinebringen with small children. Also, the hike should be done between the months of May and September (There have been several accidents at Reinebringen, so this is serious).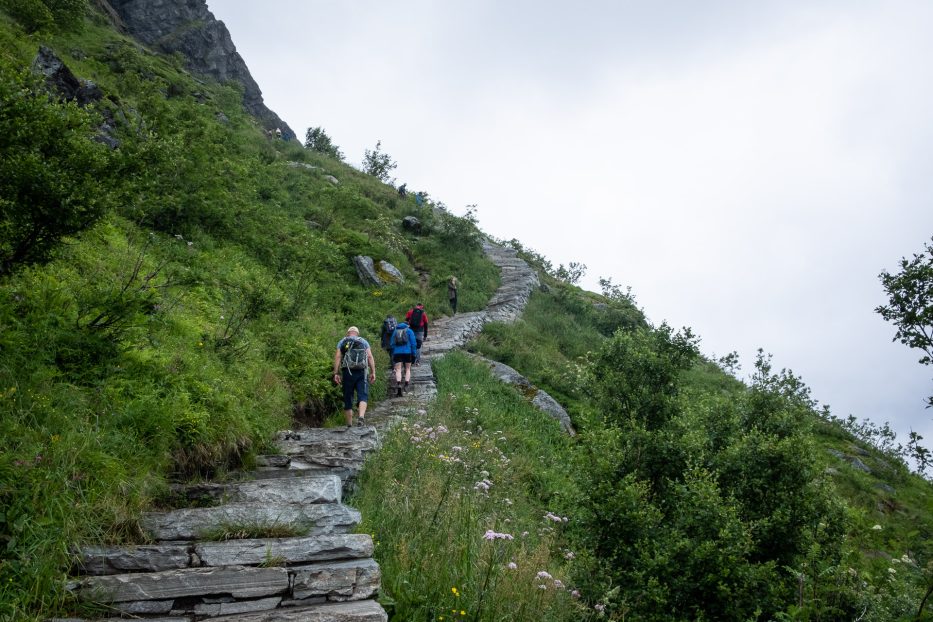 I did feel a bit guilty for making Thomas come on this hike with me. Not only did I know it would would be both quite the physical challenge. Heights is also not his favourite thing in the world. However, this hike turned out to be one of our best experiences in Lofoten, at least when we look back on the trip.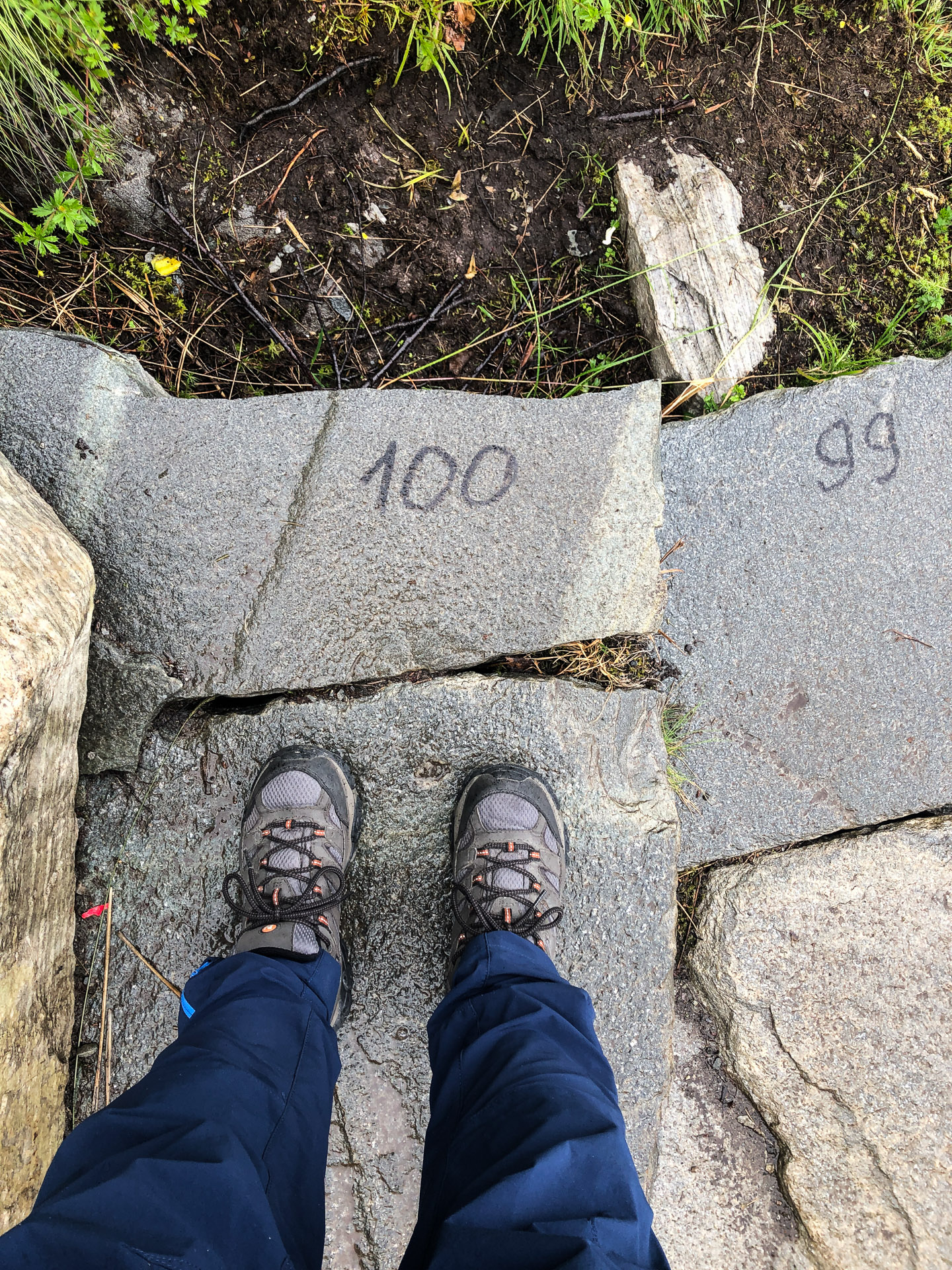 All steps have been marked with numbers, so you can always keep track of and know how far up you've come.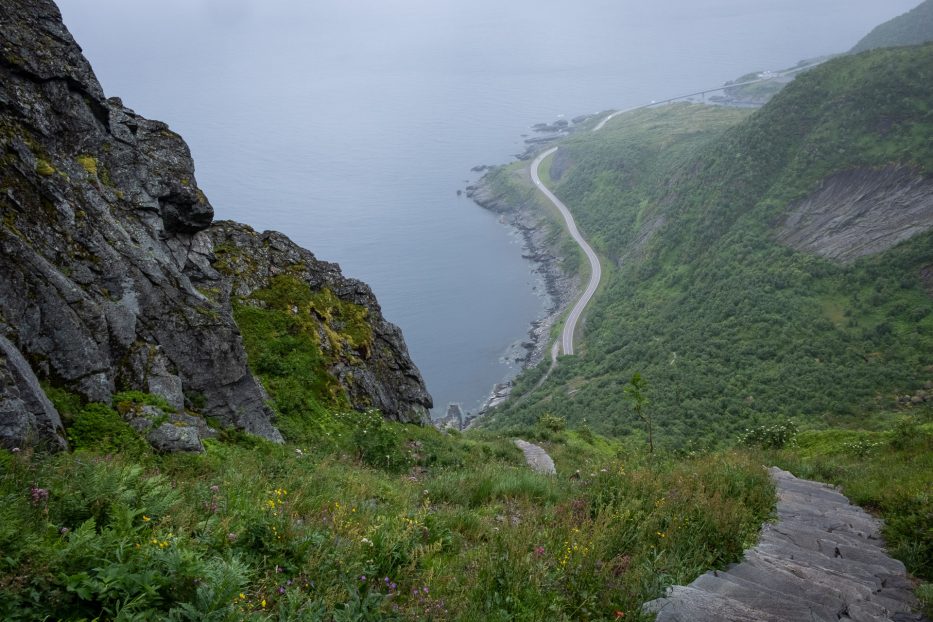 Once you reach the top you're rewarded with a view which is just spectacular! Not only do you get an impressive view of Reine, but you can see for miles and miles on a sunny day.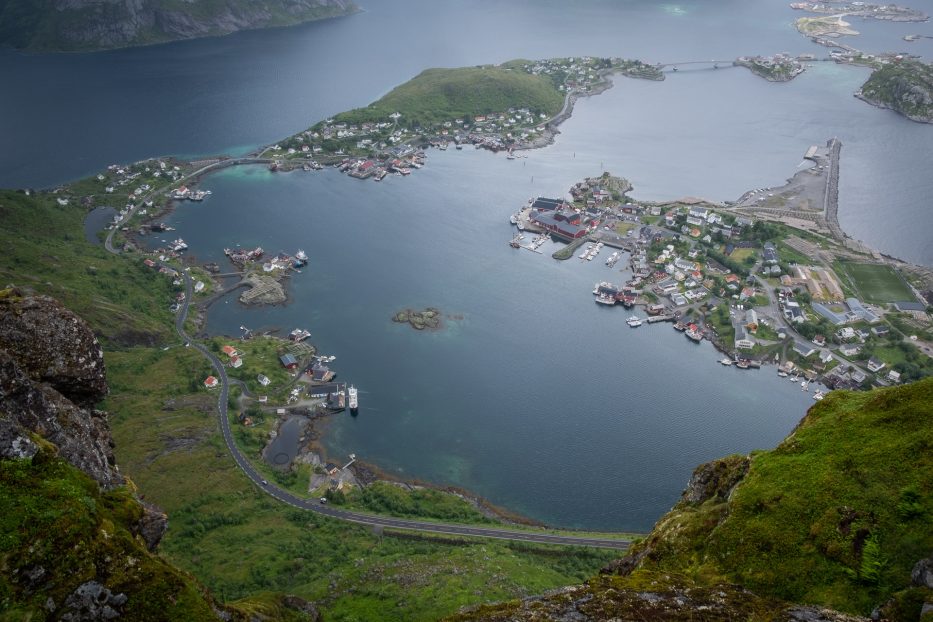 If you visit Lofoten during the midnight sun season you can even do the hike in the middle of the night, as the sun never sets. From our window at Catogården I watched someone at the top of Reinebringen at 2am.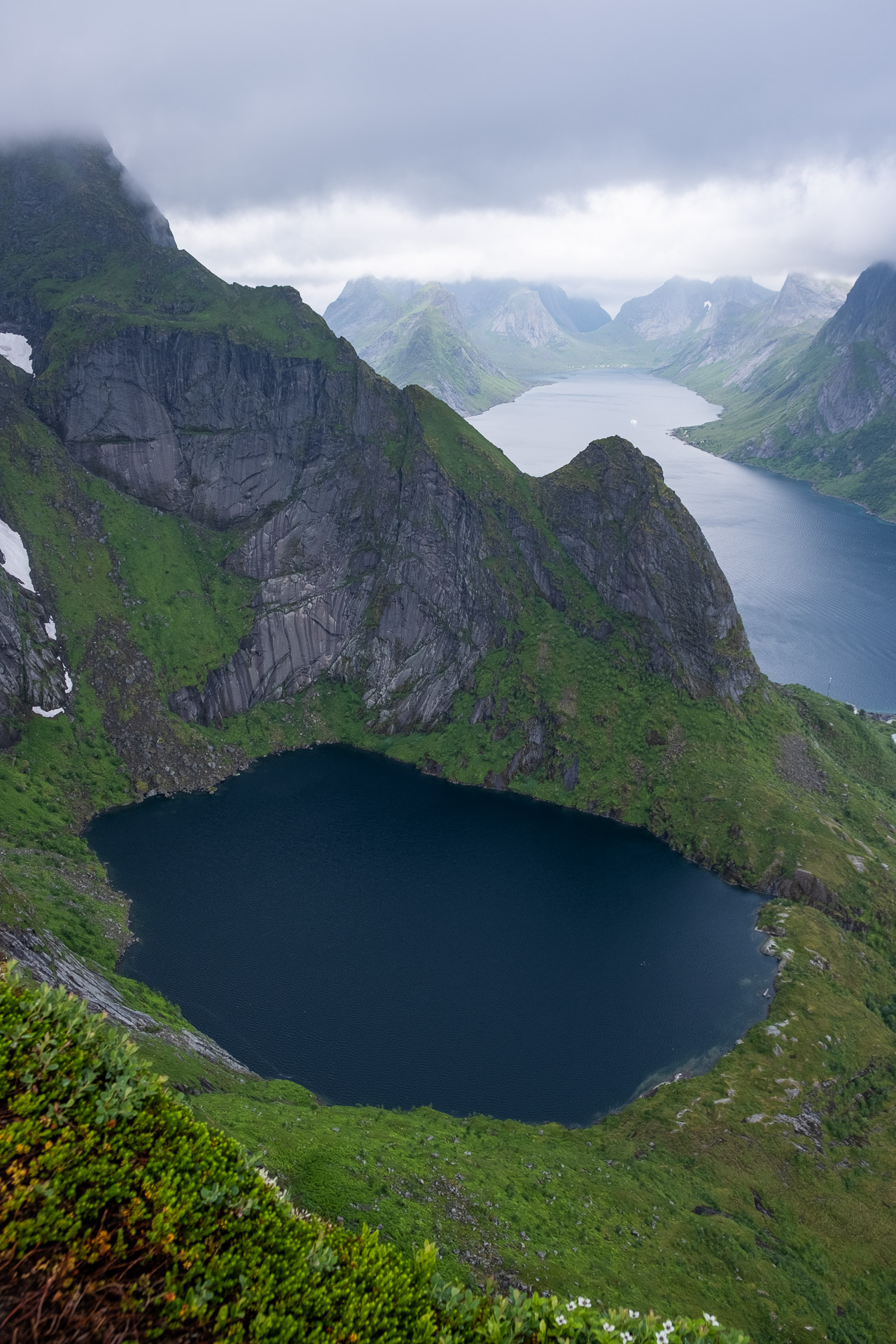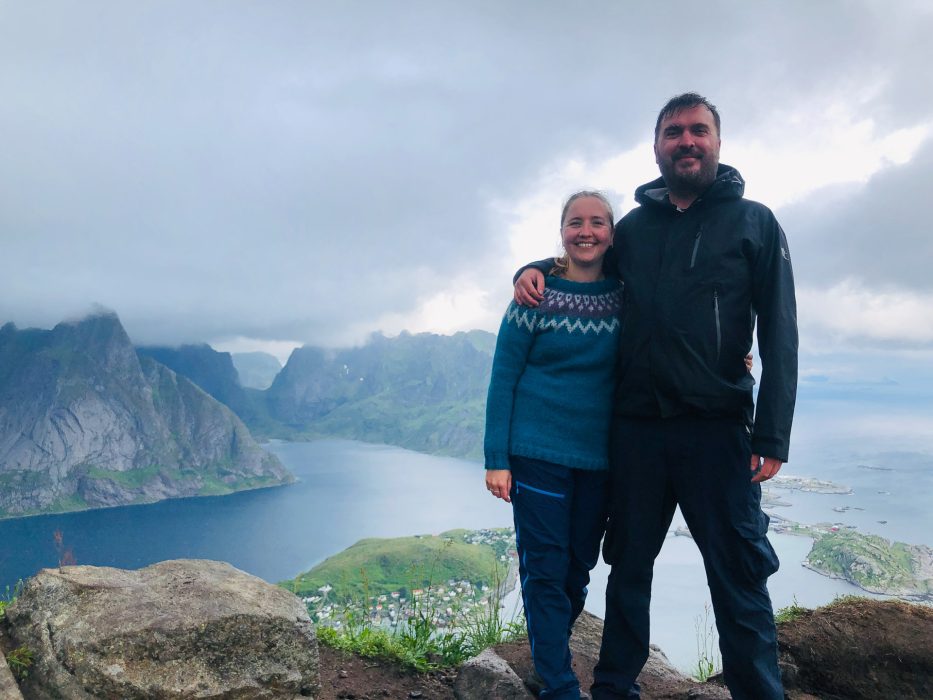 The only real downer about Reinebringen, to be honest, is that you must hike back down again all those steps. And it's not even the hike itself which is the worst, it's those leg muscles complaining for about a week after (seriously, I've never had sore legs for longer than after this hike). At the end of the day, those sore legs are of course totally worth it!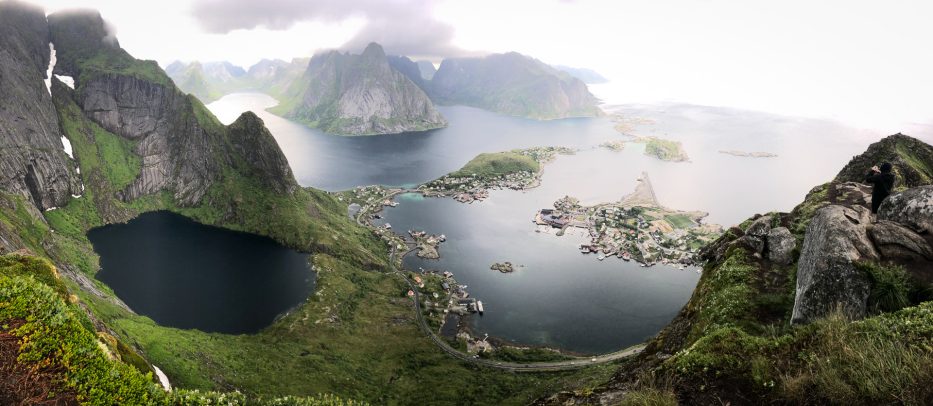 ---
To sum it up:
Lofoten is huge! There is loads and loads of places to see, hikes to be done and food to be eaten. I have so, so much left to see and do in Lofoten, and I am already dreaming about going back – maybe this time to see the Northern lights?
Have you been to Reine, Å or anywhere else in Lofoten before? Or would you like to?
---