Located in Germany, near the borders to both France and Switzerland, in Baden Württemberg you'll find Freiburg im Breisgau. If local wine, warm climate, cobblestone roads, a laid back feel and old houses is something you can like, you'll love Freiburg.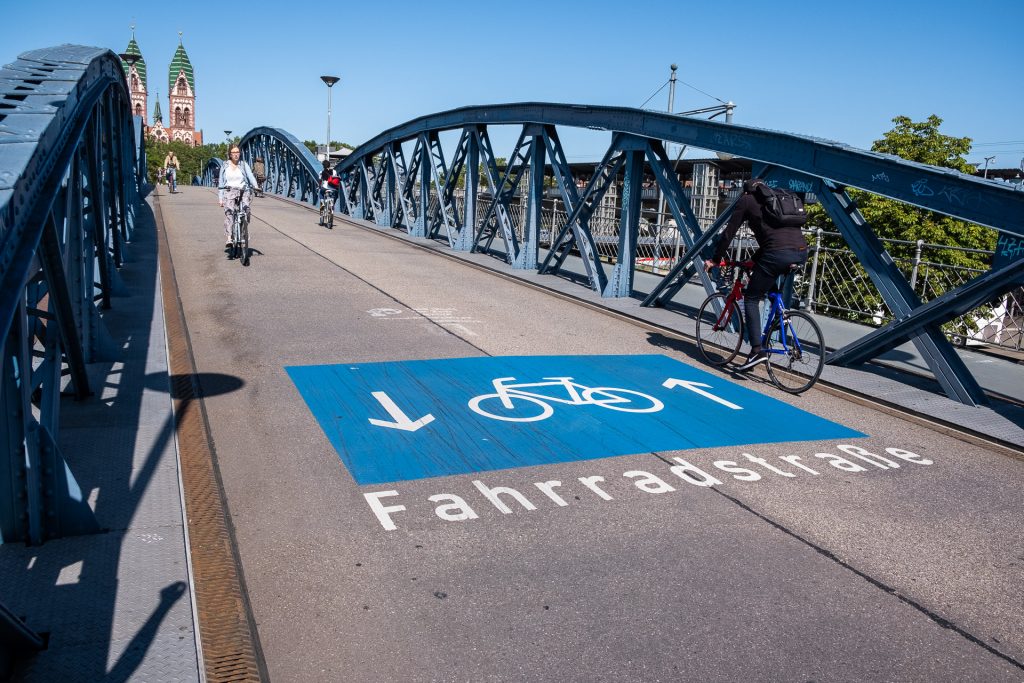 Freiburg is, with it's 200.000 inhabitants, one of the most "Green" cities in Germany. For example, a lot of vegetarian, vegan and ecological options can be found most places. Also, people bike. A lot. There's bikes everywhere, making me think of other European cities such as Copenhagen and Amsterdam.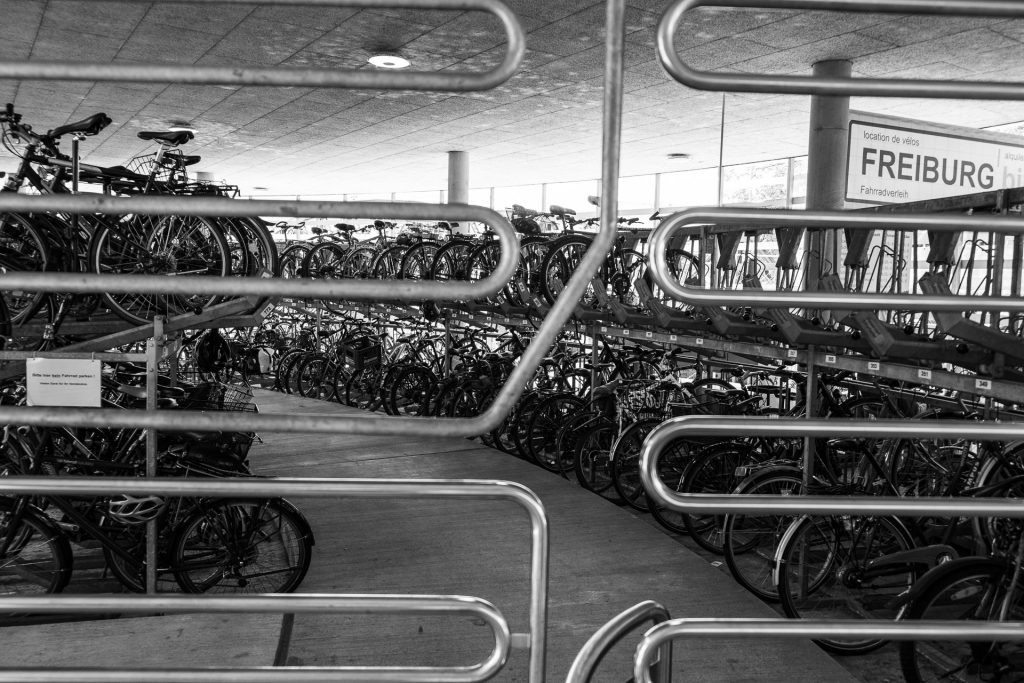 Freiburg is also one of the warmest cities in all of Germany. It's daily temperatures tend to be nice and pleasant, and then at night a wind blows down from Schwartzwald (Black Forest, probably the one thing Freiburg is most famous for), filling the city with a nice, warm breeze.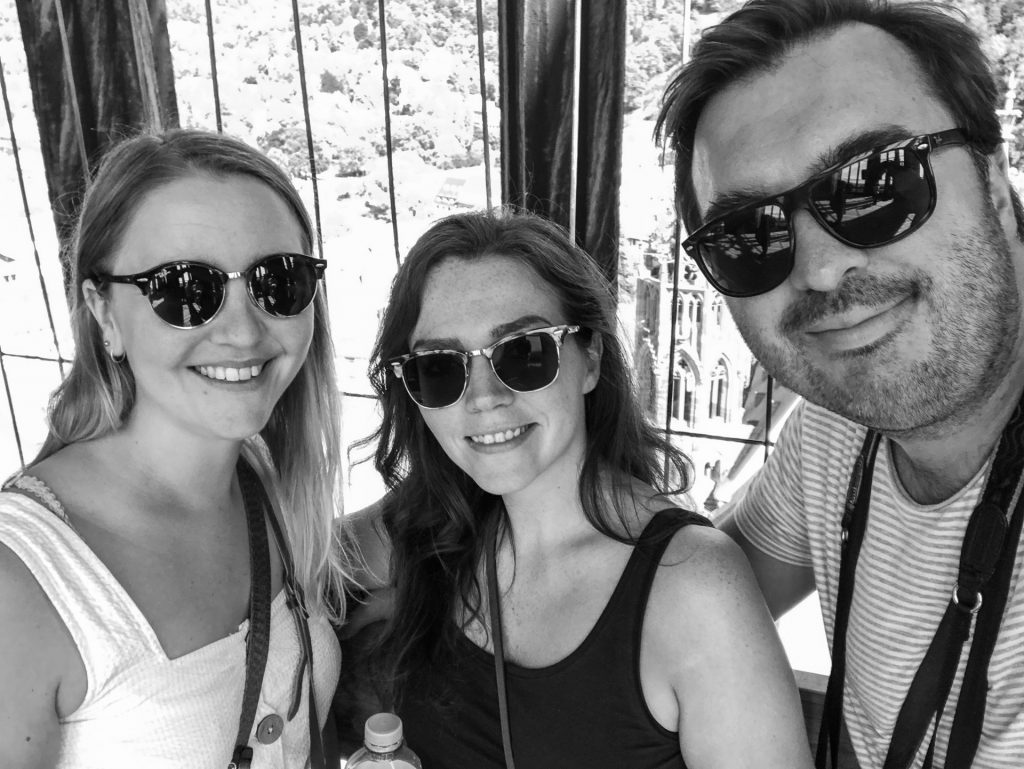 I'm lucky enough to have a friend who lives in Freiburg, and after more than two years of "you should come visit me soon" this year I finally grabbed Thomas with me, and took Romina up on her offer.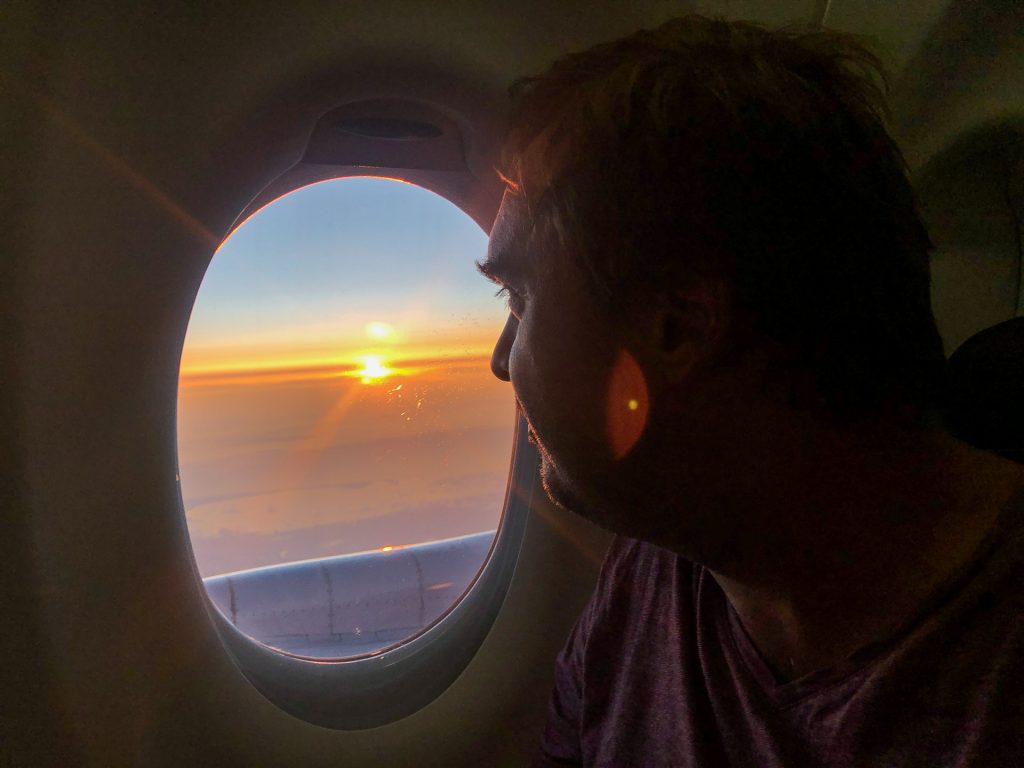 I don't know what it is about Freiburg, or this area in general, but I don't feel like I hear too many Norwegians talking about it. Maybe it's the mere fact that it's not too close to any of the bigger cities, or maybe it's because you either have to change flights or drive a little to get here? We ended up flying into Basel, located a couple of hours away from Freiburg, across the border of Switzerland, where we got picked up.

Either way – this area is so, so worth a visit. I'm already planning our next visit, and I think you should as well.

Here's 15 ideas for what to include to your Freiburg itinerary (including 3 daytrip excursions).

Sights
1. Münsterplatz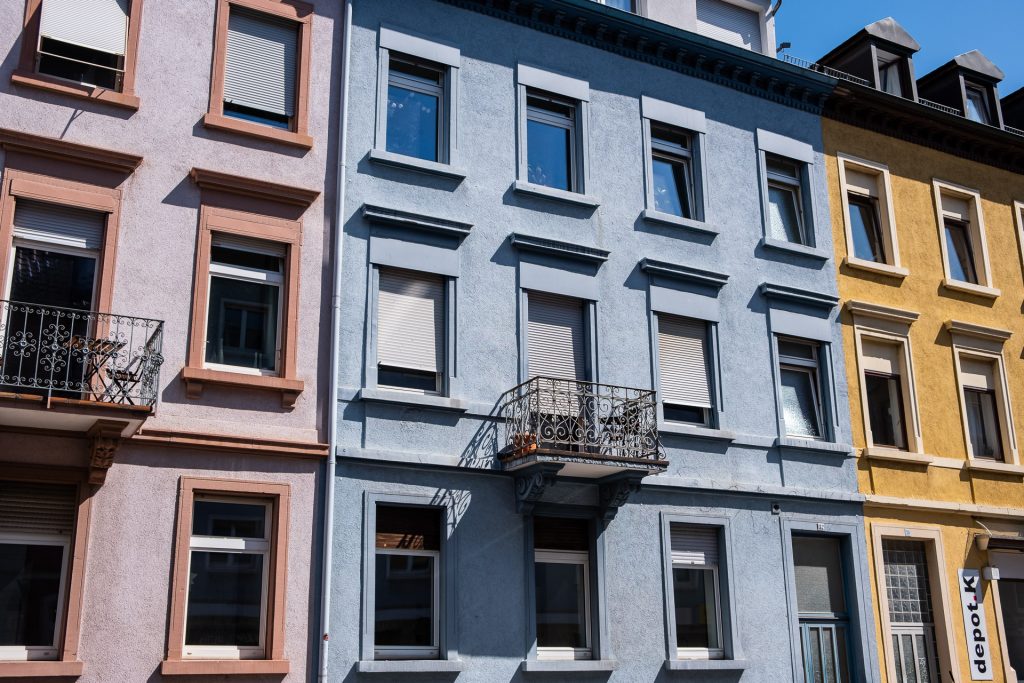 Gorgeous pastel buildings, cobblestone streets and a market running every day except Sundays – what's not to love about Münsterplatz? This entire square was basically bombed to the ground in 1944, but has been rebuilt.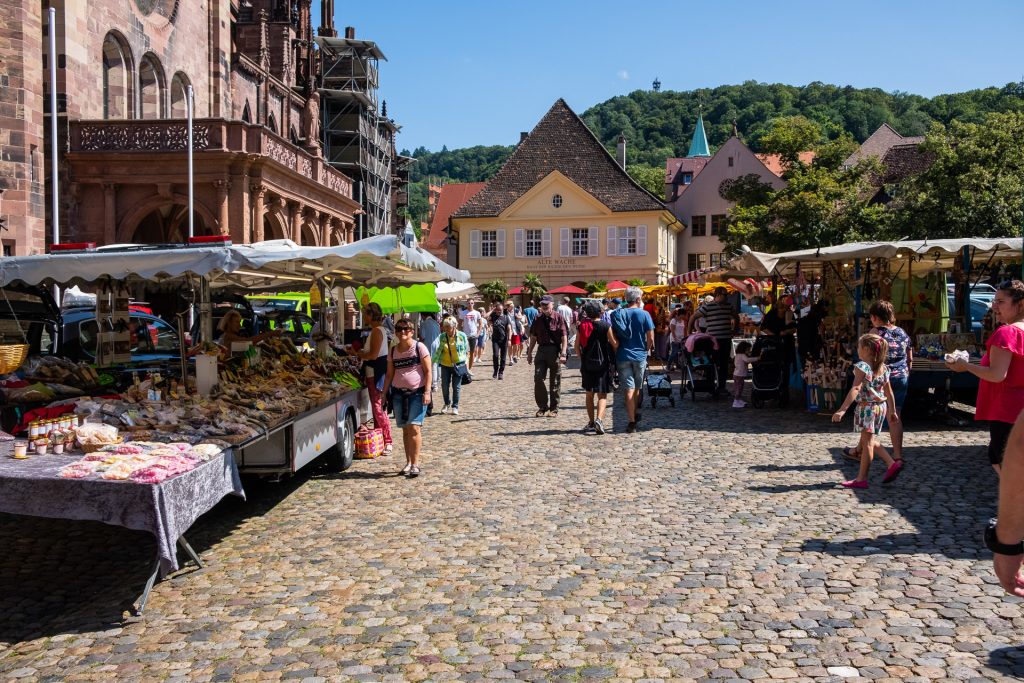 Make sure to grab a German sausage (I went for the münsterwürst) from one of the many market stalls, grab a drink or two while you're peoplewatching, and of course visit the church in the middle of the square.

2. Freiburg Minster
Founded in the year 1200, with a 116 meters tall tower, the Cathedral Freiburg Minster can easily be seen from wherever you may be in Freiburg. It's no surprise it took more than 300 year to build such an impressive sight.
Inside you'll find, as only to be expected from a grand Cathedral, gorgeous details such as stained glass windows.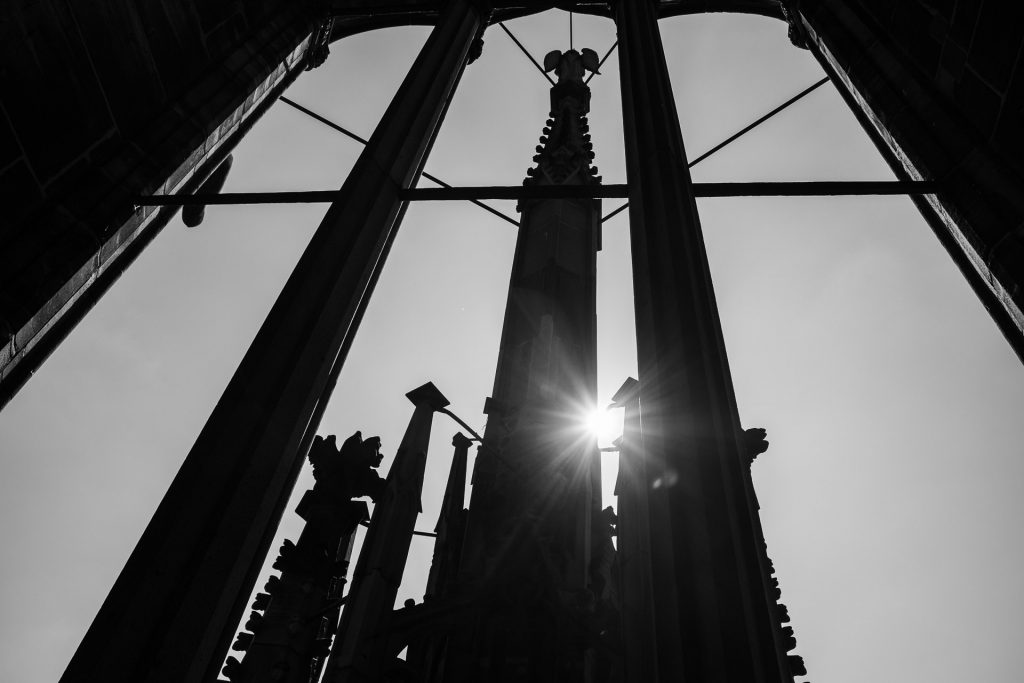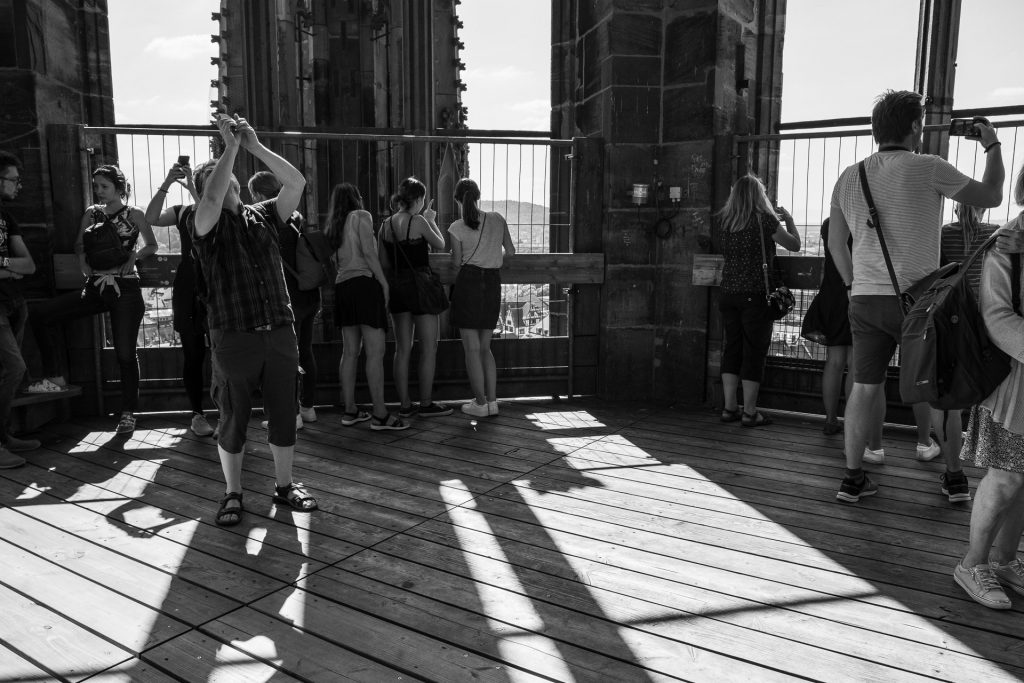 You should definitely climb all the 333 stairs to the top for a great view of Freiburg; yes you'll be sweaty, and yes it'll be worth it!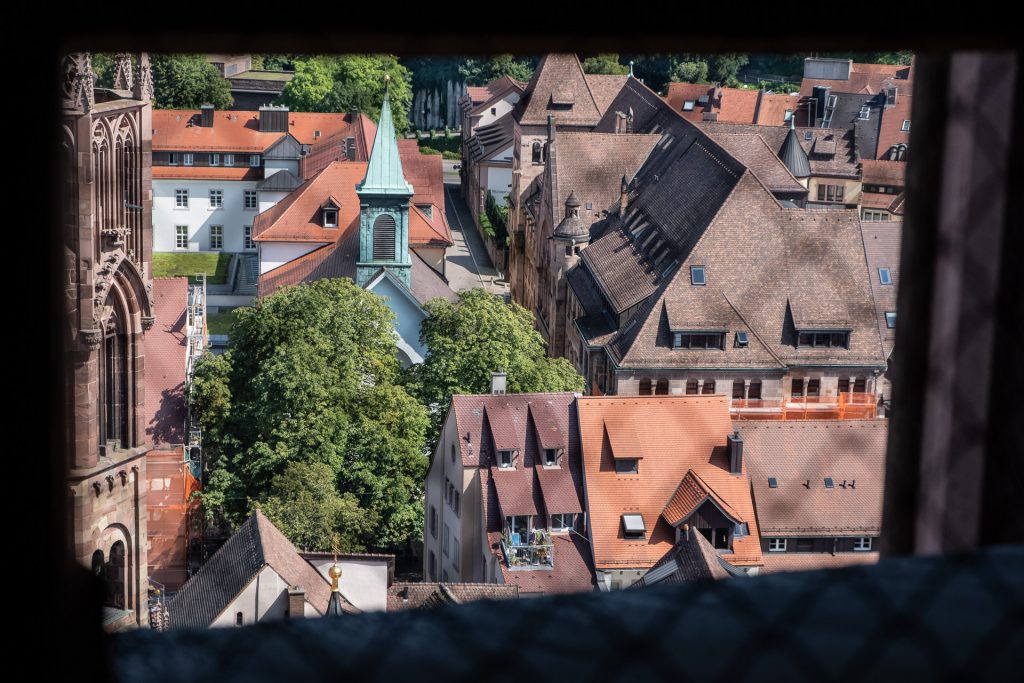 3. Freiburg old town
The old town of Freiburg is completely closed off from cars. Charming, old houses in gorgeous colours, cobblestone streets, a canal and loads of flowers – the old city is small and perfect to explore by walking. (Don't worry, if you can't walk that far, there is also a tram!)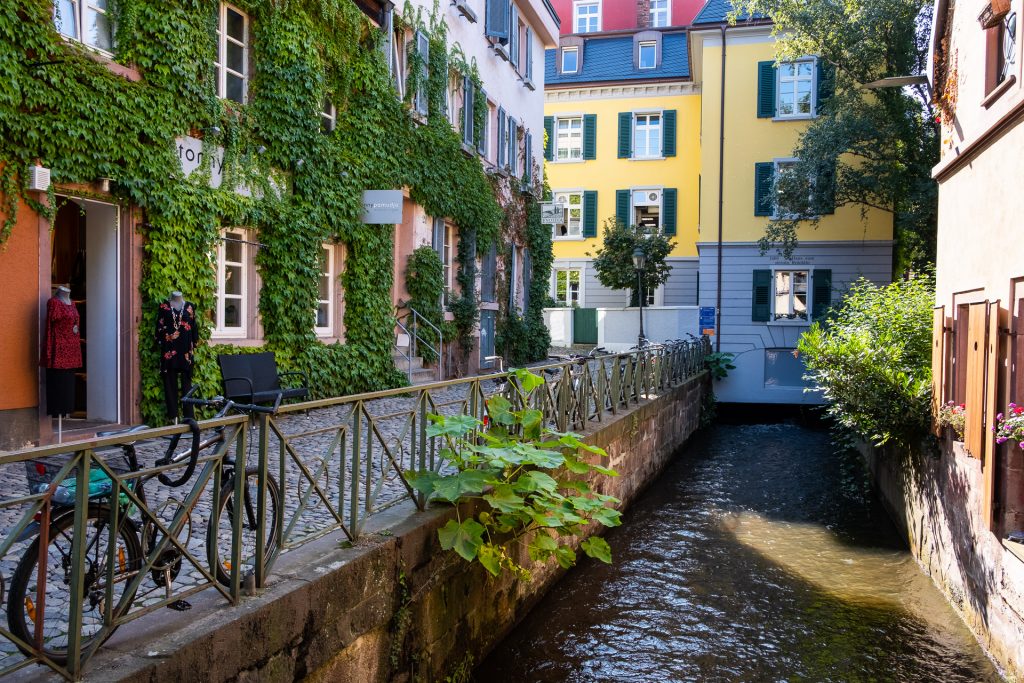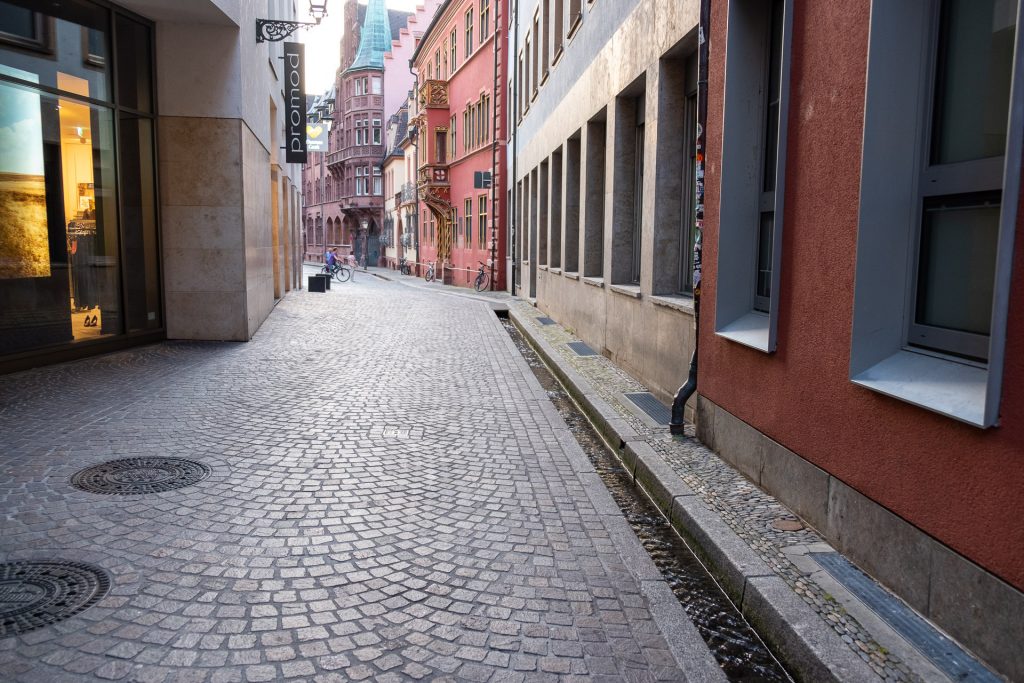 While walking the streets of the old town, you'll quickly notice the "Freiburg bächle". These are small waterways running through the old town. Be aware – there's an old saying that if you step into the bächle by accident, you'll end up marrying someone from Freiburg!
Of course, apopular thing for kids to do in Freiburg is sailing small wooden boats down the "bächle". Also, on a hot day they're perfect to cool down your feet in.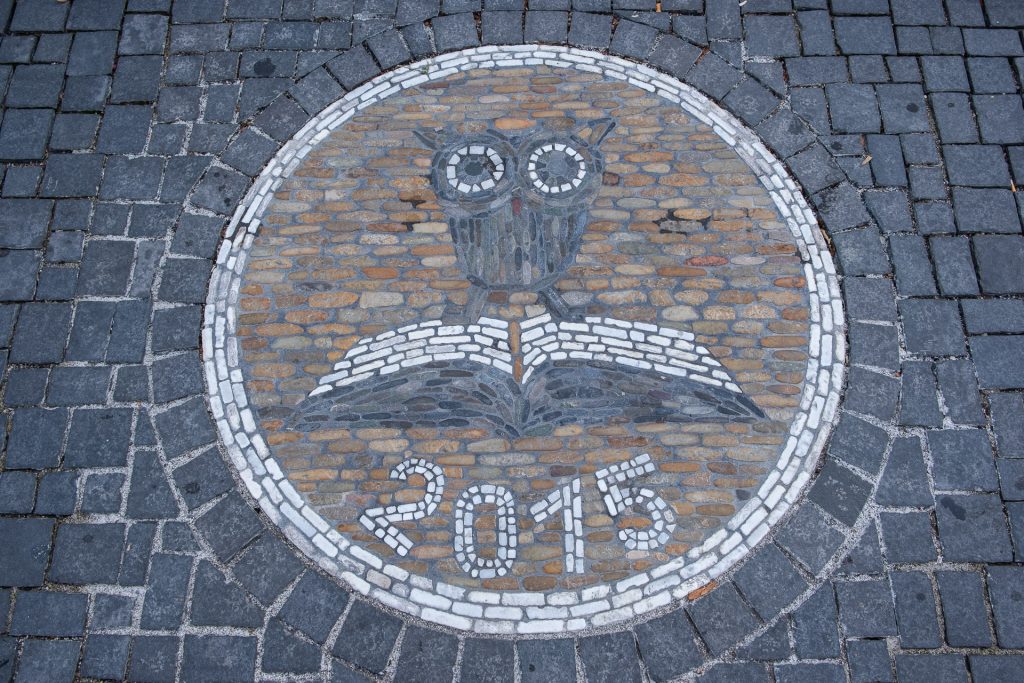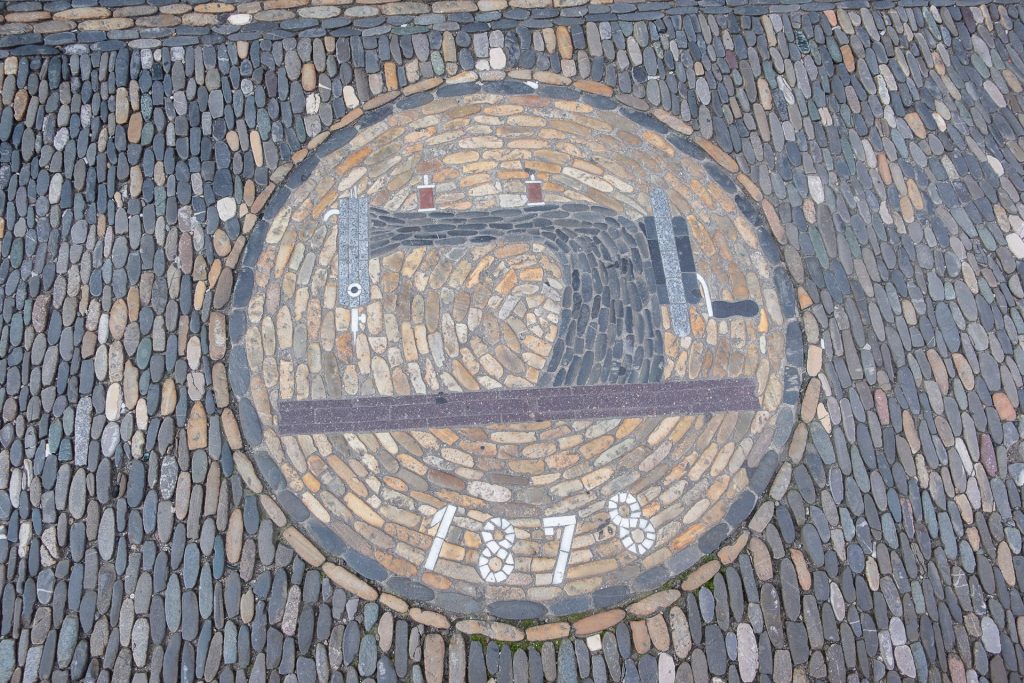 Another cool detail you'll see are these pavement patterns, which symbolizes what's inside the building you're in front.

4. Platz der Alten Synagoge
This is a large square in Freiburg, including a monument standing where an old synagoge in Freiburg was standing, until it was destroyed on Kristallnacht in 1938.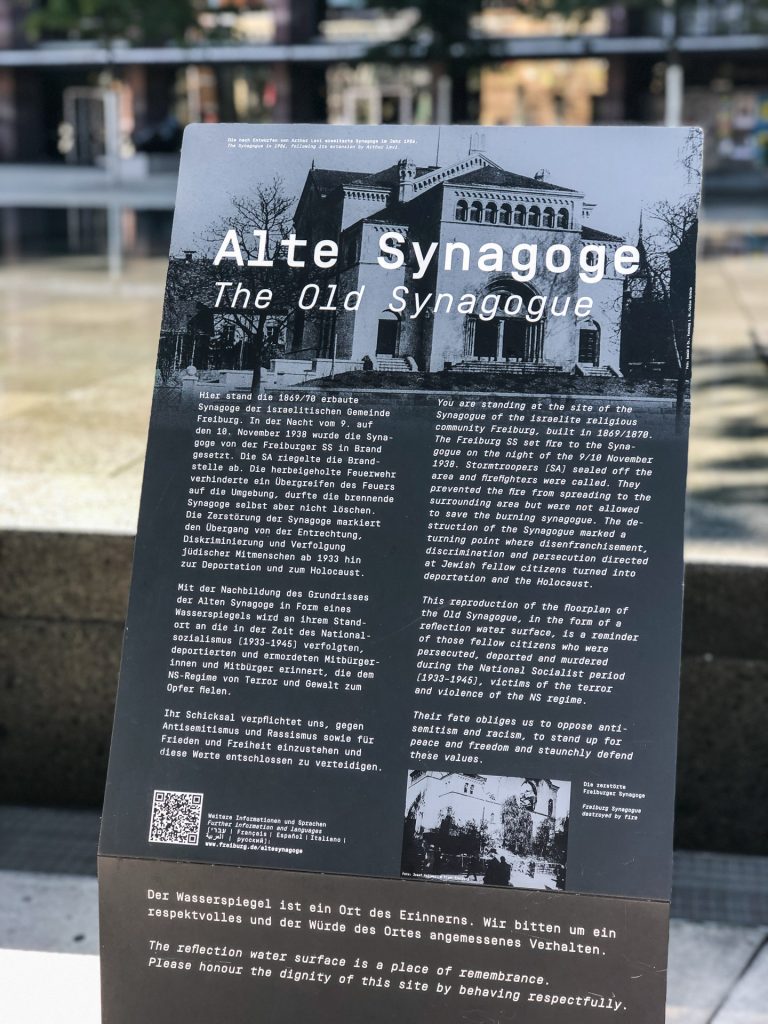 A good, discreet place to give a thought or two to all of the history that lies within Germany, and to remind ourselves of why it's important we never allow the history to repeat itself.

5. Catch the elevator up to Kastaniengarten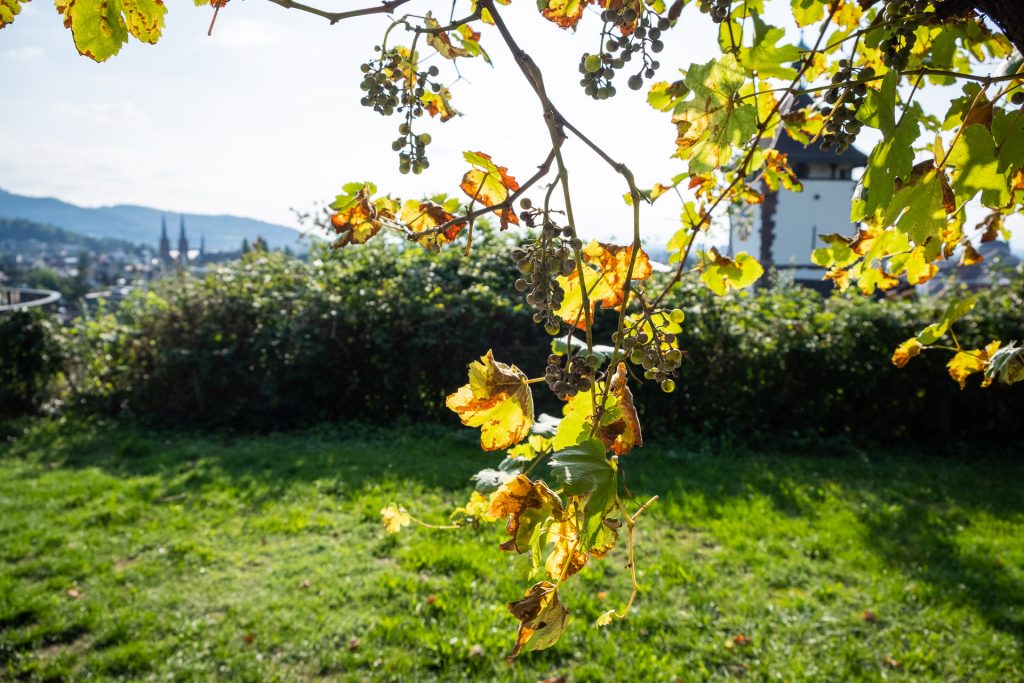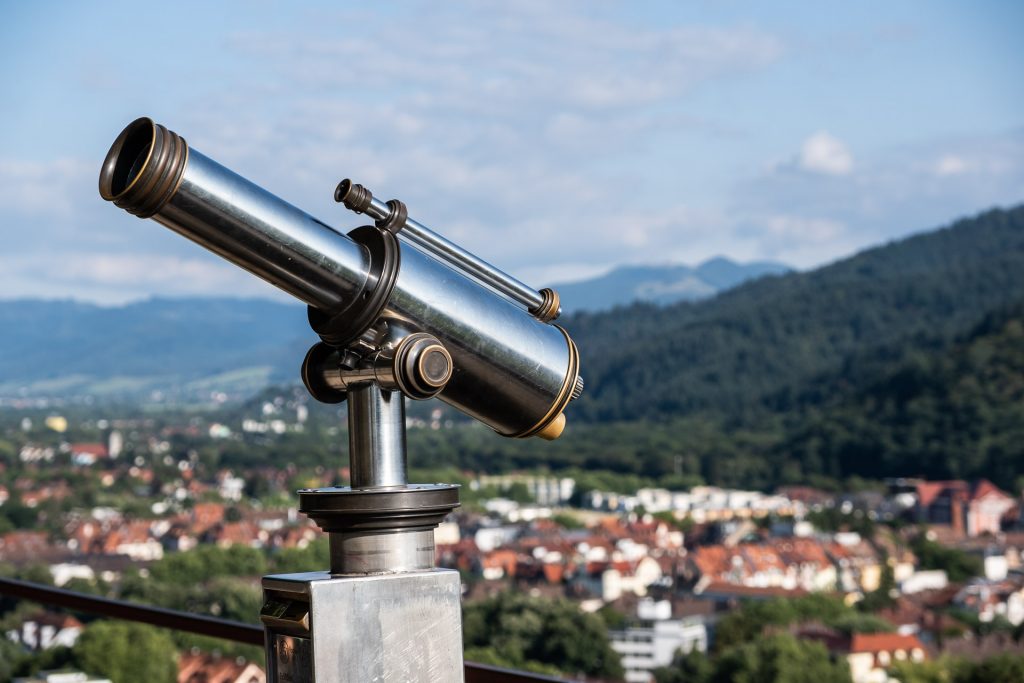 Here you can enjoy a beer (or two), several gorgeous views over Freiburg and some delicious food. You can of course also hike up, or catch the elevator (inside the mountain) for the first part, then walk on further if you so wish.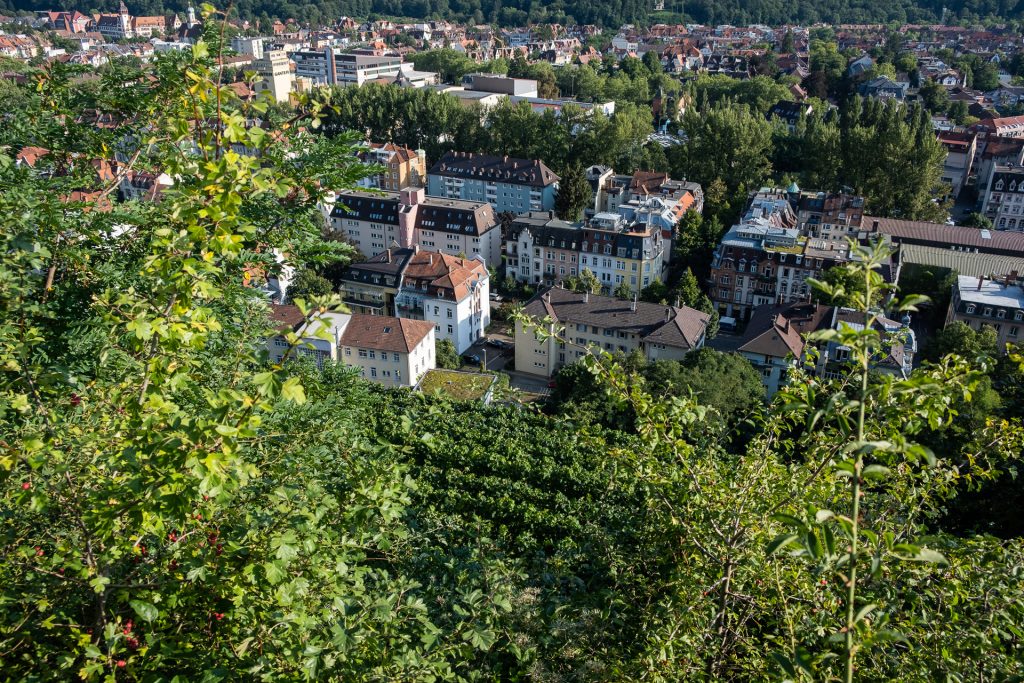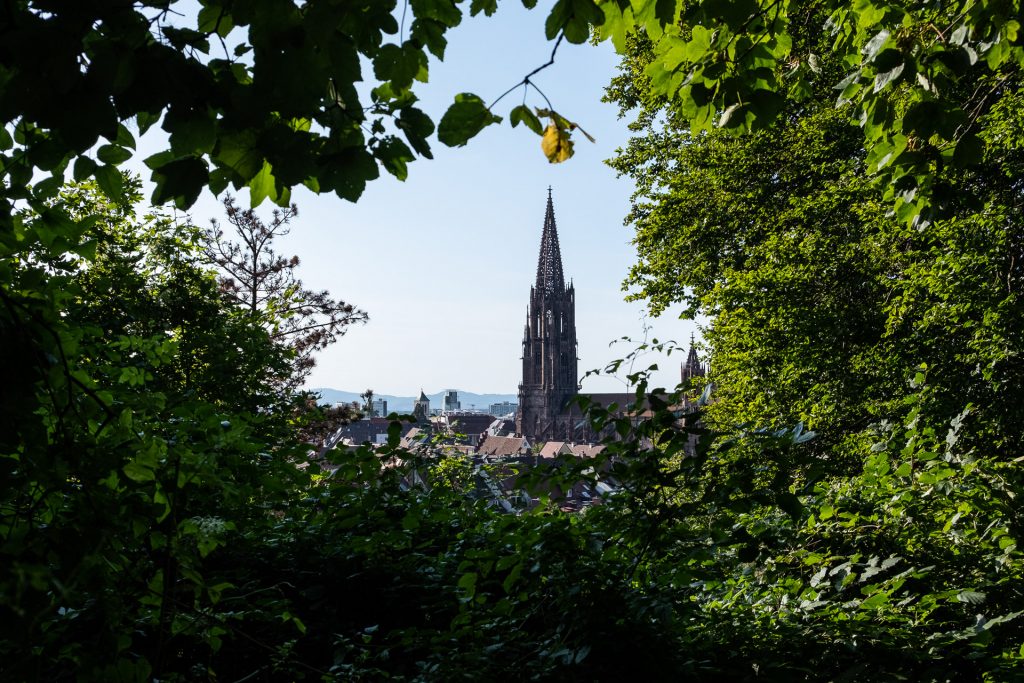 6. Black Forest
Schwarzwald, or Black Forest, is a huge forested mountain range. Loads of tourists uses Freiburg yearly as a base upon entering Black Forest, and tourism is the main industry in this area.

We sadly did not have time to explore Schwarzwald this time, but I know this is something I will definitely prioritize next time I'm visiting my friend.

Food and drinks
7. Martkhalle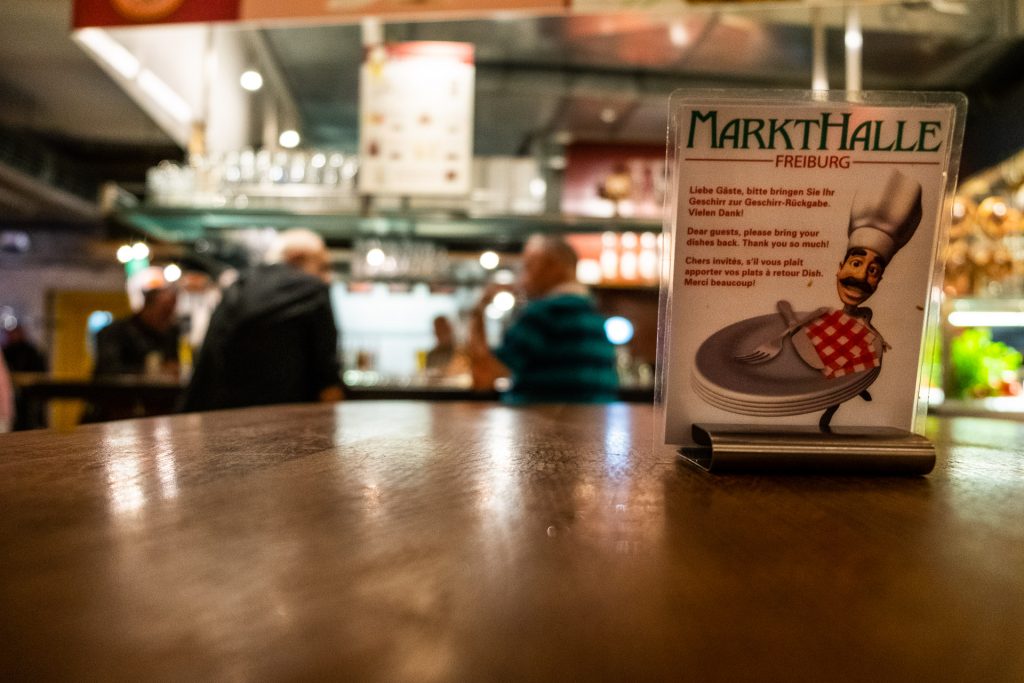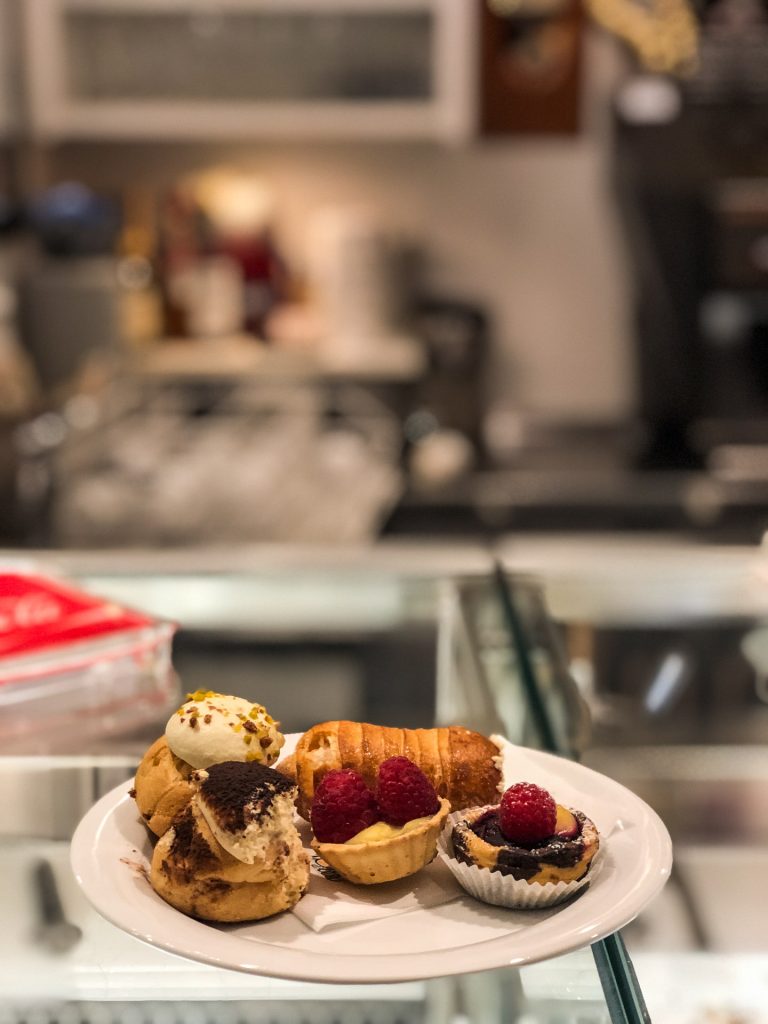 Based in an old building which used to be an old market, Markthalle is a food court with a great variety of both food and drinks (and even cake!). Here you can find both local and international cuisine, at a reasonable price, making it the perfect place to start your evening out in Freiburg!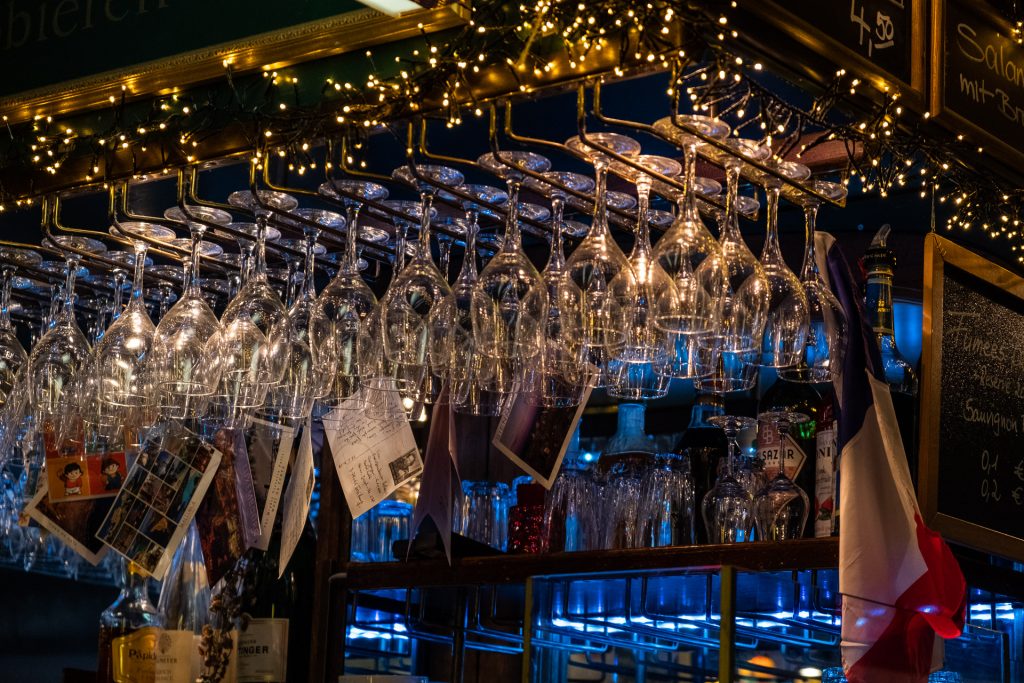 8. Schlappen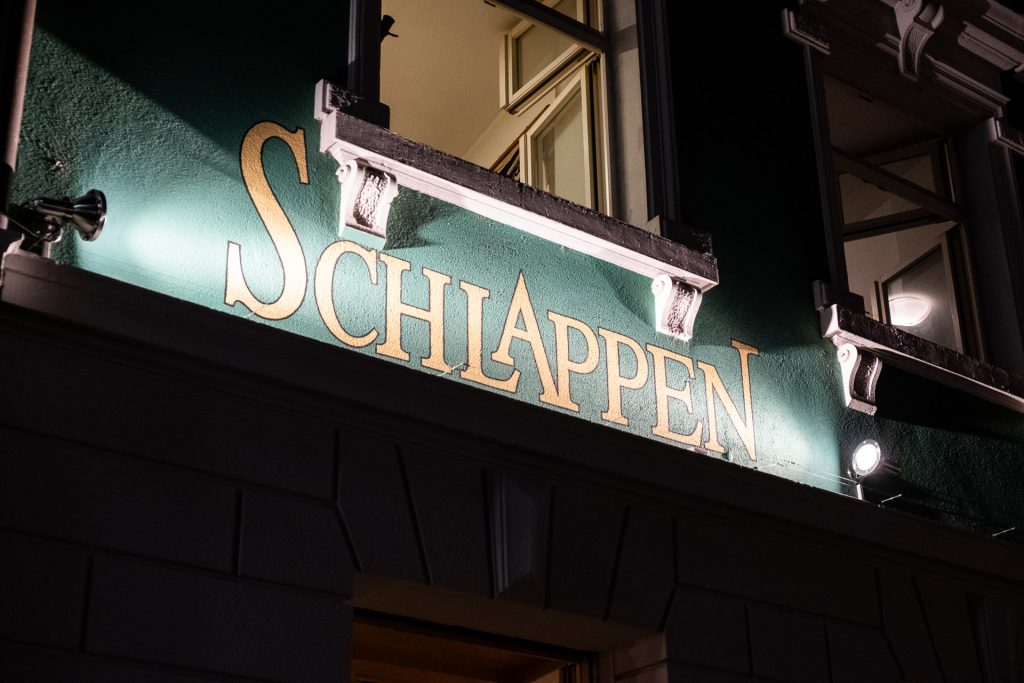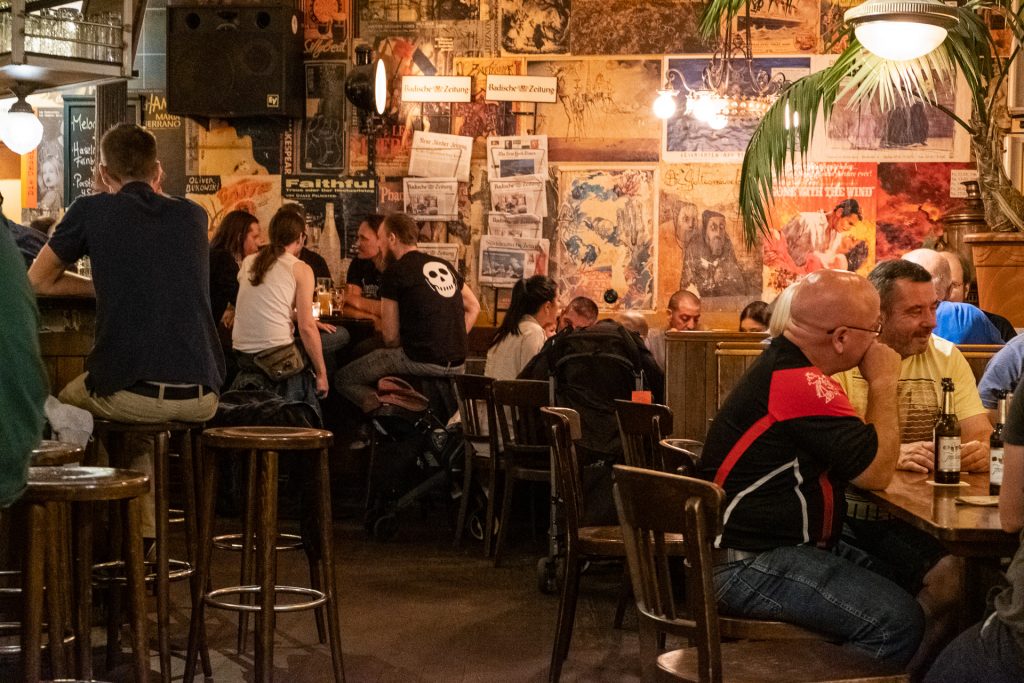 A huge yet incredible cozy pub, charming interior, great selection of both food and beverages (a booth full of beer, or absinth, anyone?) As Schlappen rebuilt their toilets in 1998, an old latrine from the 11th century was found, meaning this house is old, dated back to the middle age.

9. Alte Wache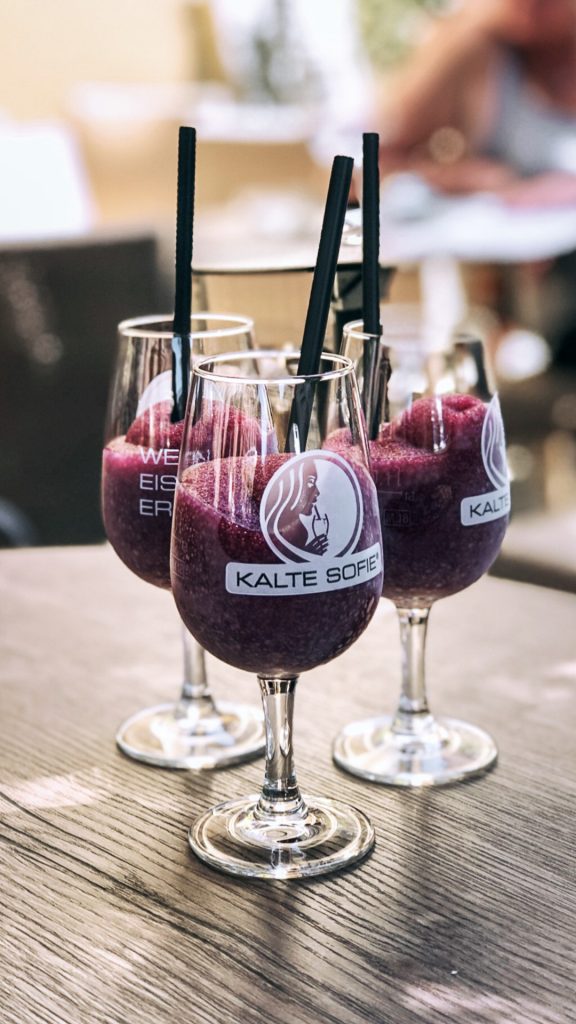 Located smack in the middle of Münsterplatz, Alte Wache offers probably the best drink option in all of Freiburg – wine sorbet. It's like a grown up-version of childhood favorite drink slush, only this time the sugary water is frozen wine. Incredible to enjoy in the sun – but be careful, there's definitely alcohol in this delight!

10. Sedan Café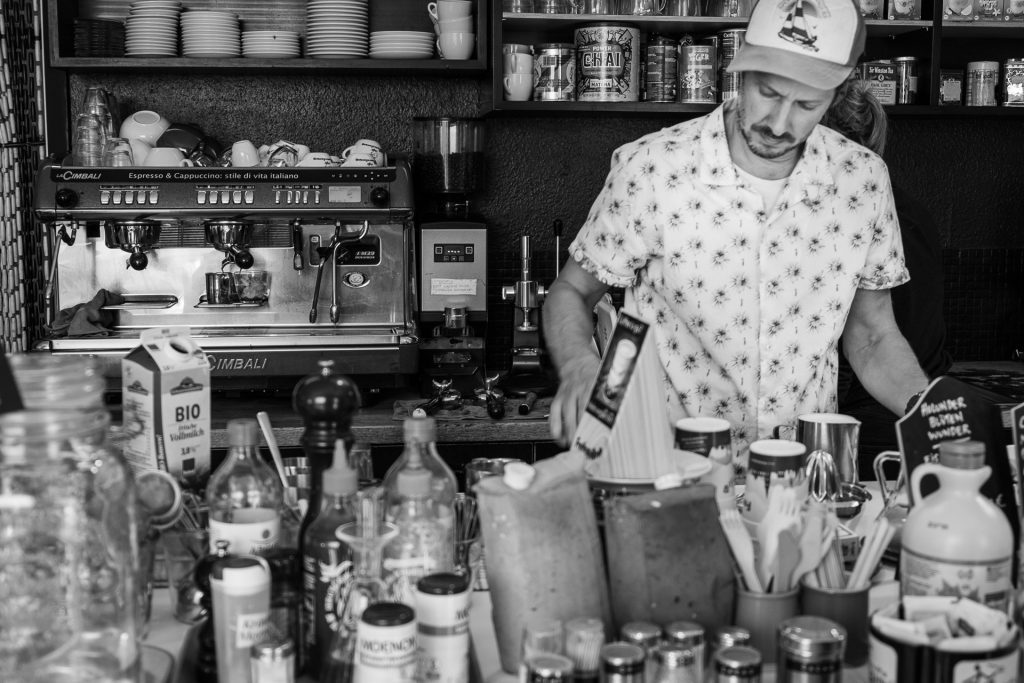 Self made juice, and presented to me as "the best coffee in Freiburg" (I obviously have not tried all of them myself) Sedan café is a great, central stop if you're looking for a café.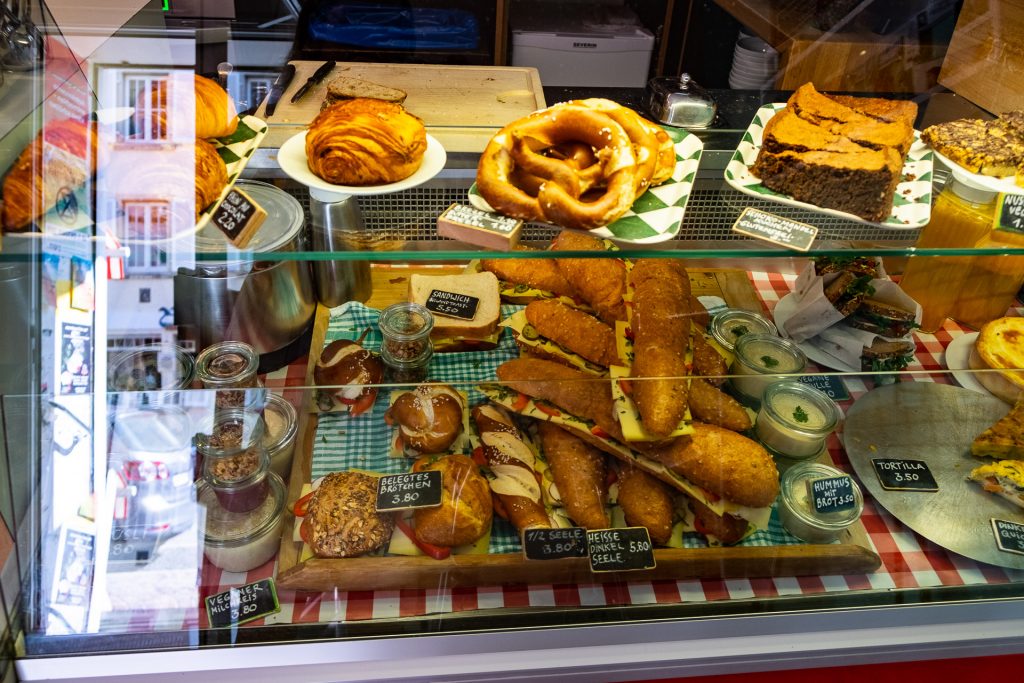 11. Café Hermann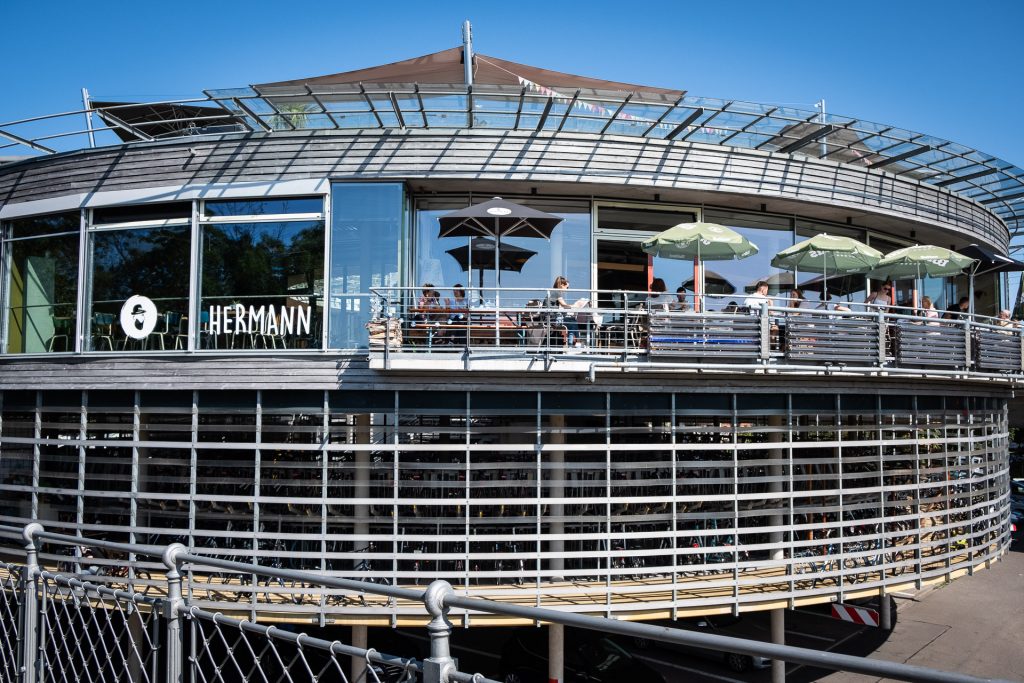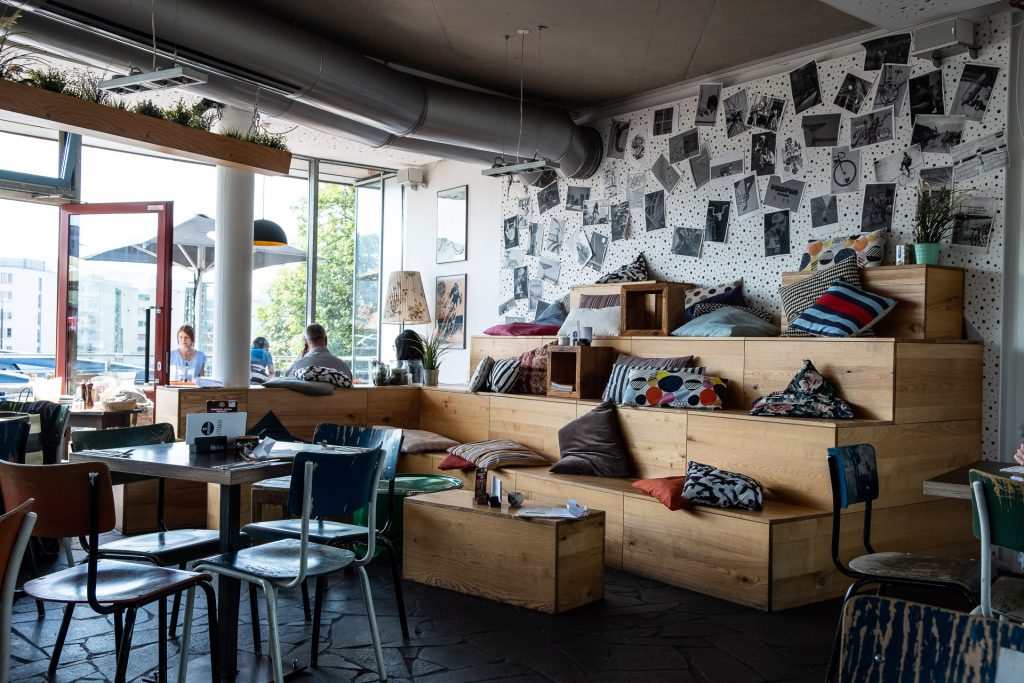 Located just next to the train station (literally, if you sit outside you'll find yourself seated over the train tracks) Café Hermann is a nice and central place for lunch. We went for the omelets, which was massive portions, and had us full and ready for a long, adventurous day. Bonus for gluten-free bread!

12. Feierling Biergarten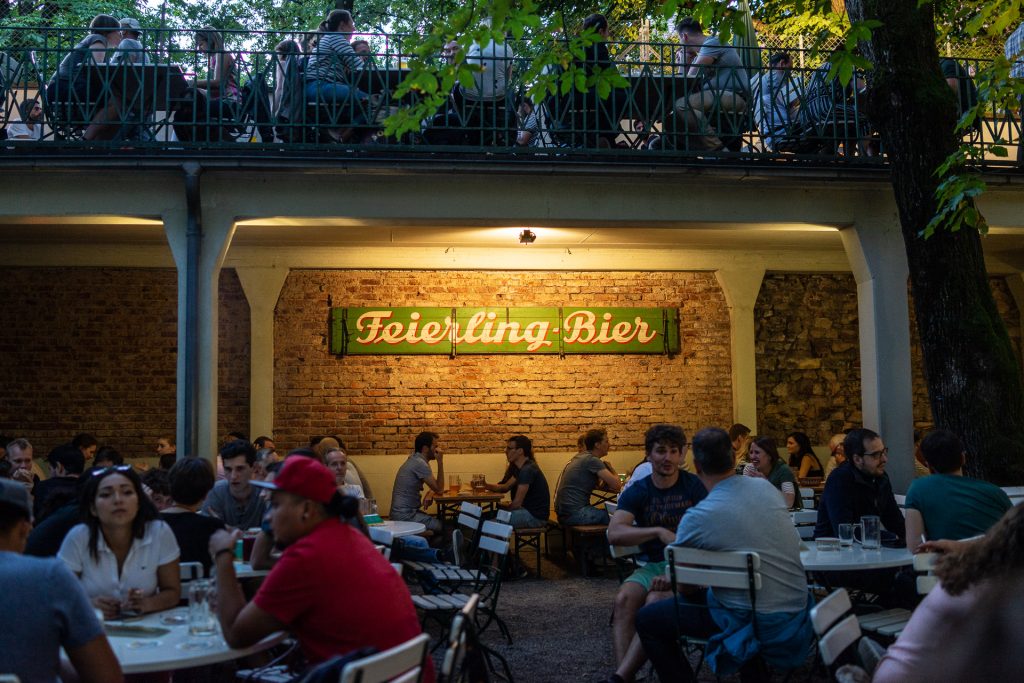 If you're hungry for some real, German food, you can surely get that at Feierling Biergarten. I had a wurst salad, and it both looked and tasted like everything I remember from the German kitchen earlier (taste: pretty good, looks: awful).
If you're more interested in beer (or huge glasses of wine) and some light snacks, they also have a really great outside area. Even though we visited on a Thursday, this place was crowded and full of life. Super German, and just super in general!

Excursions
Based on its location, there's several great day trips and excursions you can make while visiting Freiburg. Of course, Black Forest is somewhere you can spend several days, and of course Freiburg itself is worth investing time in to explore.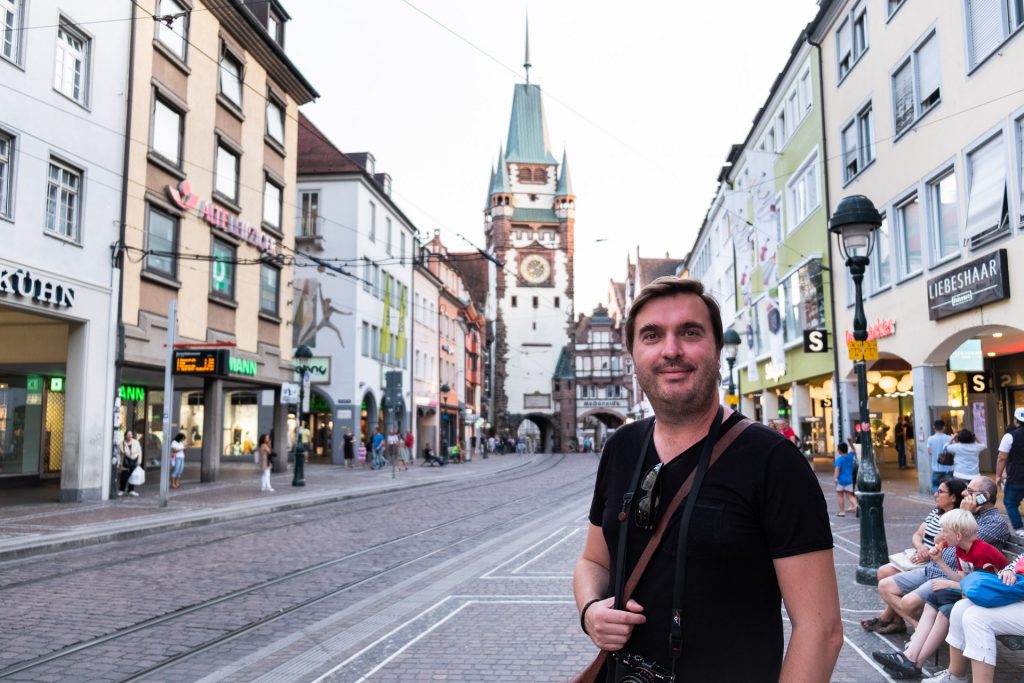 There's also several bigger cities you can visit, if that's what you prefer: Stuttgart is 2,5 hours away, Frankfurt is 3 hours away and München is a 4,5 hours drive away, and if you cross the border to Switzerland you can reach Zürich in less than 2 hours.

However, these are the three excursions that I did myself while visiting Freiburg, all which I definitely recommend:

13. Kaiserstuhl
Just about 30 minutes away from Freiburg lies Kaiserstuhl, an incredible, green area, where loads of wineries are located. Here you can go hiking, both up in the heights and between the wine ranks, and of course there's several wineries and scenic photo stops to visit.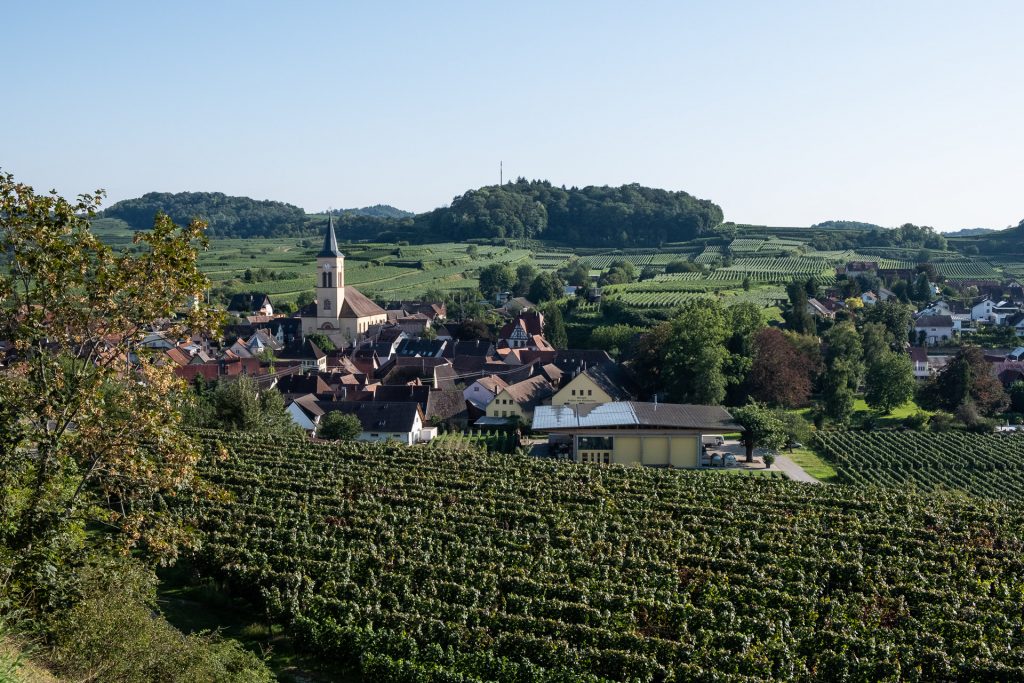 German wine is famous around the world, and the Kaiserstuhl area is famous for making some of Germany's best red wine, with the grape Spätburgunder (which makes Pinot Gris and Pinot Noir). Definitely something you should prioritize doing while visiting!

The excursion to Kaiserstuhl you can read about here!

14. Colmar (France)
Just across the border to France from Germany, in the province of Alsace, lies Colmar. Colmar is a small, really lovely city with the most gorgeous buildings and a canal. I read somewhere that Colmar inspired the village in Disney's "Beauty and the Beast", and I could definitely believe it did.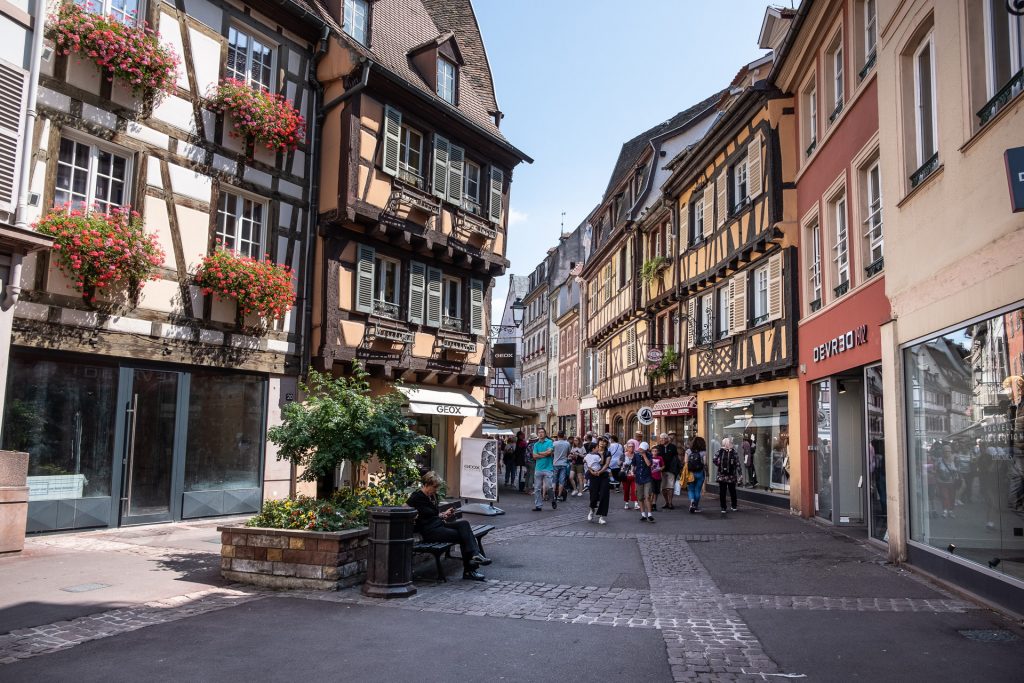 The area of the city centre which is crossed by the canals of Lauch, the river, is mainly referred to as the "Little Venice". An absolutely stunning place!

More about my visit to Colmar will be up here on the blog soon!

15. Basel (Switzerland)
Getting to and from Freiburg, we flew into Zürich in Switzerland. On our last day we left Germany just after breakfast, and crossed the border to go adventuring in Basel, Switzerland's 3rd largest city.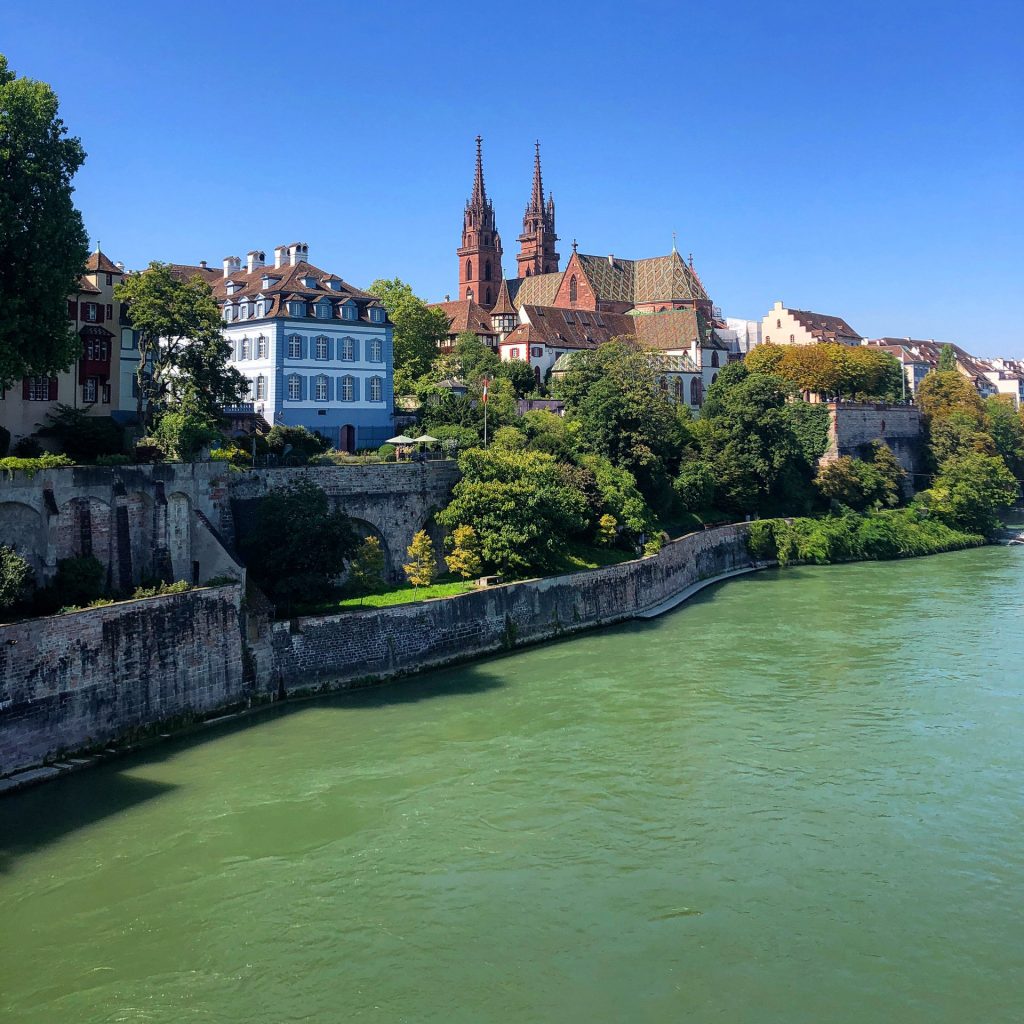 It was Romina who told me we should explore this specific city, as it was on our way from Freiburg to Zürich. " A lot of people only ever see Basel from the highway" Romina told me, "and they think Basel is ugly. From the highway you only ever see the industrial parts of the city, but there's so much more to see".

I love discovering things one perhaps would not were it not for the locals, and so it was we ended up spending a few hours in Basel.
More about our visit to Basel can be found here!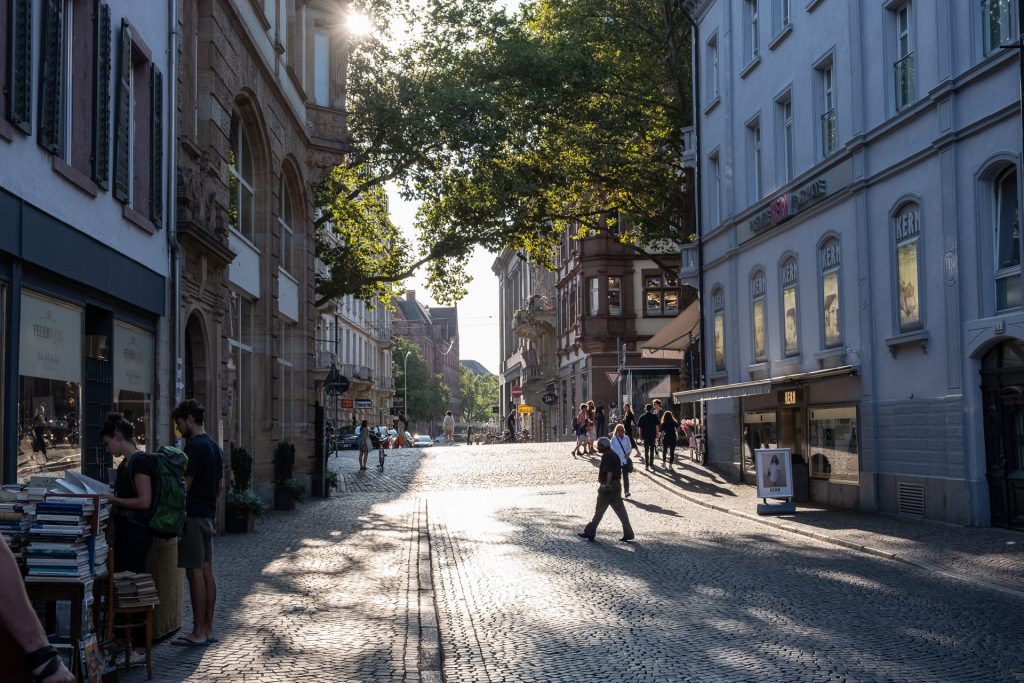 Getting to Freiburg:
* SAS har direct flights from Oslo to Zürich, with a direct train from Zürich to Freiburg (takes 1 hours and 46 minutes).
* Lufthansa has direct flights from Oslo to Frankfurt.
* Lufthansa also has flights to Basel, the closest airport, but with a flight change in either Copenhagen, München or Frankfurt.
For more info about Freiburg, check out VisitFreiburg
---
Is Germany a destination you'd like to visit? For more ideas, for example for the best things to do in Weimar, check out Destination The World's blog post here.
---