Thousands upon thousands of burning lanterns lighting up and filling the night sky. A celebration of light, so beautiful it's almost surreal. But it is real! It's the Yee Peng festival in Thailand, and it's happening right in front of my eyes.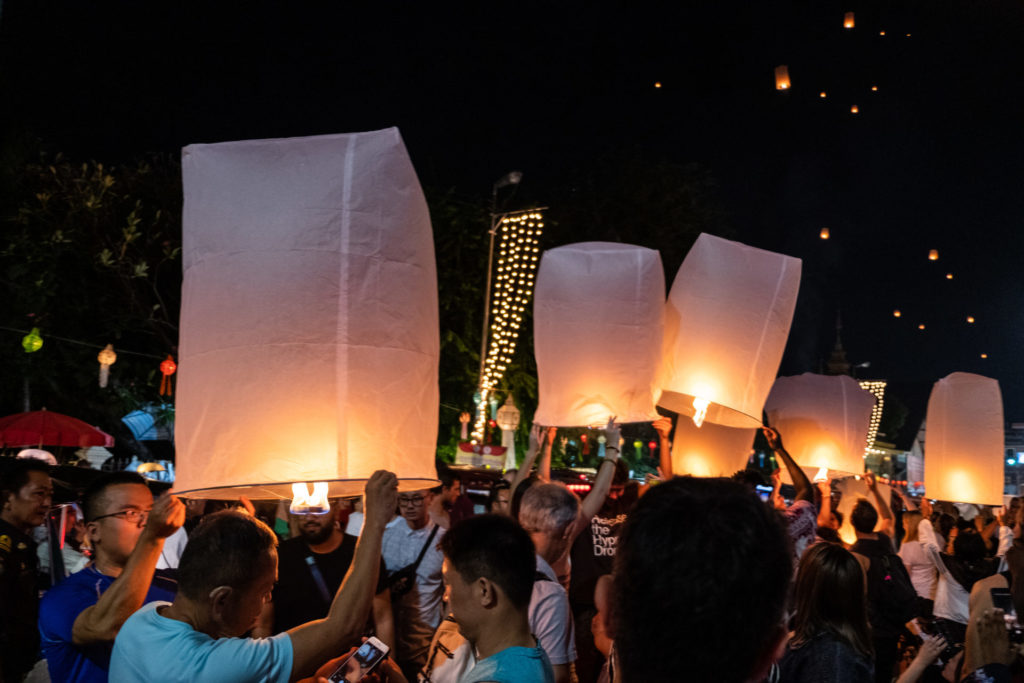 I'd seen pictures from Thailand with lanterns before. When I started my current job, I saw several pictures of monks dressed in orange, holding lanterns, and the night sky filled with them. Later on I learned those pictures belonged to Thomas, and that they're were taken at Yee Peng.
When I traveled solo to Thailand back in November, Yee Peng was one of the main things om my list.
But first things first,
What is Yee Peng?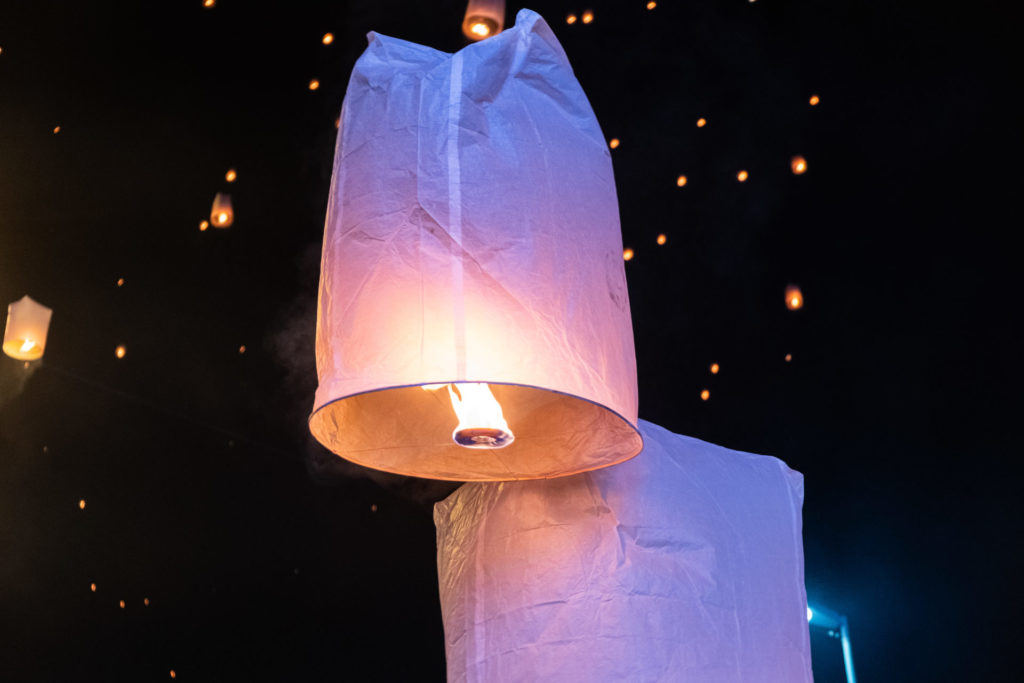 Yee Peng is a lantern festival, celebrated all over Thailand. As an original Lanna festival, it's typical for the Northern part of Thailand. Chiang Mai, which used to be the capital of the Lanna's, is said to be the best city to experience both the Yee Peng, and the Loy Krathong festivals.
As these festivals are celebrated on the full moon of the twelfth lunar month ever year, they're also marking the end of the rainy season (usually between October and November), and their celebrations are both supposed to be a symbol of leaving darkness behind in the past.

The Yee Peng festival is celebrated with releasing rice paper lanterns into the sky at night, meanwhile Loy Krathong is celebrated by placing small banana leaf baskets with candles onto the river. To separate and show you these two festivals separately, I've decided to make two different entries. This is the post about the lantern festival, Yee Peng.

On the full moon day you can buy lanterns everywhere in the city if you want to. Some just release them as they are, while others decorate them with written words, drawings etc. Before releasing your lantern, or the khom loy as it's called, you're supposed to say a prayer/make a wish. If your lantern stays lit until you cannot see it anymore, your wish is said to become true.

A light in the black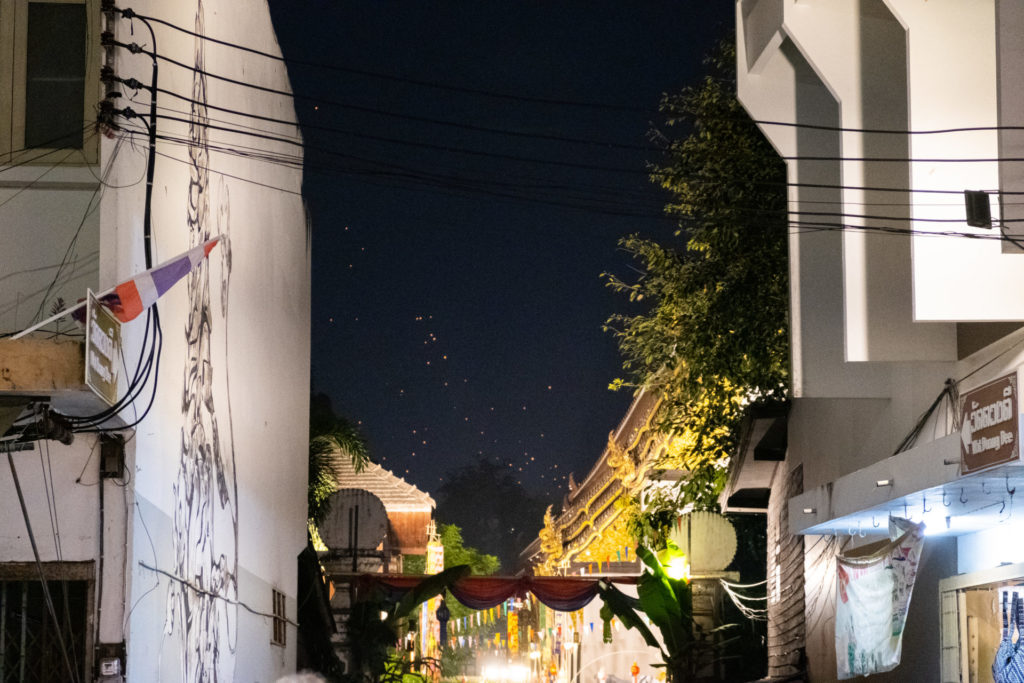 "See!"
I almost knock over the table as I jump out of my seat. There, far away from where I am, I see the first tiny orange lanterns moving across the night sky! Far away from where I am.
"The lanterns! They've started releasing them!"

To see the lanterns of the Yee Peng festival was the main event in Chiang Mai for me during my Thailand trip. I'd tried researching where I should be in order to be in the middle of it when they started releasing them, but the internet oddly enough did not give me any fulfilling answers. A lot of expensive events, and a few things about free events. But no real details of where to go.

And there they were, up in the sky, far away from me, and the streets were filled with people and traffic was not moving. And I had no idea where they were sent up from, or how to get there.

"I have to get there!"
If not now, then when? I'd traveled halfway across the globe to see this, and I was not ready to miss it. So close, yet so far. Melissa, my new friend, nodded. The only thing we could do was to move in the direction of where we could see the lanterns. And so we did, we ran. Or, mentally we ran. In reality, we were squeezing past people and walking slower than slow, as the streets were brimming with people and food stalls.

"Lanterns! Lanterns! Lantern?" a woman shouted out. I turned towards her. She sold lanterns. And all of a sudden some of the crowds moved, and I could see them. Right in front of me. Children. Adults. Old people. Families. Everyone was out in the street just in front of me, holding their lanterns and getting ready to let them go. Melissa and I screamed excitedly! We found the lanterns!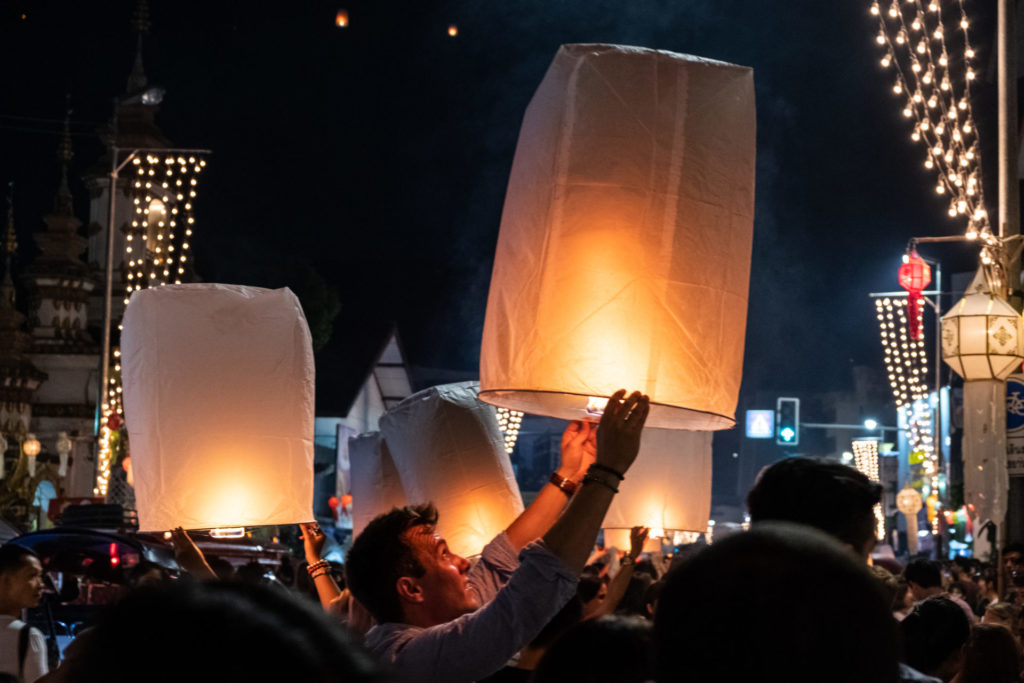 We quickly purchased our lanterns from the lady, and continued down the road. At this stage it felt like we'd been hunting lanterns for hours, and I could feel my body shake with excitement. My dream was about to come true!

Turns out the lanterns are way bigger than I thought. Even as we helped each other, doing one and one lantern, Melissa and I struggled with holding it up high enough that it would not make itself on fire. Luckily there was this sort of unspoken rule in the street that day, and everyone that did not already hold a lantern would quickly hop over to help once they saw a new lantern being lit up.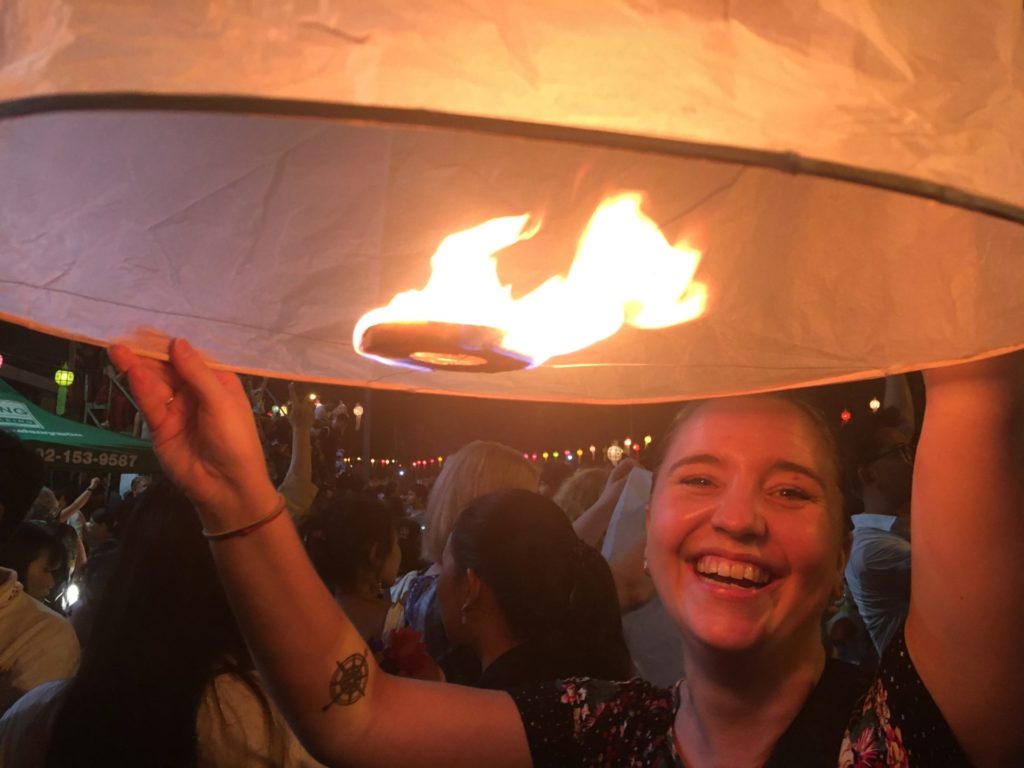 When it was my turn, I was so excited I thought I was gonna drop the lantern. My face felt like it had the biggest grin on it. I felt like a child on Christmas day! I did not know how long to hold on to my lantern for, and it turns out I was not the only one who could have needed a user manual. I saw several lanterns crash and burn, some even before they were up in the sky, some dramatically plunged down from the sky as a falling star. Other lanterns got stuck in lamp posts. Luckily I saw no lanterns causing any harm to people or buildings.

After we both had released our lanterns, we stood still just watching the sky for a long time. You know how sometimes it feels like you're dreaming, but then you realise it's actually real? This was such a moment. a moment like this. "How would you feel about an ice cold bucket of sangria now?" Melissa asked me, as she grinned at my blissful expression. I nodded, and we walked off towards the food market, stopping for just about every second stop to turn back and look at the lanterns again. Mission completed!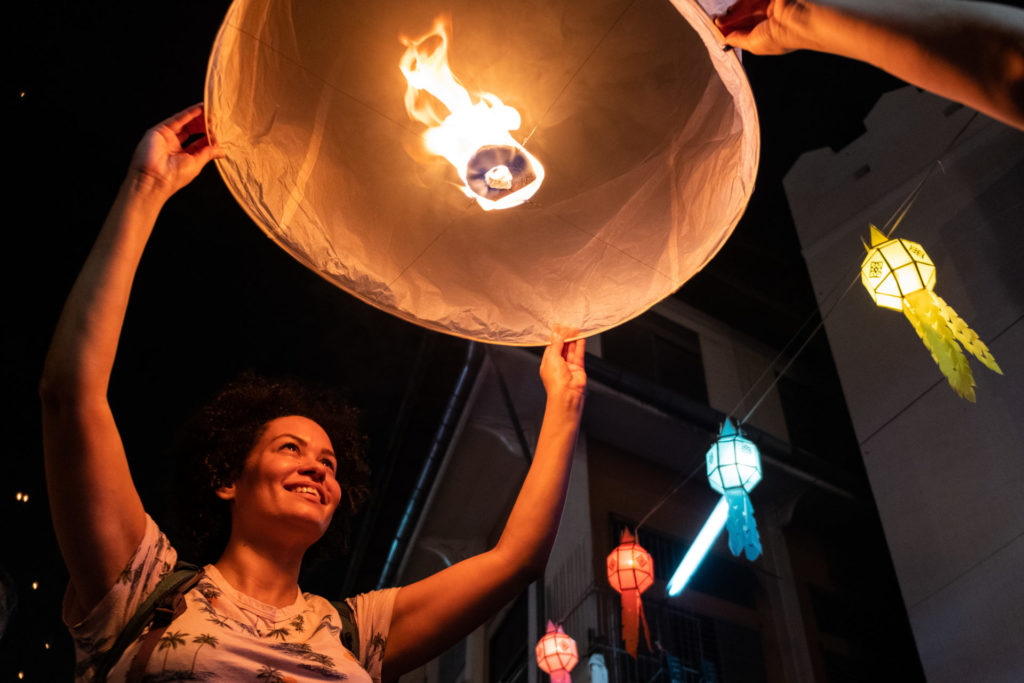 Side note:
Both Yee Peng and Loi Krathong was celebrated over two days while I visited, but on the second day police was very strict with where you could release your lanterns. I witnessed several lanterns being dragged down to the ground and trampled by the police to put out the fire, and also several lanterns getting sprayed with water.

On the second night I also saw two girls holding a lantern between them ready to be released when a police officer just had about enough of tourists releasing lanterns where they were not allowed. He smashed their lantern (while lit) as they held it between them with his baton, causing quite some distress as it's remains fell down on the ground between them.
Please be aware of when and where you're allowed to release the lanterns, as not following the rules also can give you some hefty fines or even time in prison.
Summary: Listen to the police, and if they say you're not allowed to release lanterns where you're at, then don't. Not only could you get a hefty fine, but you could also get sentenced to jail! (By the way, I think the girls were not harmed, but they were definitely scared!)

When is Yee Peng?
Both the Yee Peng and Loy Krathong festival are celebrated at the same time, at the night of the full moon on the 12th month of the Lunar calendar. When I visited in 2019 it was in November, and in 2020 it's in October, so be sure to double check your dates before booking your Thailand trip!
Both events happens usually during the month of November, but the dates might change depending on which year you'll visit. To make sure you're there for the right dates, google "Yee Peng/Loy Krathong 20xx".
Where do I go to celebrate Yee Peng?

As I had seen in the pictures of Thomas, and also on Ingeborg's blog, there's grand events with monks and thousands upon thousands of people gathered. I'd set my mind on the Mae Jo Sky Lantern Event near the Mae Jo University, as it seemed like what I wanted based on their stories. Sadly for me, and for everyone else who wanted to witness this, these events have now since 2015 completely been turned into touristy capitalistic events, charging several hundred dollars for a ticket.

As a touristy event was neither the authentic deal I wanted, nor within my budget, it became clear to me that I'd have to find somewhere else to go. Luckily, however, there's still a lot of places you can go to see and participate in Yee Peng for free.
For the Yee Peng-festival in Chiang Mai in 2020 you can see the program here!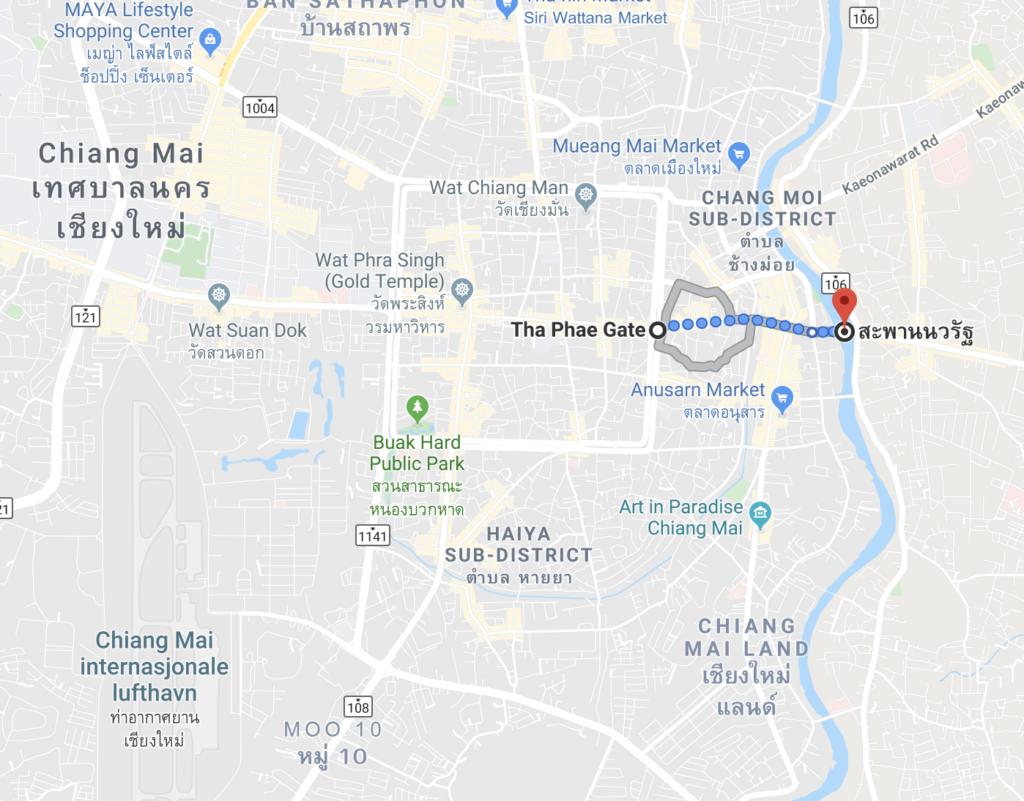 In Chiang Mai there's several places to go in order to see the lantern, but a good area to be in is between the Tha Pae gate and the Ping river, which I've marked here.
Have you been to Yee Peng, or any other festival of light? Or would you like to go? Leave me your stories in the comment section, and also feel free to leave any question with regards to the festival for me.
---