In the Northern part of Chile you'll find the Atacama desert, an area of about 1000 km, located to the west of the Andes mountains. The Atacama desert is one of the driest places on Earth. Usually. Except the weeks before our trip to Chile, Atacama experienced severe flooding.

When nature strikes
We'd already booked both a hostel/camping place to sleep, and flight tickets to Calama, as Atacama was one of the main things we wanted to experience in Chile. Anxiously we kept track of (or at least tried to track) the situation, but there seemed to be a lack of official places with updates. The few ones we found said that most places were shut down due to the floodings, but hopefully would be opened again soon, while others said that entire roads had been washed away, and would be shut for months. What were we to do?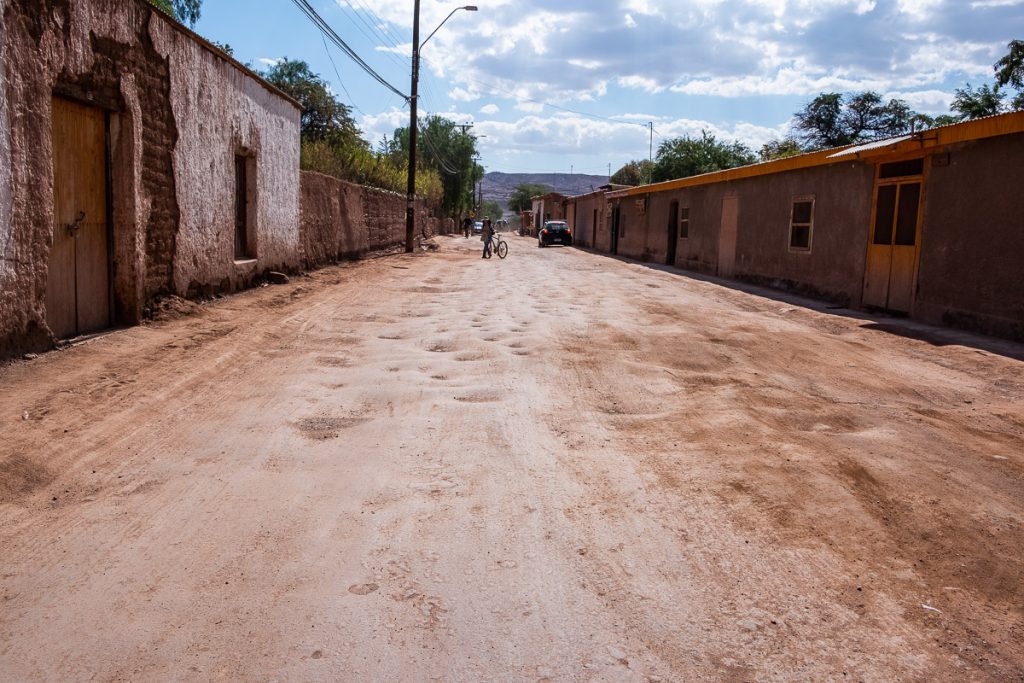 The discussions went on for days, and finally we decided to just fly up to San Pedro, and check out the current situation for ourselves. If everything was shut down, we'd book ourselves in on a bus trip we found taking us to Bolivia, so that we could visit Salar de Uyuni amongst other things, another thing I really wanted to.
Our flight to San Pedro did not include a checked in bag, and as the weather in San Pedro and in Bolivia was really different to each other (San Pedro being partly sunny and about 25 degrees, Bolivia being around 5) we packed as clever as possible, and got ready for layers. We rescheduled our return ticket to a day later to give enough time for the excursion, and off we went.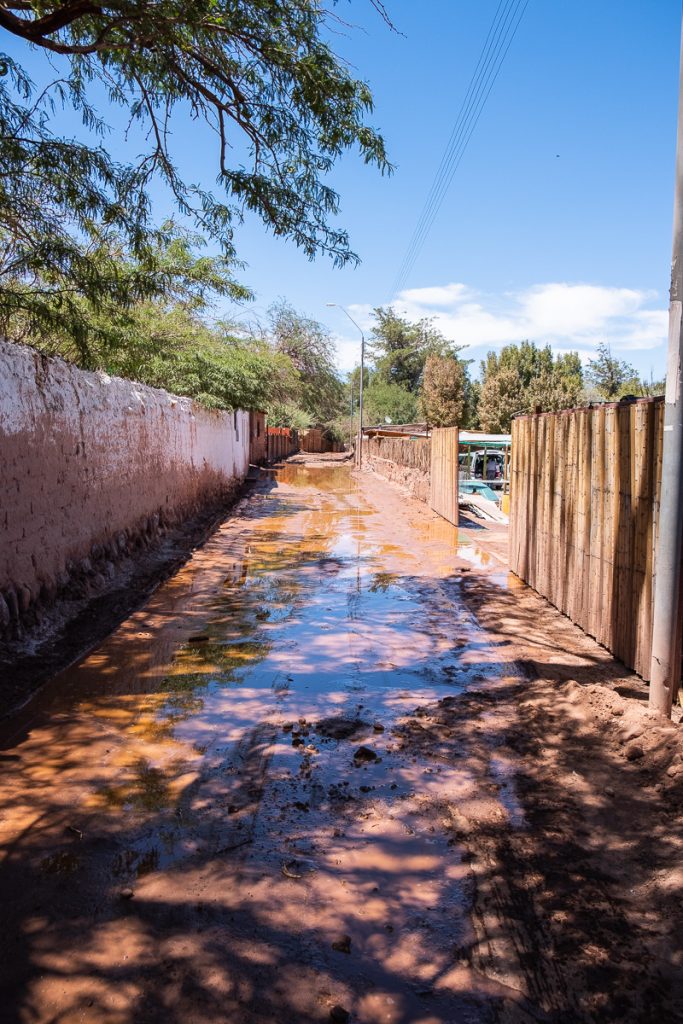 As we arrived in San Pedro de Atacama, the remains from the flooding were still visible in the streets. Just outside our hostel the road was still muddy and partly flooded, and even in the city centre mud spots far up on walls showed how bad it had been.
While researching excursions to Bolivia, we also checked out what one could actually do in Atacama those days. Not much it seemed, a couple of small trips, but no option of hiring a car, which was what we had intended. It seemed like Bolivia would be our best option; even as also Bolivia had experienced rain it seemed they had recovered more.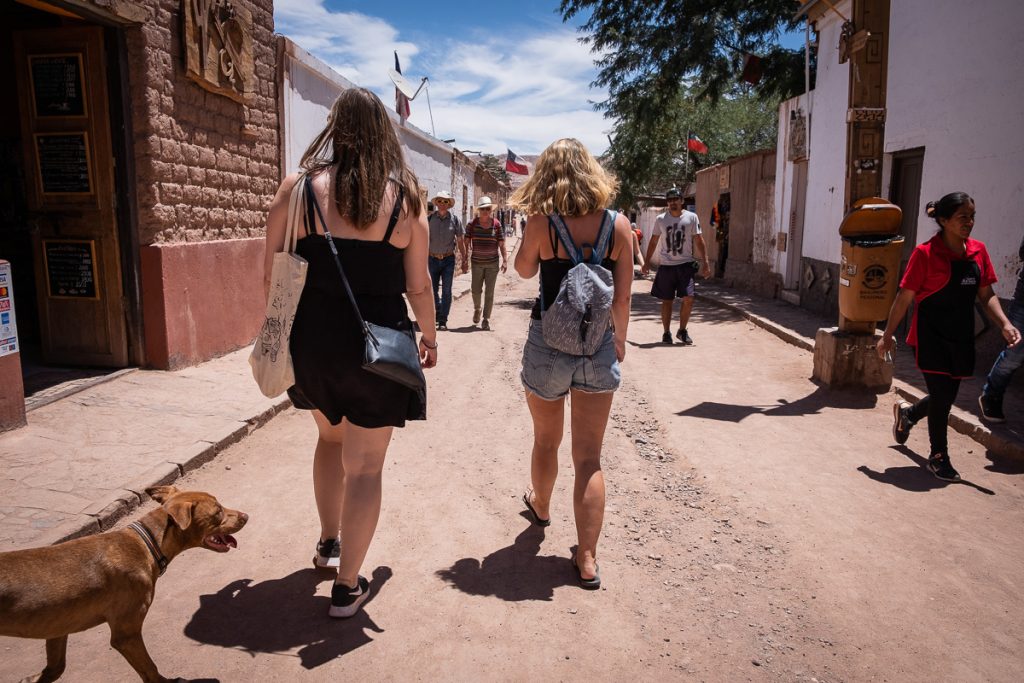 And then my food poisoning really kicked in! I'll spare you the details, but it was clear (to the others, at least, I was stubborn and wanted us to keep going) we would not have fun being in a bus for 4 days on bumpy roads. Instead of experiencing Salar de Uyuni and Bolivia, I got to experience 3 days flat out in Atacama. I felt awful – especially because me getting sick meant everyone skipped Bolivia.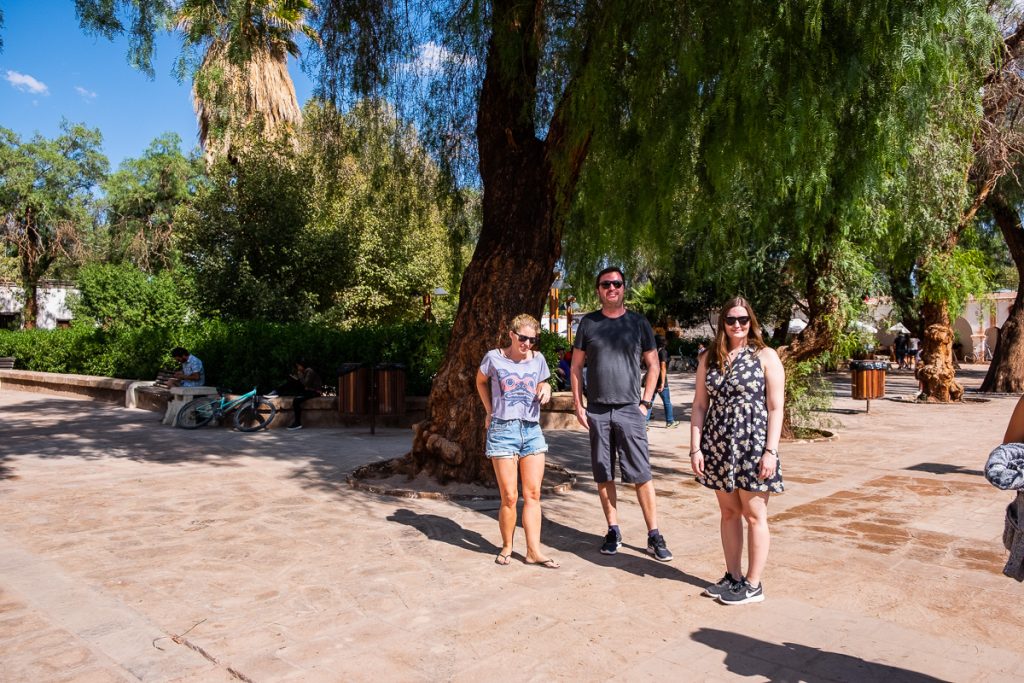 Luckily, my great travel company took care of me, and were also able to figure out a couple of things that were still open. While I got the maximum value out of our room(!), the others roamed the streets of San Pedro, went on an early morning-excursion to Geysers del Tatio, tried grilled llama and had a blast. (At least this made me feel less awful for being the reason we were not out exploring a new country).

However, I did eventually end up getting to experience some cool things in the Atacama desert myself.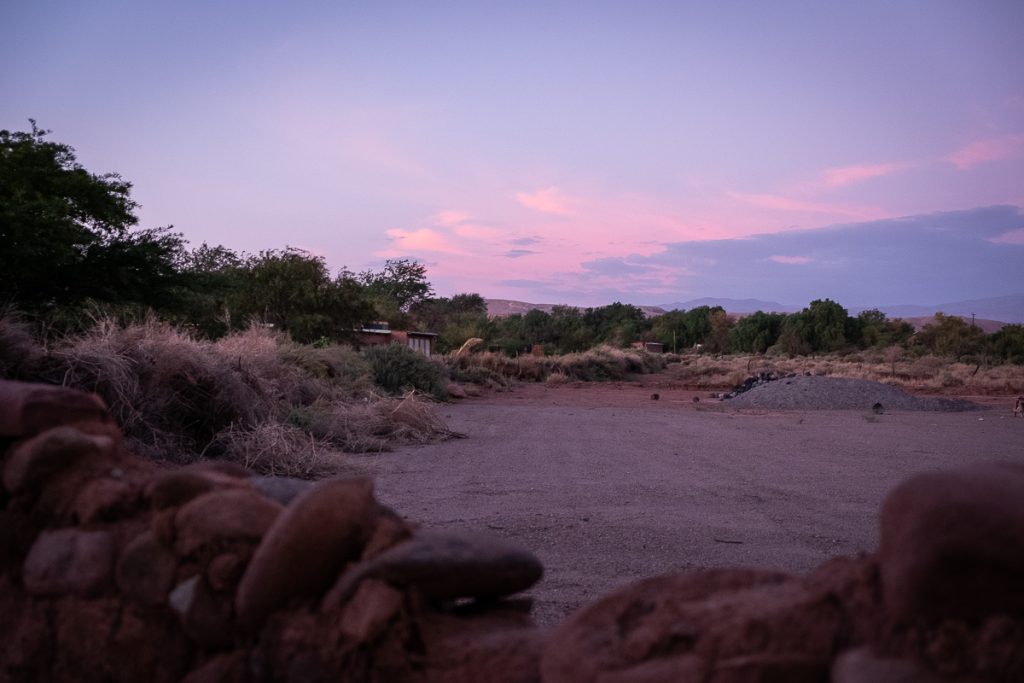 Valle de La Luna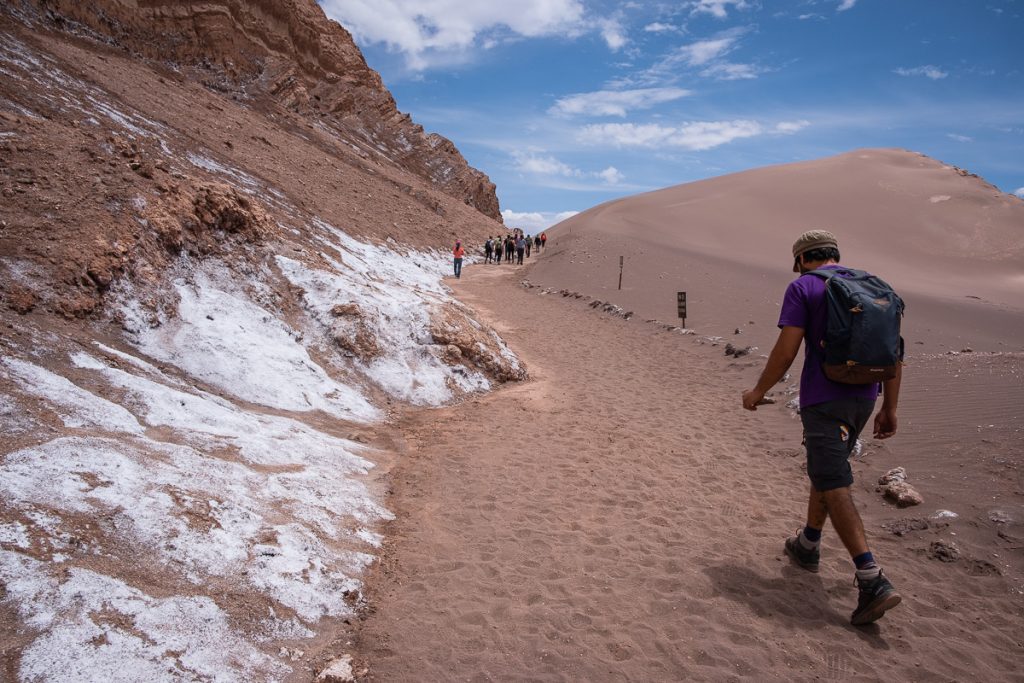 Valle de la Luna, or "Moon Valley" is located about 13 kilometres outside San Pedro de Atacama. This valley has, logically enough, gotten its name based on the landscape, which is somewhat similar to the moon, with different stone and sand formations. While we visited, because of the floodings that had been in Atacama during the weeks before, the valley was covered in white salt.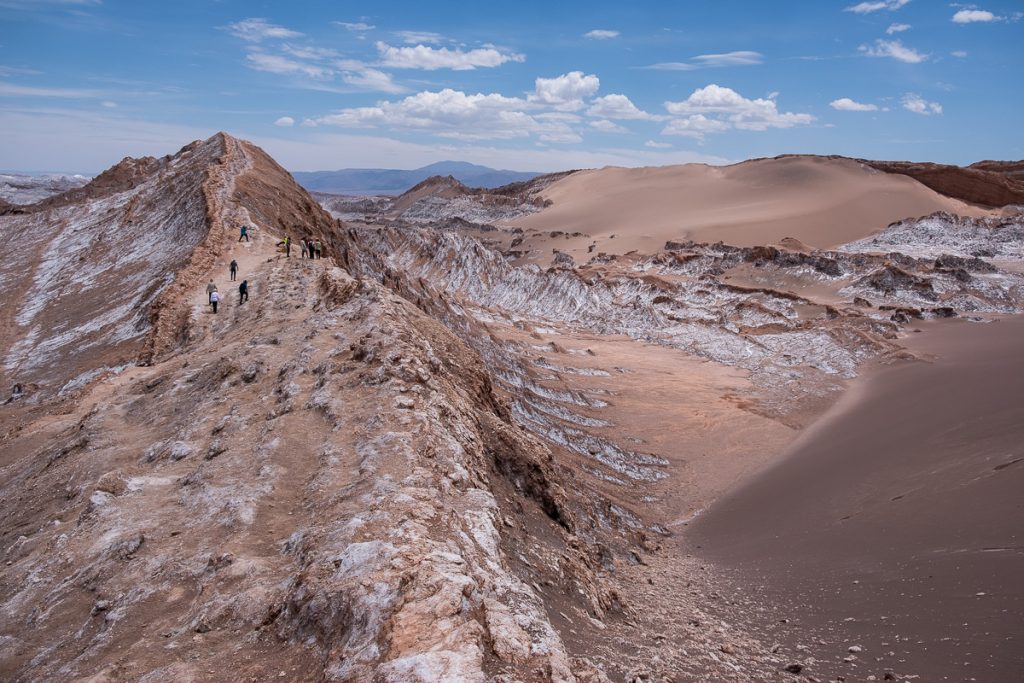 "Take loads of pictures!
This is very special, the last time Atacama was white like this was in 1972"
our guide said. And we obviously obliged.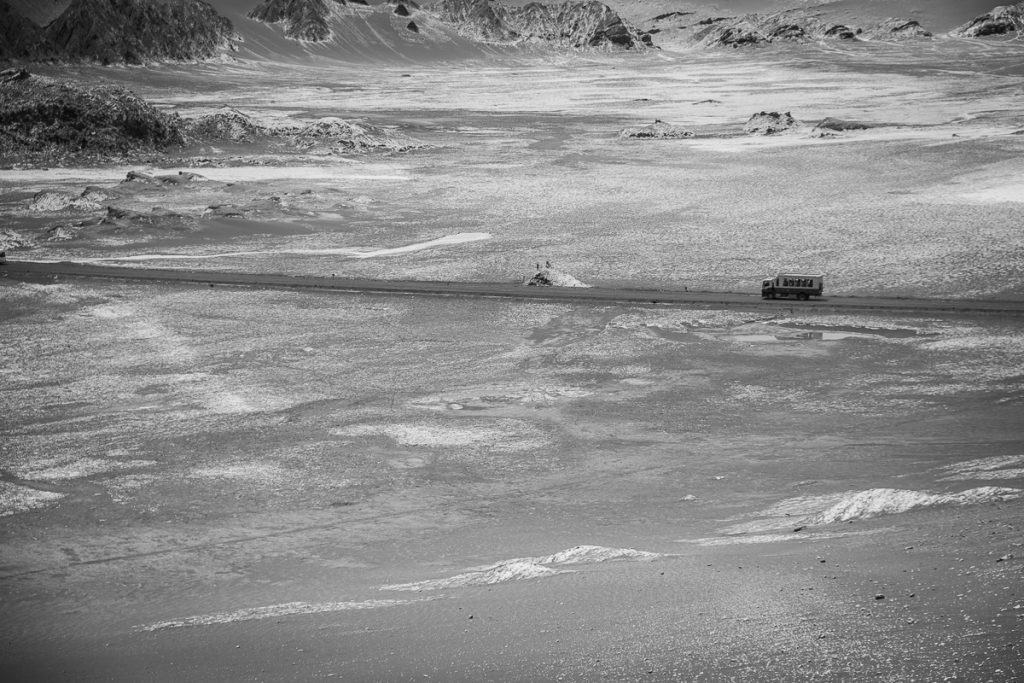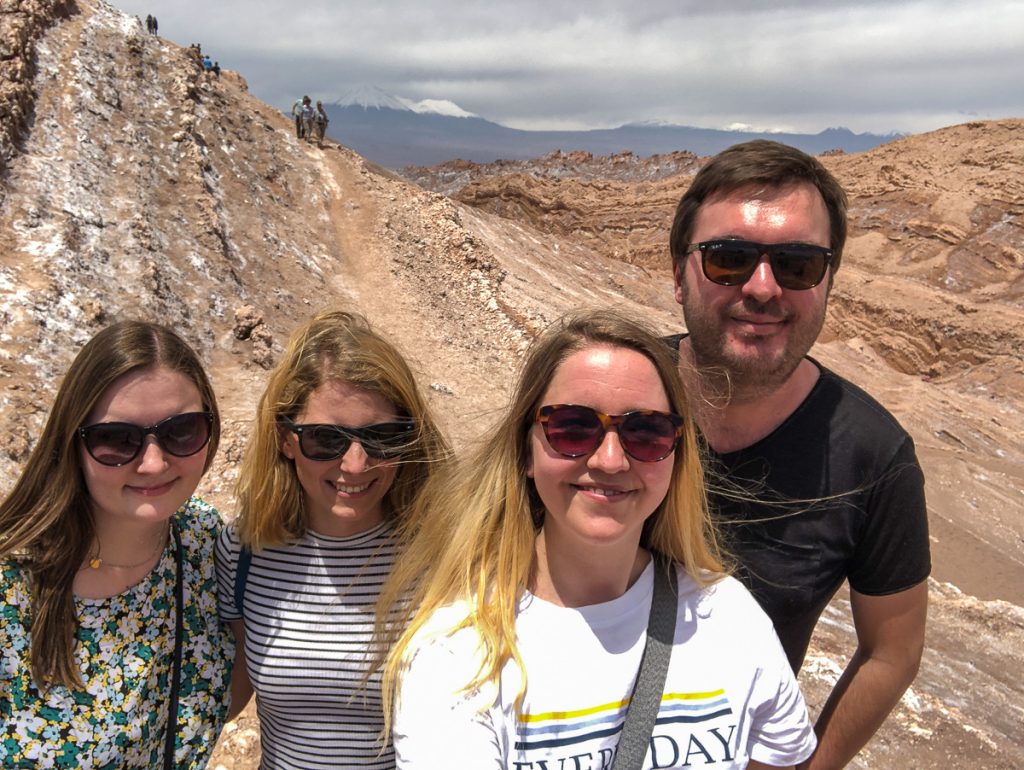 We went on a guided tour to Valle de la Luna, meaning we got into a small bus in San Pedro de Atacama, and along with the other travelers we were then driven out to the valley, while our guide for today told us a bit about Atacama.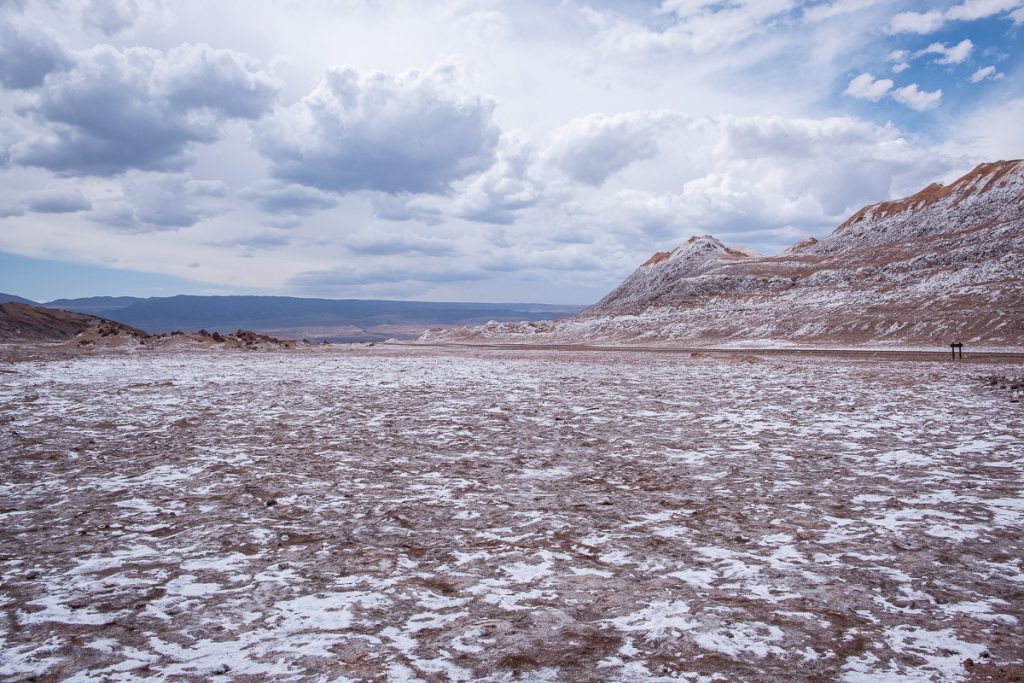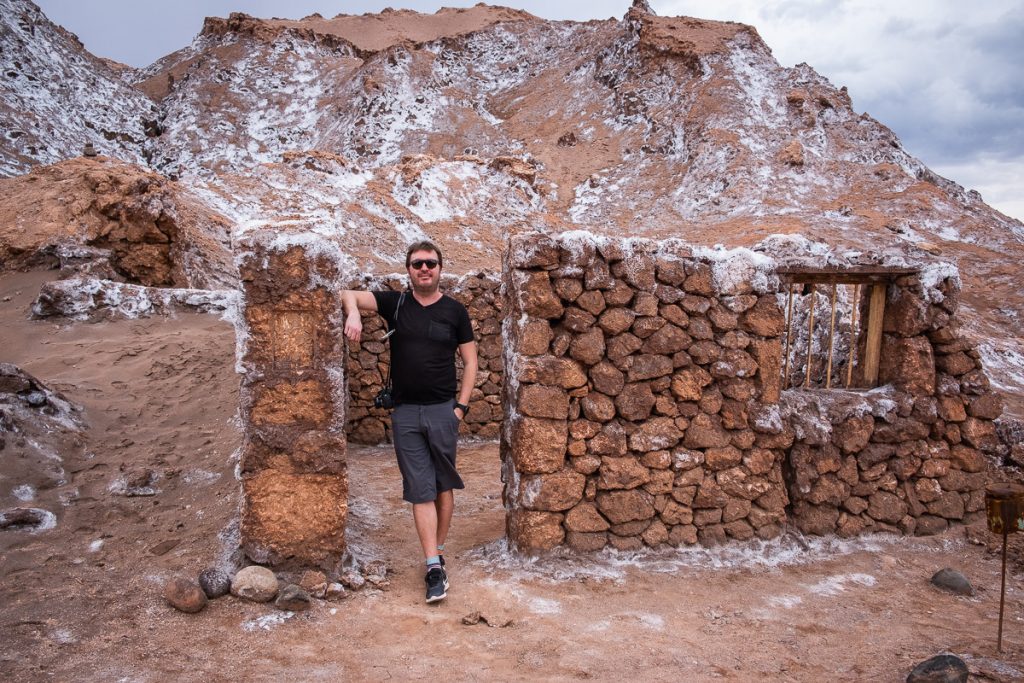 While visiting Valle de la Luna we had plenty of time for taking photos and admiring the landscape, while the guide provided us all with a lot of interesting information both about the landscape, the story of Moon Valley and the surrounding places etc.
Close to Moon Valley is another Valley, if you have the time for visiting one more, this one is called Cordillera de La Sal, or "Death Valley". Sadly, we did not get to visit this one, due to the floodings.
San Pedro de Atacama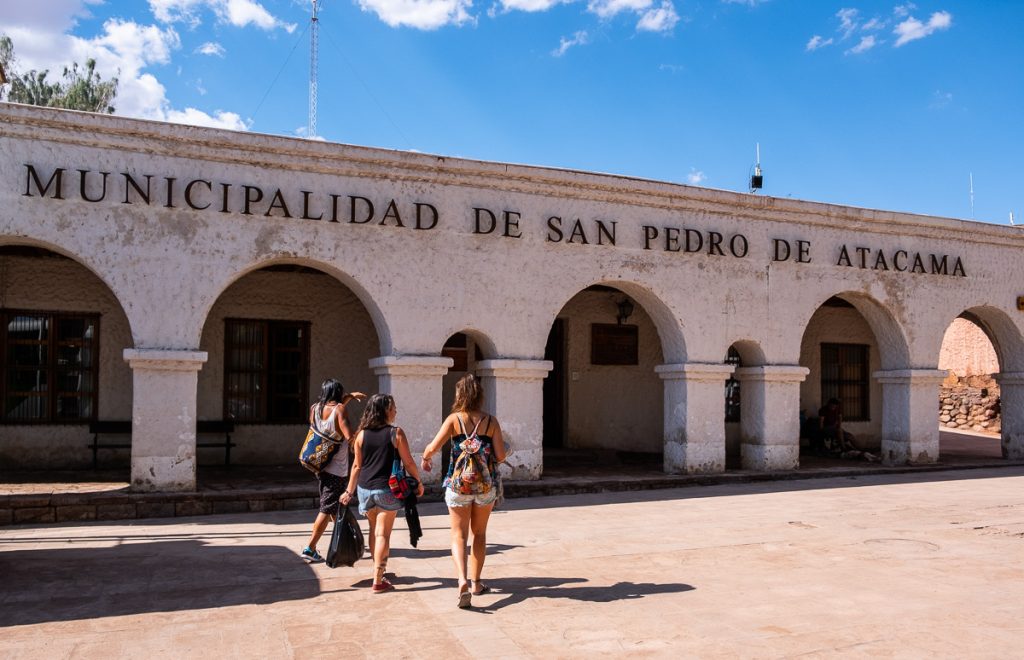 About 106 kilometres from the airport in Calama lies the town of San Pedro de Atacama. With an altitude of about 7000 feet (2100 metres) above sea level, it's possible you'll experience a mild altitude sickness, such as headaches and shortage of breath. Luckily, neither of the four of us experienced any of this during our 5 days stay in San Pedro.
As mentioned, we did not really expect to spend a lot of time in the actual city of San Pedro de Atacama. We'd planned on having it as our base, having booked a hostel for our days there, but hitting the road out each day. With most of the touristy things and roads nearby closed, we found ourselves with more time in the city.
San Pedro has a lot of different restaurants, bars, hostels, camping spots and travel agencies. We joined in on one of the "Free Walking Tours"* arranged in the city once I started feeling better from my food poisoning, to learn more about the city.

*Free Walking Tours means you pay only tip for participating, and you get to decide how much you think the tour was worth.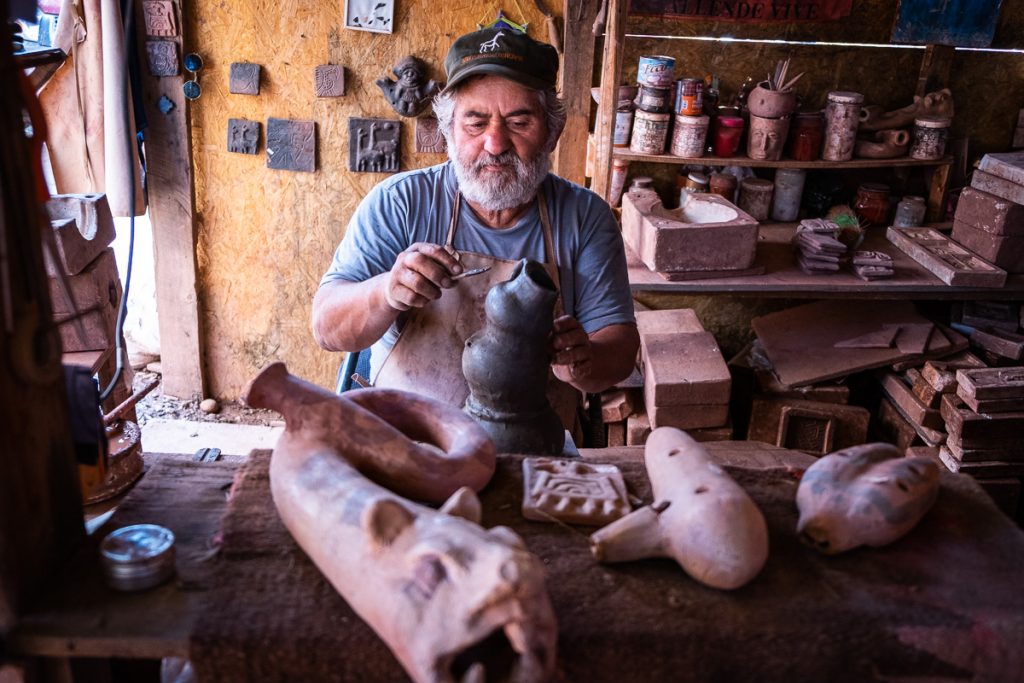 During this tour we got to taste both algarrobo (a sweet tree fruit) and pepper straight from the trees they were growing on, we learned about the history of San Pedro de Atacama and the general area, and we visited a craft place.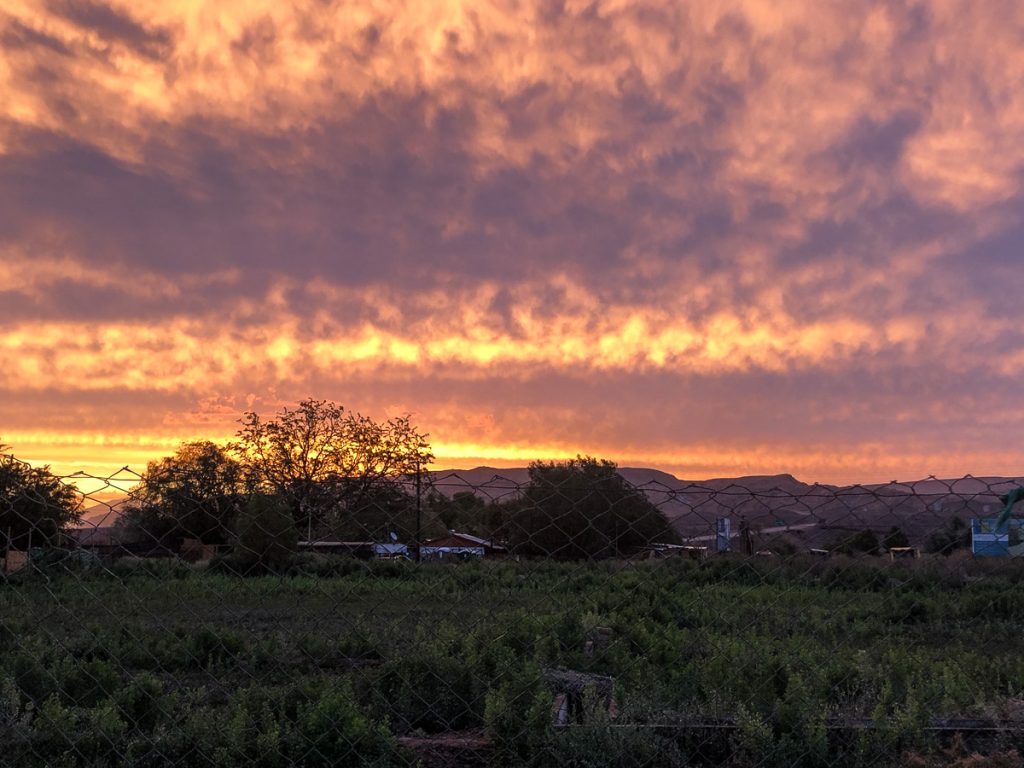 Road trip
Traveling is exciting, but it can also be tiring. Our adventure to Atacama definitely turned out to be both. From dealing with floodings, debating what to do next, planning a trip to Bolivia, getting food poisoning, cancelling the trip to Bolivia and then meeting the challenges of closed roads, travel agencies trying to sell us trips to places that were shut… It was quite exhausting!
As we'd changed our ticket to allow for an extra day in order to visit Bolivia we found ourselves a bit lost at our last day in San Pedro. What would we spend our time on doing?
We'd debated renting a car and driving where we could, but all the places we wanted to see was shut down. After a relaxing morning, packing and checking out from our apartment, we decided to just double check with the local travel agency if there'd been any changes to what was open. Which there had!
Finally, something was working out to be in our favor, as loads of roads had been opened, meaning we could actually visit some of the many venues we wanted to. We ran off to rent a car, and quickly sat off on a road trip, basically wanting to cram in 4 days of explorations in a couple of hours(!)
But then there was road works. 2 out of the 3 ways out from where we'd rented a car was blocked off due to roadworks after the floodings, and the last one was a pedestrian zone.
A man walked over to our car, knocked on the window, clearly understanding what was happening. "I'll tell the people to move out of your way, and you just drive really slow down this pedestrian zone at the same time, okay?" he said. We just stared at him, and each other. "It'll be okay, just do it!" he grinned, and he started herding the pedestrians around.
We slowly moved down the road, people staring at us, some laughing and waving, all four of us feeling pretty stupid (and slightly criminal), but it worked. We got out on the actual road, no one was harmed, and as we saw San Pedro disappear behind us I saw the man smiling and waving us off. Adventure time!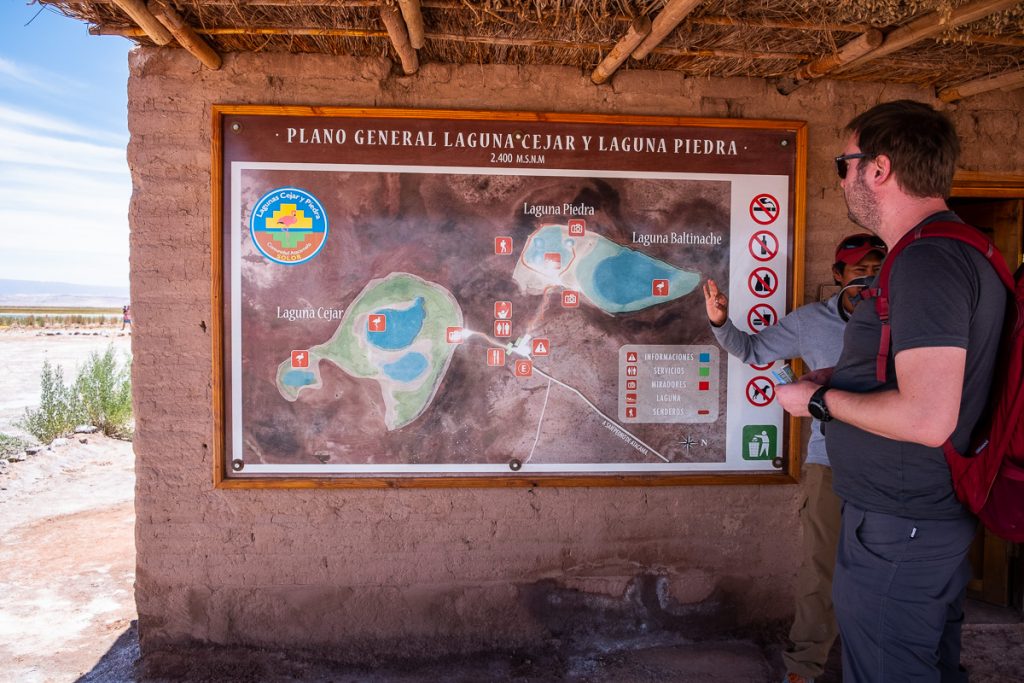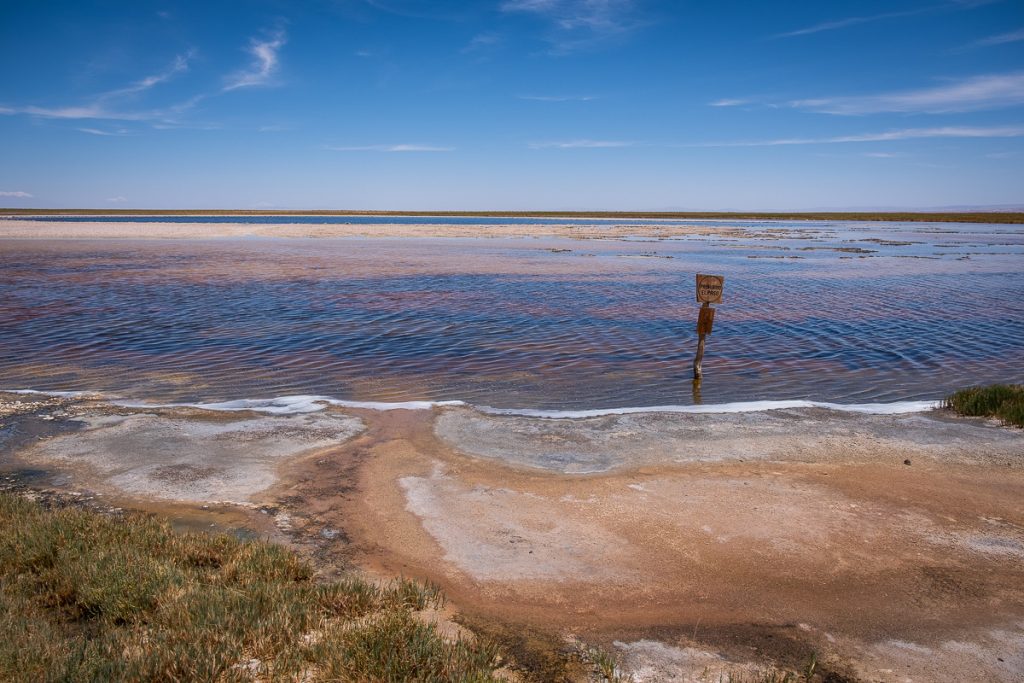 Our first stop was Laguna Cejar, an area with several salt lakes, one with flamingos in it, and one which you could go for a swim. As we had just thrown ourselves in a car when we heard things were open, neither of us had any swimwear on us, but Thomas decided to test the water in his undies. "It's so weird" he shouted while happily floating around "I don't do anything, yet I'm floating".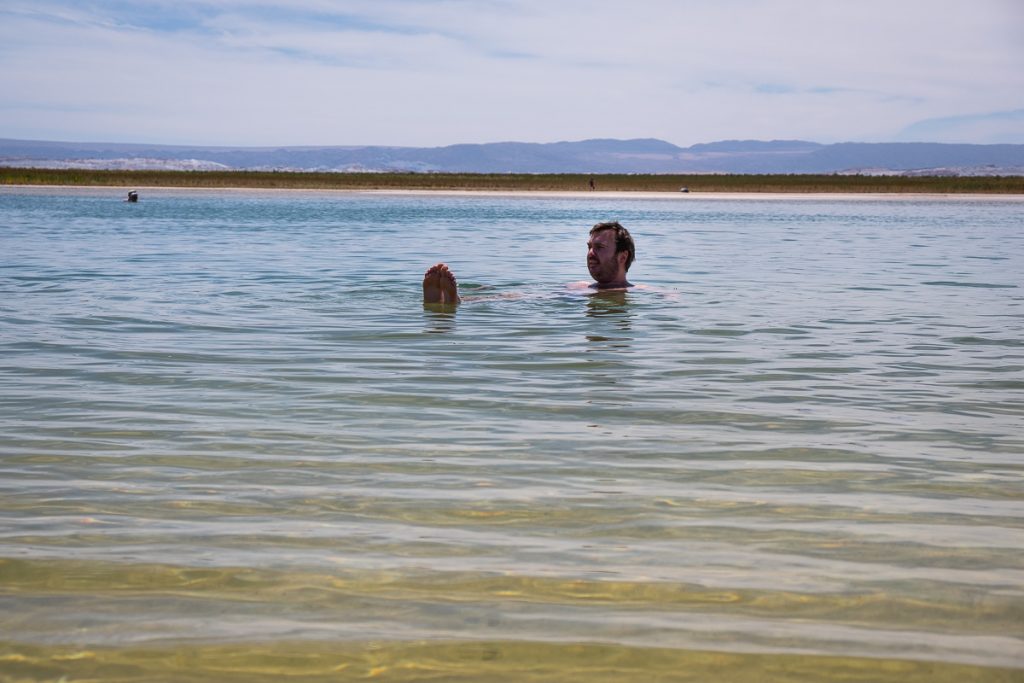 Originally our next plan was to drive to the city of Machuca, which the others had visited on their trip to Geysers del Tatio. There'd been several great lookout points which the bus had just driven past, and so the others wanted to go back to take pictures, and to let me see how amazing the nature up there was. I have to admit, I was pretty interested in trying that grilled llama I'd heard about too.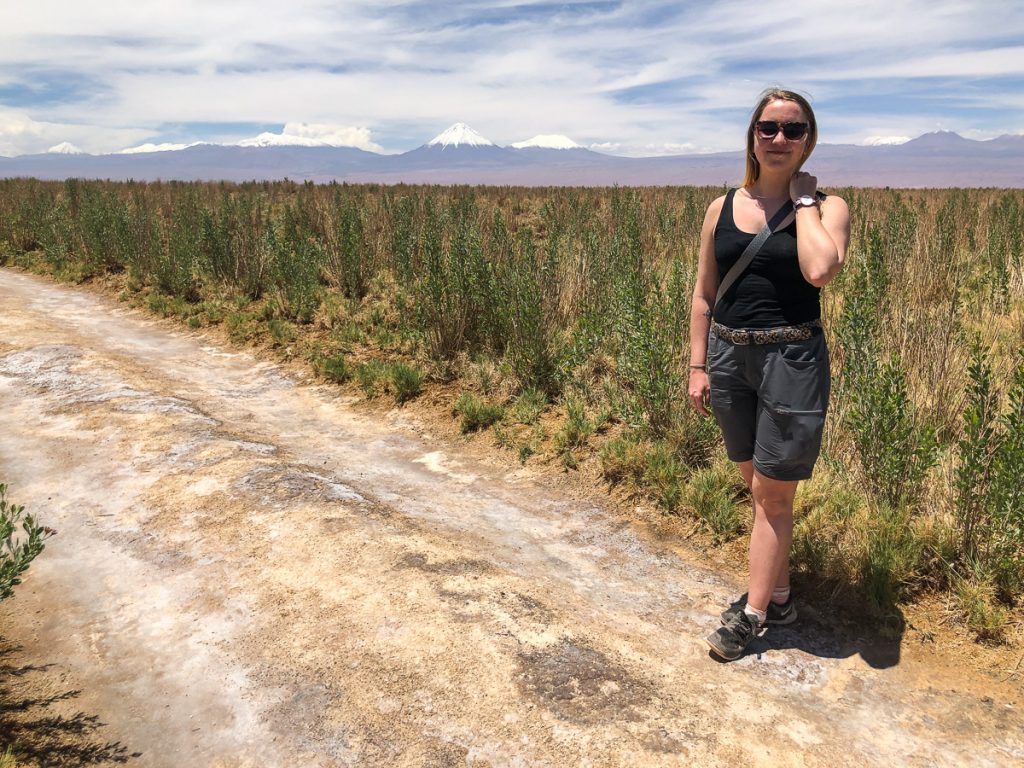 The road took a turn, and we all gasped a little from the view suddenly appearing in front of us. Majestic mountains in the distance, lush green nature and red rock formations – it was like driving through a painting, a film scene or a painting. We stopped as much as possible, all so excited about finally being able to get on that road trip we'd wanted for days.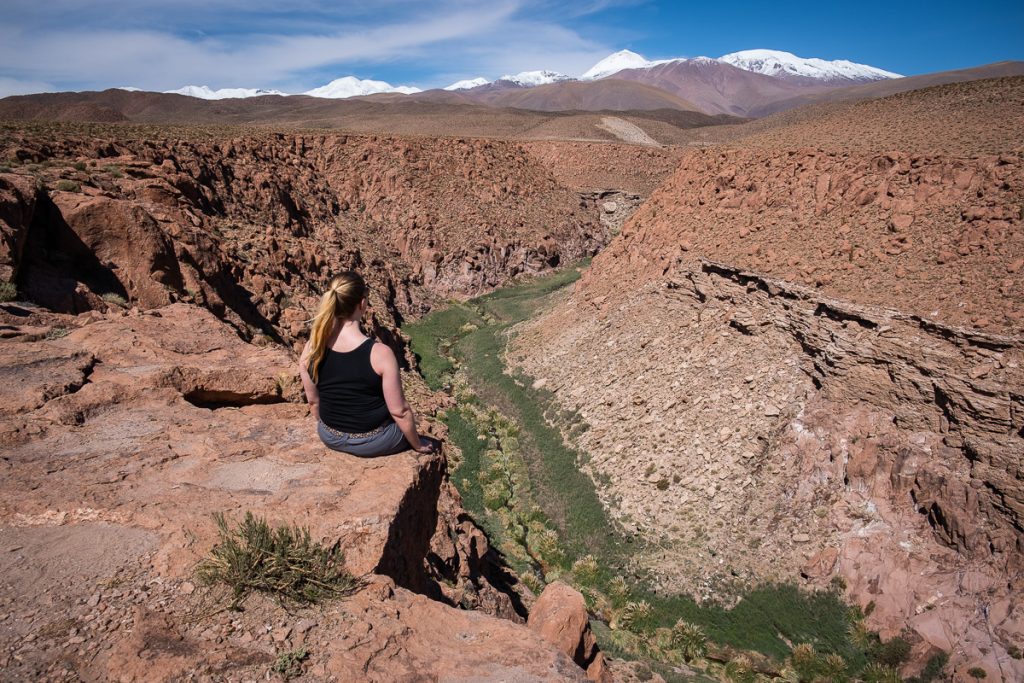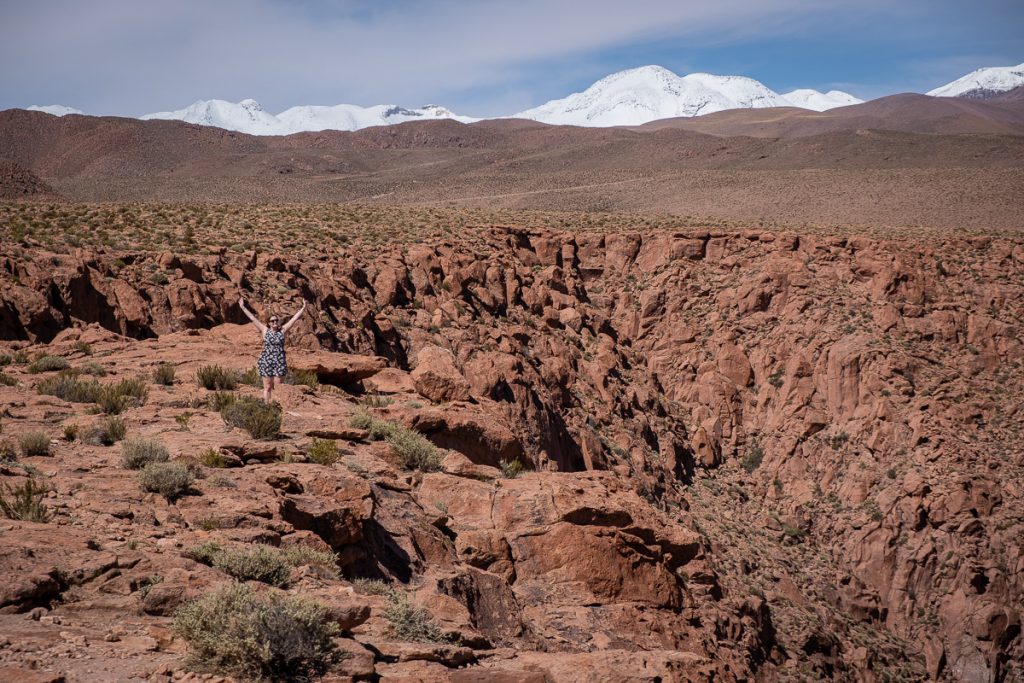 Unfortunately, we did not end up having enough time to actually get all the way to Machuca before we had to turn around and hand in the car. But that's okay, the road trip was well worth it either way. (But we did see llamas, and I think at the end of the day, seeing a llama was more important to me than eating one).

PS.
On our way back to the airport in Calama, we had a shared taxi with two Dutch girls and a solo traveler, a man. The man had been to the exact trip to Bolivia that we'd originally scheduled. It had been snowing. Constantly. The roads had been invisible due to the snow, and the windows had frozen, causing the driver to have his head out the window to be able seeing anything.
"The nature was beautiful,
but I thought I was gonna die all through the entire trip"
he said. We all agreed that perhaps my food poisoning had not been so badly timed after all…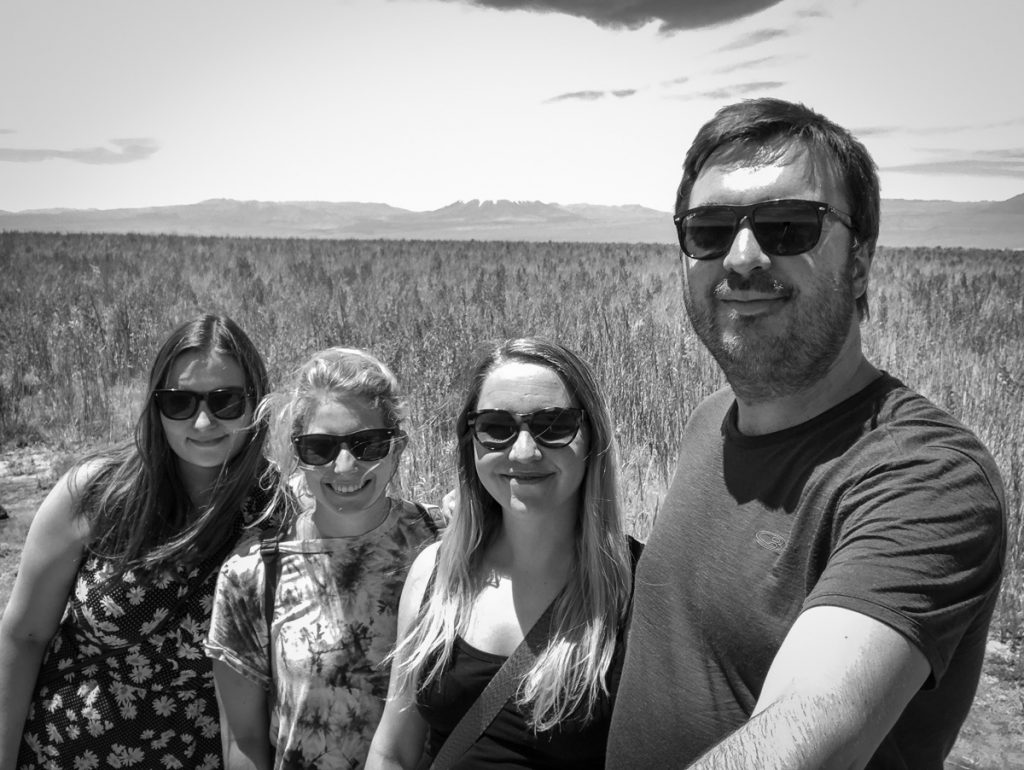 ---