Canvas Hotel Telemark is for those who wants an active holiday with trail cycling, but also for those who wants to just unwind, have a glass of bubbly wine and relax in the sauna. In this oasis in the midst of the forests of Telemark you get to connect with nature, and just completely disconnect from the stress of your every day-life.
It's Friday before dinner, and we're in the car on our way to Canvas Telemark. I can already feel butterflies in my tummy. What will meet us at campsite? I've read that the camp is located in the midst of the forest, about 7 km from the nearest settlement. We turn off from the main road, and reach the forest road. Finally – behind the turn in front of us I can see cars parked – and we're there.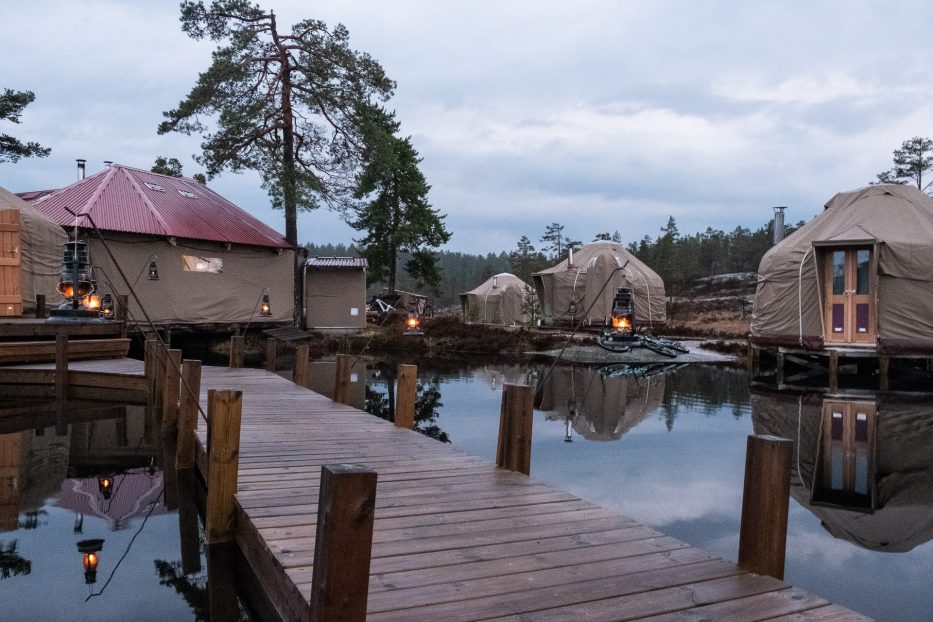 ---
Arriving at Canvas Hotel Telemark
We park the car, and get our bags out from the booth. I smile to a couple who's unloading their bikes from the back of it, and they smile back, balancing the bikes between them.
A couple of meters down the road we meet Thomas from Canvas Hotel. He greets us with a huge smile, and takes my backpack, placing it in a jeep with the baggage from the other guests. He then points to the right, and says he hopes we're ready for a bit of a walk. We nod, as our bodies feel pretty stiff from sitting in the car for hours, and the sun shines from a clear, blue sky.
"Great!" Thomas says, and explains we have about half an hour walking in front of us before we reach camp. "The idea is that you leave behind the stress of your everyday-life here at the parking lot, and get time to connect with nature even before you check in", he explains, before turning over to the couple with the bikes, greeting them with another huge smile, getting ready to take their bags as well.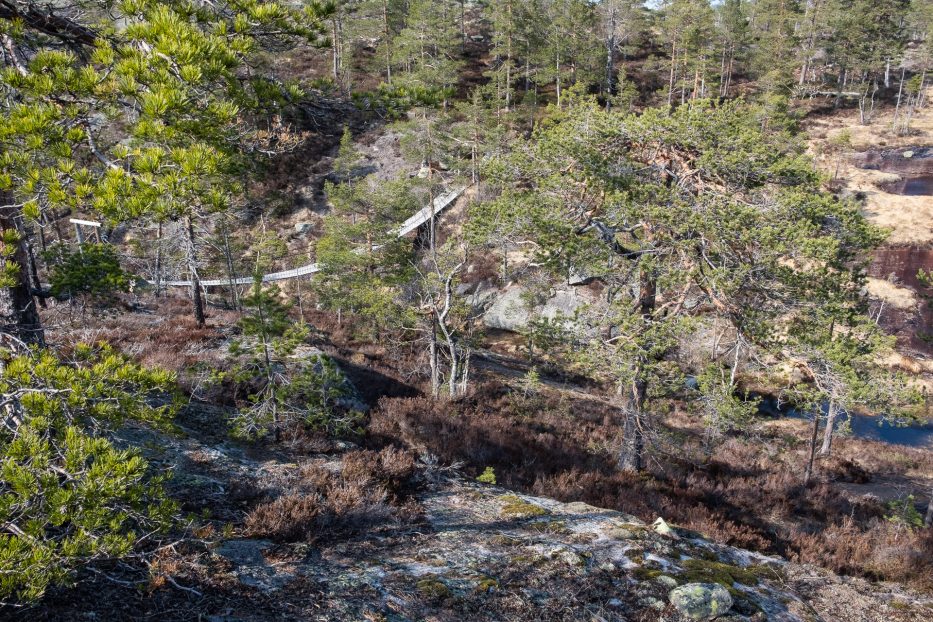 "The idea is that you leave behind the stress of your everyday-life here at the parking lot, and get time to connect with nature even before you check in"

Thomas, Canvas Telemark
Into the wild, in the midst of the forests of Telemark
Shortly after leaving the parking lot we find ourselves deep inside the forest, where the only sounds we can hear is birds singing, and the sound of running water. I can already feeling the stress leaving my mind and body, as I focus on putting one leg in the front the other, without stepping into the puddles on the path. A few minutes later the couple with the bikes pass us. They smile and say hi, before the road turns, leaving us alone with nature again.
We still have some leftover lunch from our drive, and decide for a pit stop whilst in the midst of the forest. We chew on our sandwiches, with our sunglasses on, and I can already tell the calmness of the forest is settling into the both of us.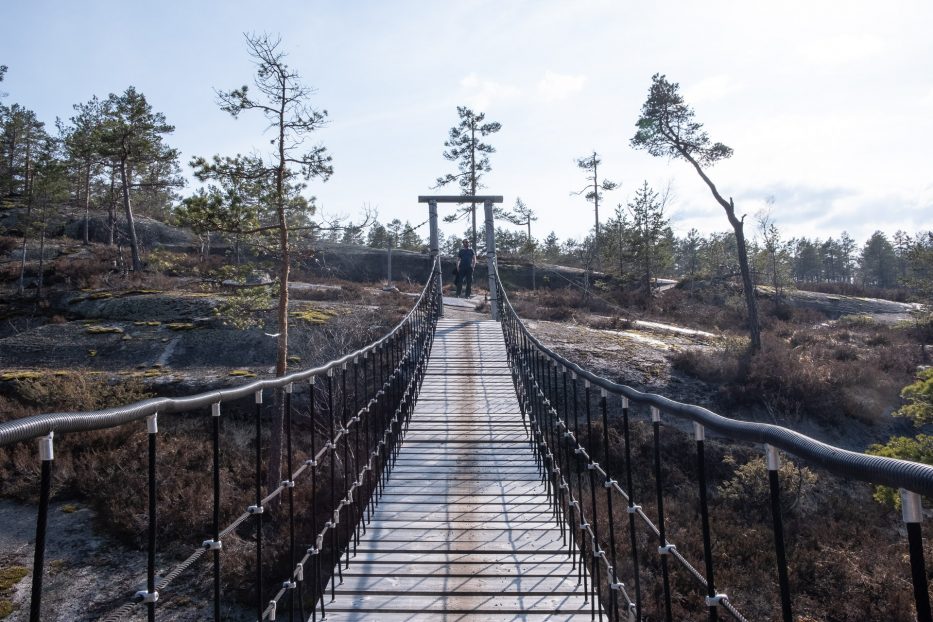 A short walk later we see a suspension bridge, which we have to cross. Back at the parking lot, Thomas told us to follow the cairns along the road, cross the bridge and then take to the left when we found a sign. The instructions are just so "weak" you have to pay attention to where you walk, but also so clear it leaves no question as to where to walk. A lone fisherman walks past us, his fishing rod over his shoulder, he says hello, and tells us we'll reach the camp shortly.
Another "turn" and down a hill, and all of a sudden we can see Canvas Hotel Telemark just in front of us. It's located very idyllic, just on the shore of a lake, surrounded by trees.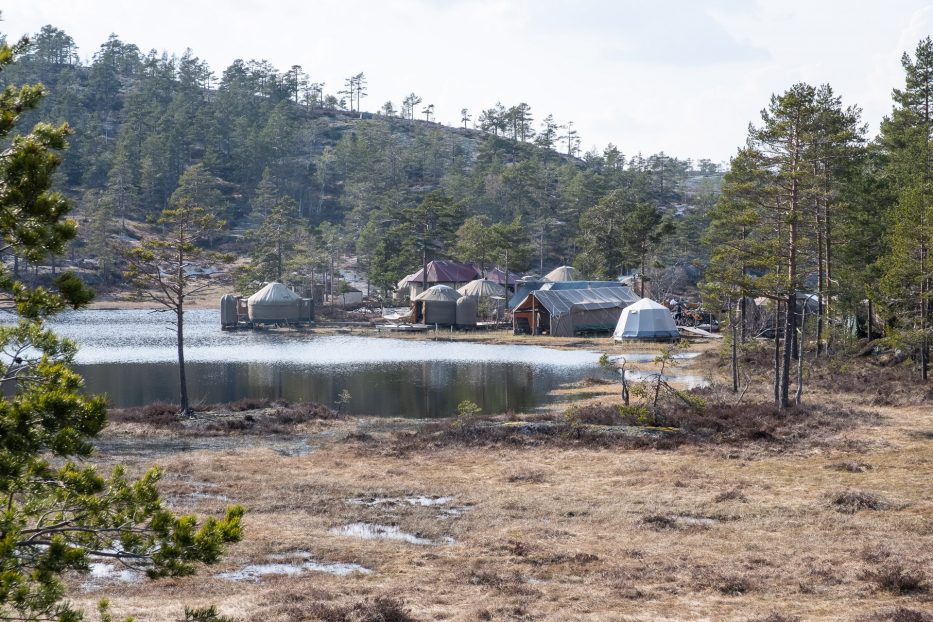 I can see the yurts we're staying in, and already smoke is coming out from the pipes of several of them. We speed up, and arrive at campsite about an hour after we left Thomas at the parking lot (isn't it incredible how much longer everything takes when you photograph and film everything?)
---
Arriving at campsite, Canvas Telemark
We're again greeted by Thomas, who has a big grin on his face. He quickly gives us a tour of the campsite, where he explains how you take a shower (spoiler alert: by filling up a watering can which you hang up behind a curtain), where you eat (in a shared house with big tables, combined with a kitchen where you can order beverages), several nice areas to sit around and relax, the two saunas and the bath tubs you can enjoy the view from down at the pier. Then he takes us to our yurt, before leaving us to explore on our own.
The first group of biking enthusiast leaves for their first session just as we finish checking in, while we stay back in the camp, look at the yurt, and get a cold beer in hand. We talk to some of the people working at Canvas Telemark, say hello to the guys working in the kitchen, and greet some of the other guests.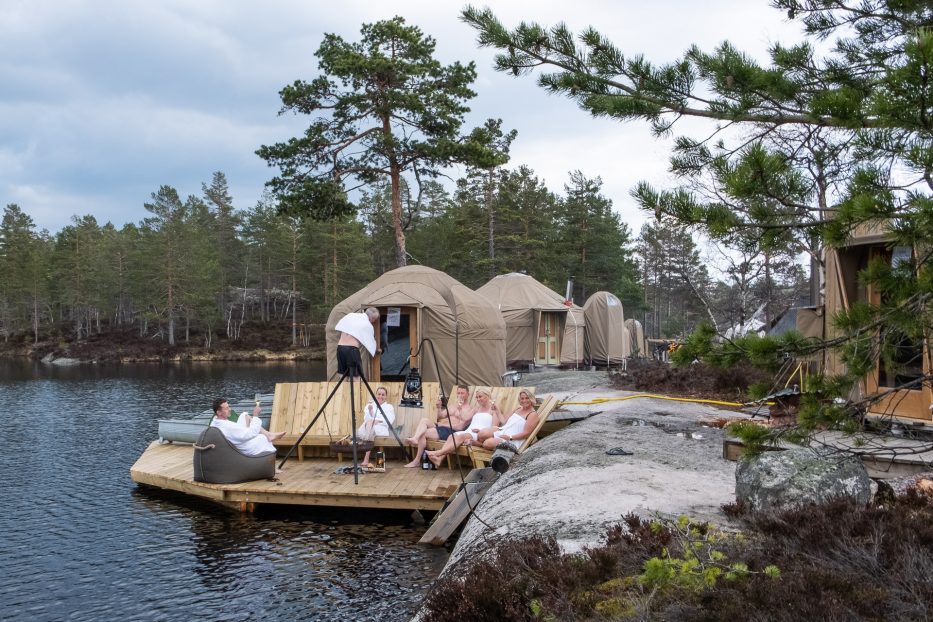 Everyone is already so happy and relaxed. A group of friends from the South of Norway shares bottles with bubbly wine while wearing bathrobes. The small walk from the parking lot, combined with sunshine and bubbles, sets the great atmosphere for a weekend at Canvas Telemark.
Accommodation in a luxury yurt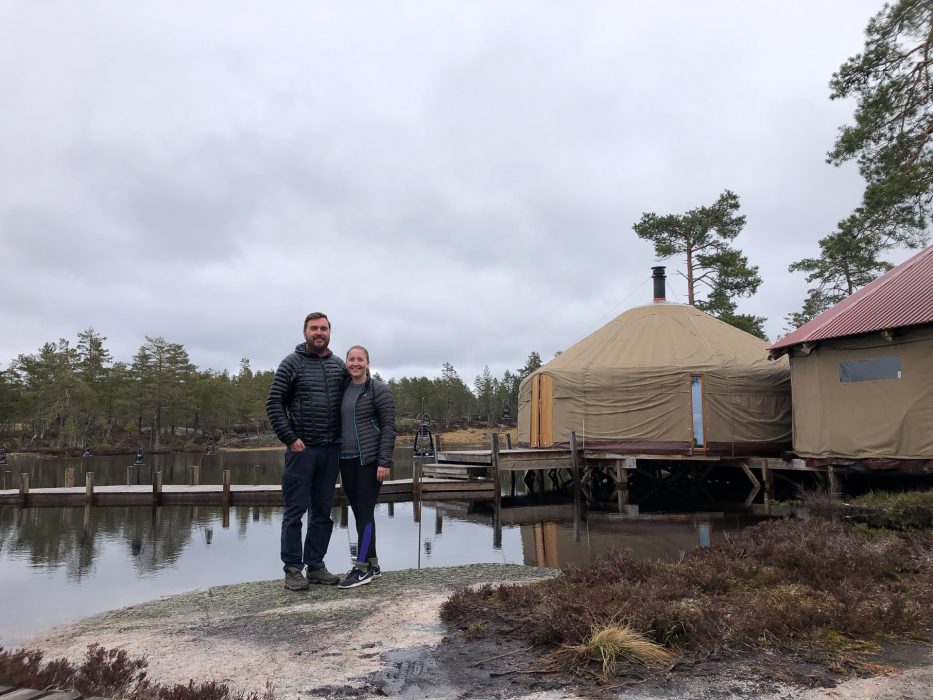 Our yurt, which is built the way the nomads in Mongolia would build them, are quite spacious. In the middle you find two Hästens beds, with great mattresses and a warm duvet. Just next to the bed you find a small wooden oven – a great detail for cold nights or mornings, or after a long hike or a swim in the lake. There's also a small room with a toilet inside the yurt, the kind which is biodegradable.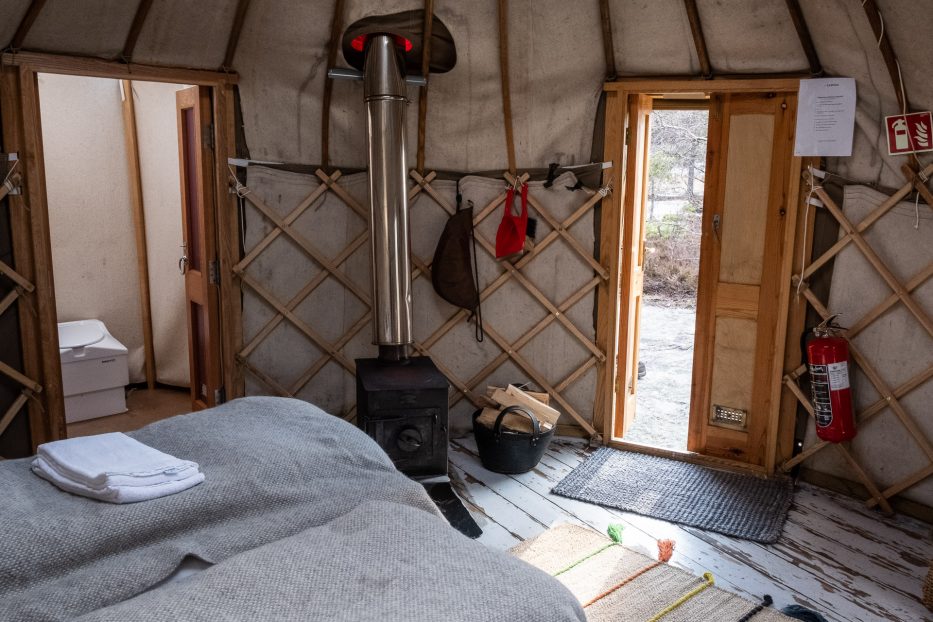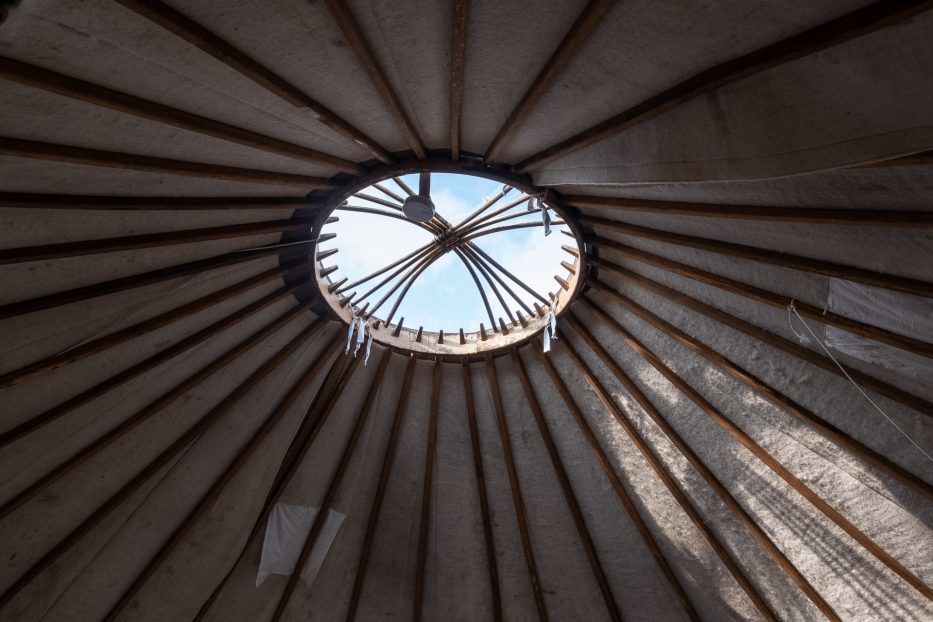 My absolute favorite part of the yurt has to be the double doors you can open up, which leads directly to the water outside. Here you can get close to nature even just from inside the bed! As an extra way to enjoy nature from the bedside you get served freshly brewed coffee to your yurt every morning. Perfect!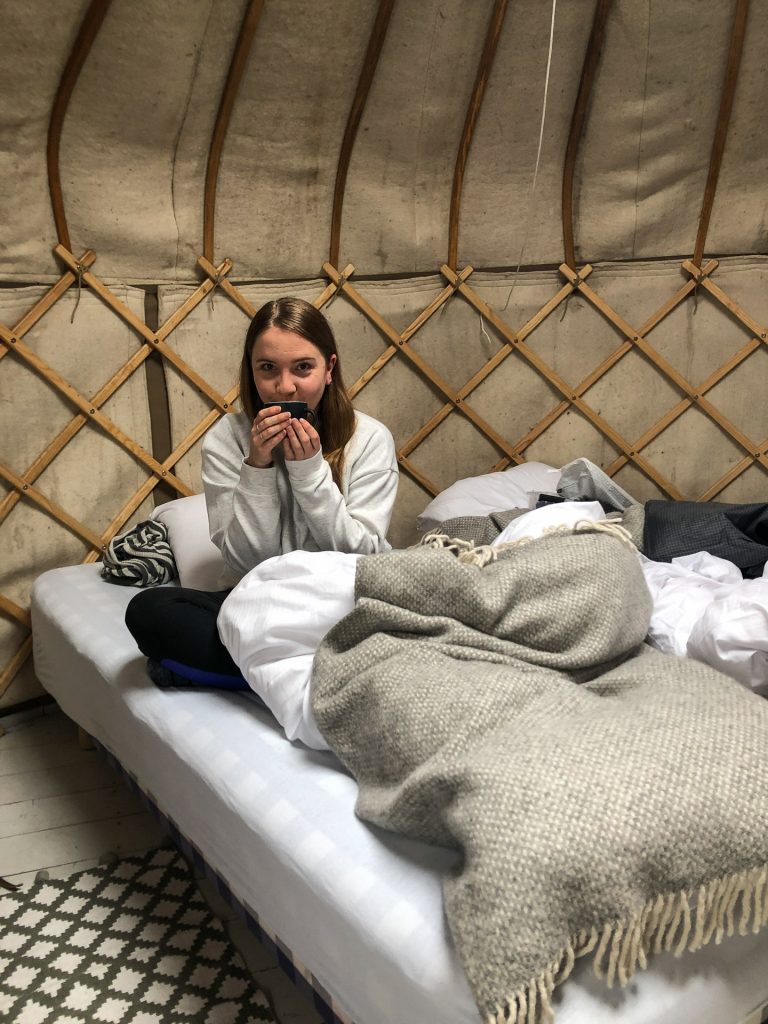 The full package at Canvas Telemark
We quickly understand that this place is way more than a space you just visit in order to sleep. The campsite leaves no detail unplanned, and we discover most people here are above average interested in trail biking. We however, have only tried electric bikes ones before, and then it was on a paved road up to Grefsenkollen in Oslo.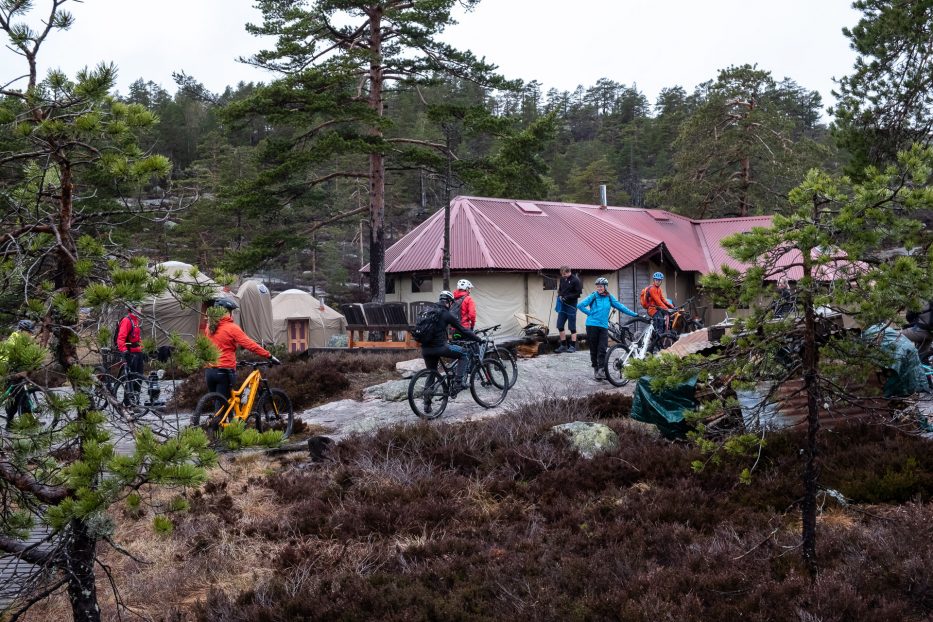 Most of the other guests have brought their own bikes, both electrical and regulars one. Luckily you can also rent a bike if you (like us) want to try trail biking for the first time.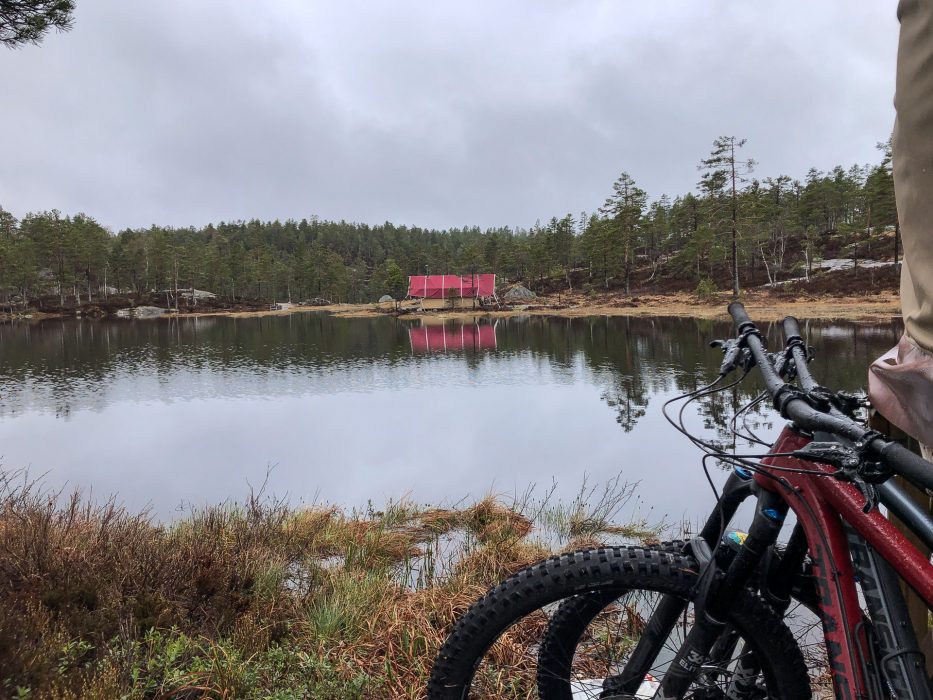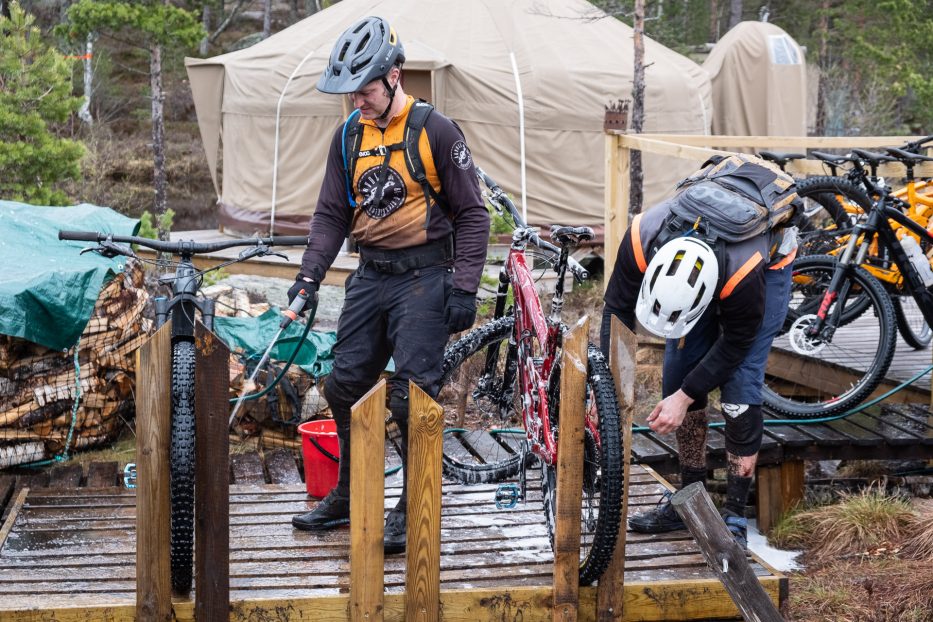 A social experience
All meals at Canvas Hotel is eaten together. In the shared house Thomas showed us as we arrived we find two large table which allows us all to sit, while still keeping distanced, and the conversations quickly begins around the table.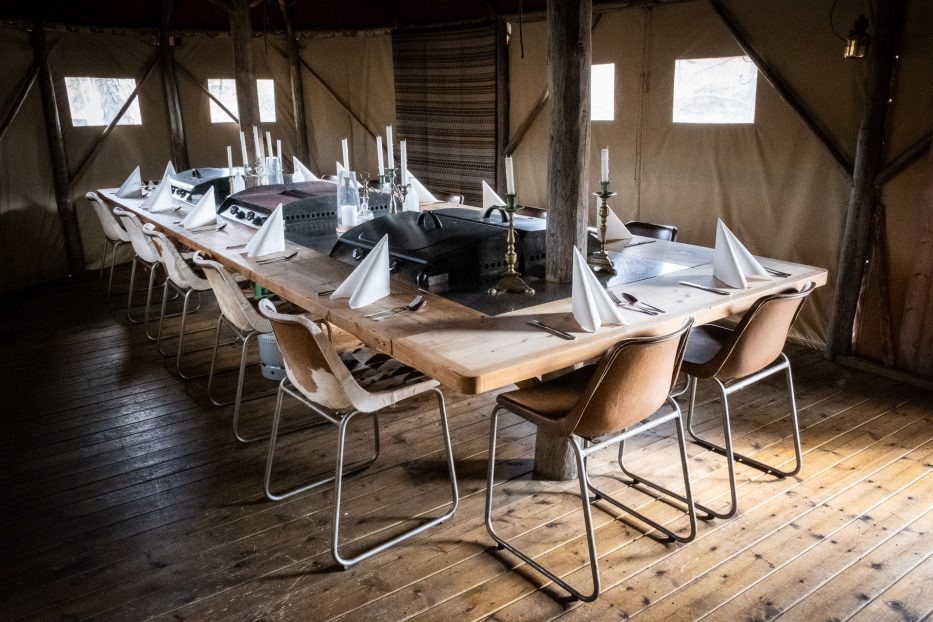 Todays dinner is introduced before served, a delicious three course-meal where you decide what you want to drink (the campsite has a bar!) Breakfast and lunch is also eaten here, a nice element which definitely brings all guests together. It's really easy to get to know the other guests!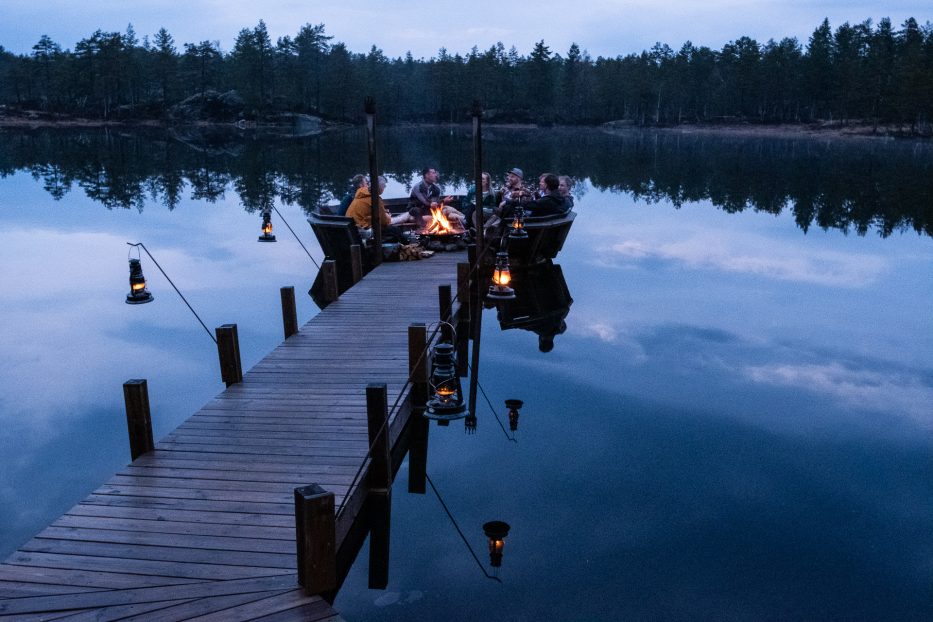 Focus on the environment
The camp's "getting close to nature"-focus can also be seen in the way the campsite is built up. The water being served has actually been tapped from the lake just outdoors, before being filtered to ensure we can drink it.
Inside the kitchen, all food are prepared on a wooden stove, and we spot several solar panels around at campsite. There's neither running water nor electricity, which means planning of both menus and the campsite in general has been planned around this. Environmentally friendly and natural!
Canvas Telemark – a paradise for trail biking
It says "Canvas is trail bikings" on Canvas Telemark's website. And as I mentioned, we quickly discover that most other guests has far more experience with this kind of biking than we do (read: none). Luckily, you can both rent bikes and learn the basics here.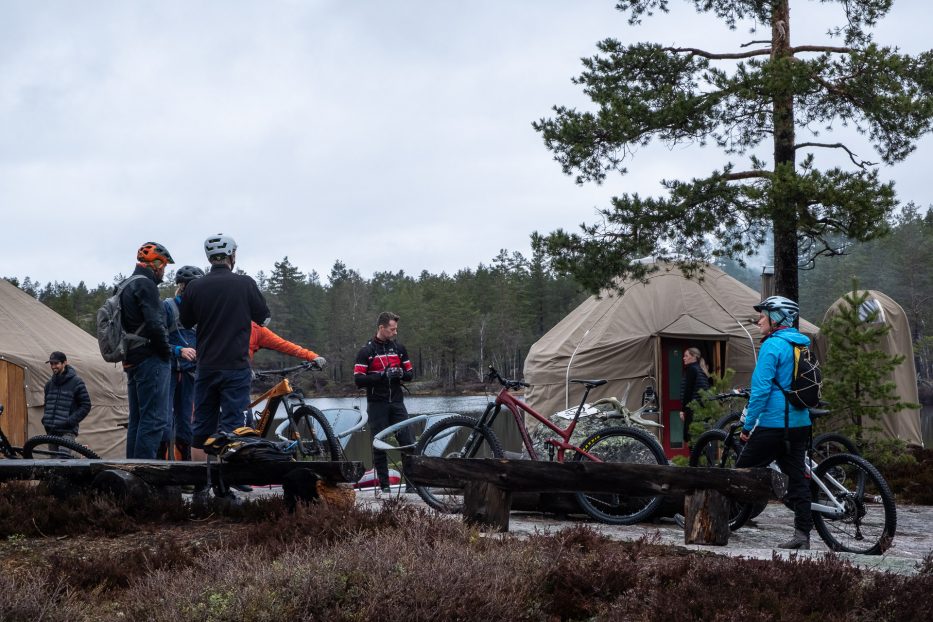 One of the founders of Canvas Telemark, Jan Fasting, takes care of the "newbies" who wants to try out. As the "pros" starts their bike ride I discover they have been joined in my Dag Otto Lauritzen (a Norwegian professional cyclist). Here absolutely everyone (who wants to) can join in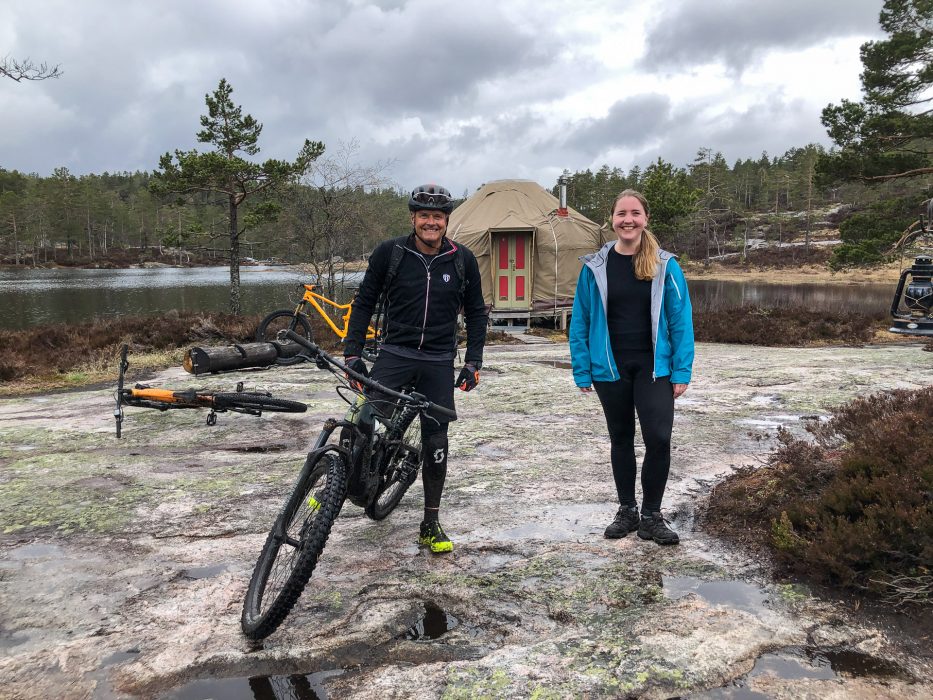 Jan takes us through some of the basics, both with regards to the bikes we're using, and some technique. He explains nice and slowly, and as we start out Jan makes sure he is never too far ahead any of us, meaning we can always ask questions, learn some more during our trip, and avoid getting lost. The ground is pretty wet as we bike, and I focus hard on.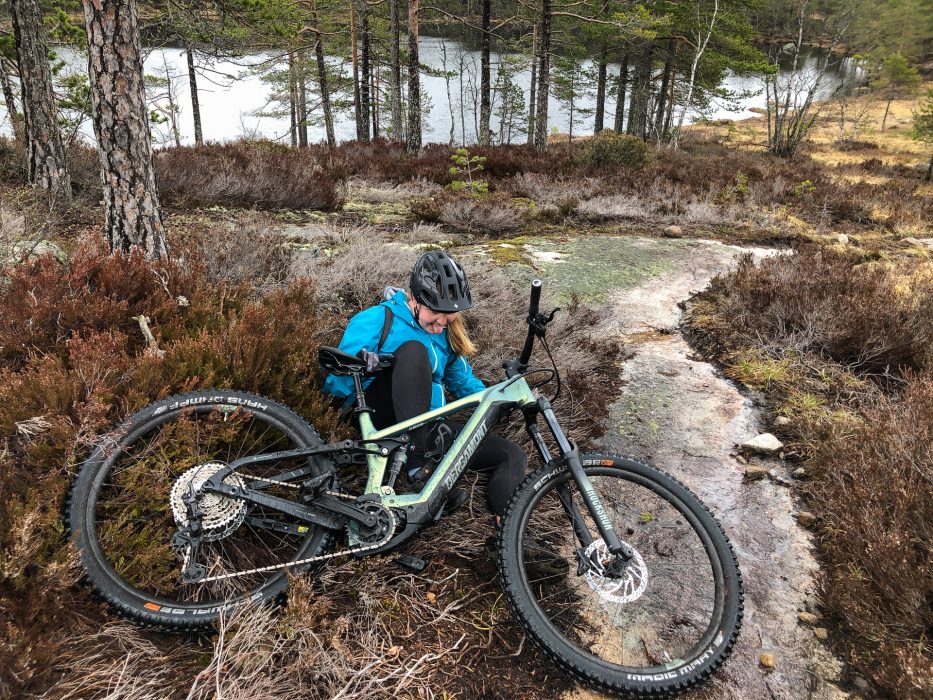 It only takes us a few minutes until I can sense both my technique and my head adjusting. The small wooden planks we went over in the beginning, which felt way too narrow at first, is no stress at all. I do fall off the bike once, into a soft bush, and I count no less than 21 bruises later on, but trail biking turns out to be surprisingly fun. And best of all: you don't have the time to think or worry about anything else – keeping on the bike takes all your focus.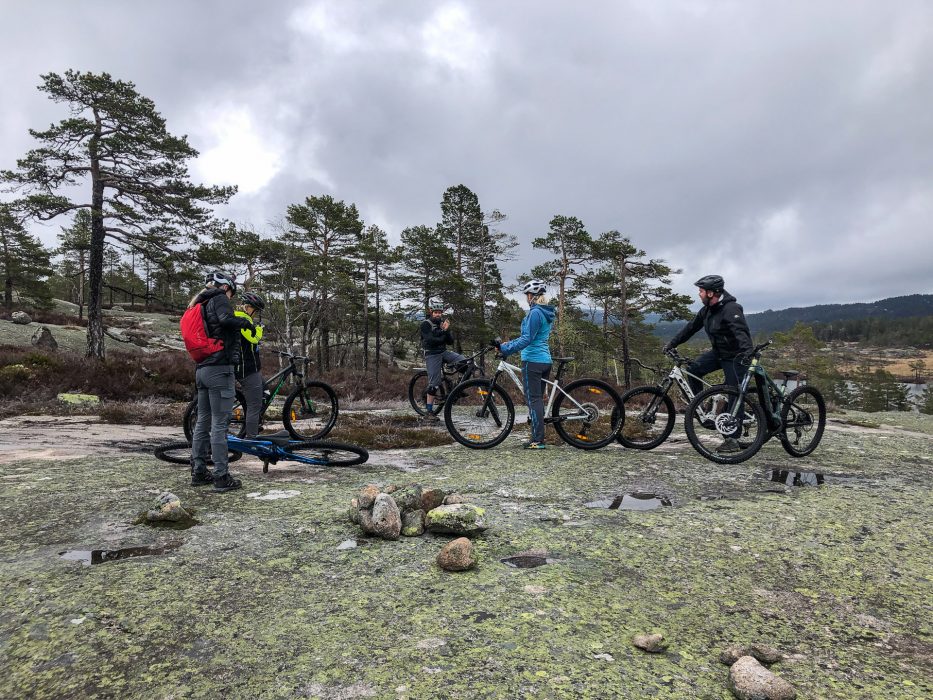 Trail biking is real fun (and hard, don't let the pros trick you into thinking it's easy), and the experience makes us want to try again at some point later.
An active holiday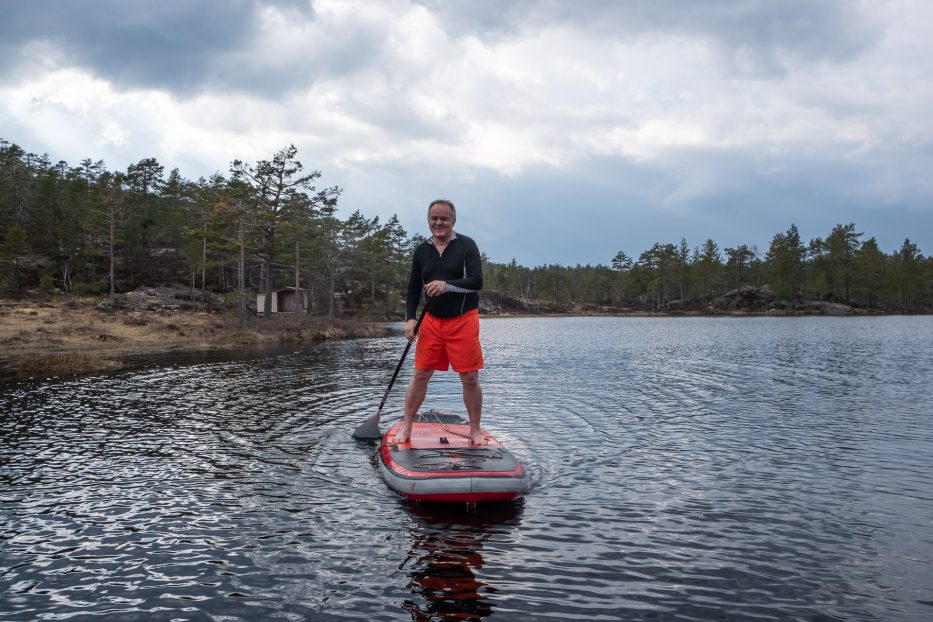 Of course, Canvas Telemark also offers loads of other activities than trail biking. You can try SUP (stand-up padling), row in a kayak, take hikes in the gorgeous nature surrounding campsite, or simply relax in one of the two saunas.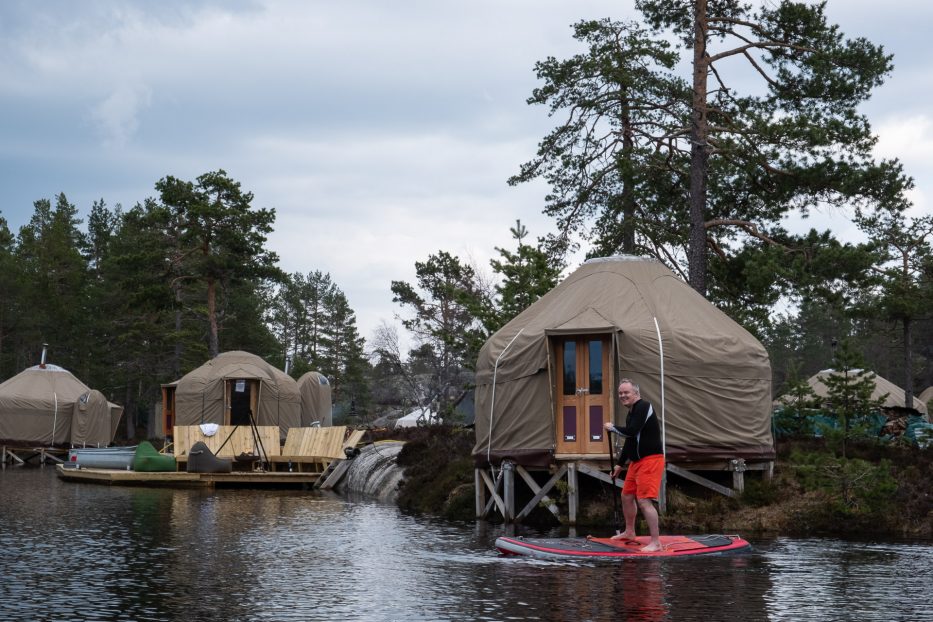 Next to the shared house where meals are served there is also a common room filled with seats, a fireplace and things you can read. Normally, when restrictions allows it, you can even participate in yoga classes here. In other words: only you decide how active or relaxed you want your holiday to turn out.
Time for wellness and relaxation
After crossing puddles and cruising over rocks it feels good to reach campsite again. We test one of the heated saunas, and several people (including Thomas) takes a dip in the lake outside.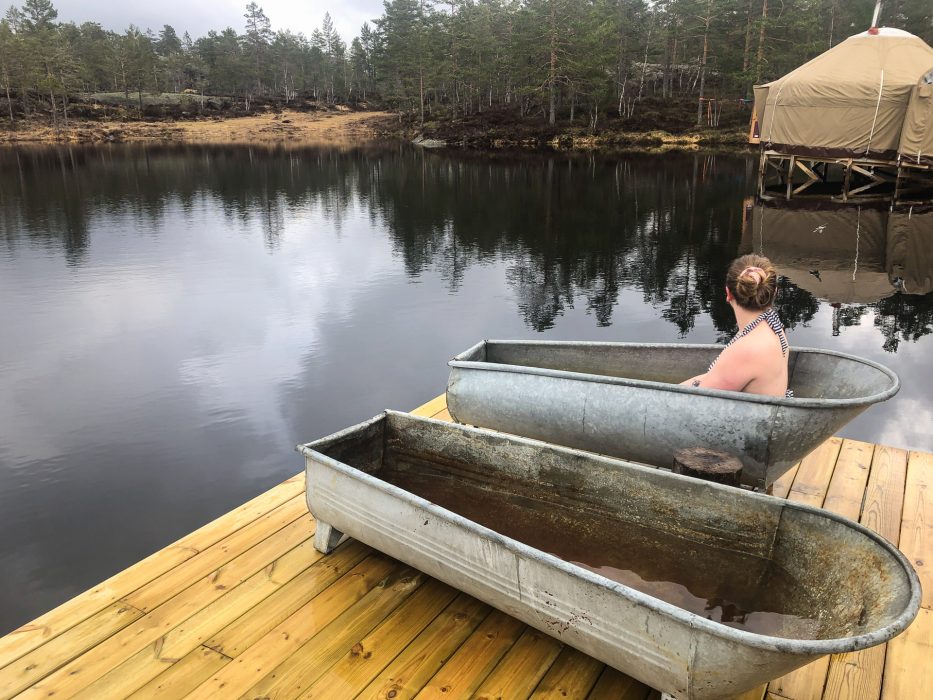 Later on we fill up the cool bathtubs which stands out on the pier. The steam is rising from the tubs, and we fill them up so hot we can barely get in at first. When we've both managed to get in we get all quiet, just sitting and relaxing, watching the water. A bird slowly pass just over the surface, and the whole experience is very meditative.
Canvas Telemark really is a social, close to nature and full experience. Here the sporty ones can get active, while those just wanting to relax can calm down their resting heart rate. Please notice that this camp mainly targets adults, but also older teenagers are welcome. This is for sure a spot both families, couples, friends and solo travelers can get a lifetime experience.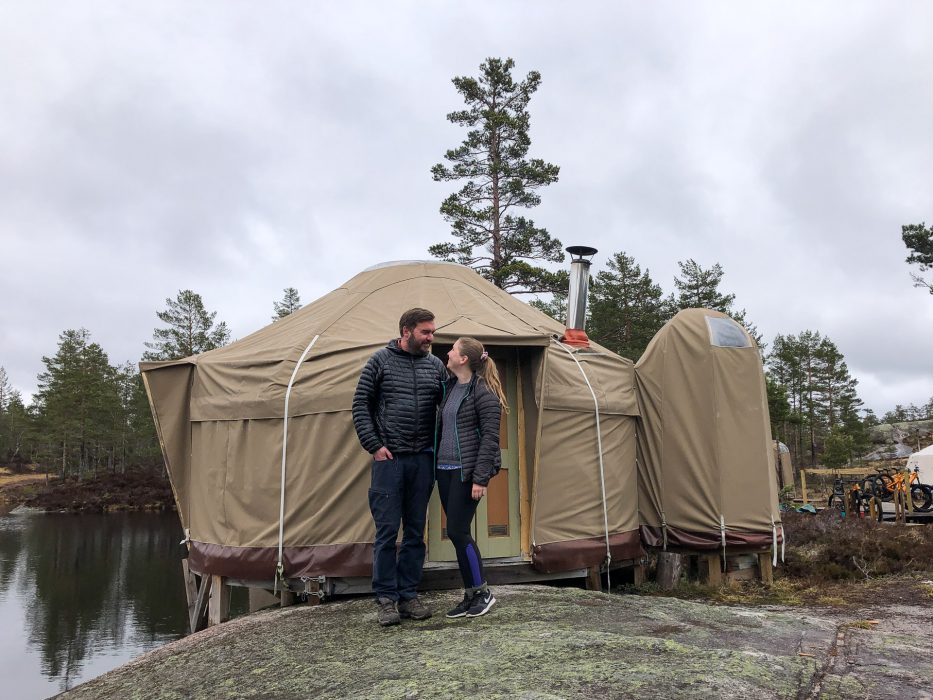 ---
About this post
This post is written after a sponsored stay at Canvas Hotel Telemark,but with no direction as to what to write about after. All things written are of course entirely based on my own experiences and my own honest review.
---