Ad // Sponsored stay

What if I told you that in the middle of the forest in Dalarna, Sweden hangs a Supermoon? A red, round moon, up between the trees, that you can sleep inside? It's true, I'll show you.

A lot of the time when I travel, I book accommodation that's cheap, based on the fact that I'll spend a very limited amount of time at my actual room. Sometimes, if I plan on staying for a bit more at the room I might splurge, and every now and then the actual place I'll sleep end up being an important part of the stay.
This was definitely the case with the Supermoon I got to spend a night at with Ingeborg while on a sponsored trip with Visit Dalarna and Visit Sweden.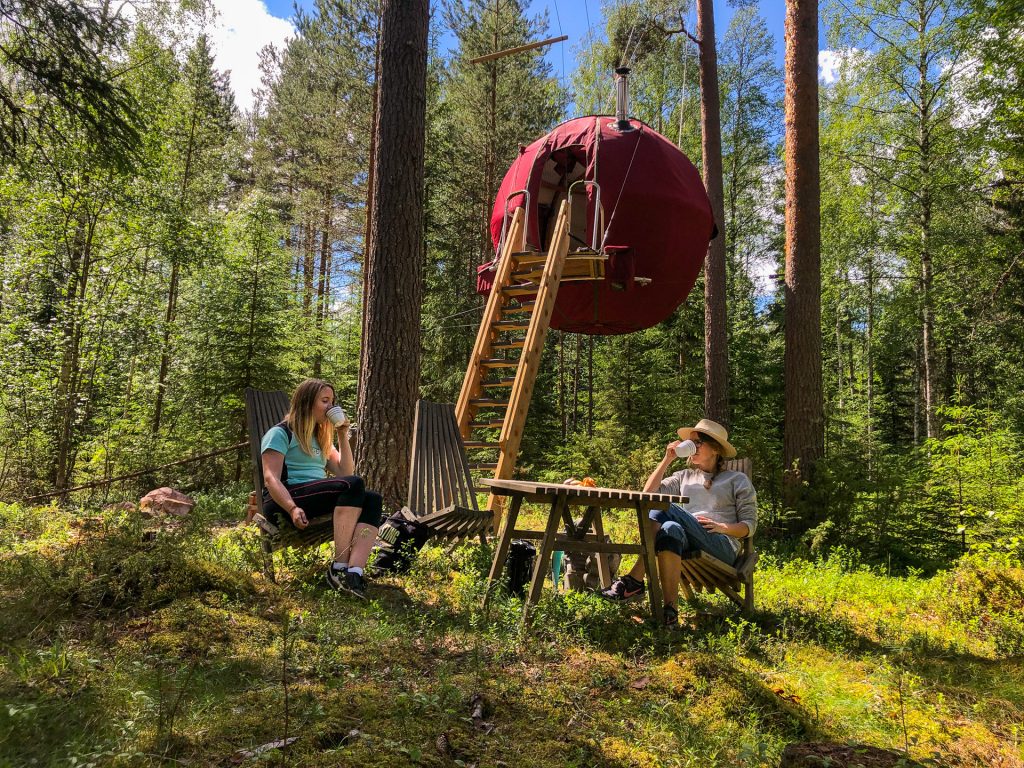 The Dutch couple Mireille and Willem, together with their two children, moved to Dalarna in Sweden in October 2014. "We moved from the Netherlands to Furudal because we wanted to break out of the rut we were in and to do something completely different. Also, the Swedish school system was appealing to us." The place they moved to, Näsets Marcusgård, originally was a farm, built in 1910.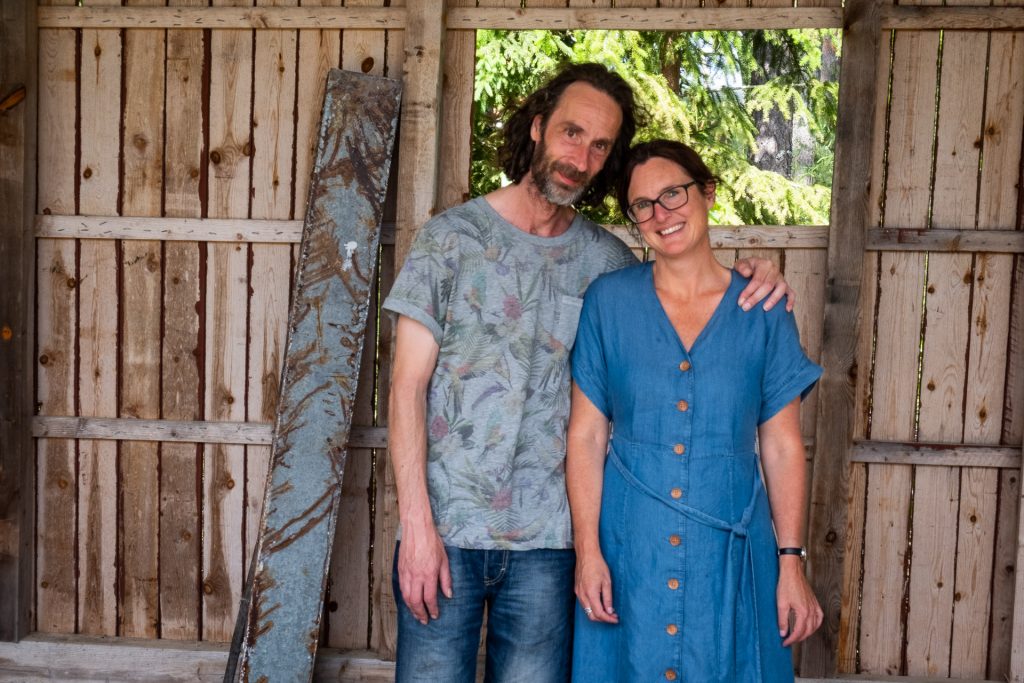 Fly me to the moon

Näsets Marcusgård today consists of four sleeping units, with two normal houses and two more special places to stay for your sleep. The Supermoon is a round, red tent hanging up amongst the pine trees, 3 metres above ground. Suspended by cables, and built in a solid fabric, the moon makes you feel like you're just about floating in space (the wind rocks you to sleep, almost as if you were in a sailing boat, except you're mid air and with the forest underneath you!) So cool!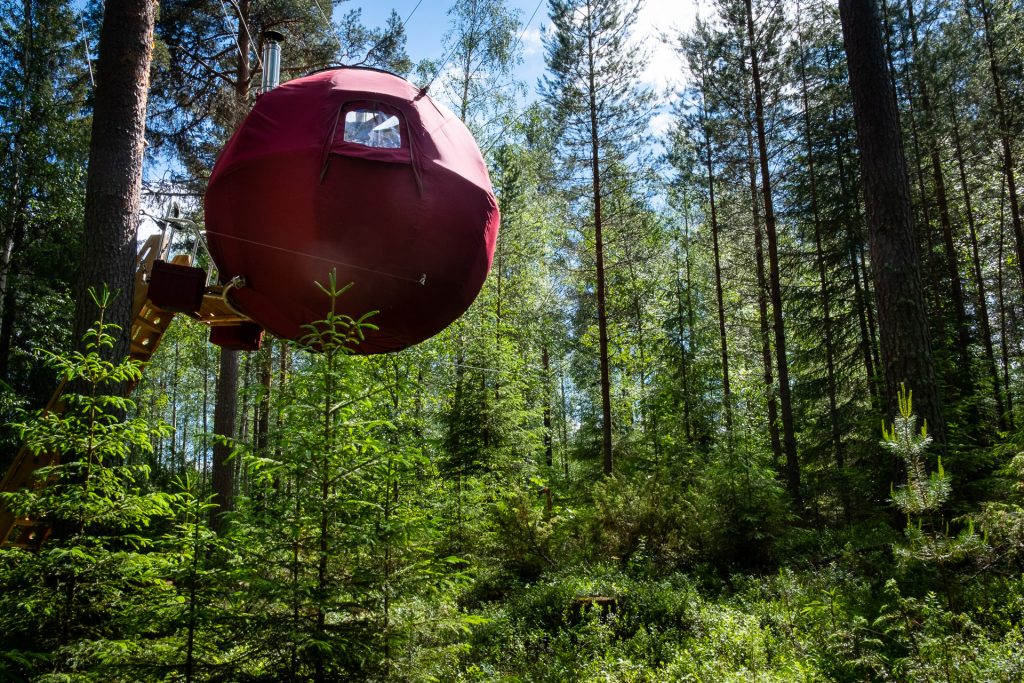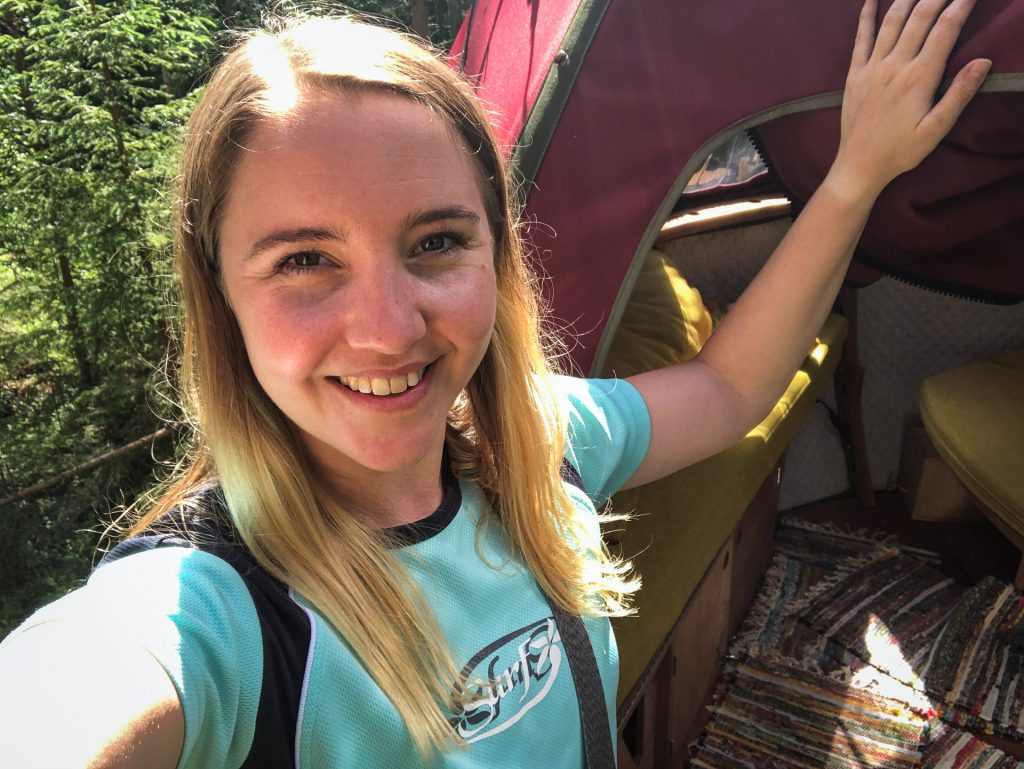 Inside the Supermoon there's two beds, the smallest (yet powerful) wooden stove I've ever seen, a panoramic window in the ceiling, and two windows you can "roll shut" if you prefer it darker (I'm saying "darker", as you'll still have the panoramic window during summer, so it most likely won't be completely dark).

Getting up and down to the Supermoon is done with a latter, and both while you're climbing and inside the Moon you can definitely feel every gust of wind. It's not scary (maybe I'd feel different if there was a full on storm, though), but definitely noticeable.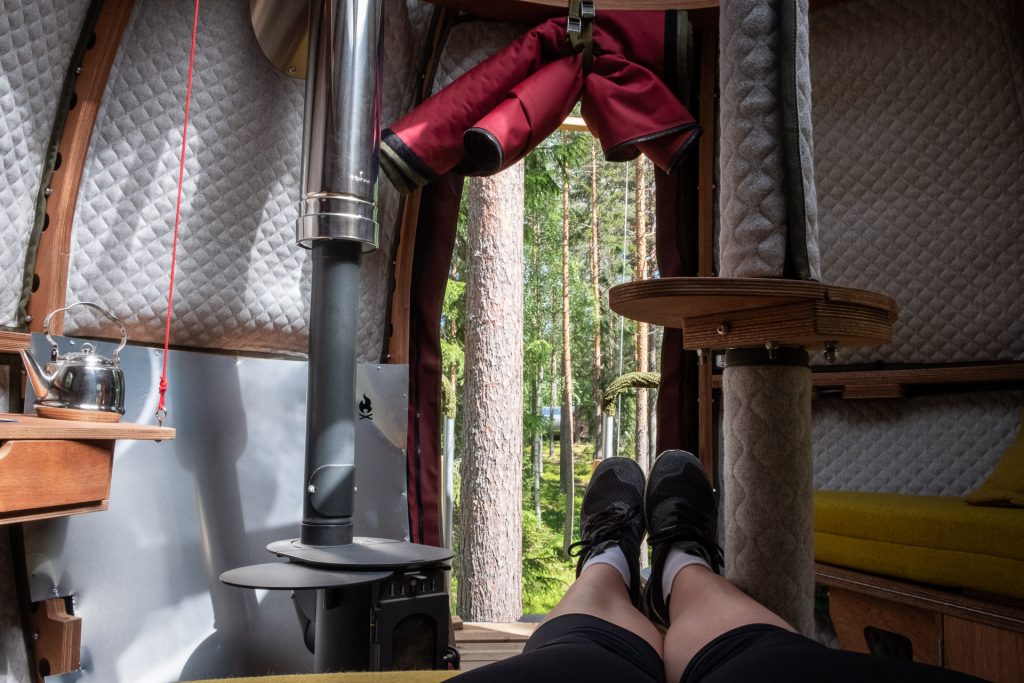 The Supermoon was put in it's spot in October 2018 by an arborist, and I'm pleased to tell you that no trees were cut down in the process of this. "We've left the nature as it was", as Mireille and Willem told me.

Our night in the Supermoon was glorious, and the only downside was that we did not have enough time there!

Mireille and Willem showed us around at Näsets Marcusgård (we even got to sneak a peak inside the bigger guest house, which looked great, and I immediately started to imagine all sorts of parties and family events you could have here). After a short snoop around, and being shown where "our bathroom" was (as there is no bathroom facilities on the moon, but we had our own a mere 150-200 meters away) we were ready for adventures.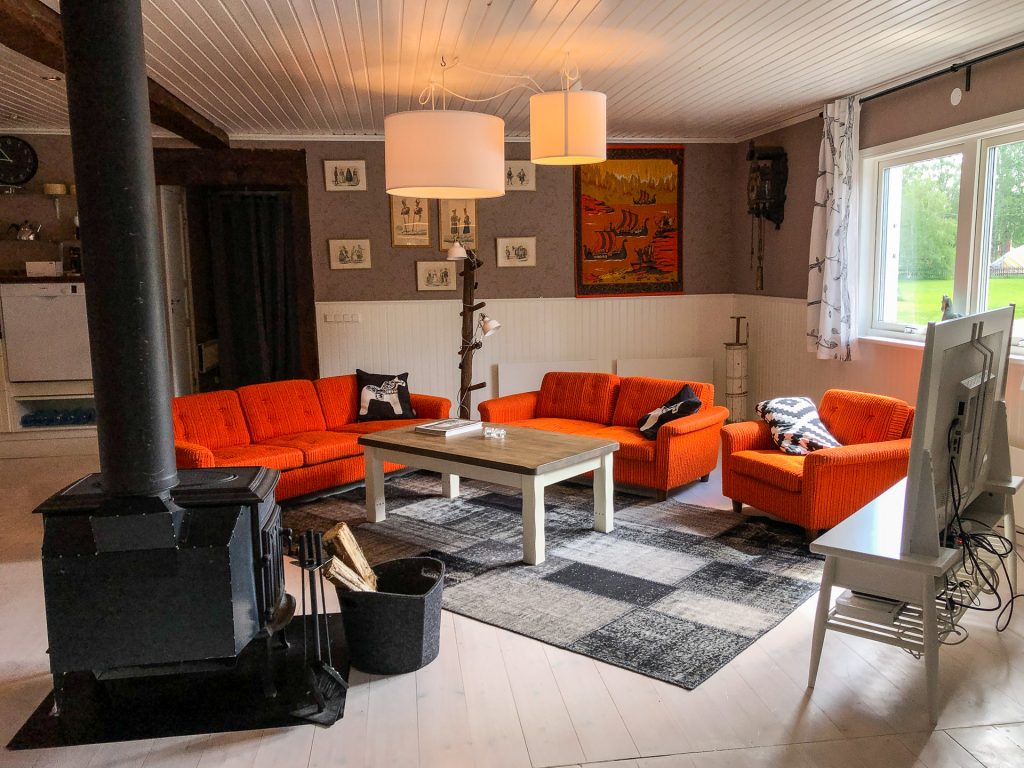 SUP

SUP. Stand Up Paddling. You know, those Instagram photos were people are standing up on paddle boards looking divine and really relaxed, in gorgeous surroundings? That kind, but with more wind, waves and with the skills of balancing like a drunk person. That's about how glamorous I felt. SUP is one of the activities that Näsets Marcusgård is offering the people staying there, together with Snitths Handverksbageri, and we were so lucky we got to try it.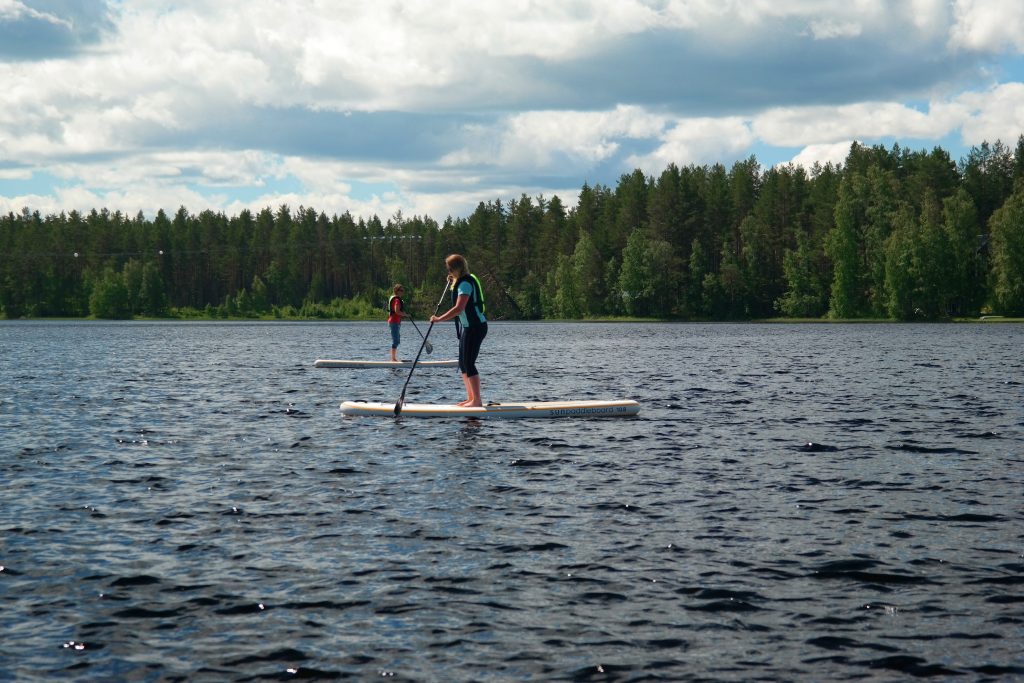 This was my second time ever trying SUP, and last time was about 2 years ago, so I did indeed feel a bit rusty getting up on that board. Luckily, we were both out on the lake at the same time, so there's not too many photos out there. It was SUPER fun, even though there was quite some wind, which made waves, and turned your body into a giant sail pushing everything in the direction of the wind (pro tip: sit down and paddle to get the other way, fighting against the wind standing up turns old really quick!)

Food and sleep

After paddling (which was so much fun, and neither of us fell into the lake) it was time for lunch. Mireille and Willem teamed up with the friendly staff at Snitths, and we had our lunch back at Näsets Marcusgård, in this cutest little, open shed.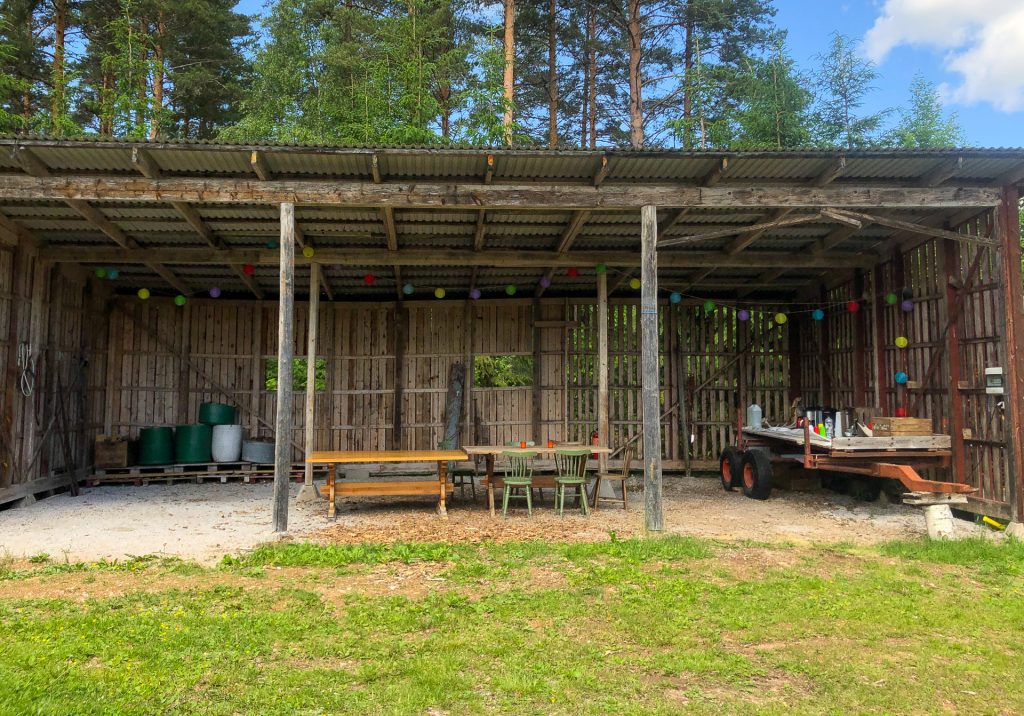 Delicious soup, bread, salad and, coffee and fika – food always tastes better when you eat outside, and especially after that SUP session.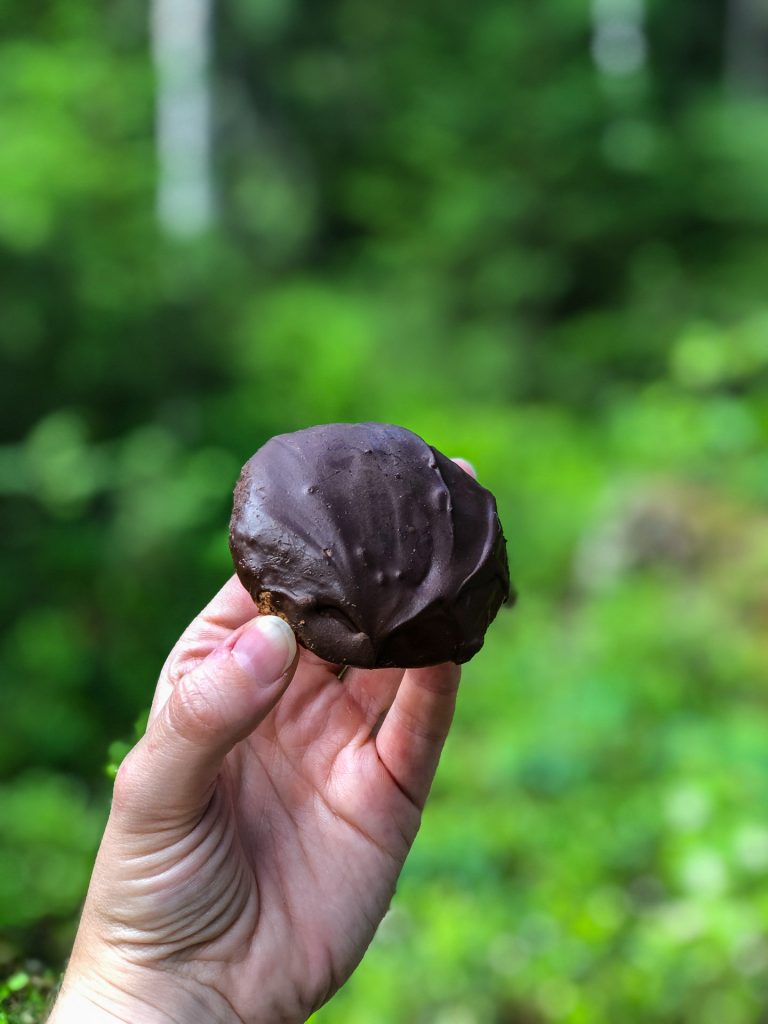 (Side note: one of the biscuits we had from Shnitt's was literally my favourite fika from this entire trip, and that says something, as there was a lot of fika!)

We then spent the rest of the day celebrating midsummer, which you can read more about here, before getting back to the moon just in time for a cider. The forest swarmed with life, but luckily we could close the moon shut tightly, and lit up the tiny stove. This made for a comfortable night, and after updating our Instagrams it was time fo a good night's worth of sleep.

Well, I can't lie, I did wake up a few times – like at 5am when rain was pouring down onto the tent (but nothing came inside, the only thing making me not fall back asleep instantly was the sound of running water making me have to pee), and a few times as birds and animals made noises around the forest.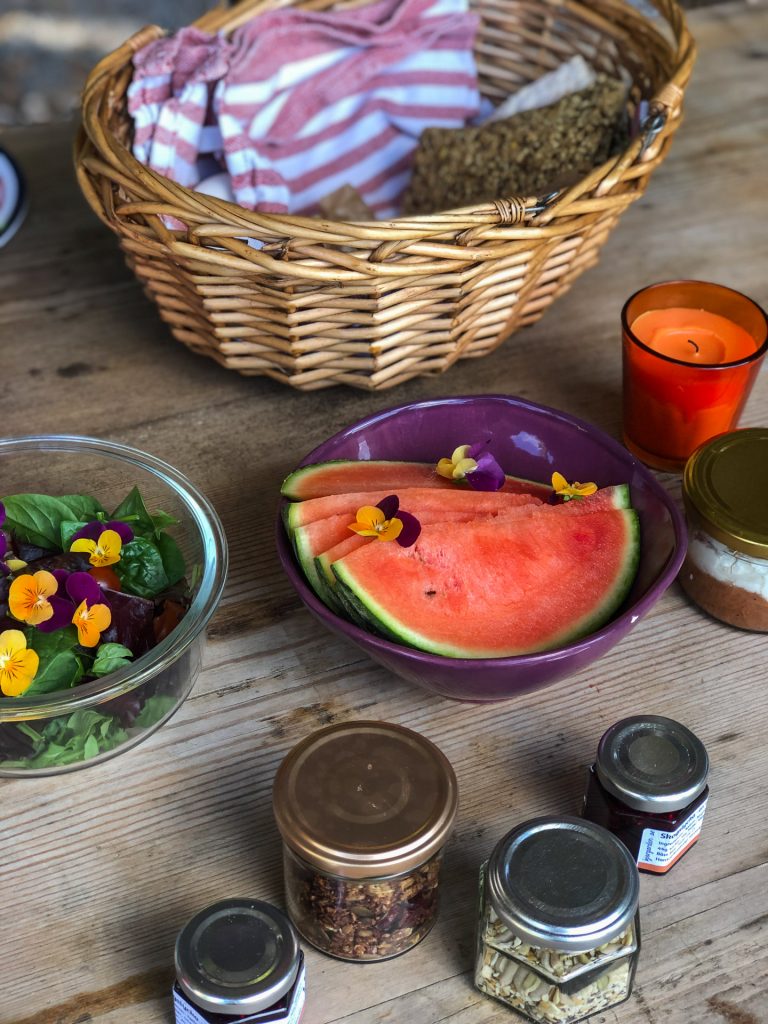 Breakfast was enjoyed in the morning sun over at the shed again, this time with bread, jam, salad, melon and cheeses – and an absolutely amazing rhubarb dessert with cream and strawberries (I was not even sure I liked rhubarb before having this, but I definitely do!)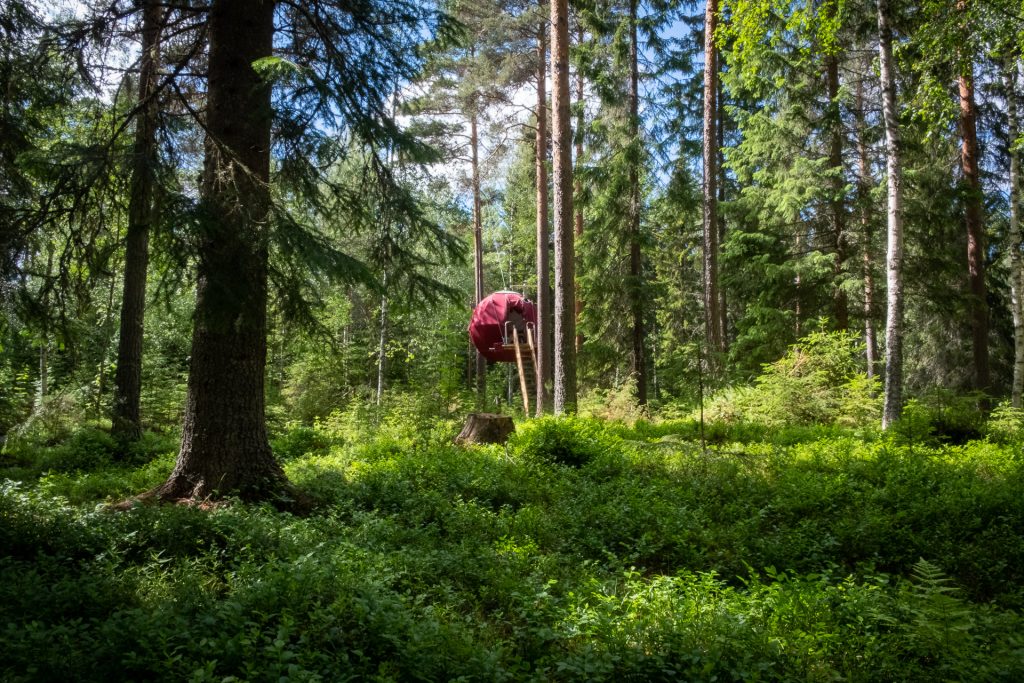 Finishing our cups of coffee it was time to leave Näsets Marcusgård, our Moon, Mireille and Willem, and continue our journey – but a stay at the Supermoon is definitely something I'd recommend for people to try. Or in the house, if you're not much of a tent person.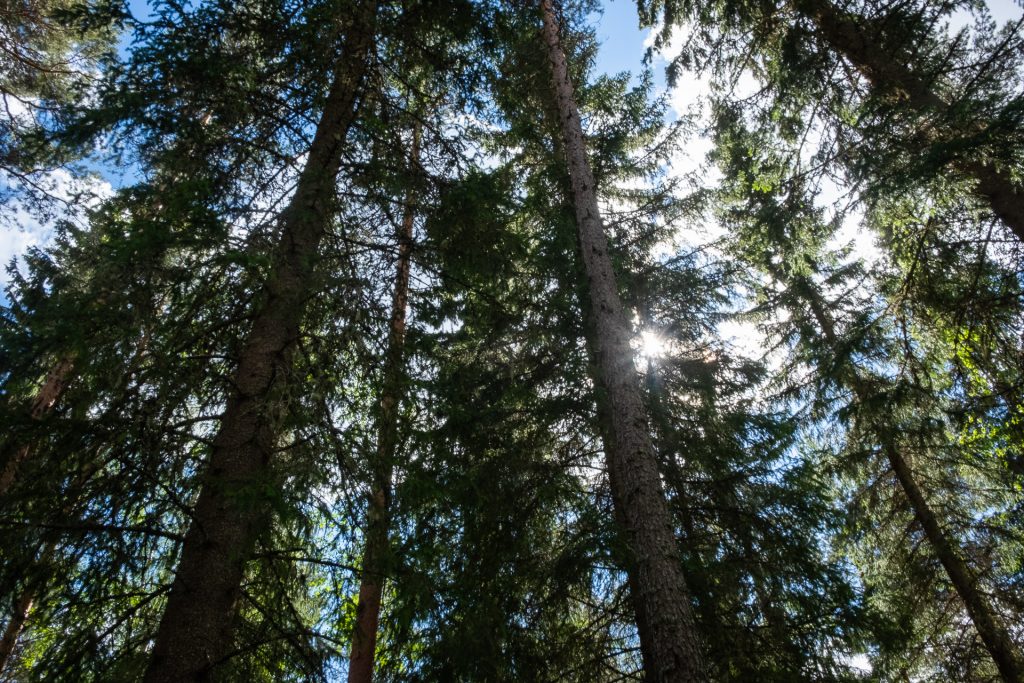 About this post

This entry was made after a trip sponsored by Visit Dalarna and Visit Sweden. However, I have not been instructed whatsoever what I should post or write, and all words, experiences and pictures are my own.
---