While planning our trip to Morocco, I knew that the most important part for me would be spending a night out in the Sahara desert. I wanted to watch the sun set, and then rise again in the morning, over the gigantic, orange sand dunes, and at night lay on my back, counting all the stars that filled the sky.

A quick Google search leaves you with (way too) many options, including everything from a small, simple tent to full on glamping. How do you know what to, or even where to book? Also, what's actually included, and what is the Sahara desert-camp really like? Here's the story of our 3 day 2 night-trip to Merzouga in the Sahara desert, Morocco.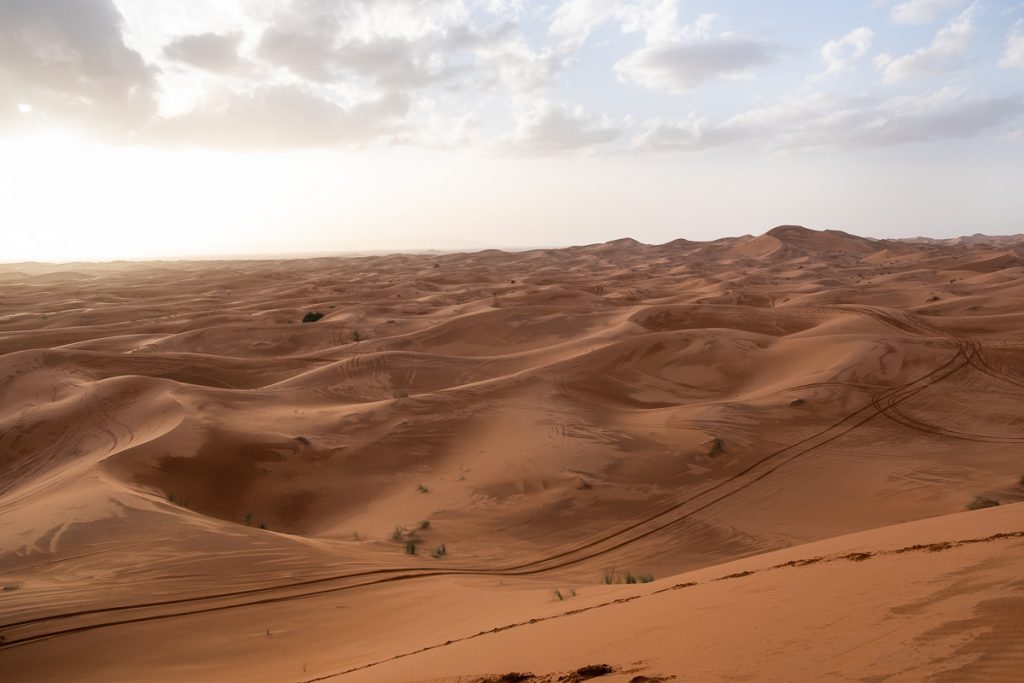 The Atlas Mountains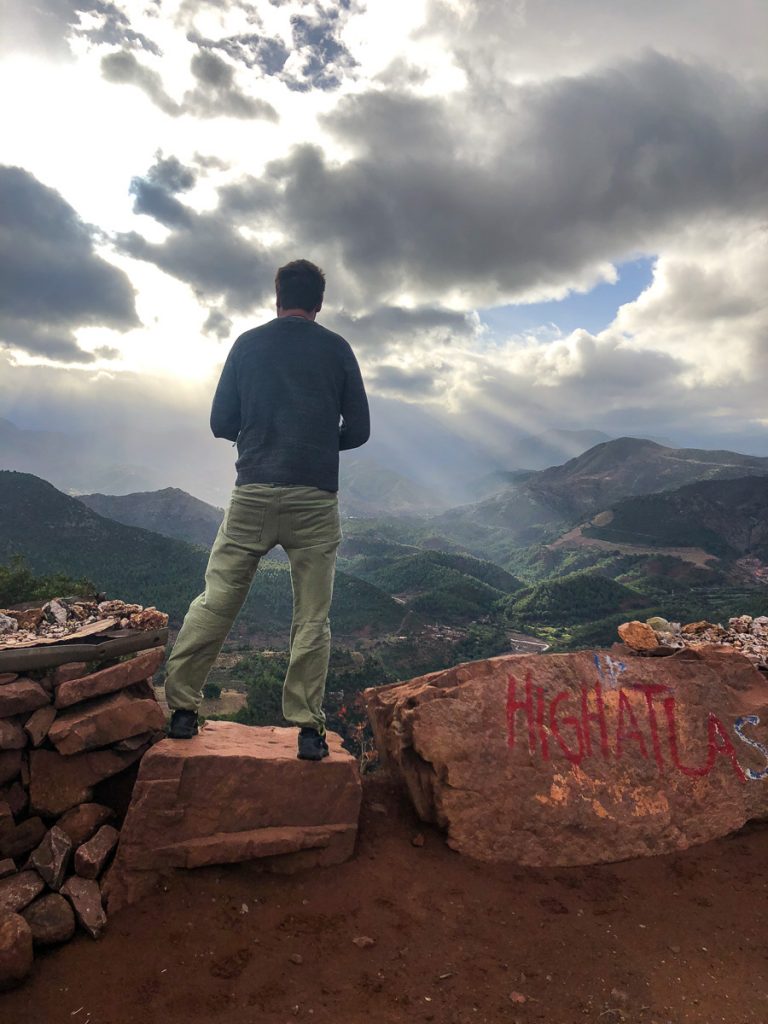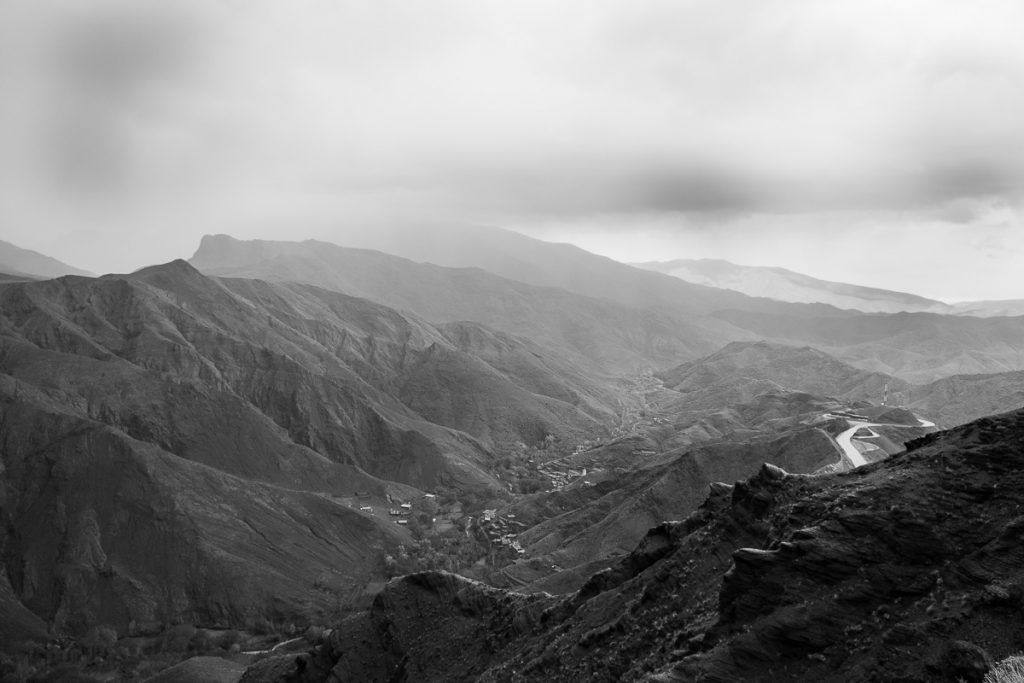 It was still dark, quiet and early morning as we got picked up at our riad. From every direction into the open space where the minibuses were waiting people arrived. Some with only a backpack on while others, like us, were carrying all their luggage. The drivers greeted us, and all passengers and bags were distributed into the cars. Soon we were leaving Marrakech behind us, and drove towards the impressive Atlas Mountains we could see over in the horizon.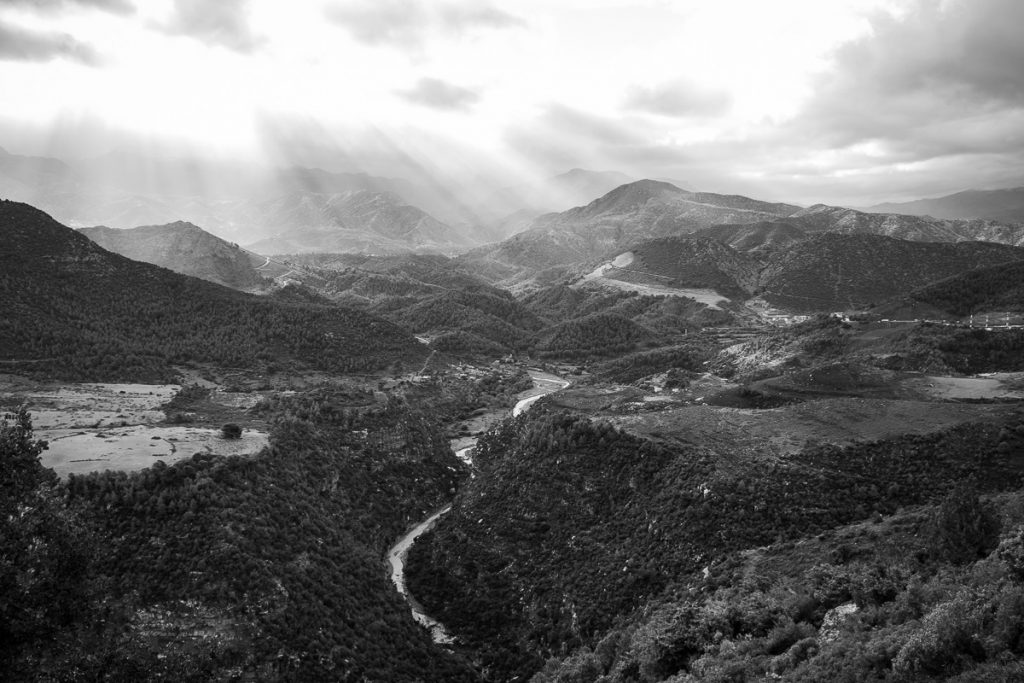 Ait Ben Haddou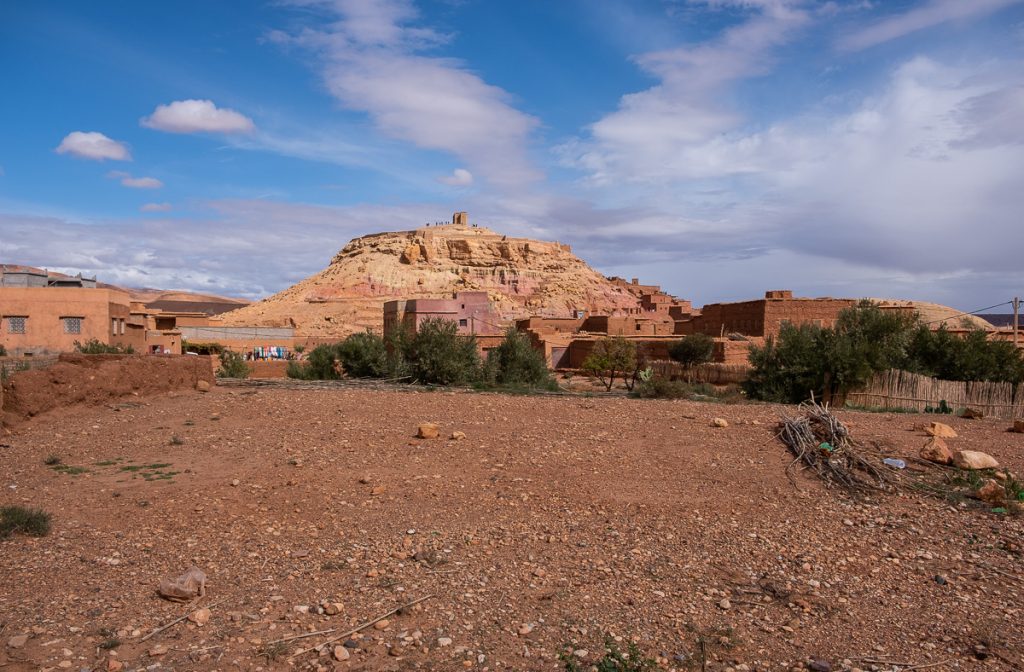 Along the former caravan route you can find the old ksar Ait Ben Haddou. With it's old clay buildings, this city has been on the UNESCO World Heritage List since 1987. Loads of movies, such as The Mummy and Gladiator, and also parts of the TV-series Game of Thrones has been shot here.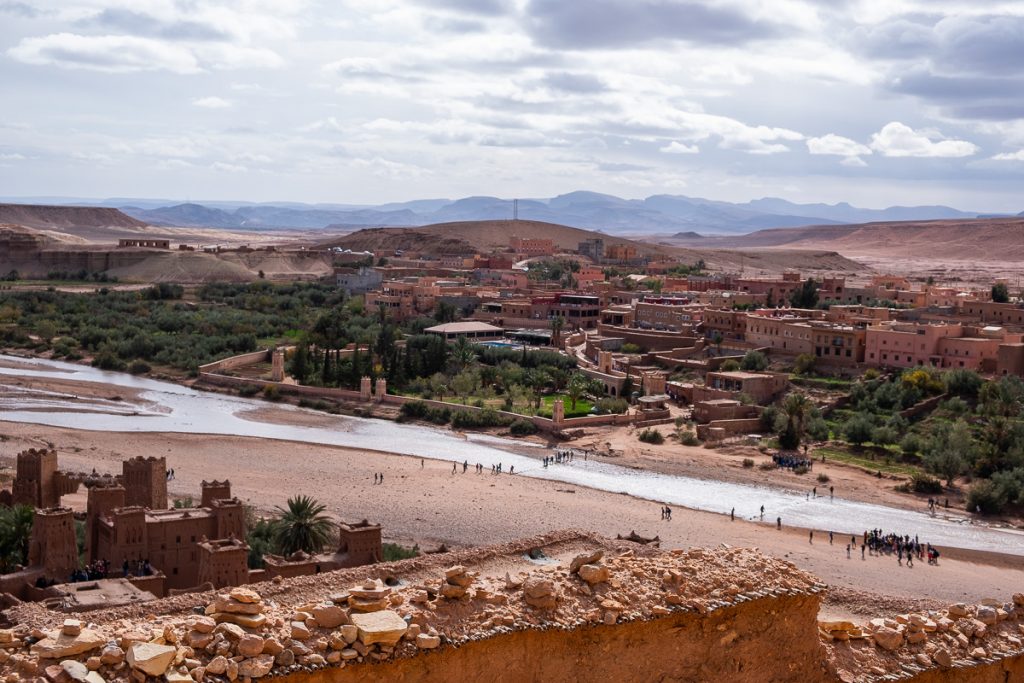 After the Atlas Mountains, Ait Ben Haddou was our first actual stop. We had just about two hours here, and after some arguing with the driver, we were allowed to skip the guided tour (entrance not included), and could explore it ourselves. After two hours exploring and having lunch (also not included) we were back in the bus.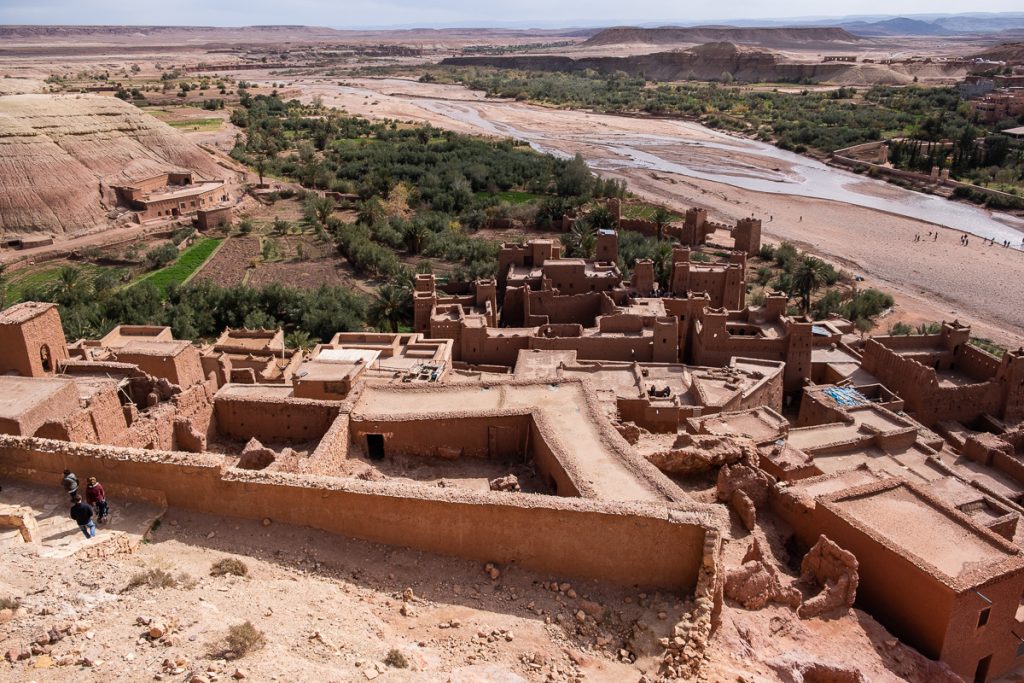 Ourzazate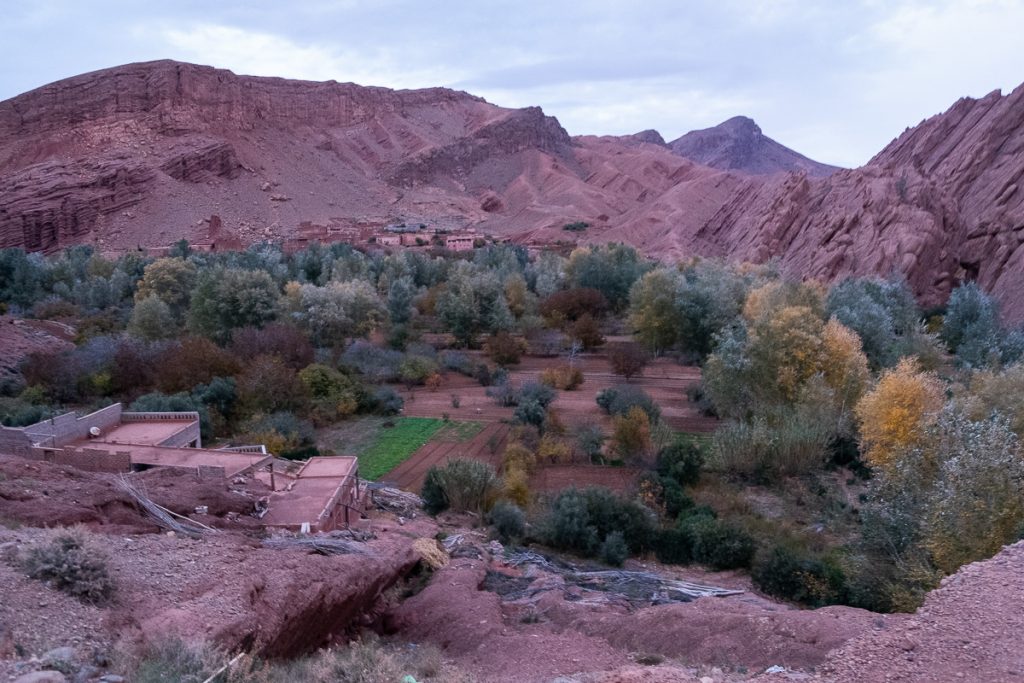 Technically, Gorges Dades was in our program, and we did visit it. However, we didn't arrive until after sunset, and left early in the morning, so I can't really tell you much about it. We did however get our own room, and there was a dinner with everyone together, where huge trays with tagines was carried in for us. The room was as simple as you can get it, ice cold floor, a bed, and a shower so small you could shower whilst on the toilet. But it was a bed to stretch out and sleep in, so we were happy.

Just as dawn was creeping up on us, we all climbed back into the mini bus, and off we went. First stop was Gorges Tourdra, a river with mountains around, and a kashbah, which was pretty impressive, and definitely worth seeing even if the rain was pouring down at this point.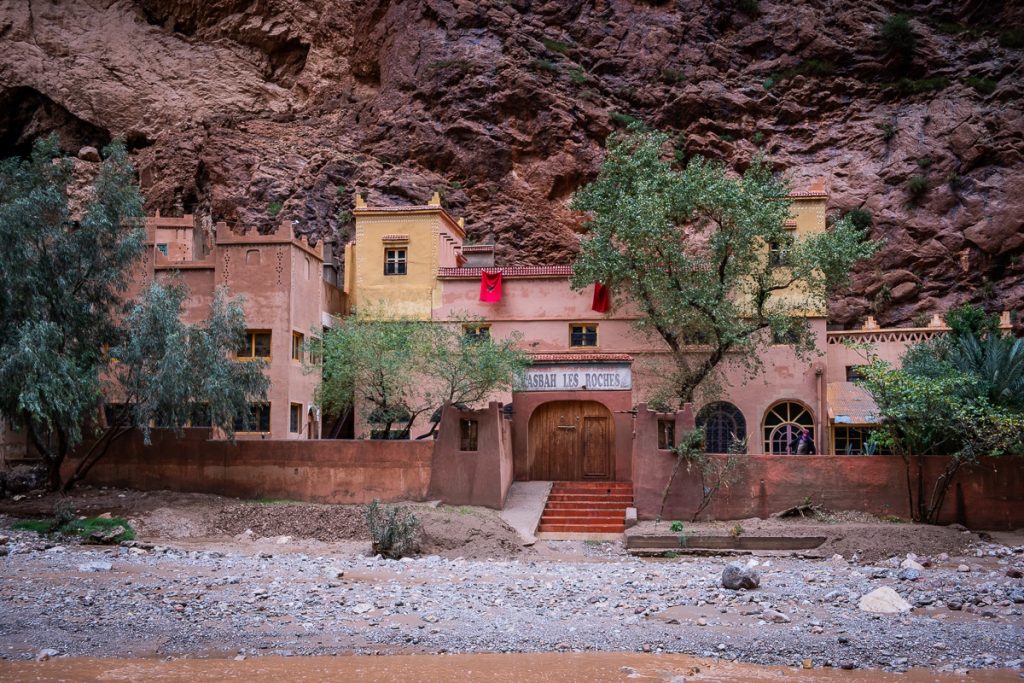 Our next stop was in a smaller city, Tinghir, and basically the whole point of the stop was so that hopefully someone would buy carpets. We did not – but it was nice having a demonstration of the different types and techniques used whilst making traditional Moroccan carpets.

After the demonstration and more of the delicious Moroccan mint tea, we all rolled back into the minibus. I expected the carpet sellers to be really pushy towards getting sales in, but they were all really nice and friendly.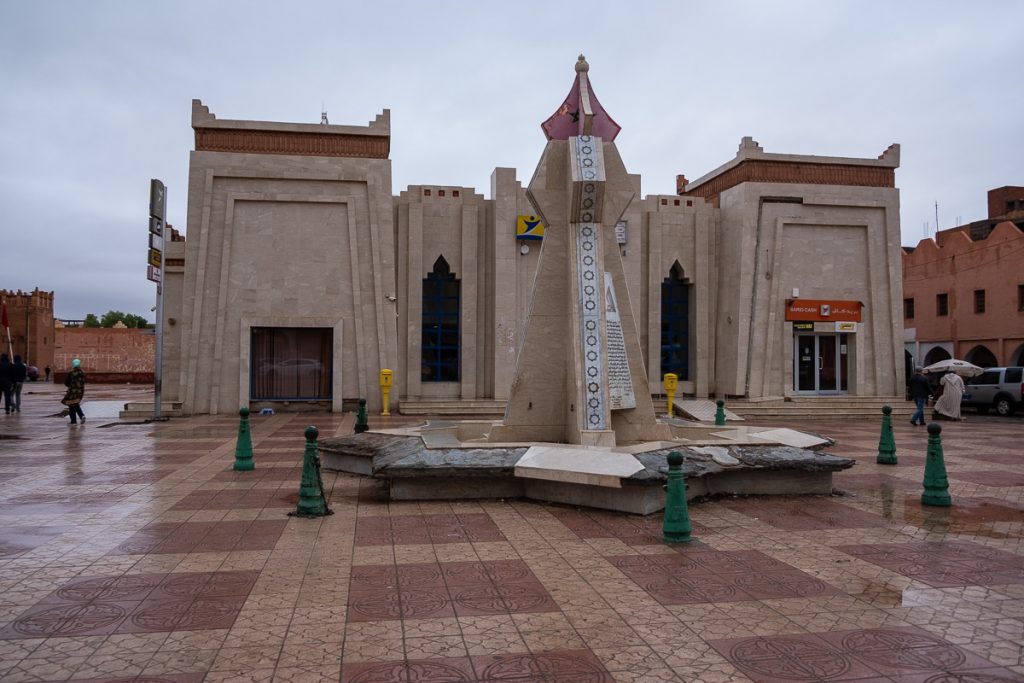 After this, we spent what felt like ages inside the bus (but really I guess it was only a few hours – I was just too excited about what was coming next). As we were getting closer to Sahara, I didn't really see a lot that resembled what I imagined the desert to look like. Due to heavy rainstorms the night before, the roads were flooded! (What is it with us and deserts? The Atacama desert was also flooded when we visited Chile!) Luckily, the weather forecast told us there would be no more rain during our stay between the sand dunes.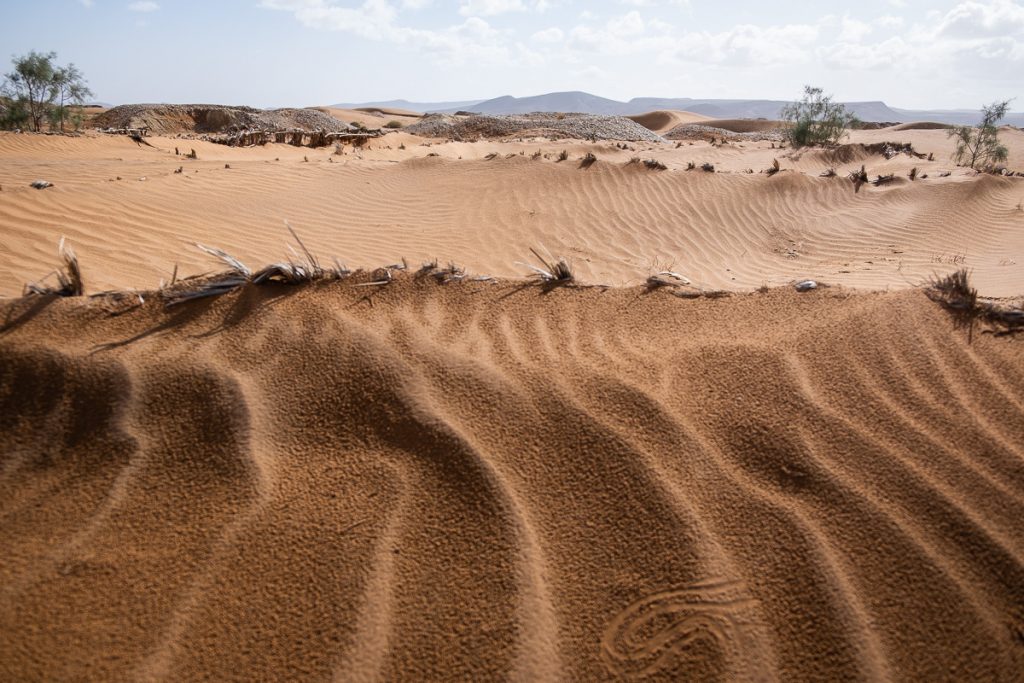 The Sahara desert / Merzouga

Finally we touched down in Merzouga. I could see the beginning of the desert over in the horizons, and just near where the bus stopped the camels were waiting. I was so excited! We'd prepared our daytrip-backpacks with the essentials for our desert stay (and our passports and valuables, just in case). These we brought with us, while the rest of our luggage was locked inside the minibus, which we were reunited with the day after.

We'd pre-booked a 4×4 instead of doing the included camel ride, as we did not want to risk being on the back of a camel while sunset happened (after all, we're two photographers on tour, and I was not sure how many pictures I would be able to get in while holding on to a camel). Upon our arrival we'd been told we could just jump into the 4×4, get straight to the camp, and have plenty of time in the desert.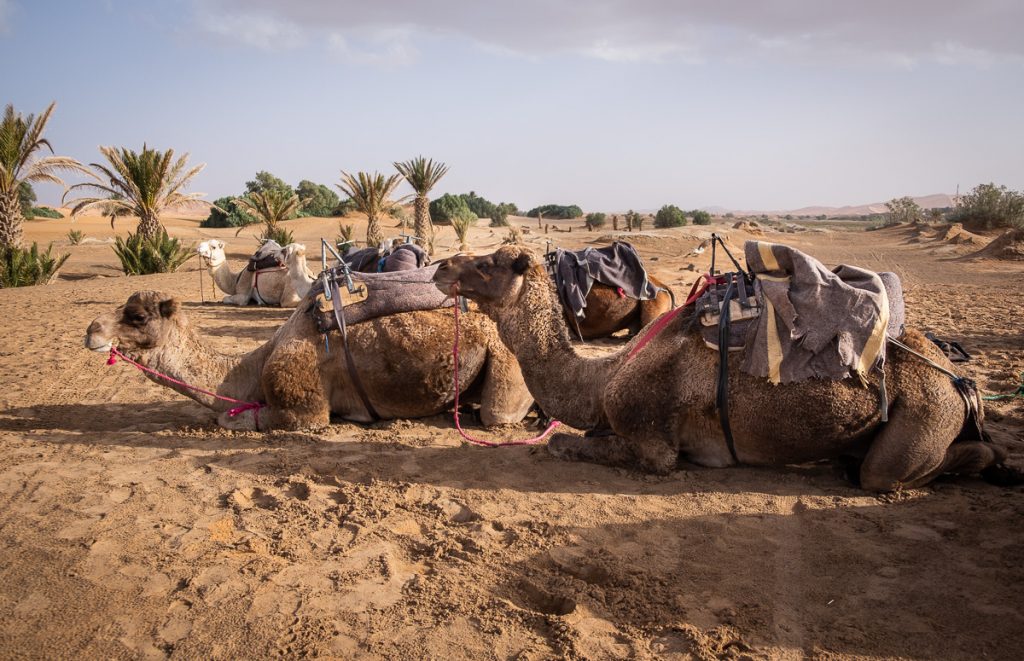 Again, however, we ended up in a situation where Thomas called up our contact person from the riad in Marrakech. The driver refused to take us into the desert. "We'll go in 1,5 hours, just before sunset" he said, and sat down smoking with his friends. Thomas tried to explain that this was not what we had agreed to, nor paid for, but the driver just shrugged, and repeated "1,5 hours".
After spending about an hour just waiting around, repeatedly making phone calls, the driver finally caved in. And not only that, but because of the misunderstanding, we'd been upgraded to a nicer camp, Fayou Desert Camp. As we would not have the time to get to the camp before sunset, the driver offered to take us to a place he knew we'd get wonderful pictures. We climbed up the giant sand dune just in time. Seeing how the colours changed on the sky, as well as the vast, open space in front of us,was just as incredible I'd imagined it to be.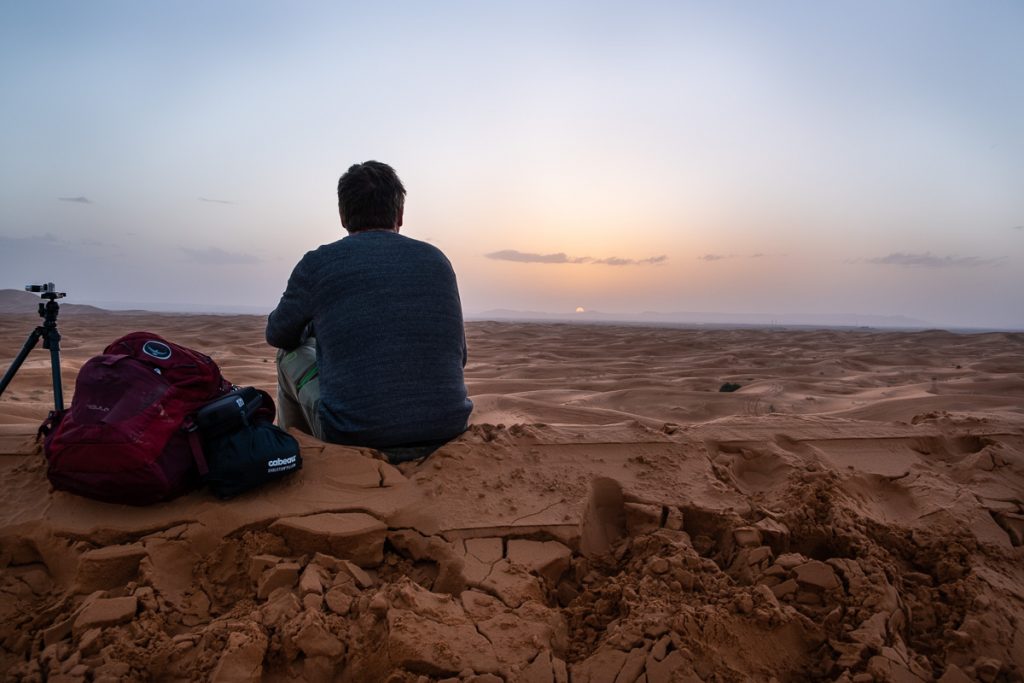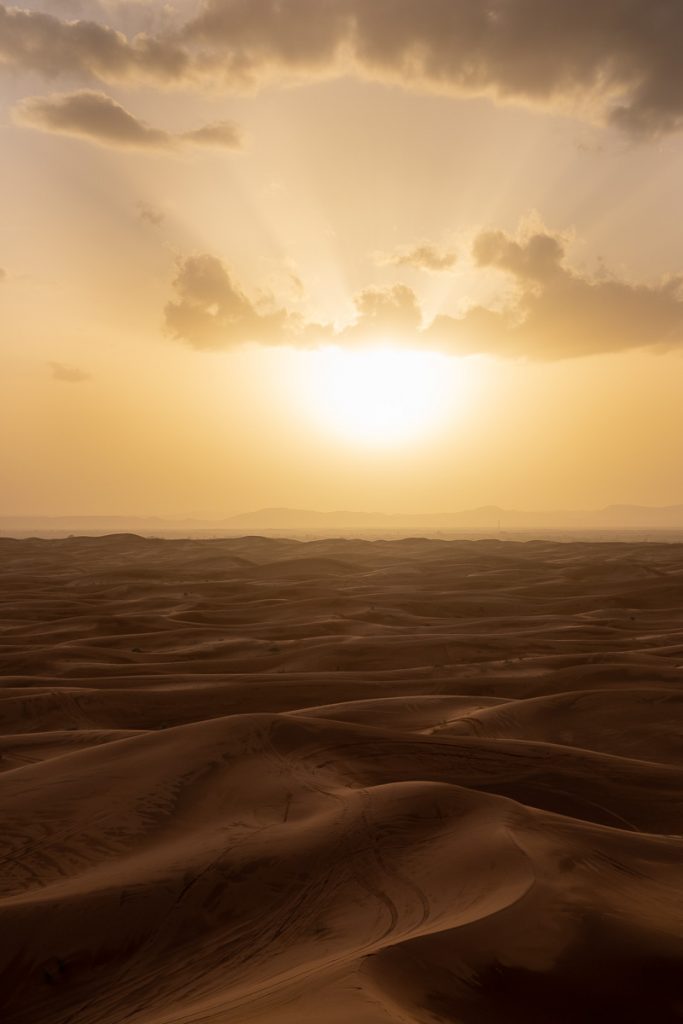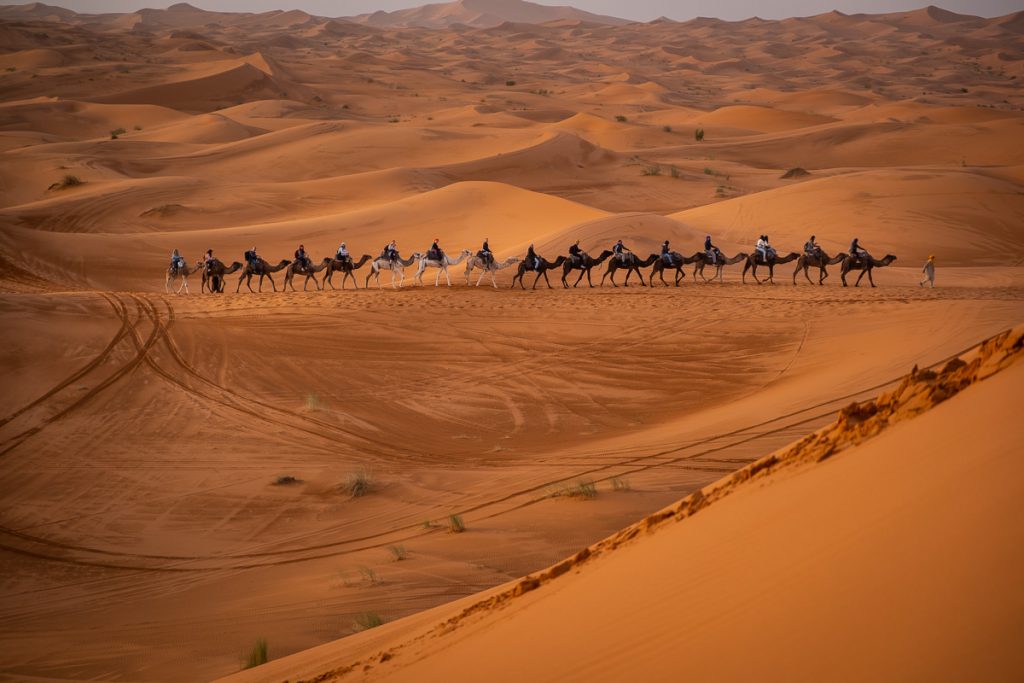 Our camp was really nice, and consisted of private tents all equipped with a huge bed, a place to sit or put our belongings on, and electricity, which meant we could charge our phones.
Dinner was served in a large house, around a huge table, which made the experience really social. After as much tagine as we could possible stuff ourselves with, we sat down outside with some of the people we'd befriended during dinner. As the berbers living in the camp played drums and guitars we were talking and drinking some wine we'd brought with us.
Around the camp there's nothing but sand. The camp itself was located between sand dunes, and because of this, there was no phone signal. There was also no surrounding lights, which meant the sky quickly filled up with endless amounts of stars shimmering over us.
Due to safety reasons you could not leave the camp alone, but the berber people living in the camp was more than happy going out with you. Thomas, a berber nomad from the camp, three Slovenian girls we'd talked to since dinner and I went out to watch the stars. "Wait here for a minute!" said the berber, and ran off. We stood around, discussing what we would do if he just never showed up again. Shortly after, however, he was back, carrying blankets with him.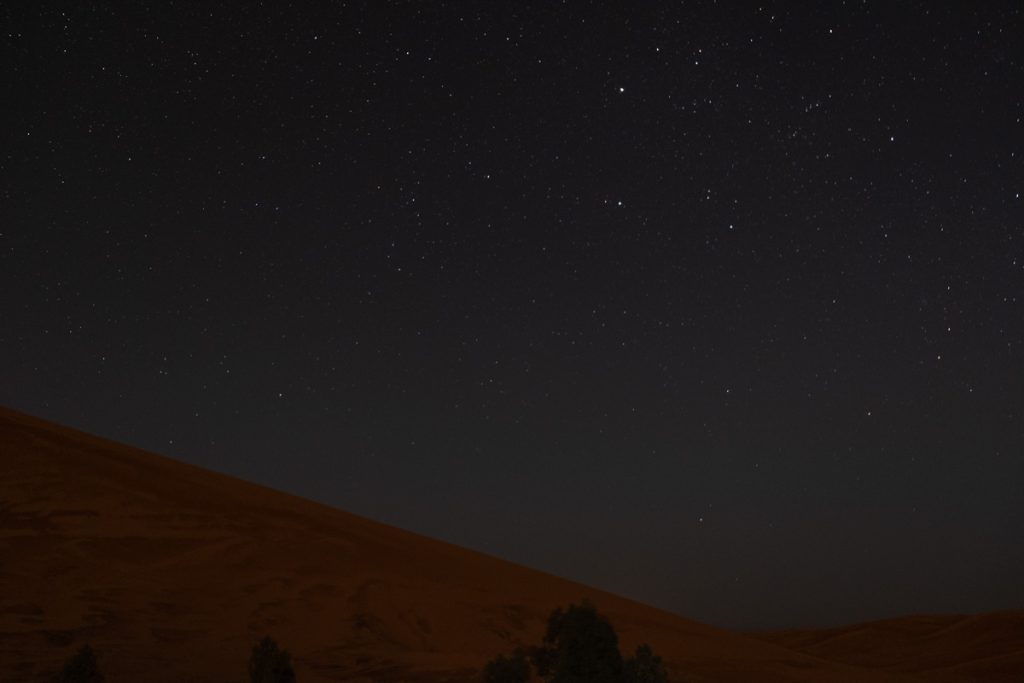 Laying on my back, with endless amounts of sand grains from Sahara underneath me, with a sky only lit up with a gazillion bright stars over me, I felt at peace. I was not the only one – the berber even fell asleep. We all gasped simultaneously, "oooh!", as a shooting star swiped over the night sky, and I closed my eyes making a wish.

After a few hours in the surprisingly comfortable bed, we got up early, and waded through the sand in order to see sunrise. As expected, it was just as spectacular as the sunset the night before.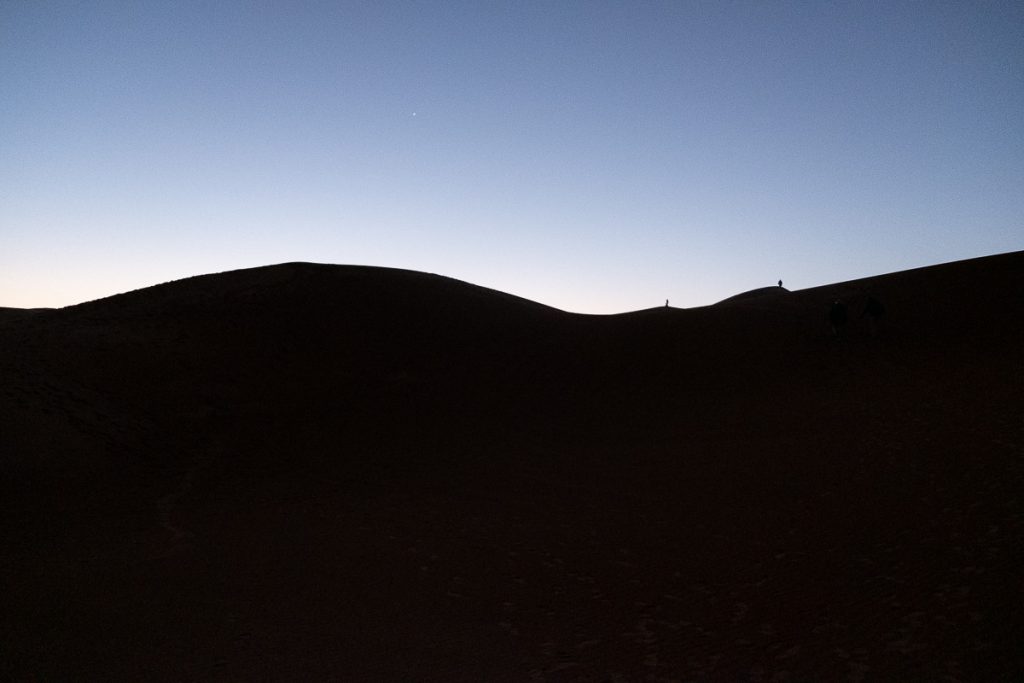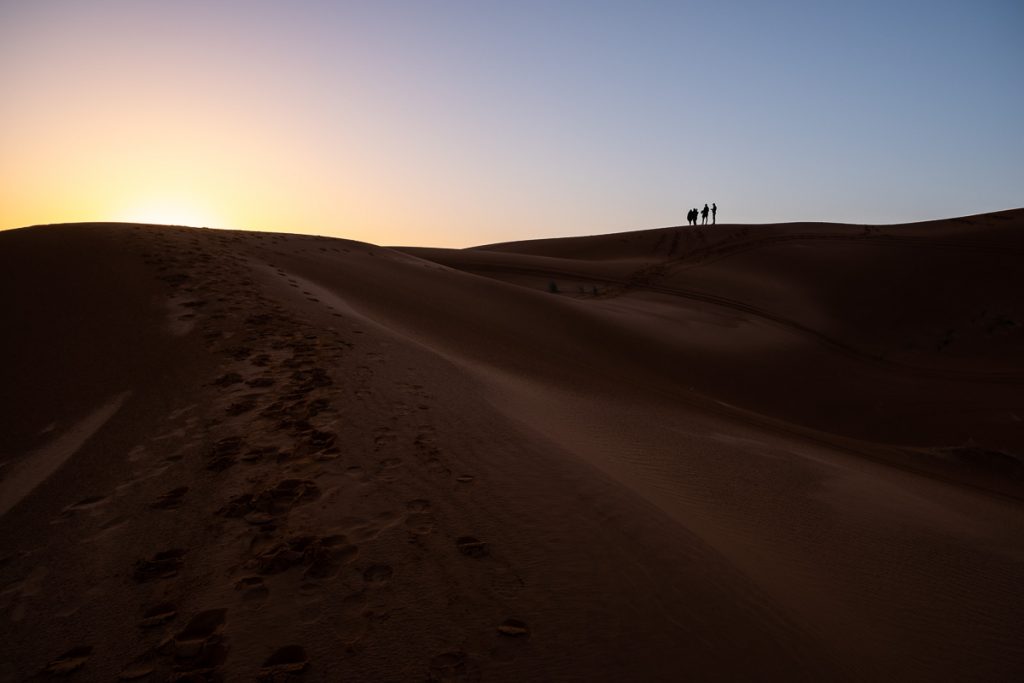 At 9am we waited for our 4×4-driver to pick us up. At 9.40am there was still no signs of him, we'd played with our drone, taken some photos, had several cups of coffee and was just about to climb up the sand dune to receive phone signals as the car showed up.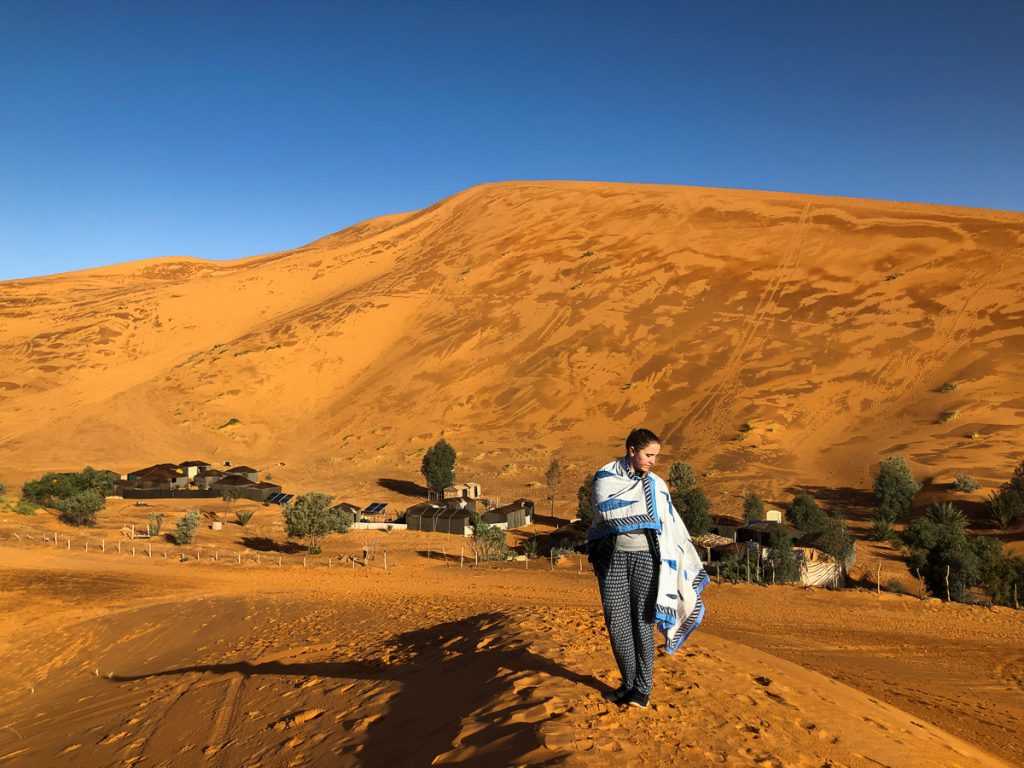 Despite a few "Oh no!"-moments (with regards to transport mainly), the Sahara desert-experience definitely is one of my best travel moments so far. Definitely try it!
How and where to book your Sahara experience?

Most of these "3 days 2 nights"-trips starts out from Marrakech, and either ends up back there, or (as the one we ended up with) in Fez. We booked our experience through our riad, Riad Maud, in Marrakech. This both gave us a good price, as well as the direct number to Karim from Best Sahara Tours, the company our riad recommended to us, something which came in handy several times. Absolutely would recommend!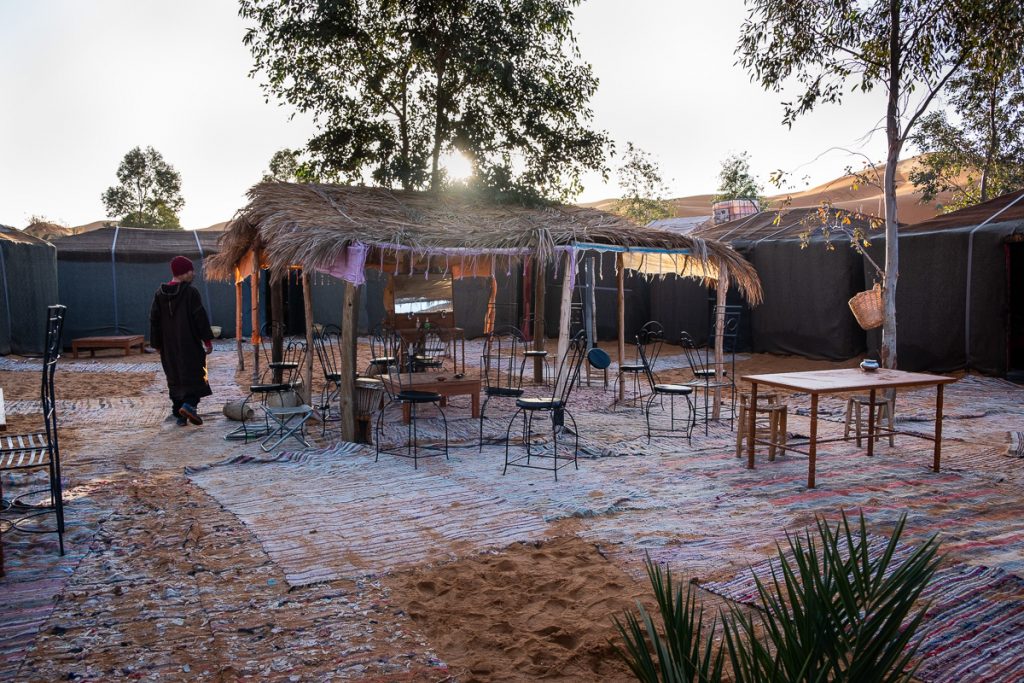 Karim met up at our riad, told us the basic of the excursions (most of the trips follows the same route), and also listened to our wants and needs.

Pris
Price tour: 80 USD each (696 NOK)
Extra for 4×4 in desert: 100 USD (870 NOK)
Price transport Merzouga – Fez: 200 MAD (20,69 USD / 180 NOK)
Duration: 8 hours +/-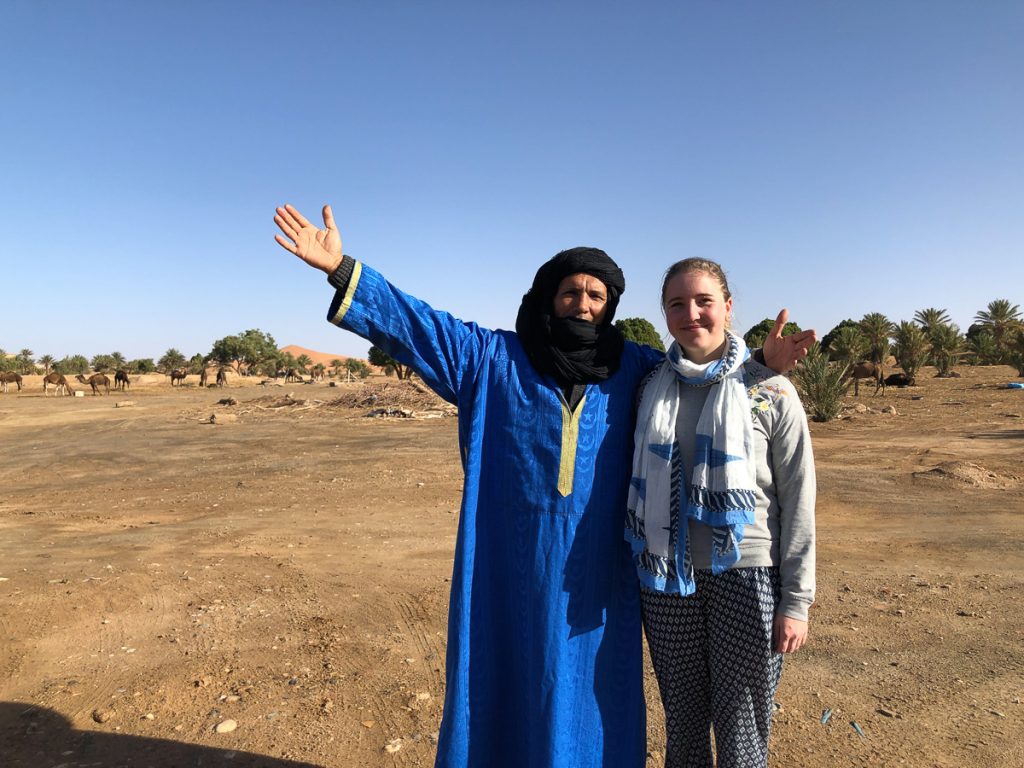 What's included?
Transportation from Marrakech to the different destinations day 1 + 2, breakfast and dinner each day, camel ride to/from desert camp.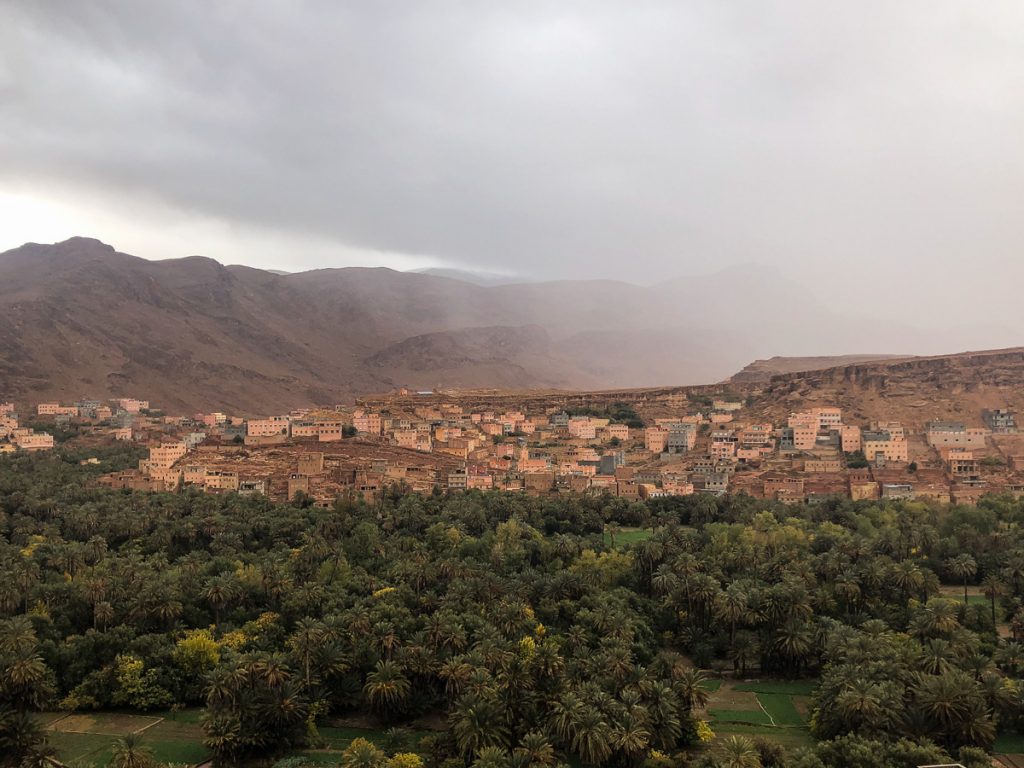 Not included:
Lunch, guided tour in Ait Ben Haddou, 4×4 ride to/from desert ($100 extra for the both of us, worth it I'd say for the photographers wanting more time in the desert for sunset/if you have back pain/don't want to be on a camel), transport from Merzouga to Fez.

PS: Since I'm a coeliac (can't have gluten) I also made sure to have gluten free crispbread and a few bars in my bag, something which came in really handy on this trip.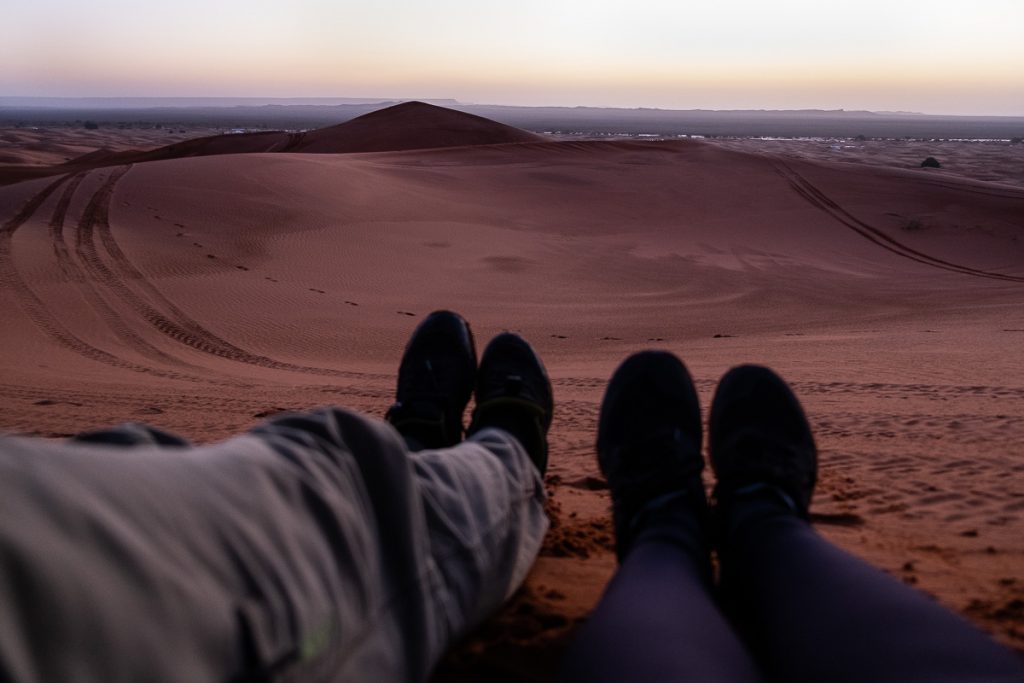 ---