With long beaches perfect for surfing, a tsunami museum, a monastery and a short busride to the UNESCO-listed city of Galle, Hikkaduwa makes for an interesting place well worth visiting.
"Hhhhhrrrggghhh!"
I woke up to the sound of the neighbour violently brushing his teeth, then spitting, the morning already bright and sweaty in Thomas' room in Hikkaduwa. I turned my head to look at Thomas, and noticed he's already looking at me. He smiled. "Did you just wake up to that sound too?" I nod, and we both burst out laughing, "Well, good morning to you too, neighbour." We got up, and quickly made some coffee that we poured into our mugs, then walked to sit up on the roof of the house, which is flat, and surrounded by amazing palm trees. An incredible cacophony of birds and animals surrounds us, and we sat still, just enjoying the nature and coffee, slowly feeling our bodies waking up as the caffeine kicked in. After our coffees, we packed our bags ready for a day at the beach, and headed out.
After a quick drive in a tuk-tuk we're arrived at this amazing coffee shop, Salty Swamis, run by a bunch of Australians. I spent ages deciding from all the delicious items on the menu, finally ordering a vegan Swami bowl, filled with roasted pumpkin, avocado, warm red rice, vegetables, hummus and a variety of amazing spices. So delicious I could cry, and so filling. If you ever find yourself in Hikkaduwa, do yourself a favour and visit Salty Swamis. They're also really great with marking everything in their menu with "vegan", "vegetarian", "gluten free" and "dairy free". Thumbs up!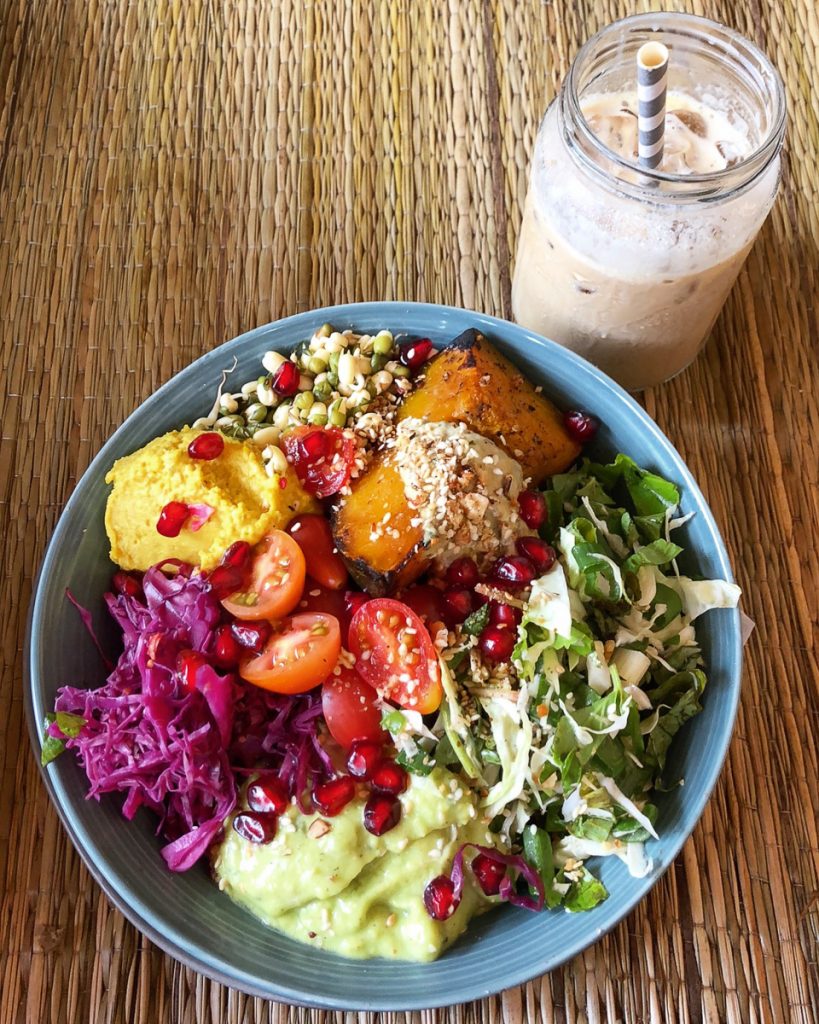 Arriving at the beach, I quickly flopped down on a sunbed, got my sunglasses on and spent a couple of hours reading, only interrupted by going for a swim every now and then, or ordering a soda. As it came to be about lunchtime we walked along the beach, the sand feeling really nice, and not too hot, and found a nice restaurant along the shore. We spent all day at the beach, and just before the sun would start to set we bought a chilled bottle of white wine, found an available beach cabana, and watched the sun set in several shades of blue, yellow, orange, pink and purple. Very romantic! Later, as we walked back to the house, we nearly stepped on a scorpion. When walking outside at night time, having a flashlight with you would be recommended.
The next day we walked over to At Ease Beach Hotel, a hotel started up by a Norwegian lady, Merete and her husband. As Thomas had to get in a couple of hours worth of work, I decided to entertain myself with a little walk by myself on the beach. I saw some fishing boats up on land, which caught my interest, and walked over to take some photos of them.
This is how I met Dinesh. Dinesh' family owned these boats, and he happily showed me the boats. We ended up talking for quite a while. "You see, here in Hikkaduwa, we have a lot of shells and corals out in the water" he told me, while pointing out to the sea. "That's what saved a lot of us during the tsunami in 2004. The waves that came in here were huge, but compared to further North along the coast, they were small. That's cause the shells here would slow down the waves. Up North however, people had "rinsed up" the sea, by removing a lot of the shells." I keep quiet while he tells me this, barely able to nod. What could possibly be said? "I've practiced climbing palm trees since then", he continues, "so that if it happens again, I know I can get myself up. However, I'm not sure I'll be able to get my mum up there". I shake my head. I can only imagine the terror the people who was anywhere near the tsunami must have experienced.
He then shows me the boats. "These are pretty small fishing boats, so we normally only take them out for a day, as there's no place to go in inside, no shelter from the sun". I ask if I can take a photo of him and one of the boats, and his face turns into a big smile. The smile gets only wider when I say he can decide which of the boats he wants his picture taken next to. "This one!" he says, and drags me over to one of the boats. His uncle's boat, he can tell me. The sun begins to burn the soles of my feet, so after a bit more talking, I say thank you and goodbye to Dinesh, and return to my book.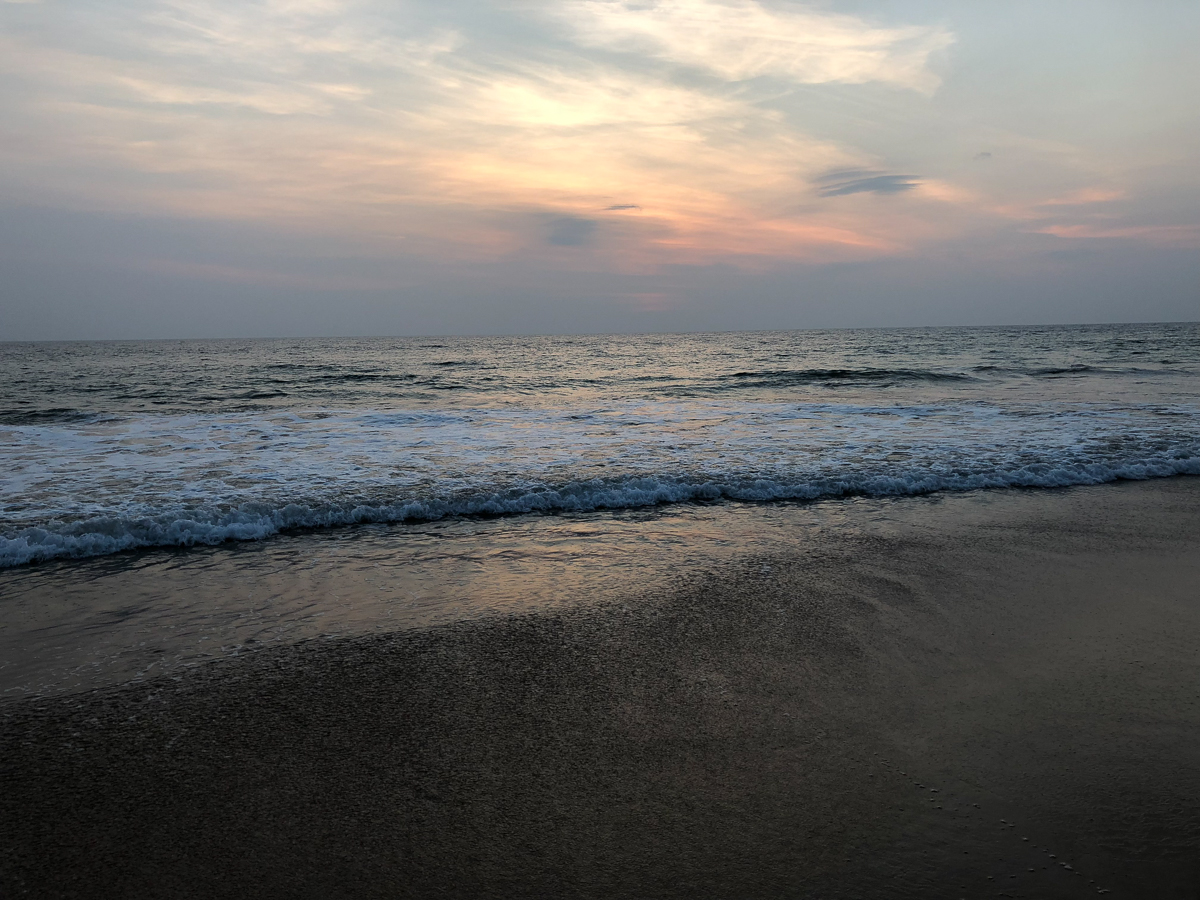 Walking along the beach is something that seems really romantic, but a lot of places the beaches are way too crowded, or the sand is burning your feet. In Sri Lanka, however, the beaches have enough space for strolling along, and the sand feels nice. Later that day we walked along the beach, feeling the waves wash over our feet, and then went back to the cabana with another bottle of wine, and another sunset. Incredibly beautiful, and very relaxing!
Galle
The next day we got out on the main road that goes through Hikkaduwa, to find a bus. Again, we could only walk out and stand around and wait, as there were no time tables for the bus. The bus arrived, and about 30 minutes later we found ourselves in the city of Galle. Galle is Sri Lanka's 4th largest city, and here you can see a lot of traces from both the Portuguese, who built the city, combined with traces left from the Dutch people, blended in with Sri Lankan culture. In Galle we first had to stop and watch this new temple that was currently being built. It's details were amazing! Galle also had, of course, several large Buddhas along the road.
Our first stop was for breakfast. We went to a restaurant called Poonie's Kitchen, which had a lovely garden in the backyard, filled with pretty things such as fake butterflies on the walls, plants and gadgets, pretty signs and a carp pond(!) The decorations itself was worth the visit, but luckily neither the food nor drinks did disappoint either.
Next stop was the Galle Fort, and the lighthouse, both listed on UNESCO's world heritage list. Walking along this site you get loads of nice views, along with a slight breeze, which felt really good in the heat. "What do you reckon these guys are up to?" I asked Thomas, pointing at a girl staggering out in the water in a dress, carrying a gigantic leaf. "Do you think they're having a photo shoot?" We obviously could not help ourselves from staring as the poor model tried to pose with the leaf while not getting washed away by the waves. Later, we found ourselves a pub, which actually sold ciders (we discovered that a lot of places around in Sri Lanka would have ciders on their menu, but not actually any in stock when we tried to order).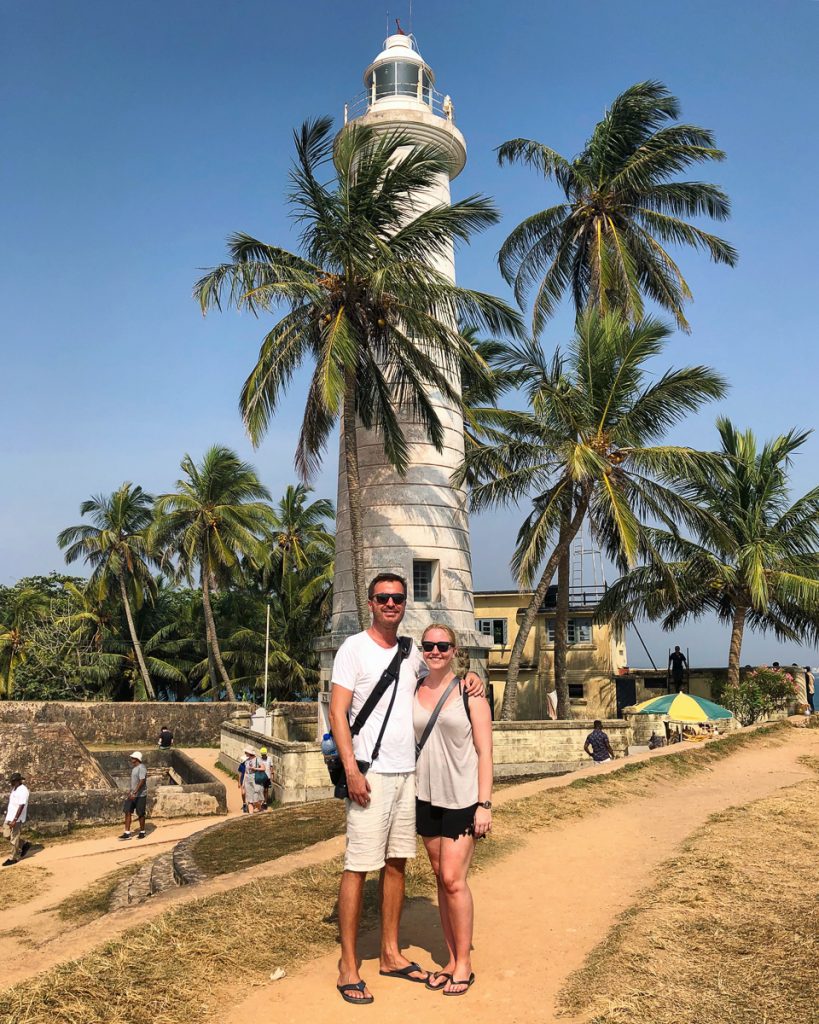 Galle also had a lot of nice, little boutiques worth seeing. No visit to Galle would be fulfilled without a trip to Isle of Gelato, where we munched on ice cream. As the sun was about to set, we returned to the Galle Fort, as did a lot of other people, and I would highly recommend anyone visiting the city of Galle to do so. Beautiful!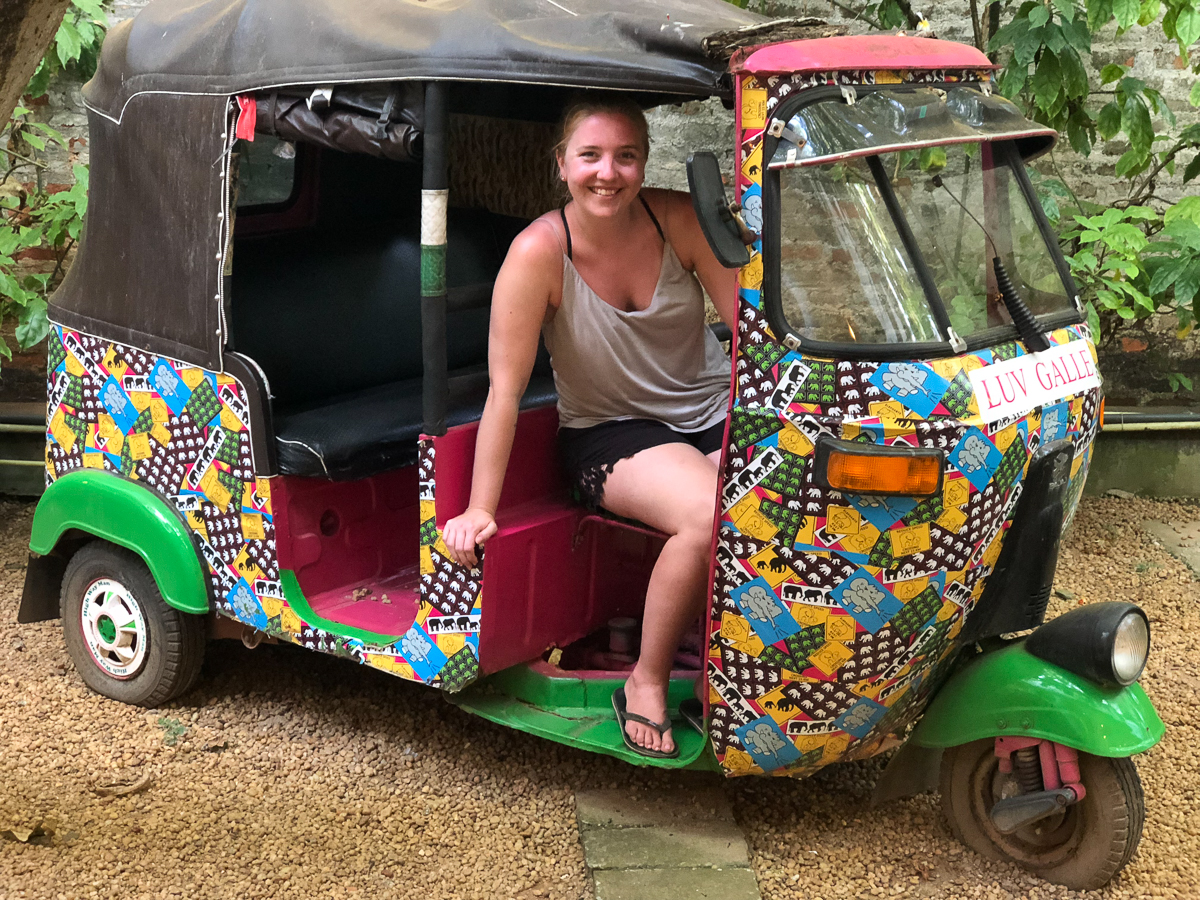 After sunset we walked over to The Heritage Café for a nice dinner (I noticed a lot of restaurants in Sri Lanka does not sell alcohol, which is not surprising, as most people in Sri Lanka do not drink alcohol. Most of the time I also did not even think about it. However, some dishes I really enjoy having a glass of wine with. This restaurant served this type of food, but no alcohol). After finishing our lovely meal we jumped back on the bus to Hikkaduwa, and fell asleep as soon as our heads touched the pillows.
Even though I had spent several days now in Hikkaduwa, I had not really seen much of Hikkaduwa. Therefor, after an amazing breakfast consisting of a huge iced coffee and omelet (so spicy and delicious), we got ourselves into a tuk-tuk and set off.
The tsunami musem, Hikkaduwa
First stop: the tsunami museum. This was something I felt was very important to see and do. The tsunami in 2004 hit about 70% of Sri Lanka's coast line, and the damages and losses were unfathomable. More than 30.000 people were reported dead in Sri Lanka only. Yet, as Sri Lanka back then had a war, and therefore was not a tourist destination, the media in Norway did not really mention how bad the situation in Sri Lanka was. When I started reading about the country upon my arrival, I was astonished to see how bad things really had been, and I had not even known! The second wave was the most damaging one. It washed away an orphanage with about 150 people with it. Somewhere between Colombo and Galle a train with 1700 passengers got hit by the wave, killing almost everyone on board.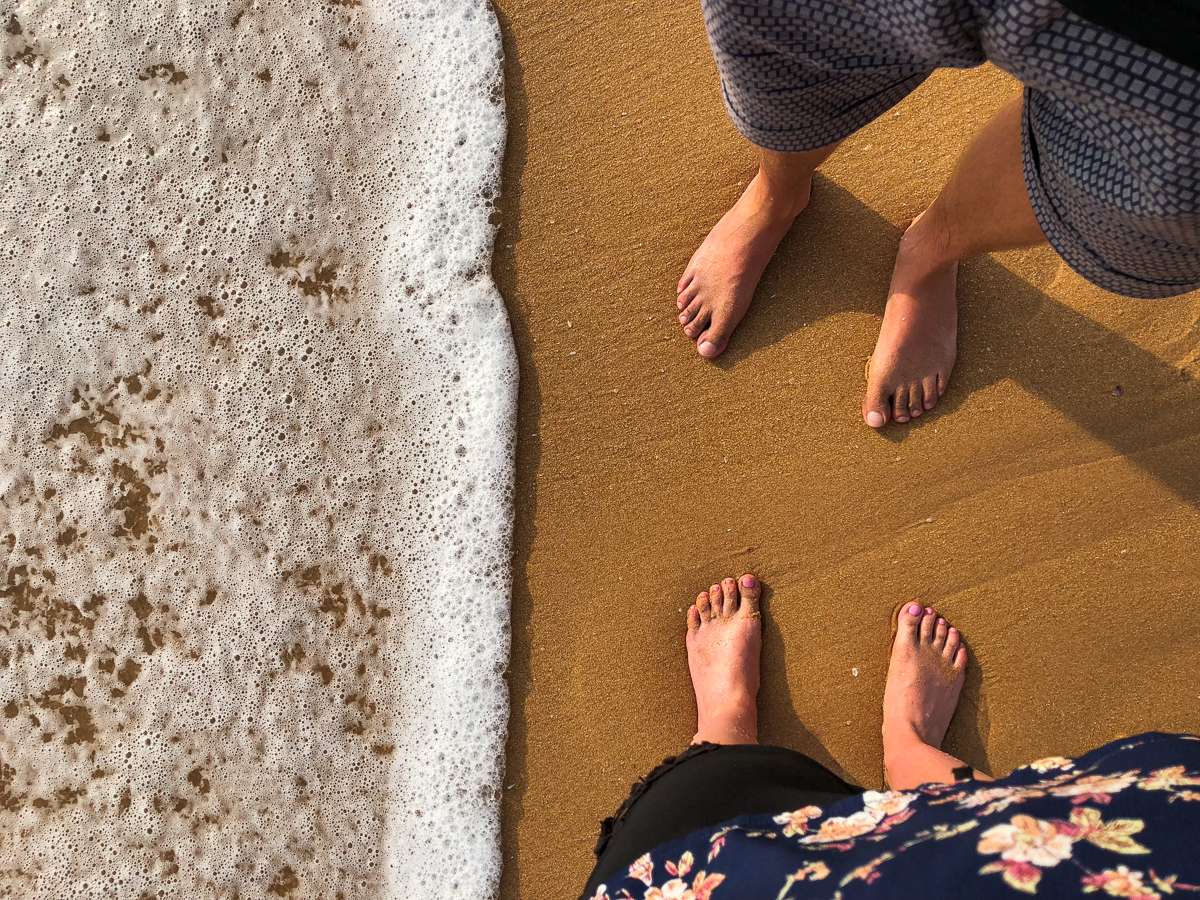 The museum showed pictures of all of the above (except the orphanage, as, well, it simply was not there anymore). There was pictures of people playing on the beach, curious people walking out in the sea to see as the water retreated, pictures of the wave coming in, the water, the damages, the train wrecked and tossed around like an old toy, and pictures of the dead. So many! Incredibly heartbreaking and emotional! Obviously, there is a strict "no photo"-rule in this museum, but yes, it felt to me it was something very important (and respectful) to go and see. Even though I had read a lot about the tsunami, watched the news etc, this was completely something else. So straight in your face, so brutally honest! The museum is driven by survivors and victims of the tsunami, some of these clinged to palm trees, some had lost their entire family. The museum sort of works as therapy for these people as well. Here they can share their stories. The memory of those lost. The museum also focuses on what happened after. An Australian doctor, Dr. Alison Thompson, and a lot of others, shortly after the tsunami started up therapy groups, as well as helped cleaning up and rebuilding the city again. A lot of people were left terrified of water after the tsunami, and it was important to get these back into the water, and being able to have a normal life. The museum was an incredible experience,and I'd recommend everyone visiting it. It surely brings in perspectives!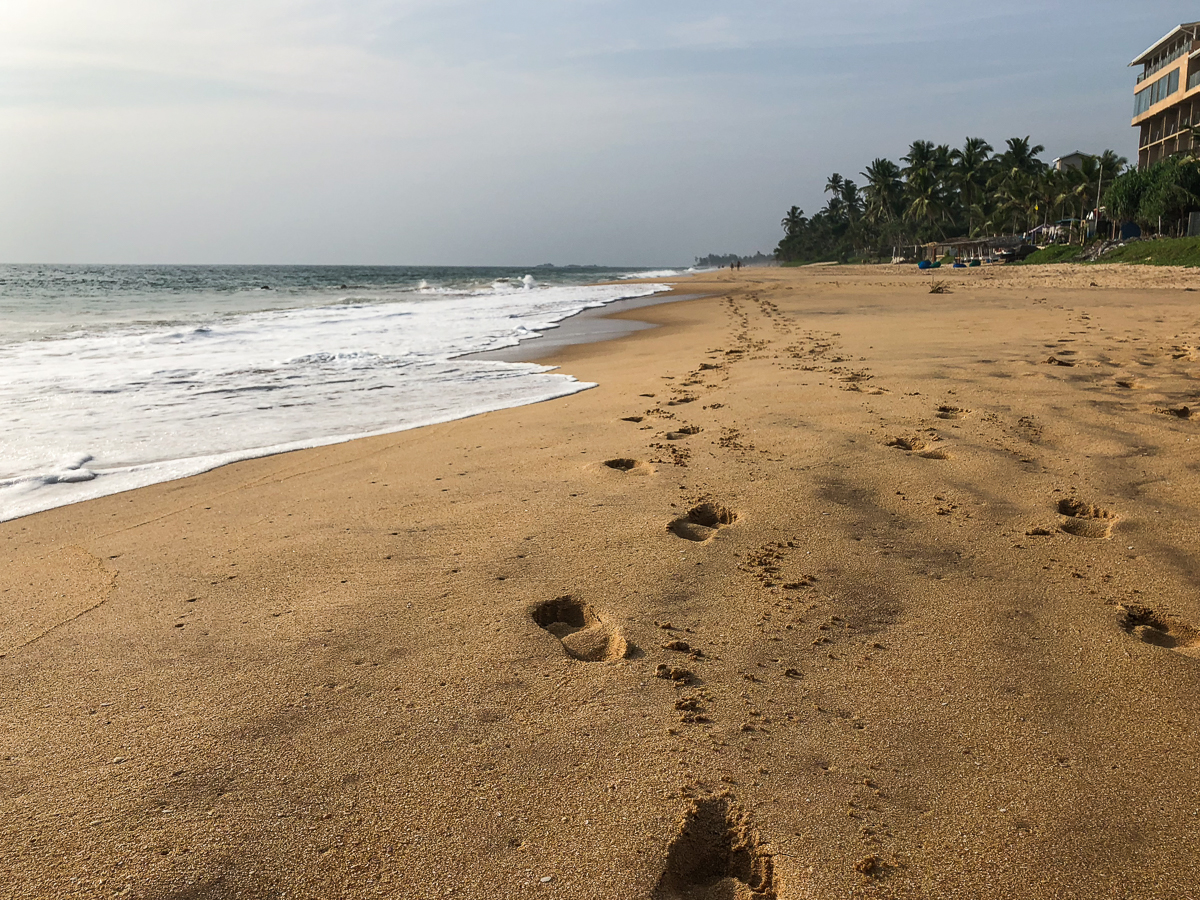 The turtle hatchery
After the museum, we went to do something more lighthearted. And what's more lighthearted than the Turtle Hatchery? The turtle hatchery's job is conserving the turtles, meaning they would both take eggs from turtles, let them hatch there, then safely bring the turtles out to sea, as well as take care of injured or sick turtles. It was sad to see some of the turtles, who had been injured by either boats or plastic waste in the ocean. The impact of what people do is something we should be more aware of! On the other hand, the baby turtles were really cute, and I felt happy to see how the people working there seemed to genuinely care about each and every turtle they had there.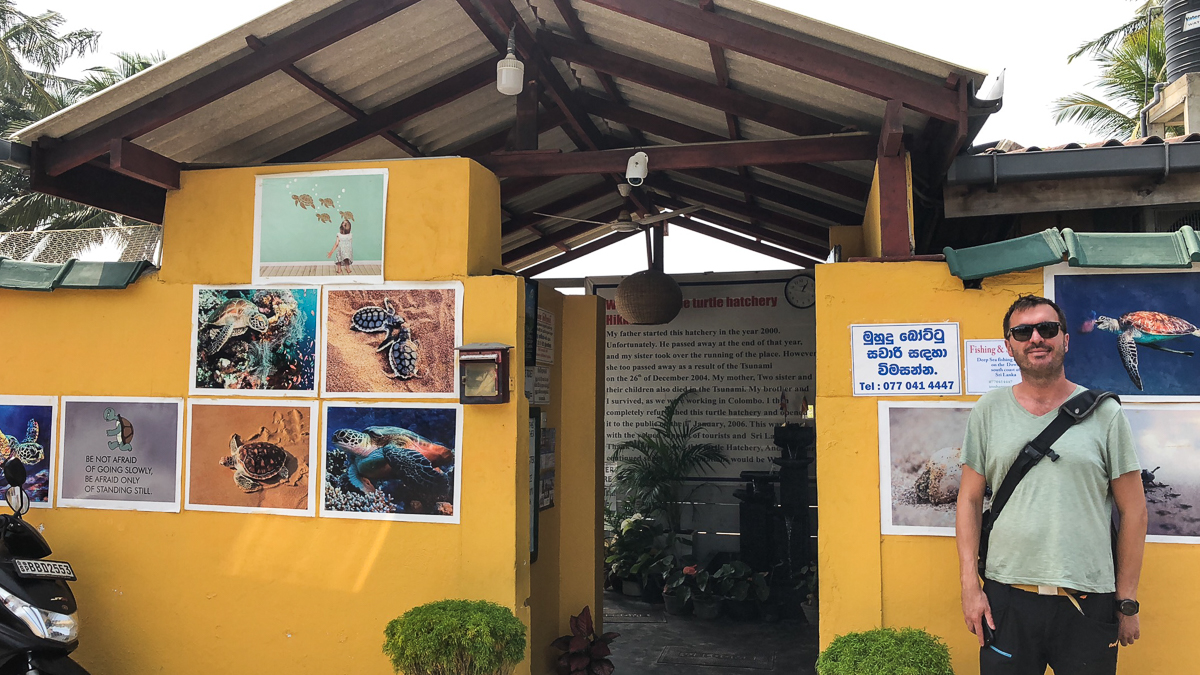 Naga Viharaya
As we had "rented" the tuk tuk-driver for a couple of hours, we continued on with the tour. Next stop was Naga Viharaya, a monastry in Hikkaduwa. As we went there, we were the only people visiting, something that made it feel really calm and serene, something I doubt it would had it been filled with other tourists. A curious cat joined us while exploring.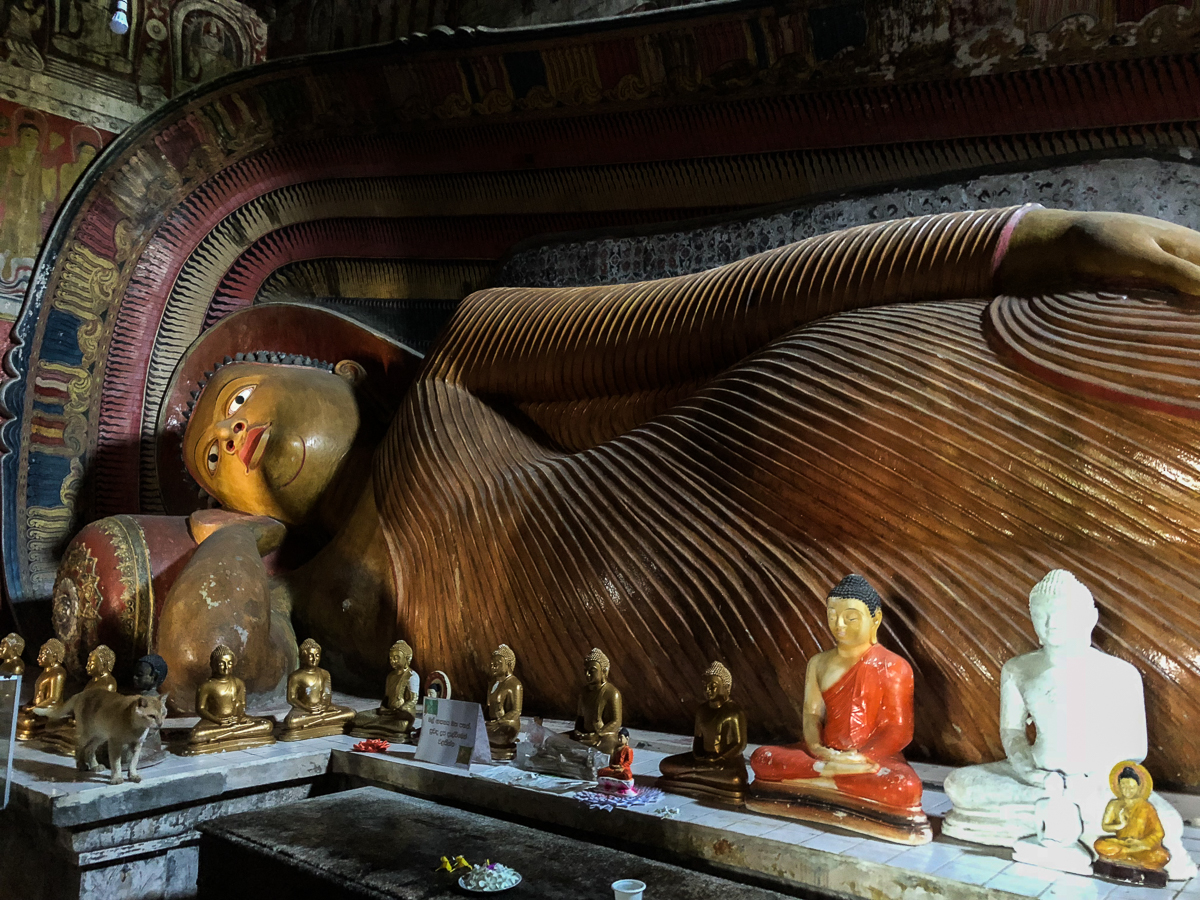 Last stop on our tuk-tuk journey was the Tsunami Honganji Vihara. This is a statue, given to Sri Lanka from Japan, and it's 18 metres is equal to the wave who crushed most of the area around it during the tsunami in 2004. To see for yourself what 18 metres straight up really looks like made an impression.
After this tour, our kind driver who had tagged along all the places we visited drove us back to At Ease. At night we went out to eat curries (can I just again recommend the food in Sri Lanka? So fresh, so cheap, so spicy, so much variety), and grab a couple of drinks at the beach, the impressions of the day still lingering.
2,5 weeks might sound like a long time for an adventure, but really it's not.
My journey to Sri Lanka was coming awfully close to an end, and yet I found myself with so much left I wanted to see and do. I guess this only means I will have to go back to Sri Lanka later, something I definitely think I will. It'll be interesting to see the impacts the increased tourism will have on this country, and ultimately I'd be keen on going back in, say 10 years, to see the differences (and the things I did not get time to fit into my schedule this time).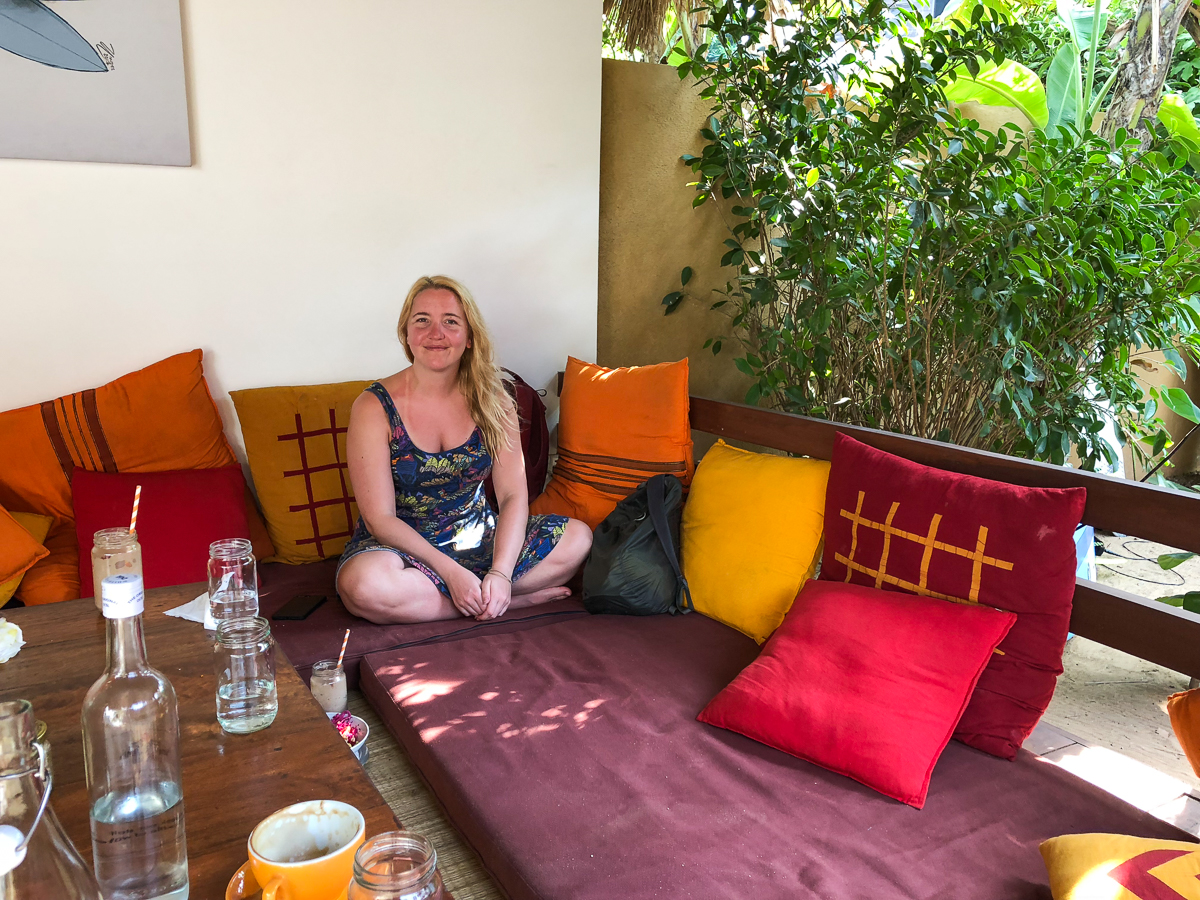 Thomas came with me to Colombo, and again we stayed at the Mövenpick hotel (yet at a less fancy room this time, which was still rather fancy). I always feel a bit blue as a journey is about to end, but this time it felt a bit worse (but not as bad as leaving Rhodes). I would leave to go back to Norway, while Thomas would stay. However, he had revealed to me that he would like to go back to Norway – and to me(!) once his 3 months visa ran out. "But… I would need a place to stay" he said, with the cutest look on his face. I kissed him, and laughed. "I'm sure there'll be someone in Norway that will take pity in you and has a couch or something for you".
Originally we planned on going out for food, but instead we ended up spending our entire evening at rooftop bar, having one fruity cocktail after another, companied by some snacks, an awesome view of Colombo when looking one way, and the fresh air coming in from the Indian Ocean from the other. And soon after, as I saw Sri Lanka disappear beneath me, I started my journey back to Norway. A little more tan. A little more well traveled. A little sad to leave behind Thomas, and this beautiful country I had only just started to know.
13 days later Thomas moved in with me in Oslo. Another great adventure was just about to begin…
---