Read my other posts about Sri Lanka:
I don't know about you guys, but whenever I visit a place I have not been before, I like to research it a bit before. Personally I'm very found of travel books, such as Lonely Planet or Footprint, but I also tend to spend way too many hours (is that really possible, though? I like to casually daydream I'm already travelling when I can't actually be out and do it) browsing the internet, Instagram etc. So obviously I also did this before going to Sri Lanka.
As we all know from my earlier blog post (did you miss it? In that case: you can find it here), 2017 did not really start out that well for me. I had my heart broken, and yeah. Luckily, I took the plunge and did my first solo trip, and later that year I met Thomas. Or, that's not entirely true. We already worked together, but during that summer, we started hanging out. And started liking each other. A lot. But of course, it could not be simple. Thomas had already handed in his resignation at work, and was planning to go traveling the world for "a year or two, maybe even longer". So it seemed like our adventure would stop before it even began. Except faith wanted it differently – and this time in my favour.
Thomas asked me, about a week before his adventure began, what I thought we should do about us once he was gone. To be honest, I did not at all want a long distance relationship. However, the only thing I wanted less than a long distance relationship, was to say goodbye to him, and maybe never see him again. He agreed. We decided to give us our best shot, to talk a lot, and see what the future would hold for us. It did not take too long before Thomas asked if I wanted to come and visit him at Sri Lanka, where he was staying for 3 months. Obviously I did! So for Christmas, this dude that started out as a fun co-worker, then turned into what should have been a fling and was now my boyfriend "on the run", bought me return tickets to Sri Lanka(!)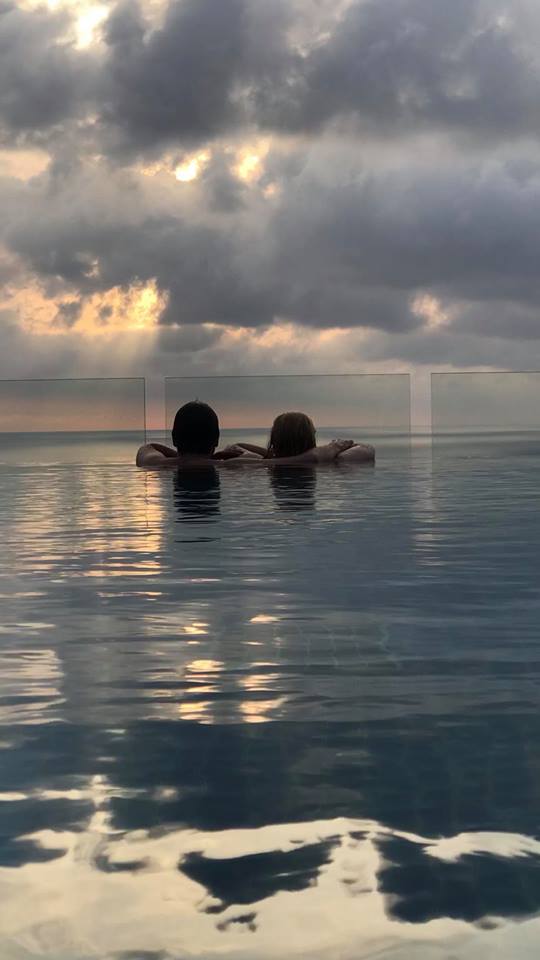 My adventure in Sri Lanka started by arriving at Bandaranaike Airport in Colombo at 8.30am a Friday morning. Having not been able to get any sleep at all, I felt pretty tired, but as soon as I sat my foot on Sri Lankan ground, I found that tiredness being replaced by excitement. I easily collected my bag, and was met outside by my boyfriend, Thomas, whom I had not seen since Mid-November. Safe to say, it felt great seeing him again! I landed early in the morning, and after an anxious moment or two where we both were a bit like dogs sniffing at each other looking for recognition, all was well and we were so happy to see each other finally.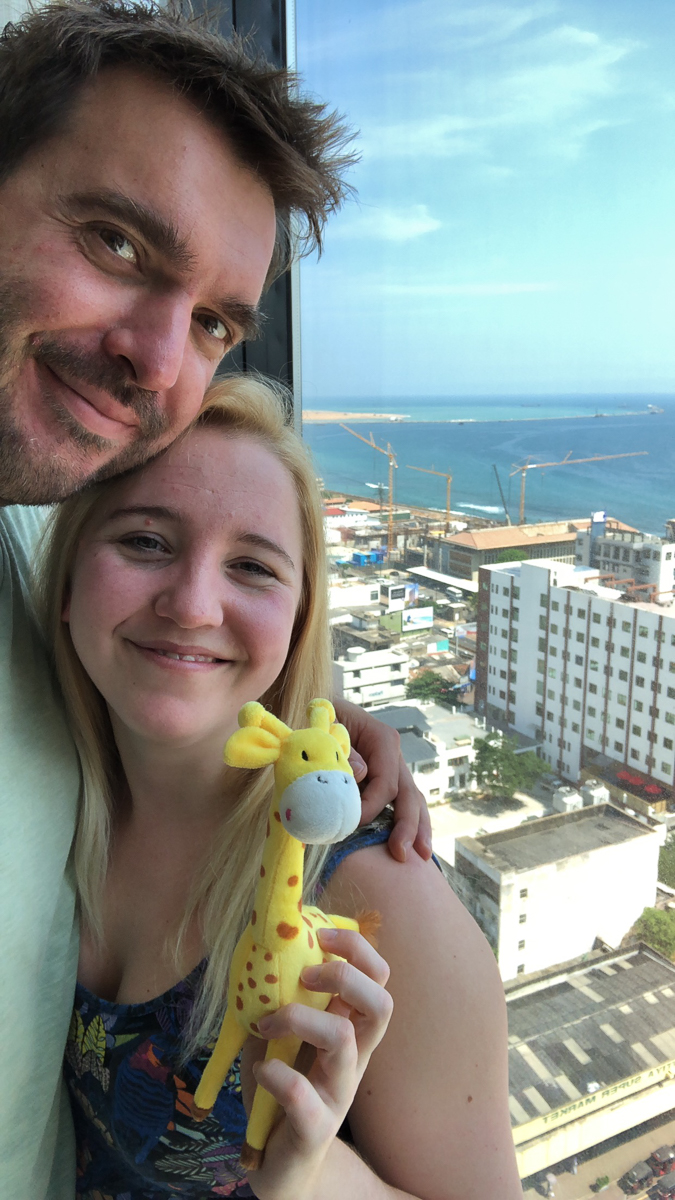 He had secretly arranged for us a couple of nights at a hotel in Colombo, for some time to just relax, catch up, enjoy the air conditioned room and each other. In the cab from the airport, while happily squeezing Thomas' hand, all I could do was staring out the windows as I saw Colombo pass outside.
Little did I know what to expect as I entered the Mövenpick hotel, and followed up to our room on 15th floor. What a view! From our room I could see straight out to the Indian Ocean, and as Thomas said "Later today, the sun will set just over there". As if that was not enough, the room had a bathtub with the same view, an enormous bed with the biggest doona I have ever seen (highly recommended after a long, sleepless travel), and as we explored the hotel, we saw an enormous buffé and the hotel's roof bar and infinity pool(!) Safe to say, the stay was amazing, and Thomas was quickly very forgiven for having "left me" back home in the Norwegian cold winter for a few months.
The first day I have to admit I had to have a nap after lunch. Then in the afternoon, we took the elevator up to the roof top terrace, and watched the city, as thunder and lightning came rolling in from the sea, we sat sipping on mojitos, happy smiles on our faces, and when the rooftop bar closed due to the huge amount of rain crashing down Thomas took my hand, and we got in the elevator heading down to the Japanese restaurant for sushi.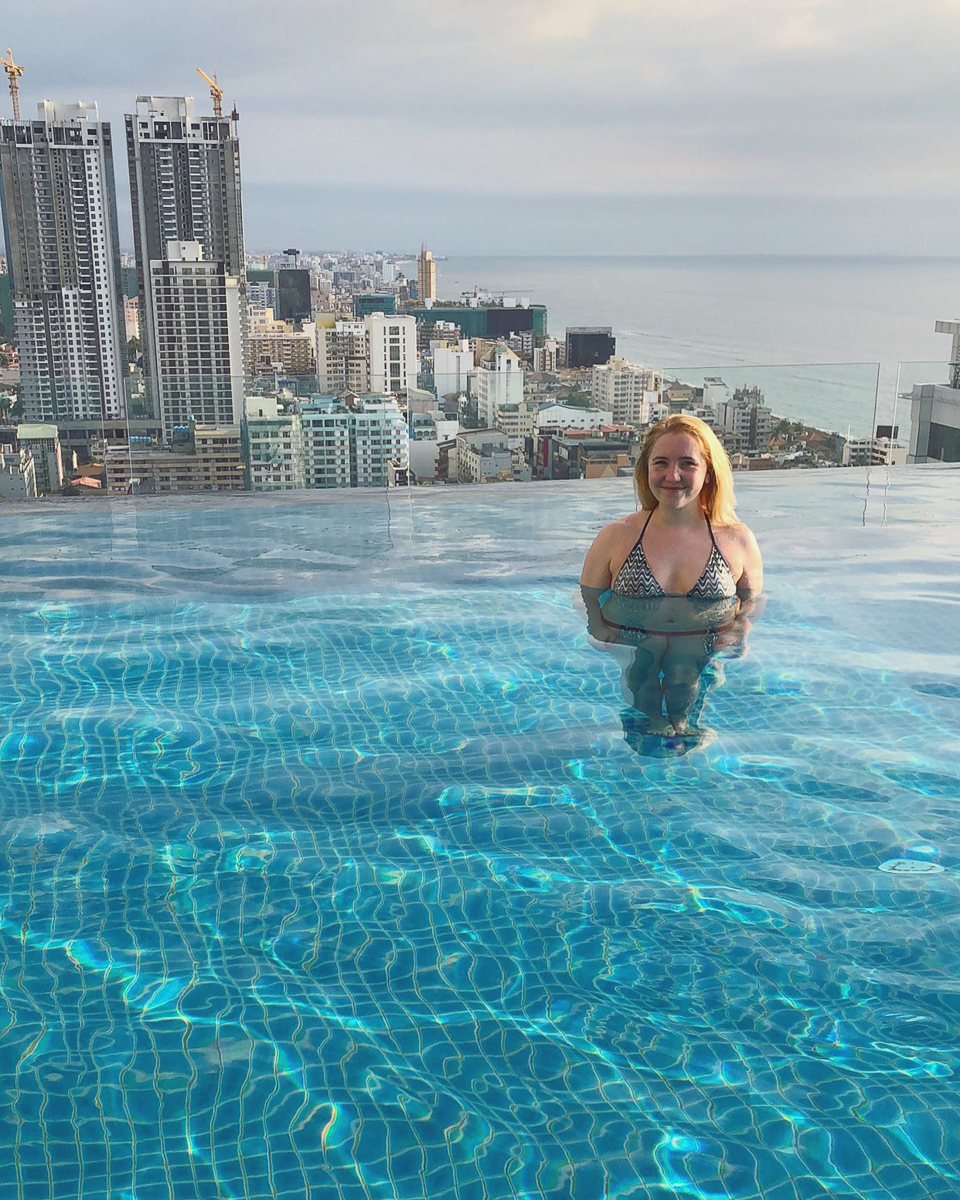 My first experience with actually being in Asia I had when we finally left the "safety" of the oasis the hotel provided the morning after (oops, sleepyhead). "Have you ever been in a tuktuk before" Thomas asked me, and I saw the excitement already visible in his face. I shook my head. His face turned into a big smile. "You're about to try something new, then!" I'd seen tuktuks on photos and in movies before, but it was not until I sat down in one, and it started moving, that it occured to me that there was no seatbelts. Or that the only thing separating you from the crazy traffic around you was a tiny bit of plastic, usually decorated with stickers, pictures and hilarous quotes. As I said, I enjoy reading up a bit about the place I'm about to visit, and my book told me there was no place nicer to start your visit in Colombo than Pettah Markets. So that's where we went. The two of us, and all the rest of the entire of Asia, it felt like. Seriously? Seriously!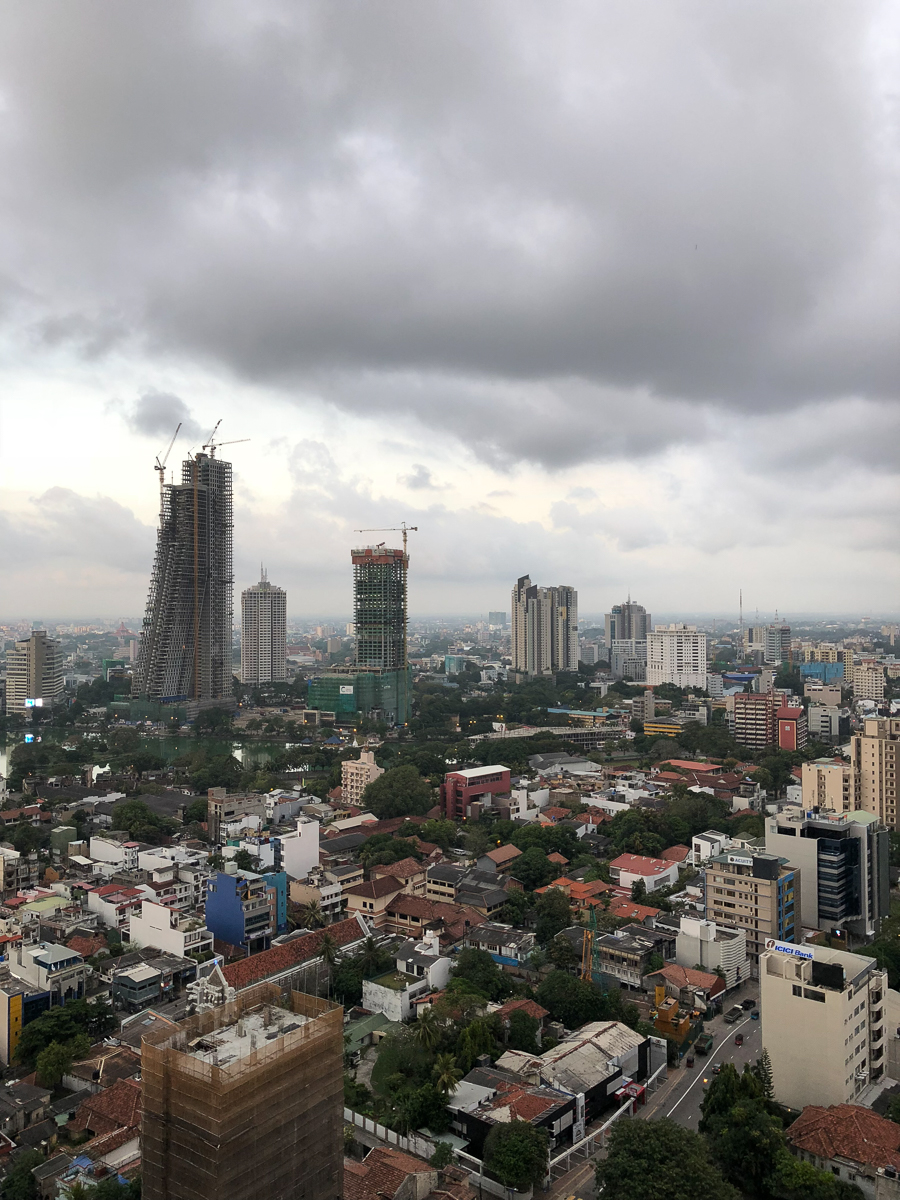 As we walked into the streets of the market, there were people everywhere. People carrying things, people rolling things, people in a hurry, people having about a million things spread out in front of them to sell, people shouting and yelling, cars honking… You get the idea. It was absolutely no chance I would be able to stop and take a photo, even though my eyes saw SO many motives I wanted to capture. For a photographer, it surely felt like a mild form of torture. After what in reality probably was about 10 minutes of walking, but which felt like hours of confusion, we found a café for something cold to drink. Thomas sat down, and started laughing. "Oh man, I remember my first visit to Asia, and I'm SO sure I had that same facial expression". I just held on to my drink, and looked outside the café, wondering how on Earth I should tackle the crowd out there in order to see anything but chaos.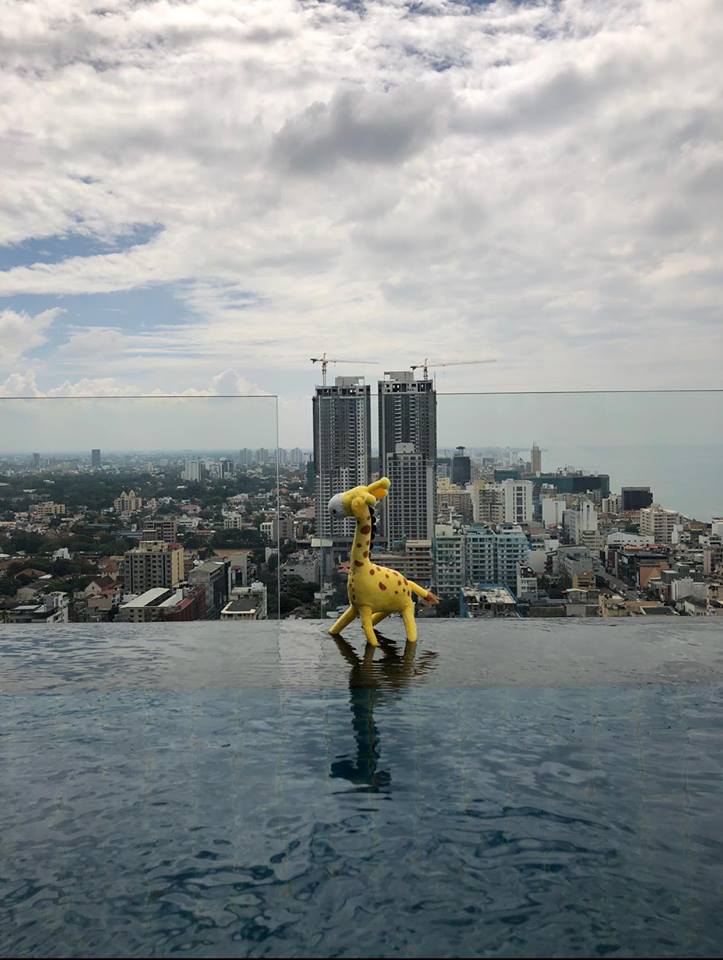 We wandered for a bit more, but eventually Thomas asked if I wanted to go somewhere more quiet, maybe for lunch? I nodded. I don't like giving up, but on this quest, to get some photos taken of the market, I just caved in, and we jumped into yet another tuktuk, leaving the crowded chaos of Pettah Markets behind us.
Stepping into the combined restaurant and museum of — was like entering another world after the noisy city market. Grateful, I let myself slide down into a chair, and shortly after arriving an iced coffee stood in front of me. Sometimes when I travel, I find myself having to compromize with myself. I tend to both want to see and do EVERYTHING, but then I also really want to relax on my holiday, sleep in, read some of the books from my neverending growing pile of neglected books back home… This was one of these moments. We decided that after our lunch, we would go back to the hotel, to enjoy the sun, the infinity pool and the sweet relief of the breeze coming in from the sea. The rest of the day we spent in our swimwear, reading, just having a perfect time out, and as the sun was setting over the Indian Ocean we enjoyed the view from the bathtub in our room, wine in hand.
After enjoying the amazing colours, Thomas wanted to show me this really cool restaurant he had been at before. The drinks came in the coolest cup holders, formed as bicycles, and in the backyard a cute little garden awaited for us, filled with love. The food was great (I have to say, the food has to be one of my favourite things with Sri Lanka. Spicy, delicious and cheap!) After stuffing ourselves, we went back to the hotel, and knowing we would sleep without aircon and amazing beds after this, we went for an early night.
And the next morning, after yet another gorgeous breakfast with a sea-view, we brought our bags with us, and jumped onto the train to Hikkaduwa, a city about 17 km from Colombo. The trains in Sri Lanka are very cheap, and you can book tickets both in advance or just as you want to go (mind you, it might be already booked out on the "higher classes" which secure you a seat/aircon). The train between Colombo and Hikkaduwa took about 2,5 hours, and was extremely picturesque. I spent the ride just gazing out the window, seeing palm trees, beaches, tiny houses and beach resorts. It was like I was on a train passing through a travel guide!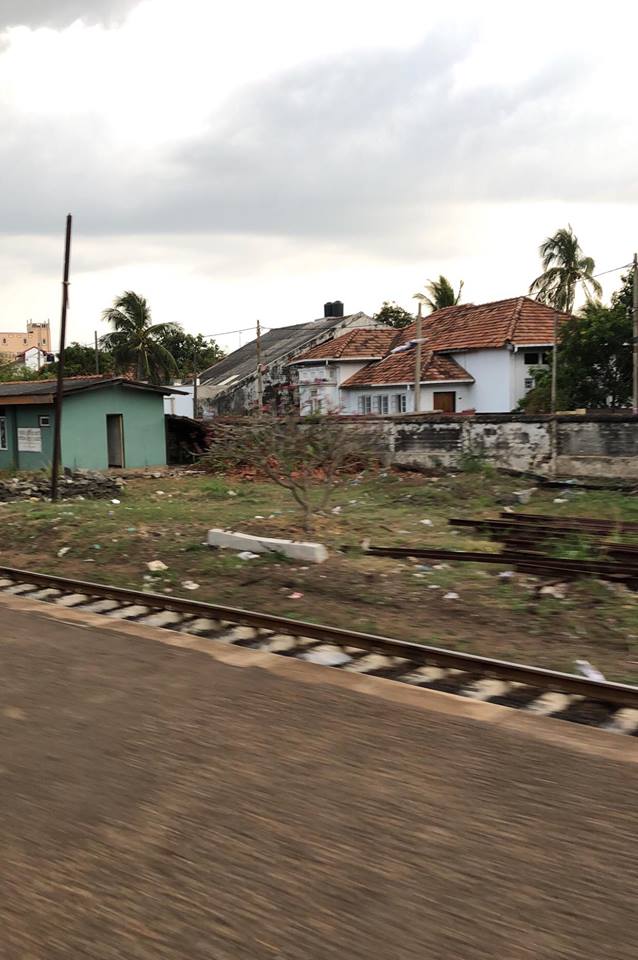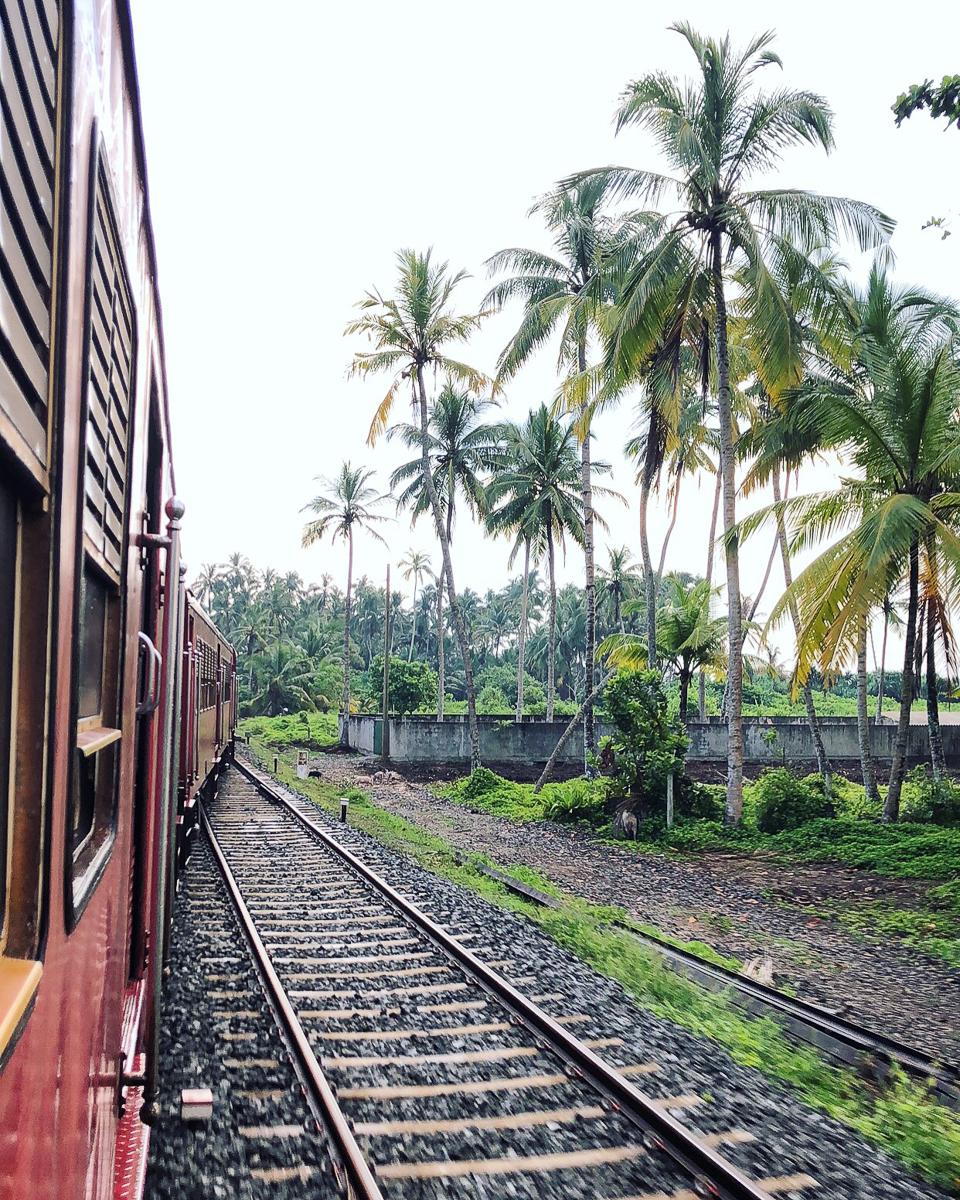 We arrived in Hikkaduwa, and got there just in time to put our bags in and change into our swimwear. A quick walk later we found ourselves at this long, amazing beach, yellow sand between our toes, and had a quick dip in. The currents are rather strong, and the waves were pretty big, so I would highly recommend you don't swim too far out from the shore. After having a big wave break over me, and propelling upside down in the sea, filling my bikini with sand and my nostrils with salty sea water, we crawled back up to a beach cabana, ordered a cold bottle of white wine, and watched the sun set. An incredible way to meet this beautiful place.
Read my other posts about Sri Lanka:
---