After many hours of talking about traveling here there and everywhere with Thomas, back when we were just still coworkers, we decided to check if there was some cheap last minute-deals for travels out of Norway. It was just after summer holidays in Norway, so the chances of getting some "end of season"-tickets could be there. After some researching we found a pretty decent deal to Rhodes, Greece, and quickly decided to give it a try.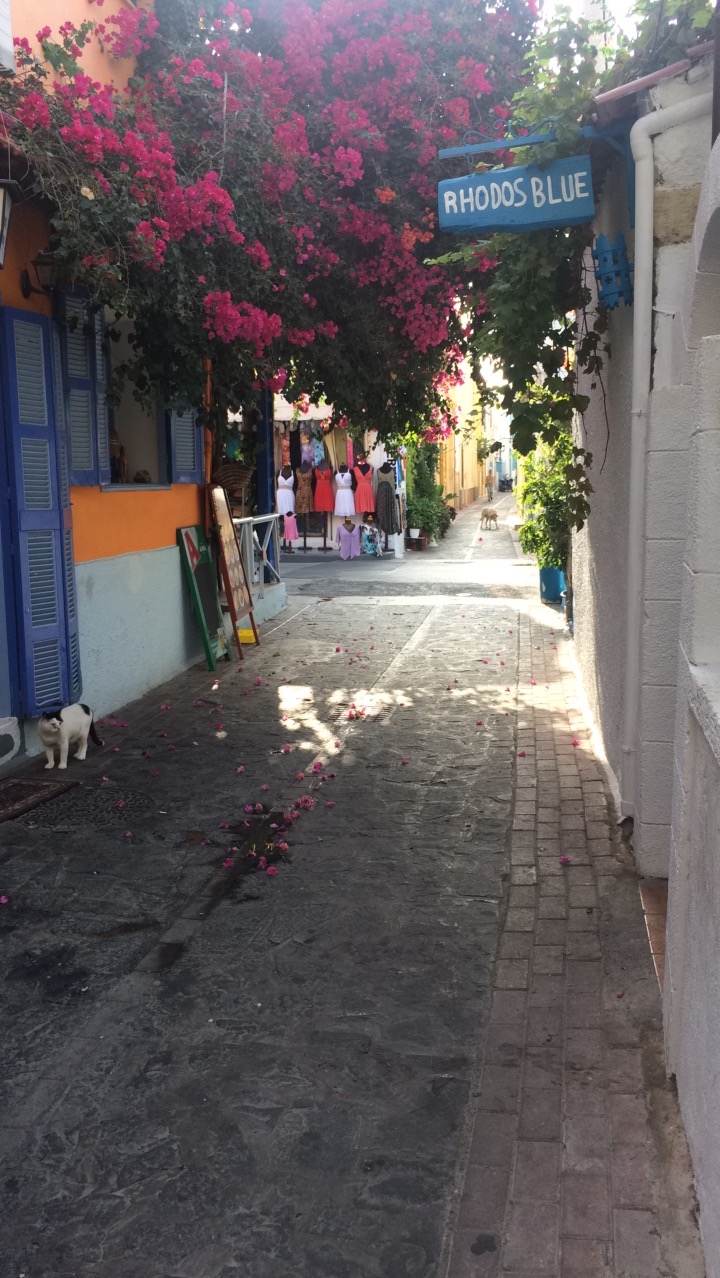 Neither of us had been to Rhodes before, and we were, to be honest, not sure if it would be just charter tourists and swimming pools, or if it were more to it. But we got a week off from work, and went out to explore.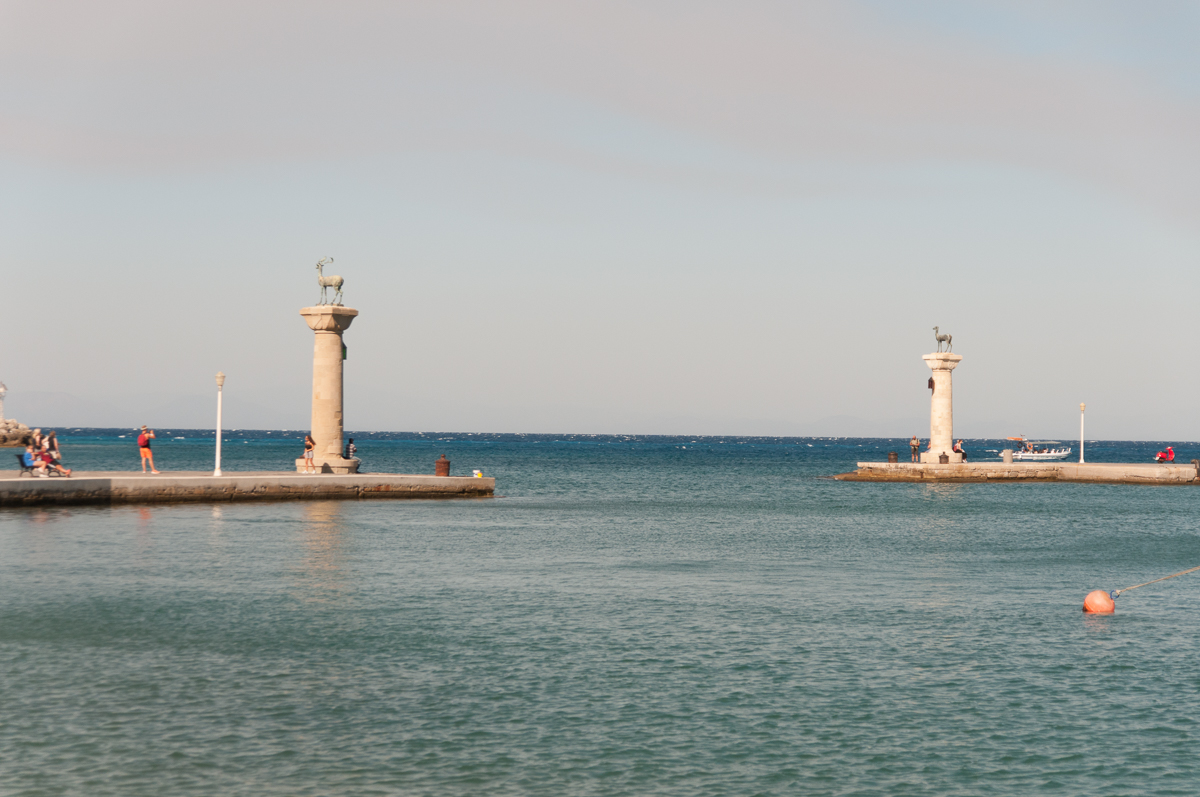 The hotel we stayed at was Hotel Europe, located at Windy Beach (which totally lived up to its name!) near the Old City of Rhodes. The first thing we noticed after touching ground in Greece was how nice it was to just leave the airport, get told what bus to get on, and got driven all the way to your hotel. "Perhaps this charter-thing really is something for me after all?" Thomas mumbled as we entered the hotel.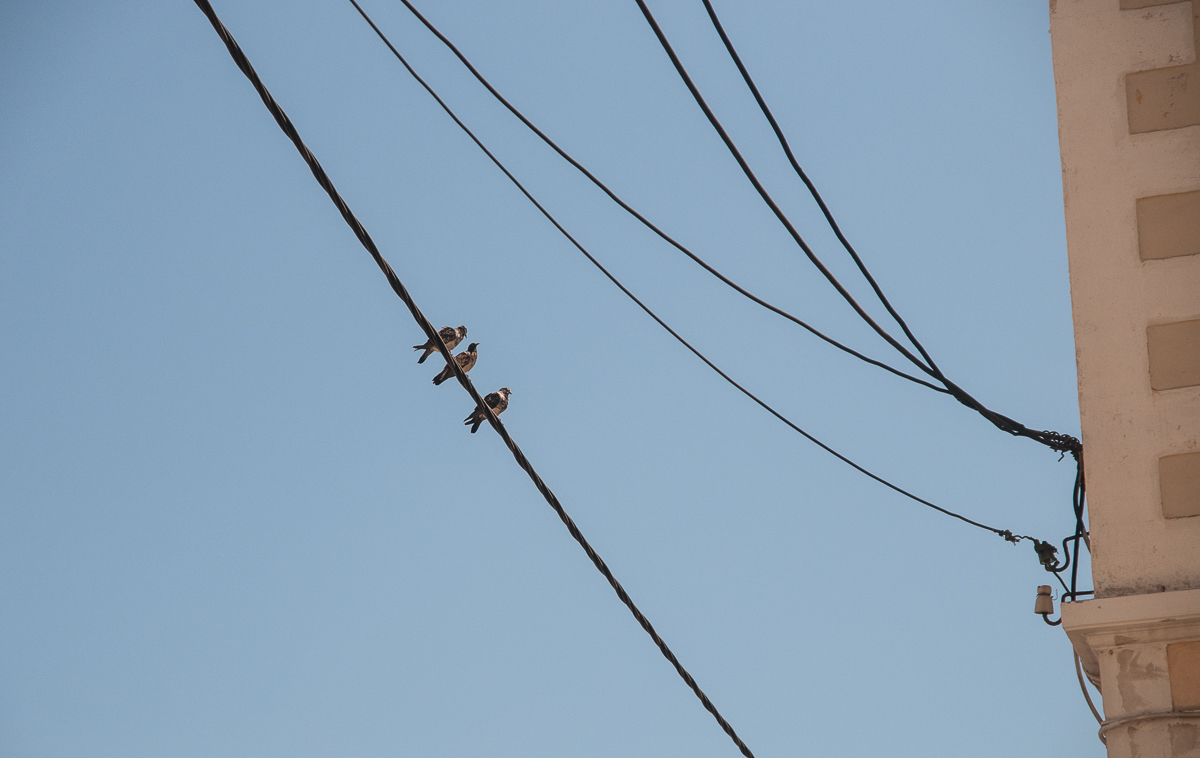 Obviously, you can't travel to Greece without enjoying (all of) the Greece food. It's simply amazing! We had omelets, feta cheese, moussaka, souvlaki, gyros, shrimps, olives, there was several places serving gluten free pasta and pizza, and the wines were never disappointing either.
The first day we spent relaxing in the neighbourhood of the hotel; eating, swimming in the pool, and I was having a migraine. Great first impression as a travel buddy there! The second day turned out quite the same, I started with still having a migraine, but then Thomas found a pharmacy and a huge ice coffee, and with some medication and caffeine I was finally alive and well again. We could then finally start planning some adventures, which we did while sipping amazing pina coladas and Irish coffees.
After two days of delicious food and relaxing, we decided to hit Rhodes Old Town to see what it was all about. With cameras ready and my hat on we left the hotel after an iced coffee. From our hotel to the old town it was about 45 minutes walk. Upon our arrival, we were both already sweaty, thirsty, and could really tell we had not had any breakfast. We therefore decided to find somewhere to grab brunch – and as we walked past a sign saying "we have gluten free pasta" we both stopped, looked at each other, and walked straight there.
Filled with delicious pasta carbonara, and an incredible amount of Pepsi Max, we continued wandering through the old town. Rhodes Old Town, which is a medieval city listed at UNESCO's World Heritage List had a lot of amazing views to provide.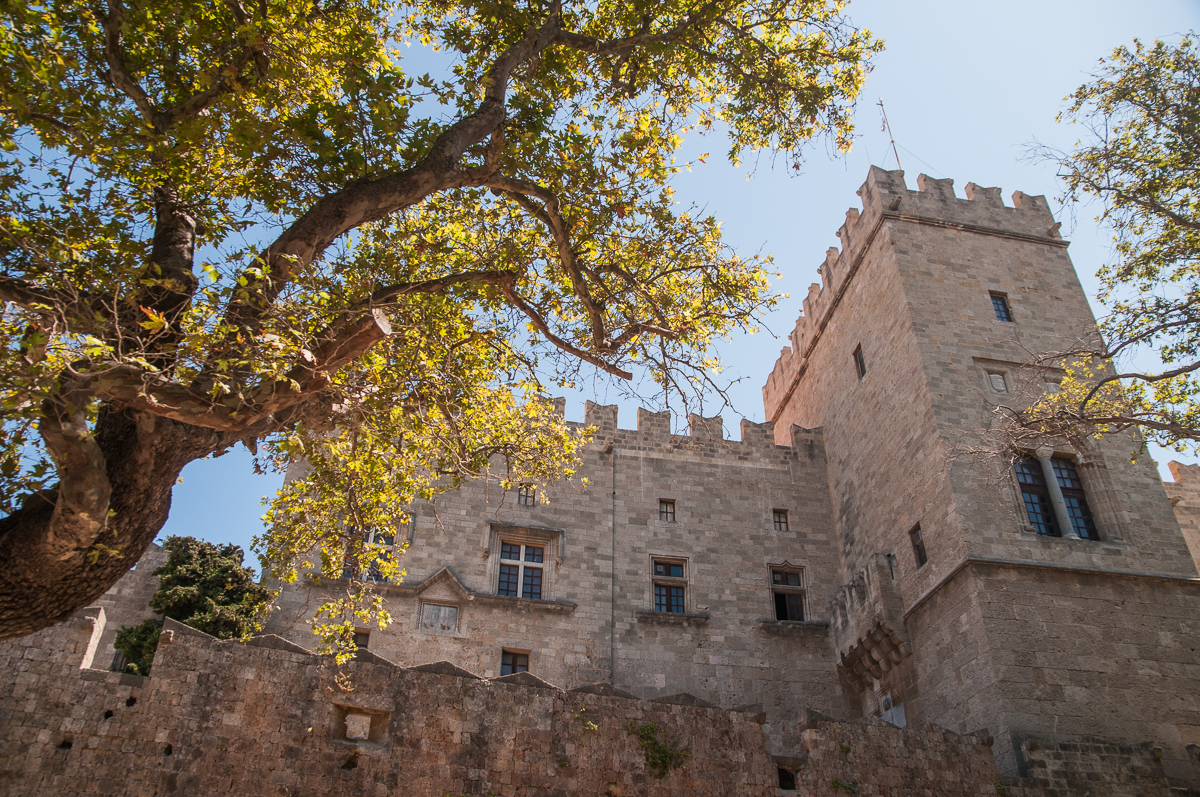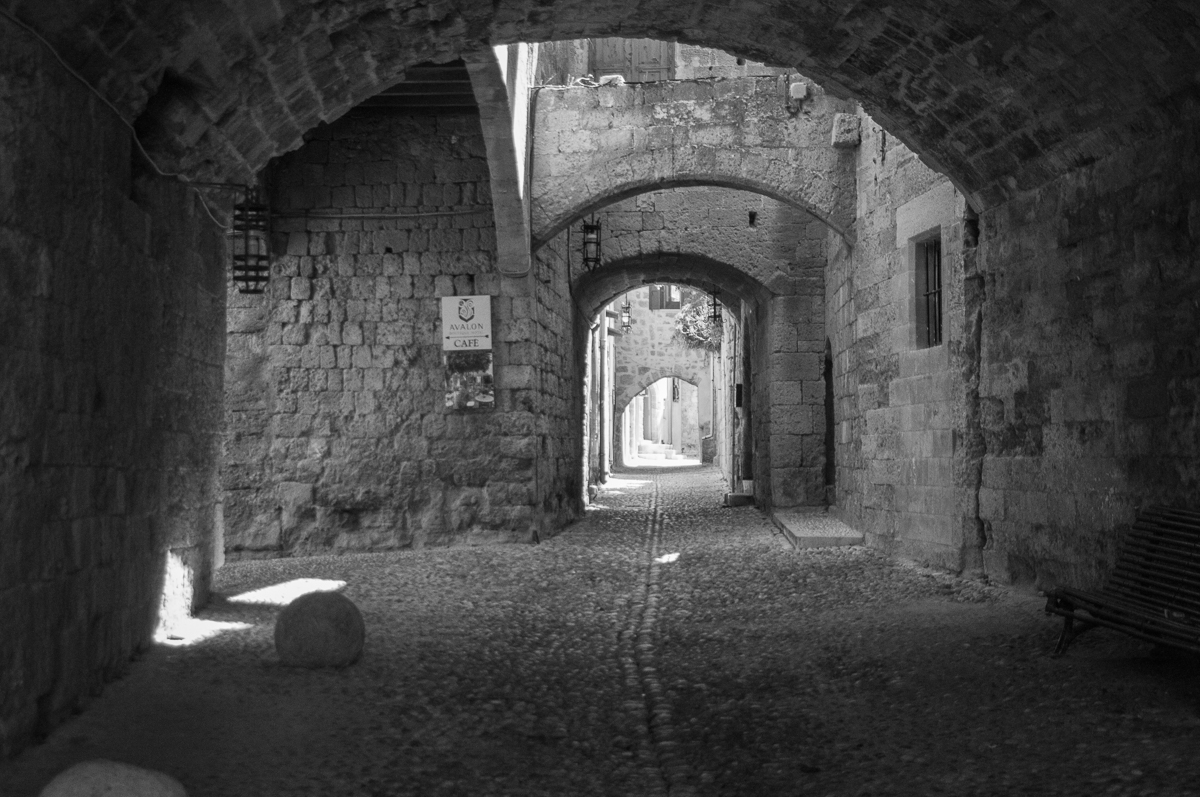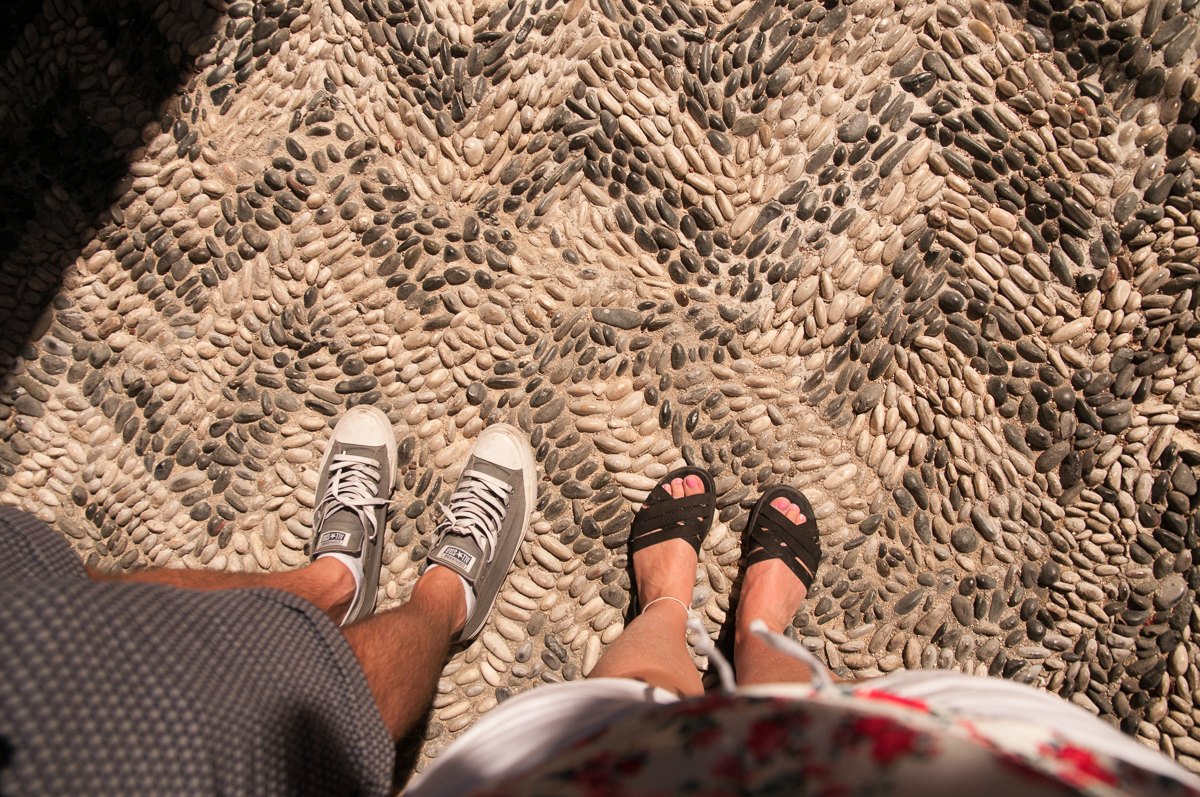 Small streets with cobblestones are beautifully framed with solid stone walls, and I could easily imagine how fun it would be to run around in there playing as a child. We spent most of our day walking around taking photos, looking for a less windy beach than the one near our hotel (spoiler alert: we did not), and then at night we decided to try one of the really cheap street food corners which sold gyros in pitas, fries, sodas and beers for next to nothing. Delicious!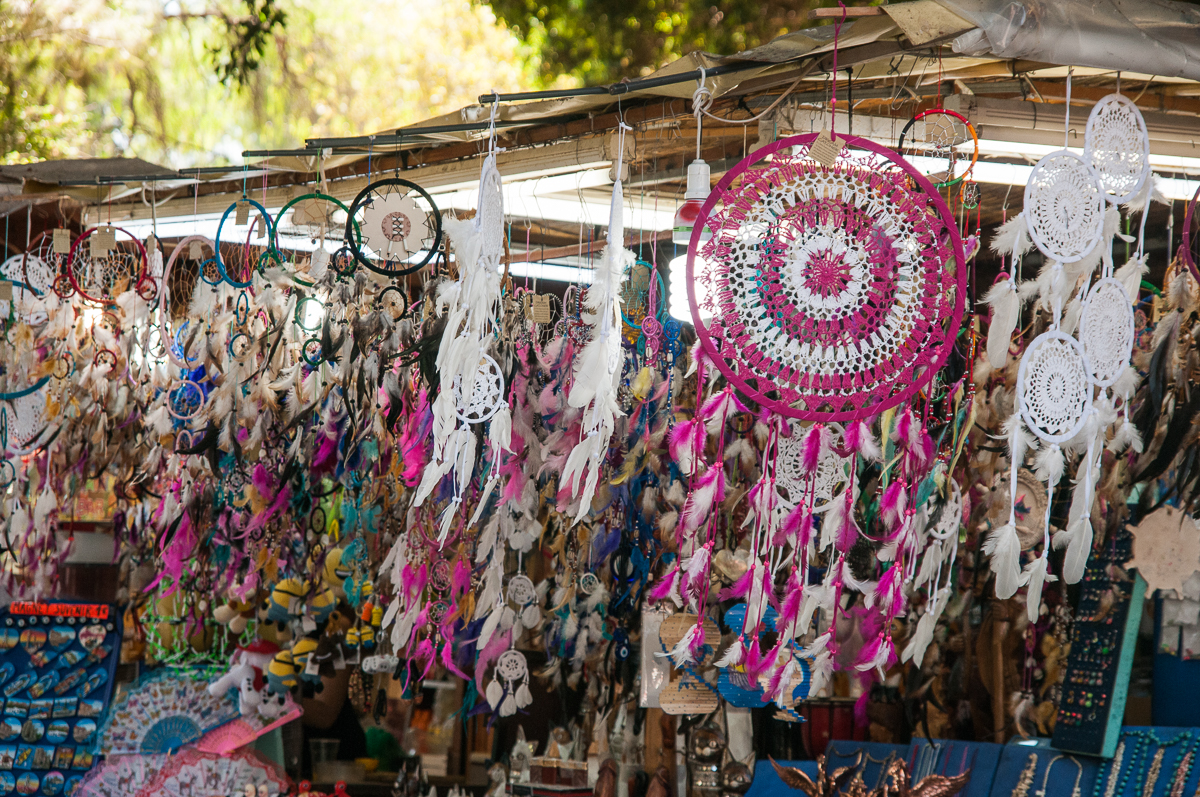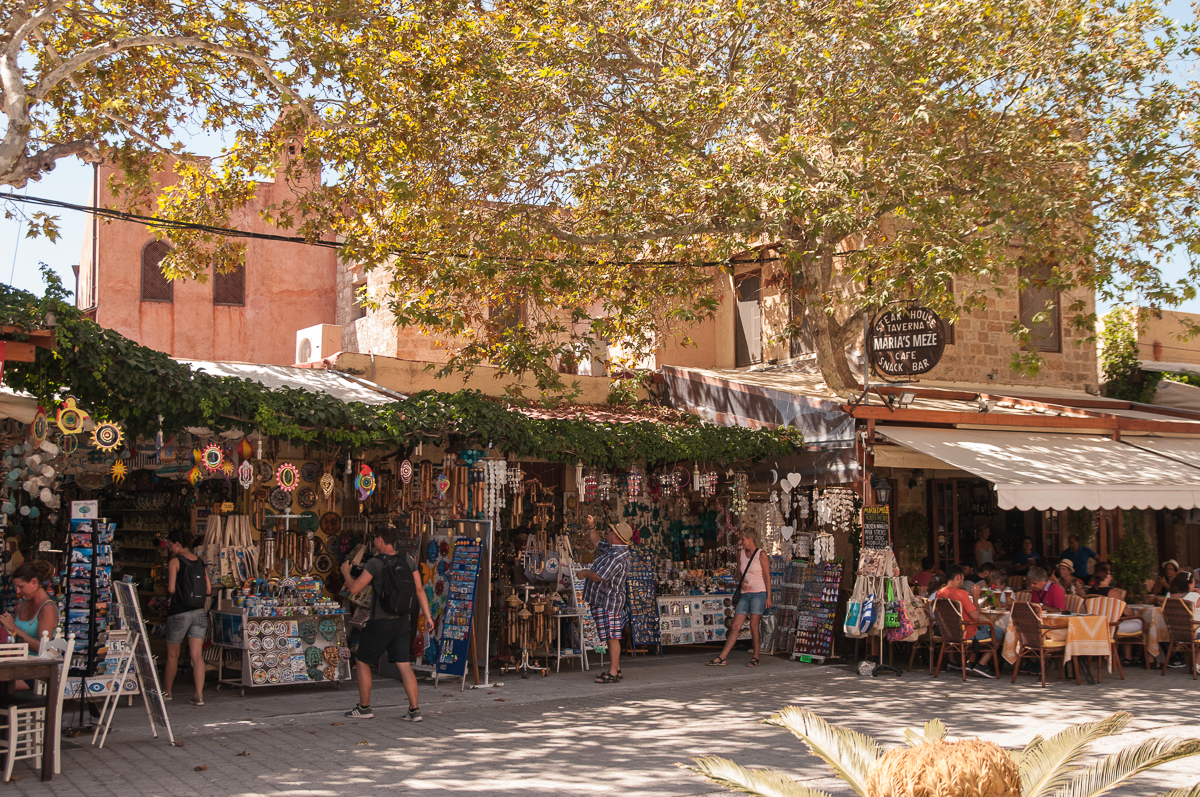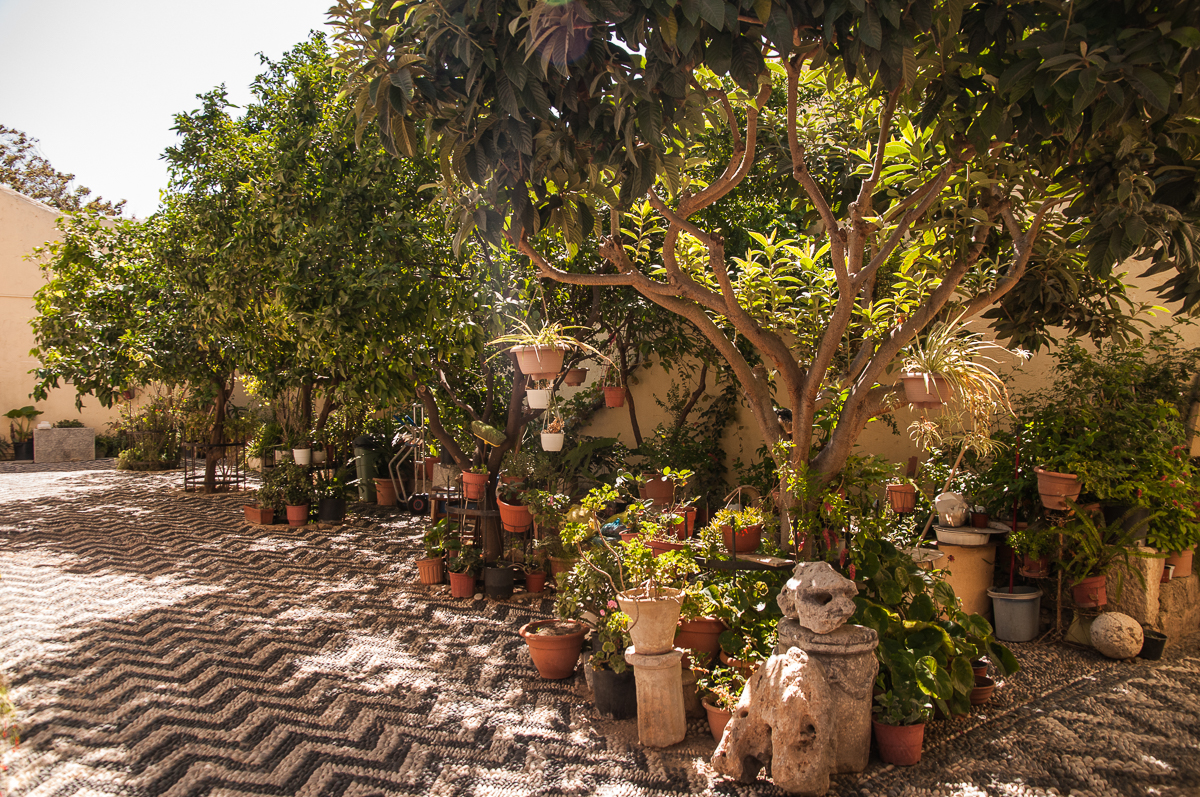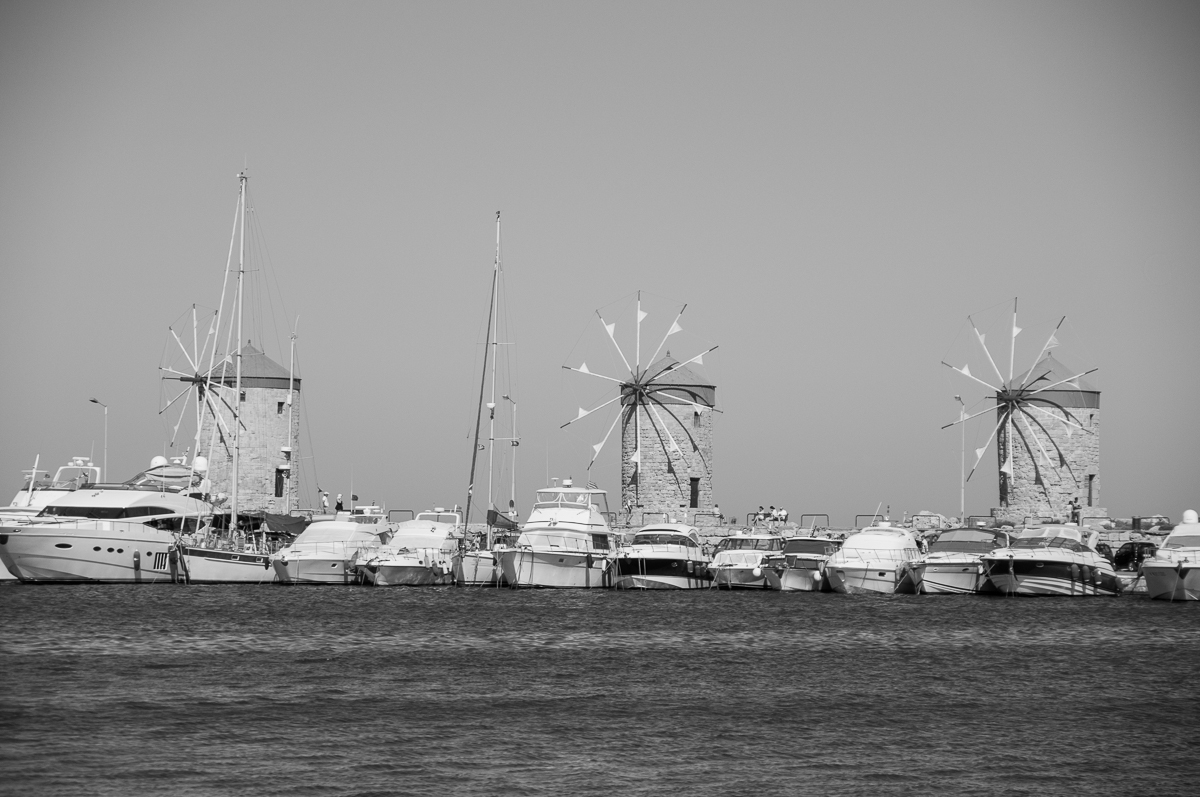 After dinner, Thomas decided he would want to get a haircut. Thomas had asked at the hotel earlier if they had anywhere to recommend him, and as we'd passed this place on our way to dinner that had a poster outside saying it was open till 23.30 (11.30pm), we decided now was a good time. We were greeted by this lovely, smiling lady called Poppi, who quickly presented me with an ice coffee to sip on while waiting for Thomas. I leaned back, and waited. Shortly after, the door opened, and a lady dressed in nice clothes walked in. It turned out this was a Swedish friend of Poppi, and we politely greeted her.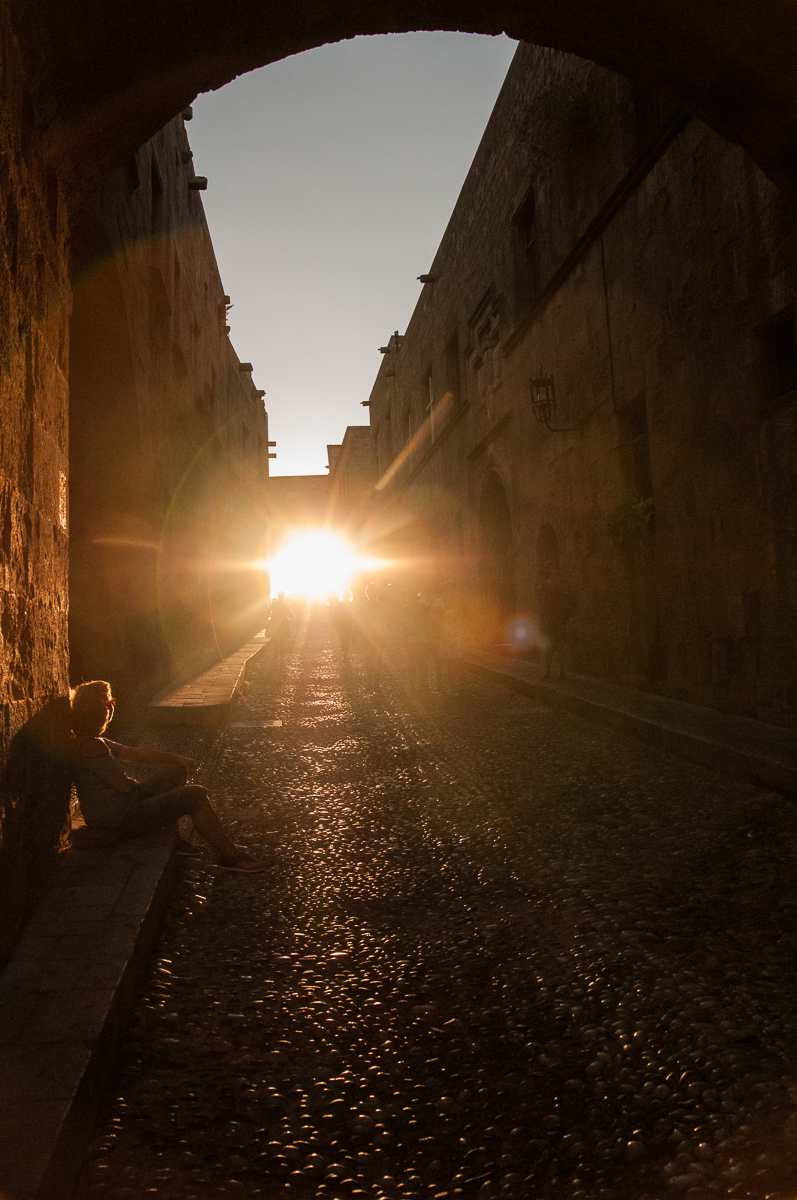 A short minute after she yelled loudly "Poppi! I can't find the wine!" in Swedish, and when she could not hear Poppi's reply Thomas loudly shouted (also in Swedish) "it's in the fridge, she says". We all laughed. Next minute we're presented with both wine and Bailey's, and we're all chatting and laughing. The two ladies debated if they should share Thomas, before one of them asked if he maybe was "my guy"? After that, they kept referring to him as my husband. The stay at Poppi's saloon took way longer than expected, but that was just pure awesome, cause we all laughed and had a good time talking, and when we parted, they were ready to hit the city and find a bar. We decided to grab some drinks on our way back to the hotel instead, as we had to get up early.
In the liquor store we were greeted by a man, probably in his 70's, sipping what we assumed was not his first beer of the night. He asked if he should open our drinks, which we said yes to, and then he wanted to give us a toast several times. "You know, you're really lucky to be with this woman" he said to Thomas, and winked at the both of us. We smiled, clinked bottles one last time and left. On our way back to the hotel we kept laughing about the fact that the both of us had been hit on by people more than twice our age within the last hour, and agreed it was probably for the best we were going back to our hotel now.
Next morning we got out of bed so early that even Thomas were yawning (fun fact; he's typically a morning person who enjoys getting up early and having coffee, while I like to snooze, and then have coffee at a way later time). We grabbed coffees, and walked back to the old town, where a ferry took us over to the island Symi. More about Symi in this post.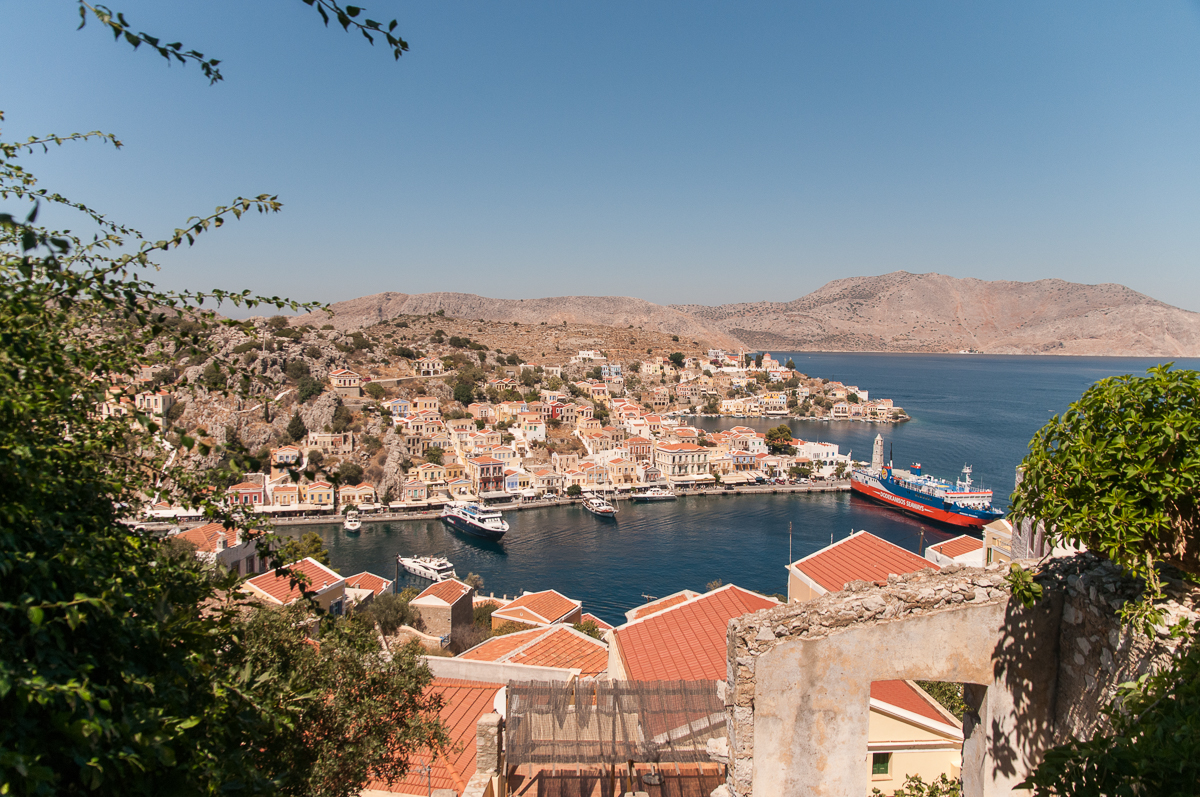 After an amazing day at Symi we walked for a while in the old town, before going back to our hotel. Originally we'd planned on going to the hotel, have a shower, get dressed up nicely and head back out, but by the time we were out of the shower we were both so exhausted we decided to stay at the hotel, being lazy and old, drinking and eating potato chips in our room instead. #teamoldandproud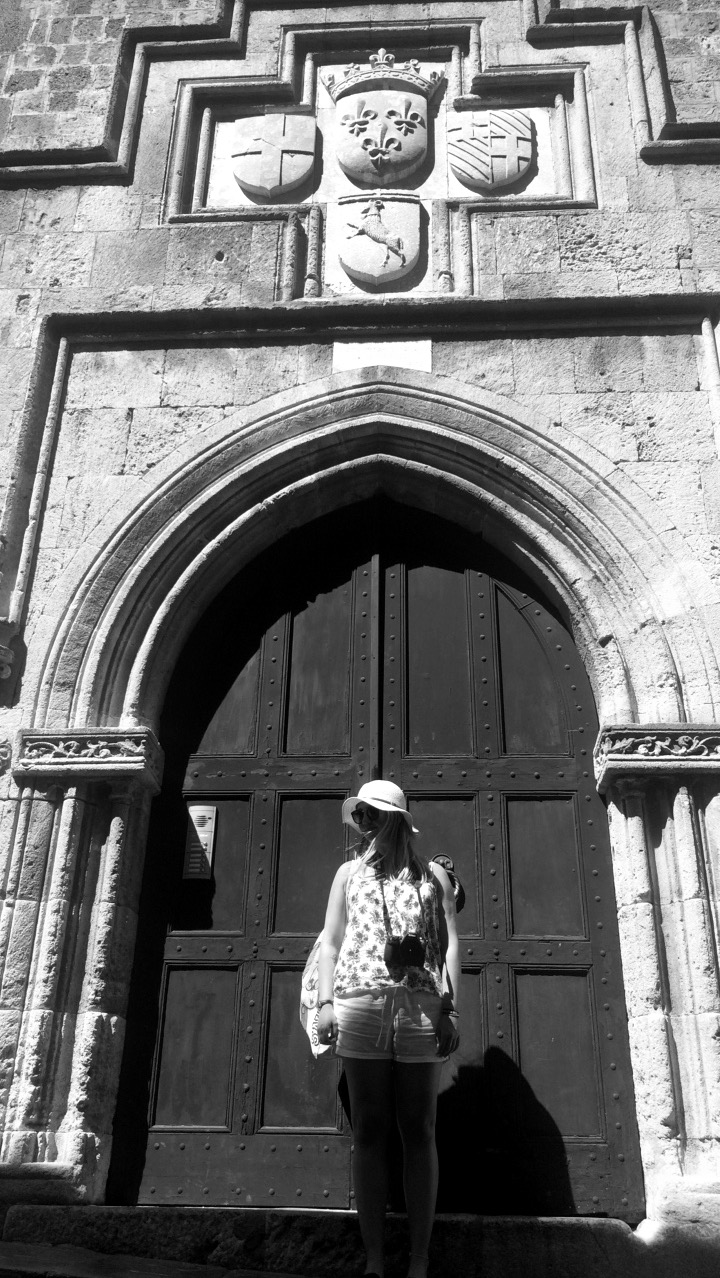 Next day we decided to be the ultimate charter tourists, and lay flat out at the hotels pool area, reading, sipping drinks and lazily float around in the cool water. We went back to our favourite omelet-place, where an enormous flying bug would not leave me alone. If I were not too busy trying not to freak out and crash the entire place while escaping said bug I'd film Thomas for all of you to see. There's something to be said about 1.97m worth of a man running away from a bug while making all sorts of screaming sounds. Eventually one of the waitresses helped us, and we both sat down to eat, looking rather embarrassed. "Well, there is a huge difference between scary bugs and animals, and things that's just flying monsters, though" Thomas said, and we both started laughing hysterically.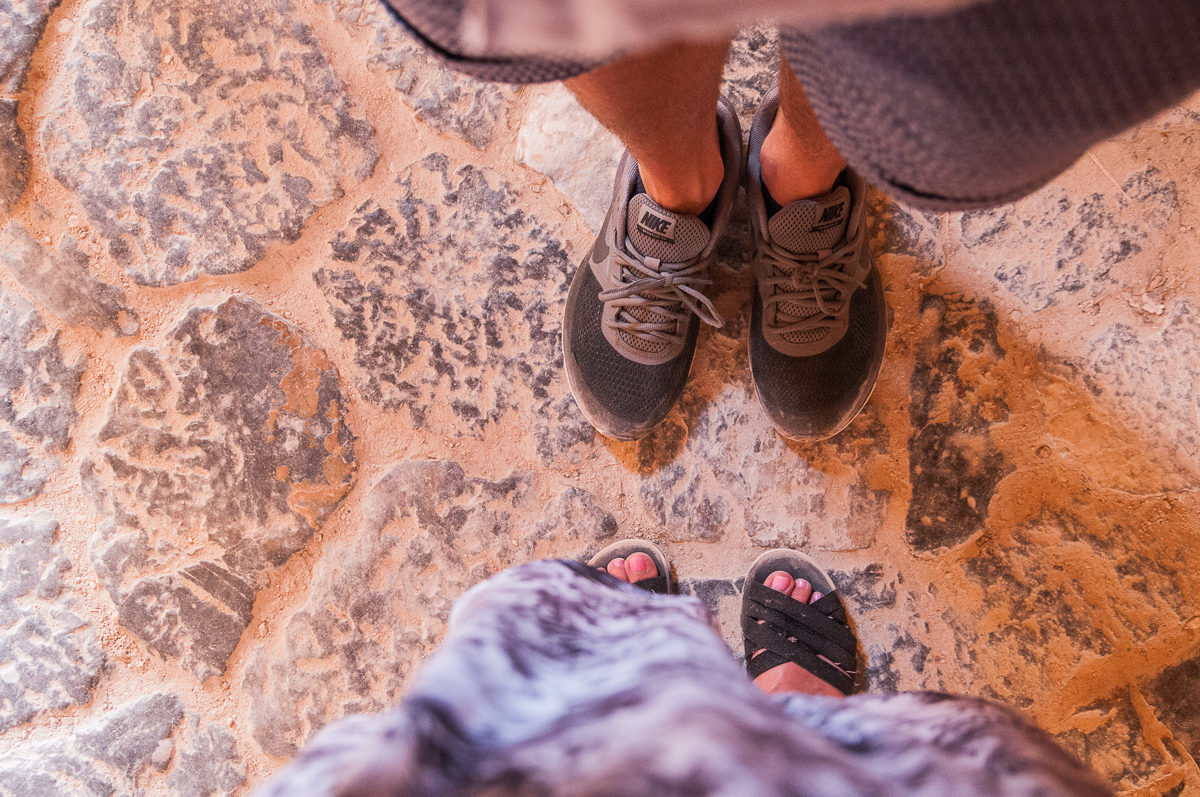 Next morning our alarms went off way too early again. This time we repeated the procedure, iced coffees and a walk to the ferry, but this ferry took us to the city of Lindos in Rhodes. Lindos was a small but beautiful city, filled with loads of small, white houses, very picturesque and very Greek.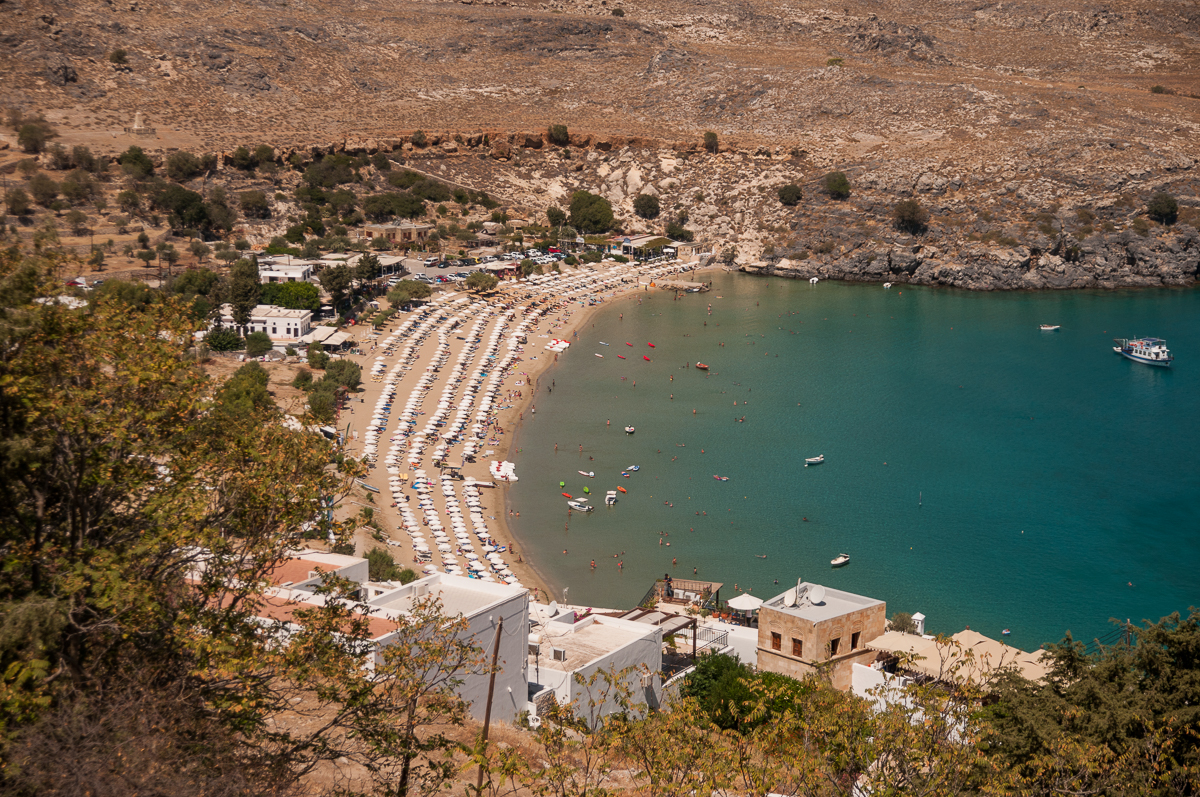 We walked up some pretty steep hills with cobblestone on the ground, while a lot of people rode on donkeys. It was really warm, the hot air almost vibrating between the houses, and I felt awfully bad for the poor donkeys carrying tourists all day. We, however, had both chilled water and salty chips in our bags, and just as we had reached the top of the hill, and paid to get in to Acropolis (isn't it funny how everything you want to see always have to be on top of a hill?) my body suddenly decided to be all done. Luckily with a couple of pit stops in the shadows, salt and water brought me back, and then I felt okay again, and could really enjoy the views.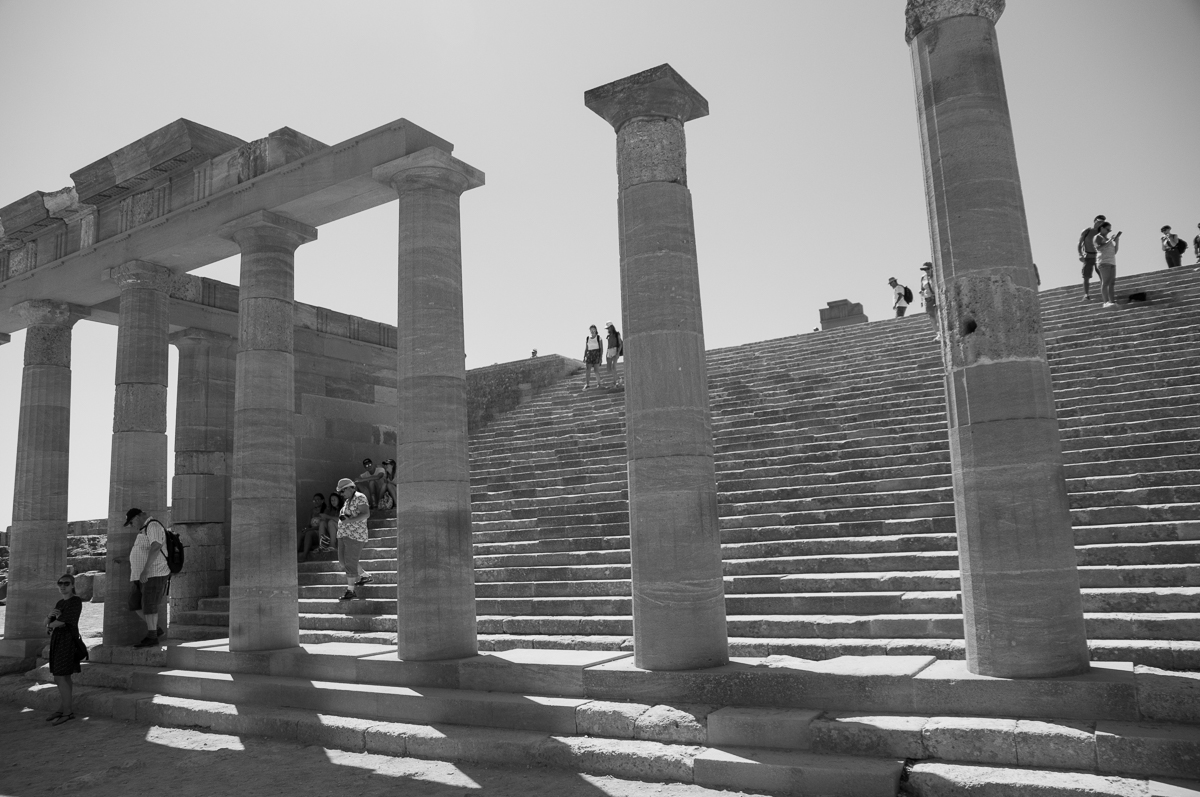 We both flew around with our cameras taking heaps of photos, and just having a good time. While walking back down we saw this small place selling ice cream. Their lime sorbet was perhaps the most delicious scoop of ice cream I've ever tried!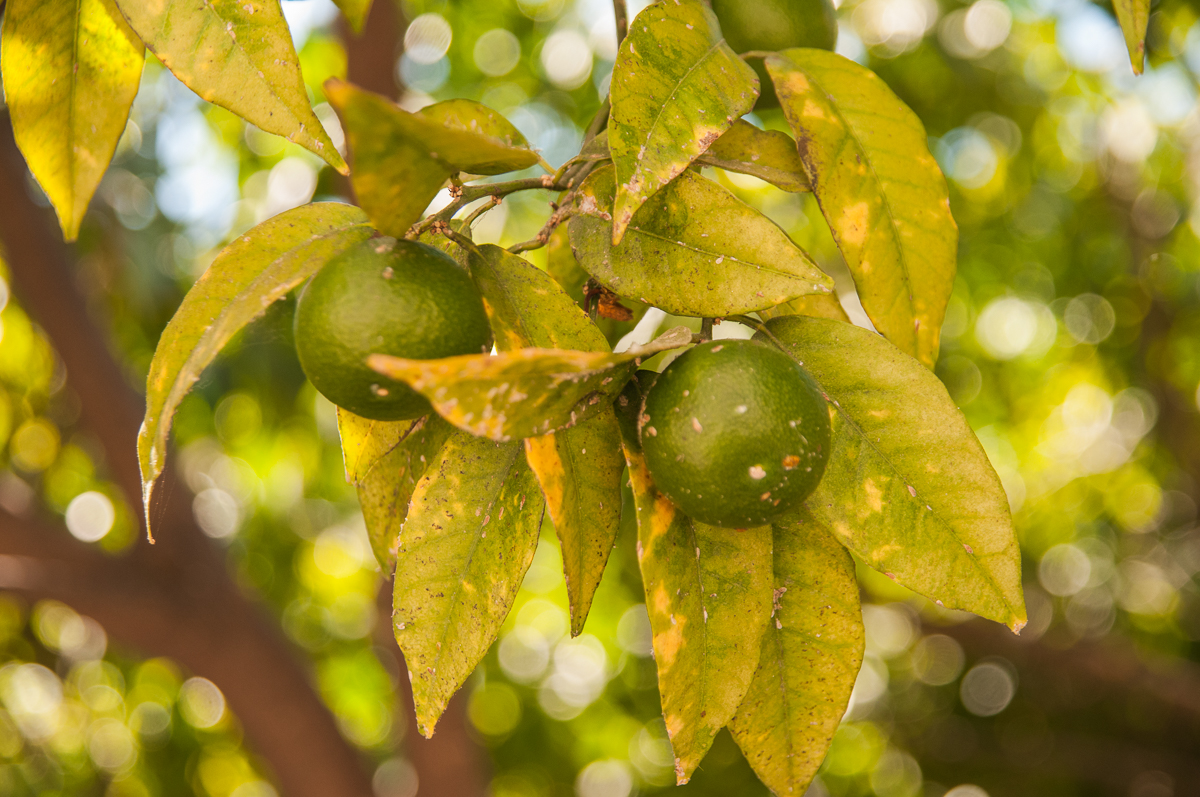 Back in Rhodes, we decided to go grab some food, and we found this rather posh looking place where I had rocket, stuffed chillies, feta cheese, tomatoes and olives. So fresh! This with some chilled wine tasted even better than normal after a long, hot day. Since the servings were pretty huge we decided to go for drinks for dinner (probably the best pina coladas I've ever tried, mmm), and then rolled happily back home to our hotel room.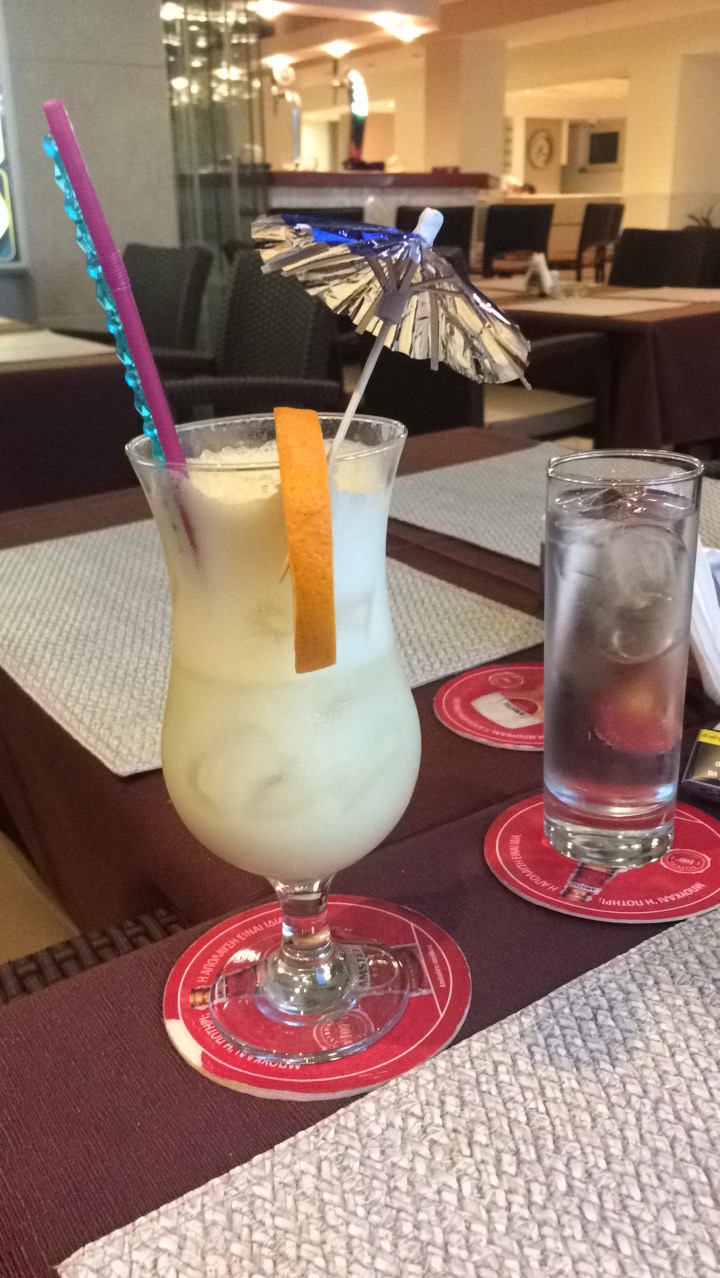 I always feel slightly melancholic on the last day of any vacation. In Rhodes, however, I felt even more sad than usual. I knew Thomas would have to get back to his real life once we returned, packing his things, getting ready for his big adventure – which sadly did not include me. We spent the day reading, swimming in the pool, hitting the beach, and getting some last pina coladas in, and as we saw Rhodes disappear I silently hoped I'd be able to go traveling with Thomas again at some point later.
Little did I know I would be able to do that just 4 months later, and that he would end up moving in with me 6 months later.
---