During the month of November, two very important, traditional and famous festivals are celebrated all over Thailand. These are called Yee Peng and Loy Krathong, of which one is celebrated on water, and one up in the air. The city of Chiang Mai, up North in Thailand, is said to be the best place to be for both events – although they're celebrated all over the country. As I booked my trip to Thailand, making sure I would be there for the festivals was my pri 1.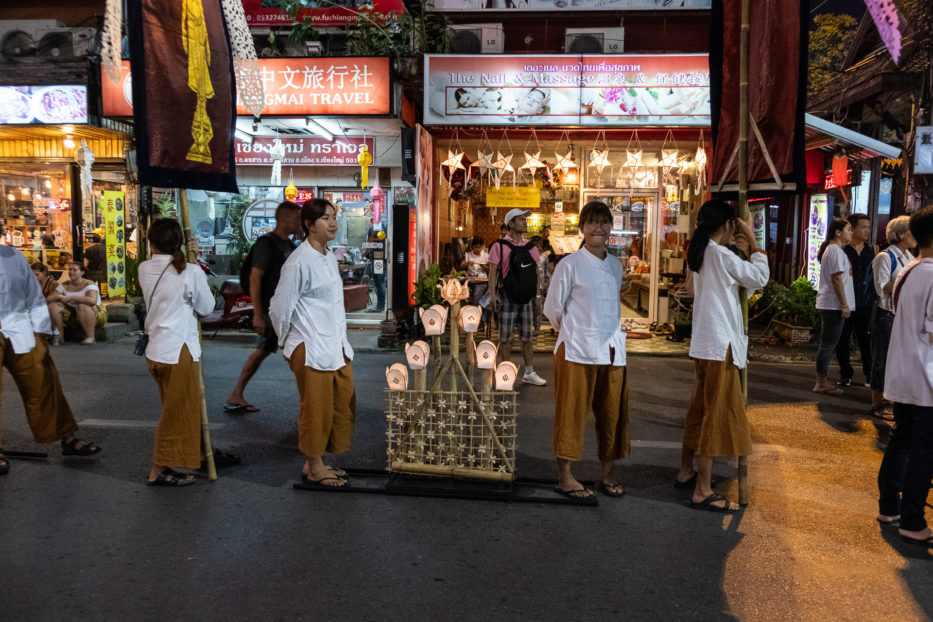 In order to show you some pictures and tell you more about these events, I've decided to let each festival get their own blog post, even though they're celebrated together.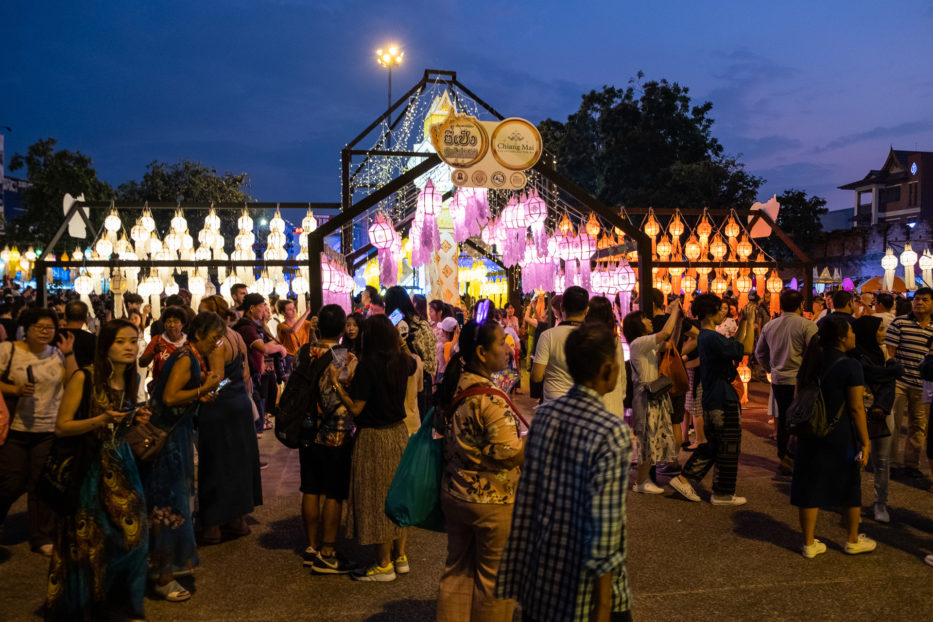 This post is about the light festival on the river, Loy Krathong.
The post about the lantern festival Yee Peng can be found here.

But first of all:
What is and where's Loy Krathong celebrated?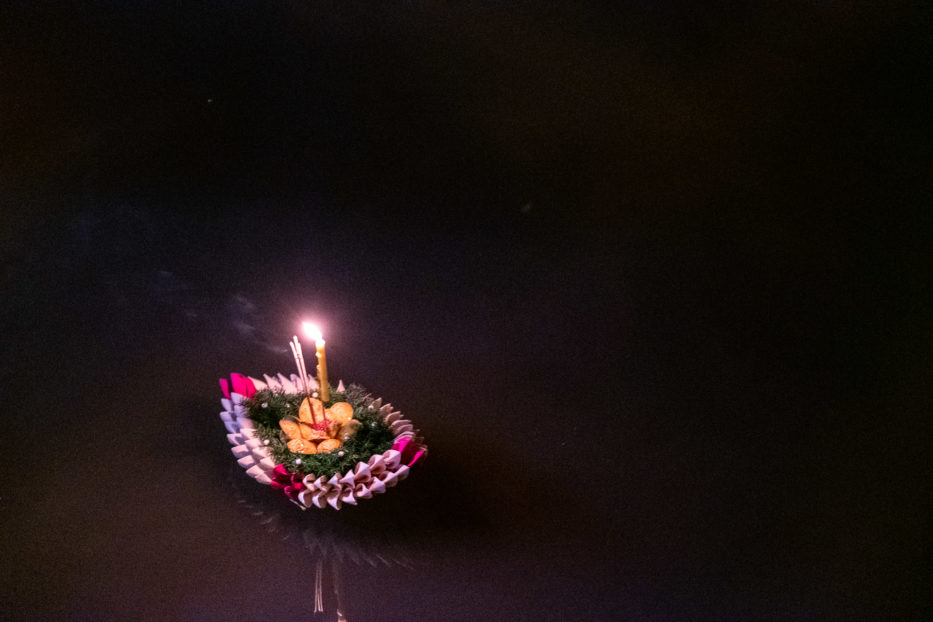 "Loy Krathong" is a festival celebrated yearly all over Thailand. "Loy" means floating, and "krathong" means fleet or basket. The fleet is made out of banana leaves, filled with candles, incense, flowers and sometimes coins. The festivals are celebrated every autumn (the actual dates may vary, check up to make sure what dates it's on depending on what year you want to visit).
When I visited in 2019 the dates were in November, but already in 2020 the dates will be in October. In other words: make sure you google "Loy Krathong 20xx" (whichever year you're attending) to see what dates you need to be in Thailand for if you decide to go.

Each krathong is gently placed on the river, where it slowly floats away, as an honor to the Thai Goddess of water, Phra Mae Kong Ka. They're also meant to symbolize getting rid of old things, and making room for new, better things to come. To let your krathong float away is said to bring luck.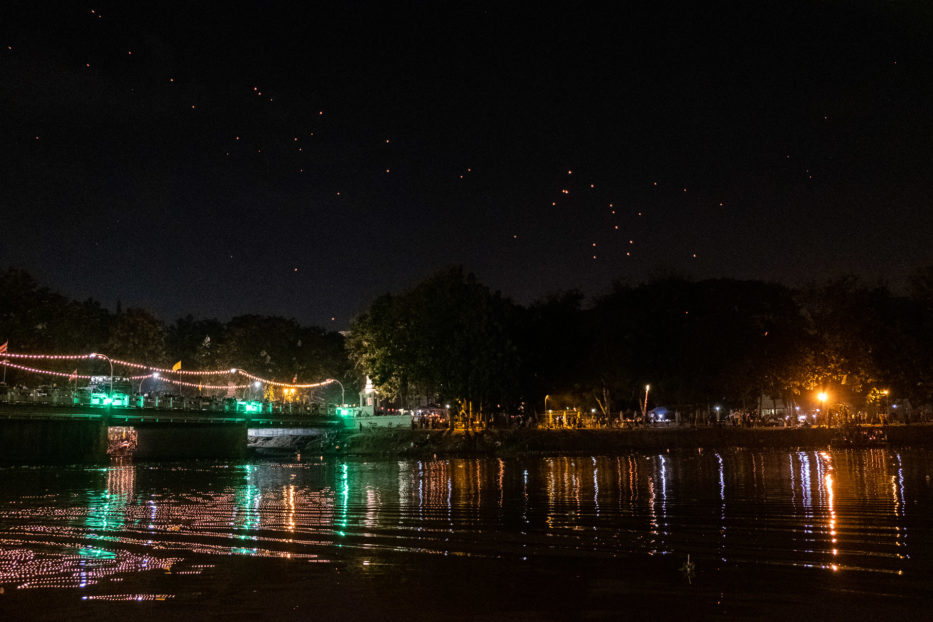 As I mentioned, at the same time Loy Krathong is celebrated, another light festival is celebrated too. This one is called Yee Peng, and involves lanterns. Both festivals are on for three days, and apart from the special traditional events such as when the krathongs goes into the river, and the lanterns fill the night sky, there's also major parades and different events such as workshops where you can learn how to make your own krathong.

I hurried straight up to Chiang Mai upon arriving in Thailand in order to participate in these three days of festive activities. Here, the krathongs are released on the Ping river, and most of the activities and events are happening near the Tha Phae gate.

Time to get festive!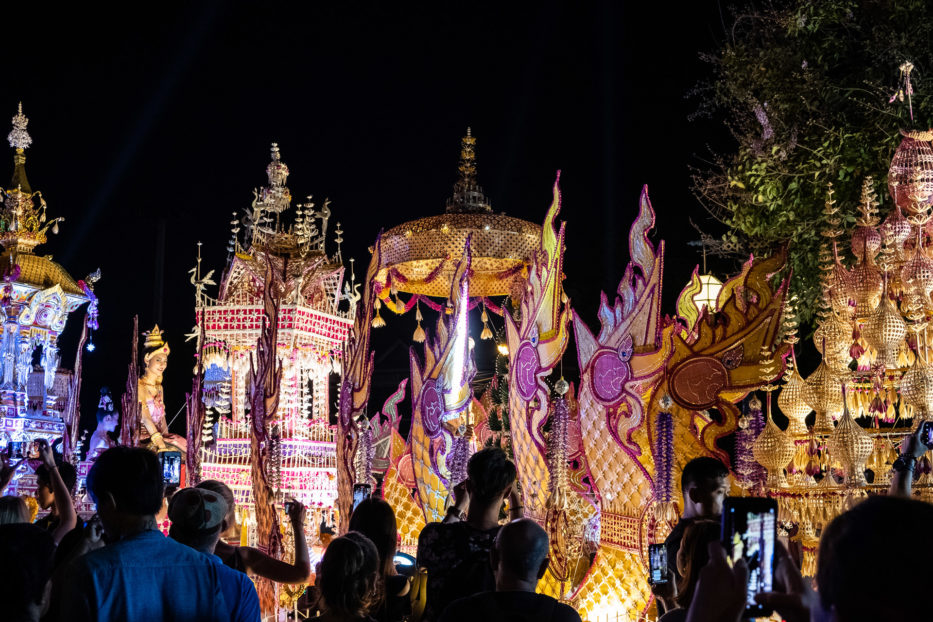 I arrived in Chiang Mai on the Sunday afternoon, on the very day of the opening ceremony for both festivals. The opening ceremony consisted of several parts, starting off with speeches, song and and dances on large stages, followed by a big parade filling the streets.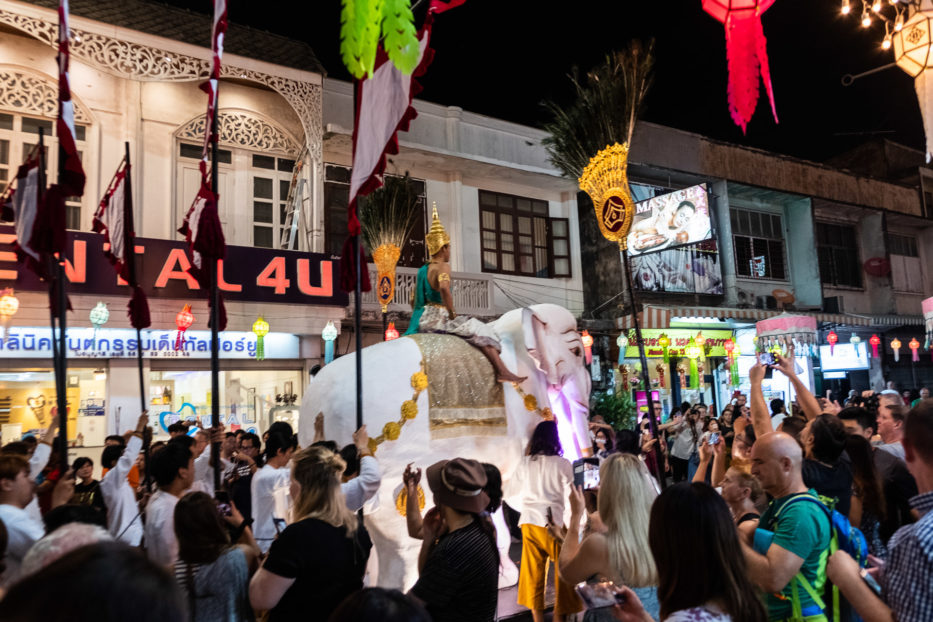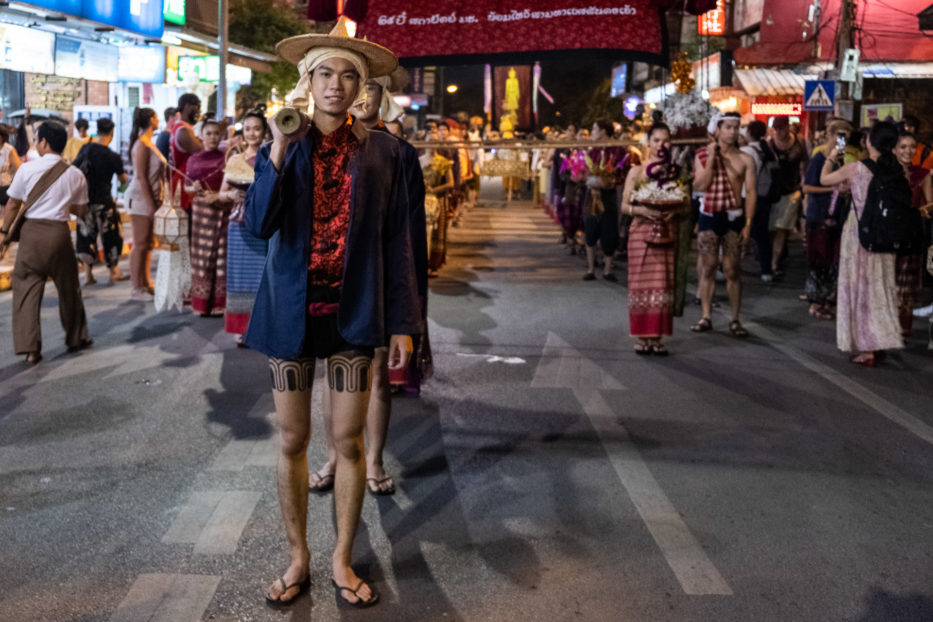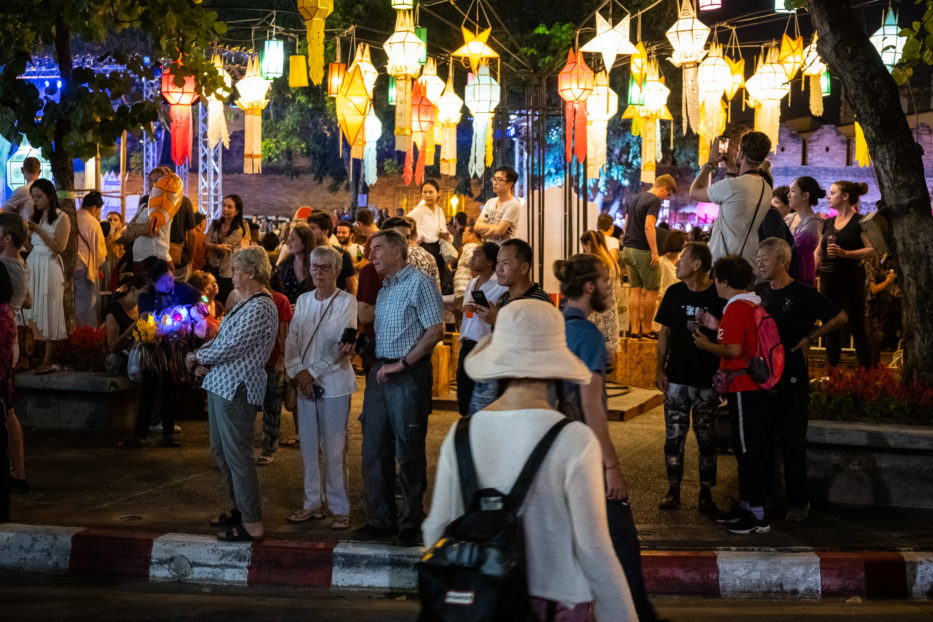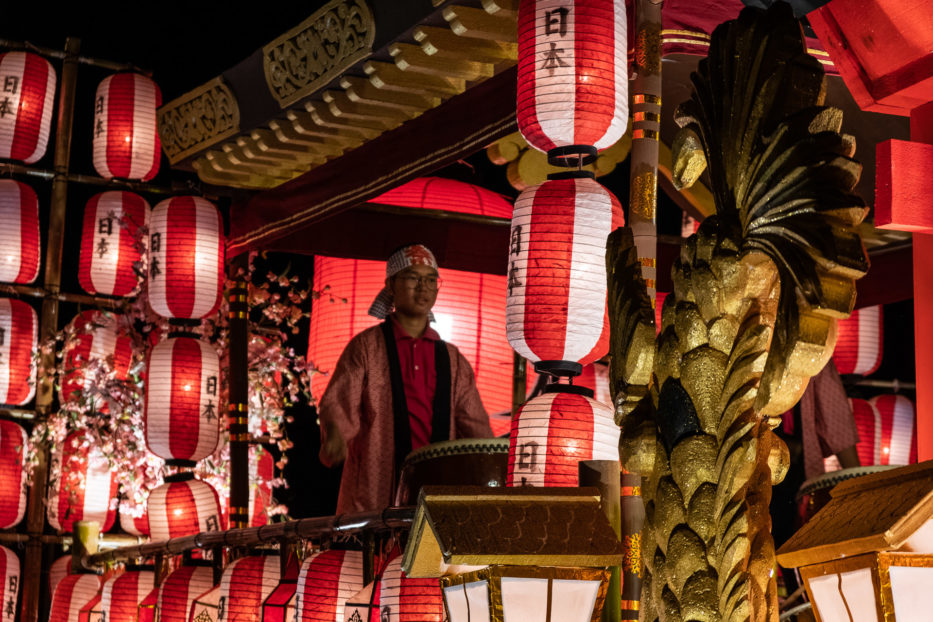 The parade was, as a lot of other things in Thailand, very "over the top" (but in a really good way, a lot of details, a lot of gold, and you could tell people had spent a lot of time and money on their preparations). Several gigantic krathongs, some with dragons, temples, flowers and people on board were rolled down the streets (as majestic, floating platforms – real life versions of krathongs). Some even had entire "walls" of speakers following after, so the level of sound was pretty loud.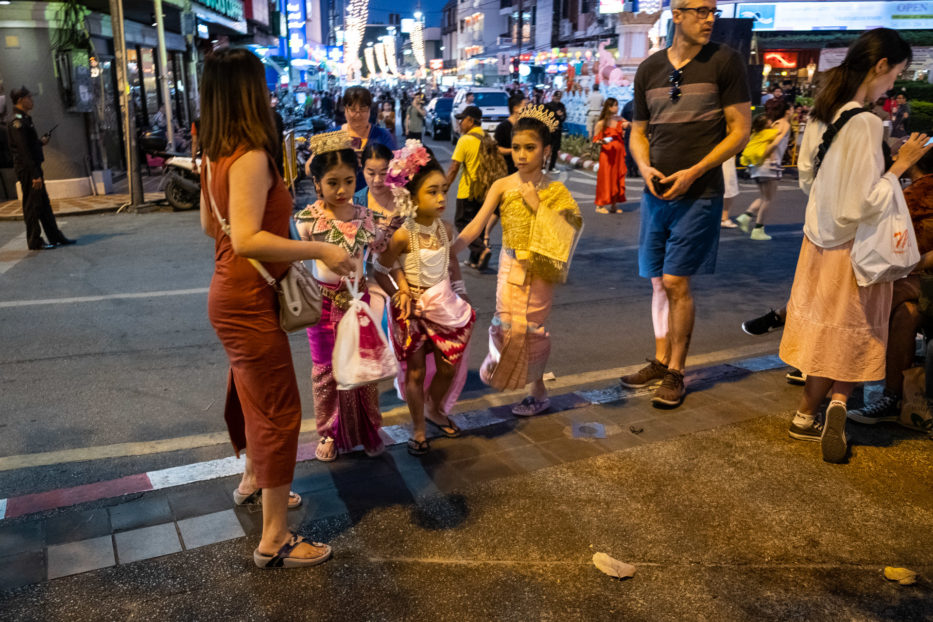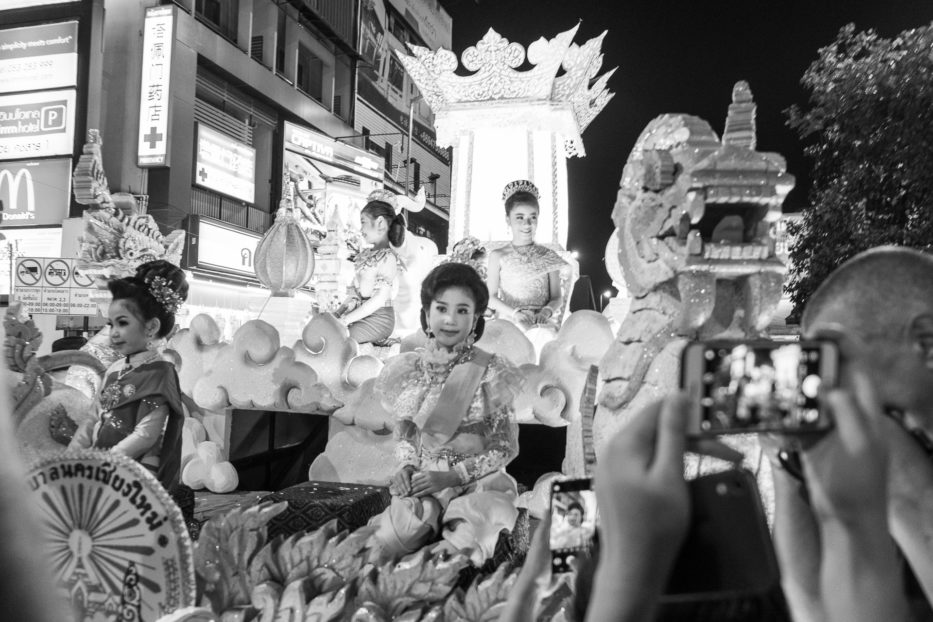 Young girls dressed up in traditional costumes and with full make-up sat on some of the krathongs, while other parts of the parade consisted of people walking, dressed up in different themes. The streets were crowded, brimming with locals, tourists, food stalls and krathongs. Luckily, the police had blocked off the streets for all traffic.
To be honest I don't even think you'd be able to squeeze in a tuk-tuk nor a moped in the streets, as even walking from a to b took ages. If you struggle with larger crowds, this might not be for you.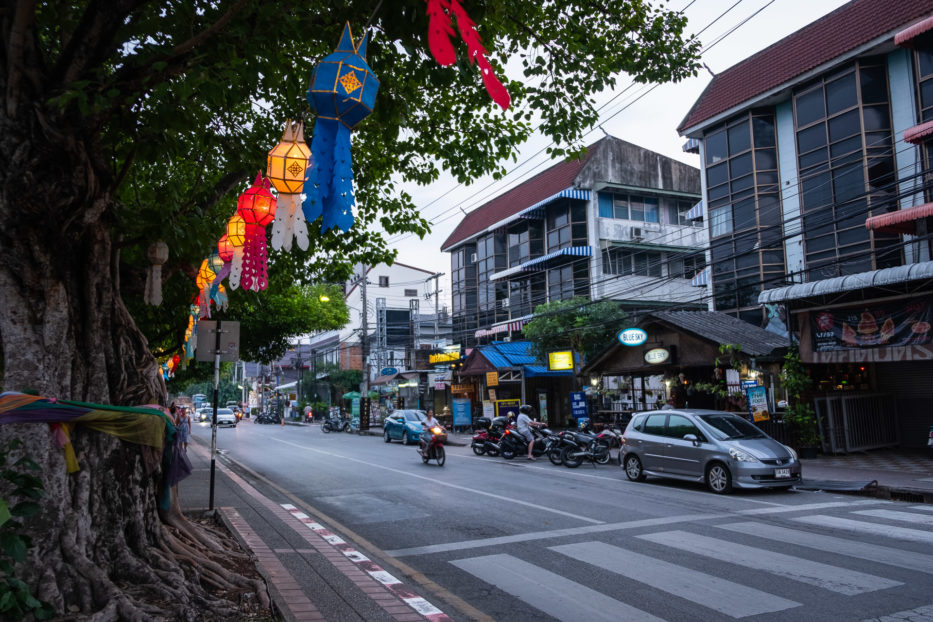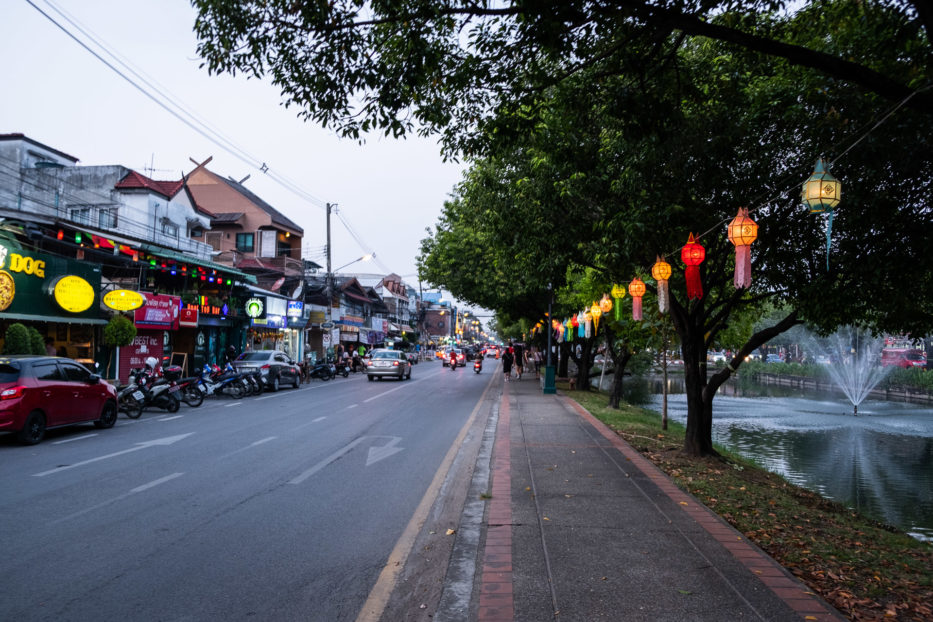 During the day, Chiang Mai seemed like quite a normal city, although there were several events you could participate in as part of the celebration all through the day. A lot of people sat around next to the streets making and selling krathongs, in all shapes and sizes, and some places also offered courses for those who wanted to make their own. Lanterns were also sold, and people also decorated these, but to less of an extent than the krathongs.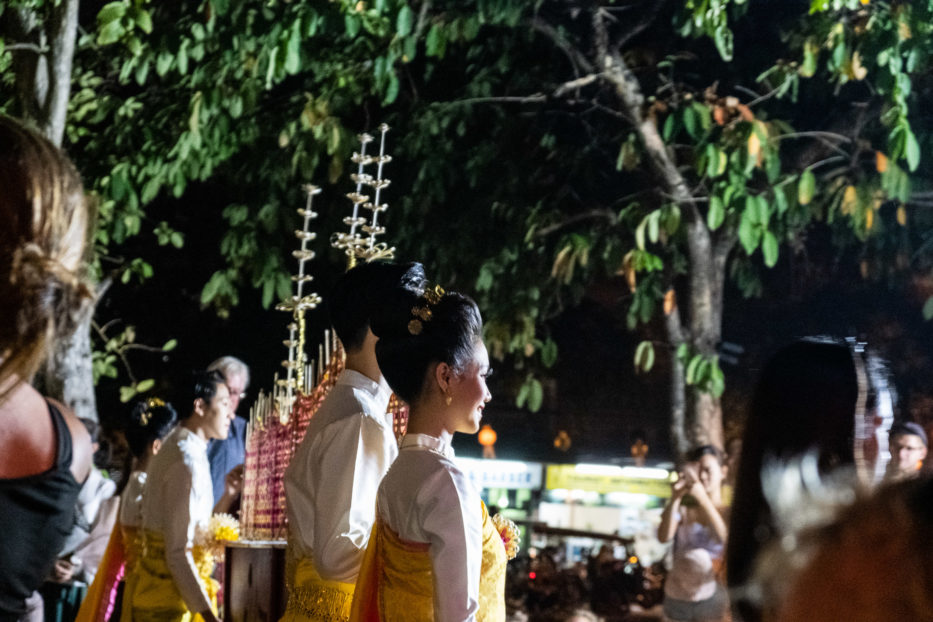 I'm glad the celebrations lasted several days, as there was so much to see and do. I ended up spending one day seeing the opening parade and some of the shows, one day seeing the lanterns of Yee Peng, and one day seeing Loy Krathong and the parade ending the festival. This meant I had just about enough time to see and photograph at least some of the things I wanted, as well as getting some street food.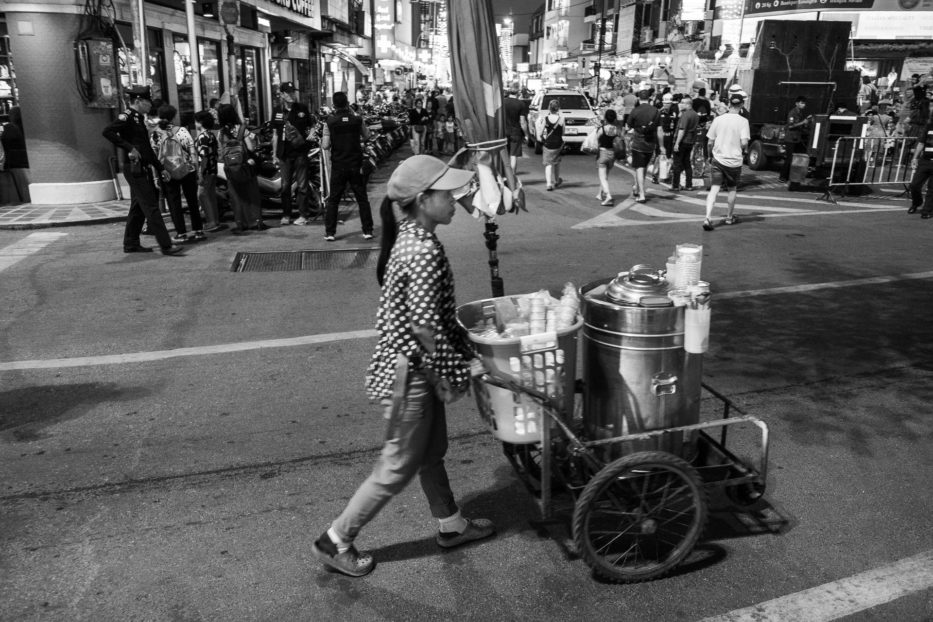 For the Loy Krathong-event I walked down to the Ping river, where I knew people would release their krathongs. I was not entirely sure how it all was supposed to go, but just by doing as "everyone else" did, I seemed to do fine. I bought my own krathong, and walked down to the riverside.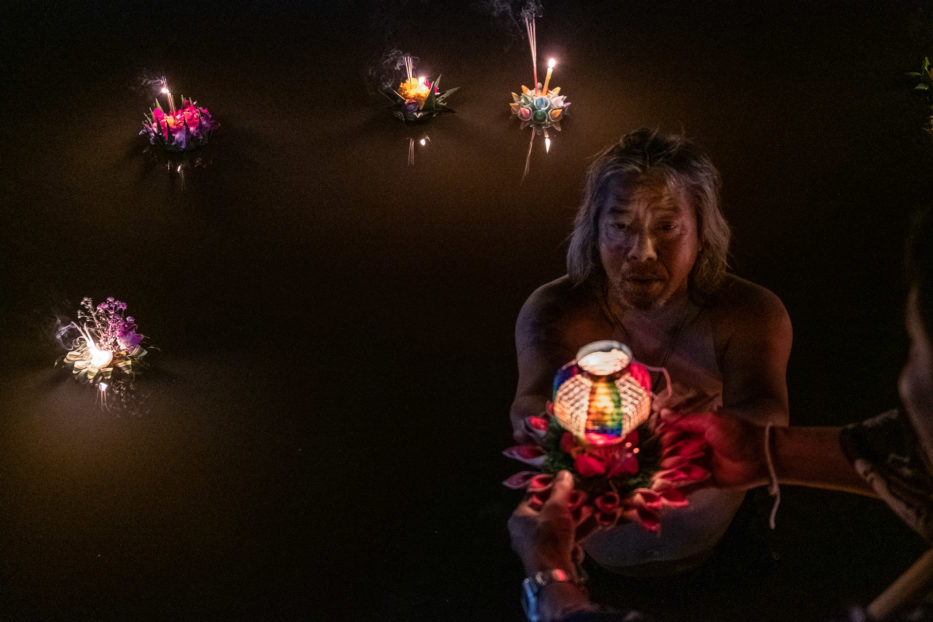 Several men stood out in the brown water, making sure to push the krathongs out safely from the shore. Releasing your krathong is supposed to give good luck, and so you don't want it to get stuck in some weed.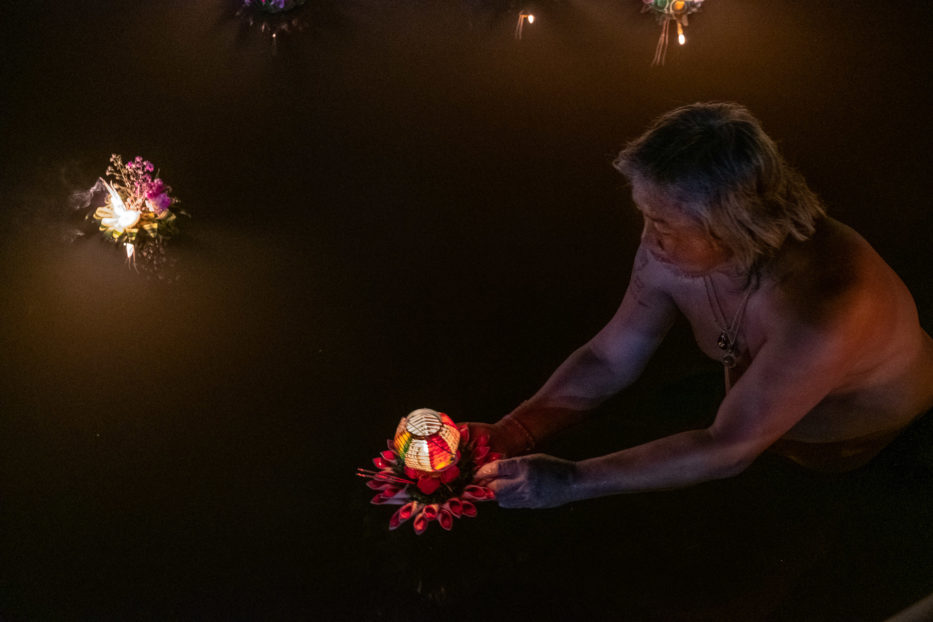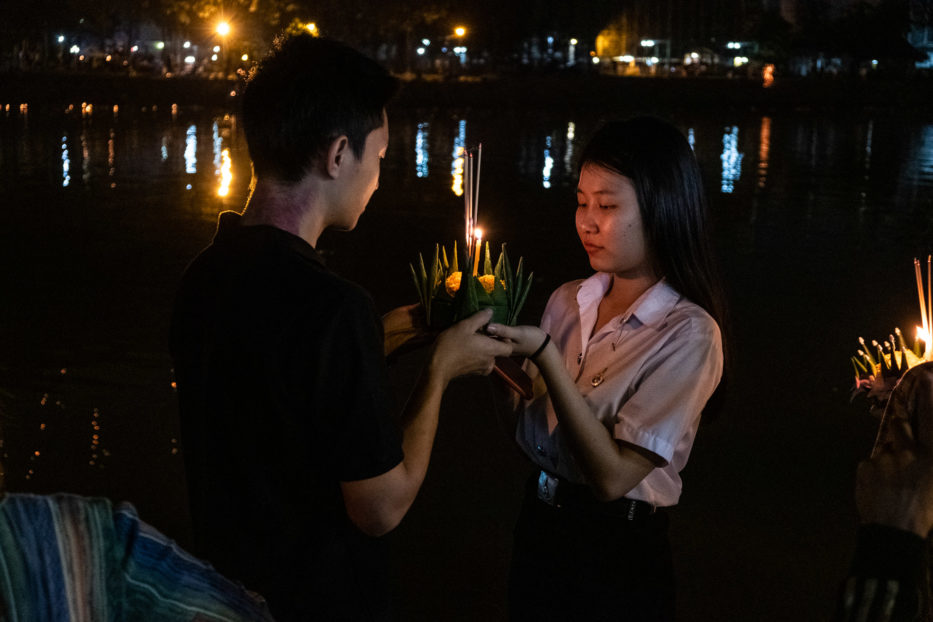 A young couple held a krathong between them, both with eyes closed and heads leaning on each other. I think they were saying a prayer inside. Others sat alone, some chanting and humming quietly to themselves. A young man said a prayer, bowed, continued, bowed again. I am not a religious person myself, but I spent some time thinking, lit my candle, and handed my krathong over to one of the men in the river.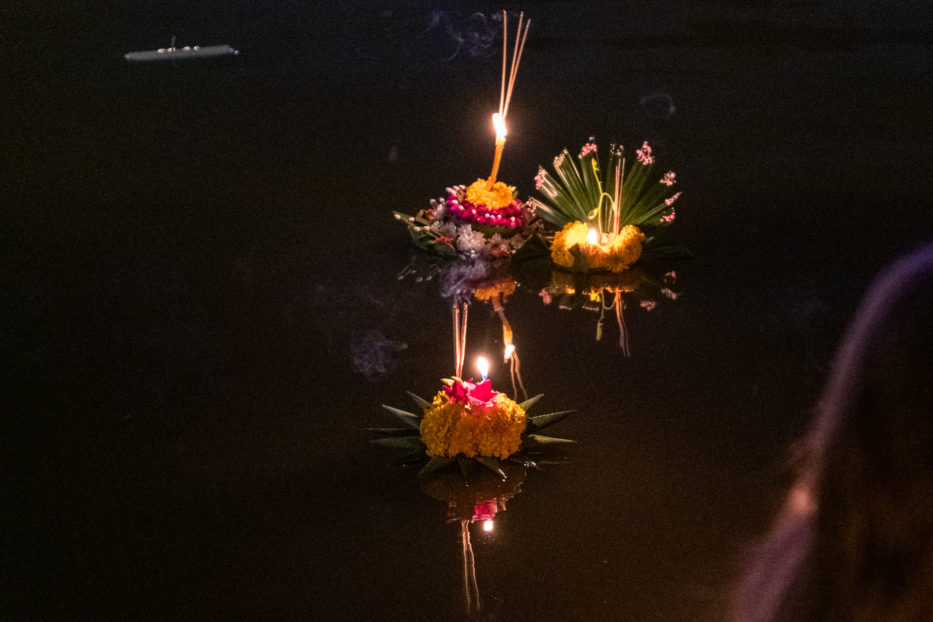 Where to go to see Loy Krathong in Chiang Mai

My first source of bewilderment with regards to the festivals was to figure out when and where to go in order to see the things most important to me. A quick Google search showed me loads of events…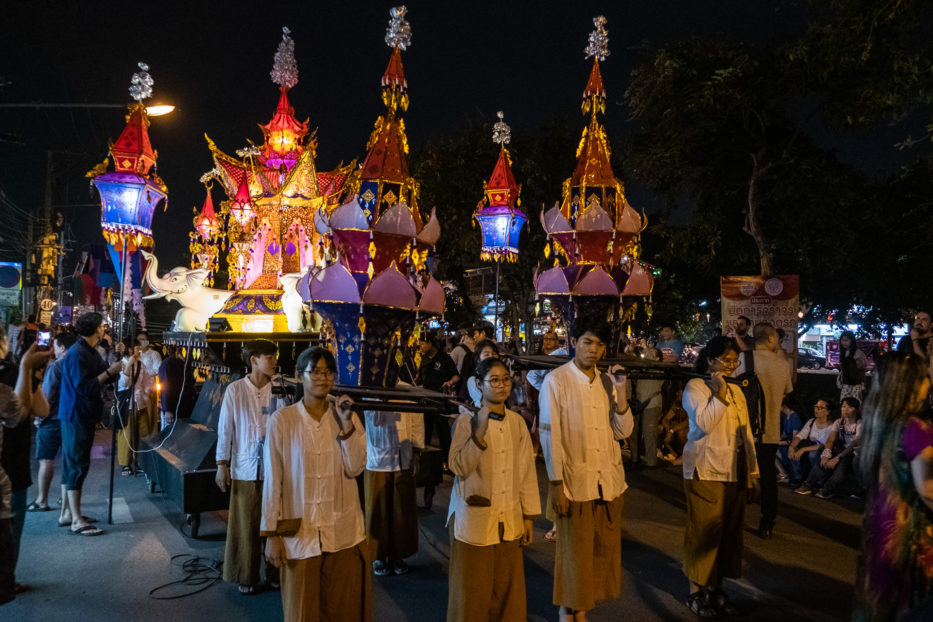 Expensive events! Wait, what, these all costs like 1500 Norwegian kroner*?! (*About 165 USD or 5000 baht) I said to Thomas as I was doing my research. I knew Thomas already had attended these festivals once before, and as he knew I was trying to do this on a low budget I imagined he would have told me about such an expense. Turns out, they took what used to be free and turned them into a big, expensive touristy business.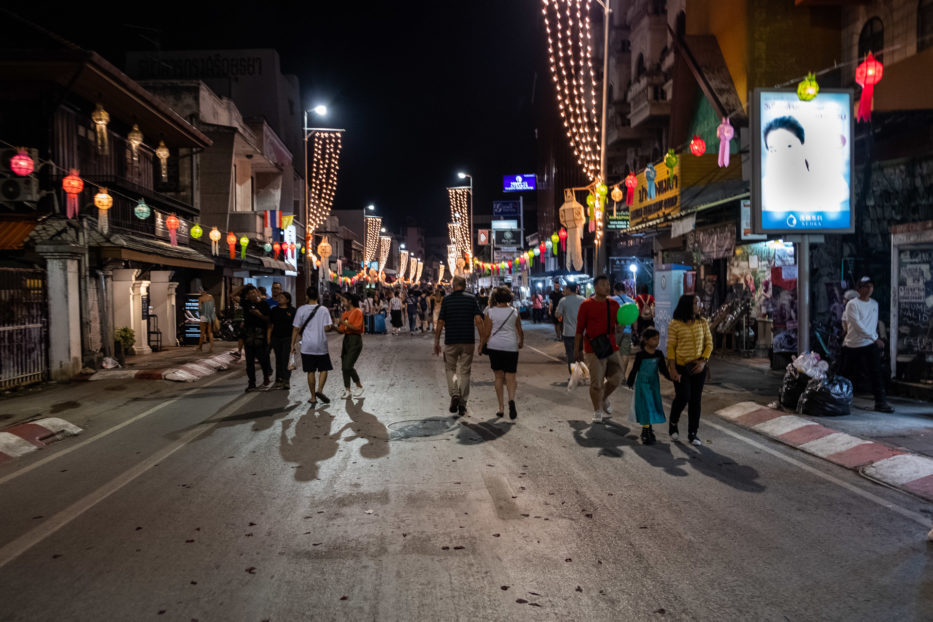 Luckily, you most definitely don't have to attend any of these expensive events in order to see the festivals. As a matter of fact, these events that cost money are not the real deal, they're all organised for tourists.
In order to attend the free events, head down to the Ping River, near Nawarat Bridge (which is were I was). Here you'll find krathongs, food, loads of people and every now and then there'll be fireworks. You can also see the lanterns from here, in the distance.

Can anyone participate in Loy Krathong?

Yes, Loy Krathong is for everybody! You can, as I said, participate in the more touristy (yet probably more picturesque) events, but the free version along the riverside is definitely more something the locals are doing. This means, even if you're super budgeting, this event is for you.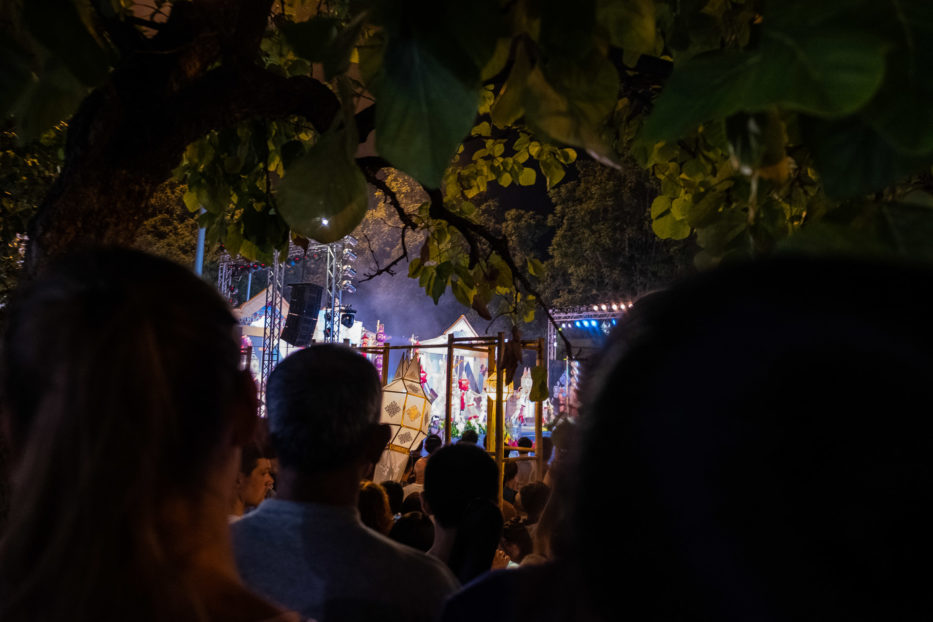 The krathongs are sold everywhere alongside the river, and all over the city, in any kind of designs and sizes. They're rather inexpensive if you wanna set one out yourself, just make sure you get one that is made of environmental friendly elements.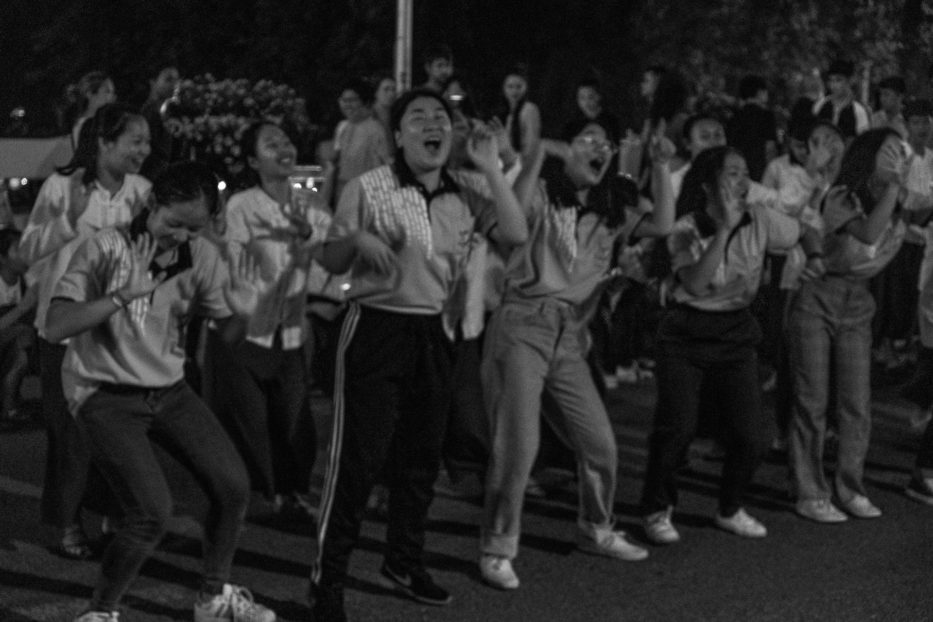 With regards to clothing, you can wear what you want. I saw people dressed in every sort of way – you definitely don't have to dress up (keep in mind it's quite warm and humid), but I'd recommend you wear good shoes, as there will be a lot of walking during these days.
This post is one out of several from my solo trip to Thailand in November 2019. For more about this trip, click here. For my other solo adventures, click here!
---