Lisbon, which is the capital of Portugal, is a colourful, diverse and absolutely gorgeous city. With over 500.000 inhabitants, this city is continuously brimming with life. In Lisbon, new meets old and merges together in perfect harmony. No matter if you want to jump on a tram to explore, get lost while wandering the streets old part of the town, visit the futuristic Expo part or simply people-watch while enjoying a pastel de nata, Lisbon will have something for everyone.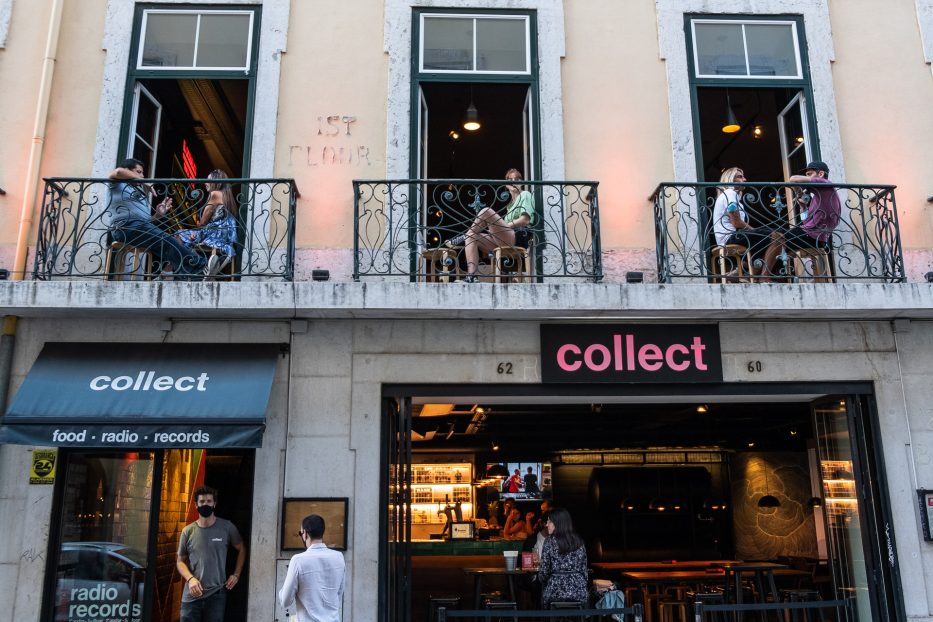 The city is divided into several neighbourhoods, which are all very different to each other, and well worth your time exploring. These are the neighbourhoods: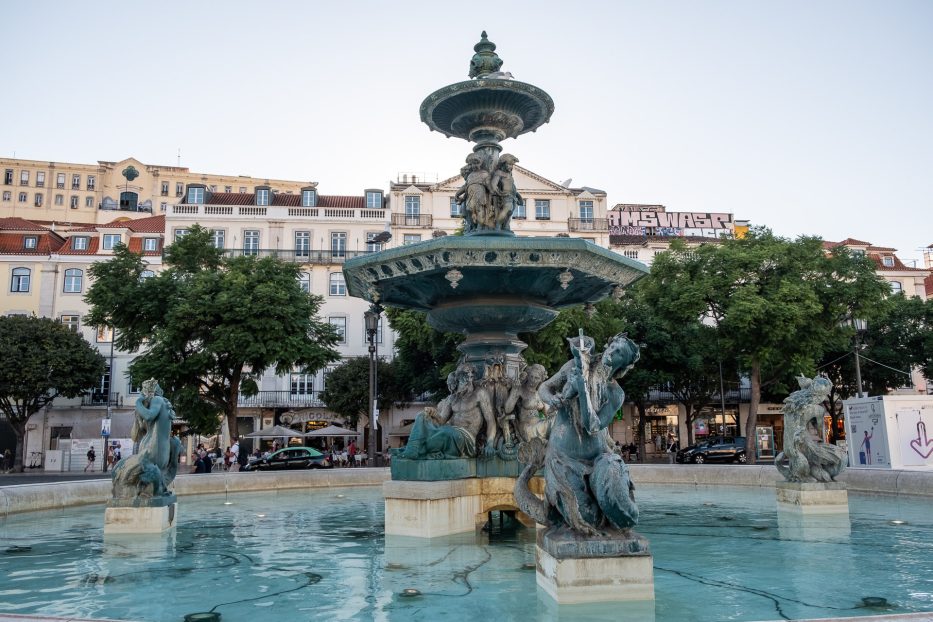 Alfama – the old part of the city
Baixa – the city centre
Bairro Alta – the bohemian area
Belém – the historical area (can be reached by train or bus from the city centre)
Chiado – the area between Baixa, the city centre, and Bairro Alto, the bohemian. Loads of shopping options are available here.
Parque das Nações (Park of the Nations) – the newer area which was built up for Expo '98
The more we explored Lisbon, the more fascinated I got by just the mere fact of how different it was from itself. Lisbon definitely is a city worth having a few days in, as it's just so much to see.
---
Here's my city guide to Lisbon:
– Tram no. 28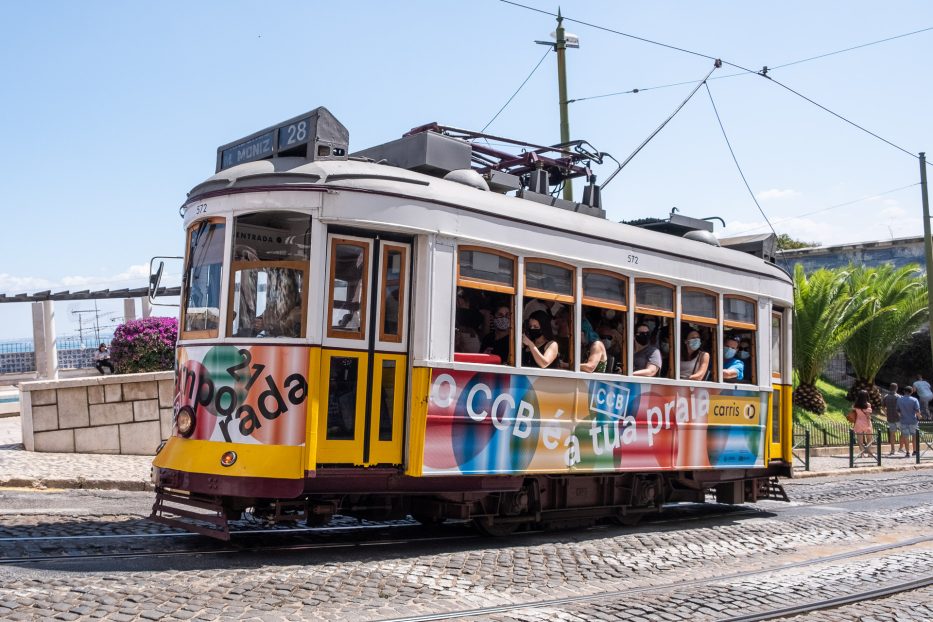 The tram no. 28 is both a form of transportation and one of the most iconic sights in Lisbon. This particular yellow tram takes you up and around Alfama, which is the old part of town.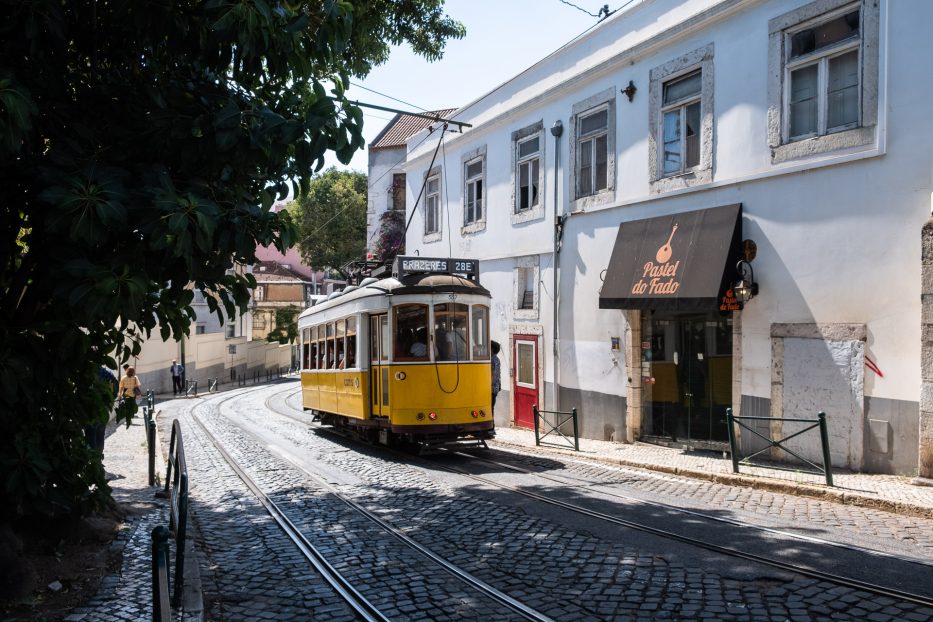 However, tram no. 28 does tend to get very crowded, so as a good alternative we got recommended trying tram no. 22. This one takes a bit less scenic on its route to the top – however, you might actually get a seat, and be able to look outside the window at all if you choose this one.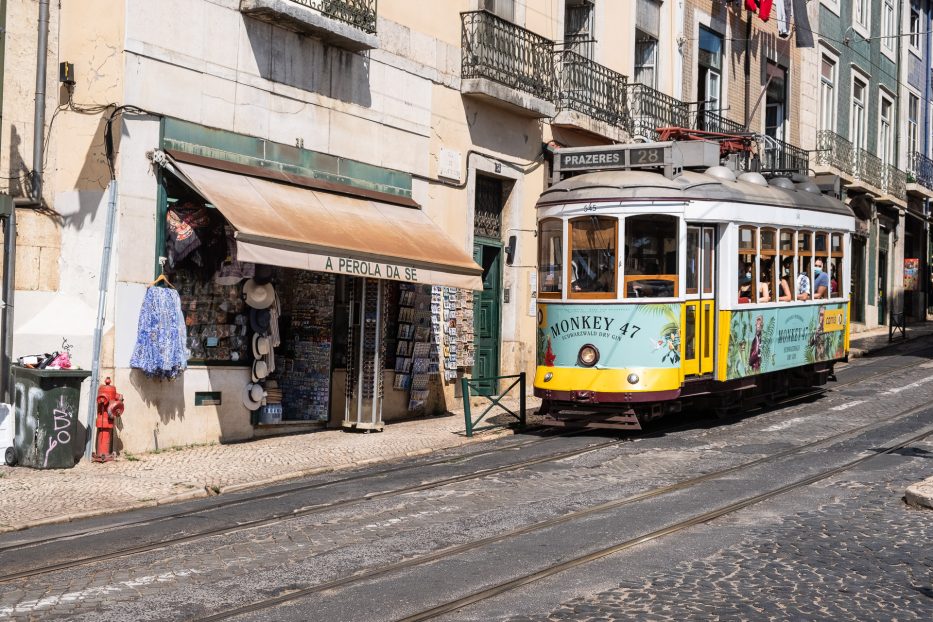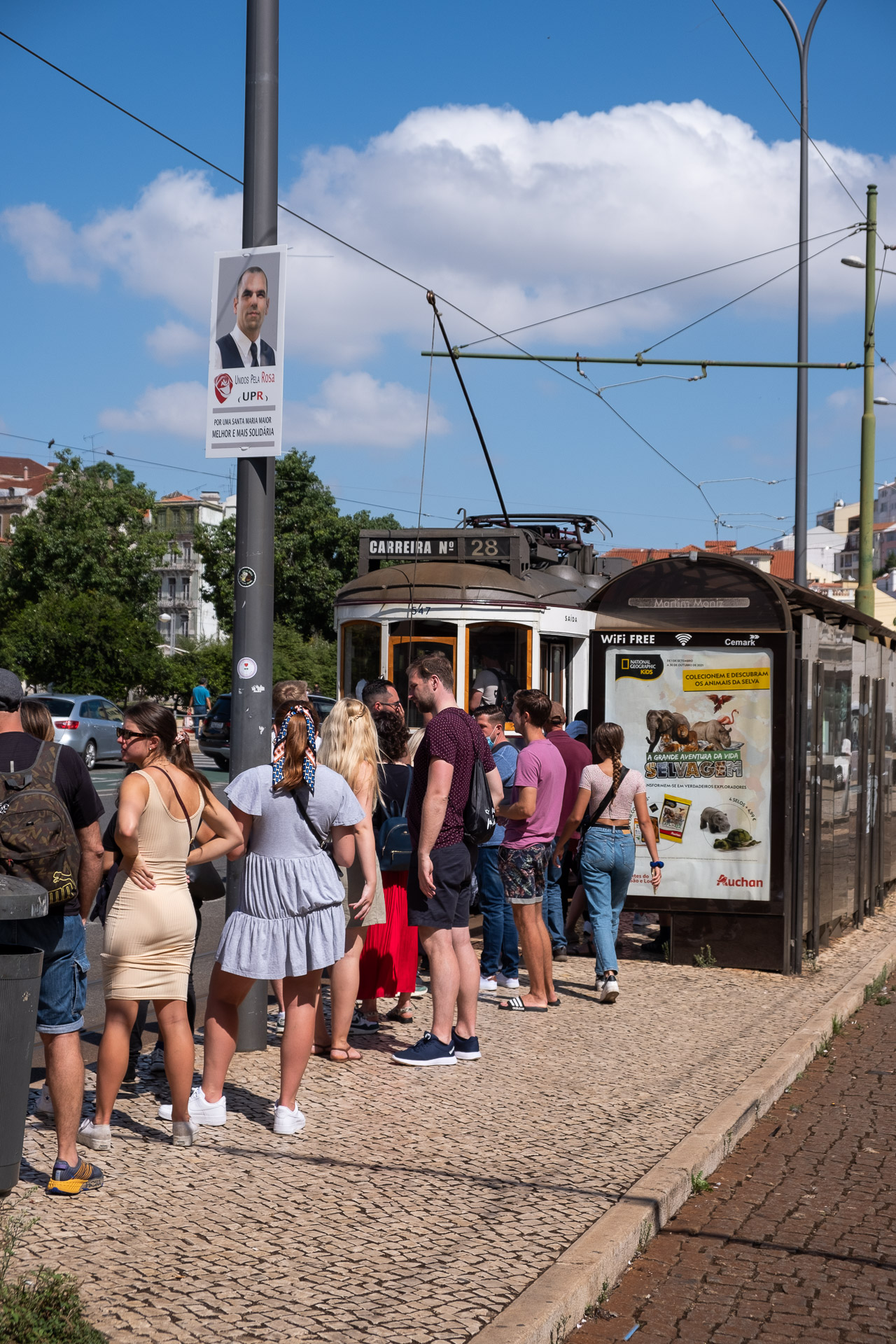 If you still want to try your luck getting an ok spot at tram no. 28, make sure you get there by 10 am.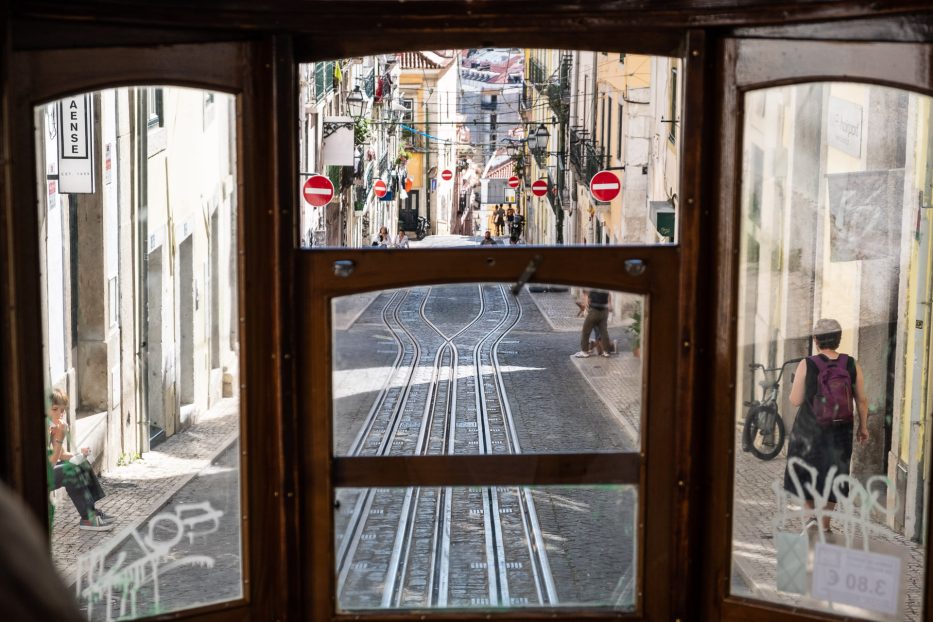 ---
Alfama – the old part of Lisbon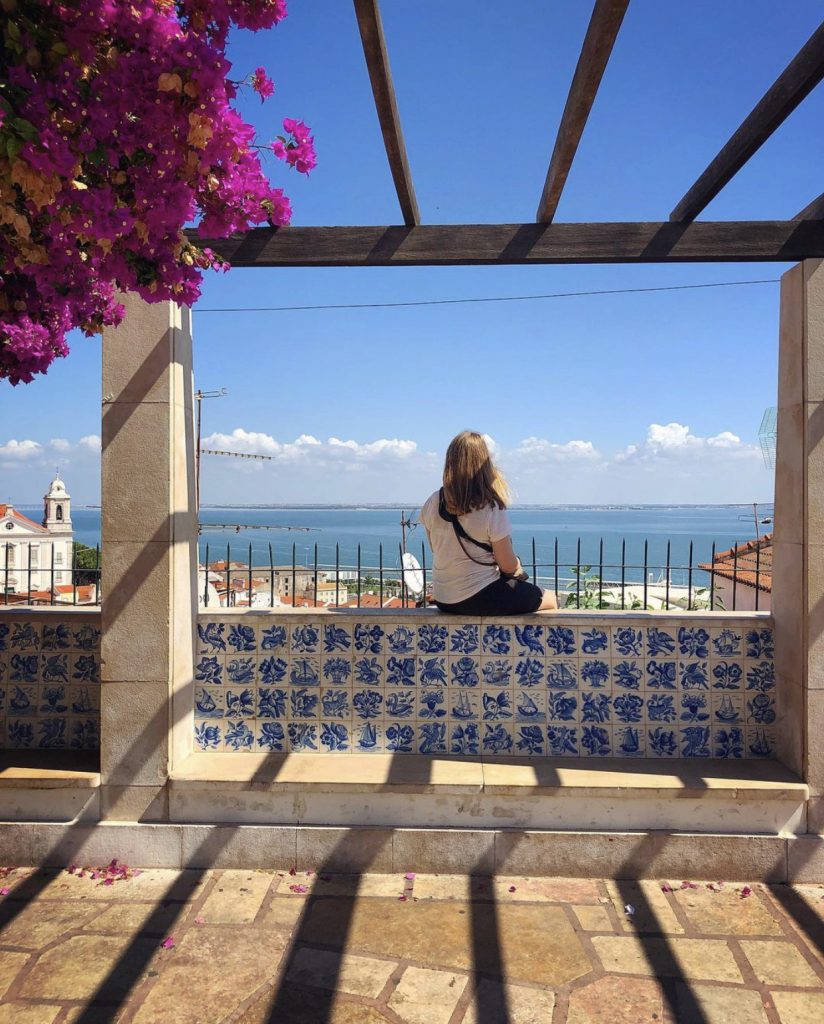 Alfama is the oldest neighbourhood in Lisbon, and where you will end up if you catch the famous tram no. 28. In this neighbourhood, you will be able to find several historical sights, grand views over the city, churches, Fado bars and restaurants.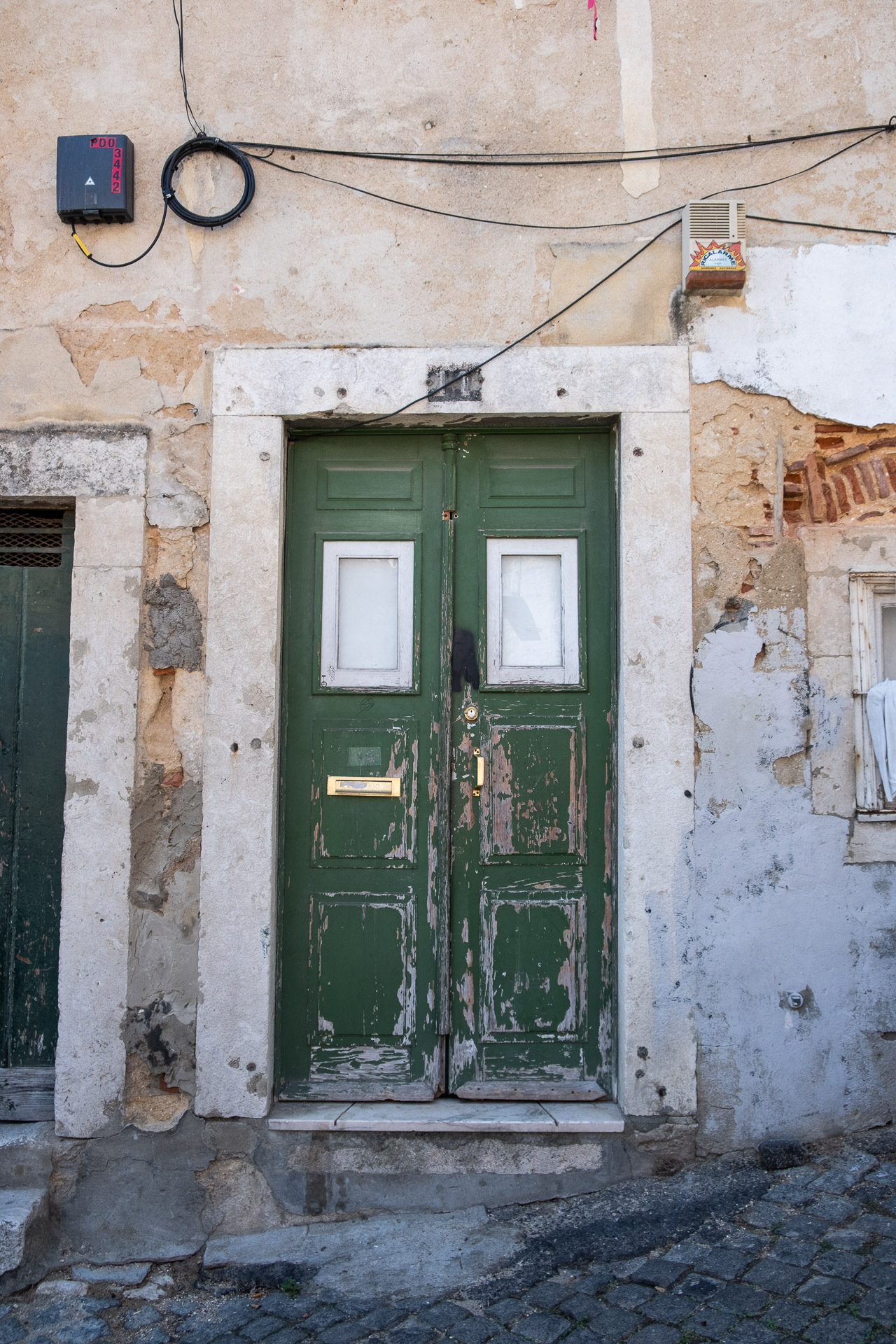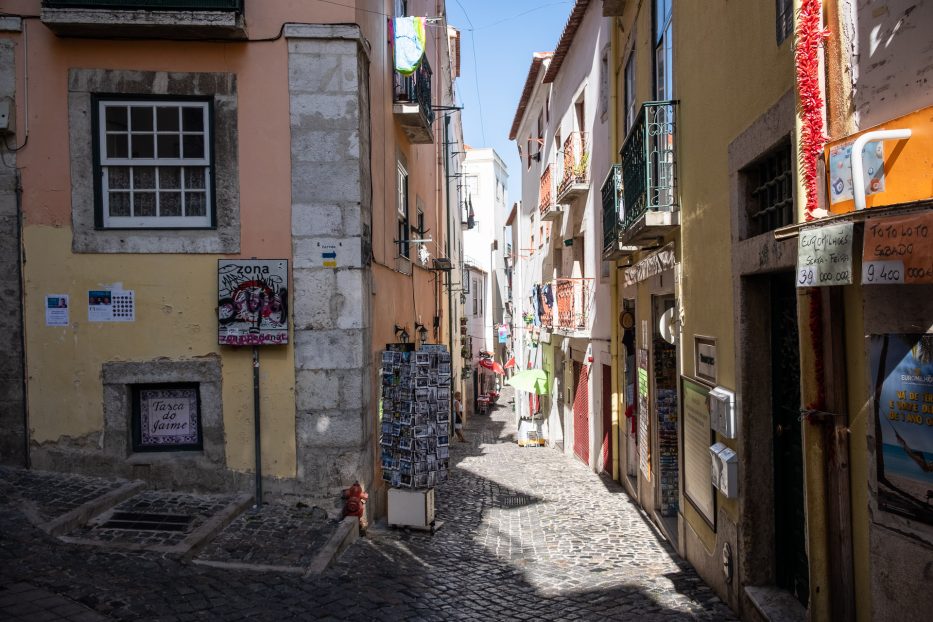 But the most important and popular thing to do in Alfama is simply to wander off in the many narrow streets and let yourself get lost. Go in without a plan – and make that your only plan. Try the local Ginjinha (a local sweet cherry liquor) served in a small chocolate container sold by an old woman. Have a glass of sangria outdoors in a small café. Watch life unfold itself in front of you.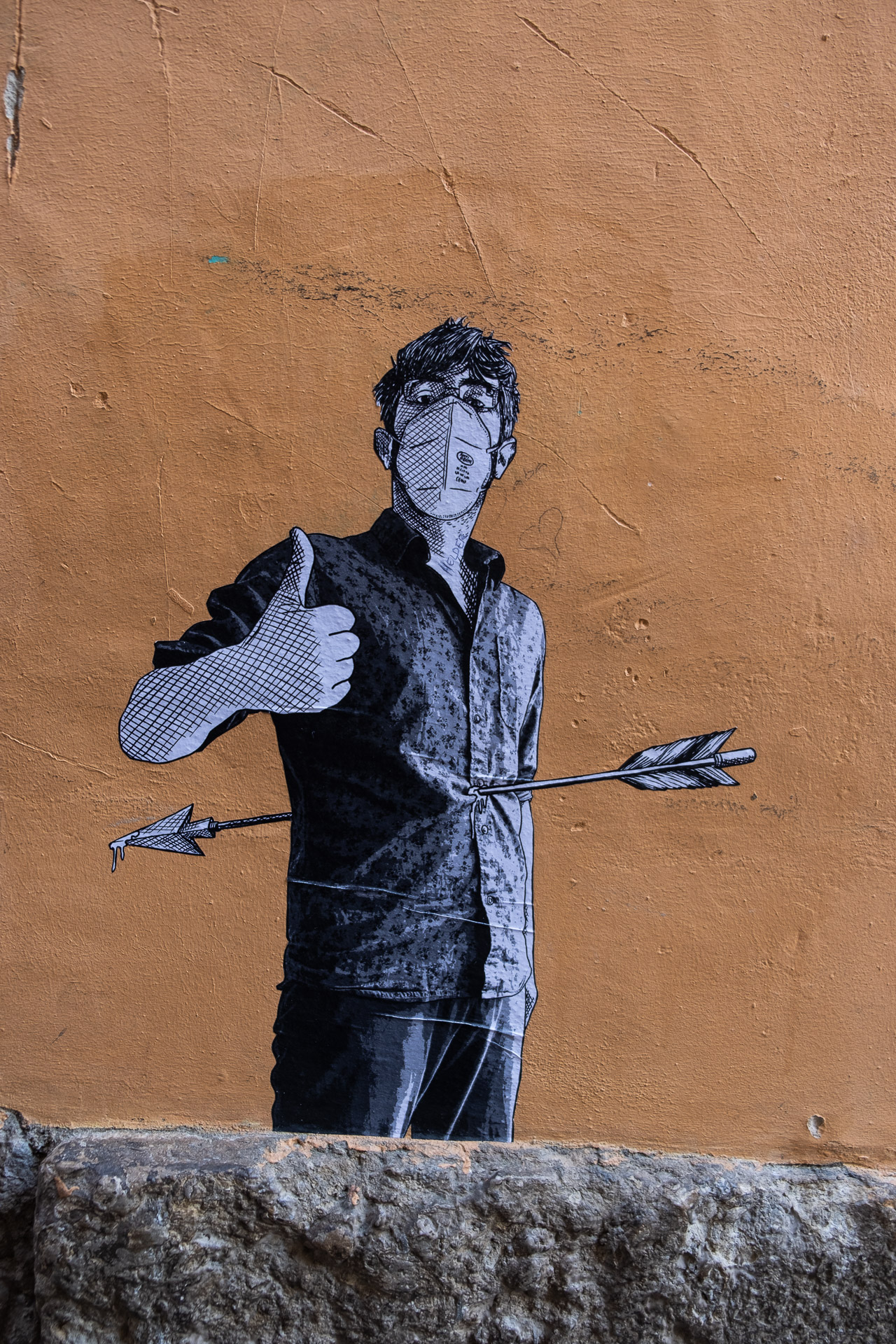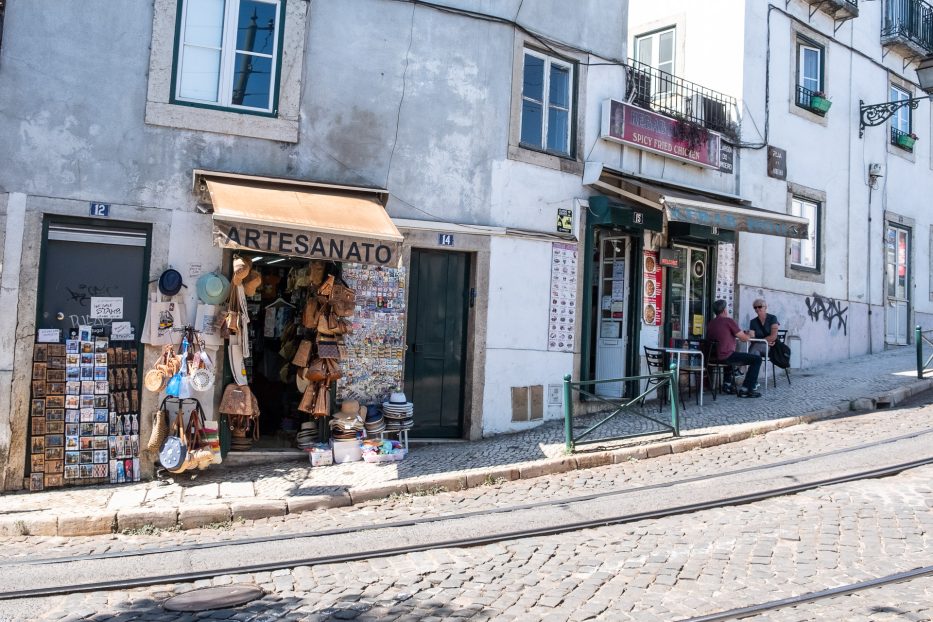 Oh, and make sure to bring your camera for this! Alfama is absolutely full of picturesque motives.
---
The Bohemian Bairro Alto
Bairro Alto is known as the bohemian party district of Lisbon. At night time and in the weekends, this is the place to be out in Lisbon (at least that's what the internet is telling me – I honestly did not go out partying while in Lisbon, as I visited while the city still had mandatory masks indoors).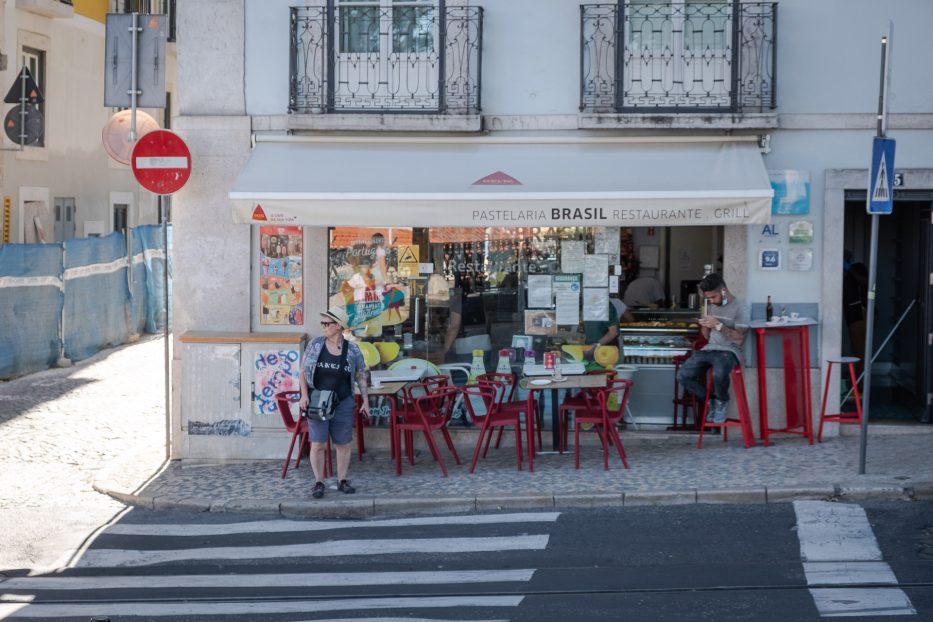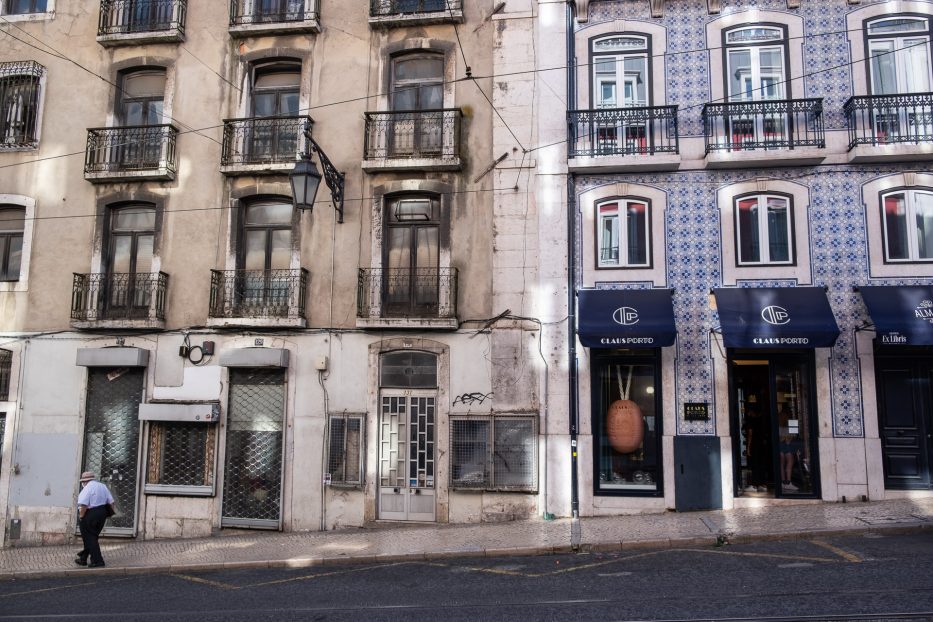 However, the area is also very worth visiting during daytime. Bairro Alto is located up in the heights, but do not worry – you can reach this neighbourhood by riding either the Ascensor da Bica or Ascensor de Gloria funiculars. Both of which are famous sights in Lisbon, and worth a ride!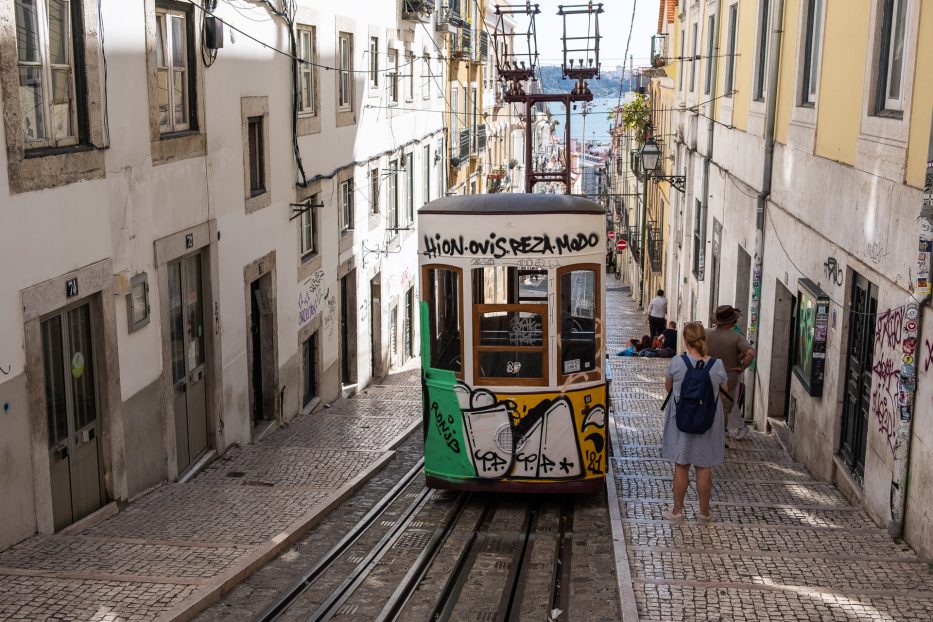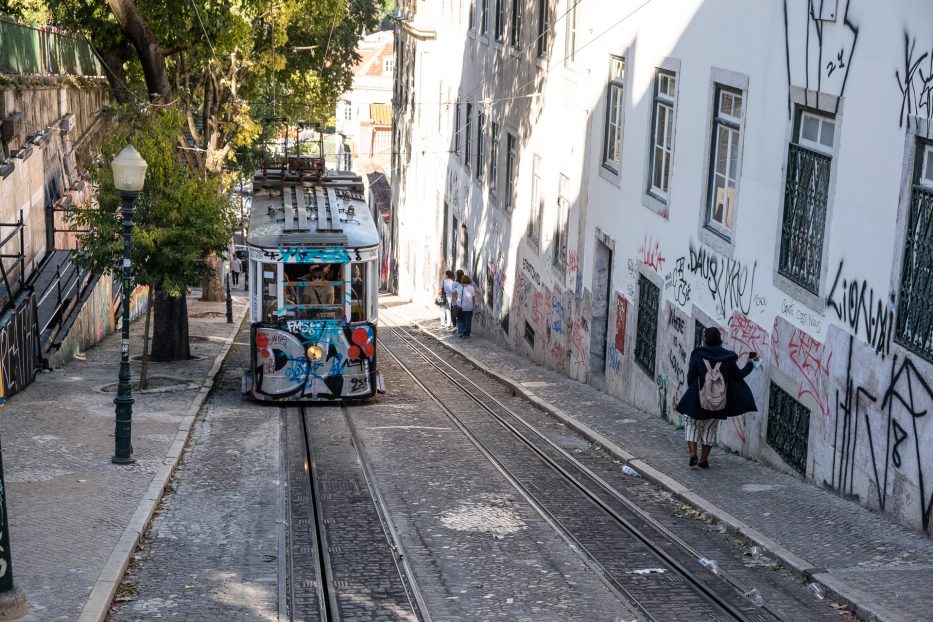 Watch all of Lisbon from the Miradouro s. Pedro de alcantara viewpoint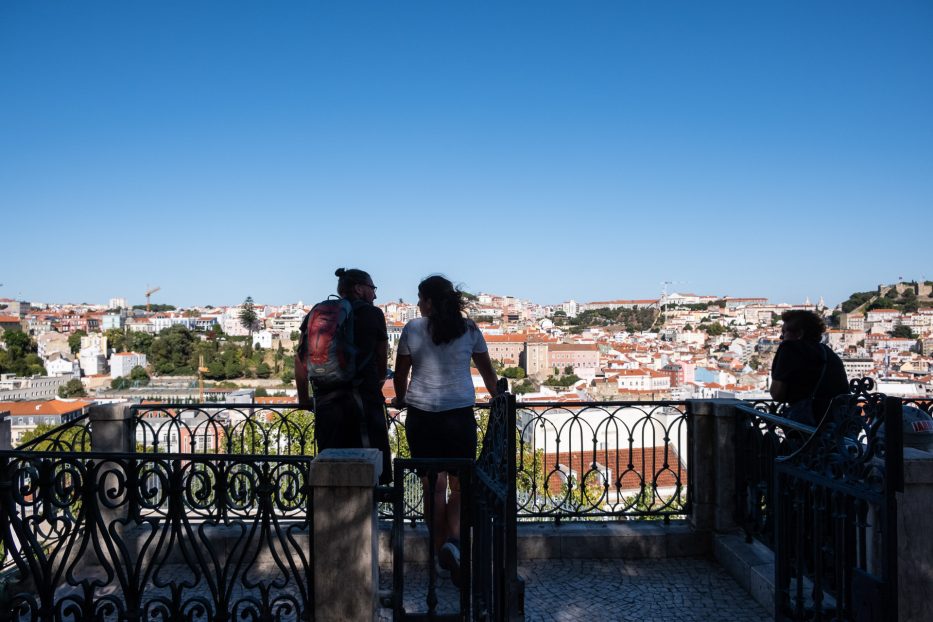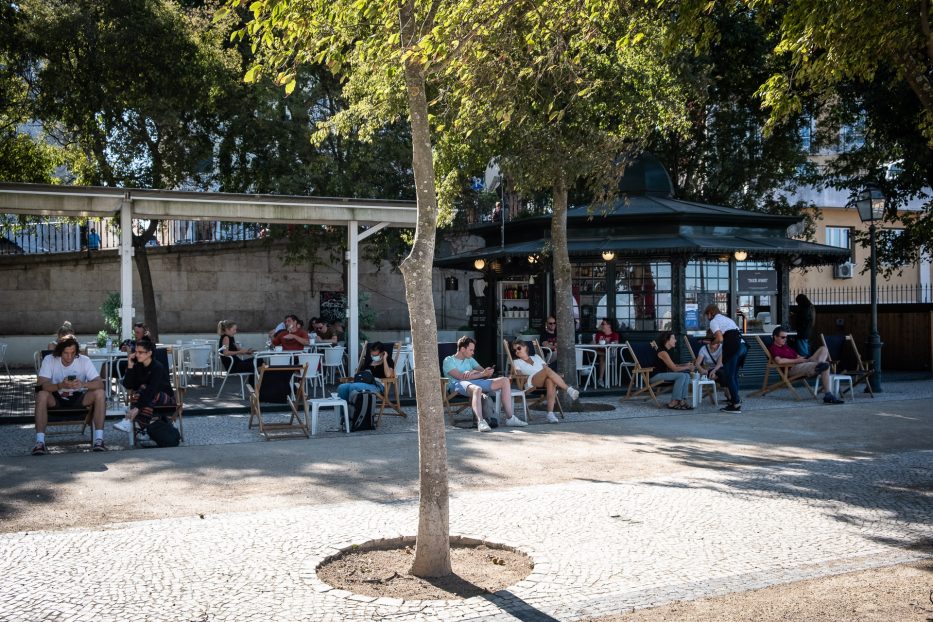 Located over the neighbourhood of Alfama, this lovely spot allows you views of most of Lisbon. Here you can enjoy the view while sipping a coffee (or even a glass of wine – up to you), and map out your next adventure. I found this spot helpful to "connect the dots", the dots being the different areas I had already been, and it gave a better perspective of the city.
Admire the Church of Sao Roque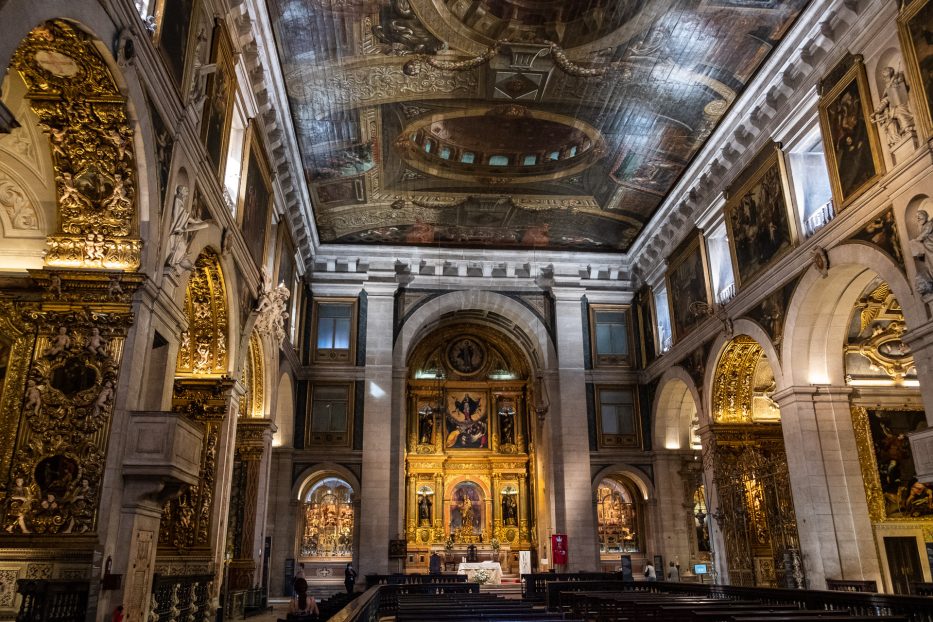 This church looks very low key from the outside, so you can imagine my surprise when I looked inside. It was quite spectacular! Take a walk inside and admire the many shiny Baroque details.
---
Beautiful Belém
Jump on a bus or catch the metro (or even a train) to get to the western, historical neighbourhood called Belém. This area houses several famous sights.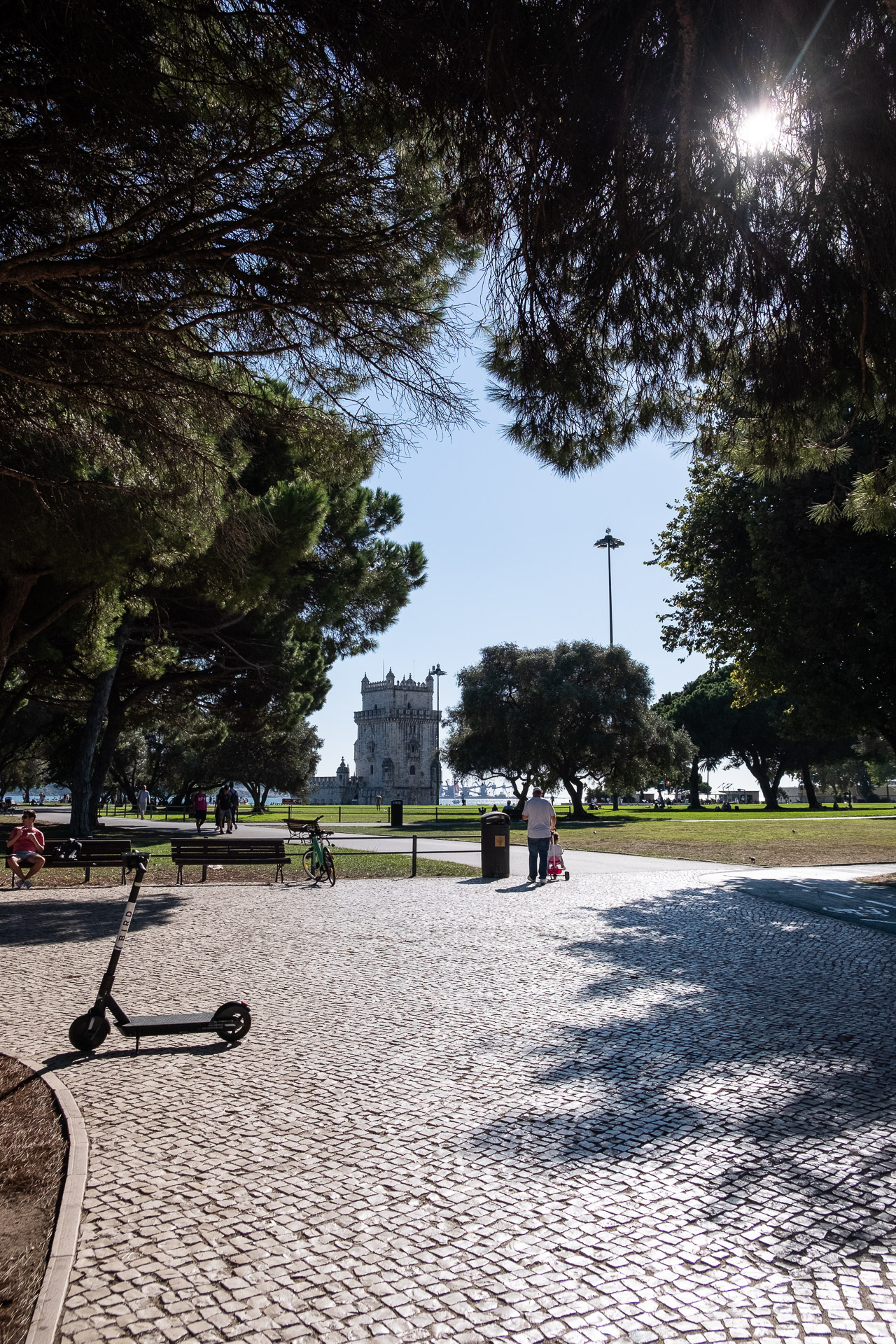 We started off by admiring the architecture at Mosteiro dos Jerónimos, which was unbelievable huge. We then strolled past Centro Cultural de Belém, before heading over to one of the Seven Wonders of Portugal.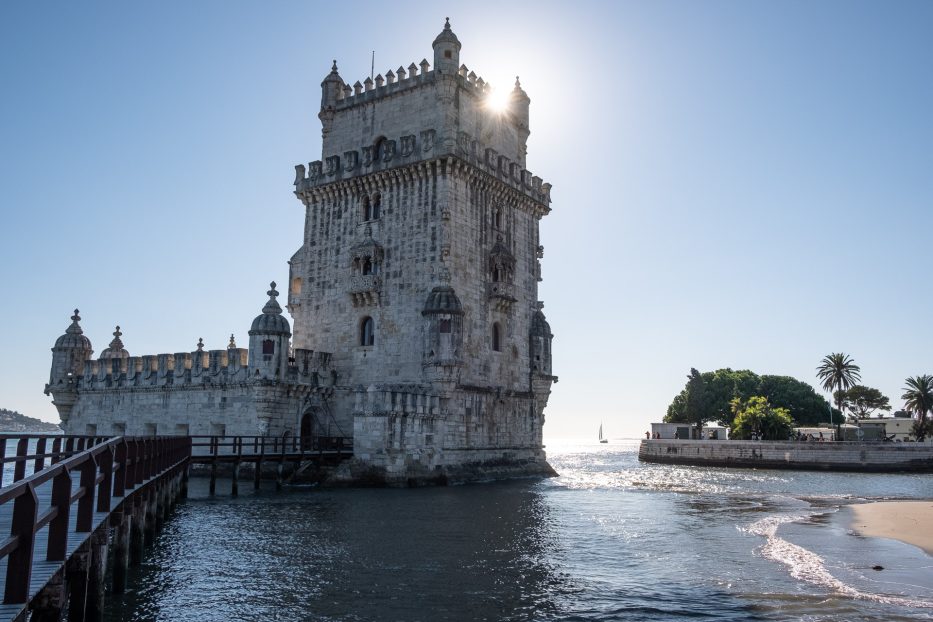 Torre de Belém, The Belém Tower, is officially called the Tower of Saint Vincent and is a UNESCO World Heritage Site built between the years 1514 and 1519. The tower sits on the bank of the river Tagus.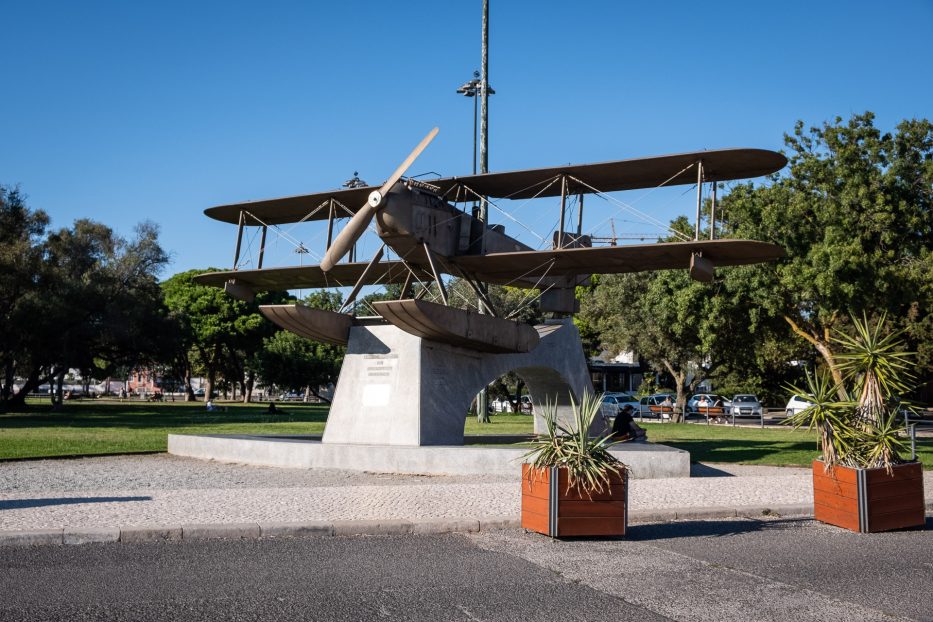 Our next sight was Monumento Gago Coutinho, a much smaller sight, yet with a pretty cool story. This statue of a plane is not just any plane, it is a commemoration of the first aerial crossing of the South Atlantic – a journey that took 79 days in 1922.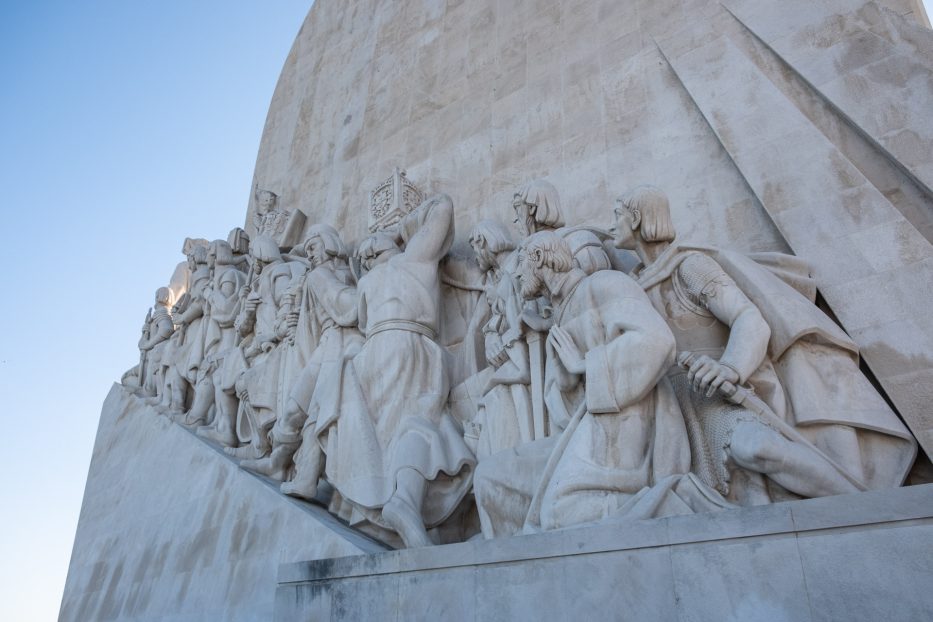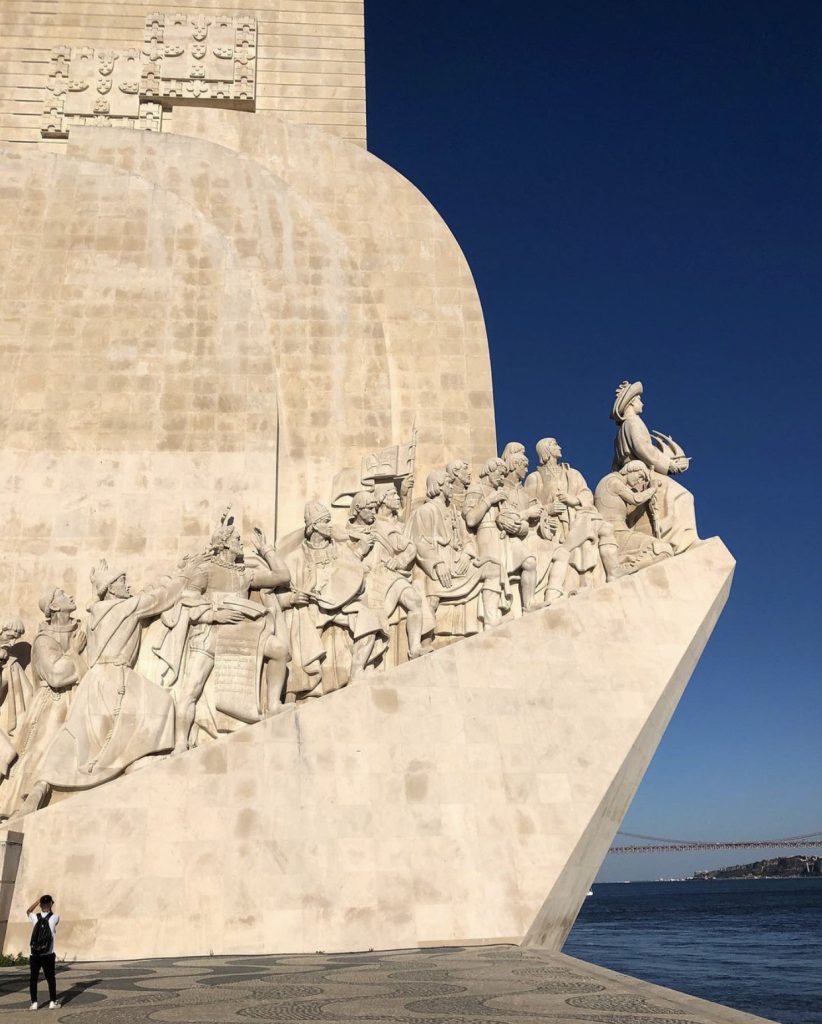 The Padrao dos Descobrimentos (meaning Monument of the Discoveries) is a 52 metres tall monument consisting of 33 different explorers. I'd say seeing this is a must, as it's overwhelmingly huge and very detailed. So cool!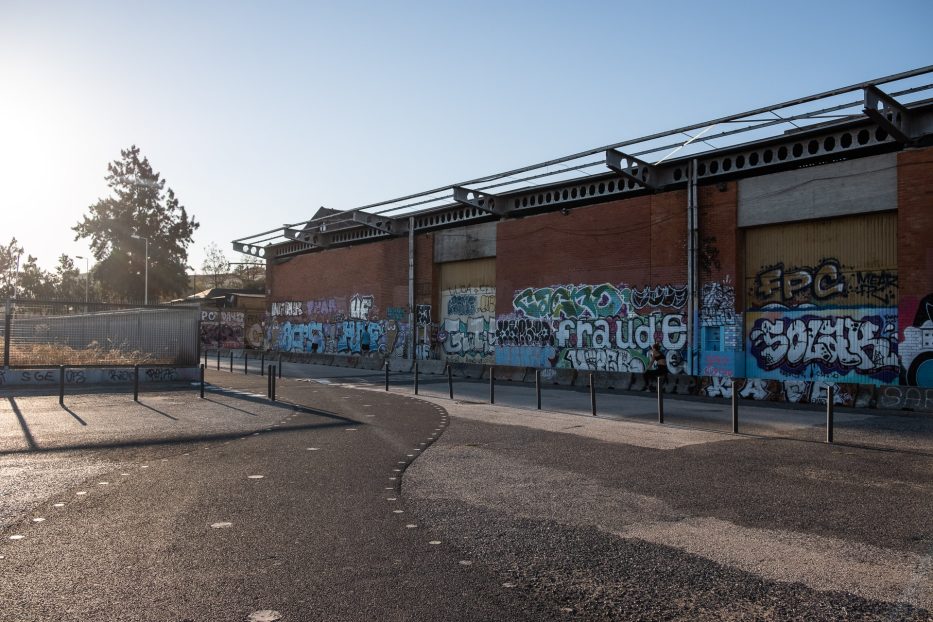 On our way back from Belém to the city centre, we rented el-scooters and cruised on the 10 km long Waterfront promenade Belém, where loads of people were out running, biking or strolling.
---
Parque das Nacoes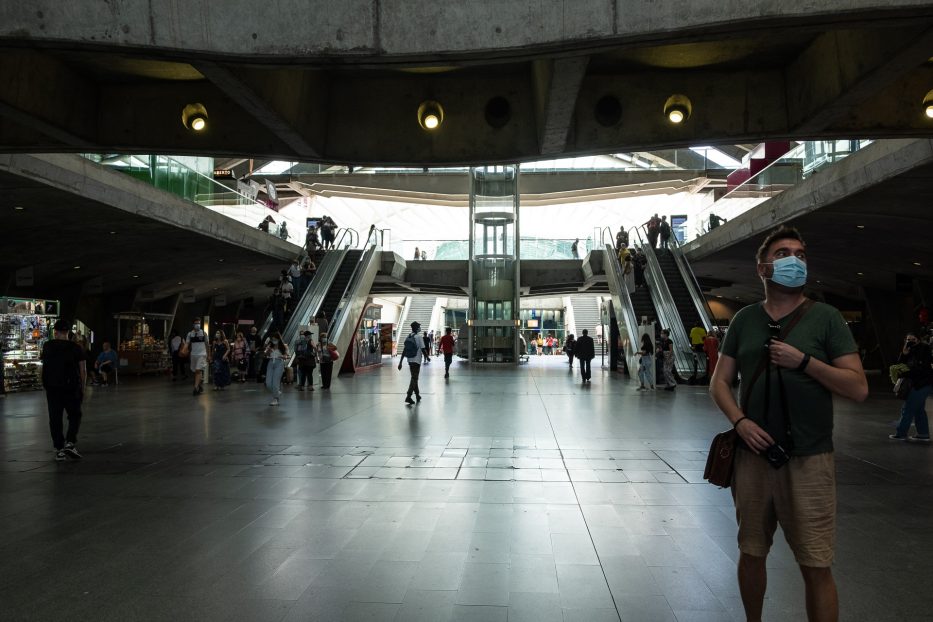 The district of Parque das Nacoes – Park of the Nations – was set up in 1998 as part of Expo '98.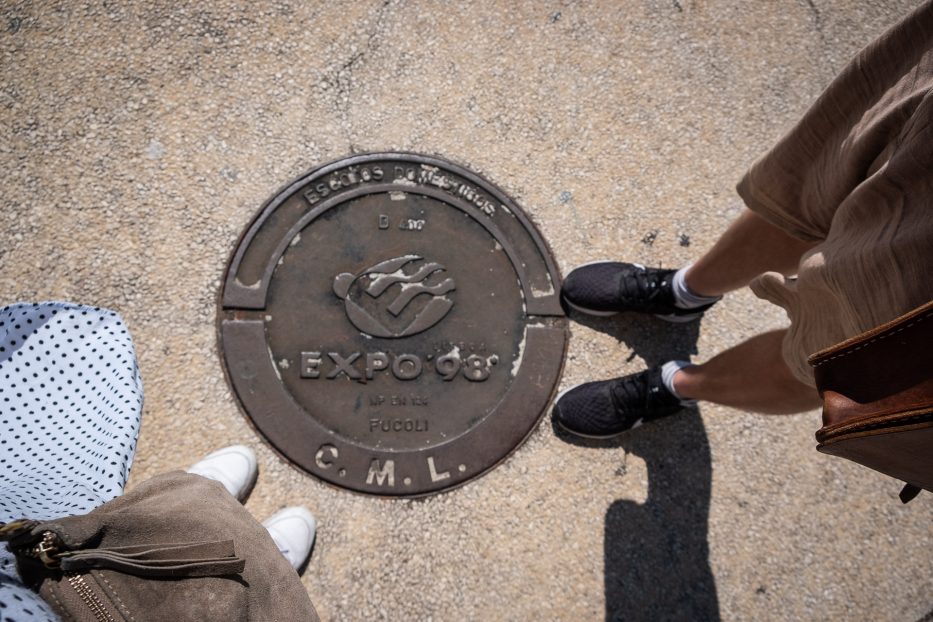 Catch the metro to Oriente, or the train to Estacao Oriente to get here, and enjoy the very futuristic looking sights, both inside the station and around on site.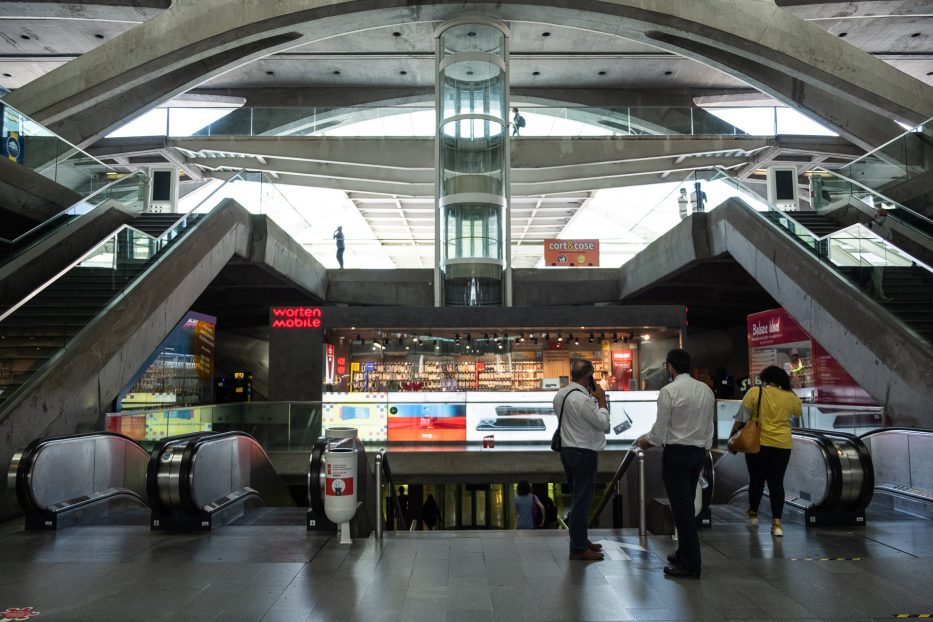 As we entered this area I was stunned that this too was part of Lisbon (fun tip: do Alfama first, then this area the day after as we did, it's like you're on two different planets).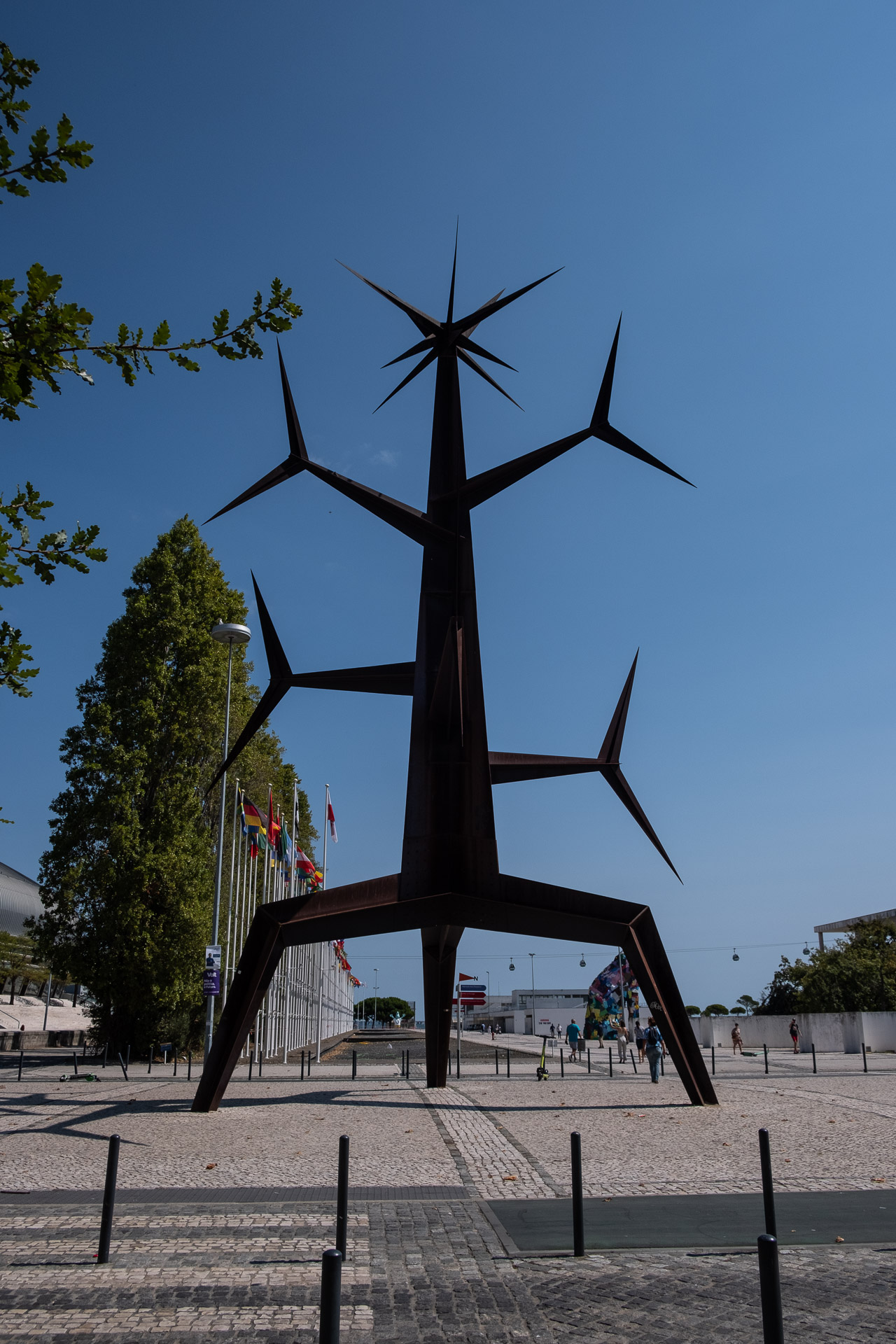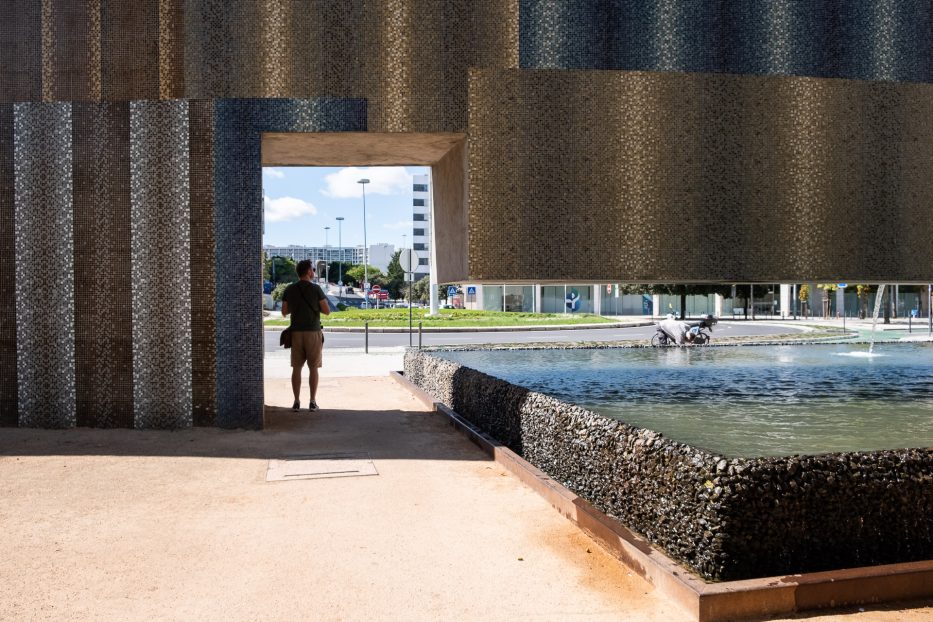 In Parque das Nacoes you find the gigantic mall Centro Vasco da Gama (with more than 160 different shops), which has a huge selection of restaurants in its food court. You also find the aquarium, Oceanario de Lisboa, which probably is nice for a rainy day (I had several people telling me I had to visit, but the weather was just too nice to stay indoors when I visited).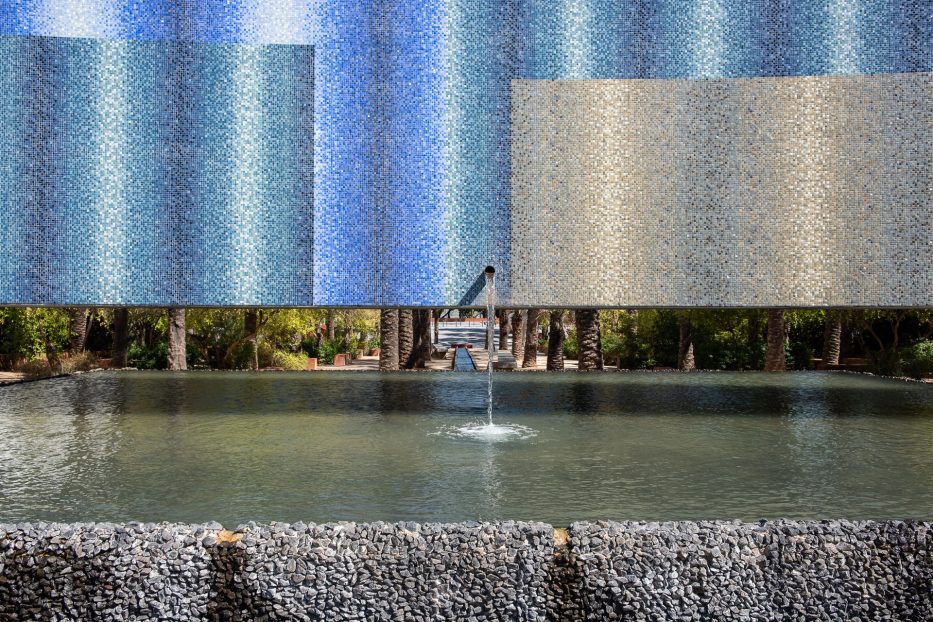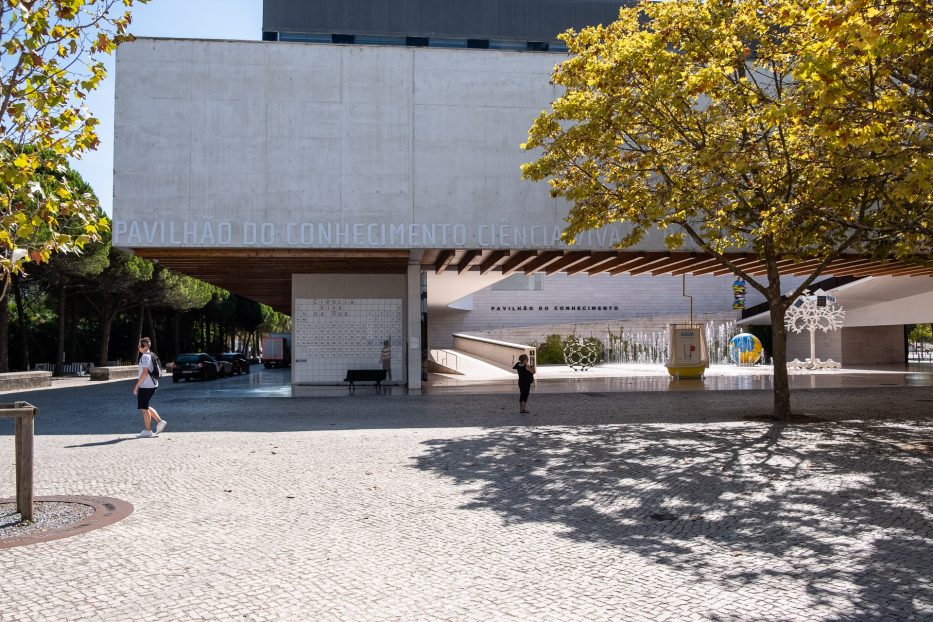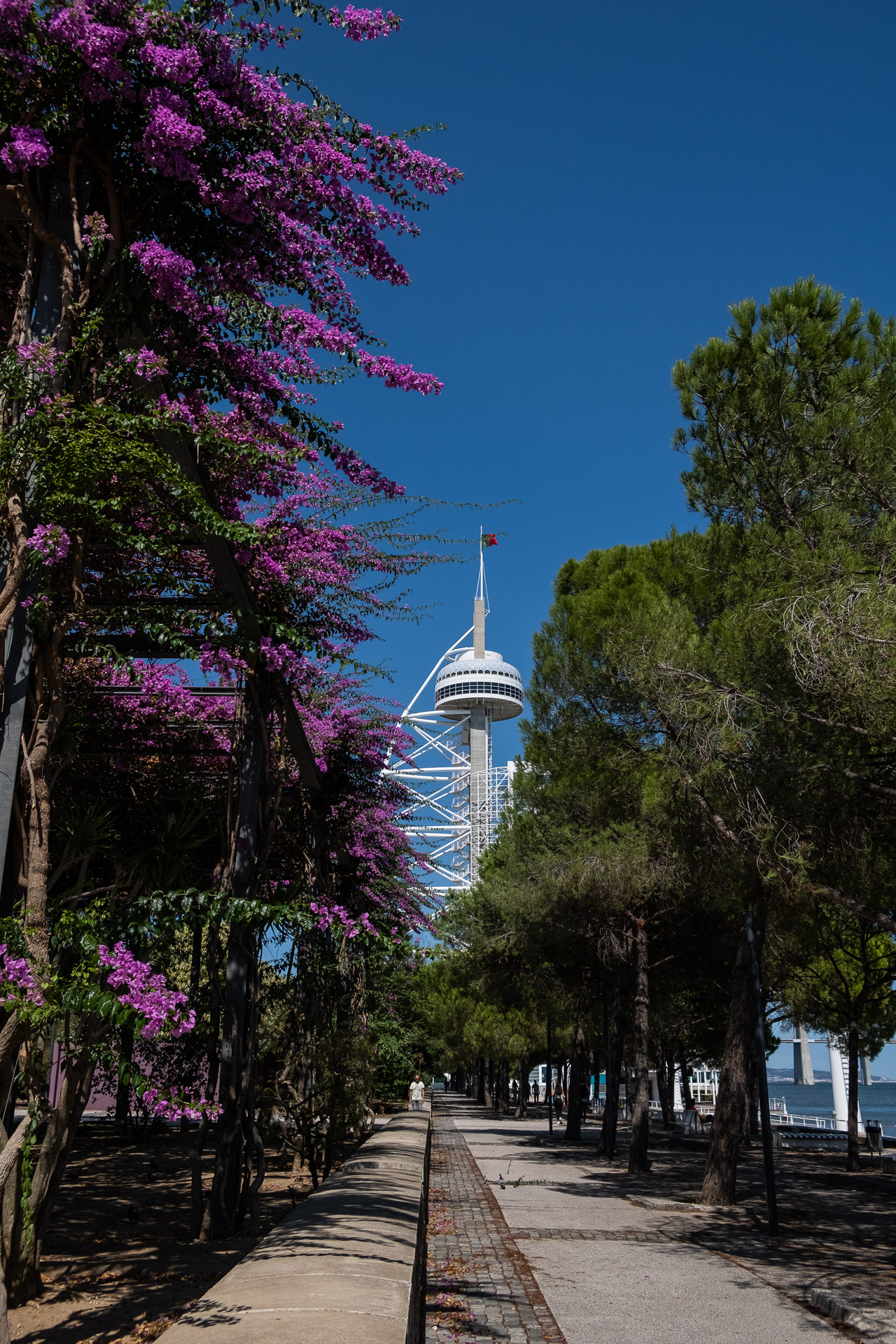 My favourite thing in this area, except for the rather cool futuristic architecture and scultpures, was the Telecabine, a cable car with a route of 1,2 km overlooking the area and the river Tejo. Tickets cost 4 euro one way, or 6 euro return per person.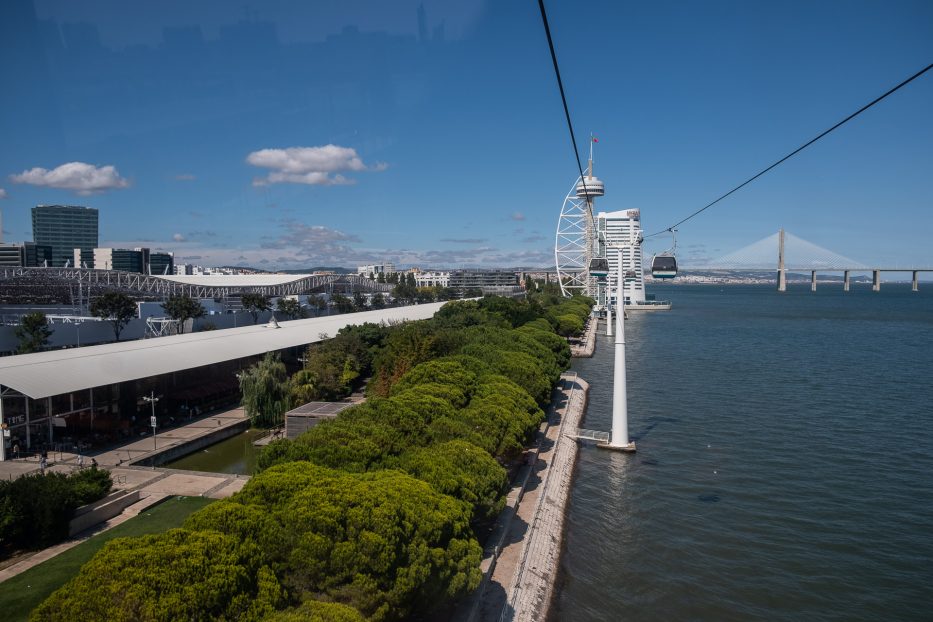 ---
Shopping in Lisbon
In the district of Bairro Alto you can find a variety of shops. My favourite would have to be the world's oldest bookstore still running: the Bertrand bookstore (Livraria Bertrand), which opened its doors for the first time in 1732.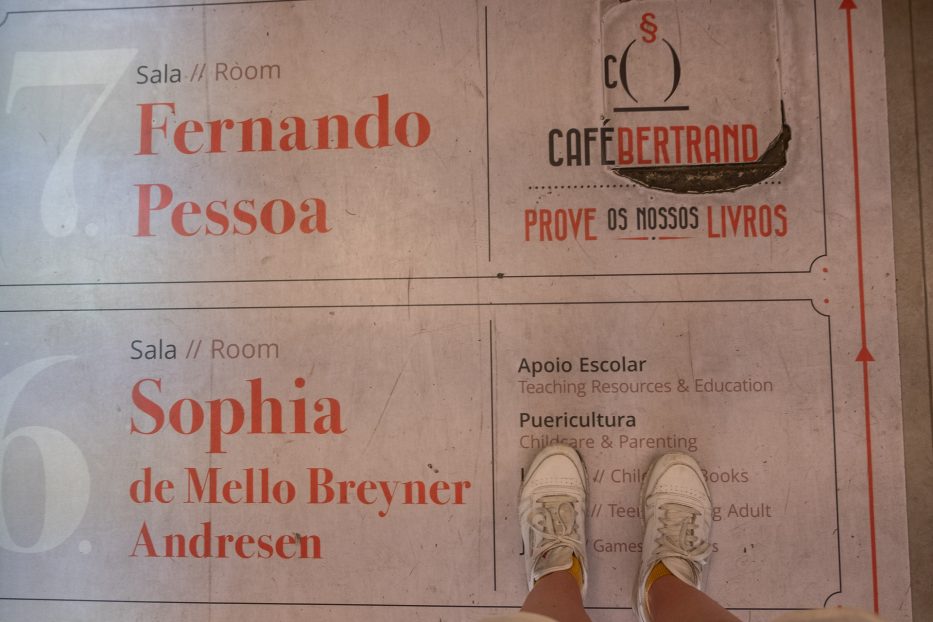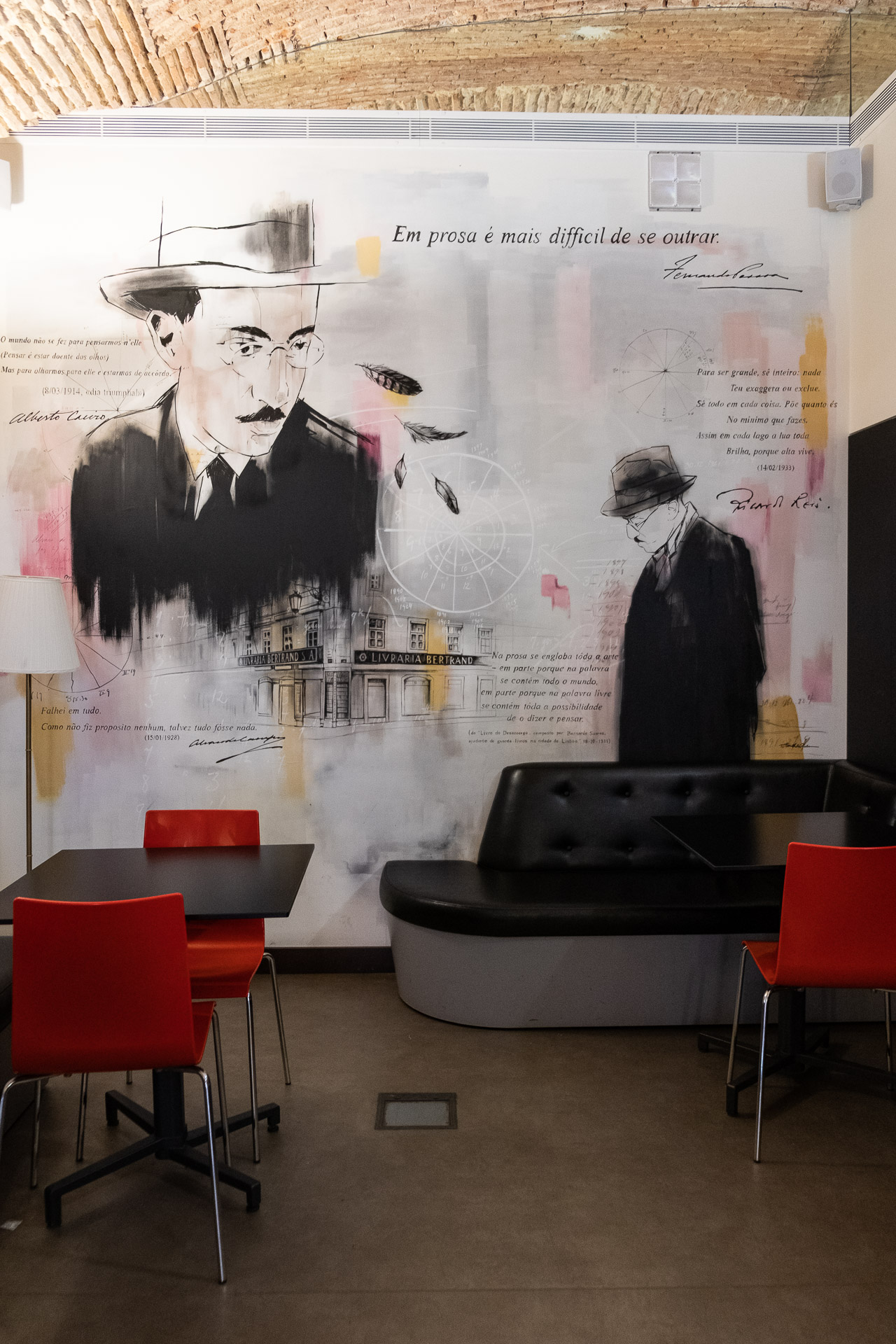 Lisbon also has several malls, such as the previously mentioned Centro Vasco da Gama, and The Colombo Mall (with more than 340 shops, which we went to visit on a rainy day).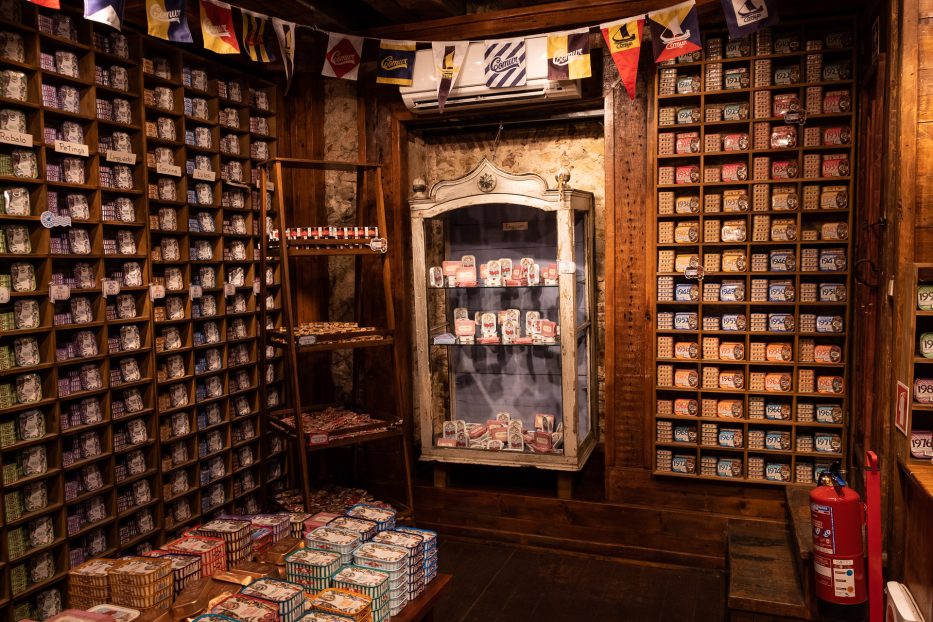 The main thing to buy as a souvenir in Lisbon clearly is canned sardines – they even have special shops entirely devoted to this. But also Portuguese tiles is popular, and if I had enough space in my bag I could have easily filled it with these gorgeous, colourful items.
Live fado music
Fado is a traditional music genre from the older areas of Lisbon. Fado is normally sung in a mournful tune and with sad lyrics, a way of telling a story, often about the sea or the hardship of the life of the poor. You can attend live fado music on restaurants in several parts of Lisbon, especially in the areas of Bairro Alto and Alfama.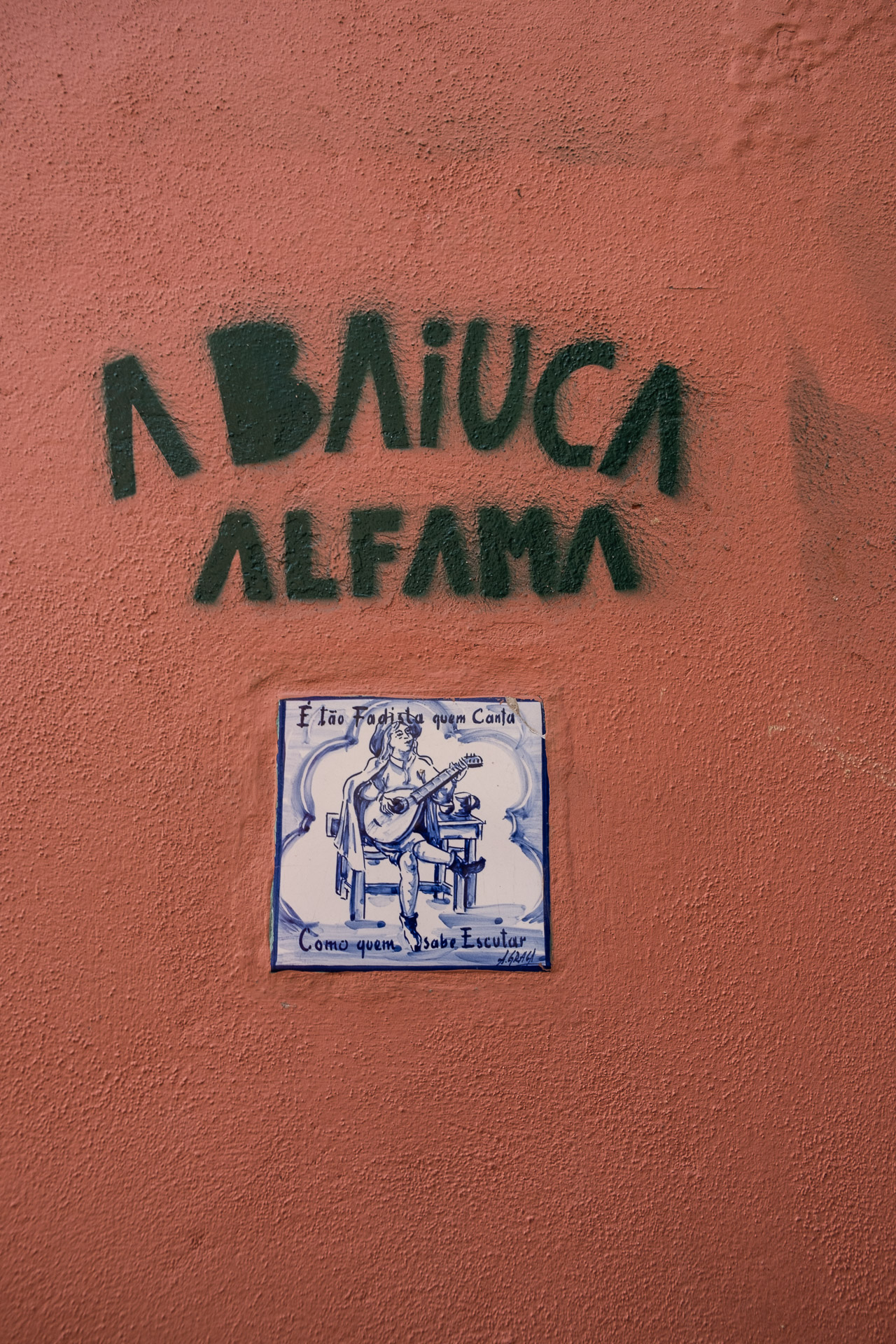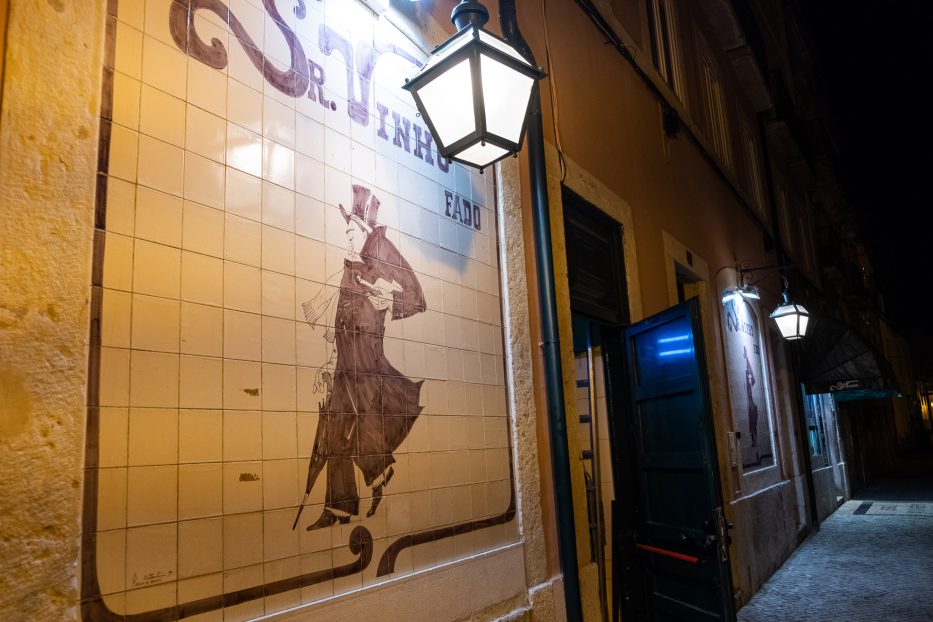 We visited the restaurant Sr. Vinho where we got to attend several great musicians perform, all while eating delicious food. The food was from a set menu, of which you had several options for each course. Book a table in advance, dress up nicely and show up hungry and ready for an experience.
---
Food in Lisbon
Lisbon, and Portugal in general, is known for its good kitchen. There is a huge variety of dishes which you can buy basically everywhere, but sardines, bacalhau and pastel de natas were by far the most popular ones from what I could see.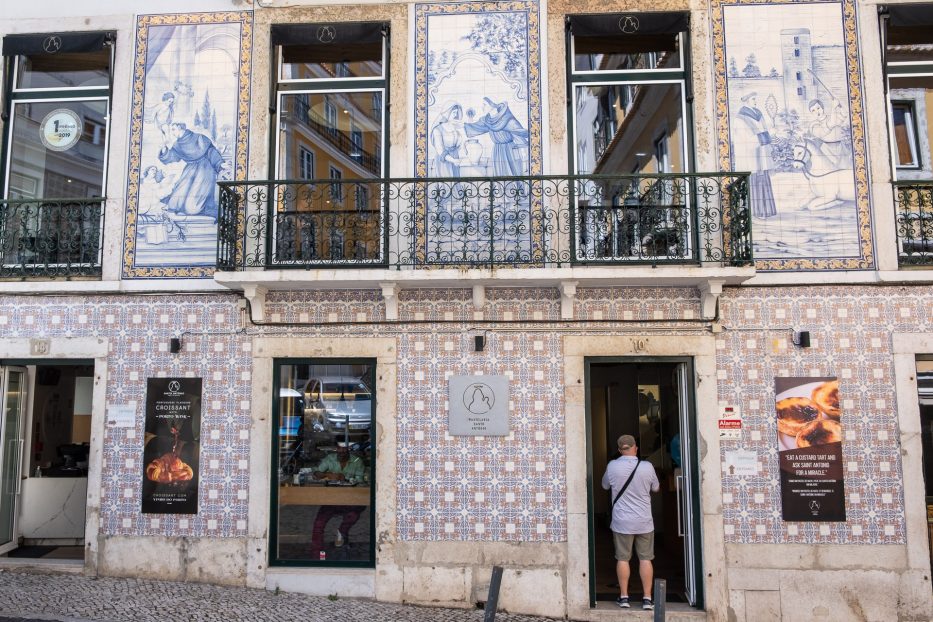 Pastel de nata
Pastel de nata is a Portuguese egg custard tart pastry, and is one of the most popular national dishes of Portugal. I was even able to find a gluten free version of this, at Zarzuela, which also had great gluten free baguettes (and other food for people with dietary requirements).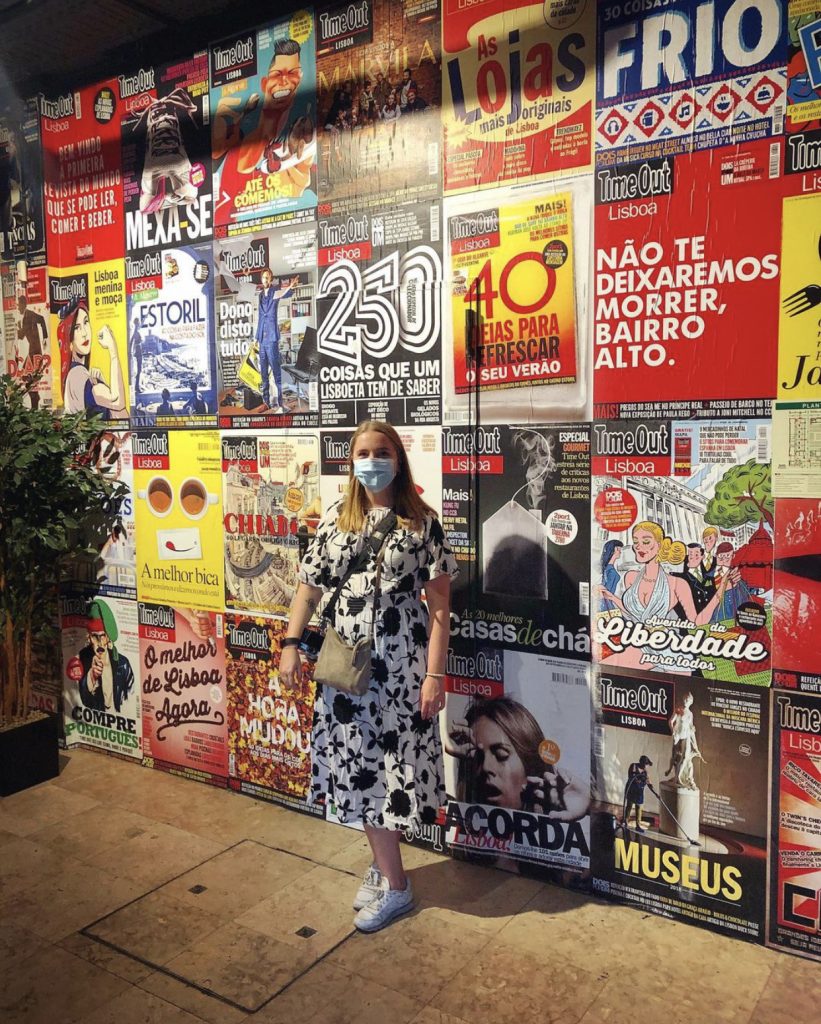 Time Out Market Lisboa is a huge food market located in the city centre of Lisbon. Here you can find 26 different restaurants and 8 bars, serving a large variety of food and beverages every day from 10am to 12pm.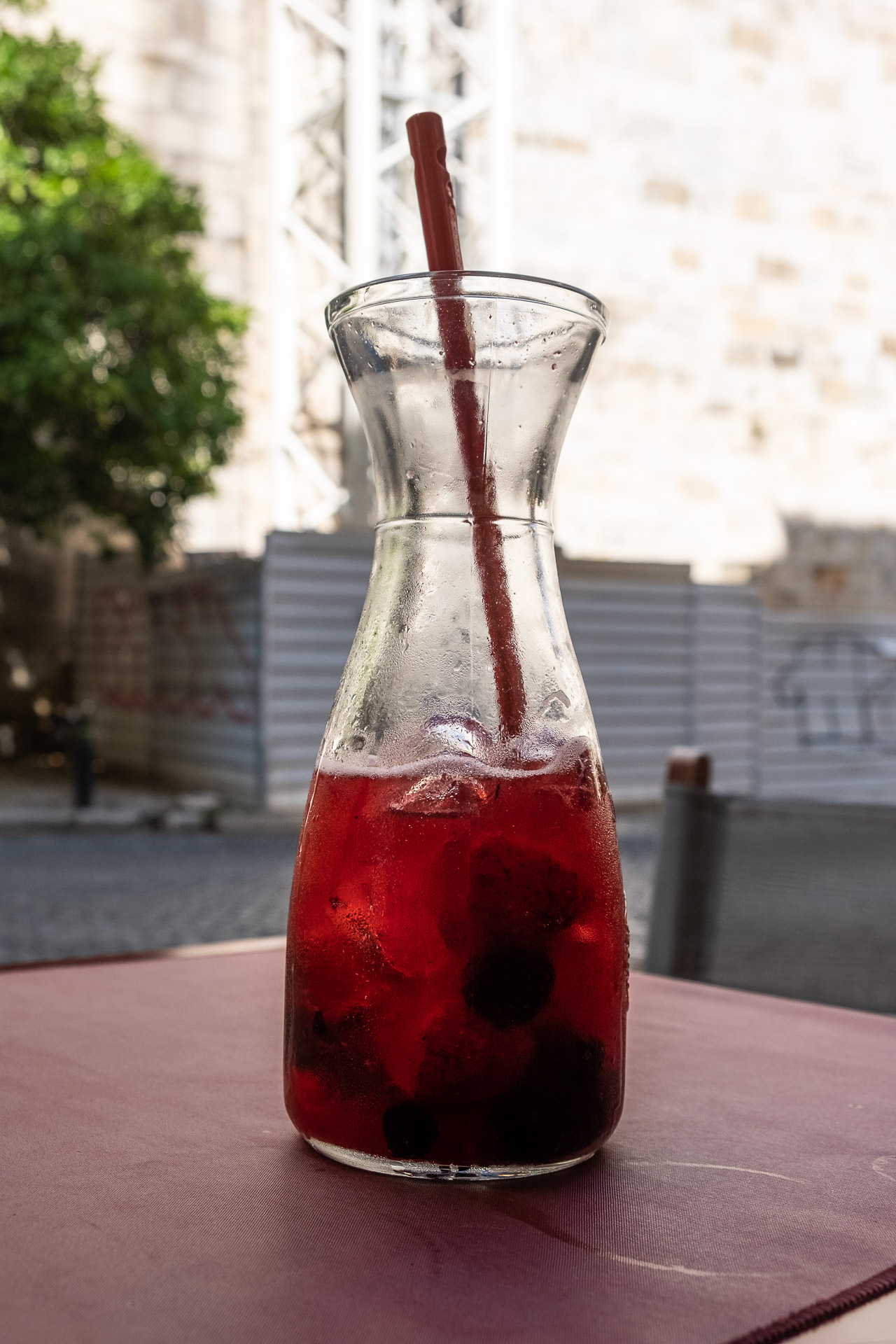 Restaurants
If you crave Japanese, Nómada serves absolutely delicious, fresh sushi (and other Japanese dishes, which are probably equally amazing).
And if you want absolutely amazing food, although the place itself is very low key, I have only great things to say about Food Network fusion restaurant. Large portions, friendly staff and very budget friendly – I am amazed this place was not packed with people, cause it should be.
---
Day trip: Sintra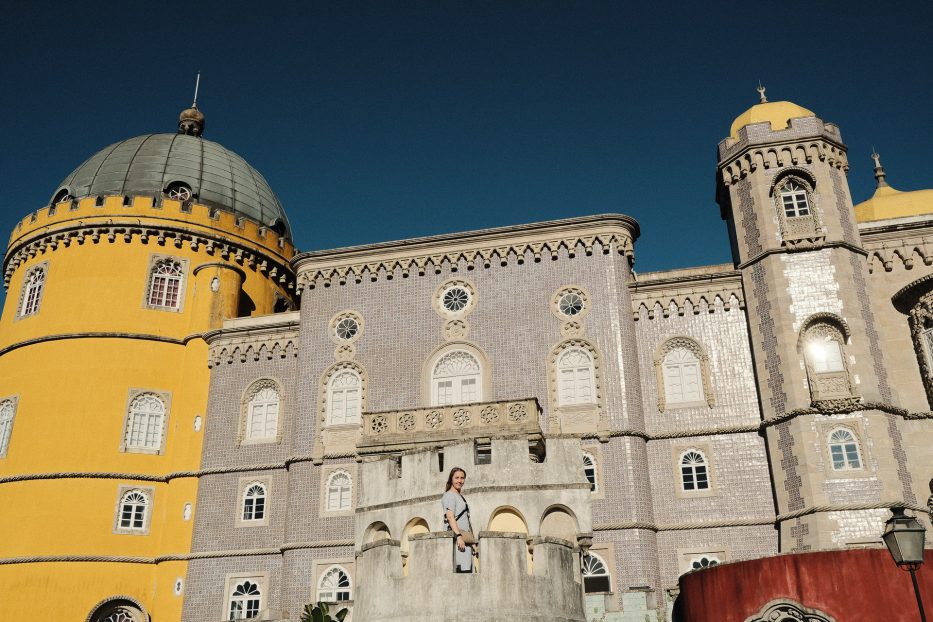 If you're in Lisbon and you find yourself with a day extra, you simply have to visit Sintra. Sintra is a rather small, yet amazing, city located about 40 minutes outside of Lisbon by train. With its castles, medieval looking walls and other amazing sights, this is one of the coolest places I have visited. Read more about Sintra in my guide here.
---
Day trip: Cascais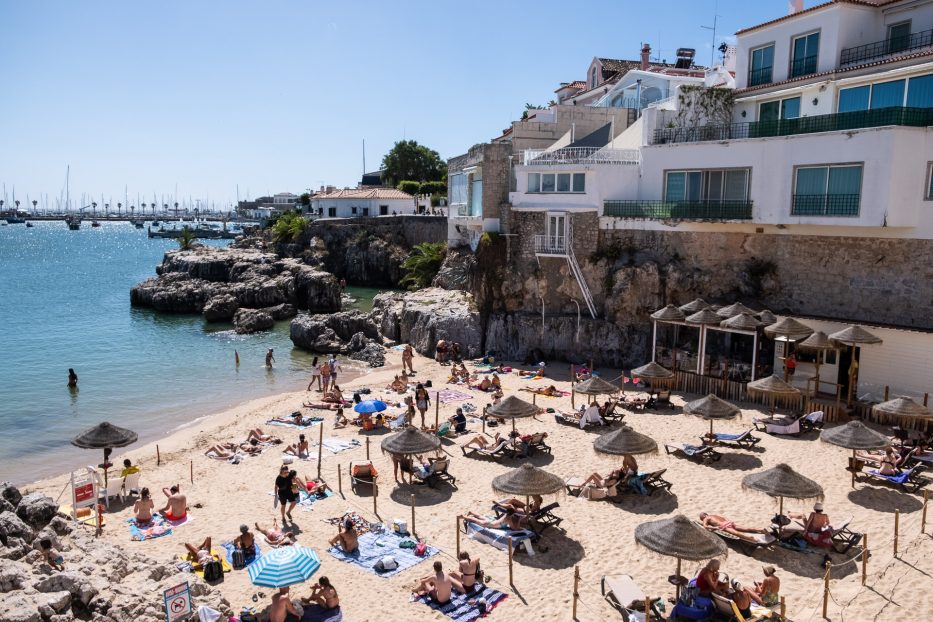 About an hour outside of Lisbon you find the charming city of Cascais, a lovely, laidback beach city. Escape the heat and business of the big city here, enjoy some super fresh seafood, and people watch. Read more about Cascais and what to do on my blog post here.
---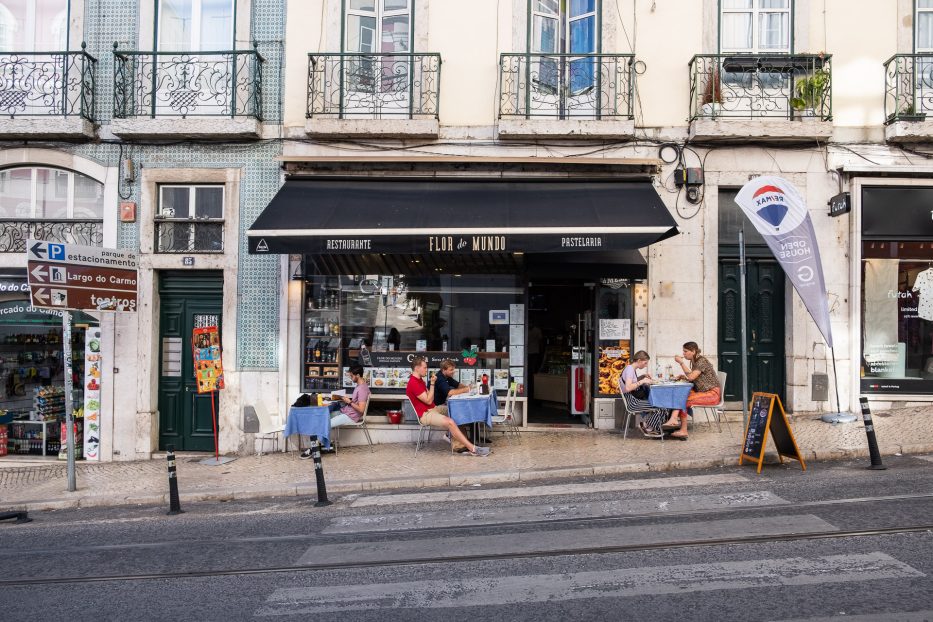 Have you been to Lisbon? Do you have any recommendations? Please leave them in a comment!
---