Deep inside the forest of Bø in Telemark lies a place where you'll get the best of both worlds: a near nature-experience, but without the hassle of carrying all your camping gear, putting up your own tent or sleeping on a hard mattress on the floor. I'm talking about a place you can try glamping, glamorous camping. Thomas and I got to spend a weekend at Breiva Gjestegaard and glamping, and this was our first meeting with glamping in Norway.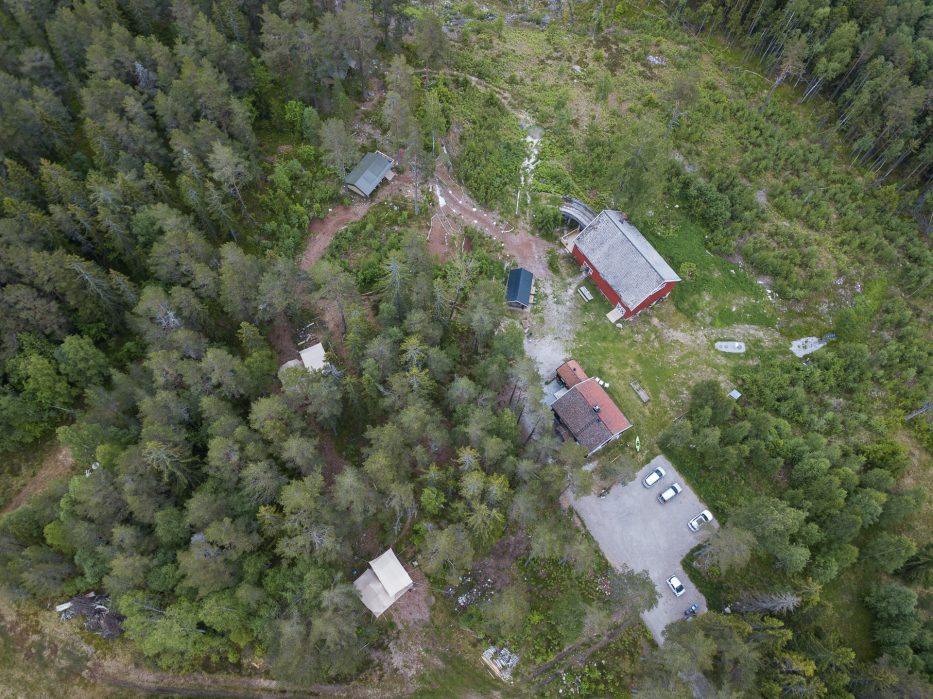 Oslo is boiling, with the air dead still, and the temperature slowly creeping up towards 30 degrees. It's a Friday afternoon, and we're stuck in traffic. From Oslo to Drammen, a distance which normally takes about 40 minutes, we spend 2 hours(!) It seems like everyone is leaving Oslo for the weekend, trying to escape the heat.
Arriving at Breiva Gjestegaard and glamping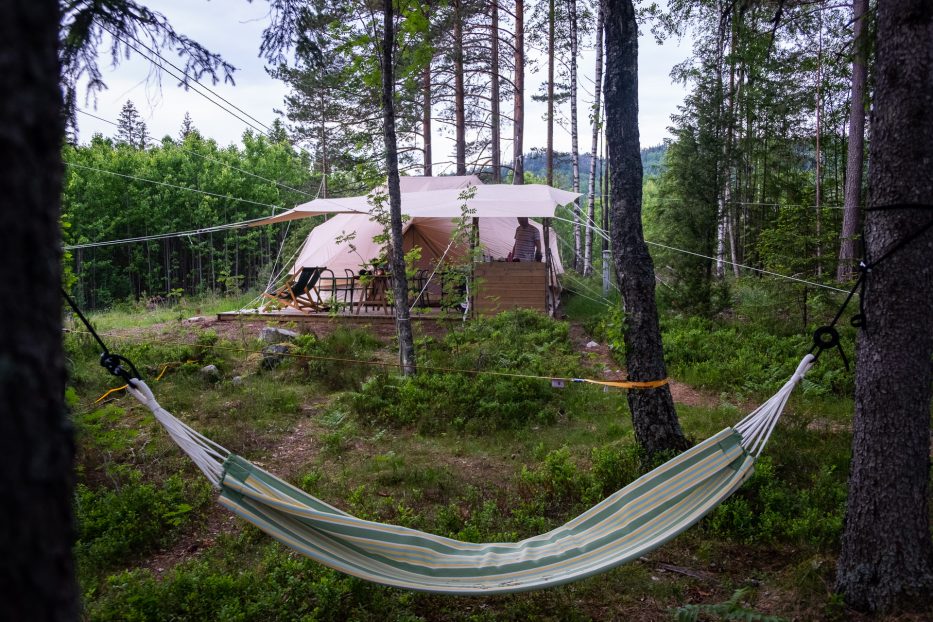 Google Maps have told me it should take us just over 2 hours from home to Breiva Gjestegaard and glamping, a truth with severe modifications on a busy Friday. We end up spending 3,5 hours. Finally, at 8.30pm we arrive at the campsite, where our lovely, Danish host Katrine runs toward us with a big grin on her face. "Welcome to Breiva" she shouts, and we grin back, both so relieved to finally leave the car. Katrine, and her husband Jon run Breiva together.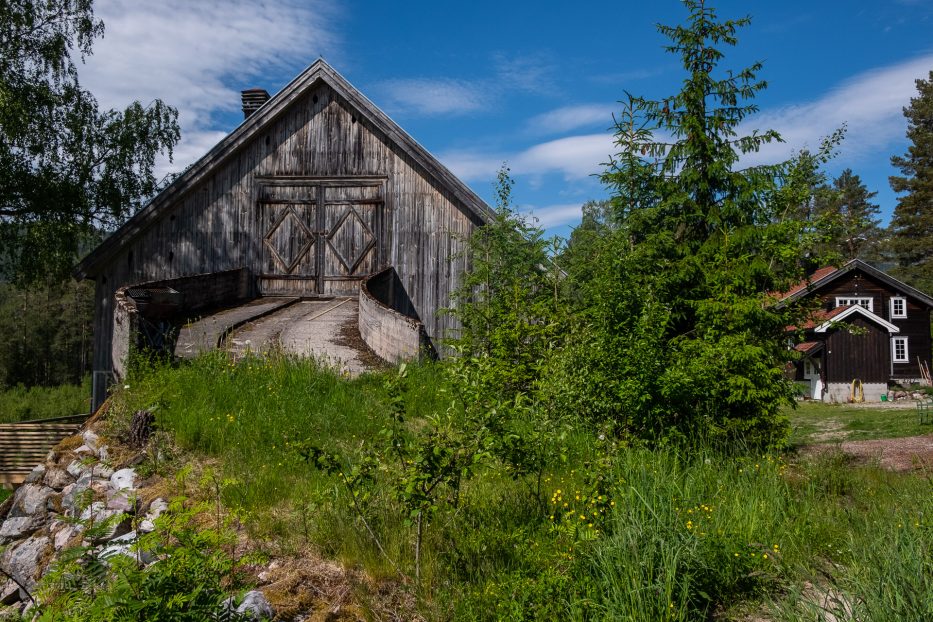 After a quick tour of the place: the old barn built to house several bathrooms, a large, well equipped kitchen for everyone and a playroom, an outdoor area for breakfast, and a large outdoor area with seating groups, we're heading for our tent. What a glorious feeling, to arrive at your tent all ready, with beds made and all.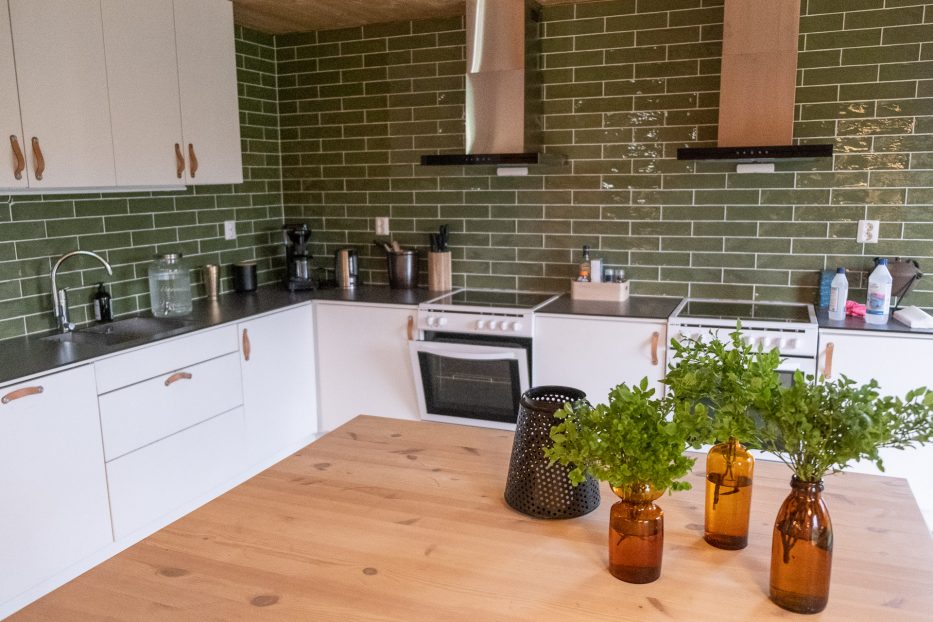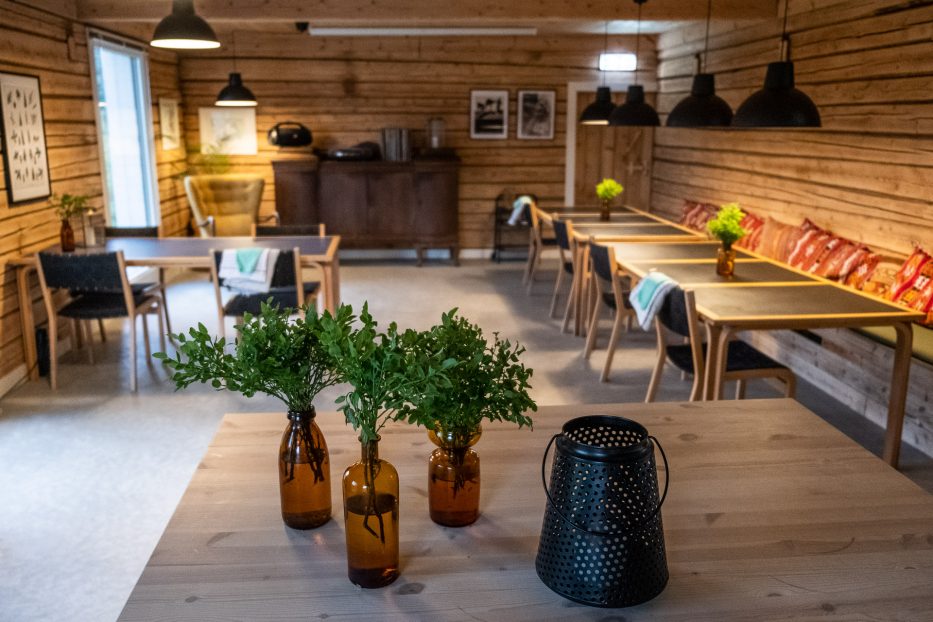 Our tent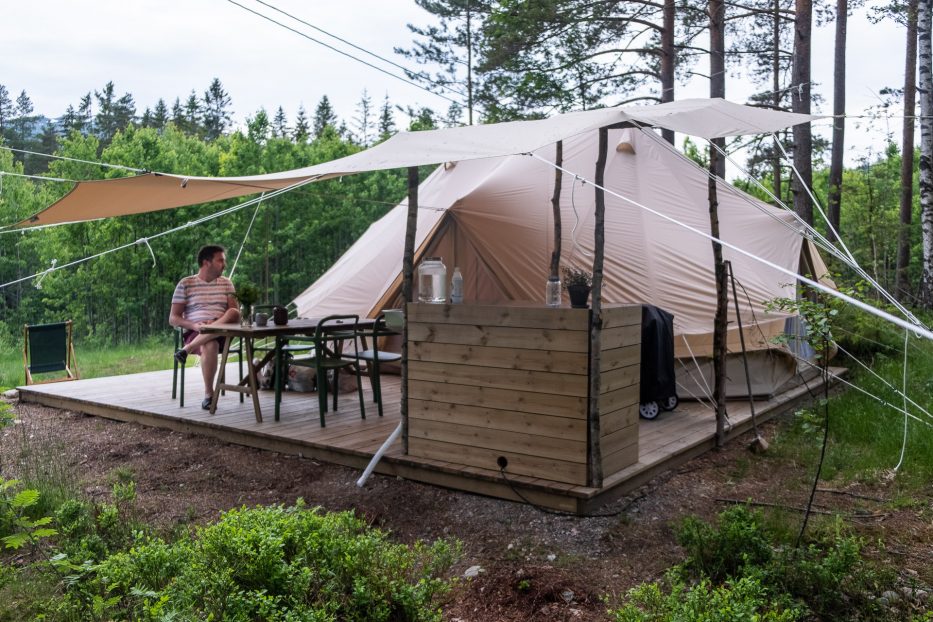 Our tent is huge, and originally built for camping out in the desert, Katrine tells us, showing the tents several air ducts. "No wonder I thought this looked a bit familiar", I think to myself, thinking back of the time we slept in the Sahara desert in Morocco.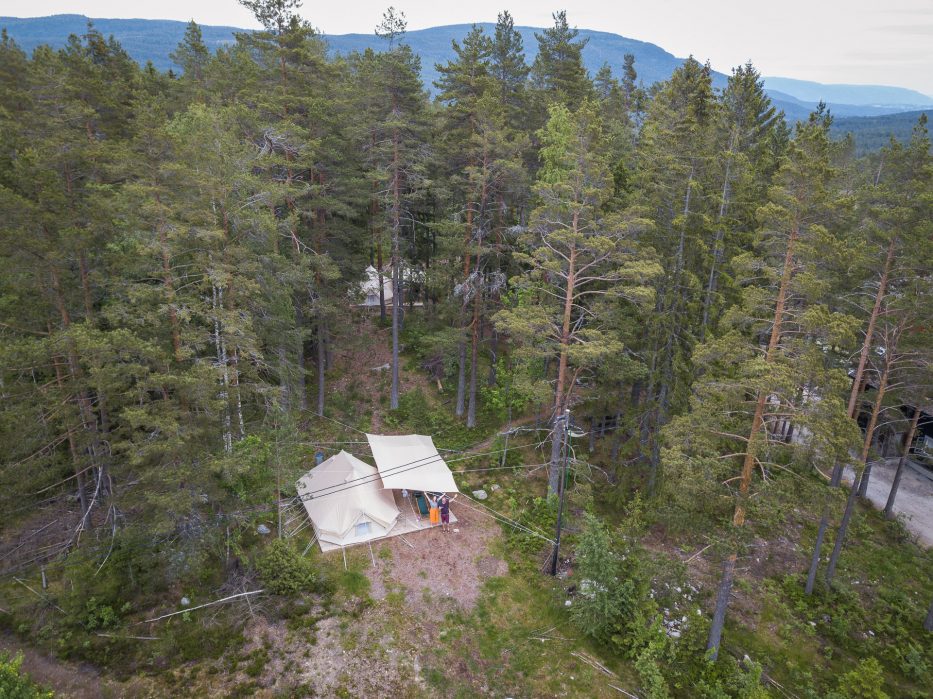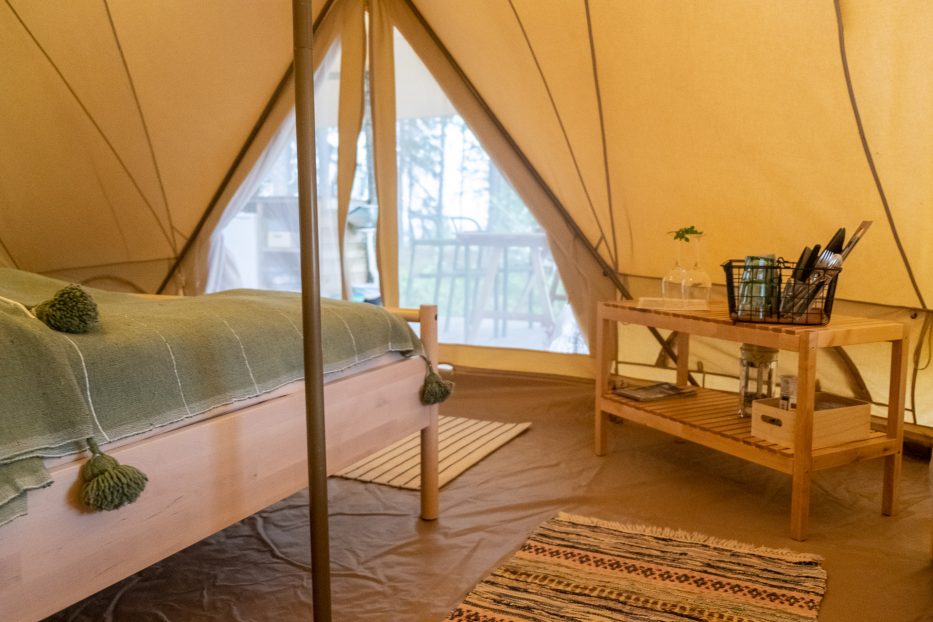 In the middle of the tent a huge double bed is placed, with a smaller bed on one side, and a seating group on the other, meaning you'll have a place to hang out if it rains. A heater stands ready, in case the nights get cold. In other words, you'll be able to enjoy your stay even if the weather Gods might not be on your side. Although you're still technically living in a tent while glamping, it's definitely more spacious and glamorous than your average camping experience.
The interior at Breiva is elegant, with a mixture of old and new, and quite a few details from Morocco. This leaves an original and exciting personal feeling to the tent. Just outside the tent, under a cover, a personal "kitchen space" is awaiting us. A bench with enough room for preparing dinner, an electrical BBQ and a small fridge makes sure we can whip out a late night dinner.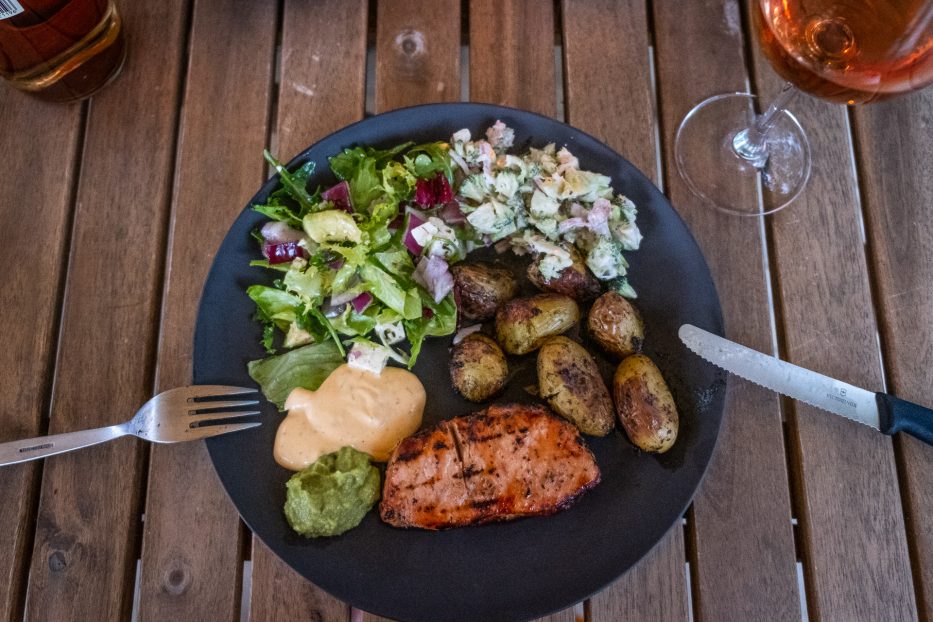 We crack open a bottle of wine, and dine outside, the night warm and bright. As the night slowly grows darker, several LED-lights come on around in the area, making sure you'll be able to maneuver to the bathroom and back, as well as giving a nice atmosphere.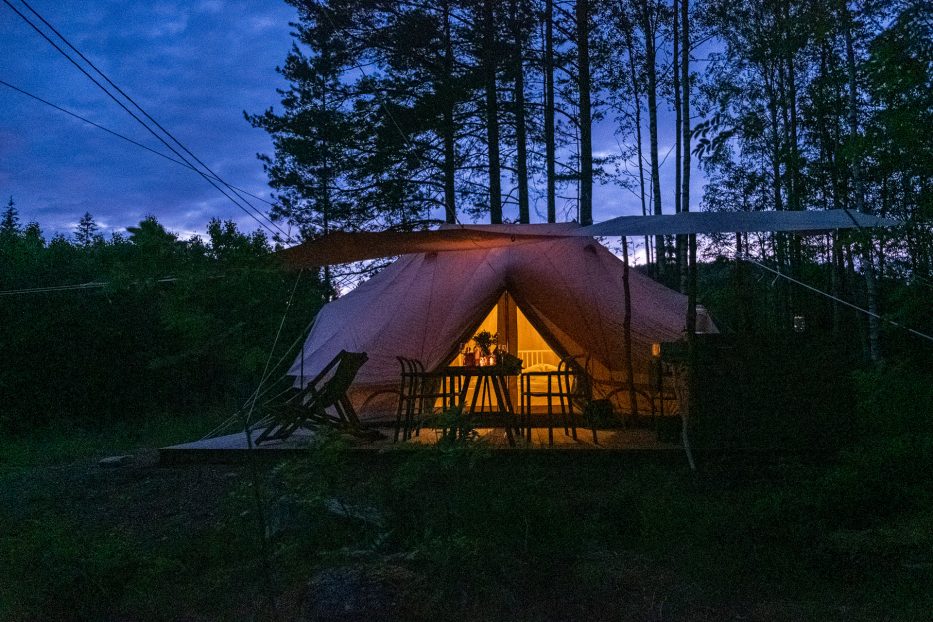 With our bellies full, and shoulders low after listening to the sound of the wind between the trees, just disturbed by the occasional bell from one of the sheeps lurking somewhere not too far away, we crawl into bed.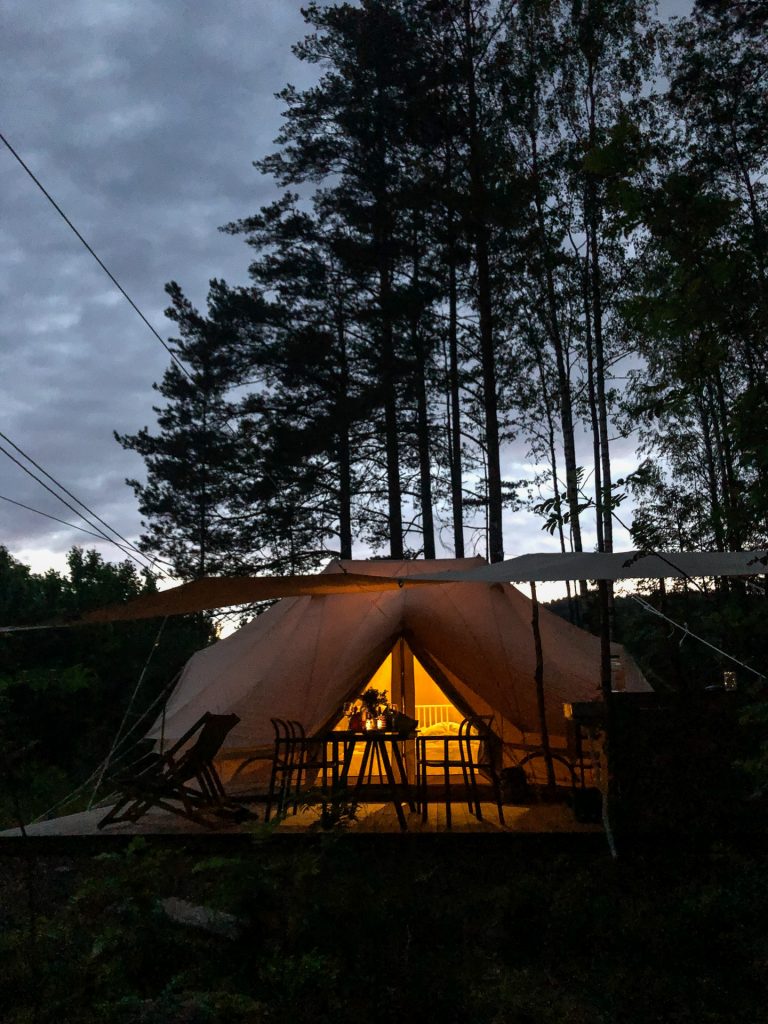 Even I, who struggle to sleep outdoors, especially if it's too bright, fall asleep, and wake up feeling refreshed in the morning. Thomas makes us coffee which we enjoy outside on our porch, before we head over to the barn for breakfast.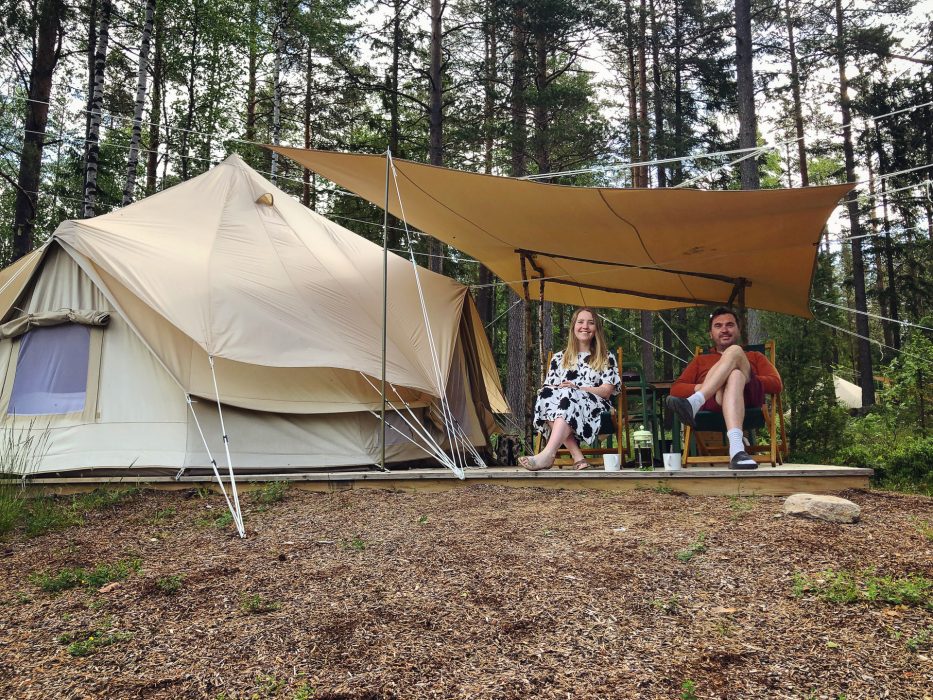 What to do in Bø in Telemark?
I ask Katrine, over my cup of freshly made coffee. She lights up. Bø might be a small place, but there's still several things to see and do here.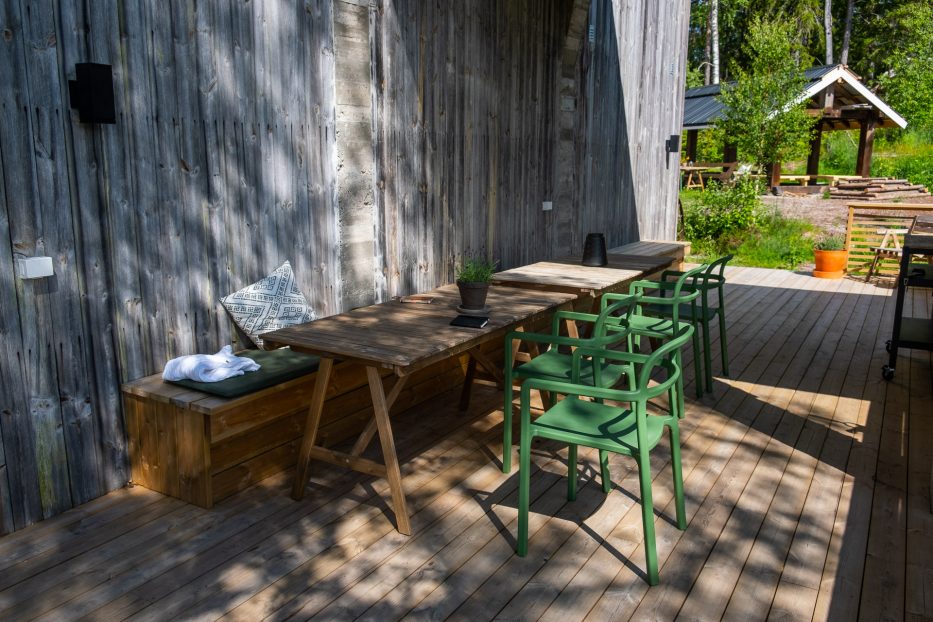 Breiva Gjestegaard is located idyllically in the middle of the forest – just far enough from the main road that you'll enjoy the sound of the wind between the trees while at the camp, yet close enough for several activities being close within reach.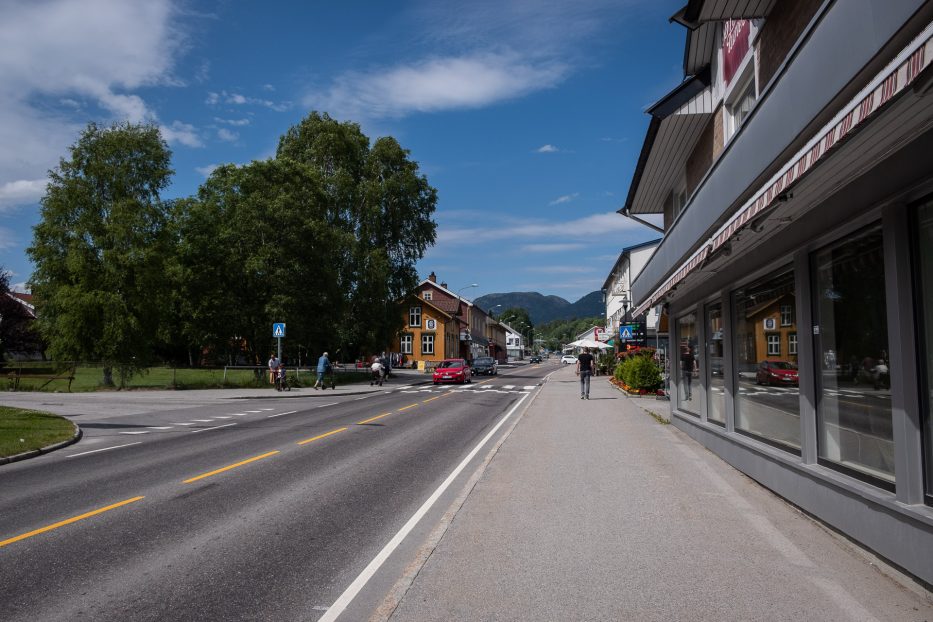 While you do have the options to visit some parks while in Bø, you definitely don't have to in order to find something to do. We start our day with driving to Bø downtown, find a parking spot, and soon find ourselves sipping iced coffees from Roxy kaffebar.
As we wander the streets (or, the main street, let's be honest, it's not that huge), we pop into both a vintage shop and a bookstore, before ending up at Husly kafé, where we indulge in ice cream. Here you can also buy locally produced items, although Thomas ends up buying just one super-spicy BBQ-sauce.
We'd been eyeing off going for a boat ride in the Telemark canal, which looked super picturesque, but that will have to be for another day. Another recommendation from Katrine was to go hiking in the mountains. As we love hiking, but don't really find ourselves near mountains that often (not a bad word about hiking in the forests of Oslo, though), we're excited to do so in the afternoon.
---
More things to do (which we did not have the time for this time around)
3 km away from Breiva lies Bø Sommarland, Scandinavia's largest water adventure land. While we visited it was still closed due to covid-19, but as summer approaches it's opening up on 4th of July. Here you'll find exciting things for the entire family – water slides even the bravest will enjoy, heated pools, a beach and several places for food and relaxing on land. The park also offers activities for the youngest travelers.
Within a short distance from Sommarland you'll find Høyt&Lavt Klatrepark. Here, most of us will find climbing adventures, whether you're traveling with kids, your company or just want to have an exciting day with friends. This place has already opened up for visitors.
Jettegrytene (the potholes) in Nissedal is within walking distance from Breiva. I've read about this natural phenomenon online, and am excited about the possibility of going swimming. However, due to the amount of water in Jettegrytene while we're there, swimming is forbidden. As a result, we decide to save this experience for another time.
---
Hiking at Lifjell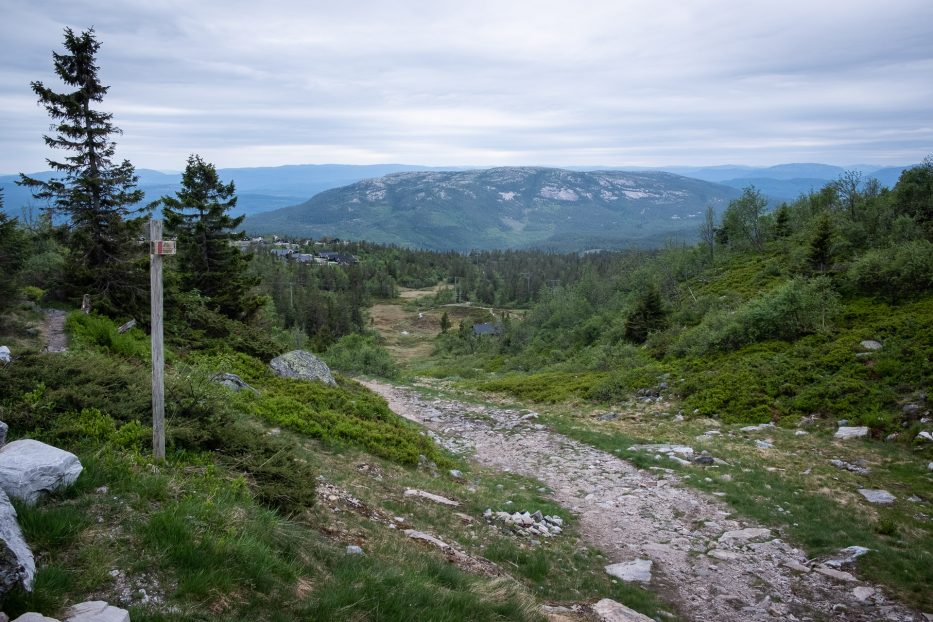 A short drive away, about 15 minutes, lies Lifjell. This is a great starting point for hikes, and as we park, we can see we're not the only ones with this idea. We park outside Lifjellstua, and start wandering. Within minutes, we can feel the first drops of rain. Rain?! It was not supposed to rain? We're only wearing shorts and t-shirts, so we postpone our hike and walk back to Lifjellstua. A wise decision, we both agree, as we watch the rain pour down outside while we have lunch.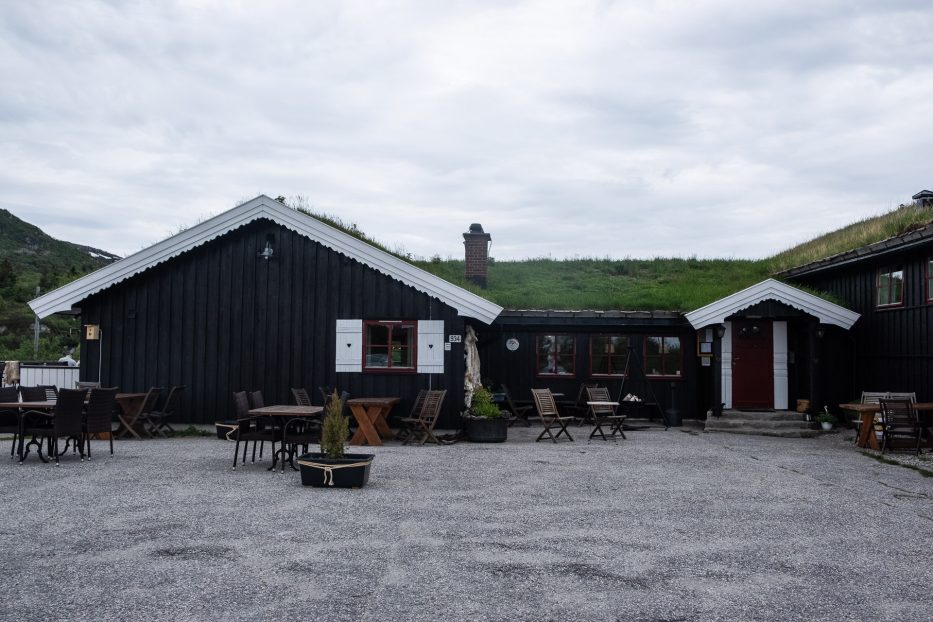 Luckily, the showers have ended by the time we're ready to leave. We get back on track, and start our hike. The path is marked, and not too steep, but you get to cross a swamp on wooden tracks, and enjoy several viewpoints.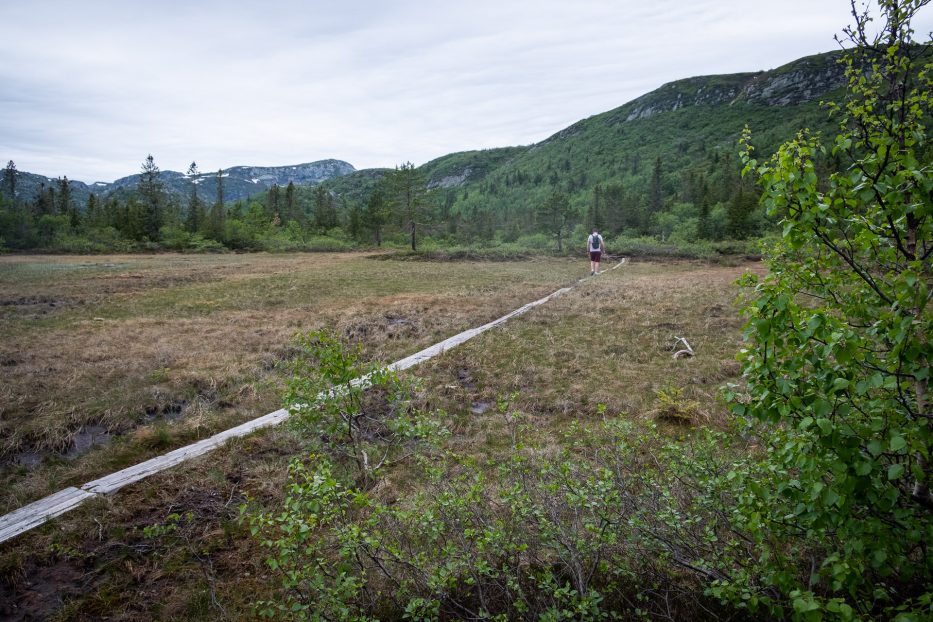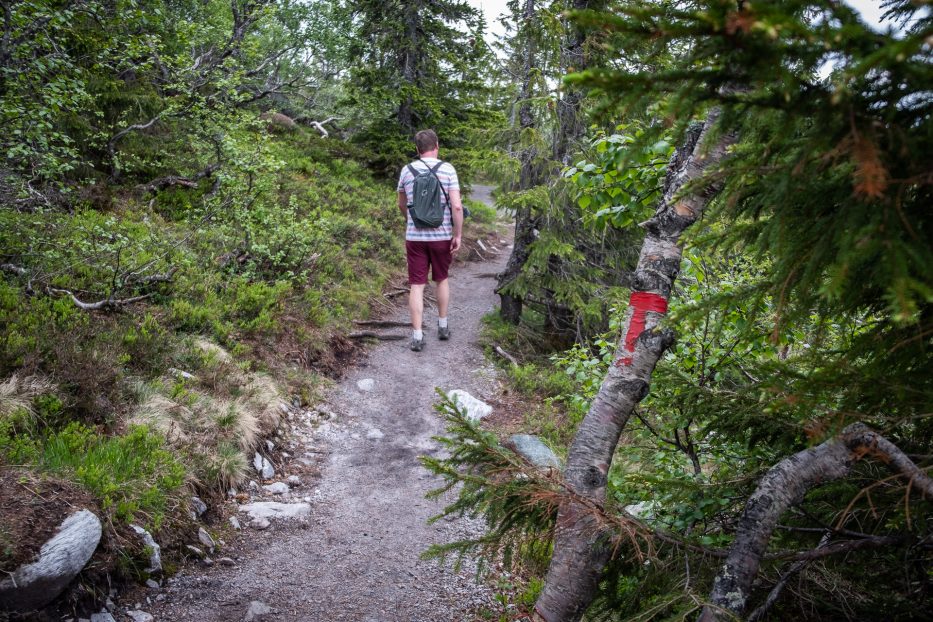 Our original plan was to conquer several of the smaller mountains in the area, but due to the weather we've lost precious time. This means we end up just walking up to Krintofjellet (925 metres above sea level), before we have to start walking back. The view, however, is amazing, and the rain has made the air fresh and nice. I'd love to go back and hike the other mountains nearby.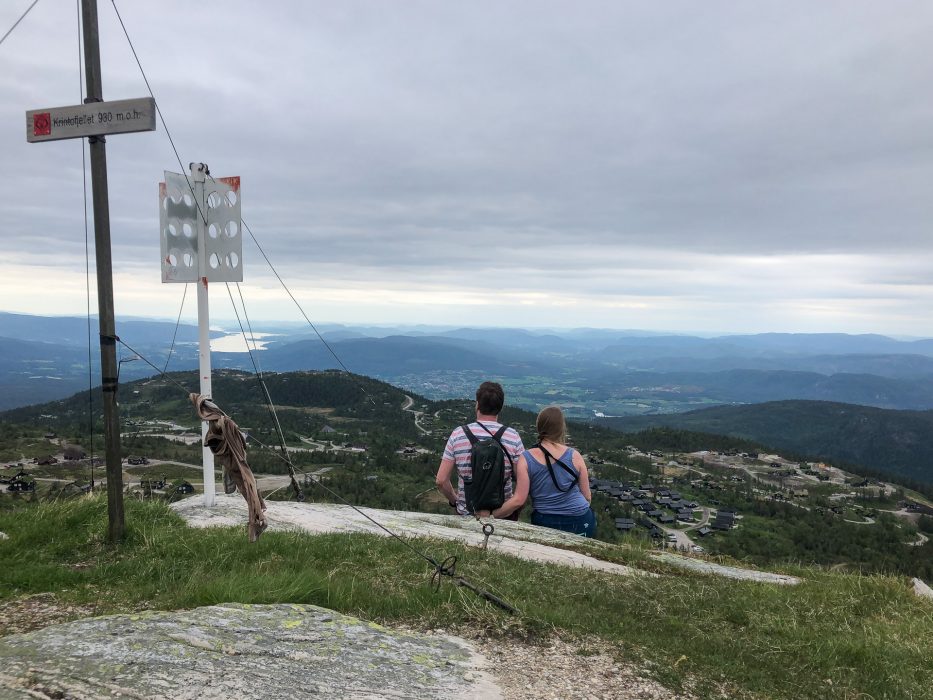 Hygge around the fireplace
We have time for a quick shower, before we meet up with Katrine, her two daughters, and the other visitors of Breiva for the night. It's Saturday night, and we've been promised we'll make popcorn over the outdoor fireplace. No wonder we were in such a hurry to get back!
The outdoor area turns out to be a perfect spot to relax, and make new friends. The other guests, a couple and their young son from Spain, only recently relocated to Norway, and this is their first camping experience in Norway. "This glamping experience might ruin the future experiences of a lousy mattress inside a small tent" they say, and we all laugh. Glamping for sure has something to it!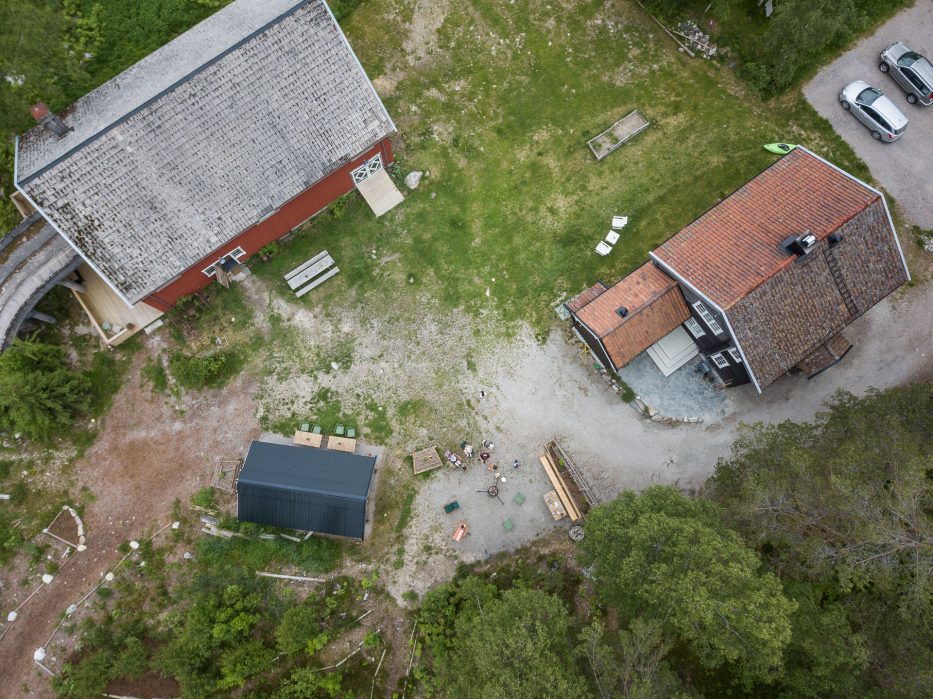 The kids run around freely, no worries at all on their minds. And no worries fills the minds of the adults either. With a lot of open space, and a long distance to the main road, explorations can be done by the youngsters here without mum and dad having to follow. We lean back, eat some more popcorn and smile as we hear the kids laugh.
---
About this post
This post is written after a sponsored stay at Breiva Gjestegaard and glamping and glamping, but with no direction of what to write after. All things written are of course entirely based on my own experiences and my own honest review.
Drone footage both in stills and used in the film is made by Thomas Marthinsen. Thank you!
---