Fez in Morocco – a relaxing Medina, amazing thai food (you know, if you want to change up from that daily tagine) and a tannery with a distinctive smell. Make sure you check out Fez on your next adventure in Morocco!
Back in the day, Fez was one of the most important cities in Morocco. It was even Morocco's capital at one point (though which city was the capital would change between different cities) until 1912, when Rabat was chosen as the new capital by the French. Today Fez is Morocco's 2nd most populated city with more than 1,4 million inhabitants. It's an important craft- and trade center, and it's tanneries is one of the most famous sights.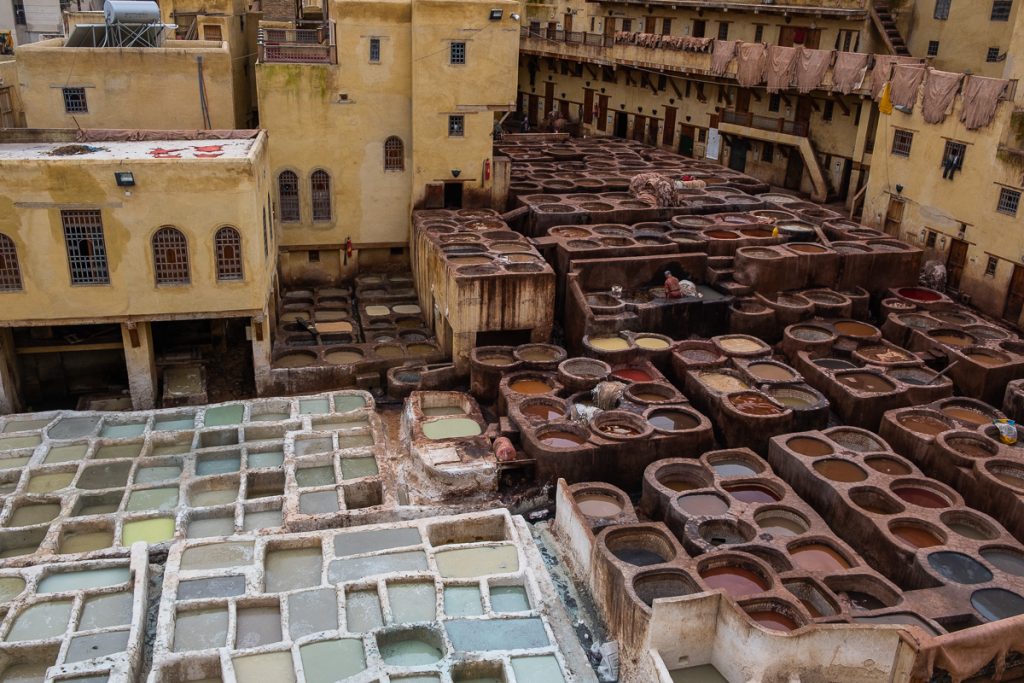 We arrived in Fez just before sunset, after about 8 hours straight on the road, crammed into a "grand taxi", taking us all the way from Merzouga. Besides the driver, Thomas and myself there was 5 other people in the car. The driver was not particularly keen on stopping except the planned stops, all which coincidentally happened at cafés which he knew the owners.

At one point someone asked if we could have a quick toilet break at the next possible place. The driver sighed loudly, then hit the breaks as we rounded a corner, then stopped at the side of the road. There was neither no houses, nor any toilets anywhere to be seen. "This is toilet!" he said, and pointed over to the forest next to the road. OK.

All 7 of us in the car had paid the driver extra so that he would drive us to our hostels. However, as we arrived at the first stop in Fez, the driver asked us all to leave the car, and get our luggage. A quick glance at the map told us we were far, far away from our night of the day. At this point there was a Dutch couple, Thomas and me left in the car. We quickly formed an alliance, and refused to leave the car. "We've paid you extra – now take us to our hotels!"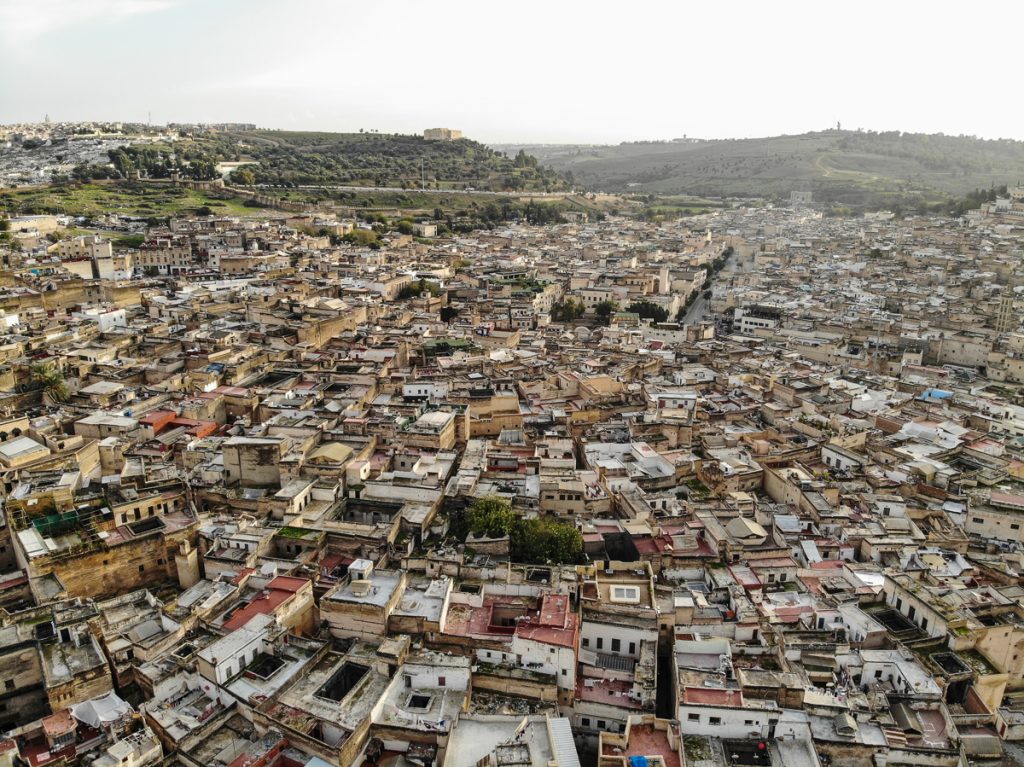 The driver still refused to drive any further, and stood outside the car, causing a scene that was starting to attract curious bystanders. If we'd been less tired from the long drive, or not already fed up with paying people money just to have them try tricking us again, I guess we'd just taken our stuff and left. Thomas, however, was adamant. He called up the guide we'd booked our trip with, and after a lot of loud yelling on the phone in Moroccan, the driver caved in, and finally drove us.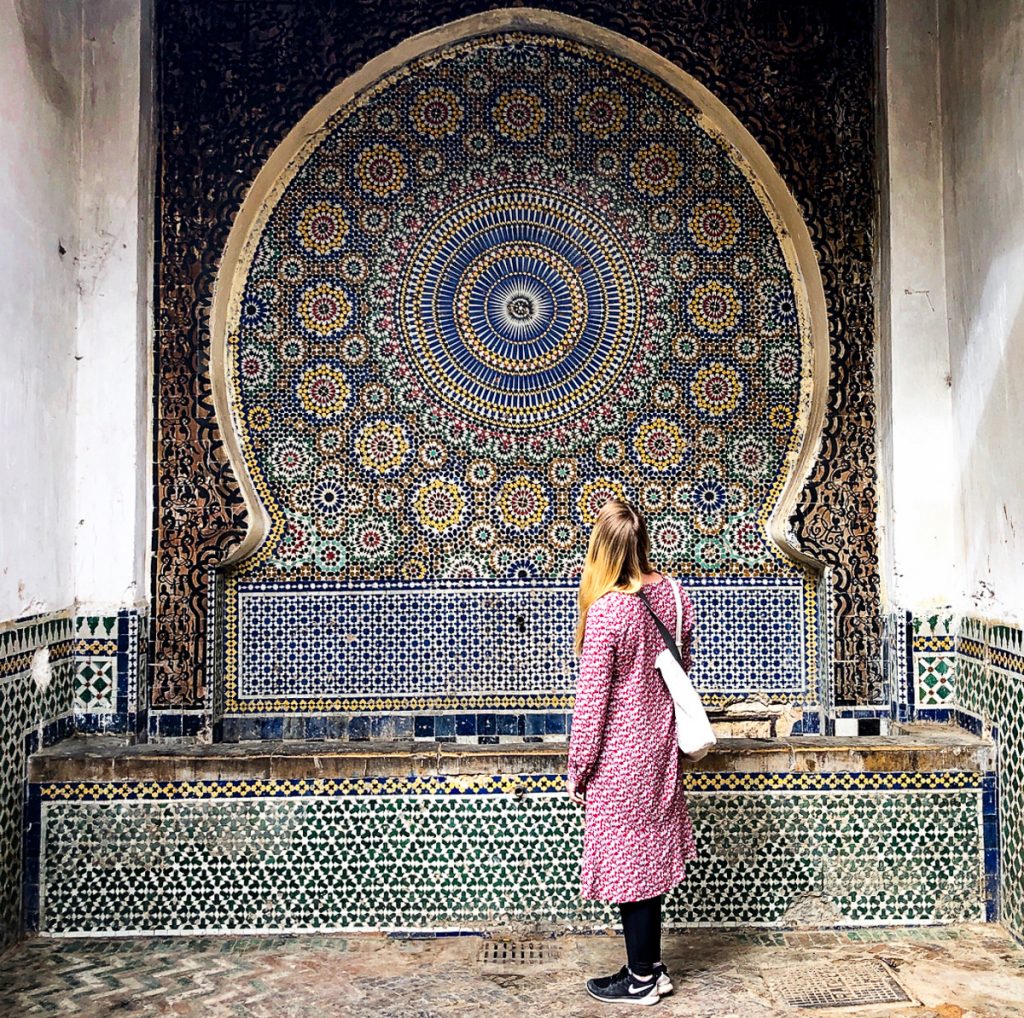 (Moral of the story: Stand your ground! After all, you already paid! Oh, and also, always, ALWAYS agree on a set price before getting into a taxi in Morocco! I'd also never ever do this had it only been me and the driver in the car – having a travel companion who's about 2 metres tall and male sure has some perks!)

Exhausted, but glad to finally be out of the car, we grabbed some quick food from a snack bar just near our riad, then tumbled into our bed at Riad El Bacha.

Fez Medina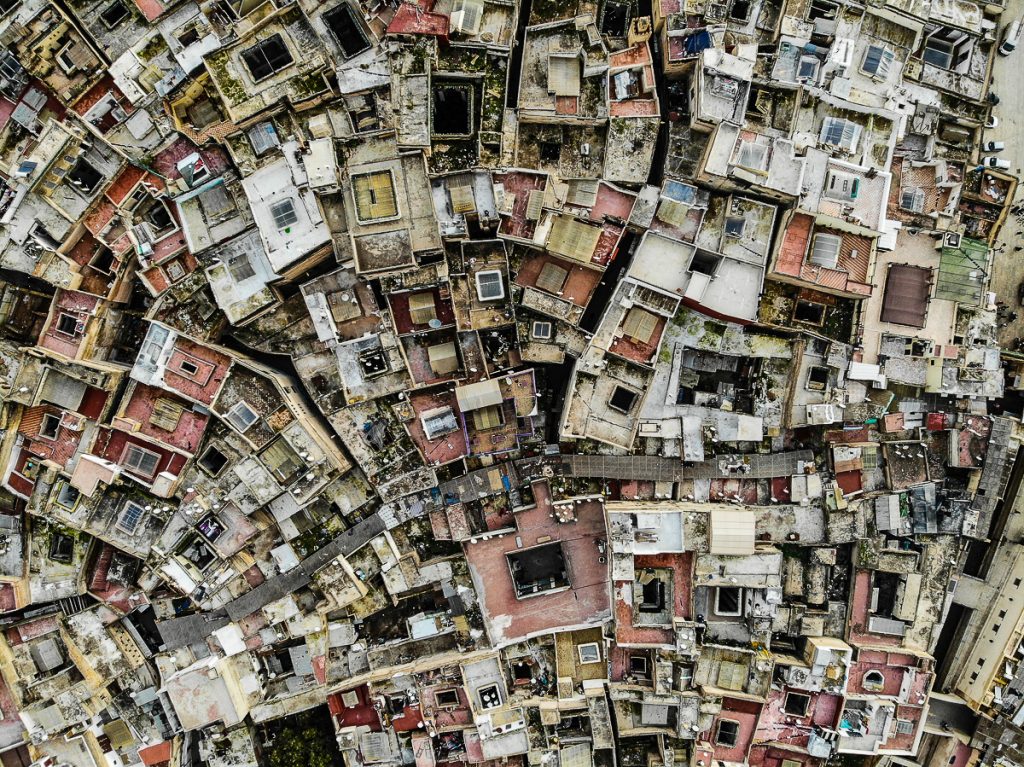 Our riad was located close to the Fez Medina, with a rooftop balcony which we had our breakfast. From here we could see mosques, some of the city – and an incredible amount of dish antennas. The medina of Fez is old, founded all the way back in the 9th century, and it's listed on the UNESCO World Heritage List.

The vibe in the medina is busy, as it's filled with shops, mosques and open markets, yet compared to the medina in Marrakech, it has a more relaxed vibe. You might notice the lack of cars in the Fez medina. This is making it the largest medina in the world that's free from cars. This, however, does not mean you can wander around aimlessly without paying attention – loads of donkeys are used to this day to transport food and the different items to the shops.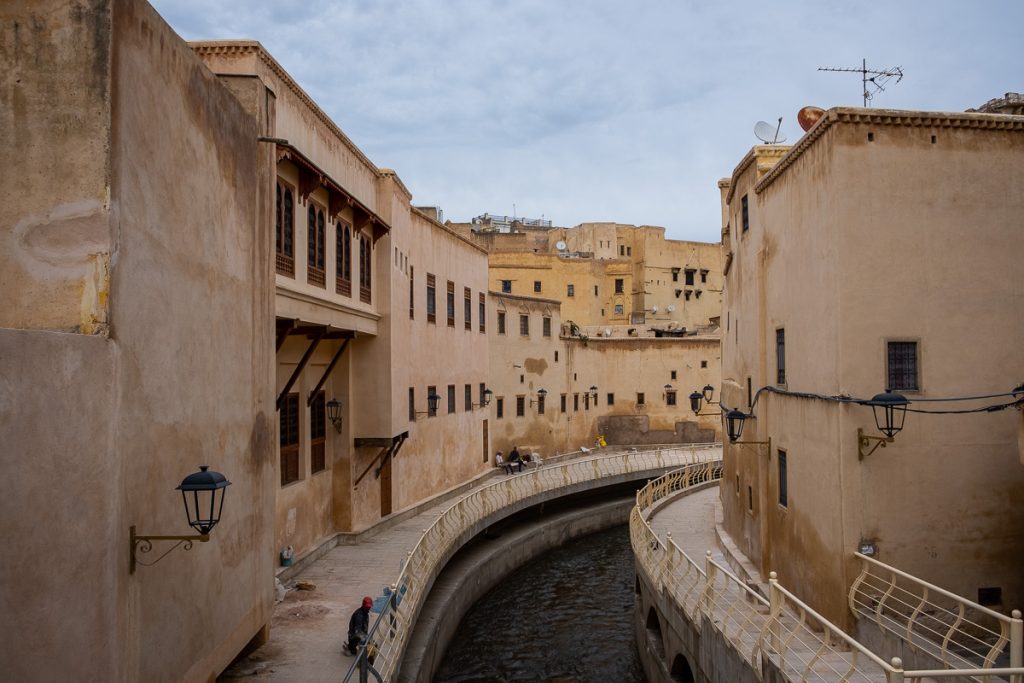 Another thing you'll discover quickly as you're maneuvering around in the maze that makes up Fez medina, is the amount of beautiful street art and traditional Moroccan tiles. These can be found on walls, fountains, in stairs, basically everywhere, and if you'd like to bring some tiles with you back home, you definitely can. Tiles can be bought just about everywhere in the medina (I'd love some myself!)

The Chaouwara Tannery in Fez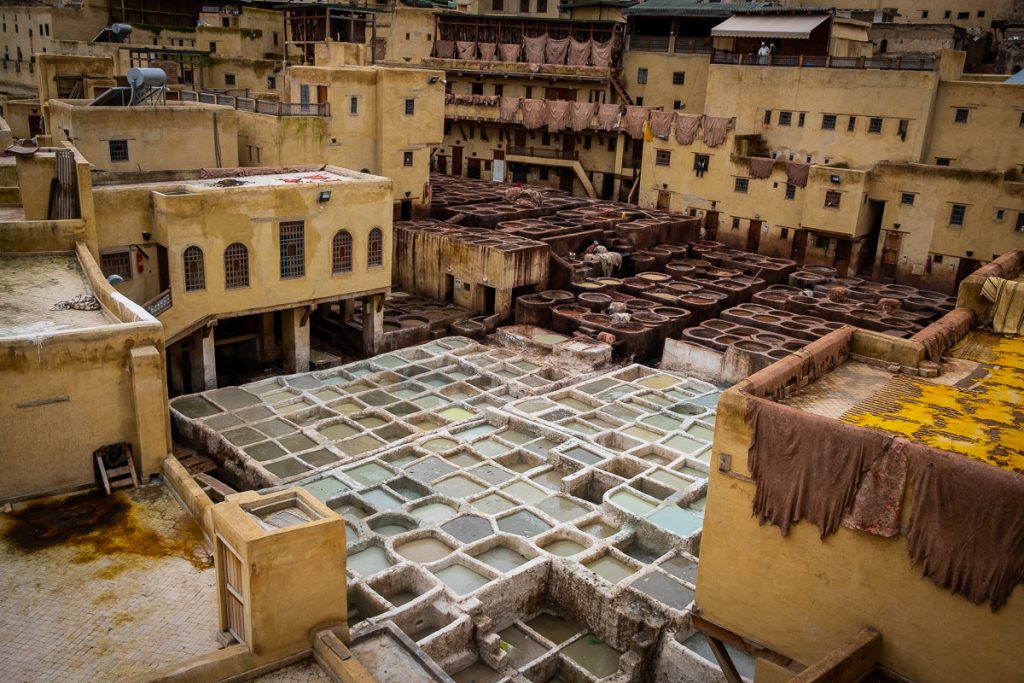 There's three different tanneries still operating in Fez, with the Chaouwara tannery being the most iconic. All tanneries still uses natural processes in order to make some of the best leather in the world. These old processes involves leather, natural colour dye and elements such as pigeon excrements(!), leaving a rather strong smell to not only the tannery itself but also the surrounding area. This means finding a tannery should not be too big of a task – just follow the smell!

In order to see the tannery, you'll have to visit one of the many leather shops surrounding the tannery, which all has access to viewing tanneries. Here you'll meet friendly staff who will offer you both a nice view and some mint leaves to hold in front of your nose to help with the smell. They'll also be more than happy to tell you all about the processes of crafting different types of leather into exclusive items. However, you should expect to either pay a small fee for their time, or buying something from them.

Getting to and from Fez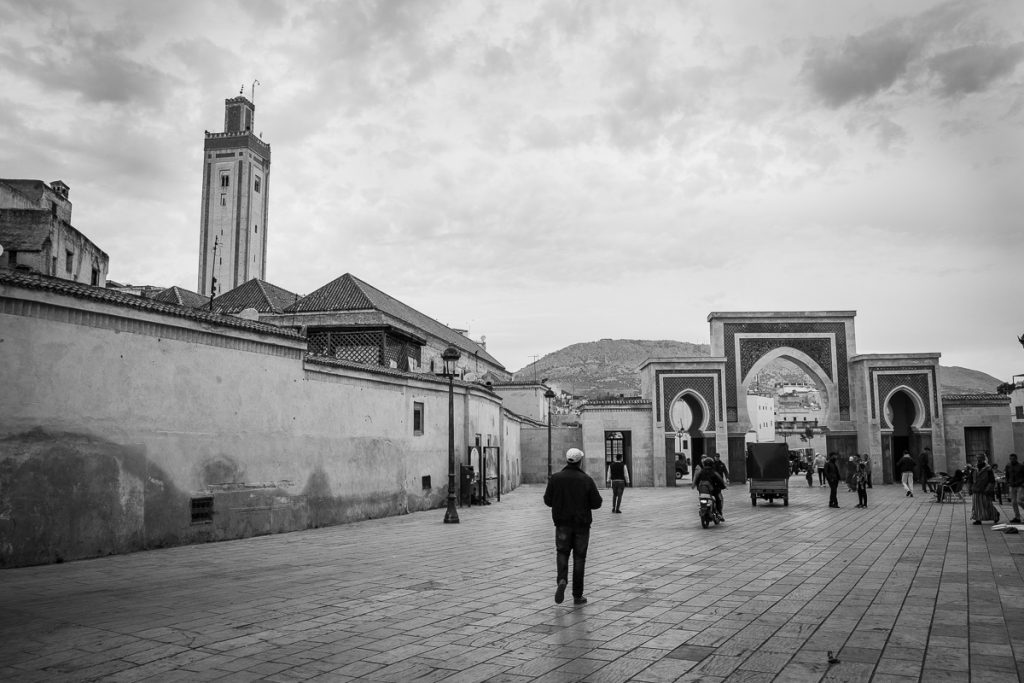 As mentioned, there's no car inside the medina of Fez. Outside, however, there's taxis, a train station with loads of trains going to Meknés, Casablanca or Tangier, or the other way to Oujda. There's also loads of buses available, and both from Fez, Meknés and Tangier it's easy to arrange day trips (or longer) to Chefchaouen, the blue city in the mountains.

Food and drink

After eating nothing but bread (Thomas), gluten-free crispbread from my backpack and tagines for the last 4 days, even just the thought of having another tagine felt overwhelming. Thomas looked at me, and raised his eyebrows. "What would you feel about … thai food?!" I laughed! I always feel a bit silly when I travel somewhere, and then go for cuisine from a completely different part of the world. However, the thought of thai spices did indeed make my mouth water.
Shortly after we found ourselves at Maison Moi Anan, a thai restaurant located in Fez Jedid, or the new town. We were incredibly lucky, as we got the last available table. I don't even have words for how delicious the thai food at Maison Moi Anan was, but we ended up sharing two different dishes, and enjoying two glasses of red wine (not too common in Morocco, even at restaurants, as it's a muslim country) each.

Just a bit further up we found Le Tarbouche by accident, a café with an incredible iced coffee. Definitely worth trying if you're a coffee addict like us – as good coffee is not too easy to get by in this tea loving country.

Of course there was also time for some more local cuisine while in Fez. Tagines, olives, freshly pressed orange juice, several litres of the sweet mint tea (actually really good!) and oranges with cinnamon – yum!

On our last morning in Fez, we met up with a local girl, who's name I sadly cannot remember. She's both a student and manages her own business. We got in contact through Instagram, and I instantly fell in love with the tote bag she produces with her brand Clapback Nation. We grabbed some coffee and breakfast, and spoke about traveling, entrepreneurship, studies etc. I love meeting fellow travelers, and it was definitely interesting to hear more about her experiences as a muslim, female solo traveler.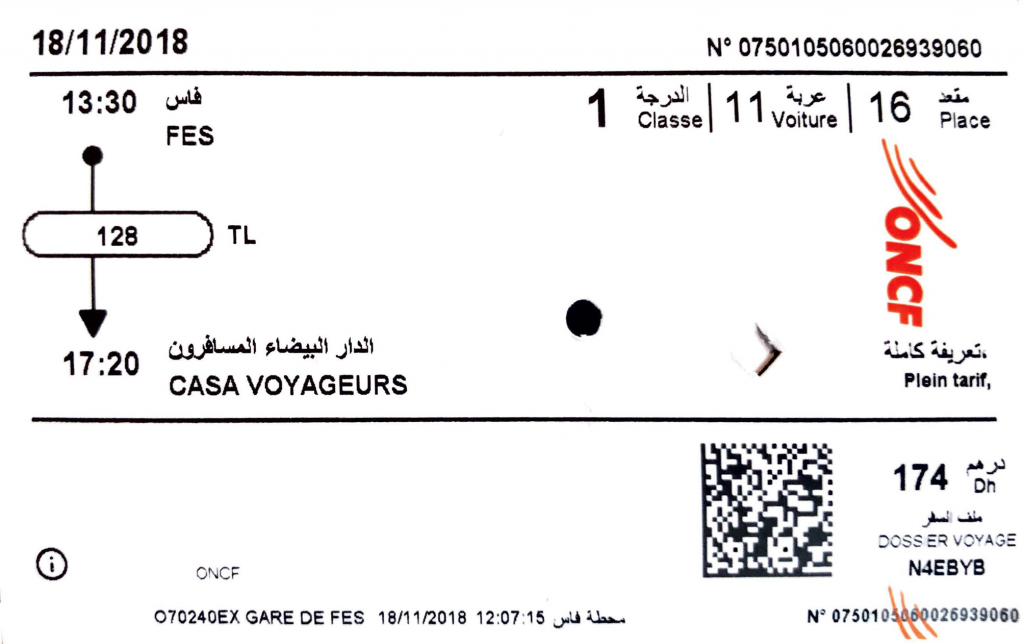 Fez is an amazing, magical city, filled with exciting architecture, culture, food and traditions. Definitely worth the many hours in that "grand taxi".
---