"Maybe we should go to Albania? I mean, just check it out, it has beaches, warm climate, an interesting history, are not too touristy and it's supposed to be really cheap?"
– Me, about every time someone mentioned traveling since 2015
Albania has been one country I've been excited to visit for years now, and so when Thomas and I started researching for where to travel this summer, I had to suggest it to him. A quick Google-search later he was also convinced. Yes!
Durrës, who actually was Albania's capital for a short amount of time back in 1914 (then replaced by Tirana again in 1915), was our actual destination when we visited Albania this summer.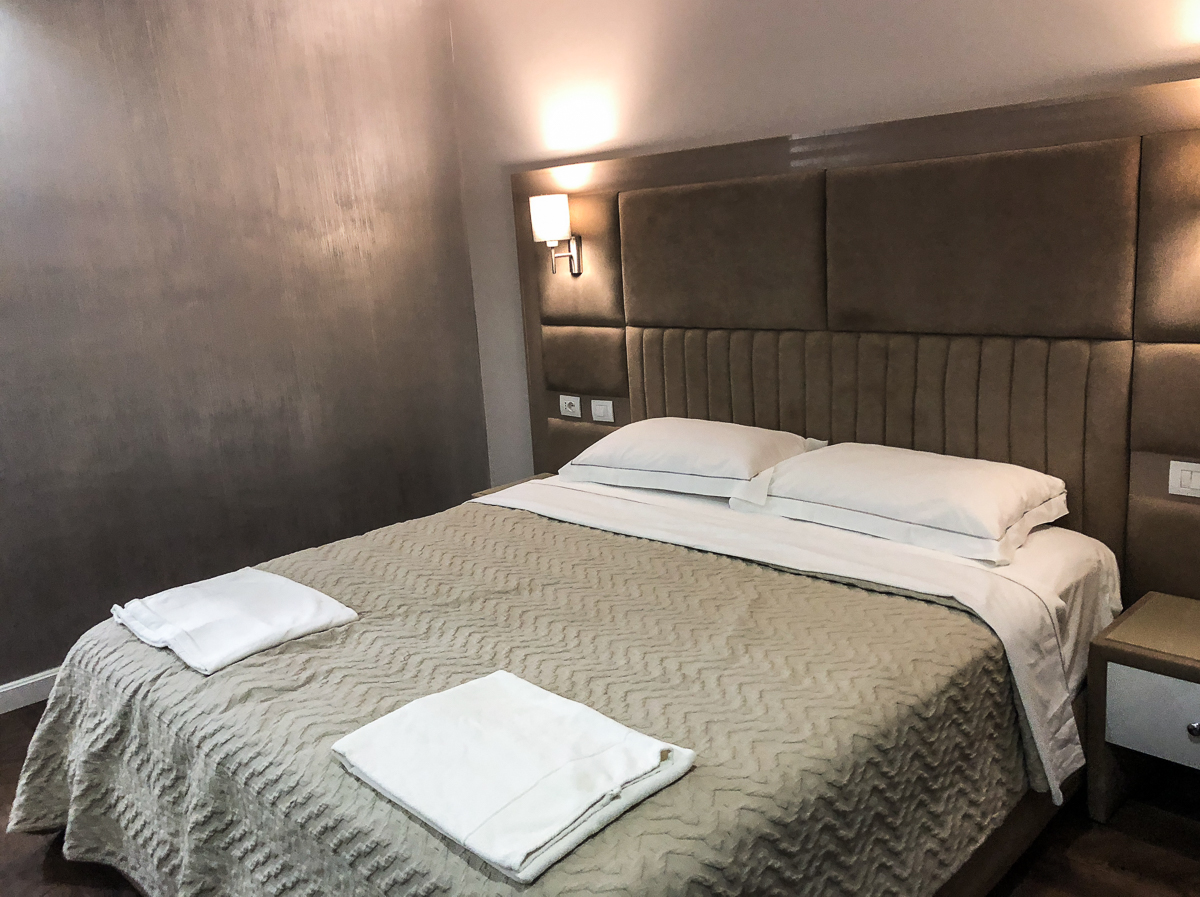 We stayed at the hotel Royal G, which was brand new (opened just earlier in 2018), and which had a great location just next to the beach, and very close to the nearest bus station (which was about 10 minutes by bus from the central bus station of Durrës). It's located on the Adriatic sea, and The Port of Durrës is one of the largest port in the Adriatic Sea. From Durrës to Tirana it's about 31 kilometres.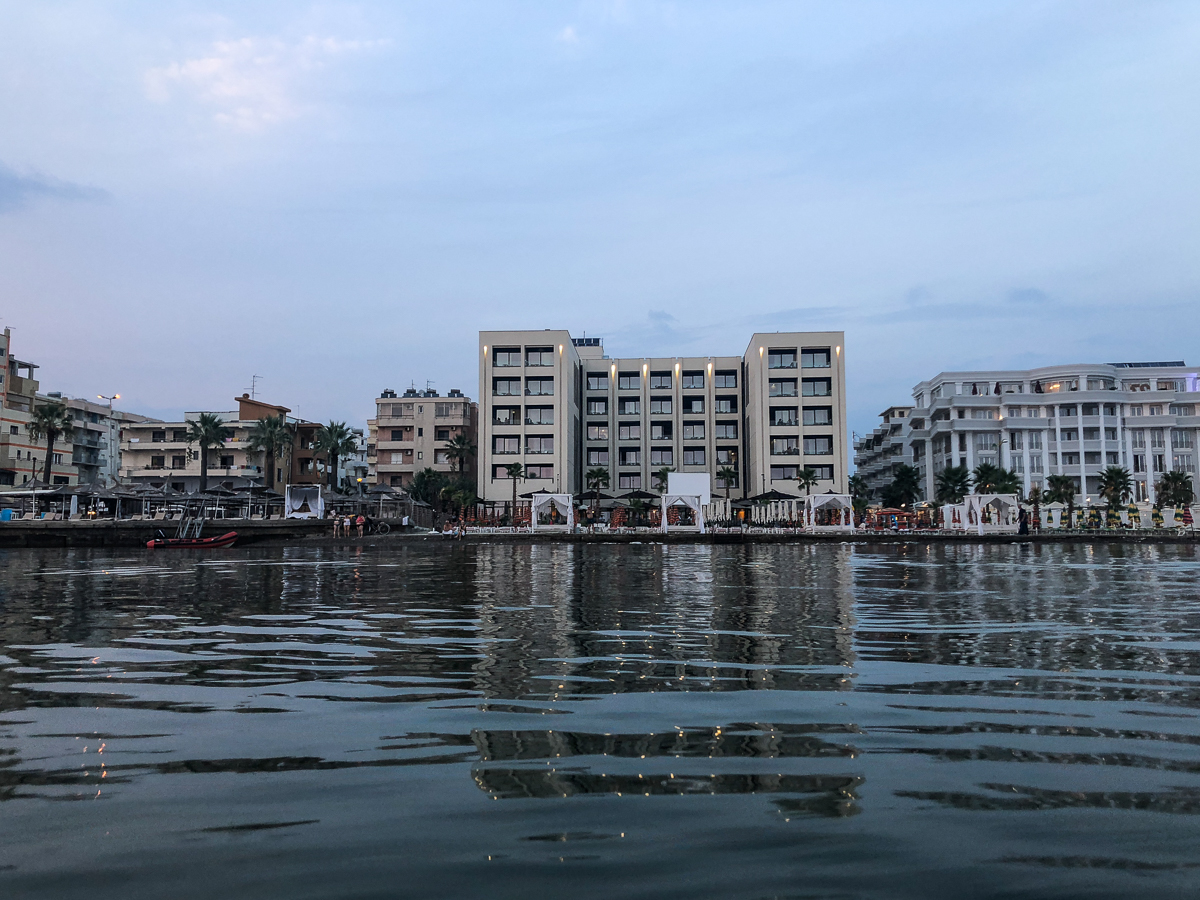 With about 300 days a year with sunshine, Durrës is a good place to go to if you enjoy sunbathing, swimming in the sea or just relaxing in nice, warm weather. It's location also makes it good for going on day trips to Tirana, Ohrid in Macedonia, Prizren in Kosovo and Montenegro, and you can also easily go to Tirana to catch public transport to basically everywhere in Albania.
Albanian food, what can I say?
It's good, but it's very much based on meat and fish. (I spoke to several people in Albania who had felt the need to change their diets while staying in the Balkans, like one of the guides I spoke to. Back home, she would be a vegan, and while she had quickly changed her dietary option to vegetarian once eating out upon arrival (with the intention of going back to being vegan once back home), she had to adjust her diet even further after two months of living off salad. She'd therefor eaten some fish as well.) For me, as a coeliac, most of the food in Albania was ok to eat. They do however not use a lot of garnish, sauces etc. If a menu reads "steak and potatoes" that's exactly what you will receive. No salad. No sauce. And quite often no options of ordering this as sides either.
On our last night in Durrës we went out for a walk in Durrës city centre, looking for a place where we could get something to drink, maybe something to eat. After a light distraction from an ice cream-place, we we wandering around rather aimlessly (just snooping around to see what was out there) when Thomas said "Oh! Look!" I walked over to see this really nice backyard, loads of cushions, light bulbs in the trees, and heard some laid back music playing. Oborri, the place was called. We walked inside, and it was walking into a cocoon sheltered from the outside (which was rather impressive, being that one of the neighbours had blinking disco lights and loud music).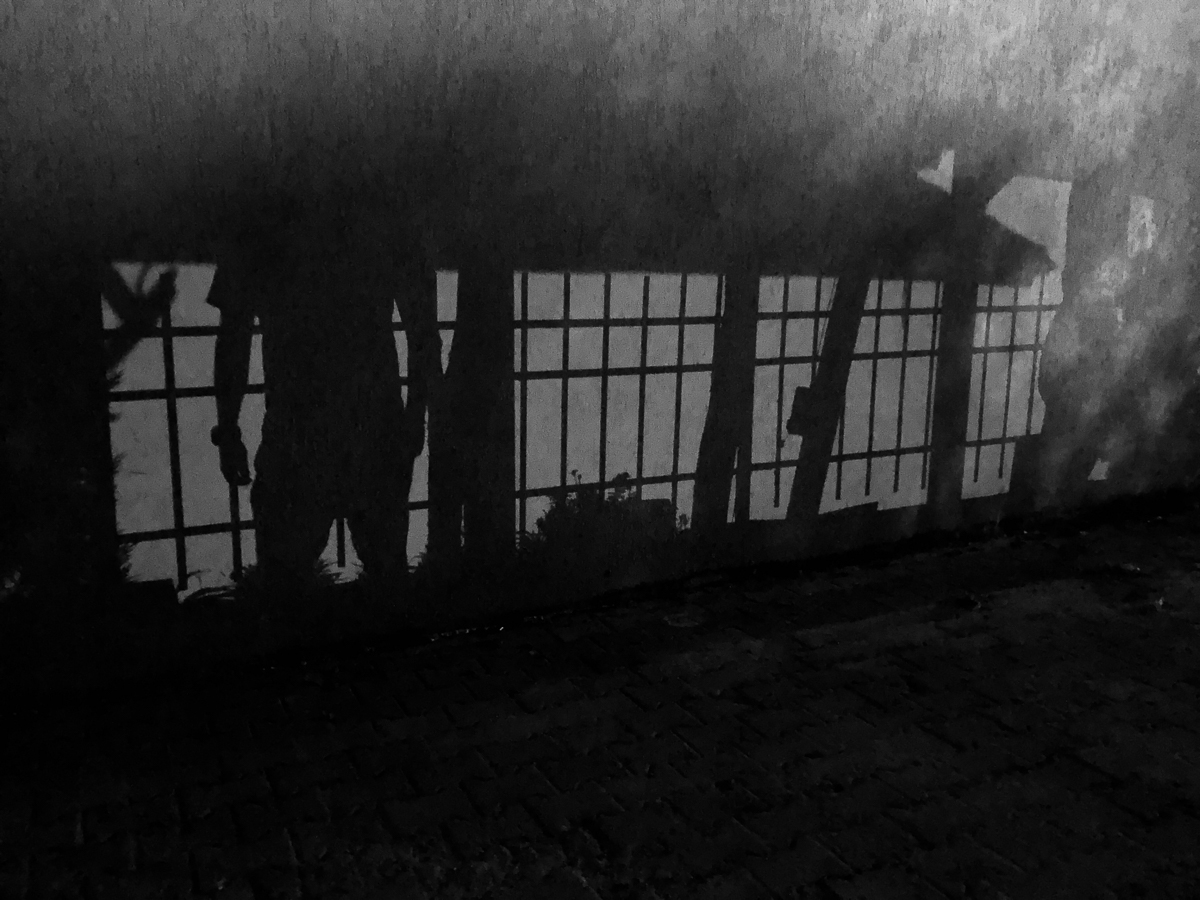 "You can tell there's not much rain here" Thomas said, while looking at all the pillows spread out over the couches and chairs. We ordered drinks from the friendly staff, and got some free snacks served with it. The drinks were really good!
We got another one, and all of a sudden it started raining. Just like that. The staff flew up, desperately trying to collect all the cushions, so we obviously stood up and offered to help. Once all the cushions were out of the way, the guy who'd sold us drinks at first came over. He was the manager, and was super happy we'd helped him. "I'll make you some mojito's on the house" he said, and then he and a girl from staff joined us drinking. We ended up spending the night talking about traveling, about Albania during communism, the changes the country is currently going through… It was a really interesting and fun night, and instead of an early night in to pack and snooze we ended up staying out until 2am, when we got in a cab back to our hotel.
---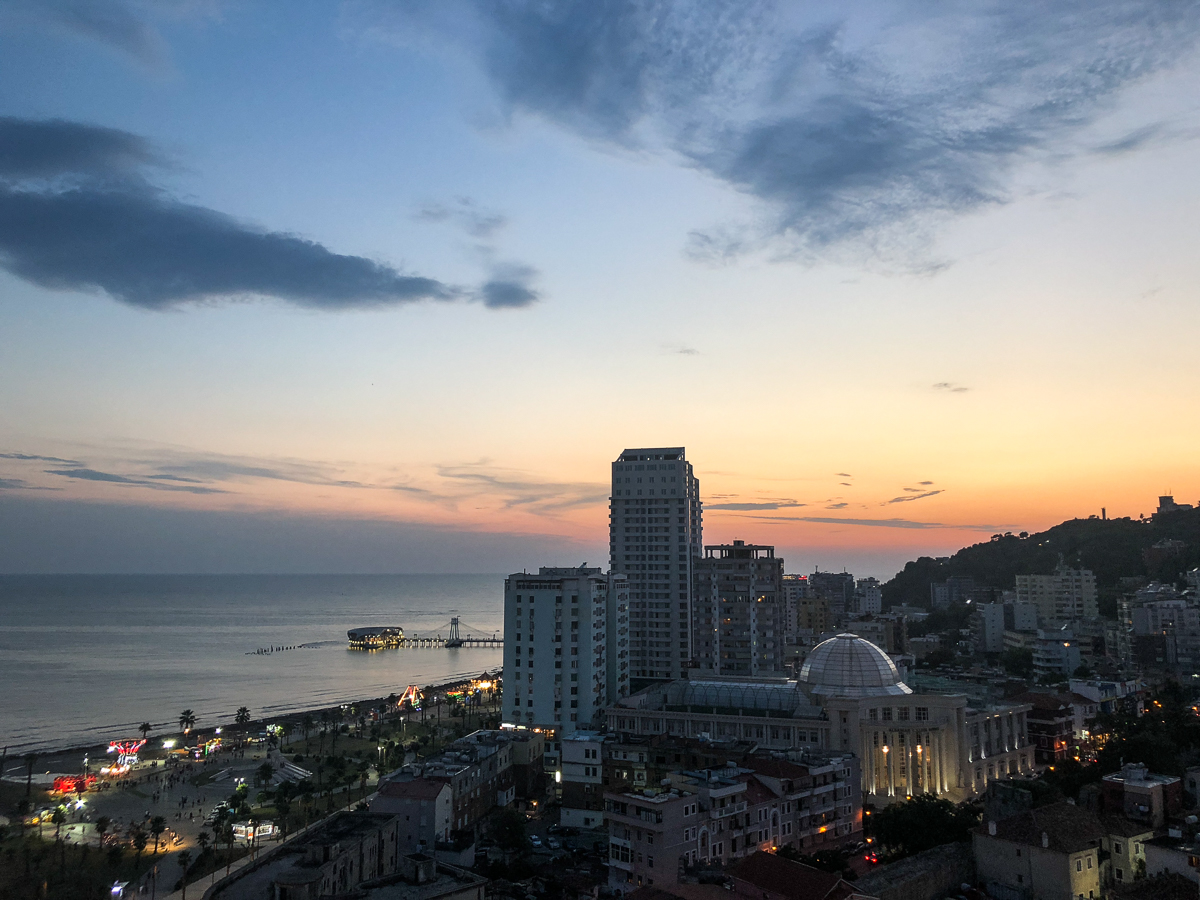 In Albania you can easily detect their past as a communism state, with giant statues placed in the midst of cities. On the other side, you can also tell the country is going through changes, and getting more influenced by their surrounding countries and the outside world.
The drone entertains kids in all ages (from about 3 to 80+ at least) wherever we go (well, with Morocco being the exception, I guess). Here's Thomas being the local super hero at the beach in Durrës, making the kids laugh and cry out with joy as he showed how the drone works.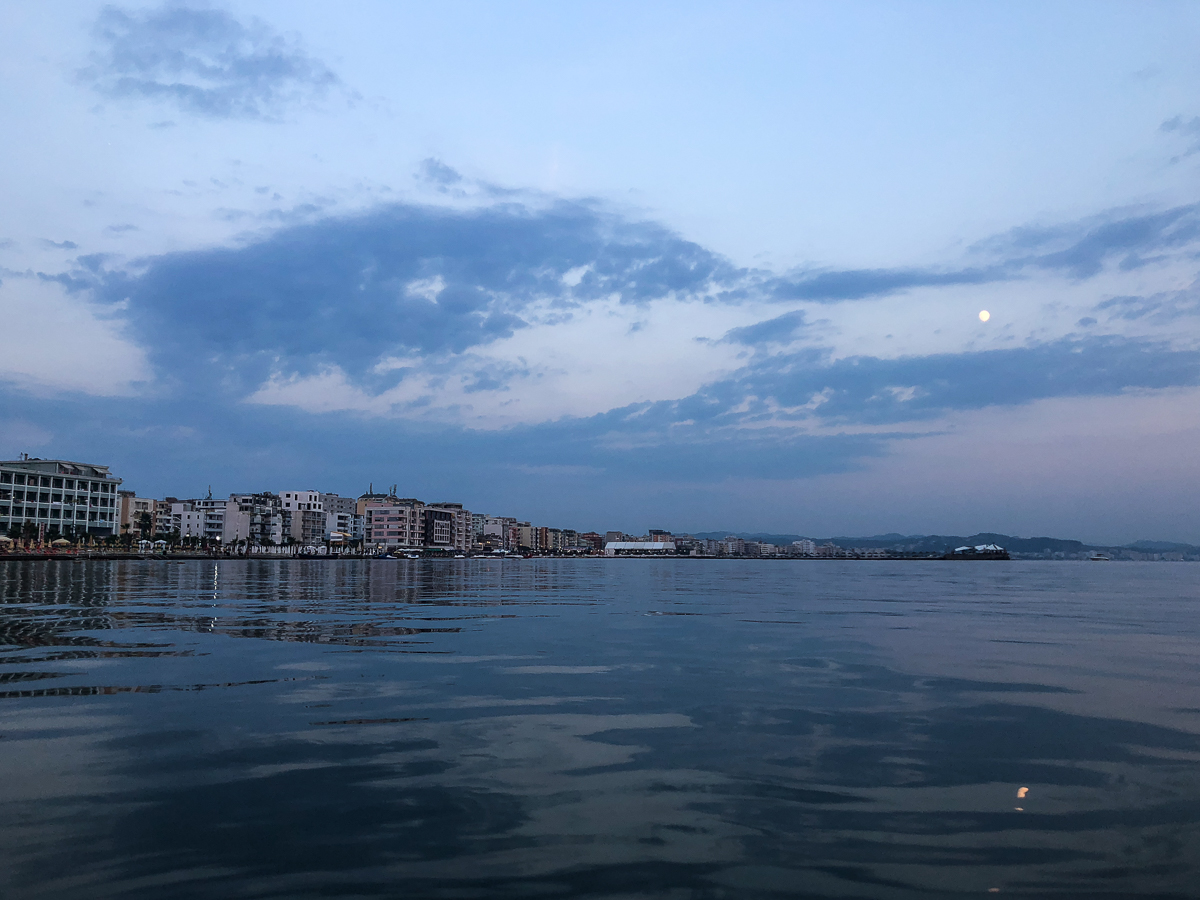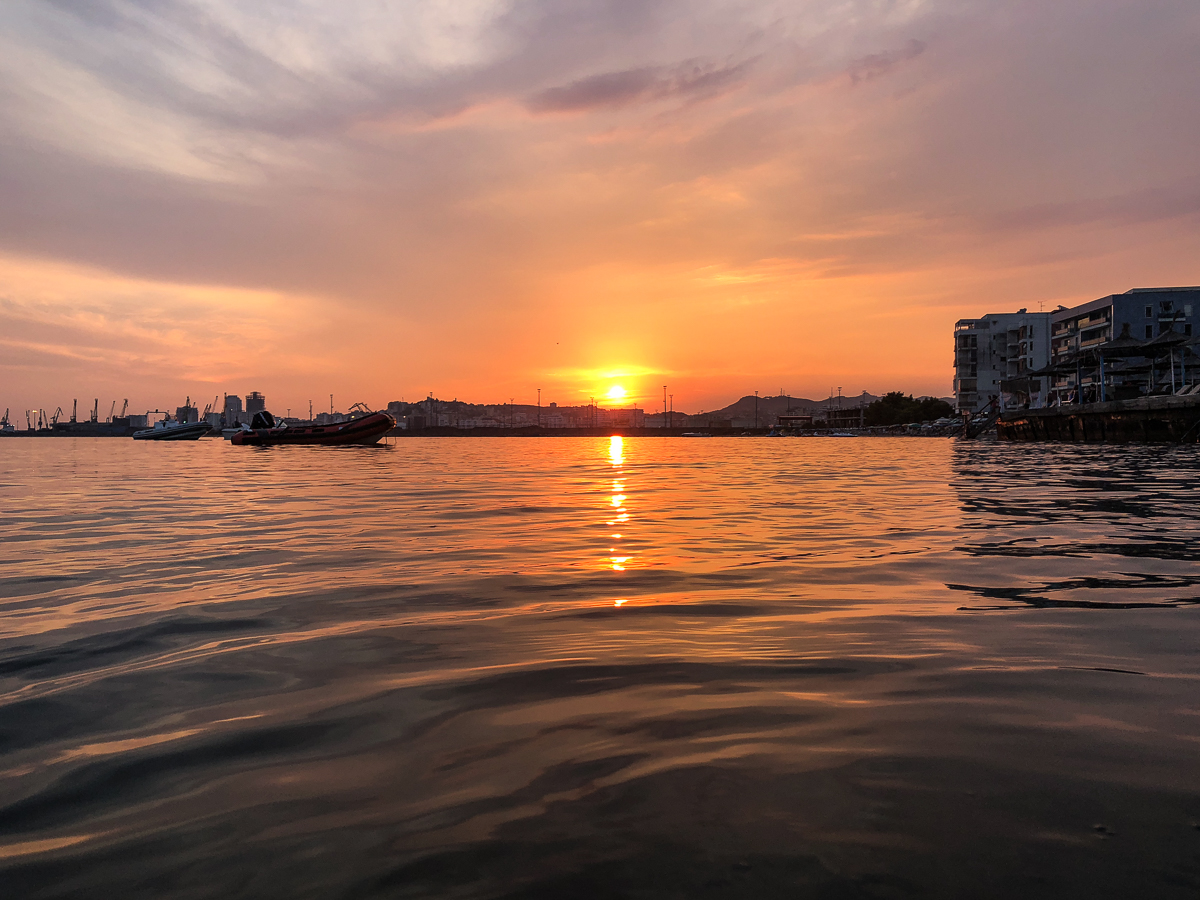 I instantly fell in love with Albania, and know I'll definitely want to go back and explore more of this amazing country one day.
---