---
A large camping site just next to the sea, filled with plenty of things to do and explore. A place where you can either go camping, glamping or rent a cabin – it's all up to you. Canvas Hove is one of those idyllic campsites suitable for everyone, no matter if you travel with kids or not. We got to spend a weekend here, sleeping like babies and eating like kings.
This is how our weekend at the coastal area of Arendal turned out.
Summertime is by far my favourite time in Norway! With long, bright summer nights and hopefully sunny days, lush, green nature and loads of beautiful sights, this is an amazing time to go exploring Norway.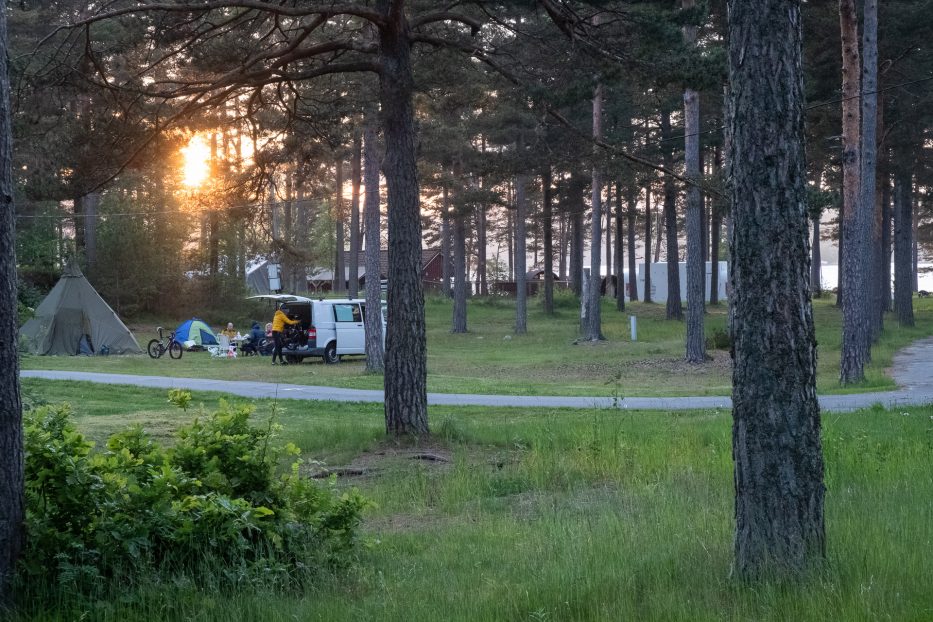 We arrive at Canvas Hove by car, after about an hour's worth of driving from Kristiansand, and easily find a place to park our car. The first thing which strikes me is how large this campsite is! I catch a glimpse of a few tents in one direction, then some buildings, and some more tent-like buildings. A group of kids run around and tumble freely on the grass, laughing, screaming, chasing each other with not a single worry on their mind.
The sight takes me back to my own childhood, back when a single summer seemed to last forever, and the greatest joy was to run around barefoot while eating an ice cream.
---
Tromøya
You'll find Canvas Hove at Tromøya, which is located in the area of Arendal, and is the largest island at Sørlandet (the Southern part of Norway). Hove is located at the South-West part of the island, and here you can find Raet national reserve. With its proximity to both the sea and to larger cities, this is as close as you get to an island paradise in Norway.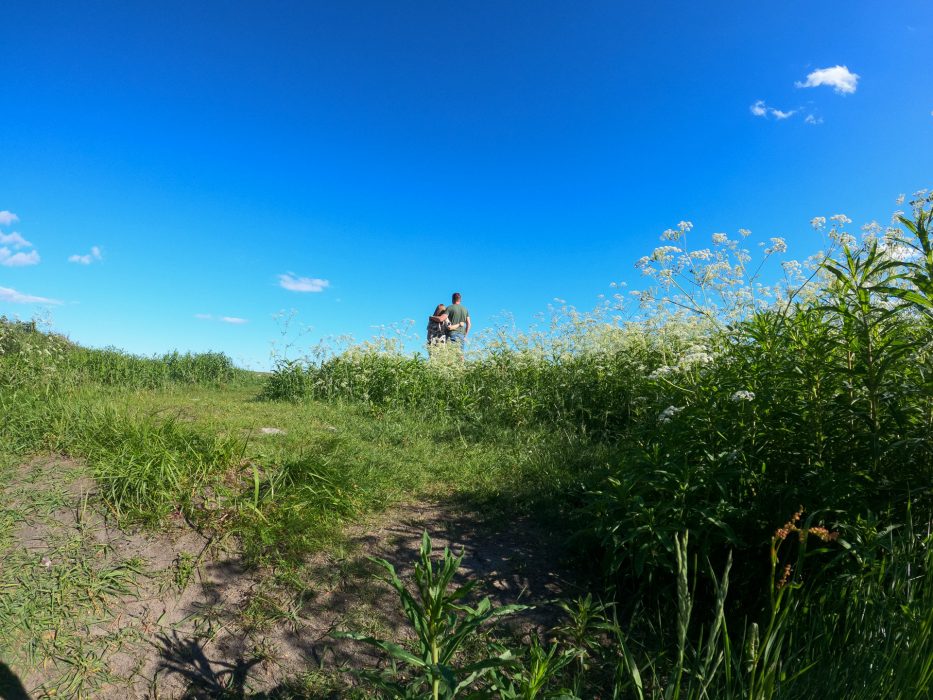 Canvas Hove is perfect both for those traveling with kids, for couples, for groups of friends, colleagues or adults – well, for everyone, really! You can even arrive here with your own boat should you want to, as there is a dock with space enough for about 40 boats near the campsite.
Canvas Hove
Canvas Hove offers a wide range of different places for your stay. You can bring your tent and set up your own camp, you can book a small cabin, or you can book one of the more special solutions. Their newest addition is four micro houses, which I would love to try at some point too.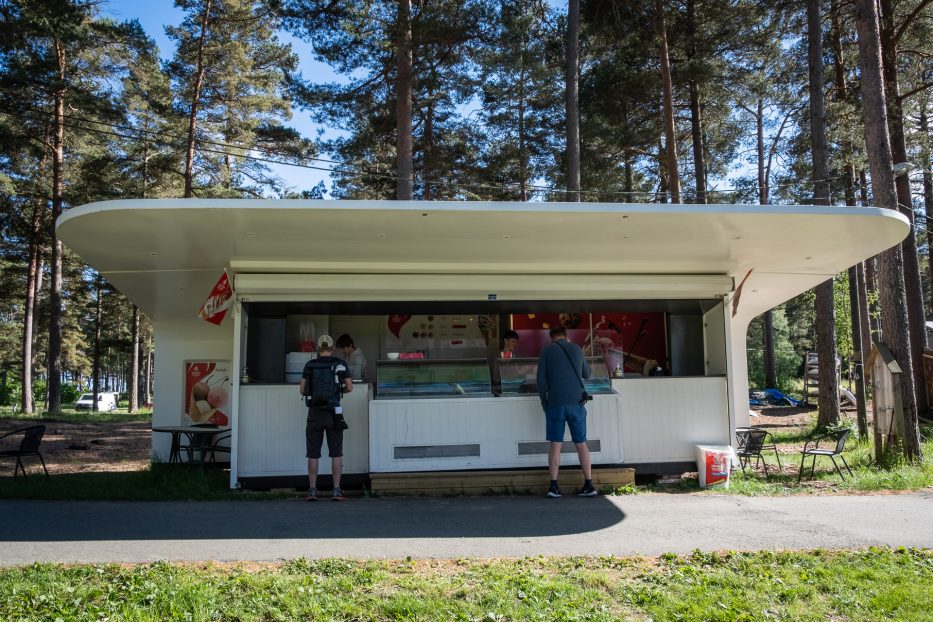 The rather large camping site includes a restaurant, a snack-bar area, an ice cream shop and area for activities. Canvas Hove mainly try to keep the area free from cars (with some exceptions, of course), meaning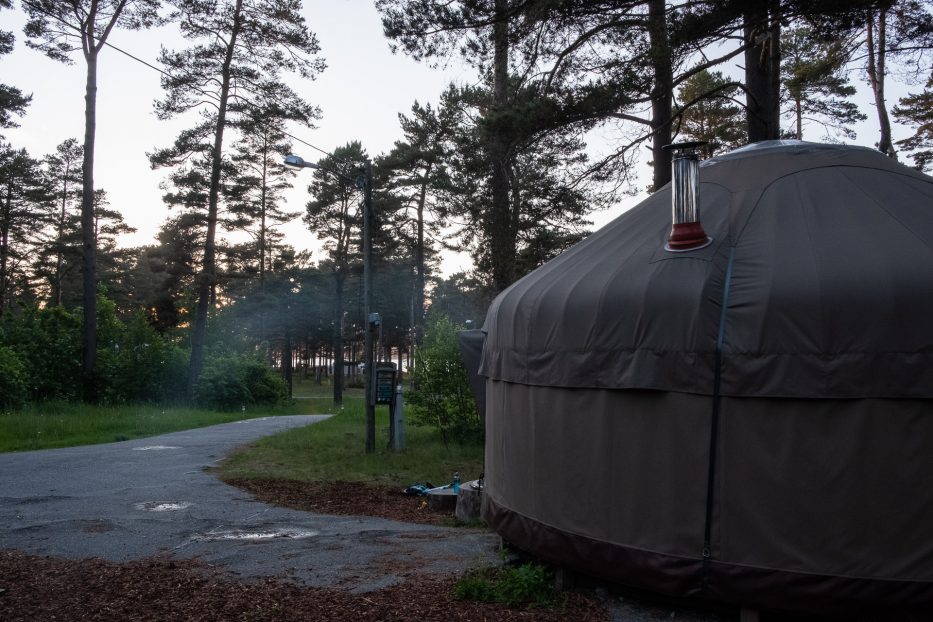 While we visited we spent one night in a luxury yurt, and one night in the cocoon. Both of these places have both breakfast and dinner included upon booking.
The Luxury yurt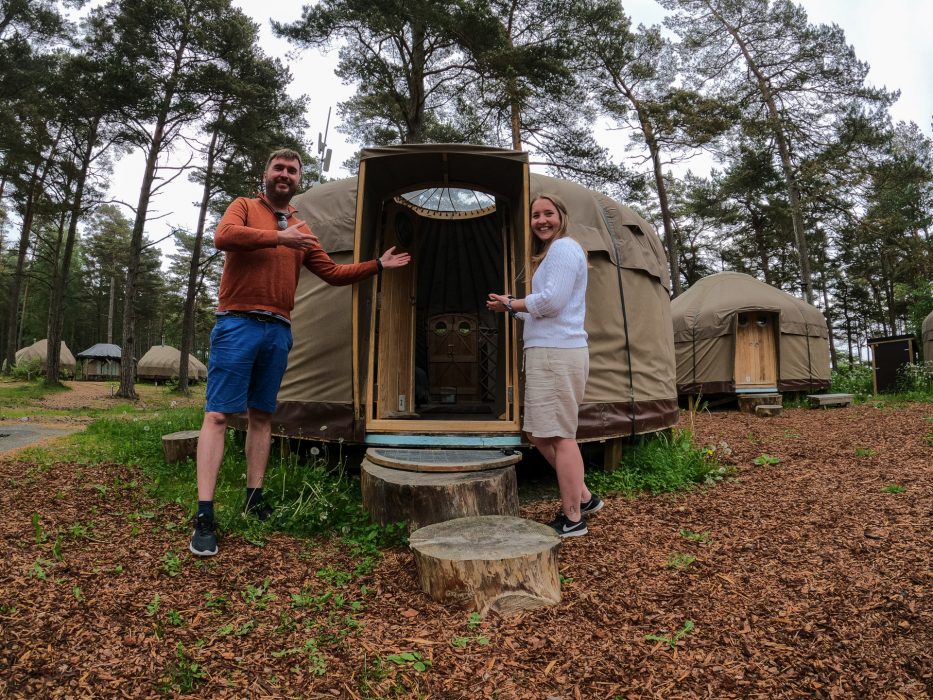 On our first night at Canvas Hove we stayed in a Luxury yurt.The yurt is an original Nomadic yurt from Mongolia, and the same kind as we stayed at earlier this summer when we visited Canvas Telemark.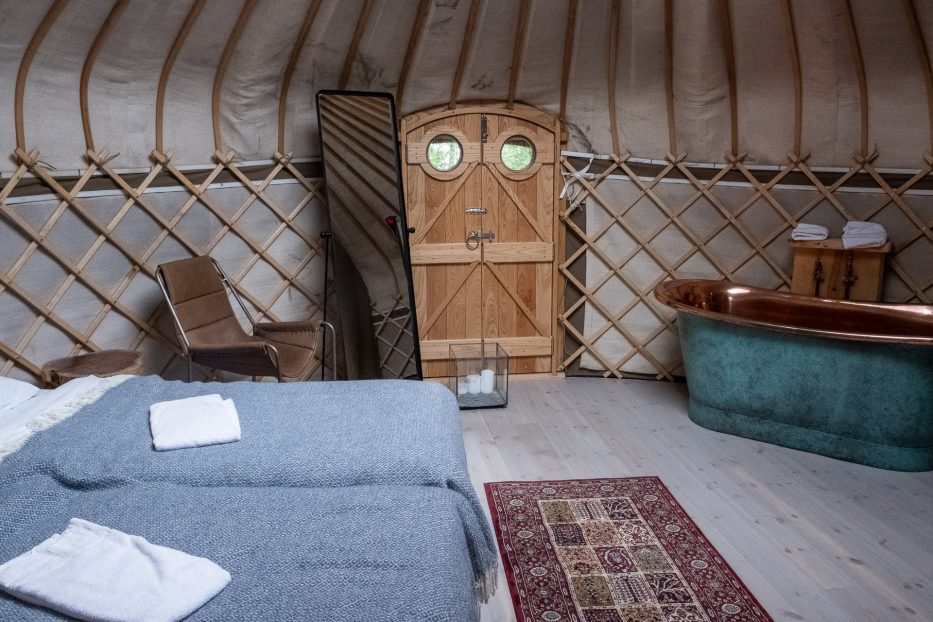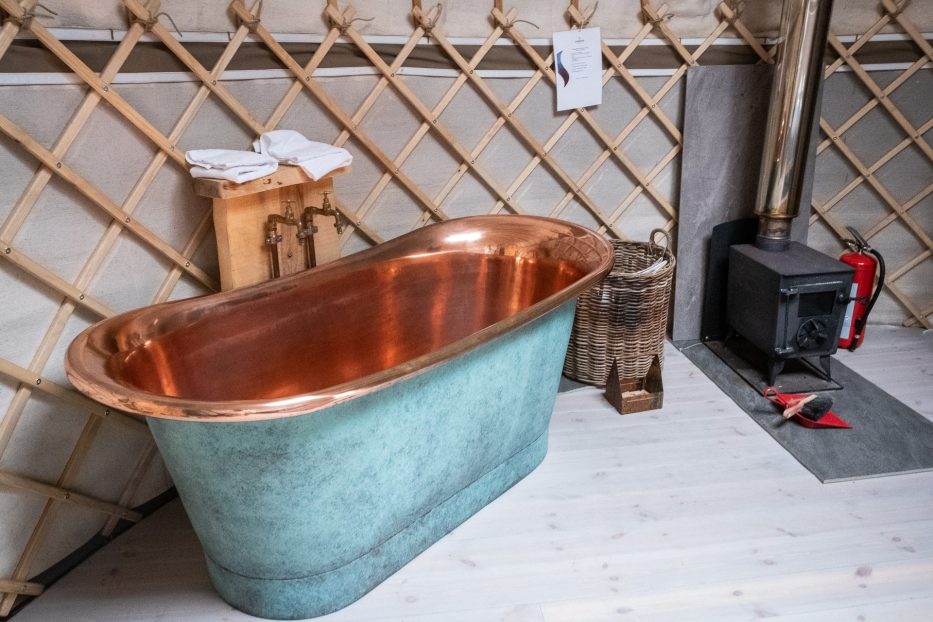 As we enter the tent, we find a spacious bed with a soft mattress, a warm duvet (and extra blanket) and pillows, a heater, a small fridge, a small room with a real toilet and running water and my favourite – a bathtub! The luxury yurts at Canvas Hove really live up to the expectations of its name – this is a luxurious glamping stay for sure!
---
The Cocoon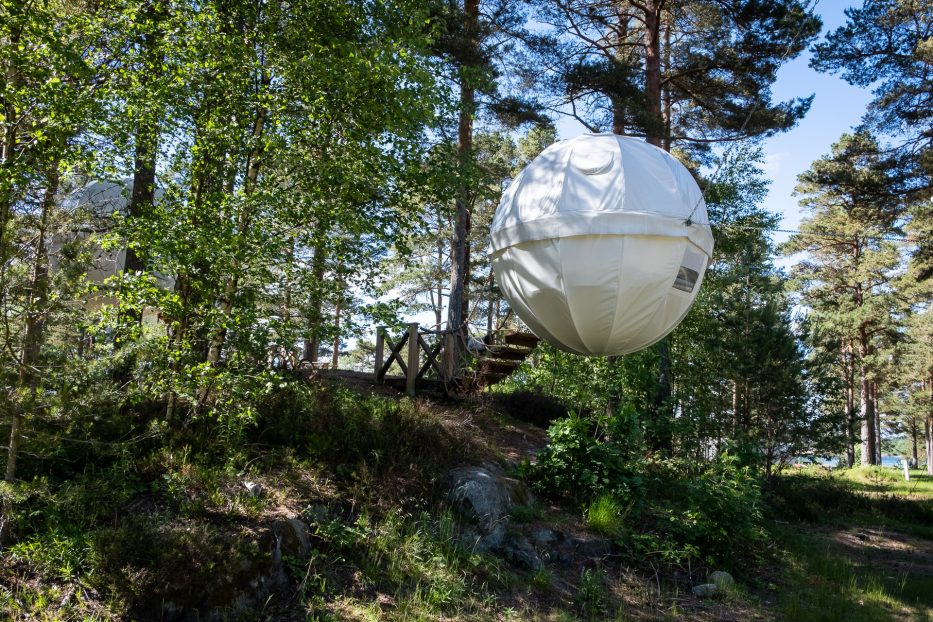 On our second night we get to stay in what is referred to as a "Cocoon". The cocoon is a round tent "floating" mid-air between the trees. It contains an about 250 cm rounded mattress, and has shelves where you can put your luggage. It also has a heater inside. In order to go to the bathroom etc, you will have to leave the cocoon and use the shared facilities, which is located maybe 50 metres away.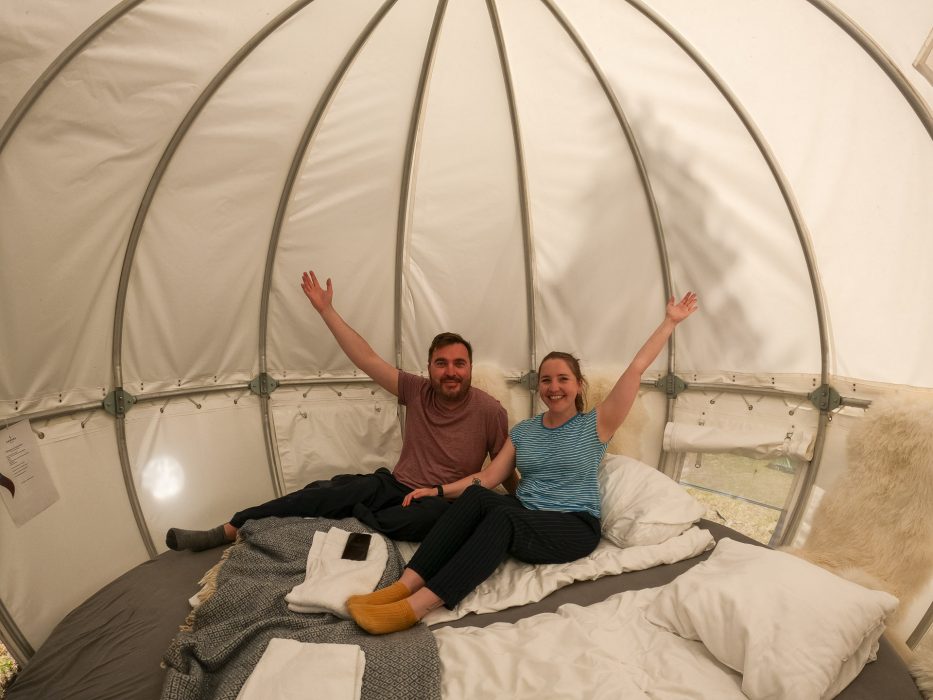 To maneuver in and out from the tent, you use a wooden bridge. The tent moves slightly in the wind, but nothing crazy. We were both very pleased with our stay in the cocoon – and slept for 8 hours +.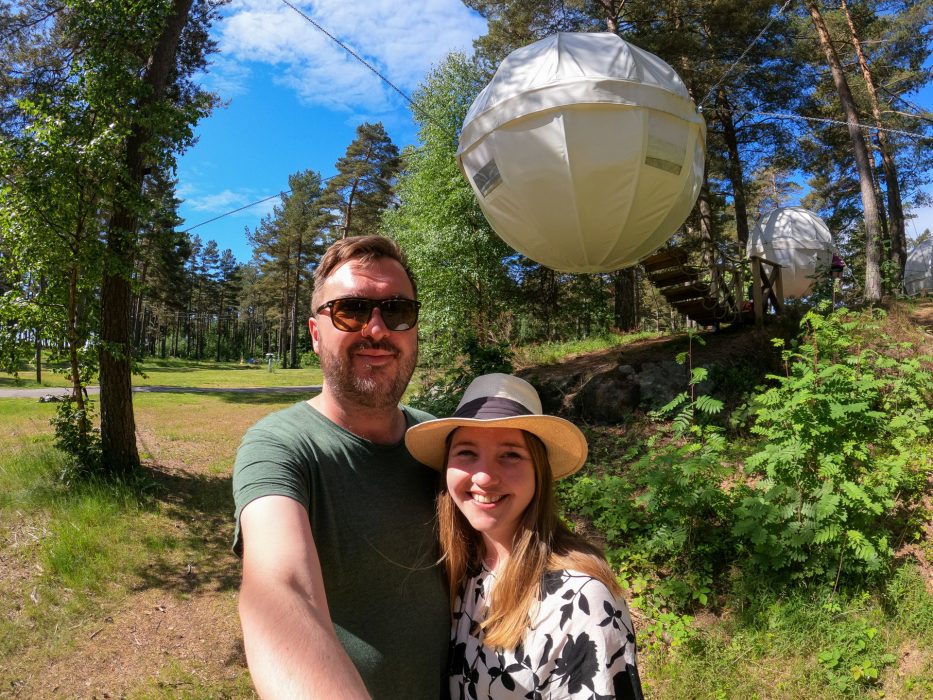 The night we stayed in the cocoon it was well over 20 degrees and rather windy, but neither the wind nor temperature made us miss out on any sleep at all.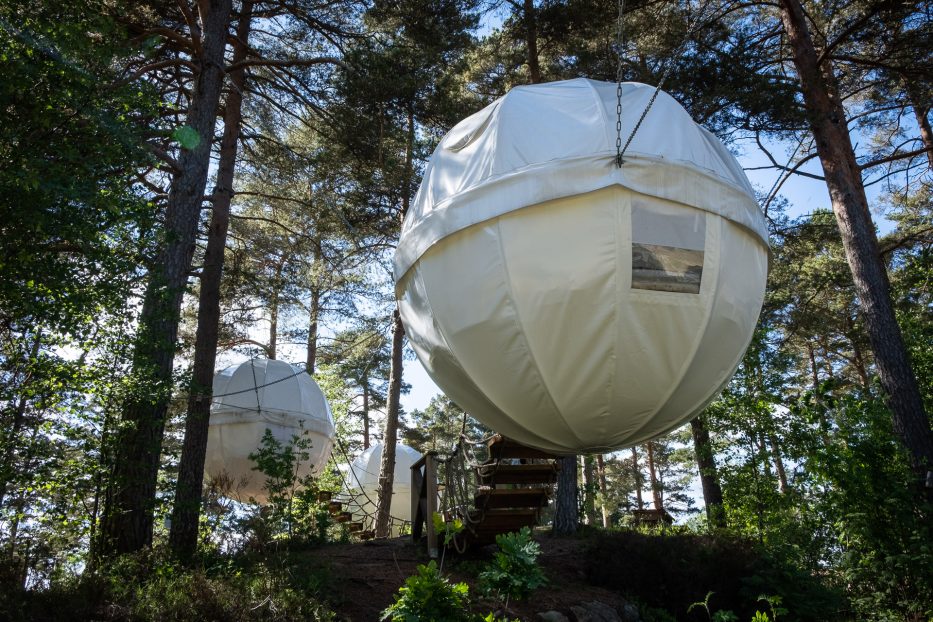 ---
An active holiday at Canvas Hove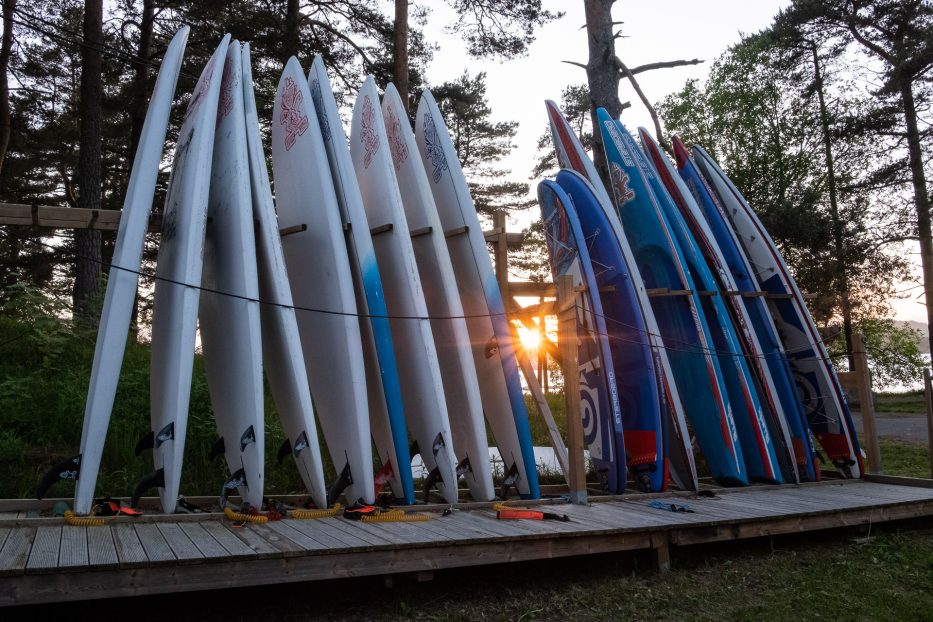 A stay at Canvas Hove can be exactly what you want it to be. Want to relax? No problem! You have your own place you're staying at, an ice cream kiosk, a bar, a restaurant and plenty of outdoor options to relax at. You can drink your coffee outside, go for a swim at the beach, work on your tan, or go for a stroll around the gorgeous area near camp.
If you prefer being more active on your holiday, that's also not an issue at all. And luckily, Canvas Hove has most of the gear you would want for any activities, which you can rent at Canvas Flo. And if you want to try new activities which you're never tried before, you can book yourself in on one of the many classes they offer with a guide. How about an (electric or normal) bike, sailing, SUP-ing, free-diving or a yoga class?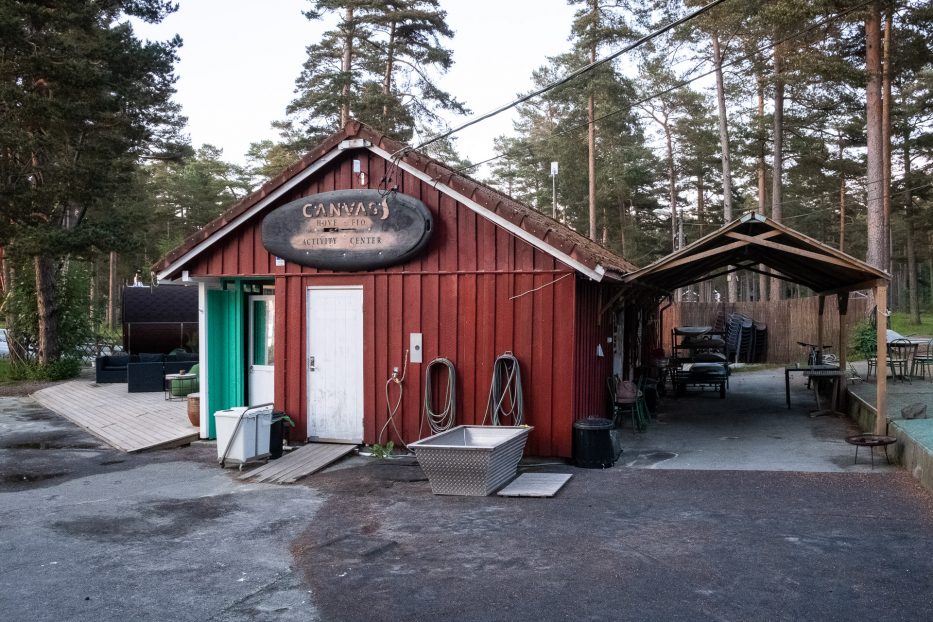 Thomas and I were super excited to see the selection of different activities which Canvas Hove offered, and to be honest I just wanted to stay for a week or two in order to have time for it all. Luckily, we managed to try out a few things.
Trimaran sailing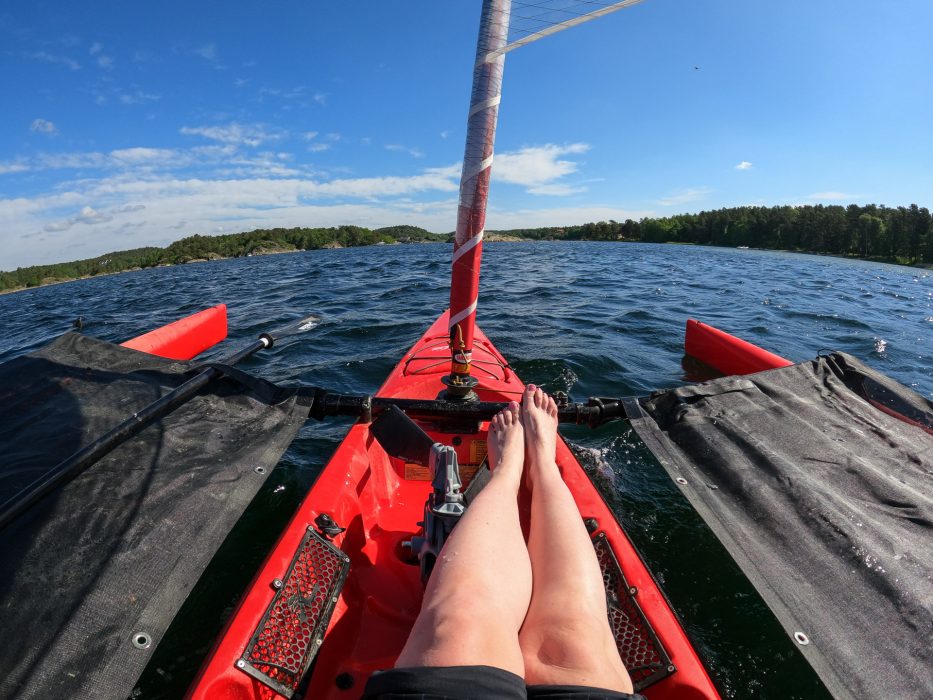 It's 8.30 on a Saturday morning, and I'm up, ready and having my second cup of coffee. The wind has really picked up overnight, and I look at the water which seems quite… wavy in front of me. It's just before 9am when we walk over to Canvas Flo, where we meet up with Magnus, our instructor for today.
"This weather is actually perfect for going out with a trimaran today" Magnus says, and points at the boat in front of us. We nod. Makes sense you would want some wind for a boat with sail. But is the wind too much? "The good thing about trimarans is that they're near impossible to tip over" Magnus comforts us.
The sail on the trimarans are rigged on these boats in a way which makes it impossible for you to take it all the way out, and which makes sure you won't lose control over the boat. We're also given a set of pedals each. These we're told to avoid using when the boat is in shallow water, but other than that they're really handy (and gives you some extra comfort to know you have them, should they be needed). The pedals can be used both to move the boat forwards and backwards, and is a great way to back up the boat if needed.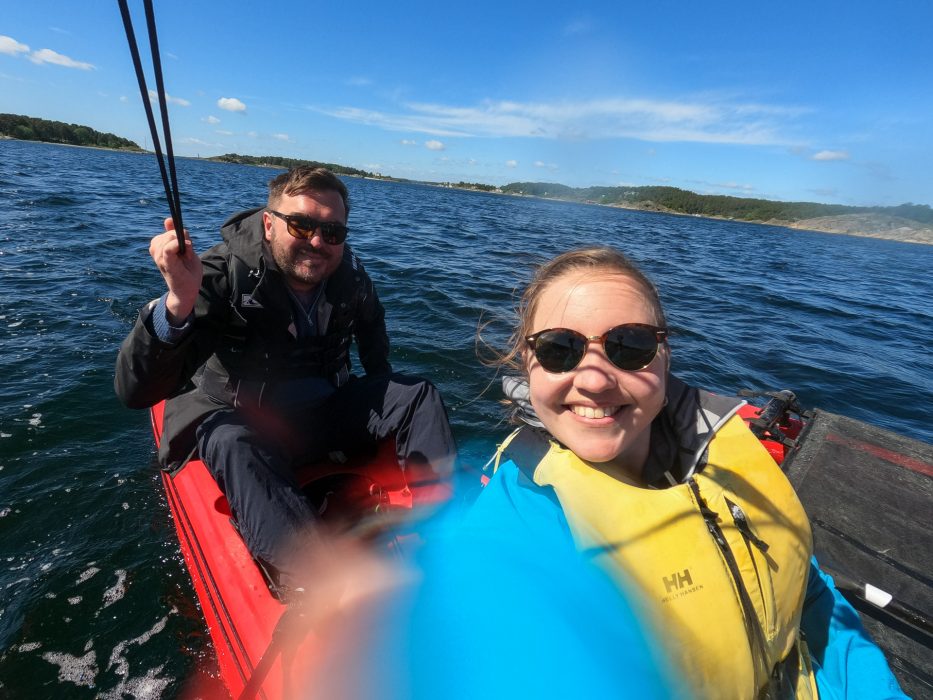 A quick instruction of the boat, how to use it, how to set sail and how not to use it, and we're already in the water. Magnus follows us in a small motor boat, making sure we're getting the hang of maneuvering the boat. Then we're alone, just the sea, the other people out in their boats, and us.
And it's so much fun! The wind really is perfect for the boat, and it's such an easy vessel to maneuver compared to a sailing boat. It reacts fast, which makes it quick and easy to turn around getting wind in our sails. I can hear Thomas giggle behind me as we speed up.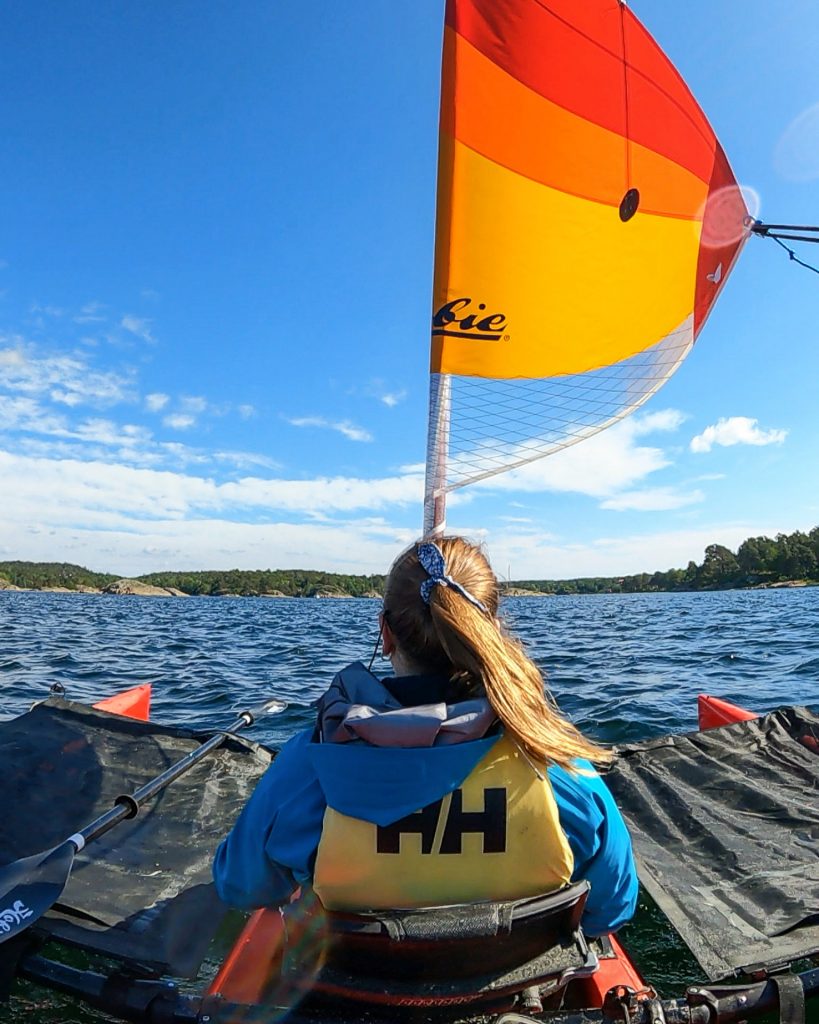 Our two hours with the trimaran passed by way too quickly, and we both agreed that it was heaps of fun – and way more easy than either of us had believed.
---
Relaxation in the sauna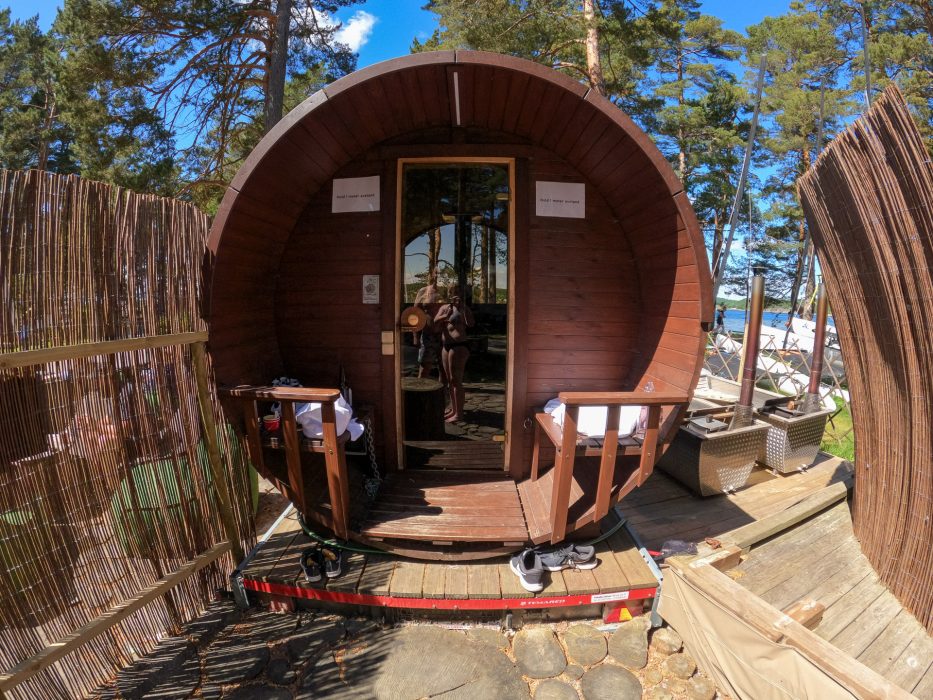 Although the weather was lovely, and even the water had a great temperature, we're both excited to know there's a heated sauna waiting for us after we get back on land. We quickly change into our swimmers, and enter the sauna.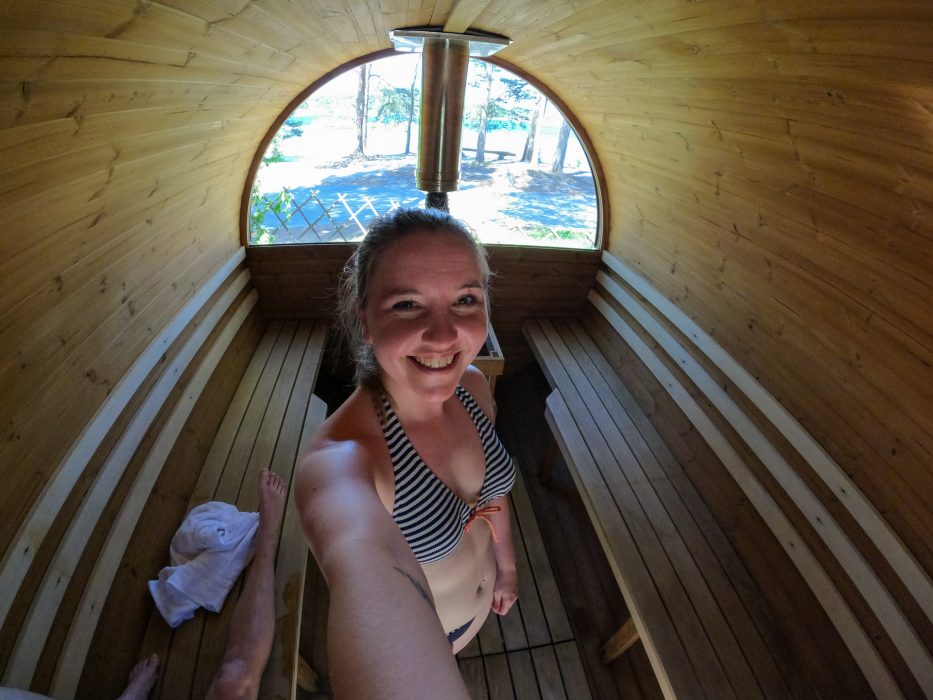 The saunas (yes, because there are two of them) are located close to both the waterfront and the bar (clever), and we're given a huge jug of cold water as we enter the sauna. Outside is a seating area where we can cool down or catch some air, as well as keeping our water.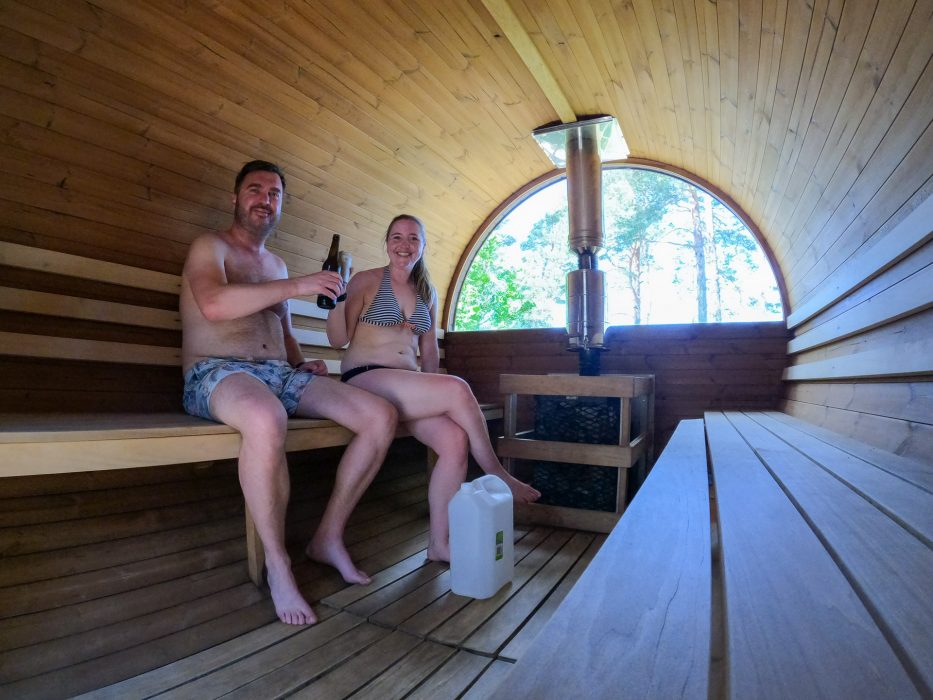 From the sauna you have a beautiful view out on the waterfront, and you can also look at the people walking by minding their own business. It's hot, very hot, and we take breaks both for ice cream and a beer, but we end up staying the entire 2 hours we have the sauna for.
"Brain Holiday"
Both Canvas hotels, Hove and Telemark, have a vision called "Brain holiday". The focus is that both your body and soul should have a break from the everyday routines, with activities, relaxation and great food. They take care of your needs – so you don't have to worry about them.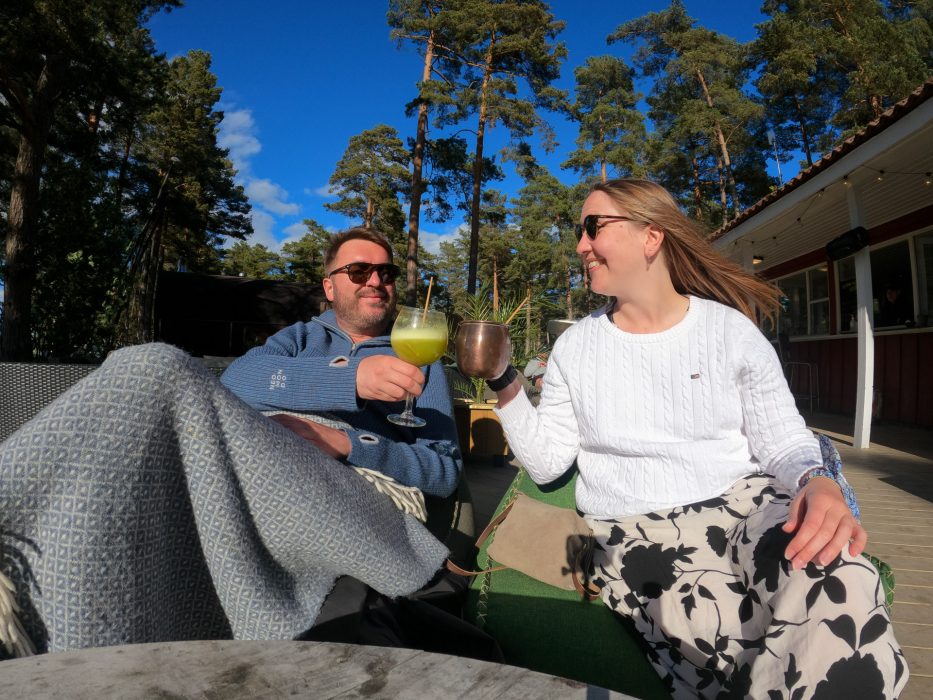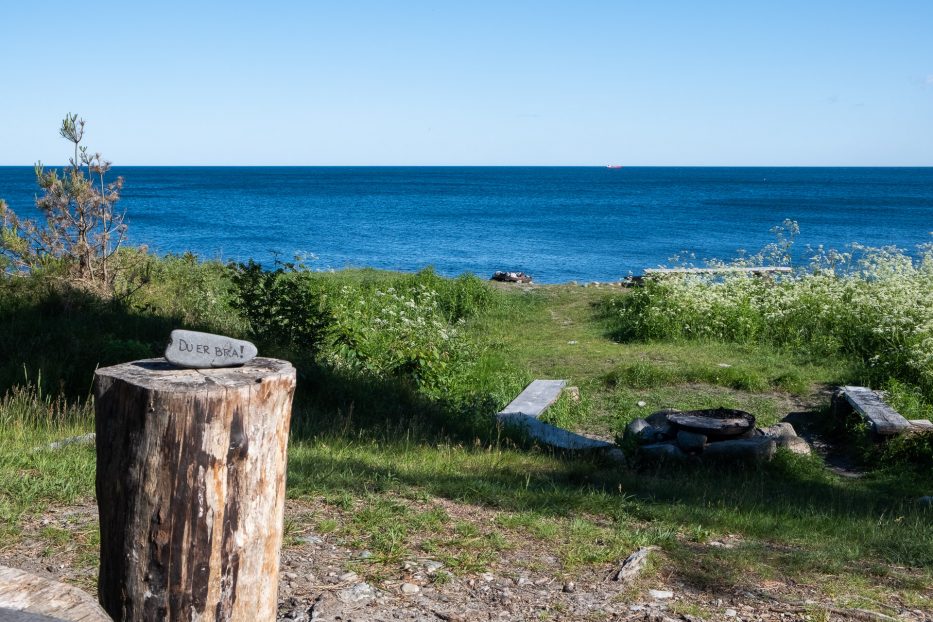 ---
The food at Canvas Hove
At Canvas Hove you eat well! Each day a three course meal is served, or you can order something from the menu. We each had the three course meal, with fresh, local ingredients well prepared.
Do you have any food allergies or dietary requirements? No worries! I informed Canvas Hove that I was in need of gluten free food when I booked our stay – and that was not an issue at all. I was served fresh, delicious bread in a separate basket (with its own butter) each morning, and they also made sure all ingredients in the other dishes were gluten free.
---
Campsite
As I mentioned earlier the campsite is rather spacious. It is also surrounded by loads of lush nature, and forest with several trails – ideal for both hiking and biking. Although you're still at camp, it's easy to find "hidden" spots where you can just relax and have a bit of privacy. It's also worth taking a walk if the wind is blowing, as you will be able to find more sheltered areas where the wind is not as strong.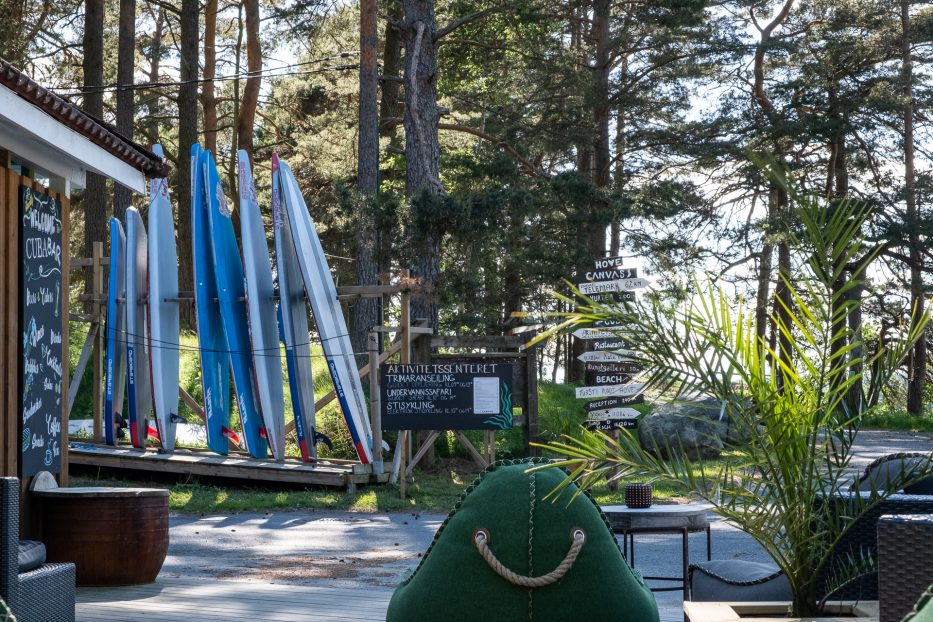 Sheltered, yet central
Canvas Hove feels like a sheltered oasis, and yet it is close to larger cities such as Arendal and Kristiansand. We combined our stay with a night in Kristiansand, which is about 1 hour drive away from Canvas Hove. This resulted in a perfect long weekend for us – combining the city life with the more laid back campsite-experience.
For more information about Canvas Hove, or to book your own stay, take a look at their webpage here.
---
Sponsored post
This post is written after a sponsored stay at Canvas Hove, but with no direction as to what to write about after. All things written are of course entirely based on my own experiences and my own honest review.
PS: For those of you traveling without kids, in search of an active holiday (especially for those of you who would like to try trail biking), I'd recommend taking a look at my post from Canvas Telemark as well.
---