Beitostølen is a place I keep returning to. And there's plenty of good reasons for that. First of all, the nature and sceneries are absolutely stunning in that area. There's so much to see and do, all year around. This August we were lucky enough to visit again, this time on a travel blogger-weekend.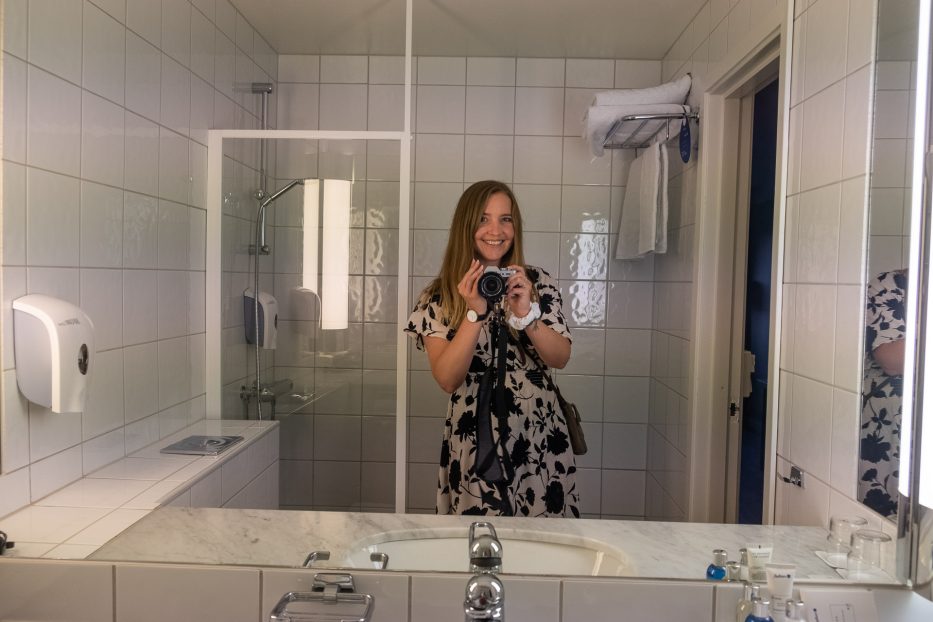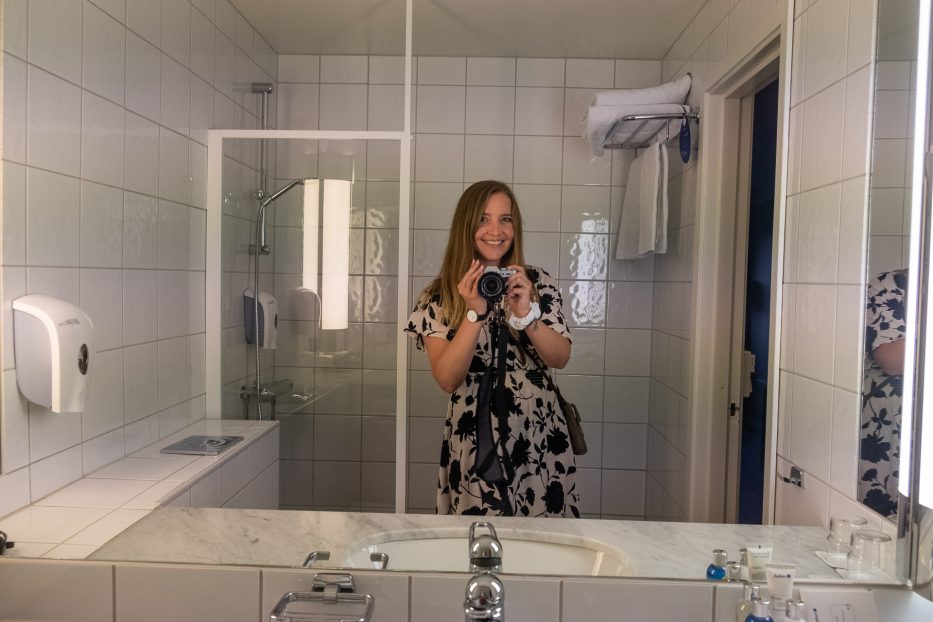 ---
Arriving at Beitostølen
We arrived at Beitostølen by bus rather late on a Friday night. Luckily for us, the staff at Radisson Blu Beitostølen was kind enough to make us two "cold plates" with leftovers from the dinner buffet, as we'd arrived after the kitchen closed for the night. Our plates were brimming with delicious food – everything from potato salad, roast beef, turkey and scampi, and even a plate with cakes on the side.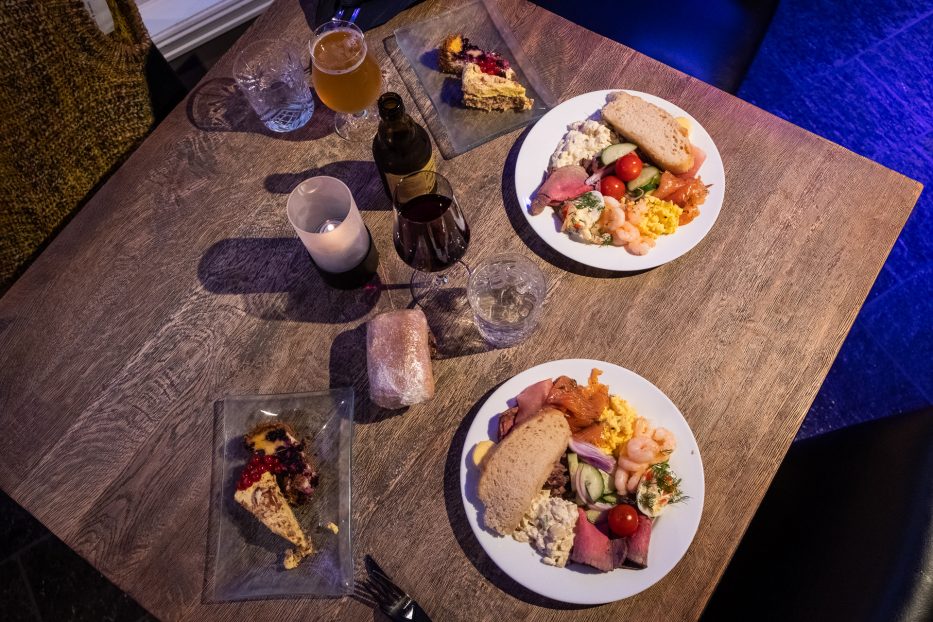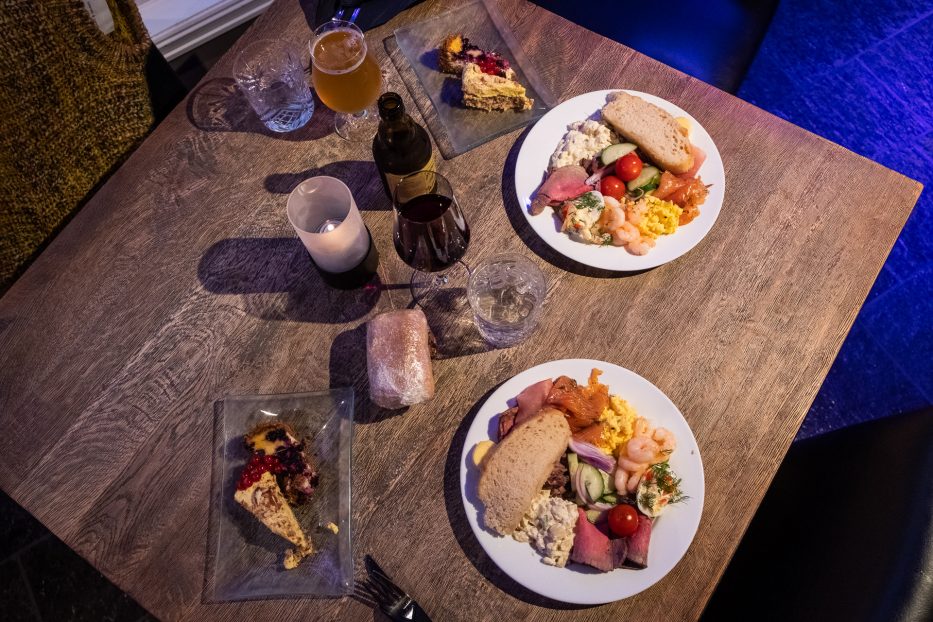 I always feel welcome at Radisson Blu Beitostølen, and this time was no exception. We brought our plates to the hotel bar, and celebrated that I'd finished my exam – the reason for our late arrival. Filled with food and cake we rolled into our beds for an early night, and slept like babies.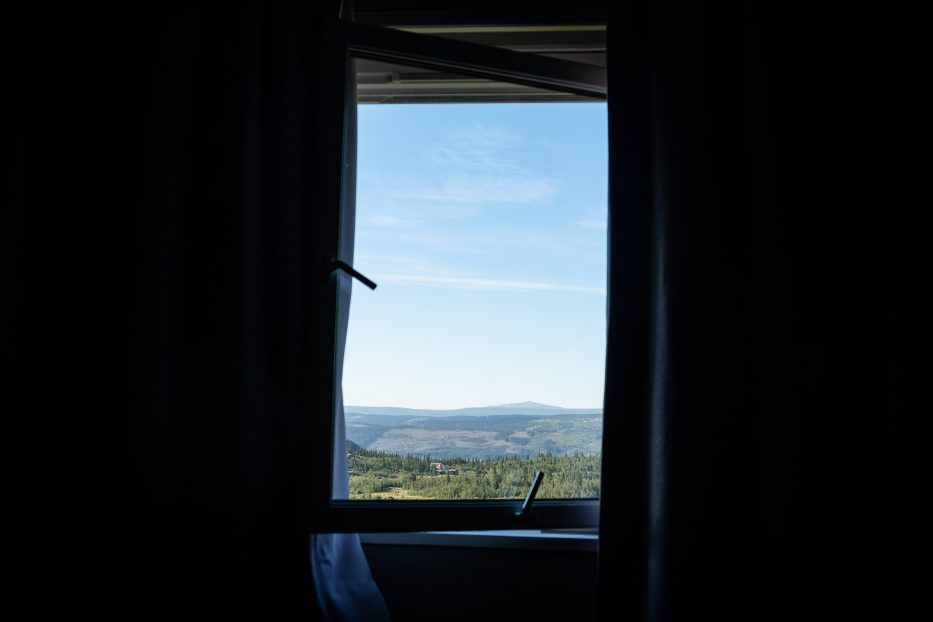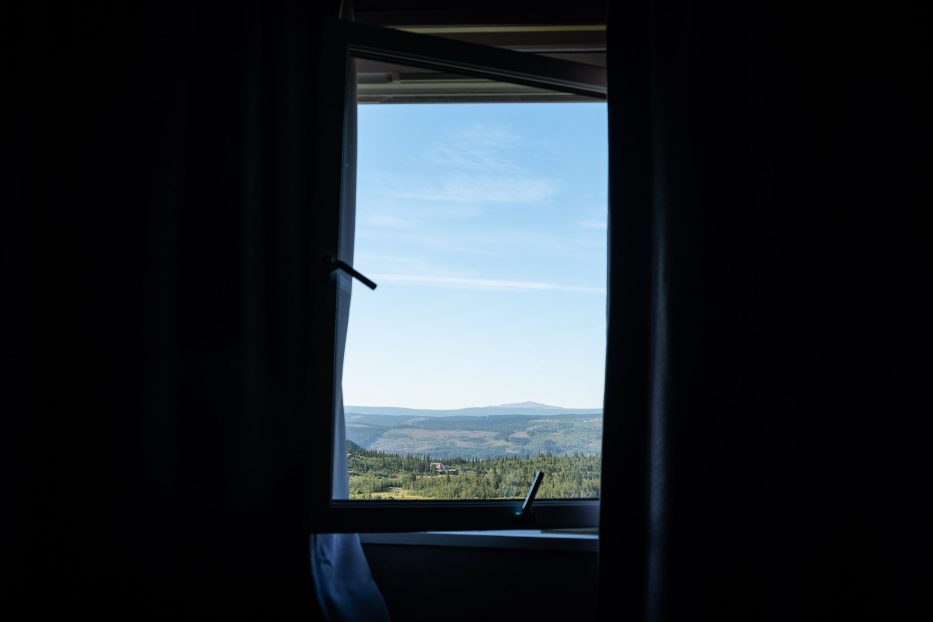 The sun was already up and flooding the mountains by the time I opened up my eyes on Saturday. I easily could have stayed in bed admiring the views from there for ages, but we had to "get up and going". Downstairs in the breakfast buffet we met some of the other travel bloggers, and after getting some food and much needed coffee in us, we packed some lunch and got ready for our day of fresh mountain air.
---
A gorgeous day trip hiking around Beitostølen
Beitostølen is accessible by car, but also by bus. This time, we went with the bus, as it allowed me to relax once my exam was done (Thomas does not have a drivers license). However, this also meant we would have to maneuver around without a car once we arrived.
No car? No problem! I asked the lady in the reception at our hotel if there was hiking options you could easily get to without the access of a car. And there was.
(If however you do have a car, you could also hike famous mountains such asa Besseggen, Bitihorn and Synshorn (and the incredible Via Ferrata Synshorn). You can also drive up to Valdresflya, and visit the brand new DNT-cabin Flye1389.)
---
This is the hike we did this time, which started just outside our hotel: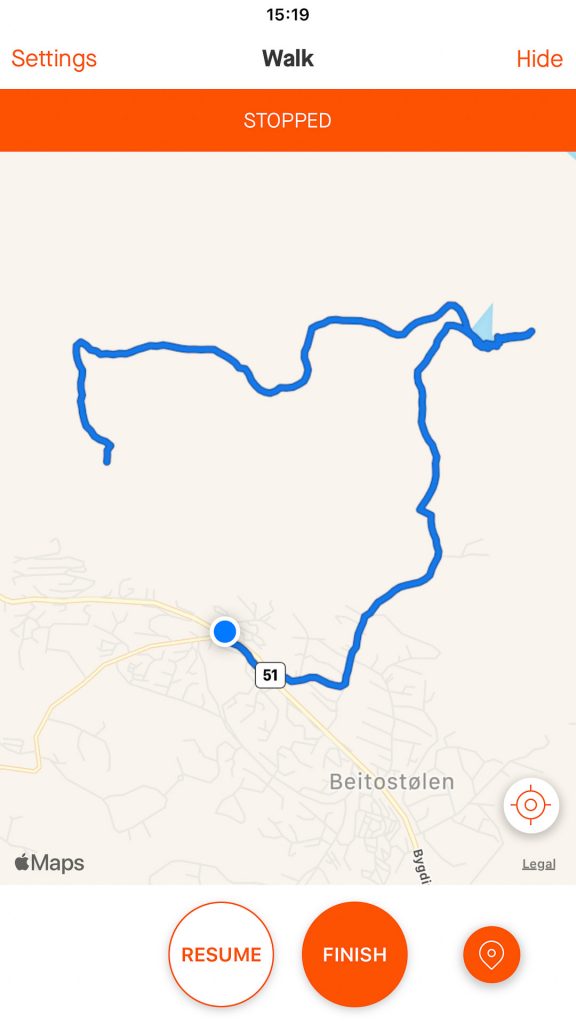 We started off with the skiing lift which we'd tried last winter. This was our first time doing one of these lifts during summer, and it was quite cool. As there's several bike paths at the top of this first hill, loads of people also brought their bikes in the lift.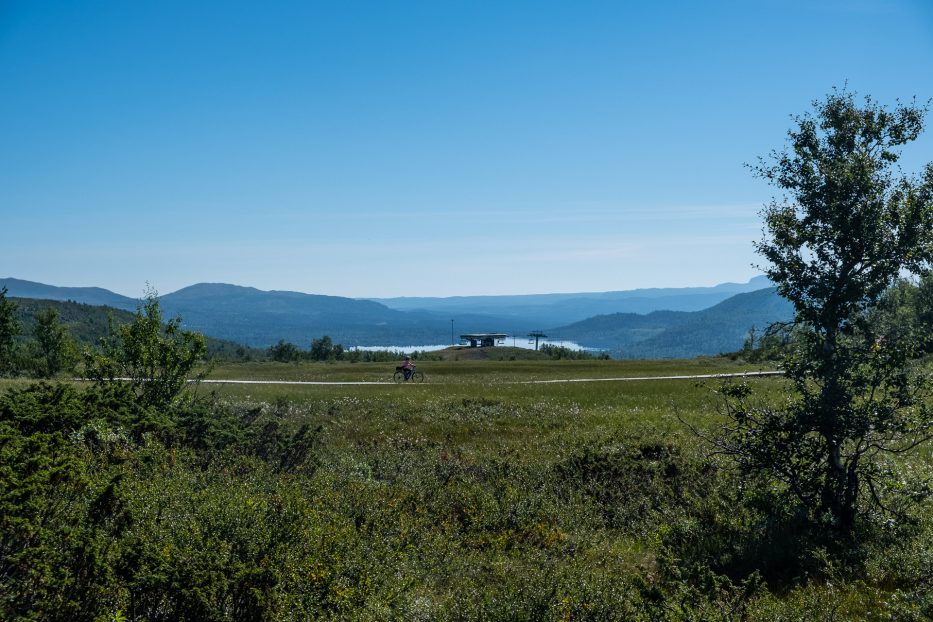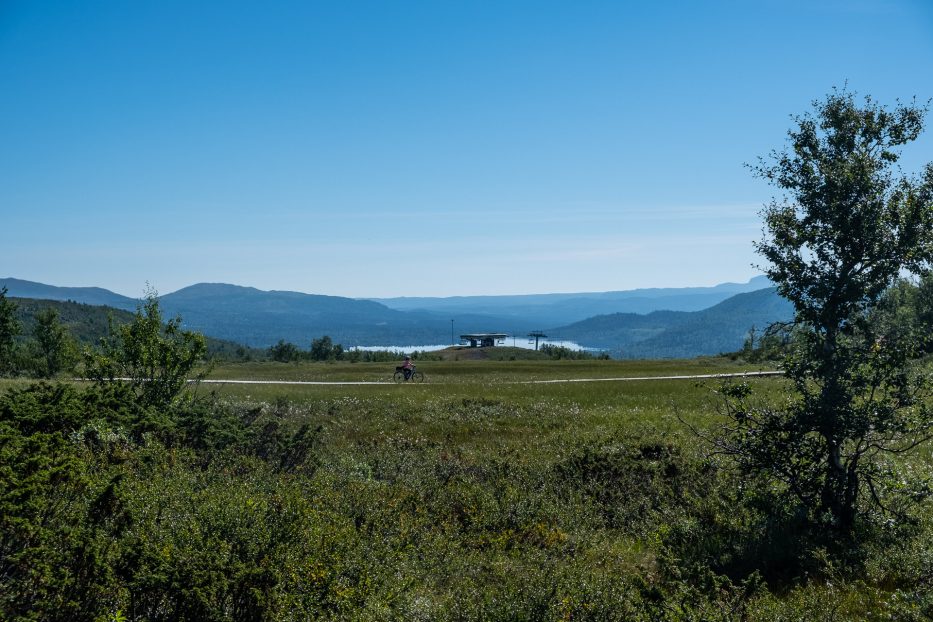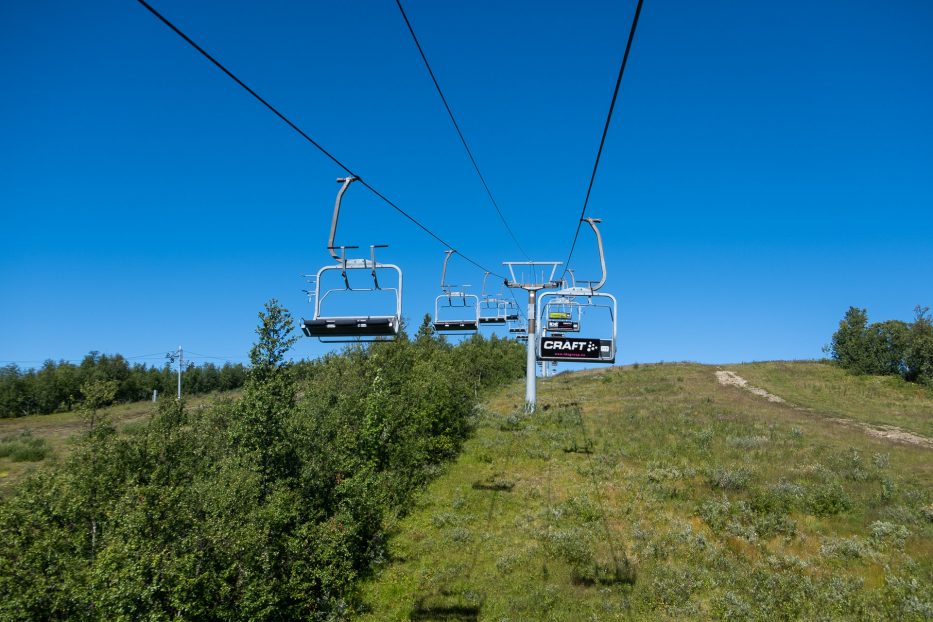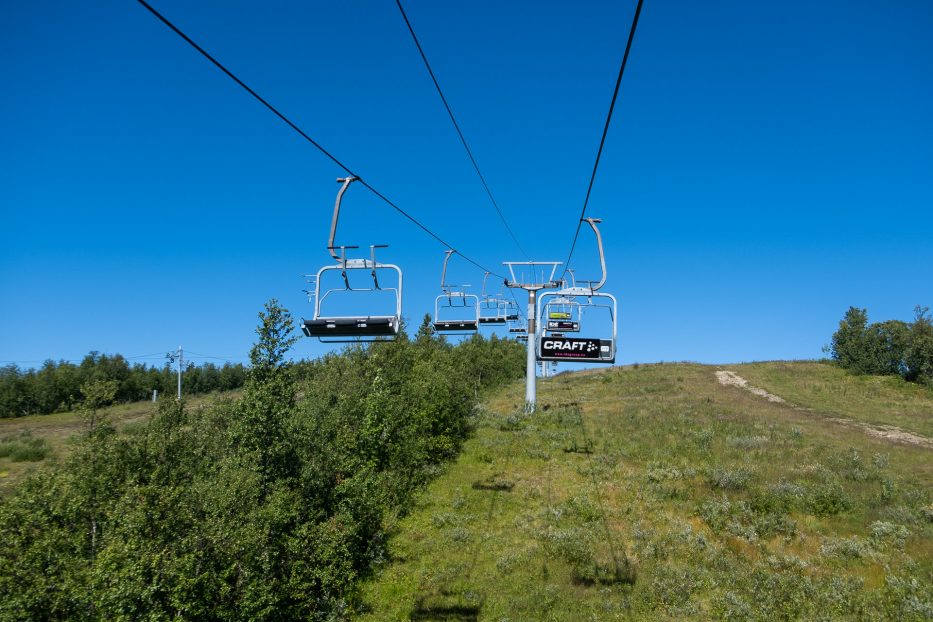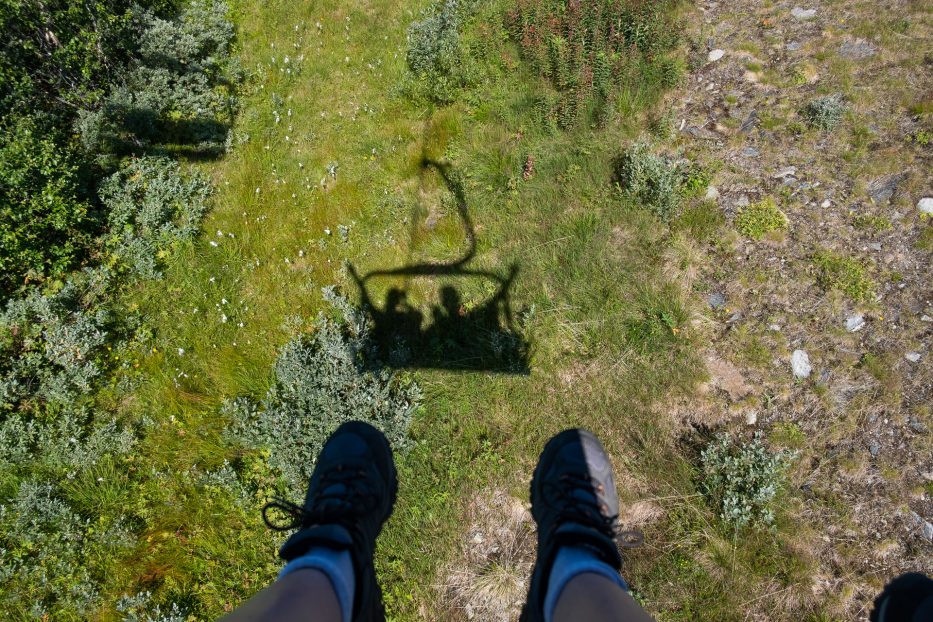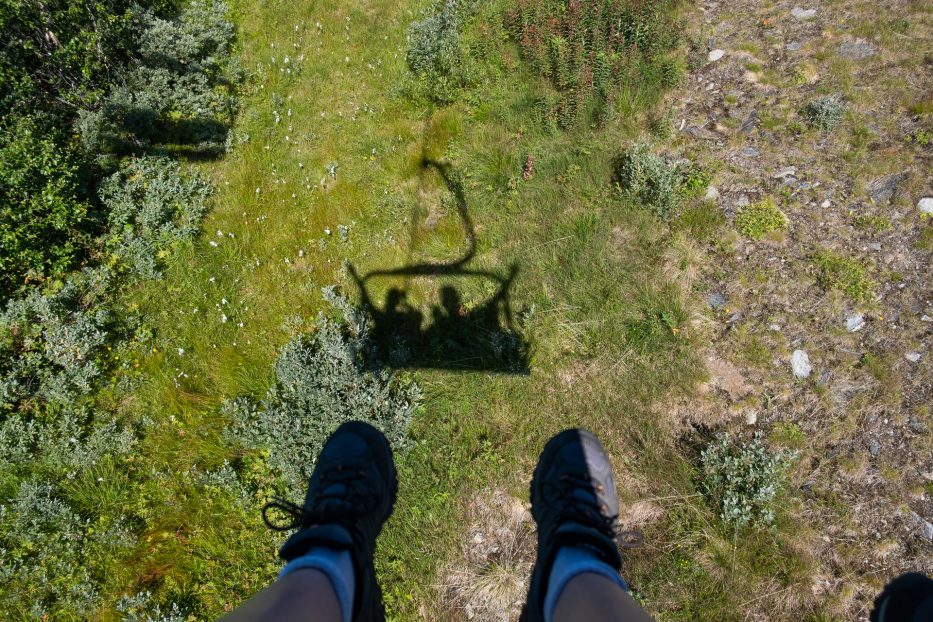 At the top of the hill you'll find several paths, a gorgeous first view both out over Beitostølen and towards (what seems like) endless mountains in the distance and a map.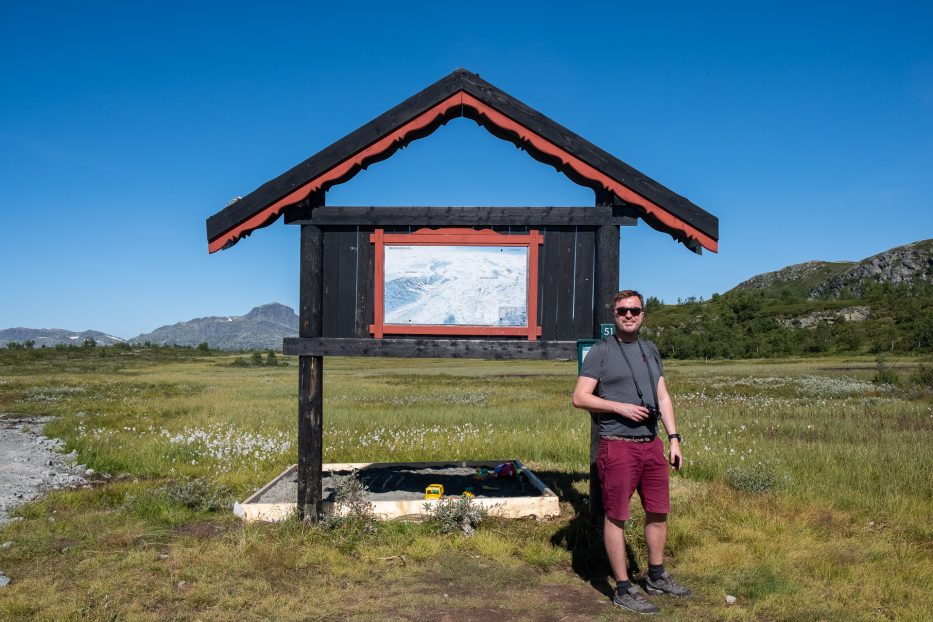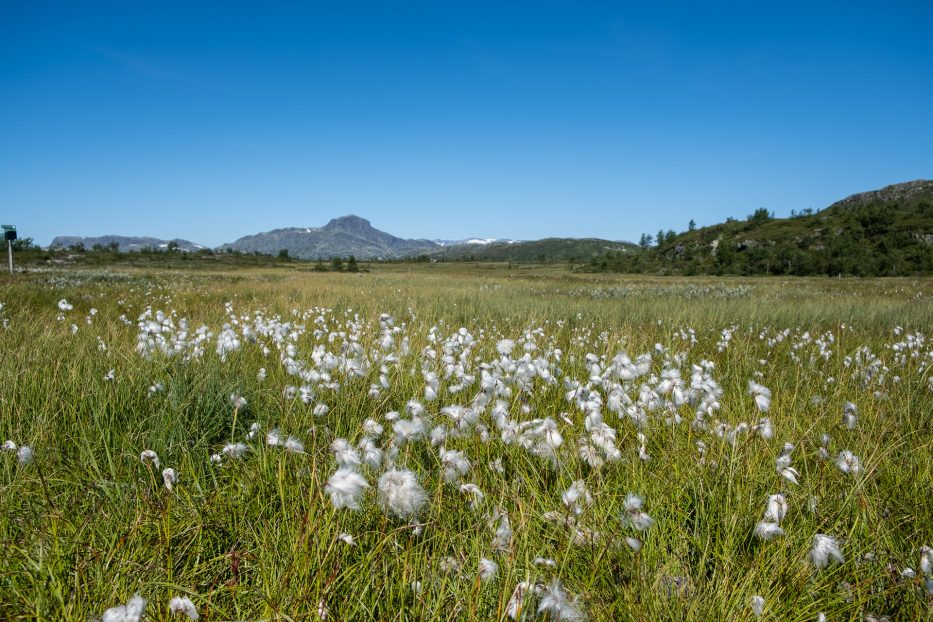 Knausehøgda
At 1123 metres above sea level, Knausehøgda was our first but also tallest mountain of the day. This is an easy hike, starting from the end of the skiing lift.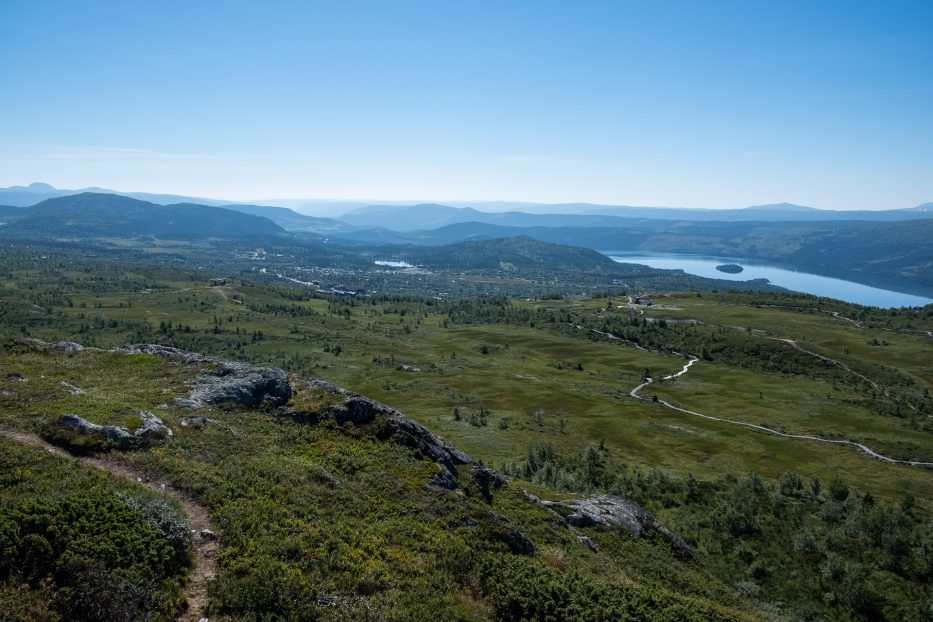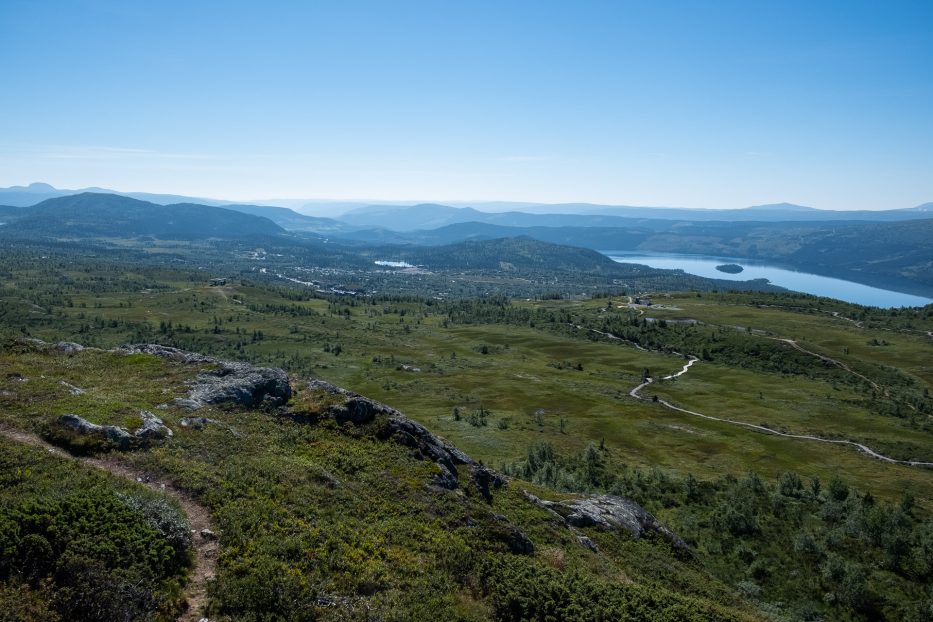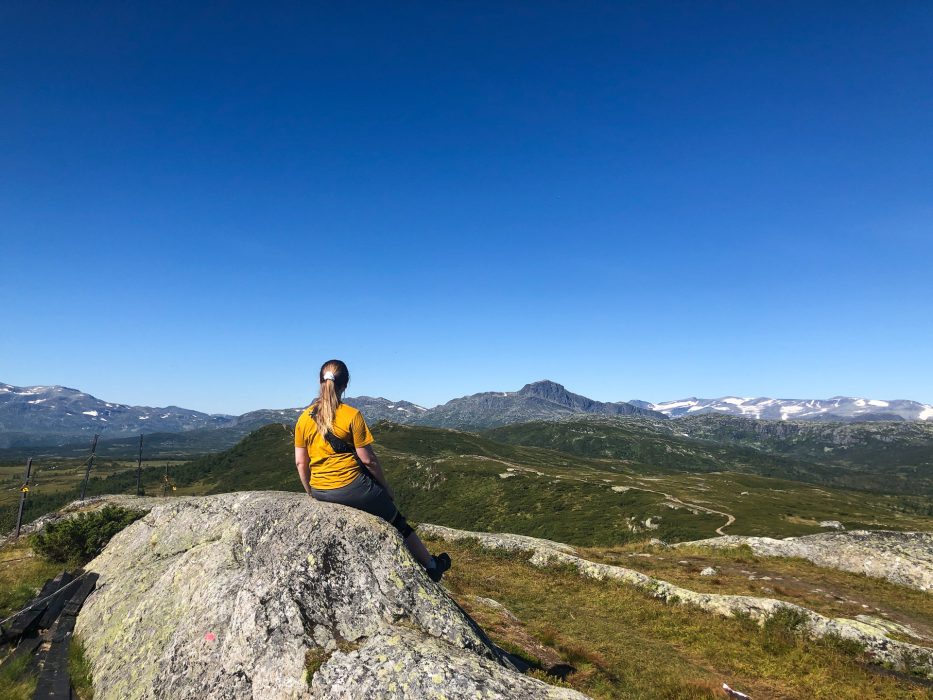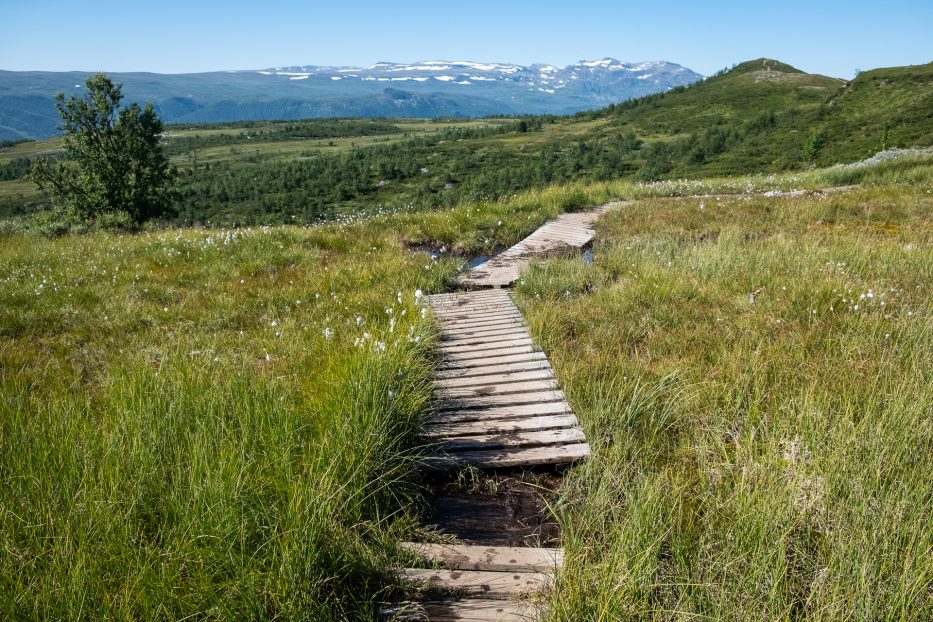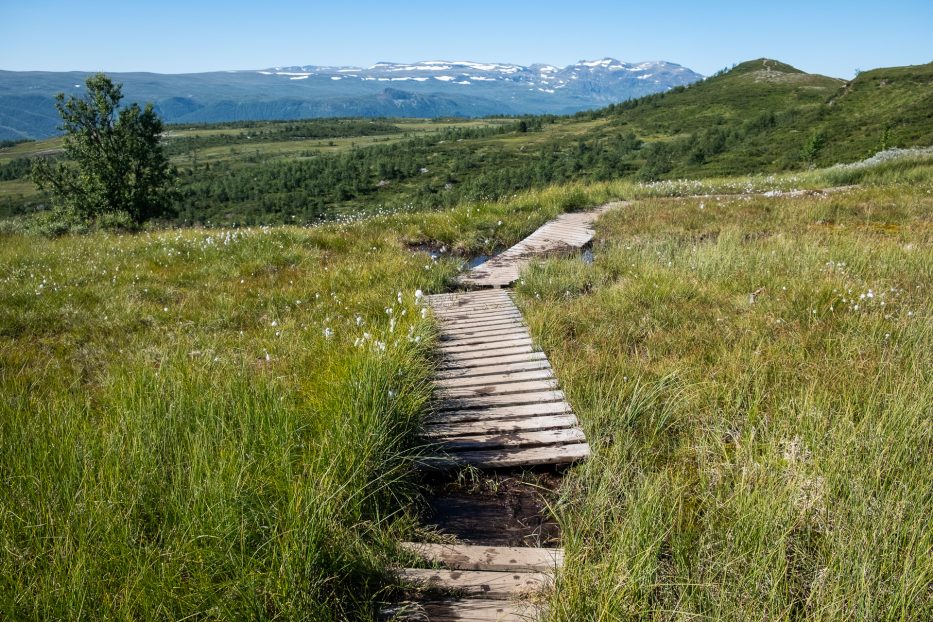 Søre Knausen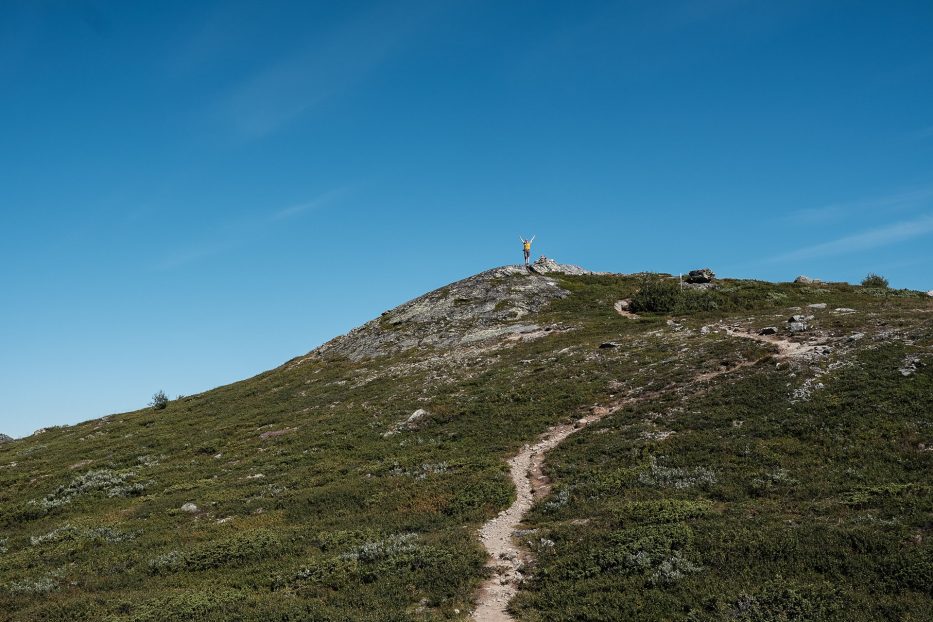 We continued our hike from Knausehøgda and over to Søre Knausen, the next summit at 1060 metres above sea level. The sceneries was rather spectacular, and although it was a bright, sunny August day, there was not too many people around.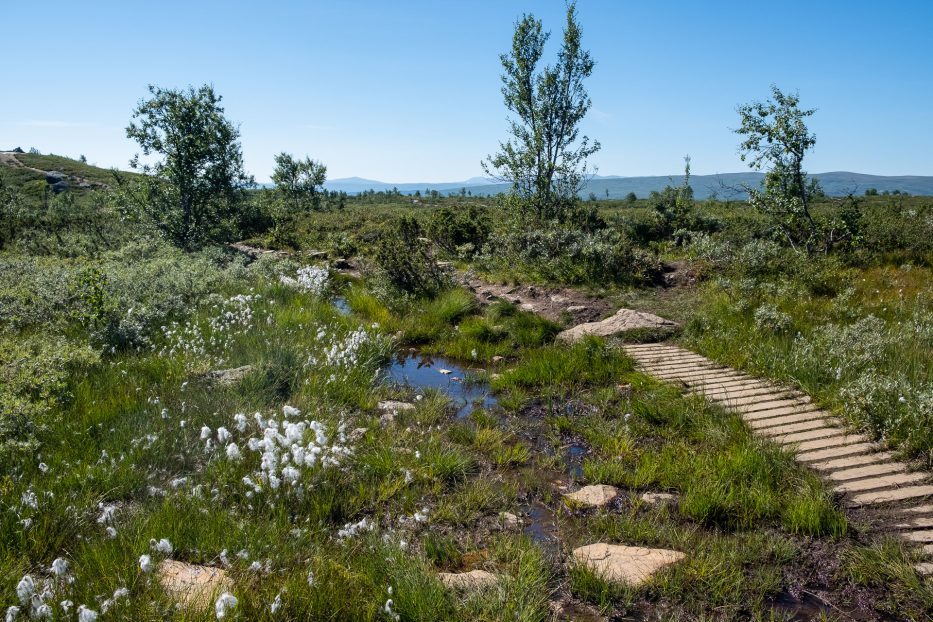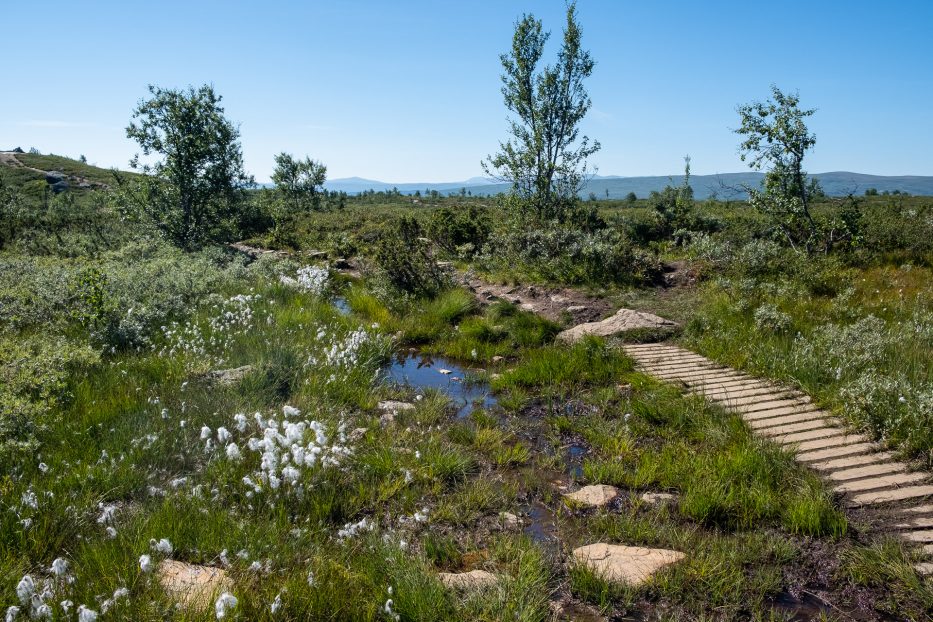 Tutjernkampen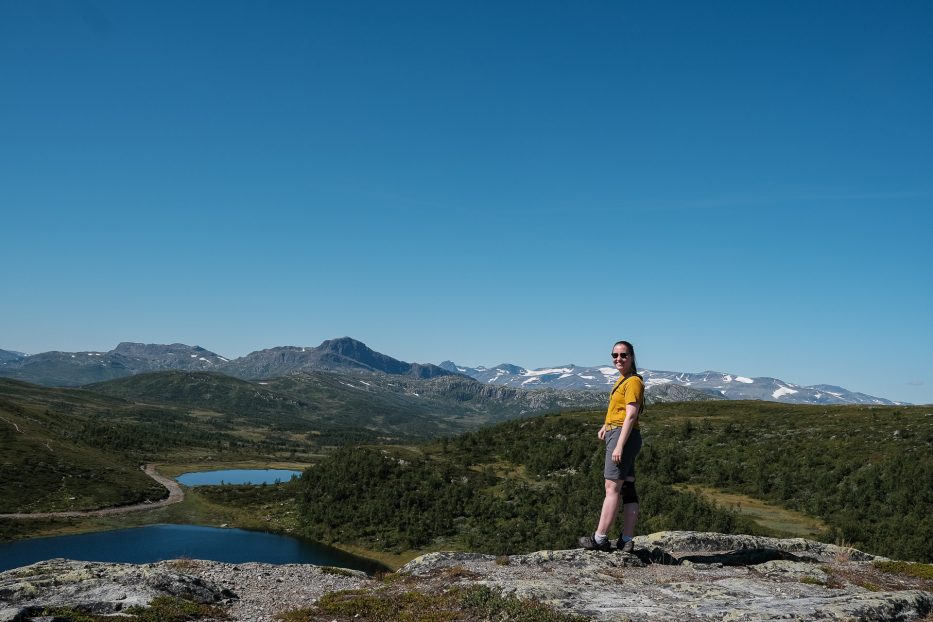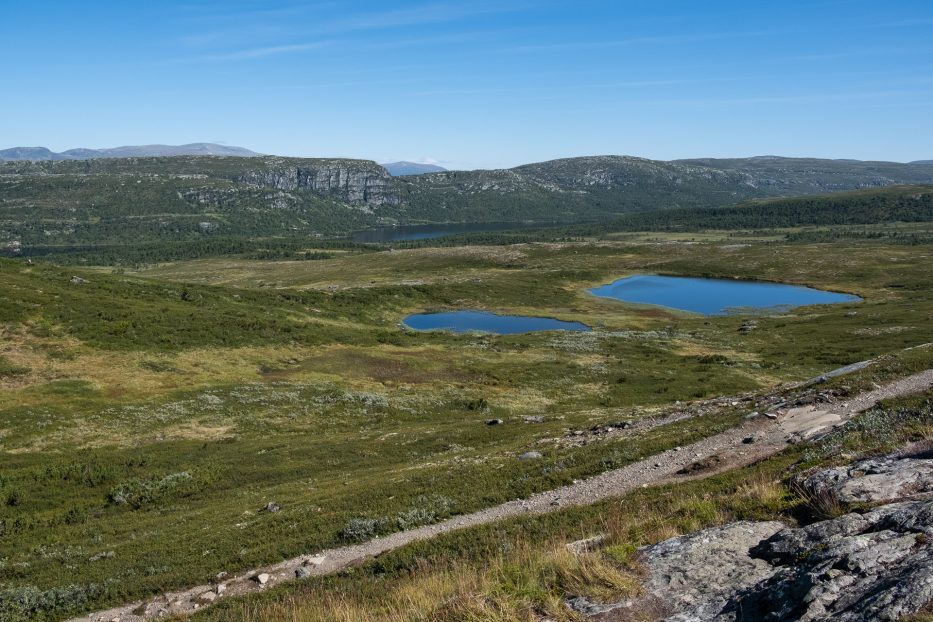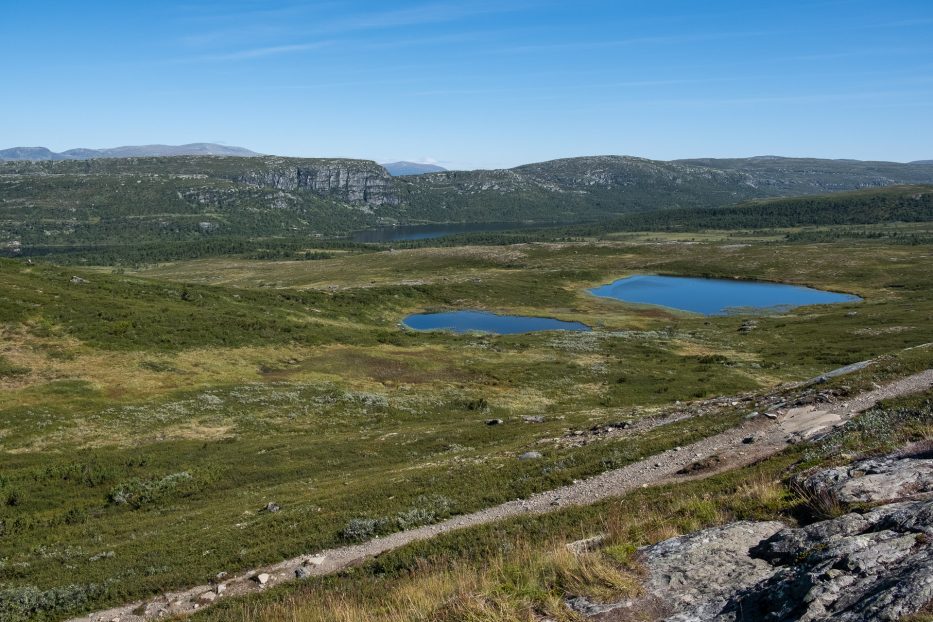 Our third summit was Tutjernkampen, which is 1095 metres above sea level. Just before arriving here we passed several small ponds. And a bigger one:
Tutjern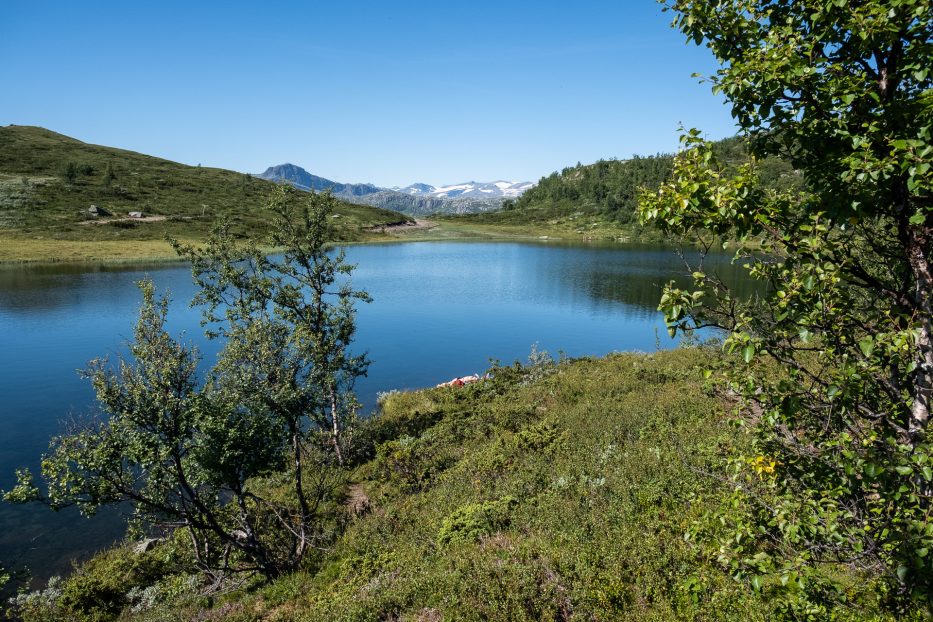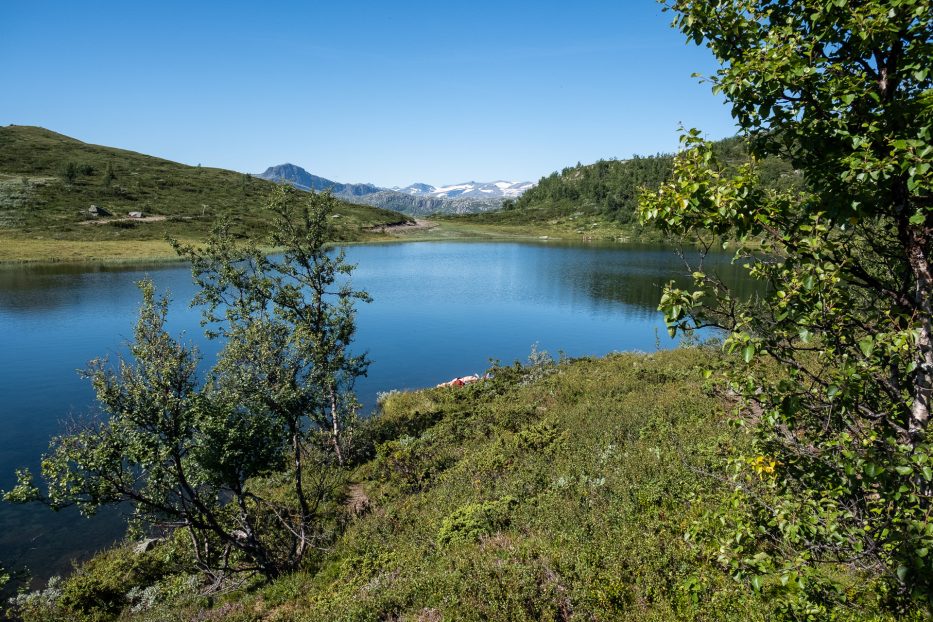 After hiking for several hours in the sun, we both felt rather sweaty. And so it was that when Thomas, who's not normally one to jump into cold water all of a sudden said "We should get in!", we did.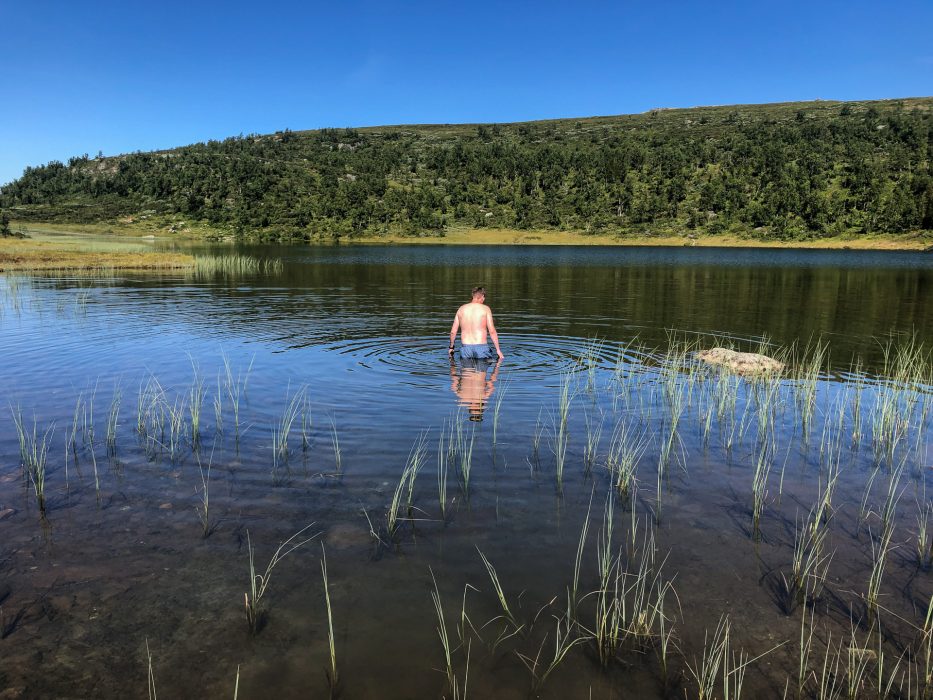 The water was by far less cold than I had feared, and it was nice to cool down after our hike. It was also way more shallow – even in the middle you could touch the ground with your feet (a ground so murky and swampy I tried my best to avoid it).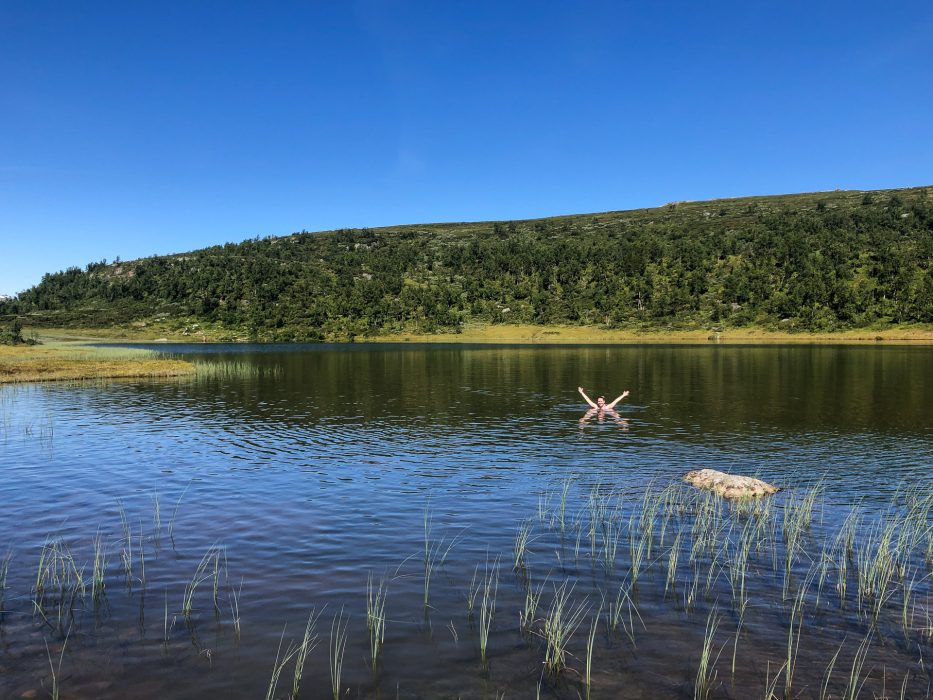 After dipping in we got dressed, and that's when we noticed all the not so tiny-pollywogs swimming in the water. Eep!
Our hike for the day ended up with walking back down to Beitostølen. However, you can also walk back to the start, the skiing lift, and go bob-sledding down the hill. Which we did the morning after! (Price, about 50 NOK / 5,65 USD)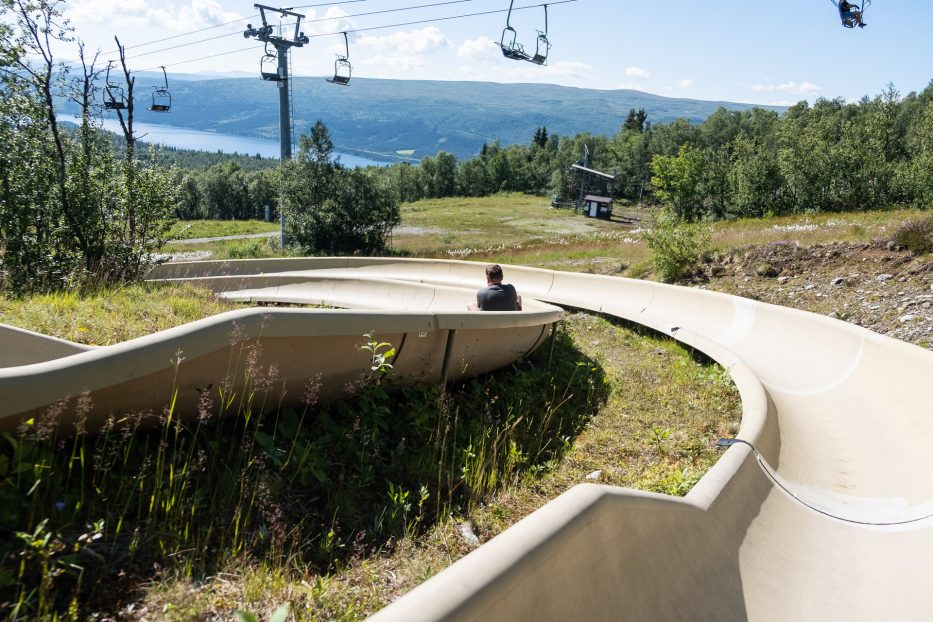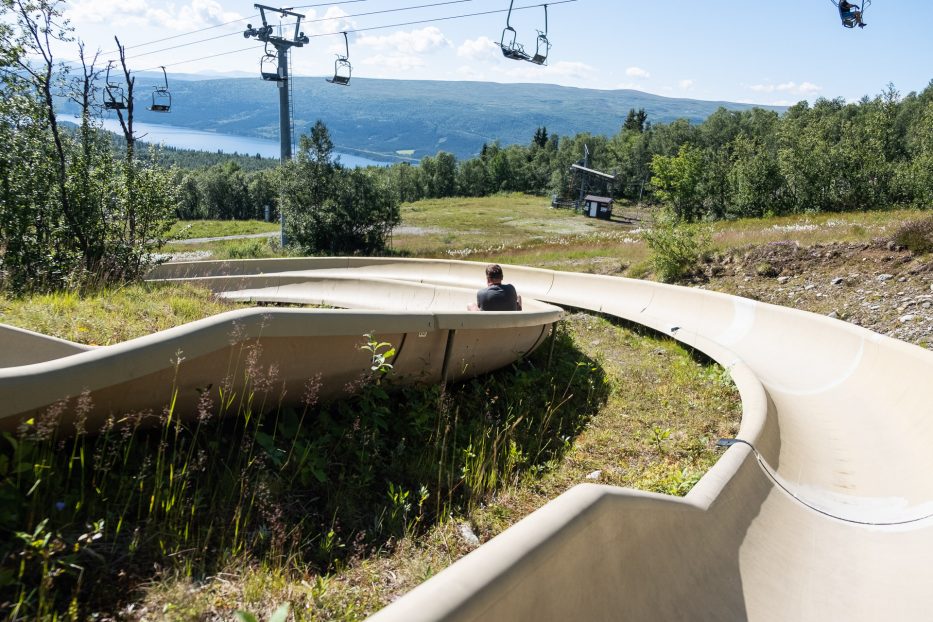 ---
Beitostølen and covid-19
As we all know, 2020 has turned out to be a year filled with surprises, travel bans and restrictions beyond anyones control. As all other places, of course Beitostølen has also been affected by this.
I wanted to know more about how all of this has been for someone working in the travel industry, and therefor spoke to Silje, the manager of Radisson Blu Beitostølen, about her experiences at Beitostølen during covid-19.
"It was really weird" she starts saying, her eyes looking out at the horizon far behind me. "It all happened so fast. One day it was business as usual, the next everything was shut down."
"I moved in at the hotel. I made my boyfriend come with me, as I did not want to be all alone. Everything was held at a minimum. The hotel pool was emptied, electricity as low as possible. At the evening we could gather around the fireplace, just to keep warm. It was so, so quiet" Silje continues, and shudders.
The hotel closed down in mid-Marc, and did not reopen again until the 10th of July this year. Although the late reopening, Silje tells me the summer season has been good. "It's been a few heavy months, I'll admit that. Workers were sent home on temporary redundancy. Luckily, we've been able to get everyone back working this summer. And everyones been so great!" Silje says, and smiles widely. "Now we're just hoping for a good Autumn season as well!
*When I visited Beitostølen in August 2020 the pool and the gym was still closed down due to corona-restrictions. The restaurant buffet however was back up. Yum!
Are you looking for a place to eat at Beitostølen? I'd like to recommend this blog post which Hedda from Tenk Koffert has about Restaurant Heimatt.
---
Four seasons at Beitostølen
As mentioned before, this is far from my first time at Beitostølen. And it's definitely not my last time here. If you're wondering when you should visit Beitostølen, my honest response would be "any time". And here's why: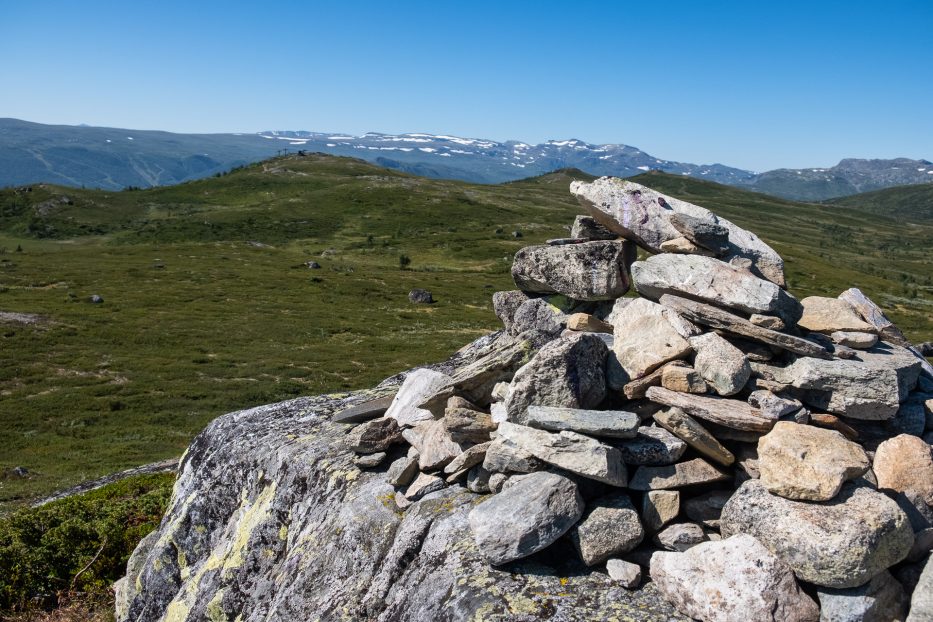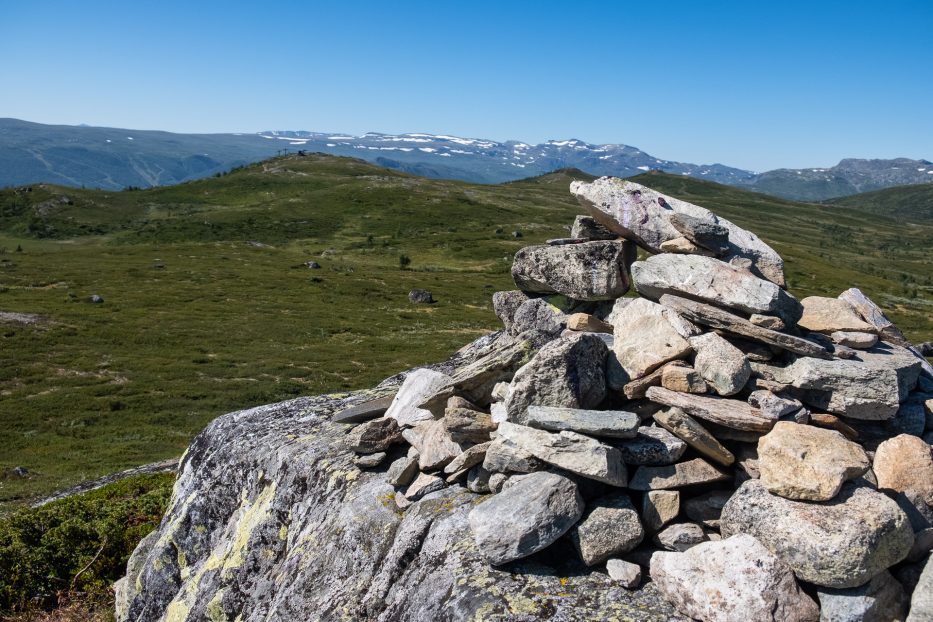 Beitostølen is, as you can see, great during summer. (I even visited Beitostølen once before this summer, with my family. More about this will be up later on it's own post. Spoiler alert: it will contain Via Ferrata!)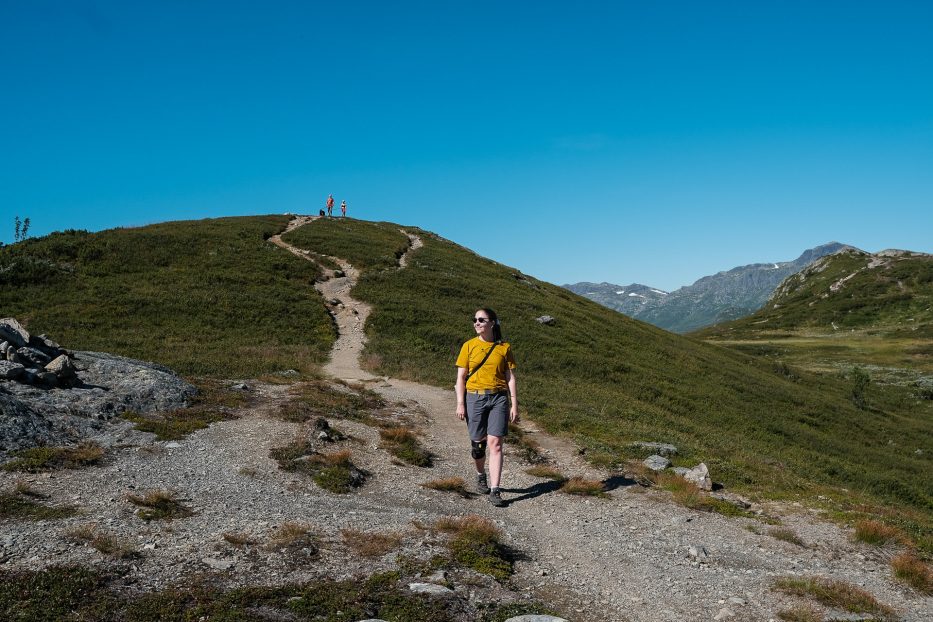 But Beitostølen is also great during both spring and autumn, with it's gorgeous colours. And of course, as a rather "typical winter destination", Beitostølen is also amazing during winter. And that's not if you enjoy skiing.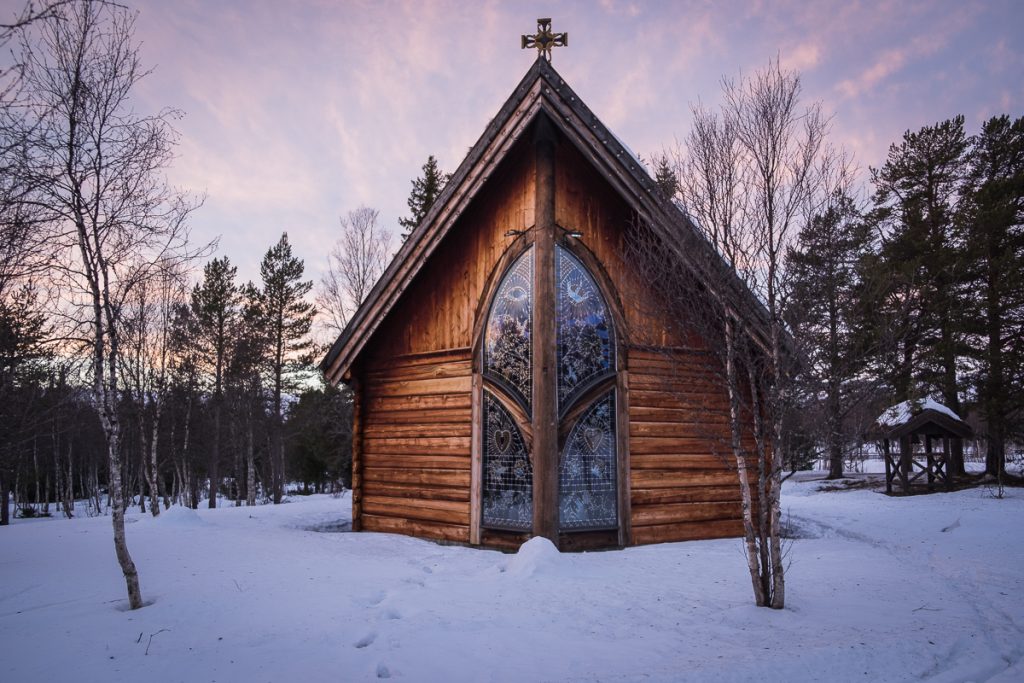 Here you can read my post from when Thomas and I visited Beitostølen during winter, and explored the area without skiing at all.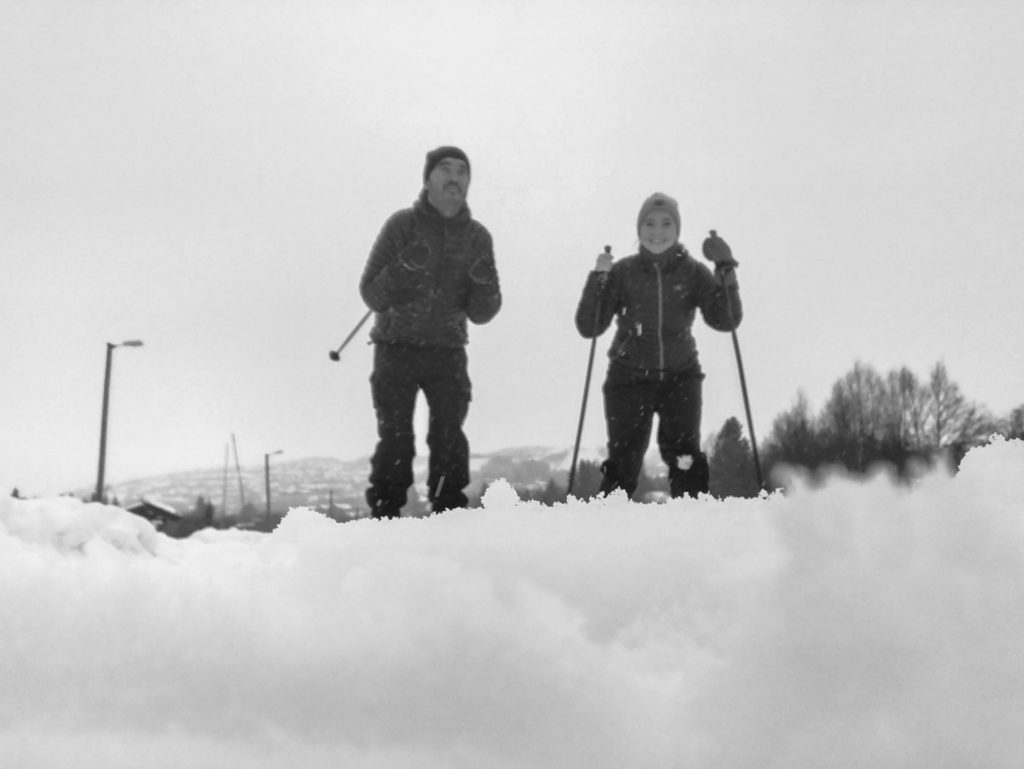 If you're more into winter activities, you can read about when we tried skiing back in January. As I am far from an experienced skier, this was definitely a fun experience! No matter what kind of level skiing you are, you will find slopes and options suited for you (and they also have a good selection of activities for children).
---
About this post
This post is written after a sponsored stay at Beitostølen Resort, but with no direction as to what to write about after. All things written are of course entirely based on my own experiences and my own honest review.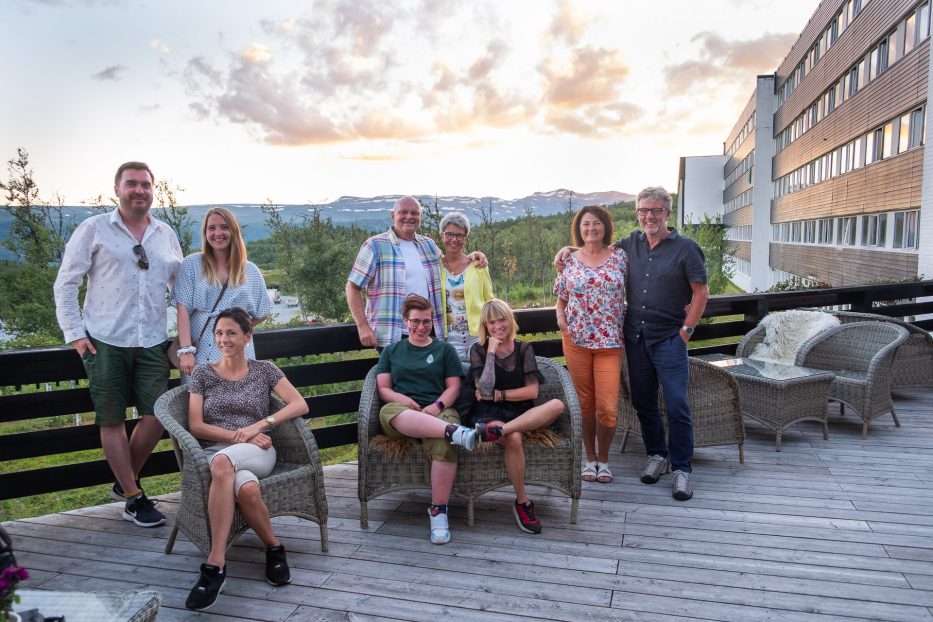 Thanks to Thomas Marthinsen for the photos of me. The rest of the pictures are taken by me.
---