The Oslo Hostel Rønningen is located at the top of Kjelsås in Oslo. The road before you reach it goes up, up, up – but the view you get once you're finally there definitely makes it all worth it.
We spent a night at Oslo Hostel Rønningen as a mini vacation, from after work on a Tuesday night and until we had to leave for work Wednesday morning. This gave us just enough time for a small adventure, a pleasant break from the everyday routine. You can of course stay for longer though, in order to both enjoy your stay, relax and go adventuring in the neighbourhood.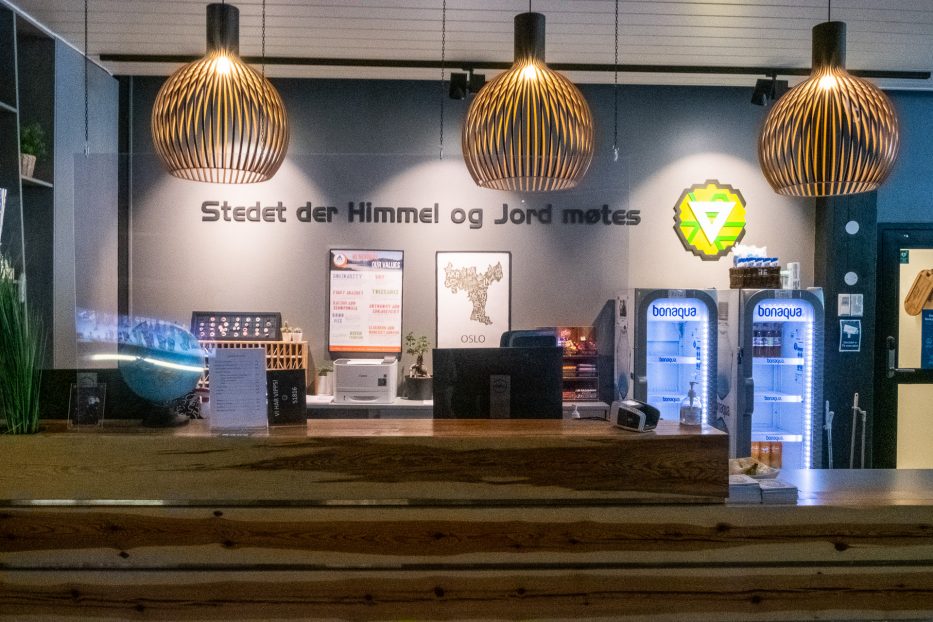 ---
How to get to Oslo Hostel Rønningen
To get to the hostel you can either drive your own car (there is a huge parking spot right outside), grab a cab or you can use public transport, as we did. To arrive by public transport, you first need to get to the Storo metro station. From here, you quickly walk over to the tram 11/12, and get off at the last stop, Kjelsås (the tram ride takes about 8 minutes according to Ruter).
As you arrive at Kjelsås, you have about 15 minutes of walking ahead of you. The hills up to the top, where you'll find the hostel, is a bit steep (but on a main road. The walk however provides you with both beautiful houses to look at as well as stunning views over both the city and of Maridalsvannet.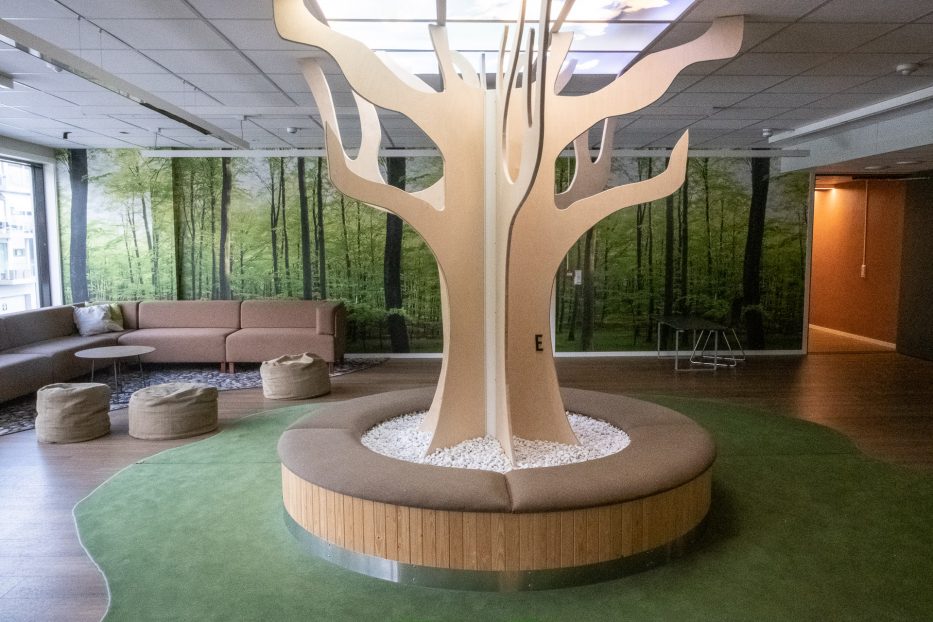 Dinner
"We hope you'll arrive hungry" Ole from Oslo Hostel Rønningen says to me on the phone, just as we're about to leave home. We are, as a matter of fact, quite hungry after working all day, and with the mention of food being involved we speed up towards the hostel.
As we arrive, the lovely Lydia in the reception greets us. "Just let me know when you want dinner", she says smiling, as we quickly leave our bags in our room. Within minutes we're back down again.
Dinner is served, and as it's a lovely, sunny day we decide to eat it in the outdoor seating area just outside the hostel. Lydia carries out a salad, roasted vegetables and potatoes, a huge steak and a mushroom sauce. We chuckle a bit, nervously, knowing we're supposed to go biking just after dinner, but the food is too good for us to worry about that right now.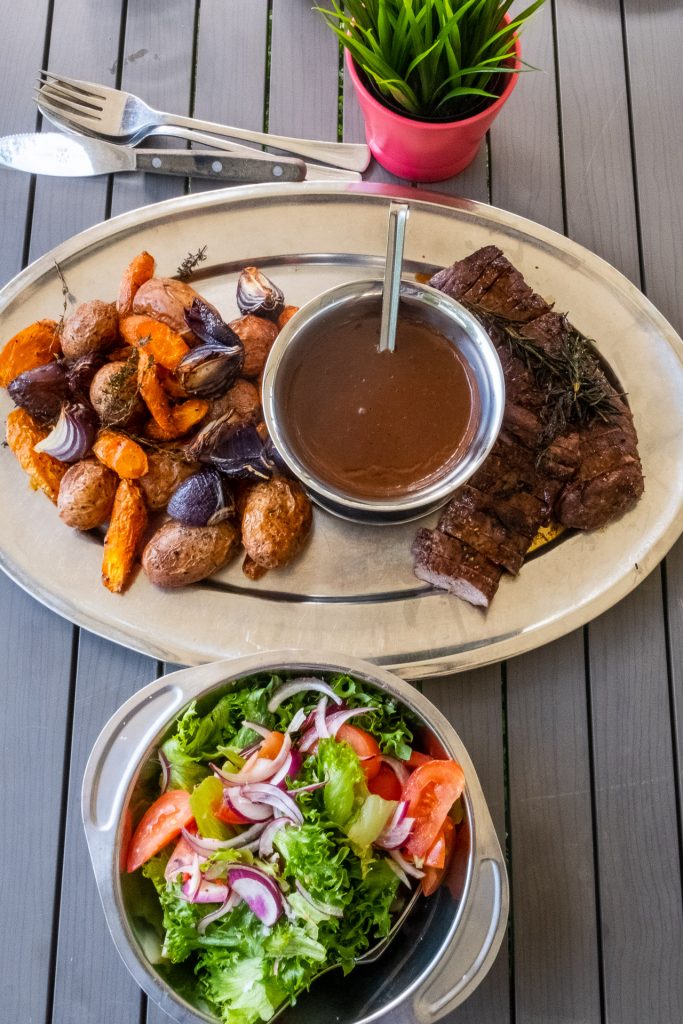 A pleasant surprise, and definitely way more than we'd expected knowing we're staying at a hostel.
---
Our room at Oslo Hostel Rønningen
Full from dinner we waddle upstairs to our room to get changed, and take in the room for a few minutes. We have a nice bathroom, with towels ready for us to use, a room filled with sunlight and a closet for us to store our things, two chairs to hang about in, and two nice beds.
The beds can be separated, which is nice if you want to share a room with someone but don't wanna share beds. A big window with an aircon hanging out lets the sun fill our room, and from there we can look out over Oslo, as well as over to Maridalsvannet. We change into our activewear, and walk downstairs again, where Lydia points us in the direction of where the bikes are.
---
Renting an eBike at Offroad eBike Adventure (Offroadbike)
50 metres away from Oslo Hostel Rønningen we meet up with Peder. He's preparing our bikes outside Offroad eBike Adventure. We're excited to see that their selections of bikes comfortably can be used by me (168 cm) and by Thomas that's 197 cm.
As this is our first time trying eBikes. Luckily, Peder is more than happy to demonstrate how they work. After a quick "tour" of the bikes, and a short test run on the parking spot, we're ready to hit the road.
The weather, which has up until now been sunny and warm, has changed while we ate. Dark, ominous clouds are quickly moving towards us, and we leave our cameras back at the hostel, hoping we won't get electrocuted by the bikes (Peder laughs when I ask about this, and quickly assures us that it won't happen although the bikes are electrical).
As both the hostel and the bike rental is located quite idyllic next to Nordmarka, this is a perfect spot to go on an adventure in the forest. Offroadbike also offers guided tours in the area, something which I would definitely love to do one day. And as he says, eBikes are perfect also for those who'd like to go biking, but perhaps cannot due to injuries etc.
As it's already a bit late at night, and the weather is not looking too promising, Peder recommends we visit Grefsenkollen – a place which we've hiked to several times. We look at each other – that road is quite steep! "I guess we'll get to find out how hardcore these bikes are" Thomas shouts, as he speeds out of the parking lot in front of me. I glance over my shoulder one last time, those clouds are really not looking friendly, and set out after him.
Biking up to Grefsenkollen
The first drops of rain hits us just a few metres after leaving Oslo Hostel Rønningen. I shrug them off, knowing I have dry clothes and access to a warm, nice shower back at the hostel. The bikes have several different settings, depending on how much you want to bike, and how much of the work you want the bike to take off. I try all settings, keeping myself occupied with that rather than focusing on the lightning I can now see ahead of us(!)
As we're closing in on the top we see several actual bikers ahead of us. By now, the rain is pouring down, but this does not seem to bother these hardcore bikers at all. Thomas sends me a funny look, smiling wide, then starts pedaling out, passing the bikers quickly.
"This is cheating, it's definitely 100% cheating" I think as I speed past the people actually using this as an exercise-option. I set my bike to the highest mode, which means the bike is doing literally all the work for me, and set off after Thomas.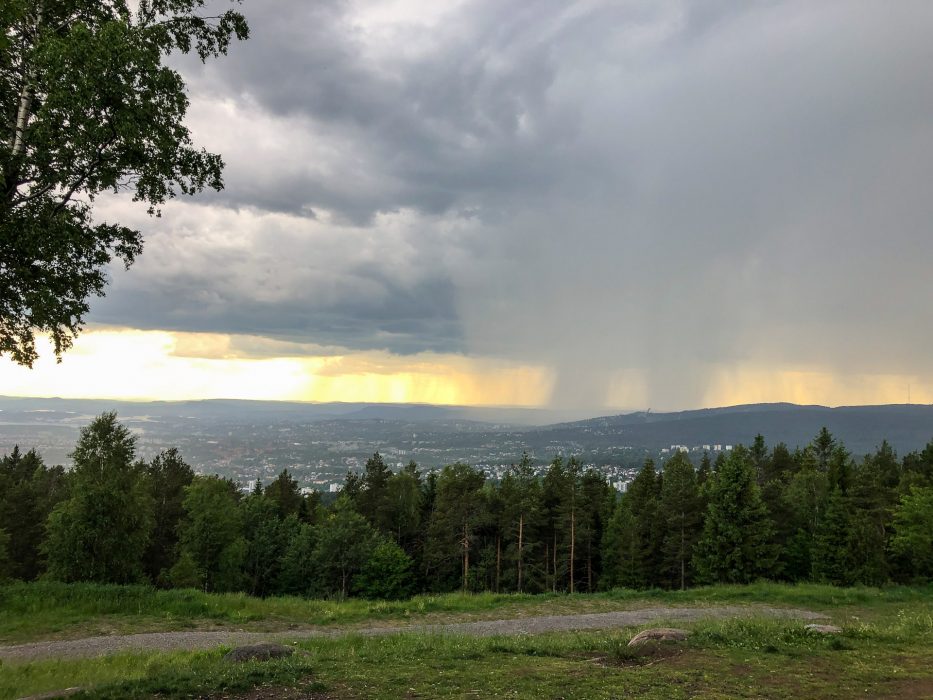 We look out over Oslo, which lies all spread out underneath us. It's a rather fascinating view, seeing the rain clouds moving over the city. "Look! There it's raining, then not there, then super rain over here!" we shout excitedly to each other, like two kids playing in the rain.
Although it's pouring down, Grefsenkollen restaurant is filled with people (in the way that a restaurant can be "filled" while still maintaining social distance), enjoying the view from underneath sheltered roofs.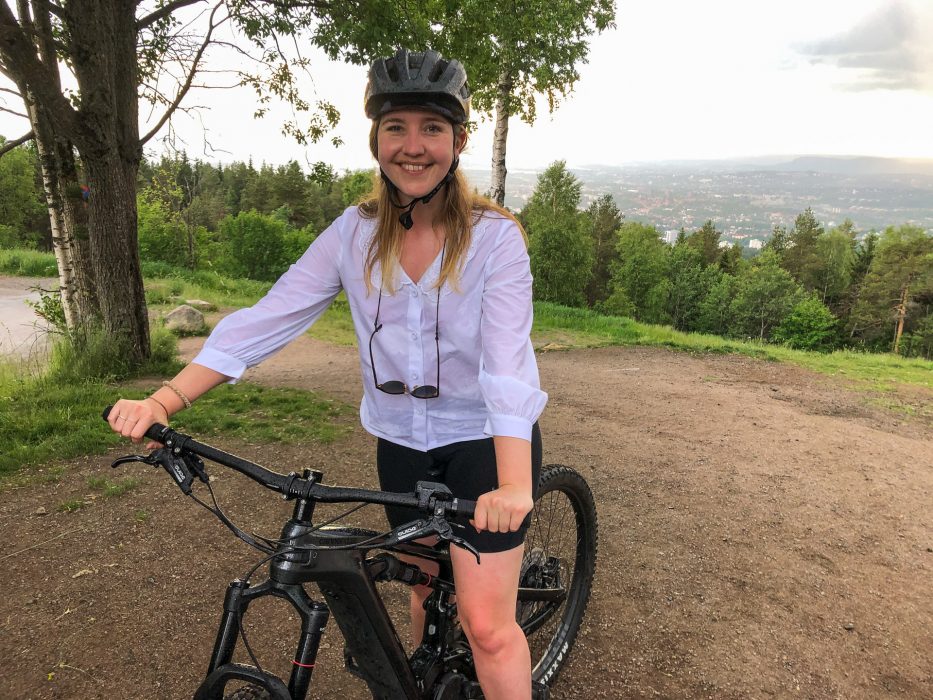 I'm wearing a white shirt, which at the time seemed like a good idea for biking on a bright sunny day, but by now seems I've entered a wet t-shirt competition. Luckily, although soaked, it's warm and nice outside, and the bikes are too much fun to just go back. We test the bikes on some paths, it's off road-bikes after all!
OK, so this might be "cheating" compared to actual biking – but it's also so much fun! (And hey, we were not in for a competition, or for too much exercise, especially not after all that dinner we just had back at Oslo Hostel Rønningen).
---
Things to see and do near Oslo Hostel Rønningen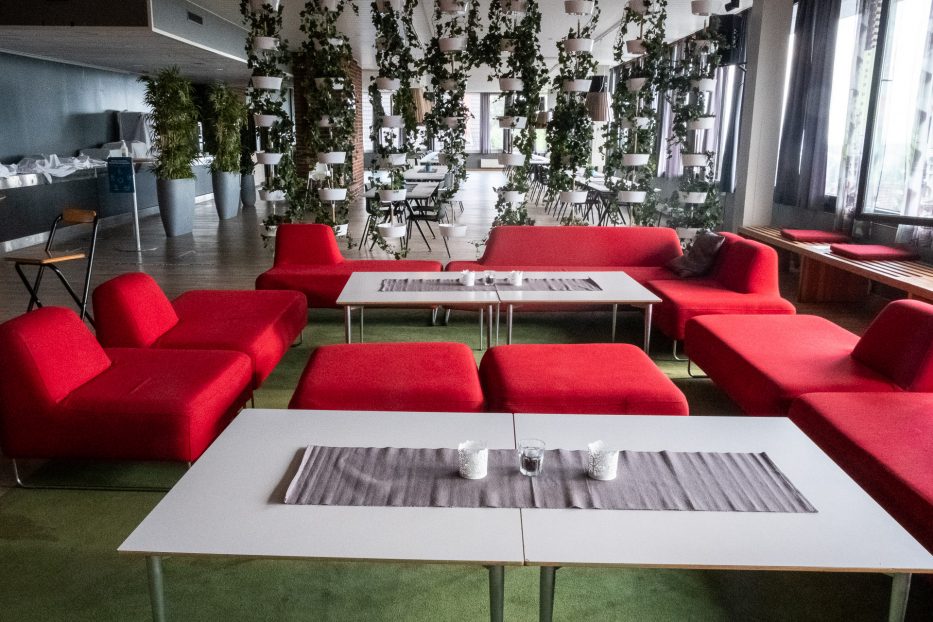 As mentioned, Oslo Hostel Rønningen is literally located next to the forest. This means you can go for several great hiking courses in the area. (For tips on nice day trips in Oslomarka, read my blog post about it here!)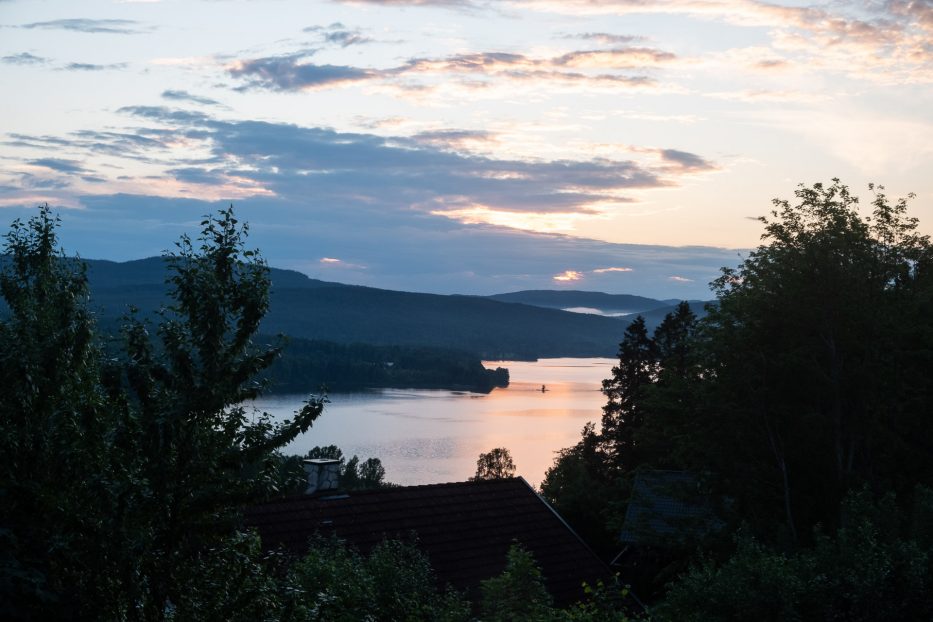 Akerselva is also really close by. If you walk down to Maridalsvannet, which can be seen from the hostel, you will be at the beginning of Akerselva. You can follow the river all the way from Kjelsås to the city centre, if you so wish. Along the hike you'll find several nice spots to stop.
I'd suggest a walk from Maridalsvannet down to Nydalen (where you can go for a swim, buy an ice cream or have a meal) and back up again. This trip would be about 5 km long, and take you just over an hour, perhaps a bit more with the hill up to Oslo Hostel Rønningen.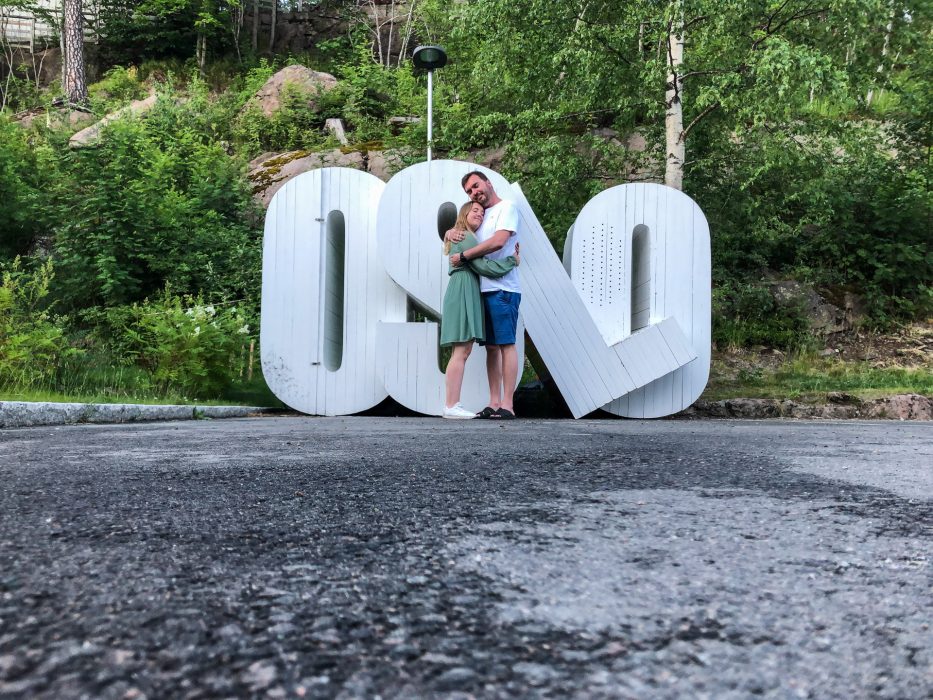 For a rainy day, or if you're just in the mood for shopping, Storo storsenter is also really close by (just hop on the tram back to Storo metro station). Here you'll also find a cinema close by.
(I'm currently working on a post entirely dedicated to things to see and do in Oslo, so in the future I'll have heaps more ideas to offer for you here.)
---
Things to do at Oslo Hostel Rønningen
You don't even have to leave the hostel grounds in order to find something to do, though. Right on the outside, you'll find a big football court. There is also a nice fire place.
Inside, you'll find several common rooms for hanging out in. Several of them has bookcases filled with books you can borrow, perhaps while enjoying a nice cup of a freshly brewed coffee mocha from the café?
You can also have fun inside, as Oslo Hostel Rønningen offers both two pool tables and a shuffleboard. We had to try them both, of course, and we even went back later at night to play some more!
---
Feeding the chickens
As we entered Oslo Hostel Rønningen a warning sign was set up: Warning! The chickens are roaming free in the garden. Chickens?! In the middle of Oslo?! As I am born and bred in Oslo, chickens are exotic to me. Lydia in the reception tells me I should contact them in the morning for a chance to feed them.
So of course I have to do that! Shortly after feeding myself breakfast (pictured above, which was really good, and I got my own gluten free version) I therefore went over to reception. The guy behind the counter was just as excited as I were, and equipped with phones and bread, we walked over.
The hostel, or really, the school (a folk high school, a typical Nordic-tradition thing I believe?) that's usually here, has no more than 5 chickens. These are living just outside the school building, and tend to walk freely around on the property.
If you're traveling with kids (or just someone who's as excited about animals as I am), definitely make sure to say hello to the chickens. Two of them even dared snapping the bread directly from the guys hand – to both of our amusement.
---
Rønningen Folkehøyskole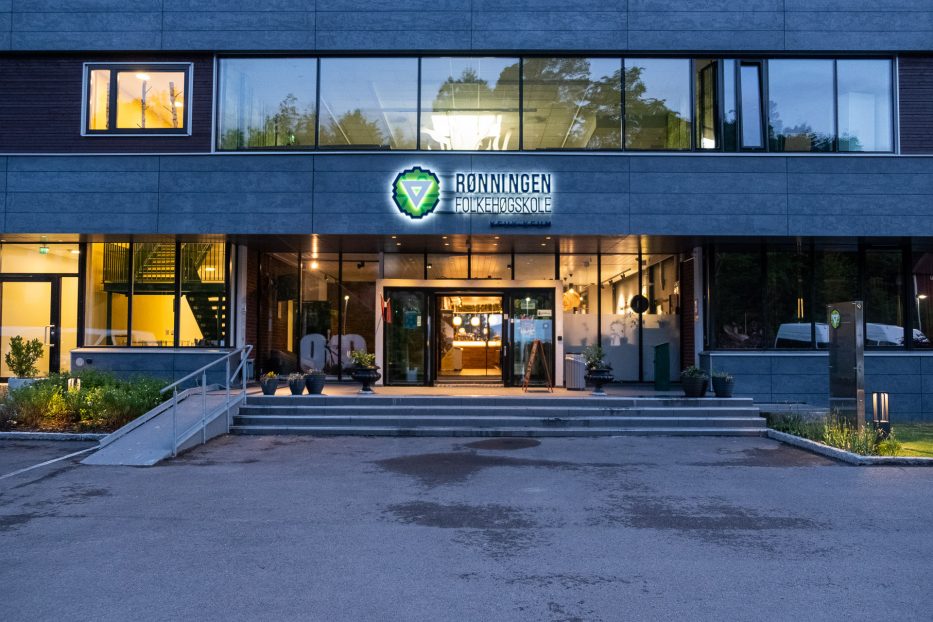 Rønningen Folkehøyskole ("Folk high school") is a boarding school people usually attend at some point after finishing high school. Most people will attend the school for a year studying something they're interested in, for example something creative (such as photography, music, sports or art).
The school year is from August to May, and Rønningen folkehøyskole can accommodate up to 170 students. As we visited Oslo Hostel Rønningen in June, there were no students around anymore, just a few other hostel guests.
The chickens, as well as a small "grow it yourself"-plant project outside are both parts of the folkehøyskole.
---
About this post
This post is written after a sponsored stay at Oslo Hostel Rønningen, but with no direction of what to write after. All things written are of course entirely based on my own experiences and my own honest review.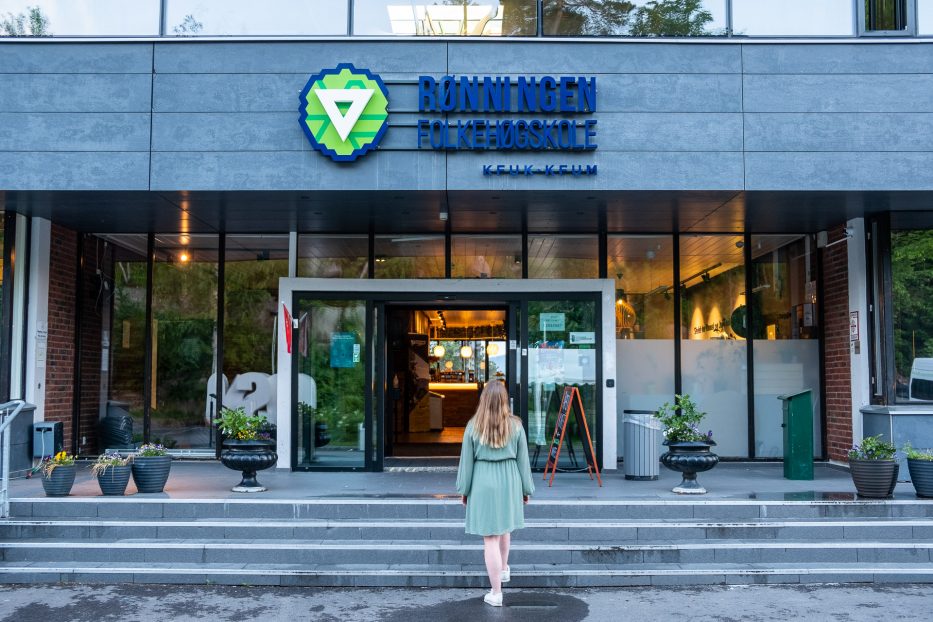 ---