Too Long Did not Read:
A short summary of the must see/do's (that we covered this time) in Budapest:
---
"Just do it already!"
my coworker said. The calendar said June, there was flight tickets on sale, and Thomas' birthday was coming up in about 5 weeks. I'd been browsing places nearby in Europe, thinking I'd surprise him with a long weekend get-away. But where had he already been? What if I got him tickets somewhere he did not even have a remote interest of going? "I'm sure he'll go anywhere with you! Just pick somewhere!" I'm finding myself a bit overwhelmed these days, as I now have someone who wants to travel the world, with me – suddenly there's just so many options. So much to see. So little time (and so little money?) Argh! I double checked for spelling mistakes and dates on both the hostel and flights for probably the 10th time, then clicked "buy ticket".
"Come on, you can't just wish for one thing for your birthday" I say to Thomas, as he desperately try to come up with anything but hiking boots. "Well, you know it's not gonna be too exciting to guess your gift, then" I sigh, pretending to give up. I wrap his gift up in a box I've measured to be about the size a box of hiking boots would be, and bring it home. He smiles politely as he takes the gift in his arms on the morning of his birthday, and I can see his expression change when he feels the weight of it. "Wait, what, huh…" he says as he's finally having the gift. "Oh my…" he starts saying under his breath, but does not even finish, because he's already hugging me, and then looking at the travel guide, and then hugging me again. "But, wait, the 2nd of August? That's like, super soon! I have to plan! And pack!" I laugh, relieved he's so excited, and even more of that I don't have to keep this trip a secret from him anymore. Reading up on a travel destination and being excited is way more fun to do together!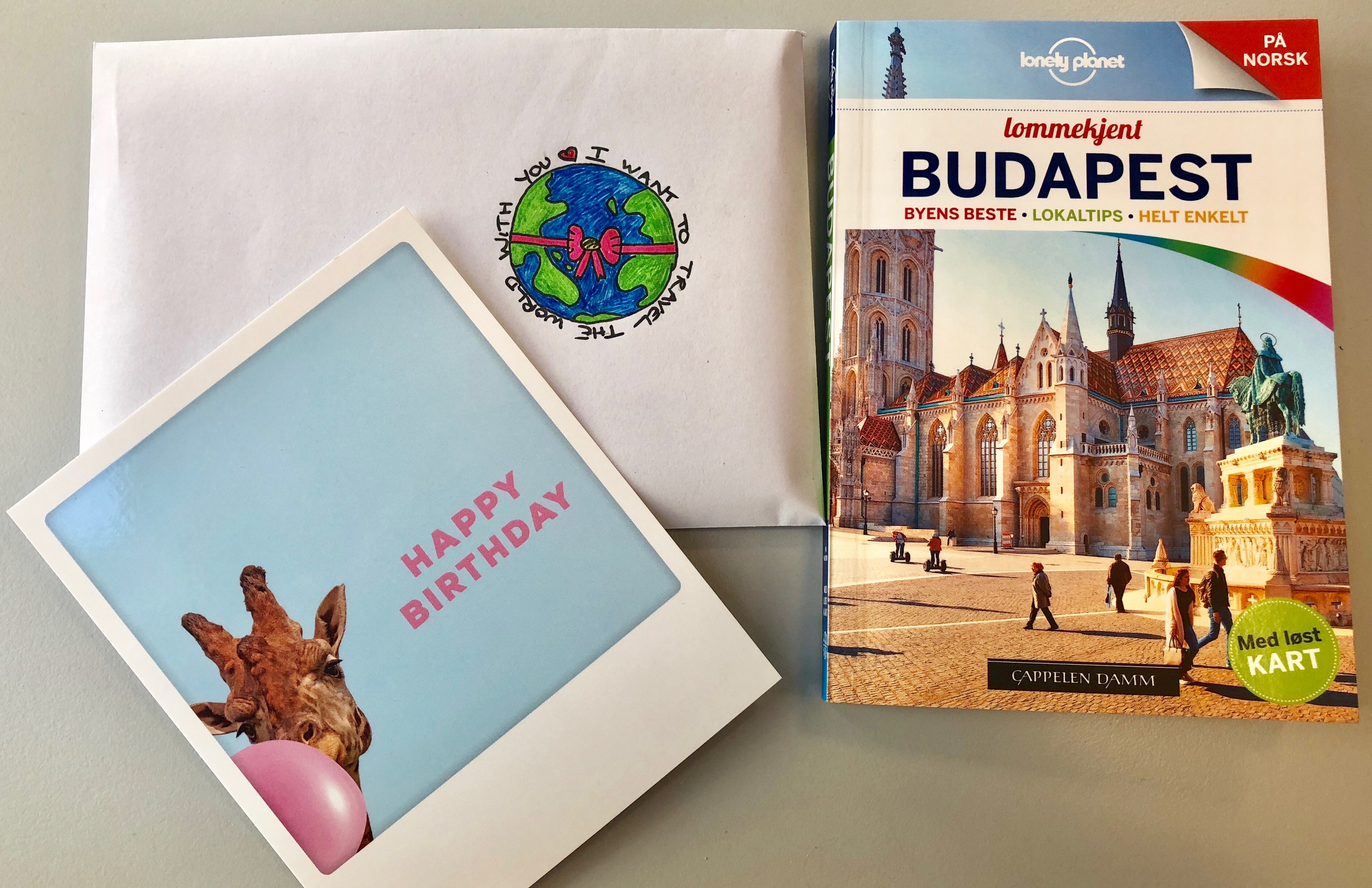 I hate stressing, especially when it comes to traveling, so I always arrive at the airport super early. This time was no exception. We walked through the duty free, then found our gate which conveniently enough was right next to a bar. "Happy birthday!" I said, as I presented Thomas with an ice cold Bulmers.
One disadvantage about traveling with someone who's pushing 2 metres and consists of 80% legs; I always end up in the middle seat. However, it's a small price to pay. Also, it's kind of entertaining to always end up next to someone I don't know. This time, on our way to Budapest, I ended up next to a young man reading a leather bound copy of The Bible in Hungarian(!)
Arriving
We touched ground just before 21.30, and after getting some cash from an ATM, our bags quickly showed up too. We'd read that Hungary would be a pretty cheap country to travel around in. At the airport we found ourselves with the option of a cab trip 30 minutes directly to our hostel for a mere 7400 HUF (approximately 220 NOK / 26 USD), or a cheap bus that would take an awful lot of time. We went with our first option, eager to get our holiday started. (Side note; the HUF (local currency in Hungary) is worth having a look at, they look pretty cool imo!)
Approximately 30 minutes after we got into the taxi, we got back out again, just outside Opera Guesthouse and Apartments, where we would be staying the following 3 nights. As I am living with coeliac disease, which means I have to avoid eating anything that contains gluten, I'd looked up what the situation for eating gluten free in this city was like. It seemed to be pretty good. They even had an entire restaurant that was gluten free, and I hoped we would be able to visit it at least once during our stay. Turns out; Drop Glutenfree restaurant was just around the corner for us, and I saw it even before I saw our new "home". As we arrived after check in-hours I'd been in contact with Robin, one of the owners of Opera, and shortly after we left the taxi he arrived by bicycle in order to let us check in. Great service! We got our room, left our things and went out to see if we could find a late night-snack – which turned out to just consists of drinks.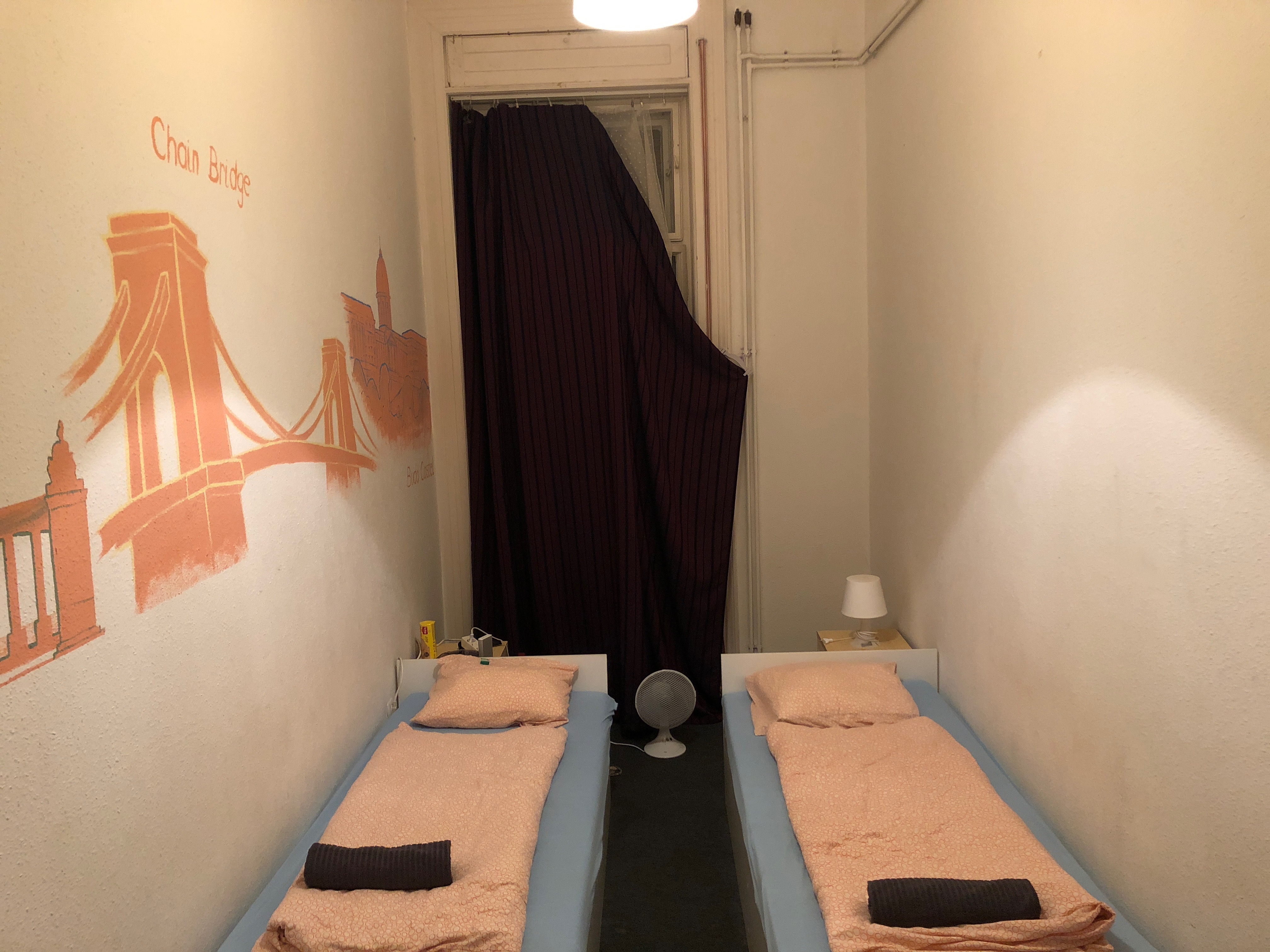 The beds turned out to be really good, and with the fan in our room doing a good job, we both slept really well. One of my favourite things when traveling is to wake up somewhere new. That short moment before you remember where you are, and not to mention the excitement of leaving your room for the first time in daylight and have a look at this new place you're at. Exciting! We started off or morning by visiting Drop after a quick shower – and we were not disappointed. Staff was friendly, the coffee strong and with a good taste, and the menu had a good variety catering both for people eating gluten free, vegetarian etc. I had one bite of my food, and nearly spat it out; WOW! The food was also absolutely delicious (and Thomas agreed, which was good, as not all gluten free food tends to tickle the taste buds of people who can have gluten). After enjoying our food, quickly going through what we wanted out of the day (basically: see cool things, take photos, have some drinks, be on holidays) we packed our backpacks, and went out to explore Budapest.
And what a stunning city Budapest proved itself to be.
Chain Bridge
Every few steps I had to stop and take a photo of something – a house facade, a monument, or a bus that had electric wires at the top like a tram (what?!) Our first pit stop was at a bar next to the Chain Bridge, just in time before the rain. Here we could enjoy the view, the cold ciders and hammocks. Perfect!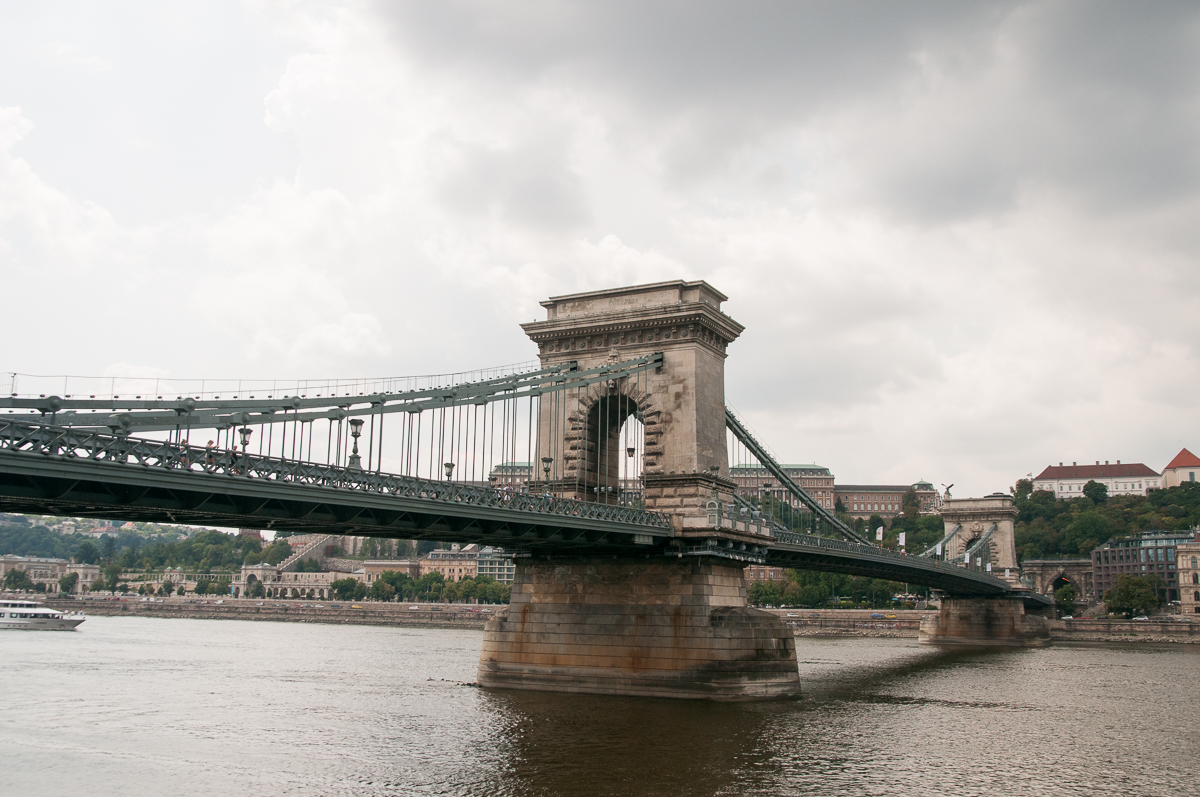 Castle Hill
After the rain had stopped, we crossed over the bridge, and quickly after found ourselves on the Budvári Sikló funicular, that took us up the Castle Hill.
The view at the top was spectacular, and we could also see some of these love locks that lovers put up with their names on. Cute! As we were walking around, looking at the huge statues and the Buda Castle, I heard a sound and turned around – only to see four people all dressed up on top of horses.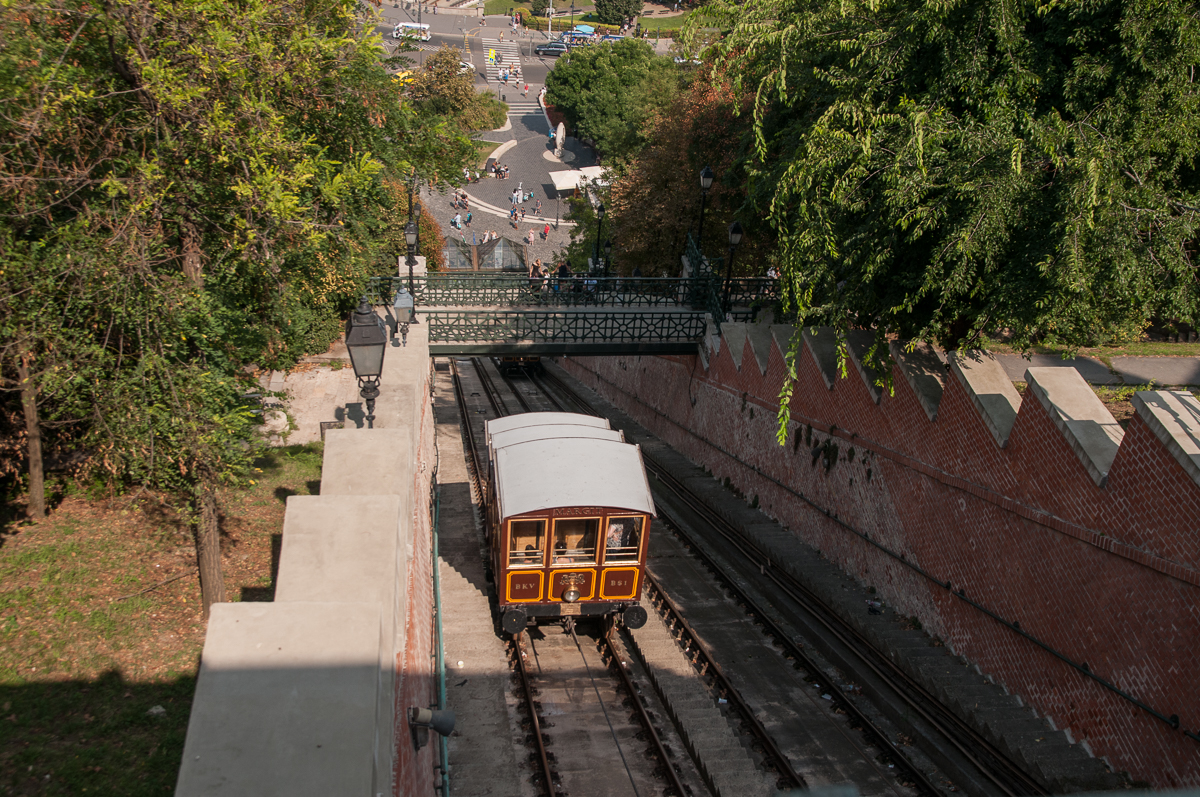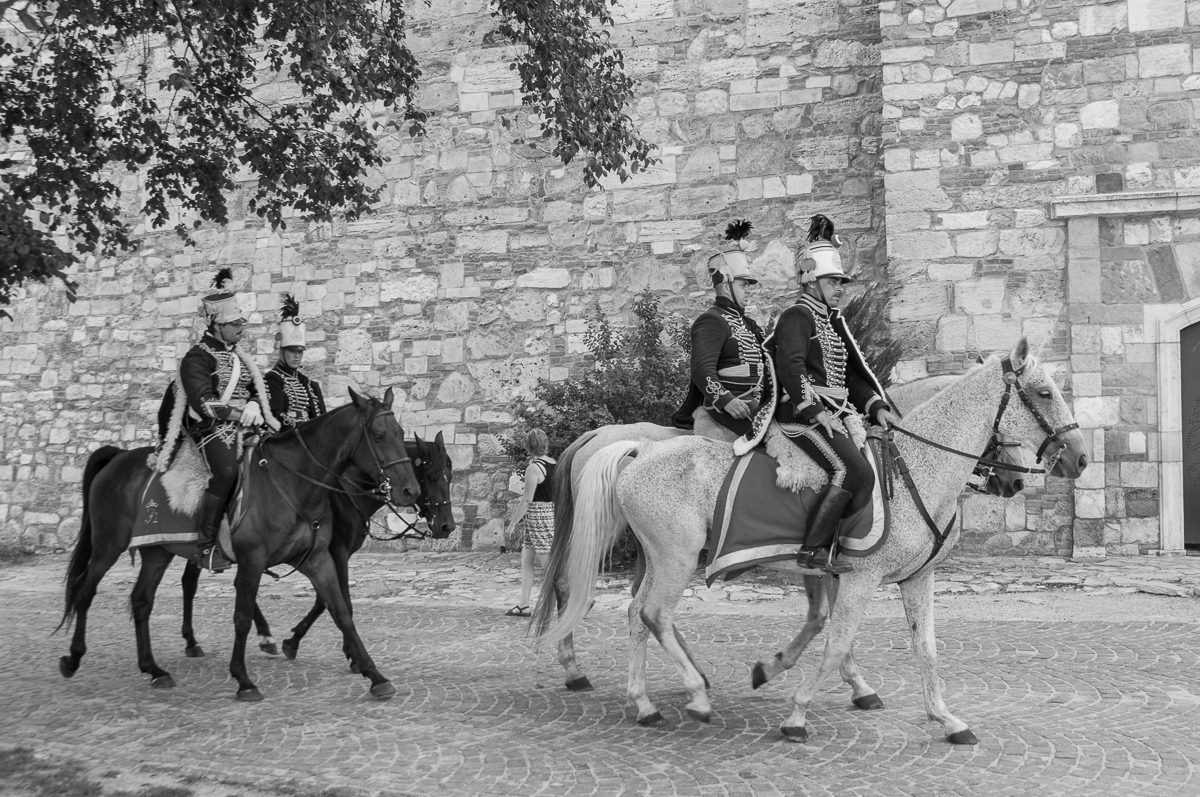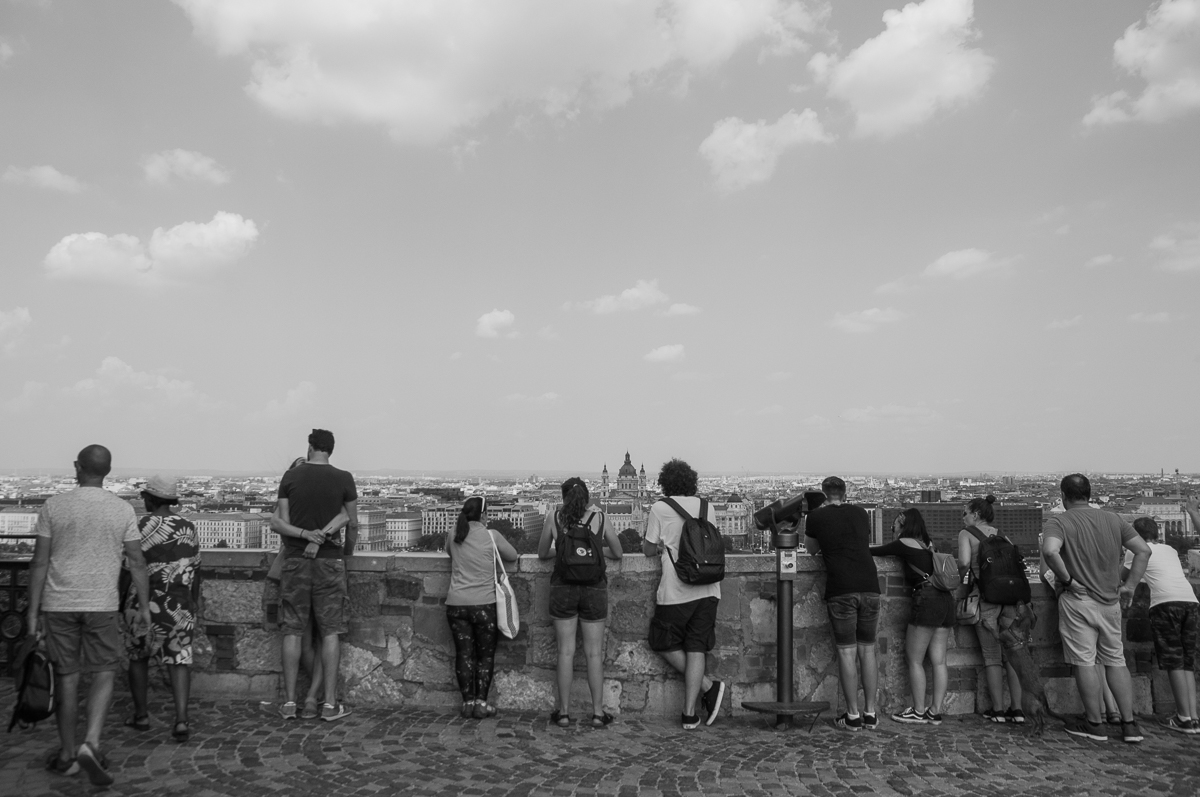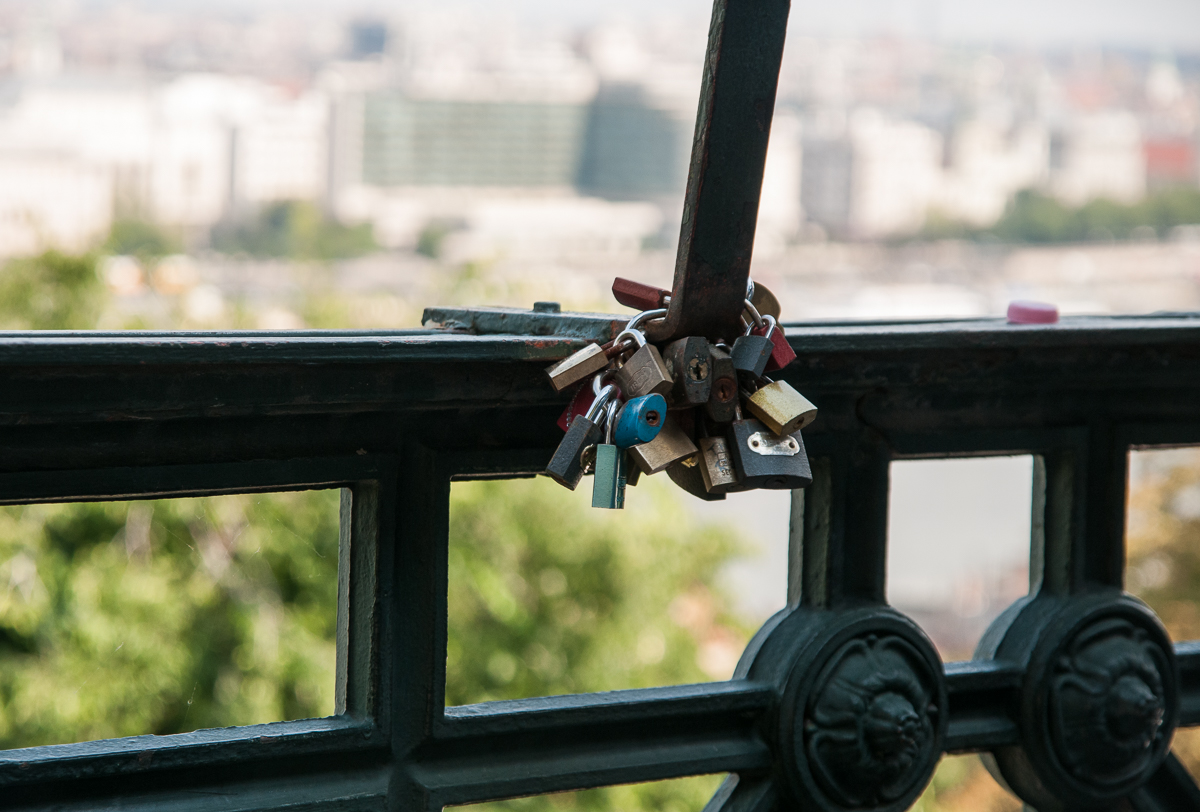 On our way back down, walking, we found a spot to get the drone out for a flight (at the top Thomas had asked a guard if it was allowed, and he said "just go a bit further that way, and I'm sure it'll be ok". Not sure if it actually was ok, but noone complained, so yeah). It was time to get some food in us after a long (and hot) day, so we got a late lunch, and went for a plate of tapas, some Hungarian wine and some of that famous goulash. I have to say – to me the goulash was a bit underwhelming, not really rich on flavours (which I assumed it would be, as there is a wide range of paprika spices sold in Budapest?)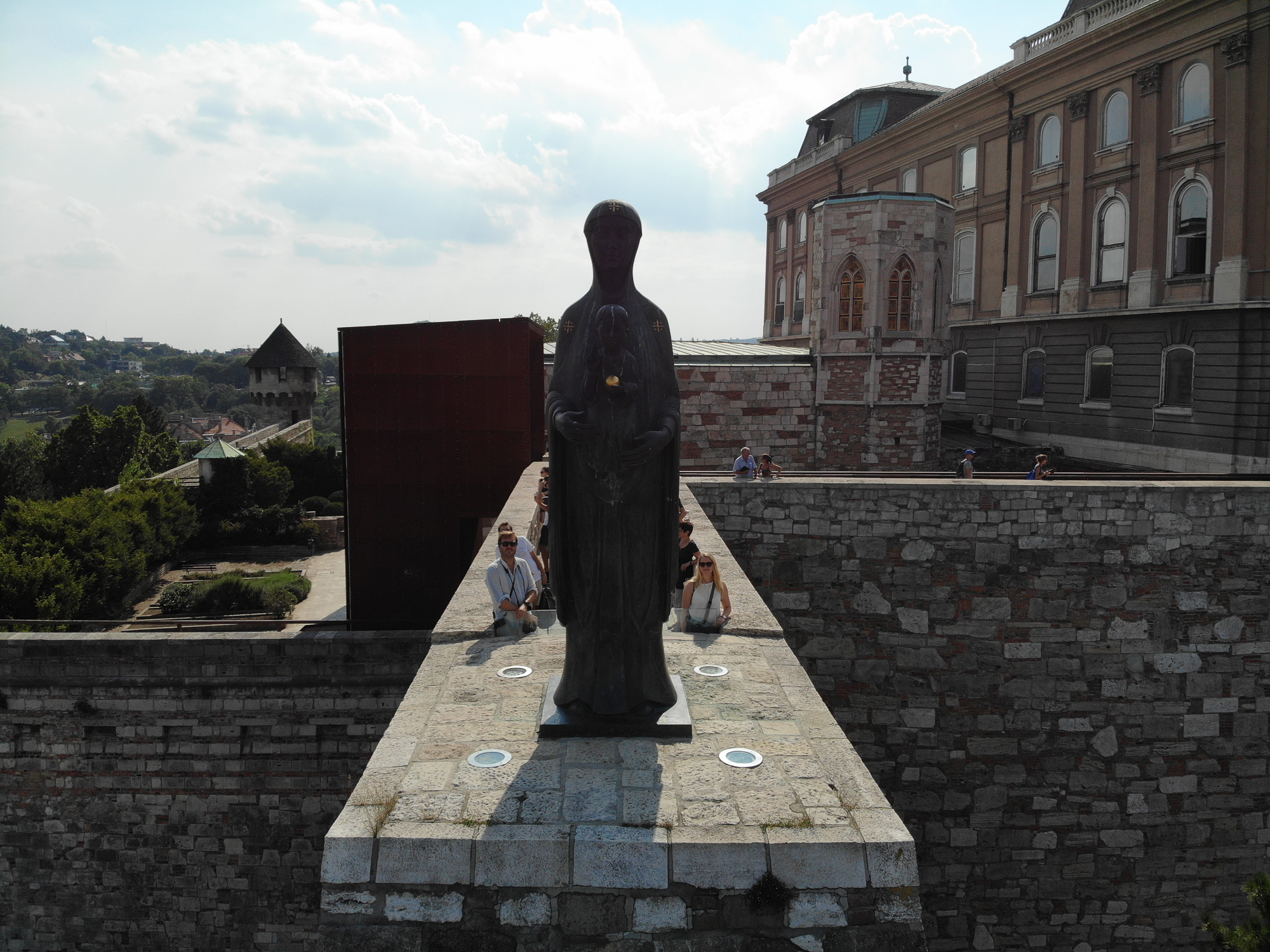 Budapest Eye
We tried the tram for one stop, walked over another bridge, and found ourselves (after many, many photo stops) in front of the Budapest Eye. Thomas, which is not very found of heights (which I find a bit funny, as he is 1.97m tall), all of a sudden seemed to have forgotten about the fact that he is not too found of heights, and pleaded me with his puppy eyes. "Well, I guess it is your birthday trip after all" I caved in, and up we went. Just in time for sunset. And wow! I would recommend everyone to try the ferris wheel just as the sky gets filled with pretty colours, cause it was gorgeous. We ended our night with tapas and a large mug of sangria at the Vicky Barcelona tapas.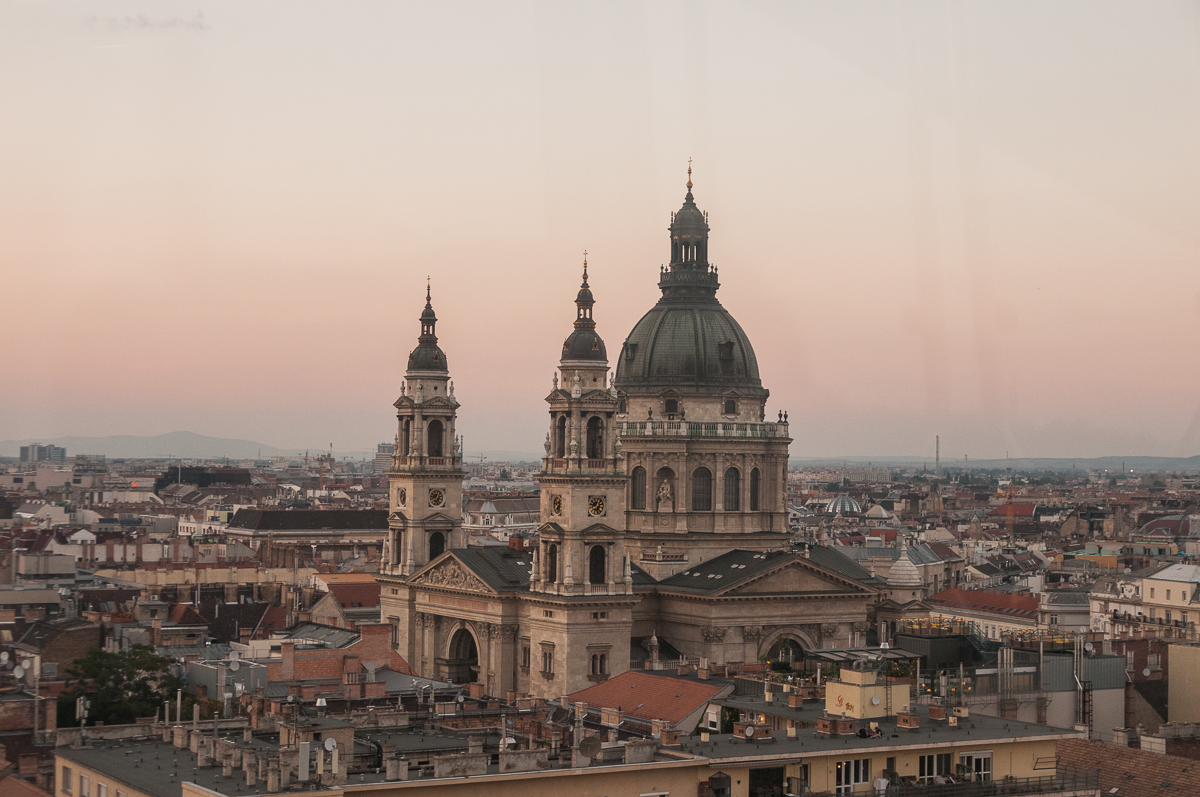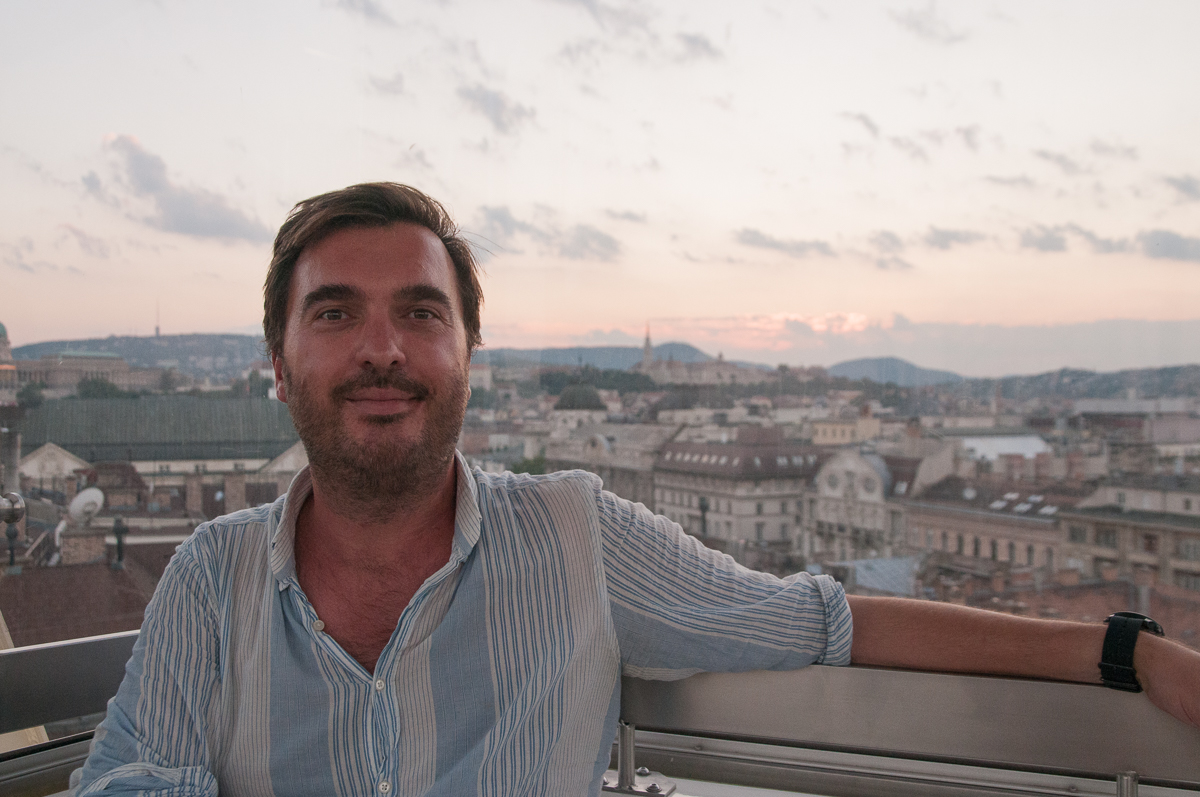 The Central Market Hall
If you like good coffee, as we do, I can assure you that Budapest has a lot of it. After a relaxing morning we took a bus over to The Central Market Hall, which sold everything you might want to buy (or you can just wander around and look at things, people and the really cool building that houses the market). We got some of the paprika spices we were after, a cold coke and some ice cream, and then headed over by the metro to the famous Szechényi thermal bath.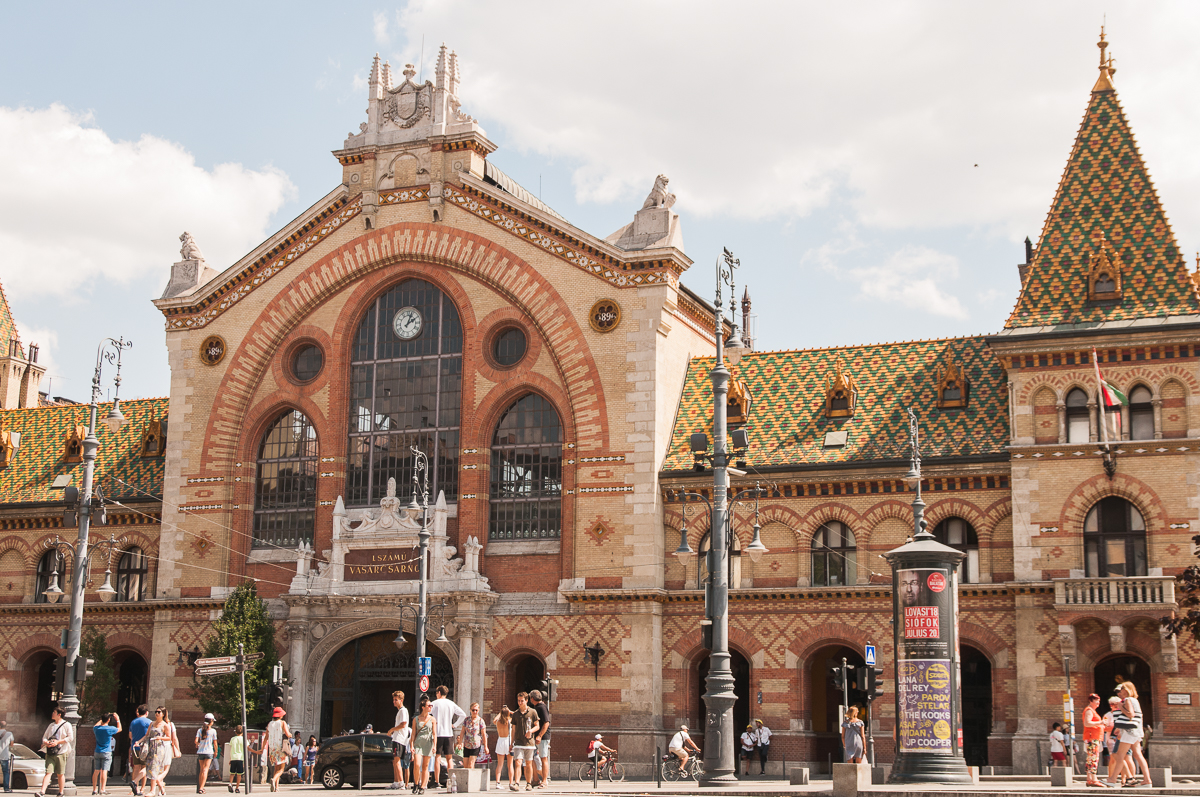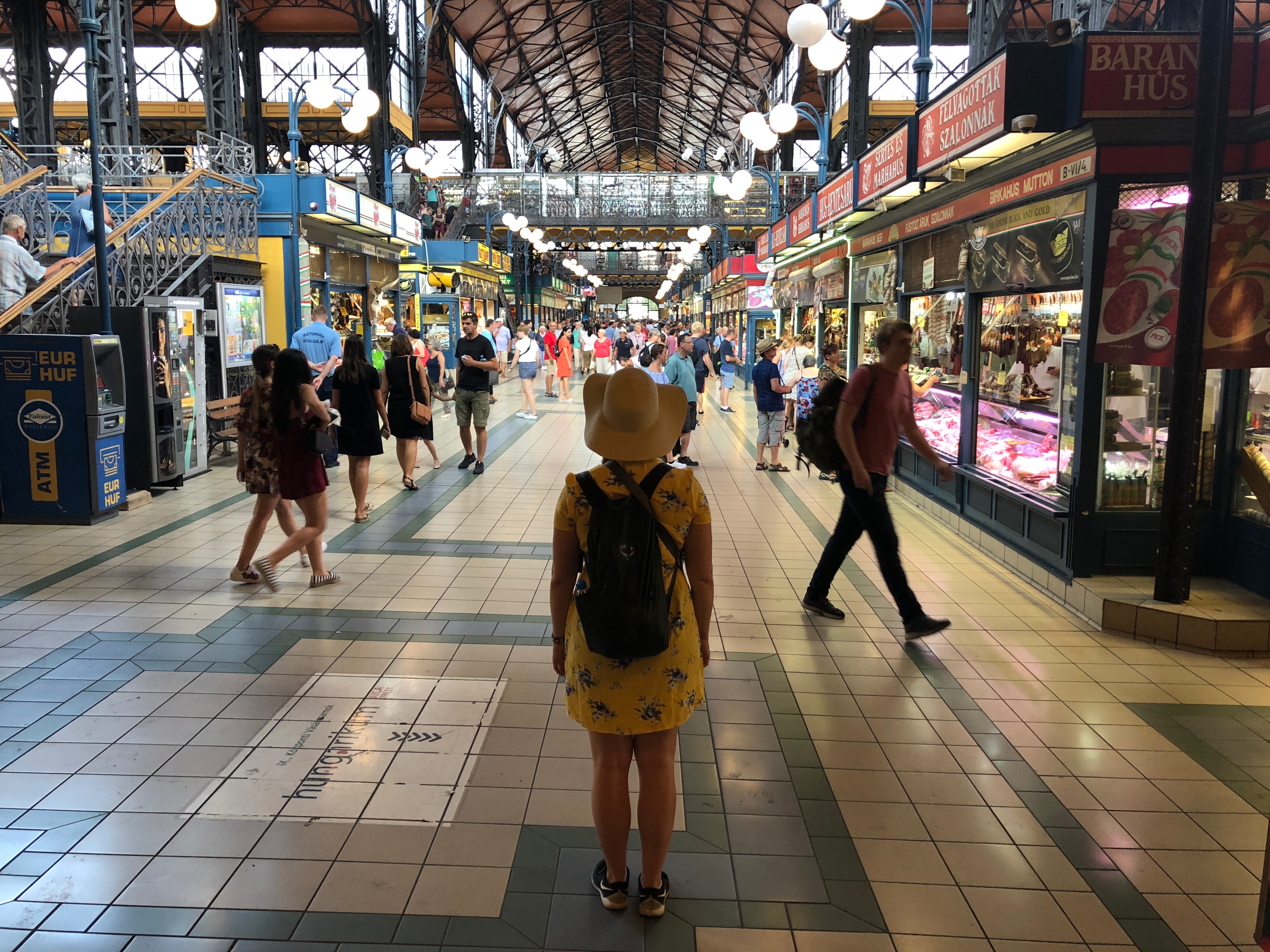 Szechényi thermal bath
We'd pre-booked our tickets online, as it said online it would allow us to jump the queue, but upon arrival we were told we could not enter the baths as it was full(!) In all honesty we'd scheduled the baths for a Saturday afternoon, which probably is one of the most busy times, but that we simply could not enter even with a ticket took us by surprise. A good tip for visiting the baths would therefore be to either schedule your visit to a time where it is likely to be less crowded – or to at least have a lot of time set of for the visit. As our tickets were already booked and paid for, and we therefore would have to visit during the Saturday, we walked off to a café nearby, and waited there with a cider. When we came back to the baths about 1,5 hours later we could immediately walk in.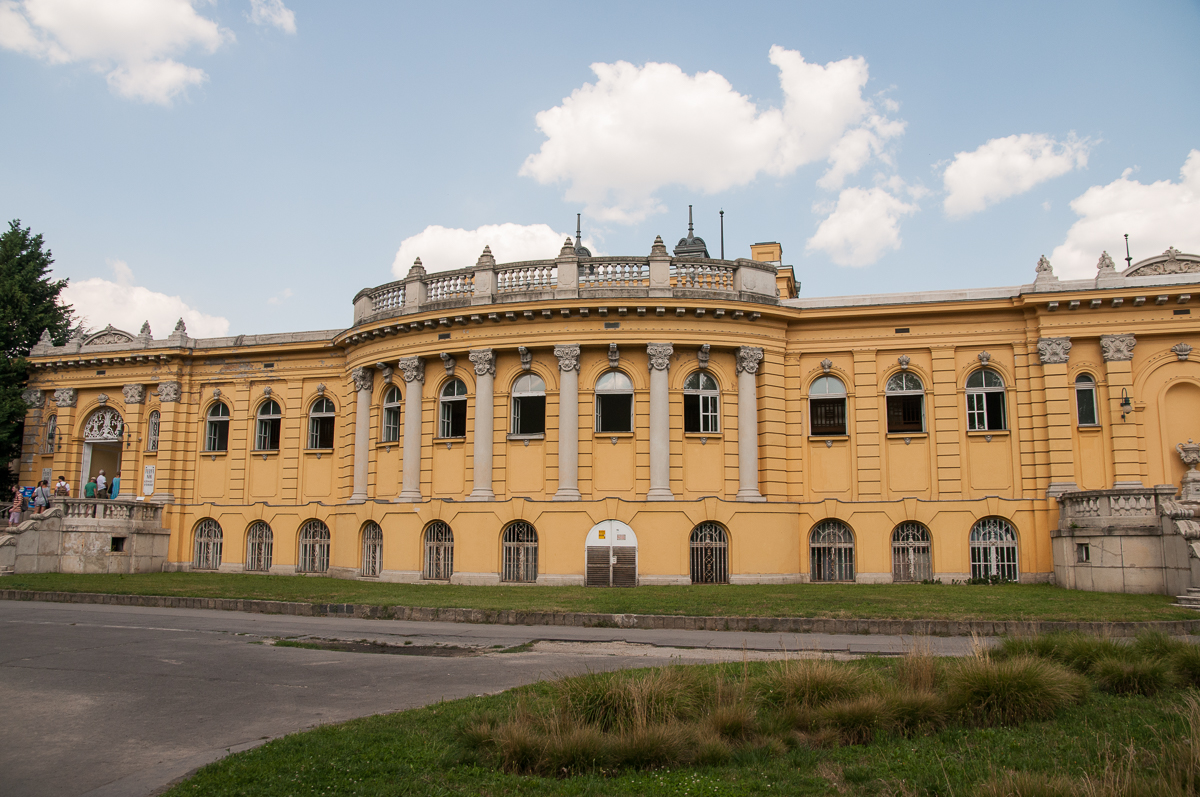 The baths were just as beautiful as expected, and even though it was pretty crowded there was still both space in the changing rooms, we got private lockers to put our valuables in, and everything went smooth. One thing that's worth mentioning about the baths is that they're open all year. Don't expect a cool, refreshing swim on a really hot summer's day; the water is hot (in fact, one of the outdoor pools has a sign up saying you should avoid staying in that specific pool for more than 20 minutes due to the high temperature of the water). You can also buy alcoholic drinks, other refreshments and some light snack food from some of the kiosks around the bath. The pools are mixed gender, whereas the changing rooms are separate for men and women. Our tickets gave us entry to all the pools for a total duration of 2 hours from entering, and we paid 19 € each (182 NOK).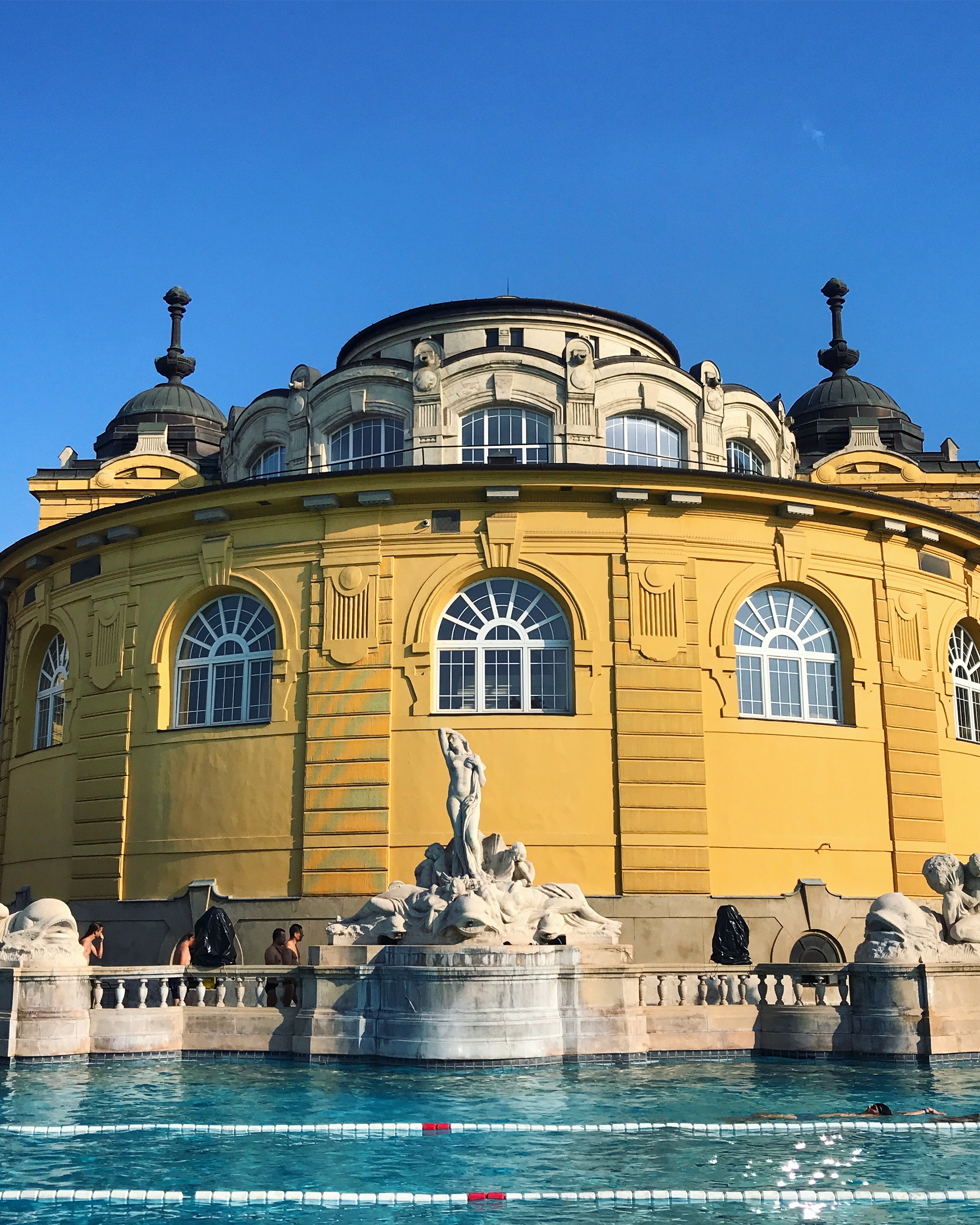 Heroe's Square
Szechényi baths are located really close to Heroe's Square (Hösöl tere), another famous place in Budapest that we had on our "must see"-list. After soaking in water, being spun around in the circle pool-stream, and having a mojito, we walked over to have a look at the iconic statues. Heroe's Square has played an important role in Hungarian history, and is definitely worth a visit. At Heroe's Square you can also see, and visit Museum of Fine Arts and Palace of Art.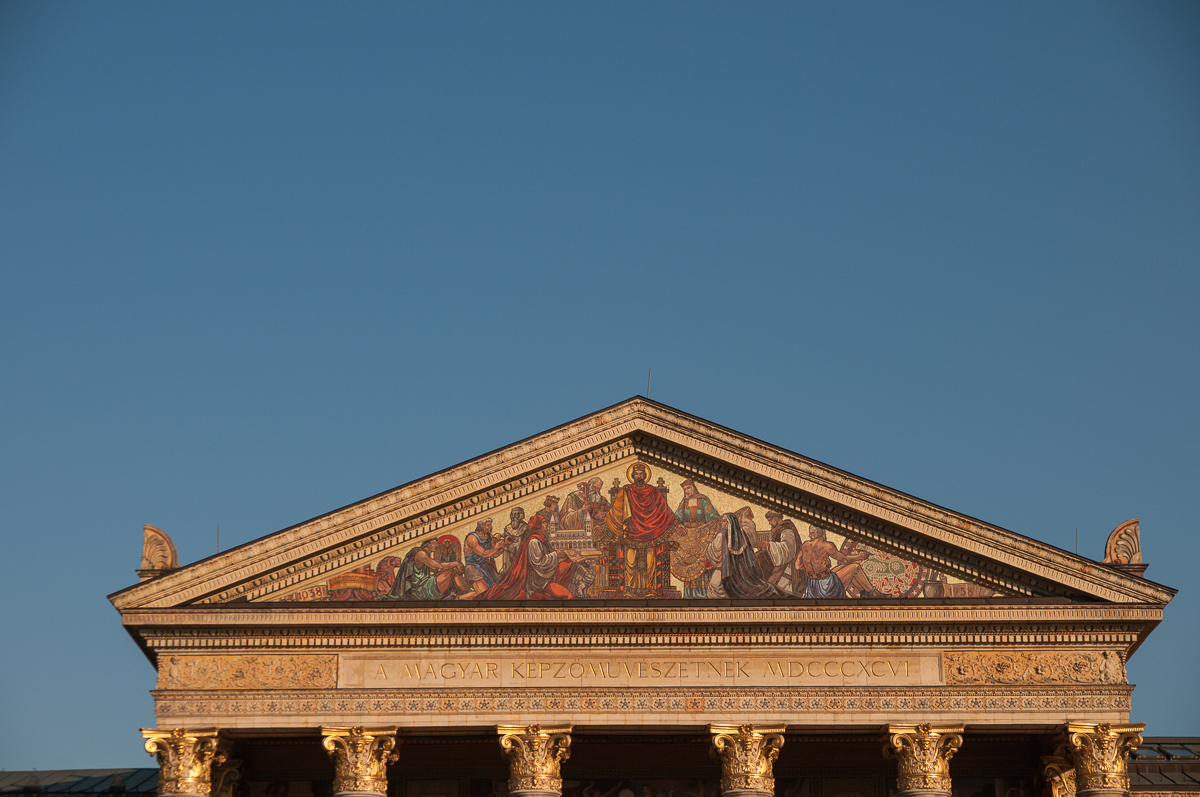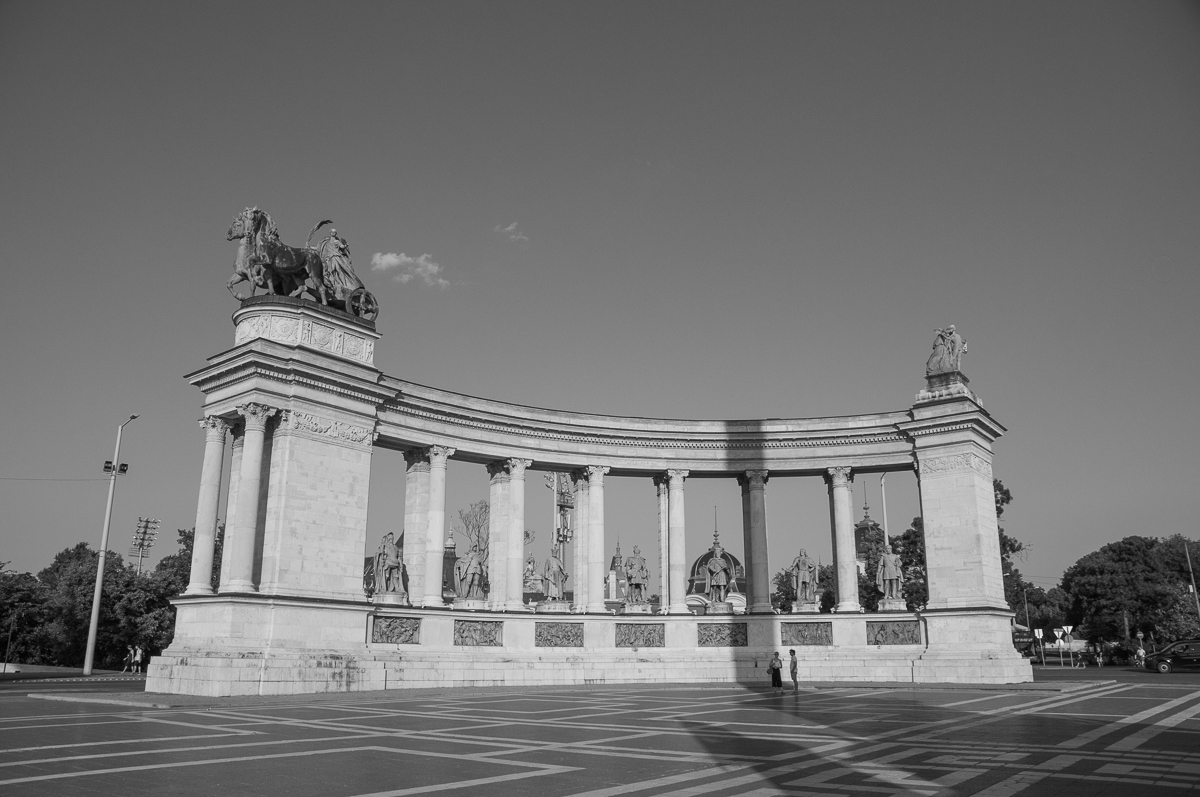 Magnificent steaks at La Pampa
Back at the hostel we quickly got changed into our better clothes; Thomas had reserved a table for us at La Pampa, noted for being one of the best steakhouses in Budapest. While enjoying a glass of red wine we had a hard time deciding on what to eat – there was so many different options (steak is not only steak, and there was a huge variety of different side dishes to choose from). As we enjoyed our delicious steaks we shared a bottle of fine, Hungarian red wine (I did not even know Hungary produced their own wine). Delicious!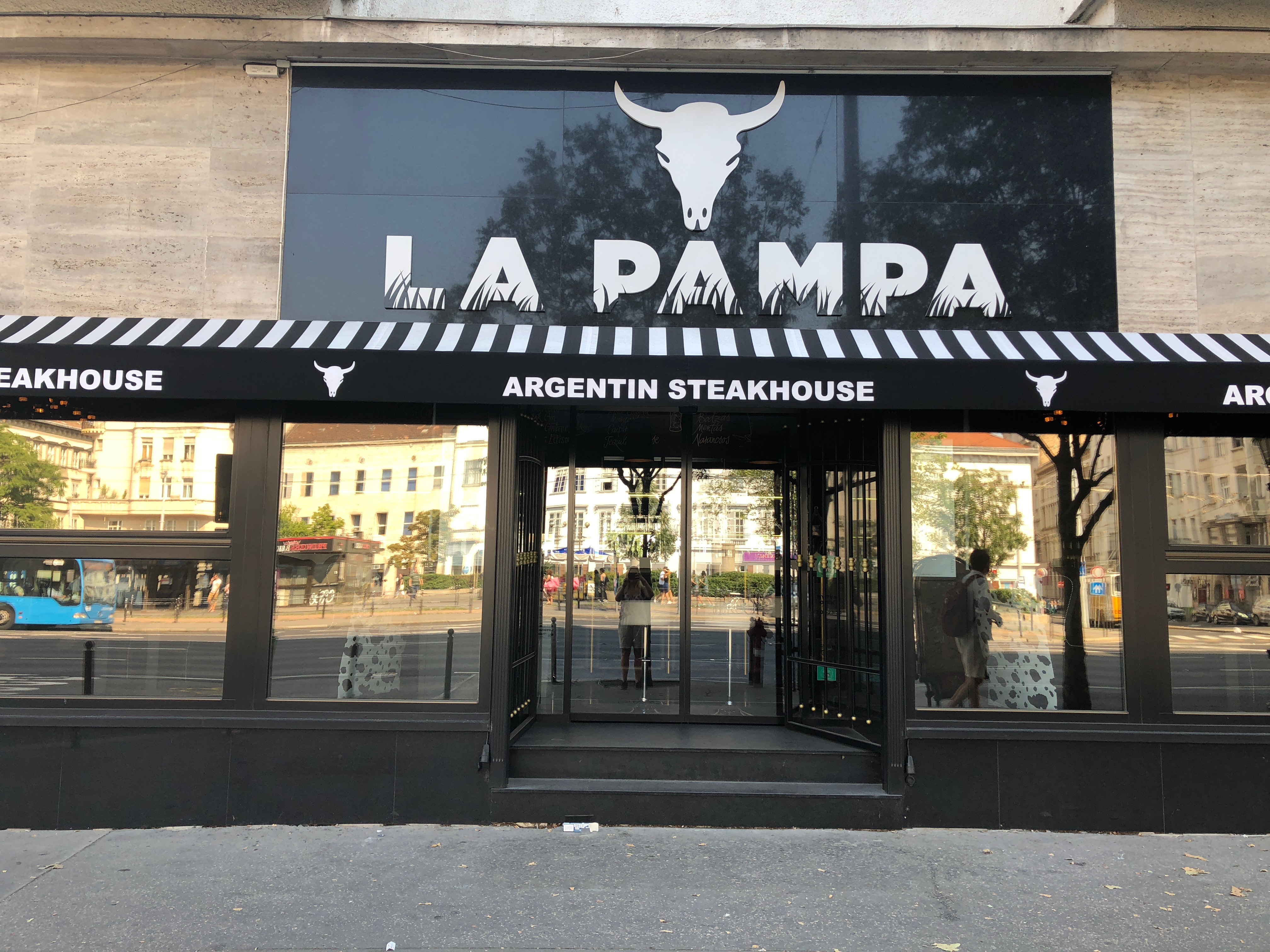 Drinks at Pharma
Filled with food, wine and happiness we were ready to continue our night in Budapest. Fate would have it so that we accidentally passed Pharma while walking, a place famous for their amazing drinks. Yes please!
Party at Szimpla Kert
One drink later we were out again in the streets, and headed for Szimpla Kert, one of the many ruin bars in Budapest. Ruin bars I'd read was one of the things you simply had to experience while visiting Budapest, and Szimpla Kert was actually a really cool place, even for two people who don't really frequent bars that often. In the spirit of the drink I was currently sipping I felt brave enough to go asking the DJ what music he was playing, just because I was surprised by how good it actually was. He let me take a photo of his phone with the playlist displayed.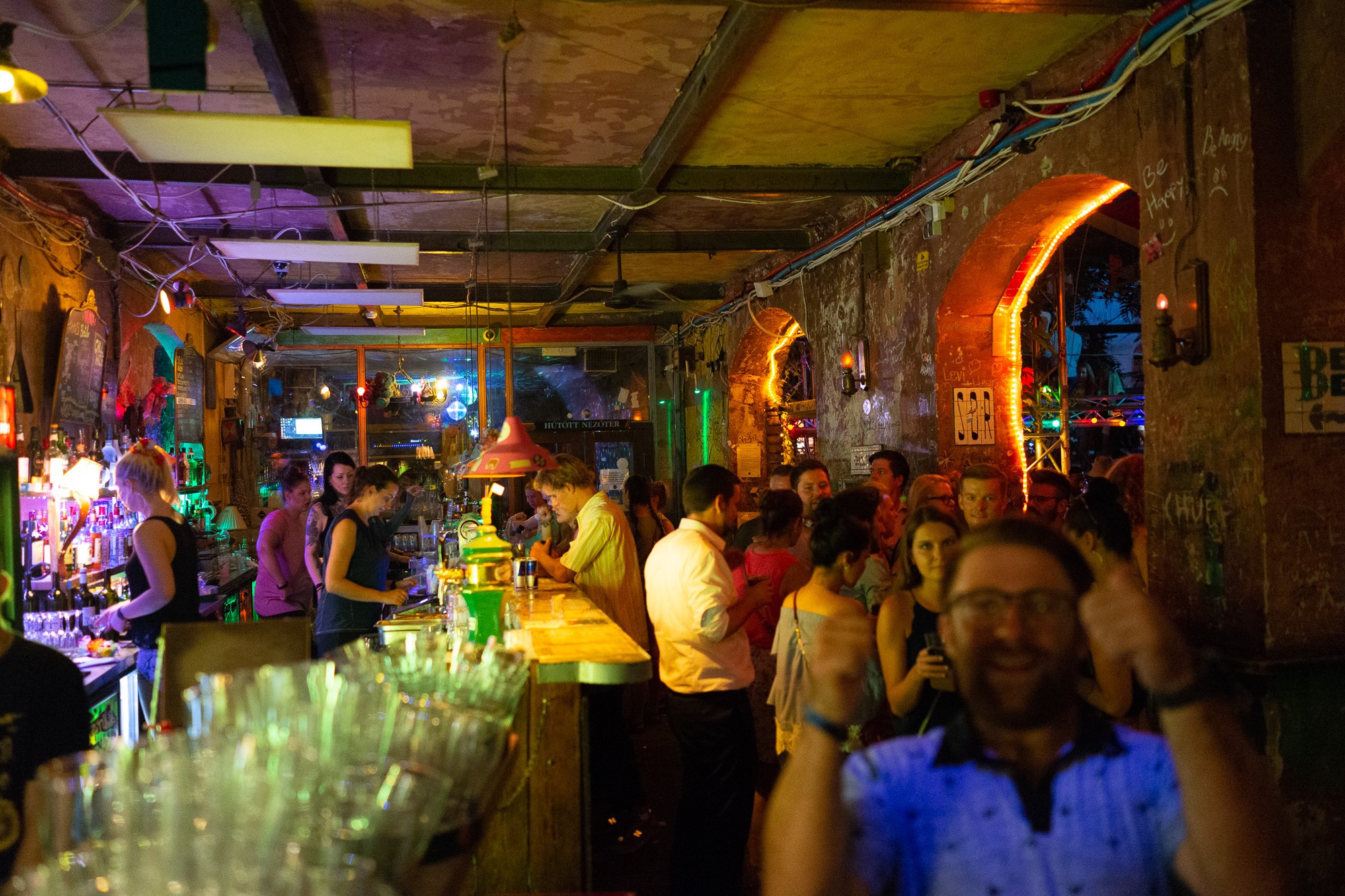 St. Stephen's Basilica
What's more stereotypical for a Sunday morning than a) a slight headache and b) a visit to a church? We combined both, and cured a) with coffee, before entering the St. Stephen's Basilica. Wow! Just wow. The basilica, completed in 1905, was breathtakingly stunning and filled with small, beautiful details. A paradise for photographers, people who loves architecture or churches in general. The atmosphere in the church felt really calming and relaxed, and even though it was quite full with tourists, it was quiet enough for people to say their prayers, light candles and have their private, religious moments. Beautiful!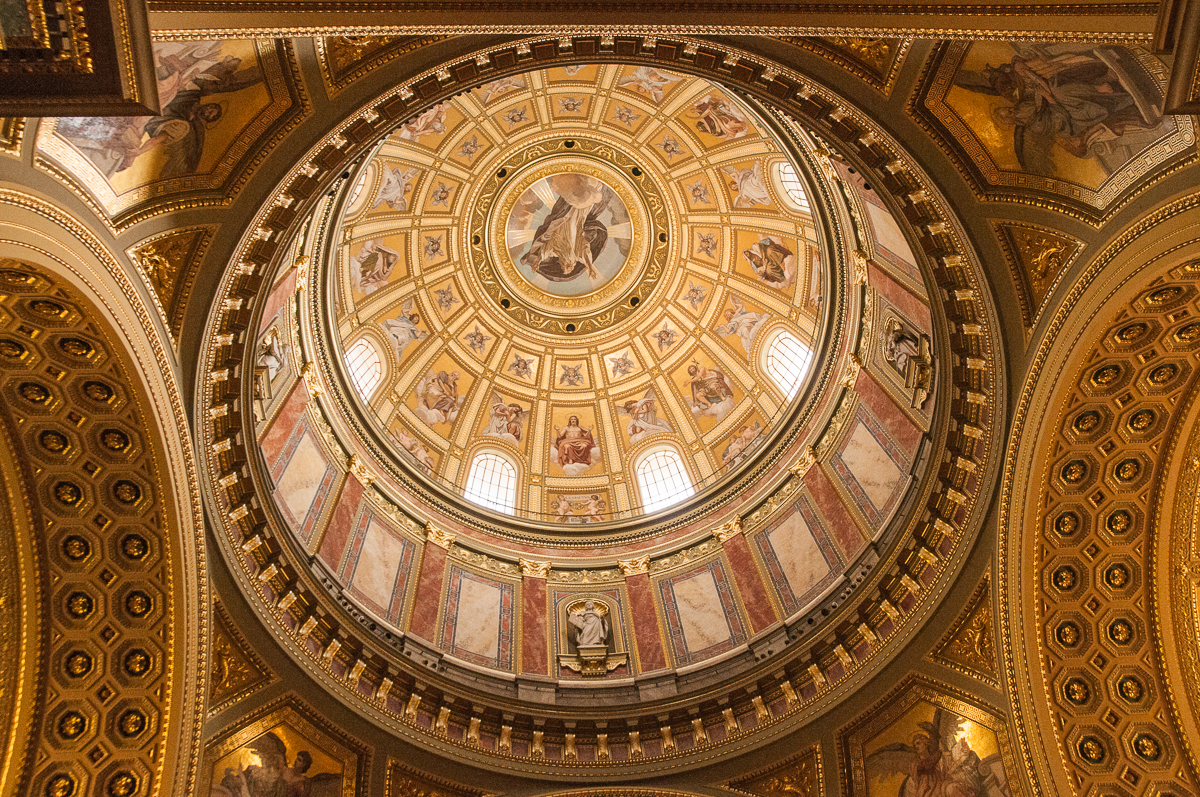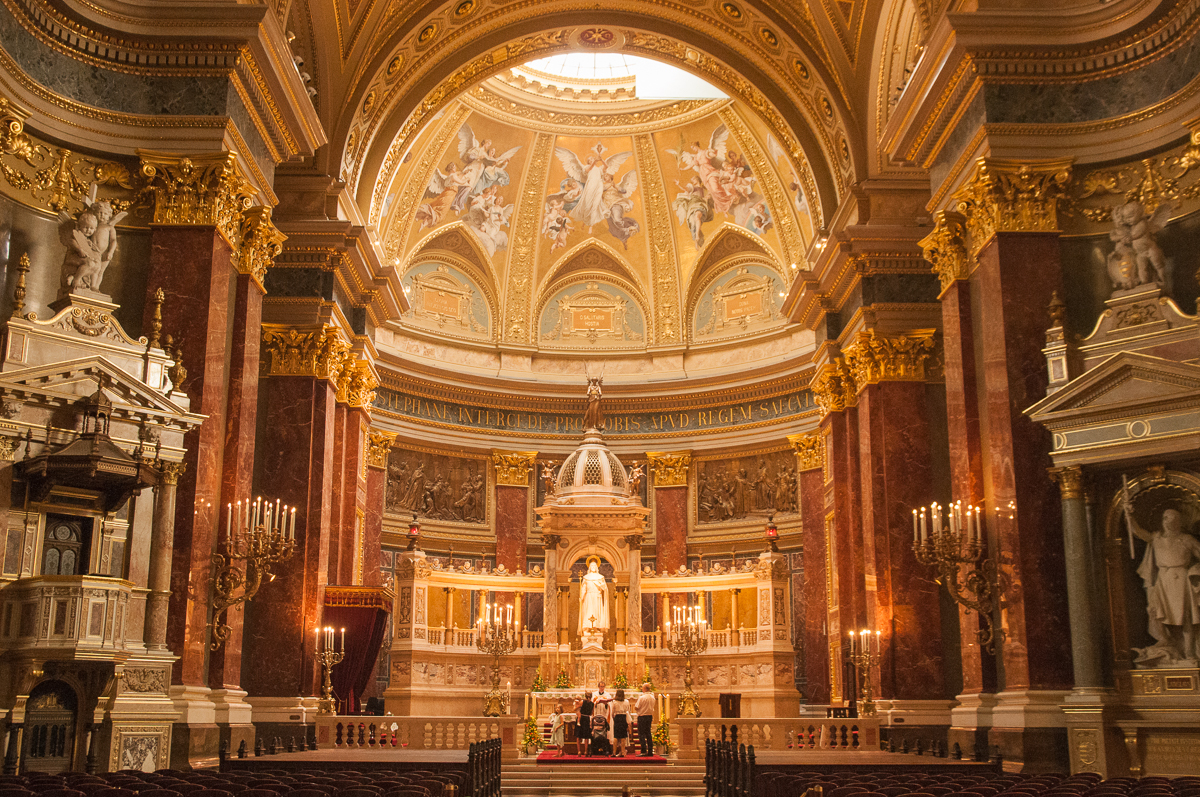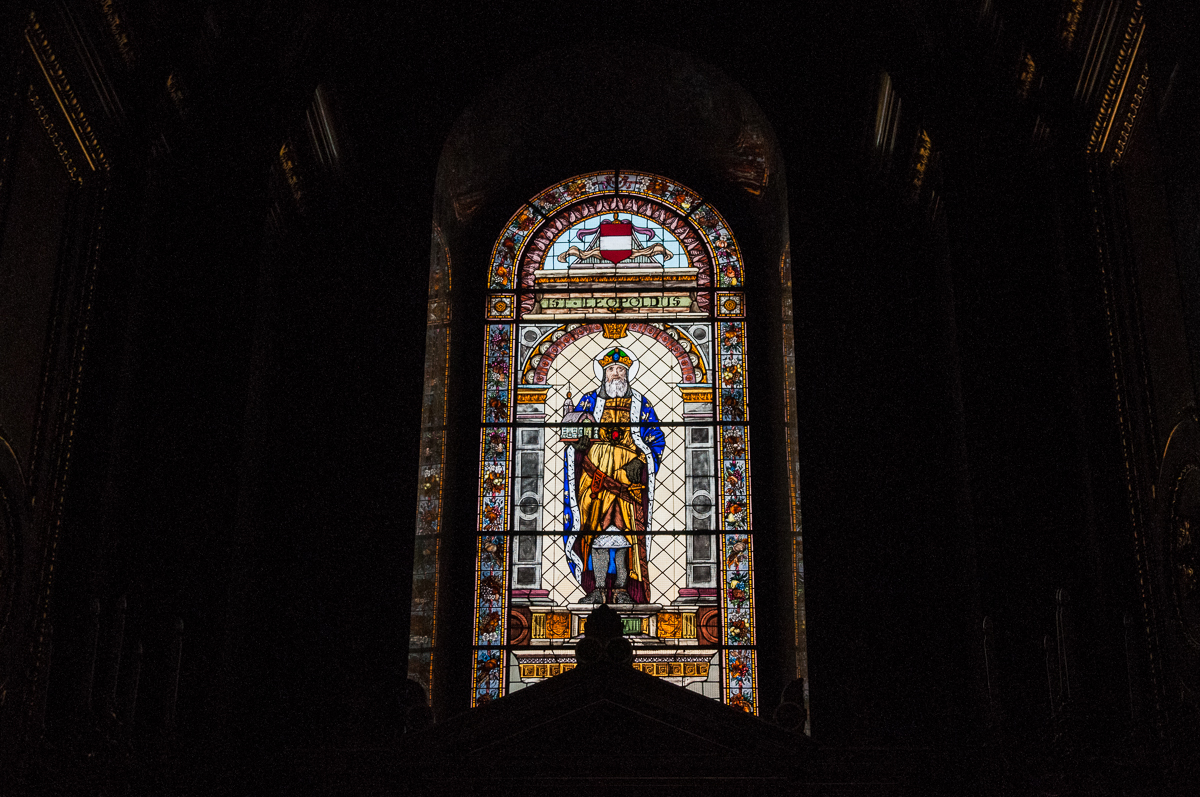 After several rounds in the basilica to admire the details, we manned up for the 384 steps taking us up to the top of the basilica, where an amazing 360-degrees view of Budapest lured as our reward. We made it to the top (there is also an elevator if you wish to visit the top but cannot walk the stairs yourself), and the view was well worth the exercise.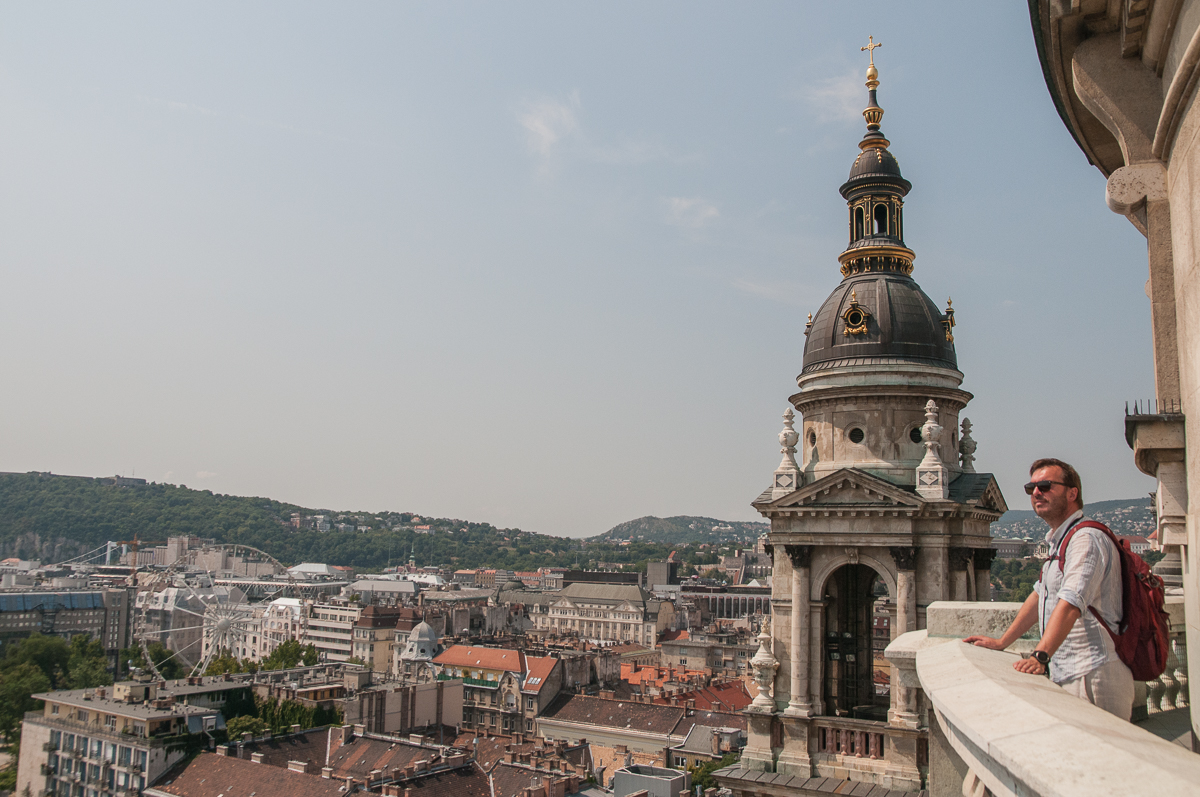 Pancakes
On our first day of roaming the streets of Budapest we'd walked past a café with a sign saying "GIANT PANCAKES!", which caught both of our attentions. What made the sign even better was that after this, it said that they also have gluten free pancakes. And since we were already going for the 100% Sunday feeling, we went for pancakes at Bank3 for brunch. Mmmh!
Shoes on the Danube Bank
The monument "Shoes on the Danube Bank" was also on our list over important things to see while in Budapest. This is a small yet utterly important memorial, raised for the victims of the fascist Arrow Cross militiamen in WWII. The victims would be stripped naked, then shot as they faced Danube, so that the river would wash them away. It's crazy to think of how cruel we humans can be to one another!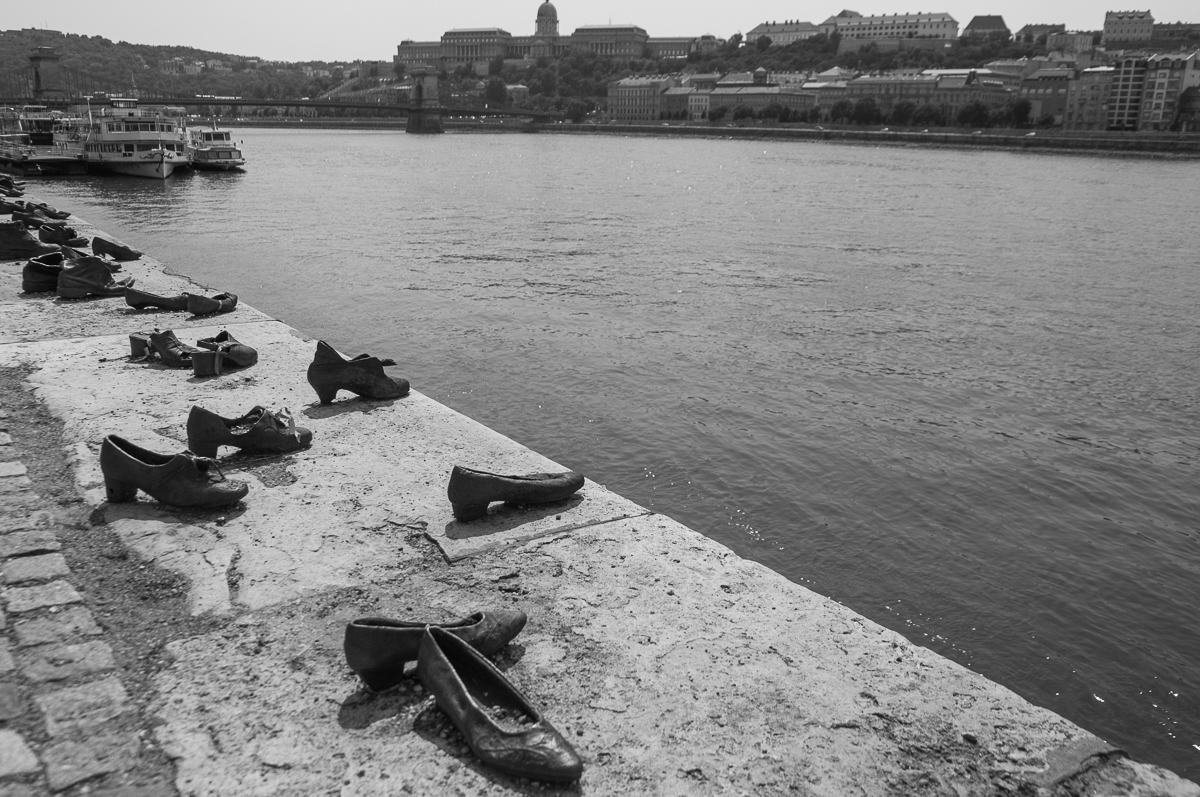 New York Café
As temperatures reached 35 degrees in the early afternoon, we decided to walk over to Budapest Eye again, as it was surrounded by a small park. On the grass in the shade of some trees we laid down for a small break, doing a quick sum up of our weekend getaway. We then wanted to visit the New York Café, as the internet told us it would be a stunning café.
Street Food Karavan
It, however, seemed like the internet had told this to every single person in Budapest this day, so after a few quick photos, we escaped out again, avoiding the endless line, and popped over to the Street Food Karavan for a quick bite. And as the sky turned grey, and some pretty heavy winds started up, we got our suitcases and left Budapest, both agreeing it had been a lovely weekend, and that there was still heaps left we wanted to see and do in Budapest. I guess we'll just have to go back some other time!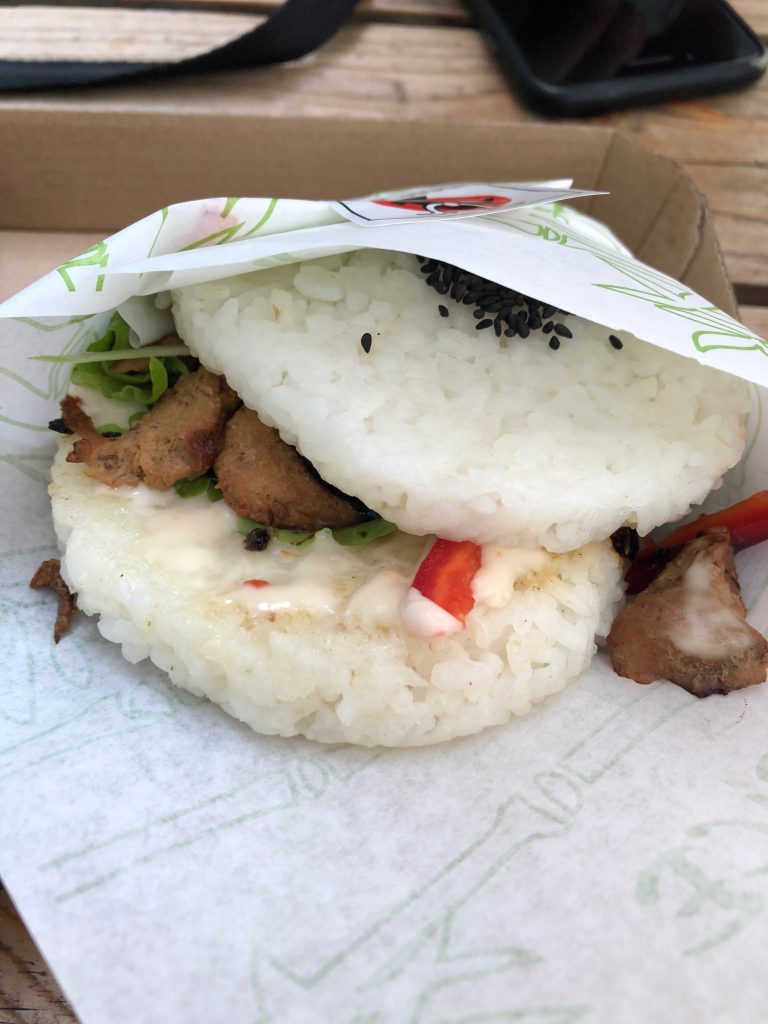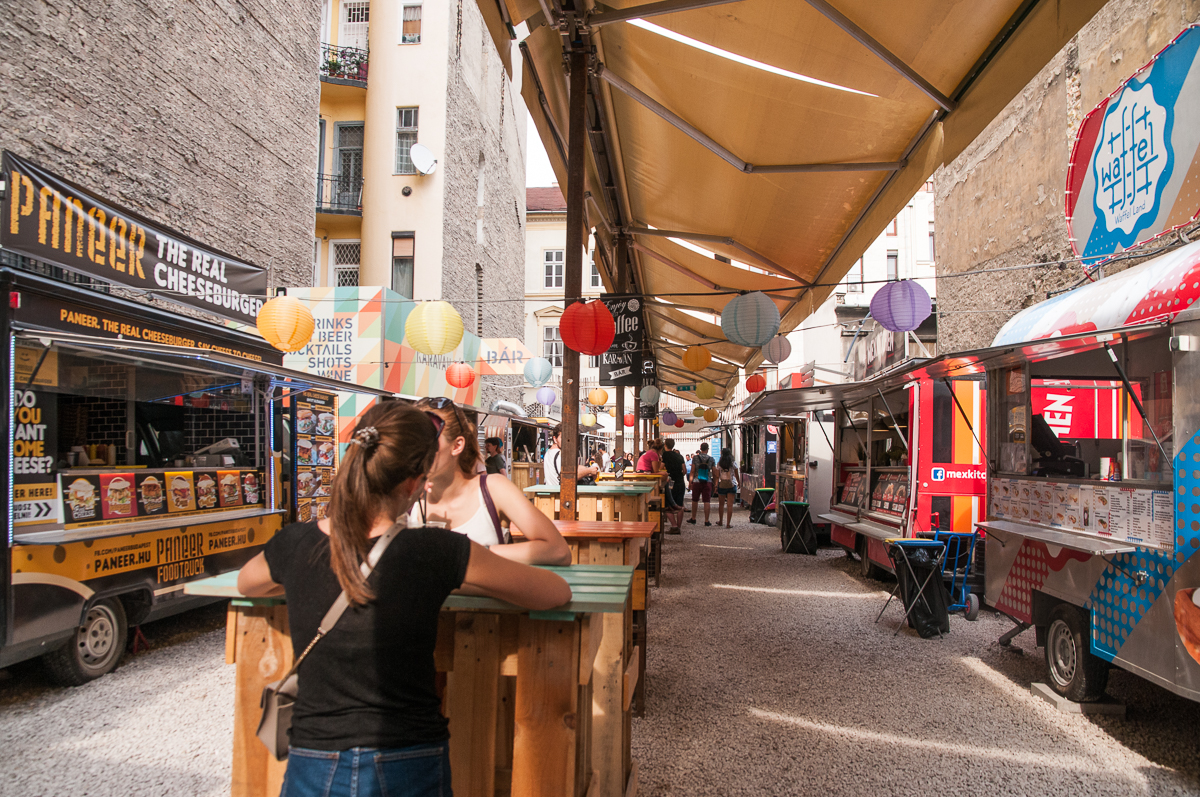 ---