After having had two great day trips with groups, one to Ohrid in Macedonia, and one to Berat in Albania, we were both really exhausted yet also really excited for our third and last day trip. This one was to Prizren, Kosovo. Kosovo is a state only partially recognized, and a disputed area in the Southeastern Europe. Before 2008 Kosovo was part of Serbia, when they declared their independence. Serbia, and also several other countries however refuses to recognize Kosovo as a sovereign state. For a quick read about the theme, Wikipedia has this short article you can look at here.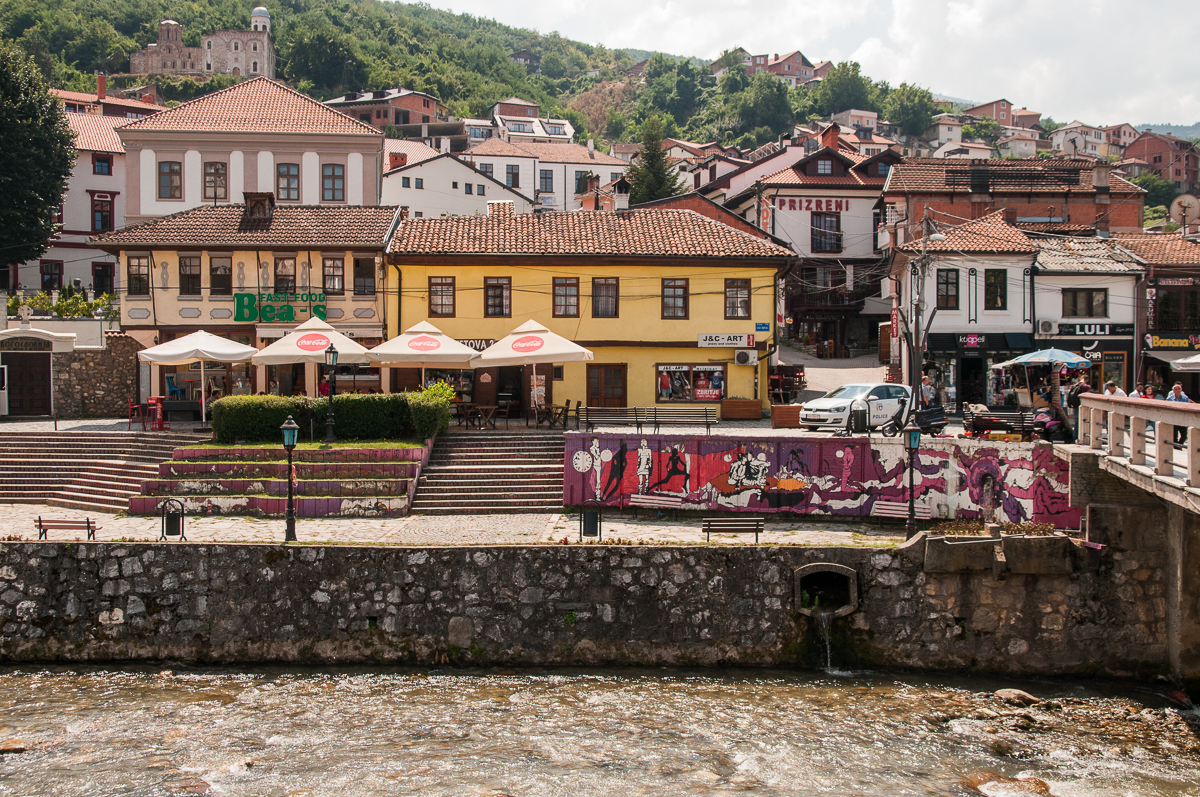 Prizren, also called the cultural capital of Kosovo, is an historical city, and also known to be the most peaceful city in Kosovo. On this guided tour we were told we would visit an old castle from the 700th century, visit the bazaar in the city , the famous mosque and the old orthodox churches. We would also be served special Kosovan cuisine for lunch. All was set for a great day exploring.
Both on our adventure to Berat and to Ohrid our hotel was the first in the morning for pick-ups, and the last to arrive back at the hotel at night. For Prizren, we were told we would get back first, which made us excited as we'd then get to watch the sunset in Durrës.
Arriving in Kosovo
Sadly, Mili, our great guide from the two other trips were nowhere to be seen this morning once we climbed into the small bus that was gonna take us over the borders to Kosovo. However, this other guide also seemed to know a lot about the history both of Albania and Kosovo, and after 4,5 hours in the bus we arrived in Prizren. "What a beautiful city" was my first thoughts as I left the bus.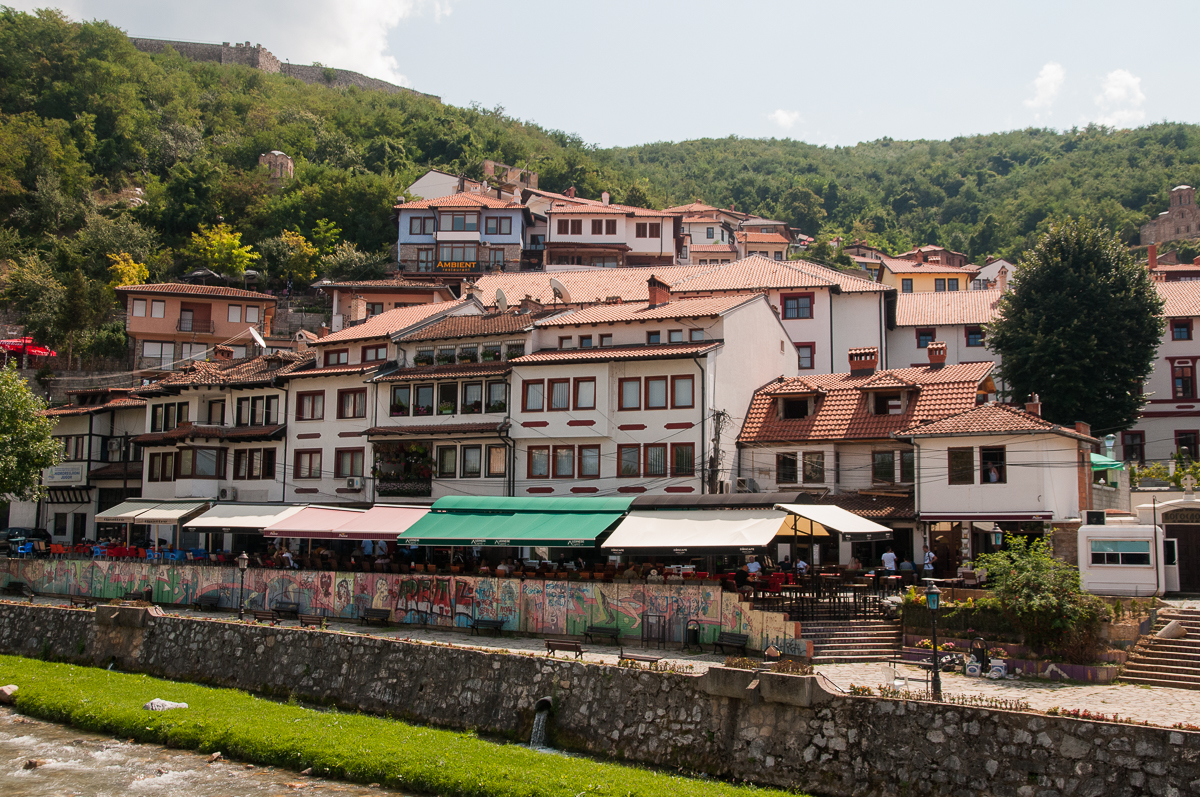 The first thing that caught my mind was the incredible Sinan Pasha Mosque, a huge mosque in the midst of the city, built next to the river Prizren Bistrica. This was our first stop, and my excitement for Kosovo grew only bigger as it was absolutely stunning inside. So many details to look at – a photographers dream. Before entering the mosque, we all carefully had to take off our shoes outside, and those wearing clothes that were not considered appropriate for the mosque were given scarves to cover up. Our guide then provided us with loads of information about the mosque, and we were then allowed to take some photos before leaving again.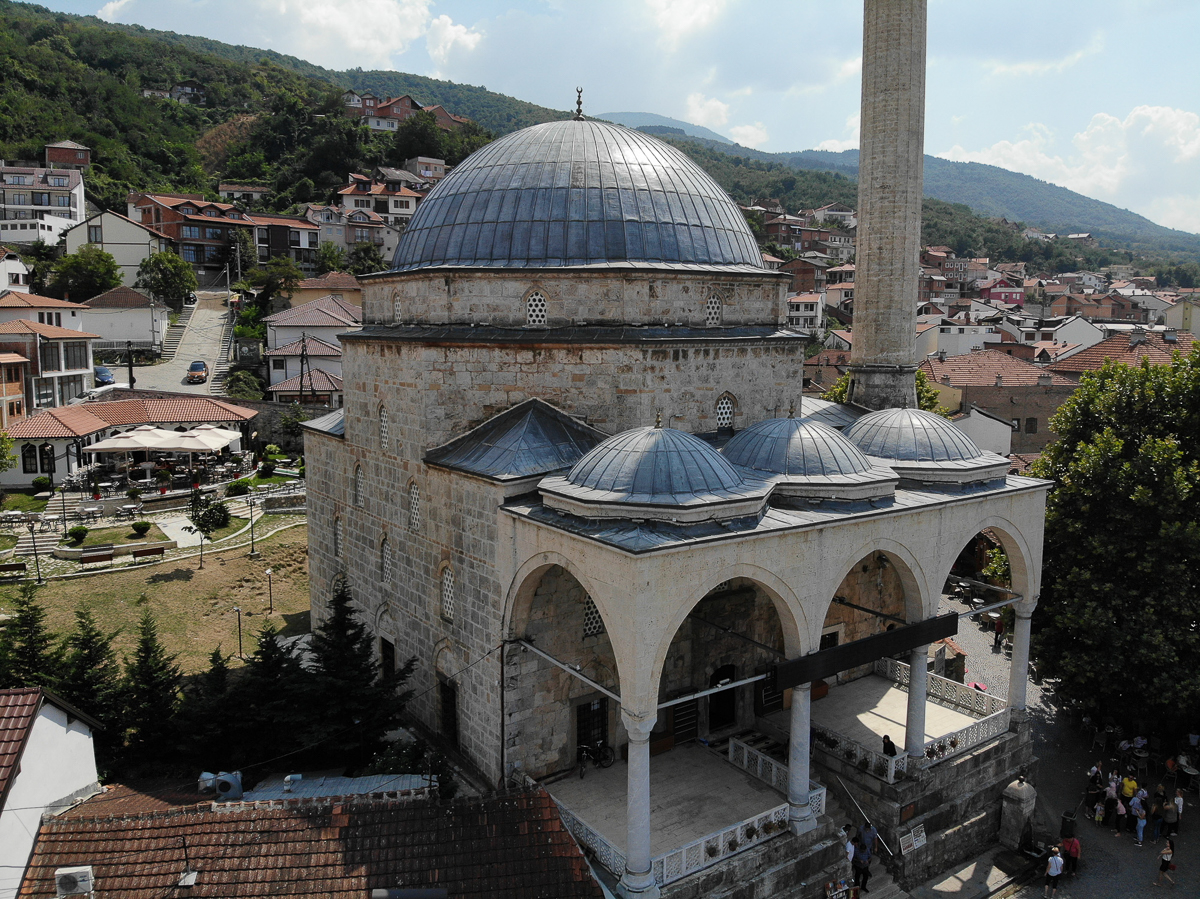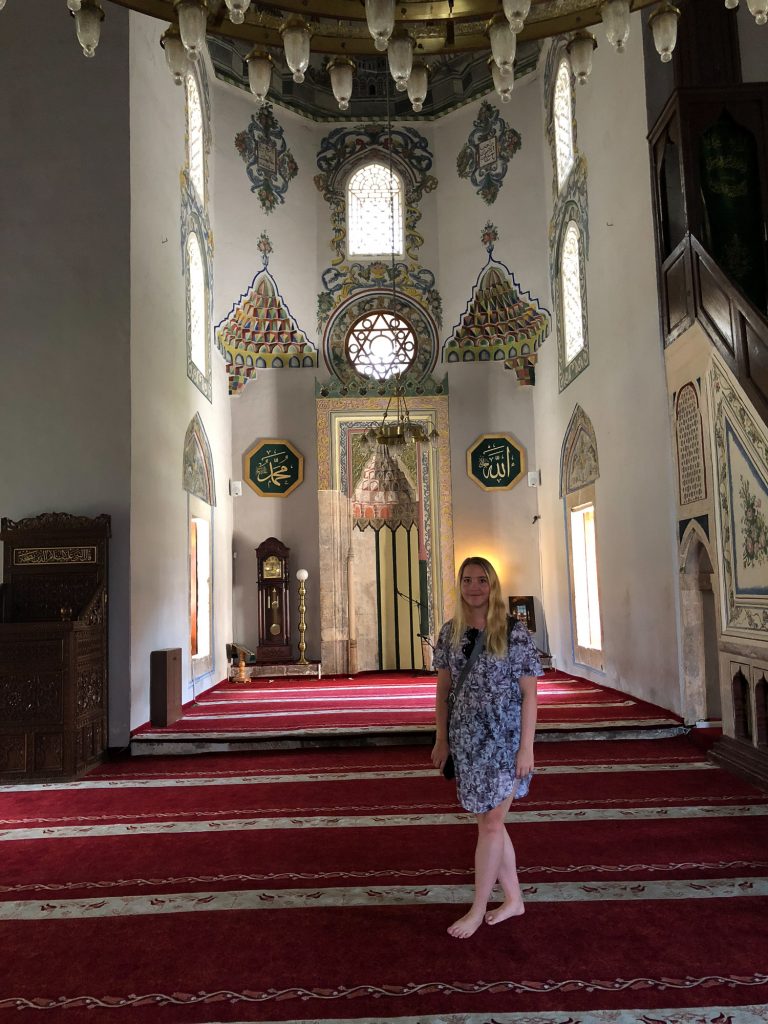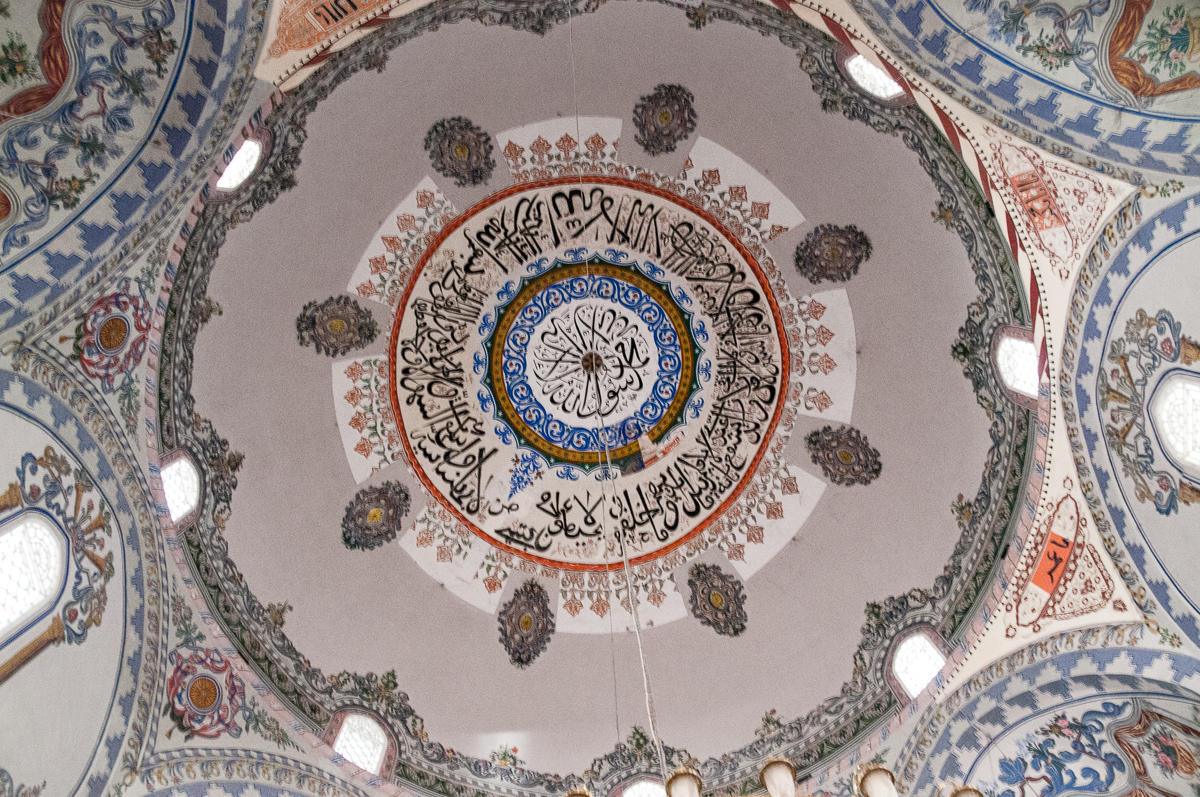 After the mosque everyone in the group was pretty stoked, and we did not get less excited wandering the streets of this beautiful city. The guide stopped outside a building, quickly explained that inside was a museum, but that the museum fee was not included in our trip. Would we still like to visit? As we were a group of people whom had never met before, everyone stayed silent. No one wants to be that guy saying "nah, let's skip it!" in case someone really would love to see the museum. Our lack of response clearly upset the guide, as he shouted that "when I ask you a question you should reply!" "Oookeeeey" I thought, and looked over at Thomas, and we both shrugged. In the end the group decided to skip the museum, as the guide told us it "consist only of nothing much interesting, really". We figured there would be heaps of other interesting things to spend our time doing instead.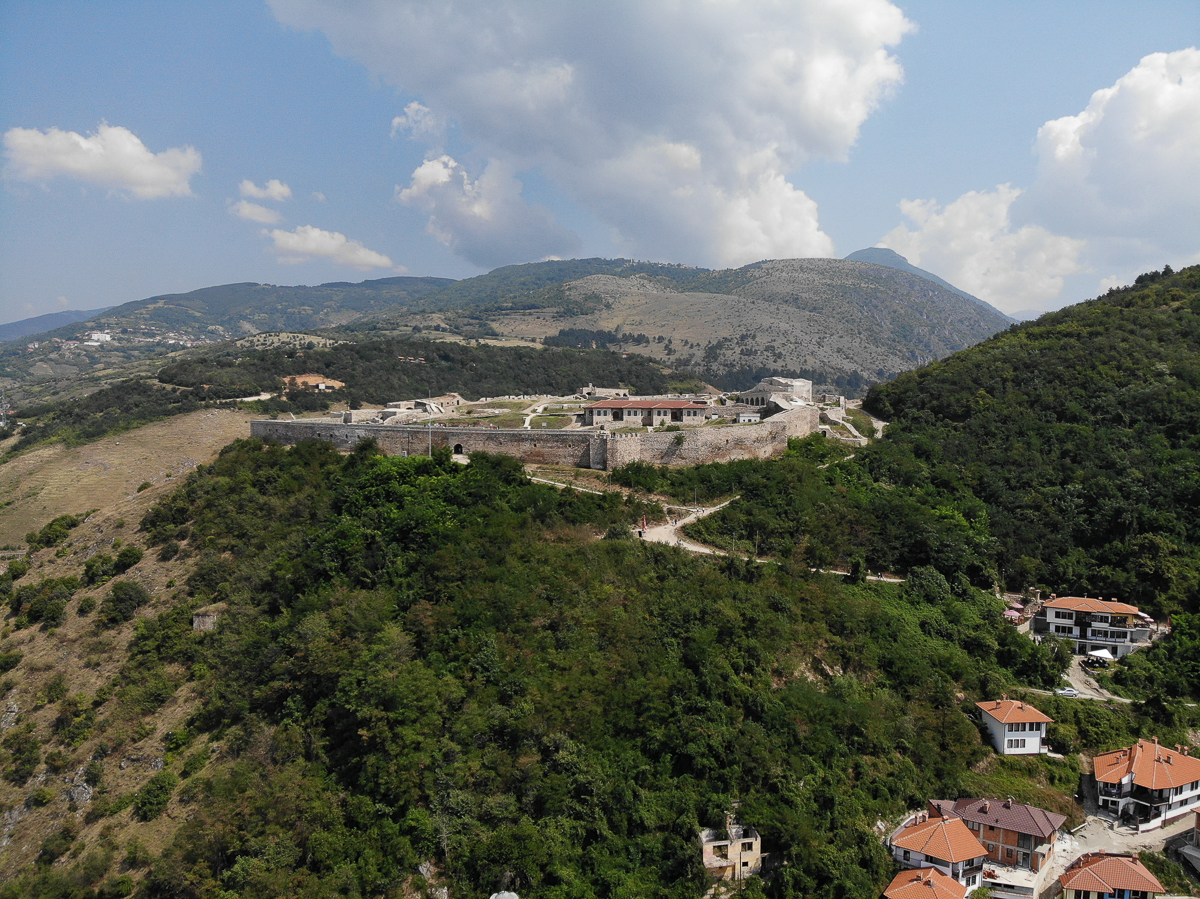 Back at the mosque the guide pointed in one direction and said that if we wanted to visit the castle, it was a 30 minutes long walk up the hill. "But, there's literally nothing inside it, just the walls of the castle, and a view over the city, so nothing much really. Also it's so far to walk that I as a guide cannot walk with you. I will stay down here in the city centre. If you want to spend your time visiting the castle, you just walk in that direction". Again, I looked at Thomas. At both other day trips we'd started our days at castles or churches, then walked a lot. In Berat there had even been hills so steep some people had been down on all four to make the walk back down safe. The guide also mentioned there was some old churches up near the castle, but again, it would be up to us if we wanted to walk all the way up there.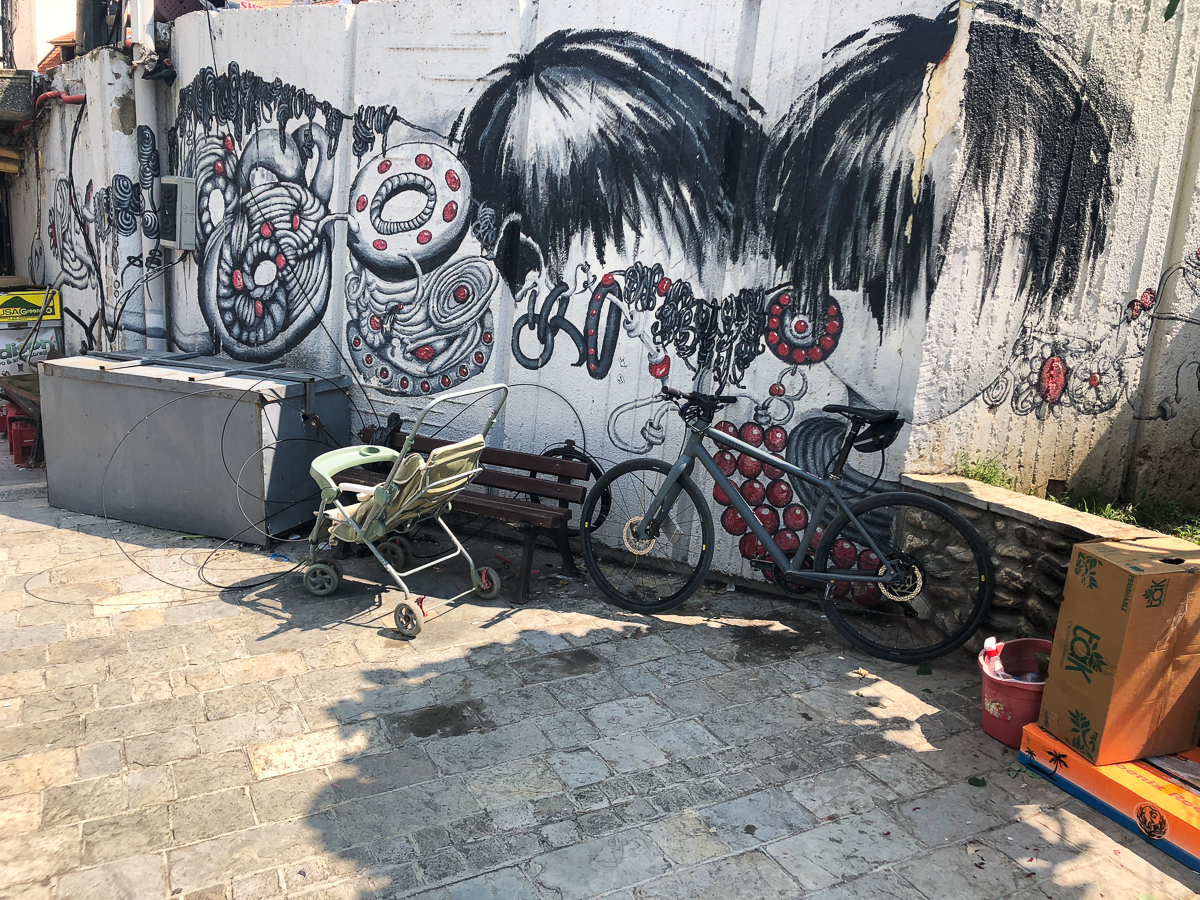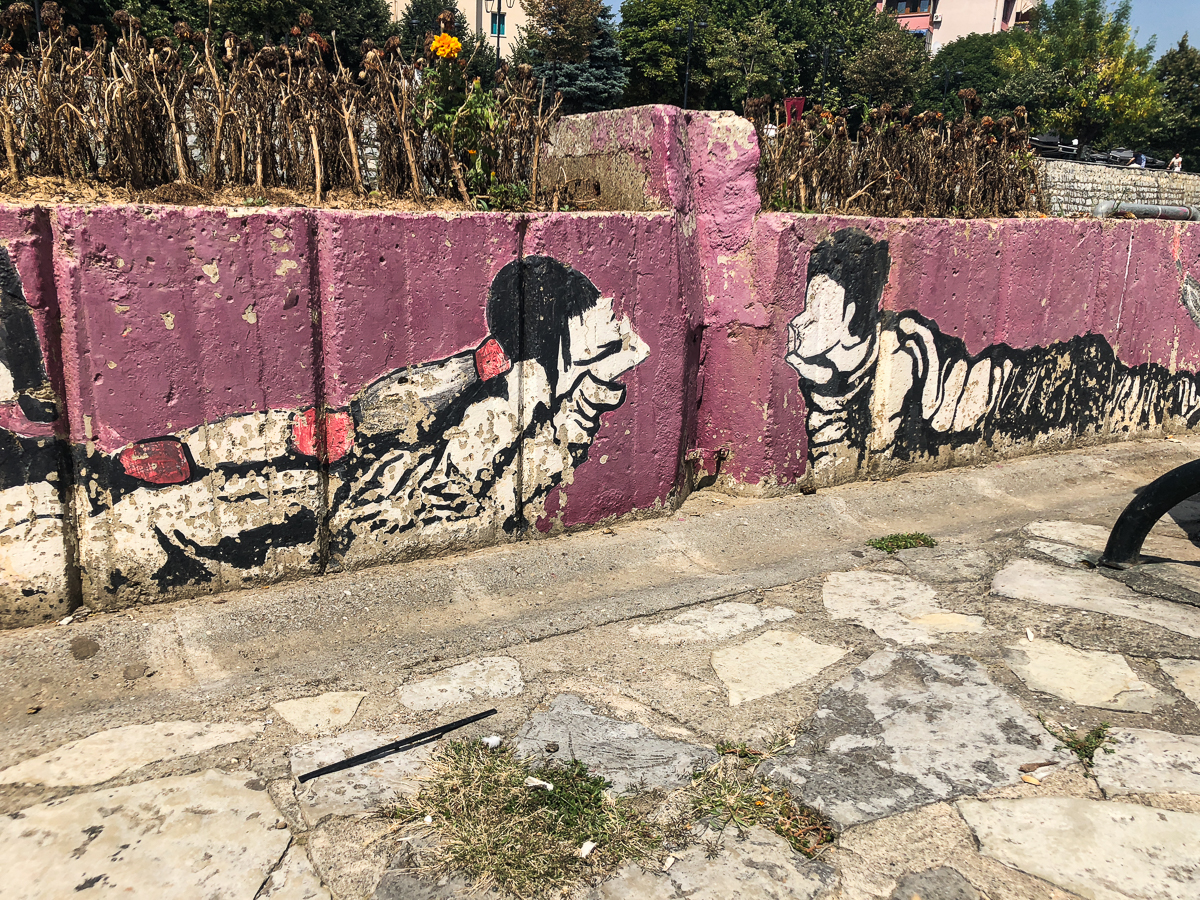 The guide then pointed in the other direction, and said that if we wanted to do some shopping, that direction had some really good places. Especially silver, if we wanted to buy jewellery, we should tell him, as he knew where the real goods were.
"And then it's time for lunch" our guide then said. It was 12.30. "So, then we meet back where the bus left us at 14? Good!" That meant 1,5 hours from then and until we would be back at the bus, and since we'd left the hotel at 07.00 without breakfast, lunch felt like a great priority. With 30 minutes walk each way for the castle this meant we would have to miss out on the view of Prizren, which was sad, but no food would have been sadder.
Lunch took ages to arrive, and when it did, it was some sort of hamburger. Don't get me wrong, the food was good, but it did not seem exactly like a special "Kosovan cuisine". By the time we'd had our food and paid there was 30 minutes left until we all should meet up again, so Thomas and I walked our way, taking photos of the city centre and getting the drone up.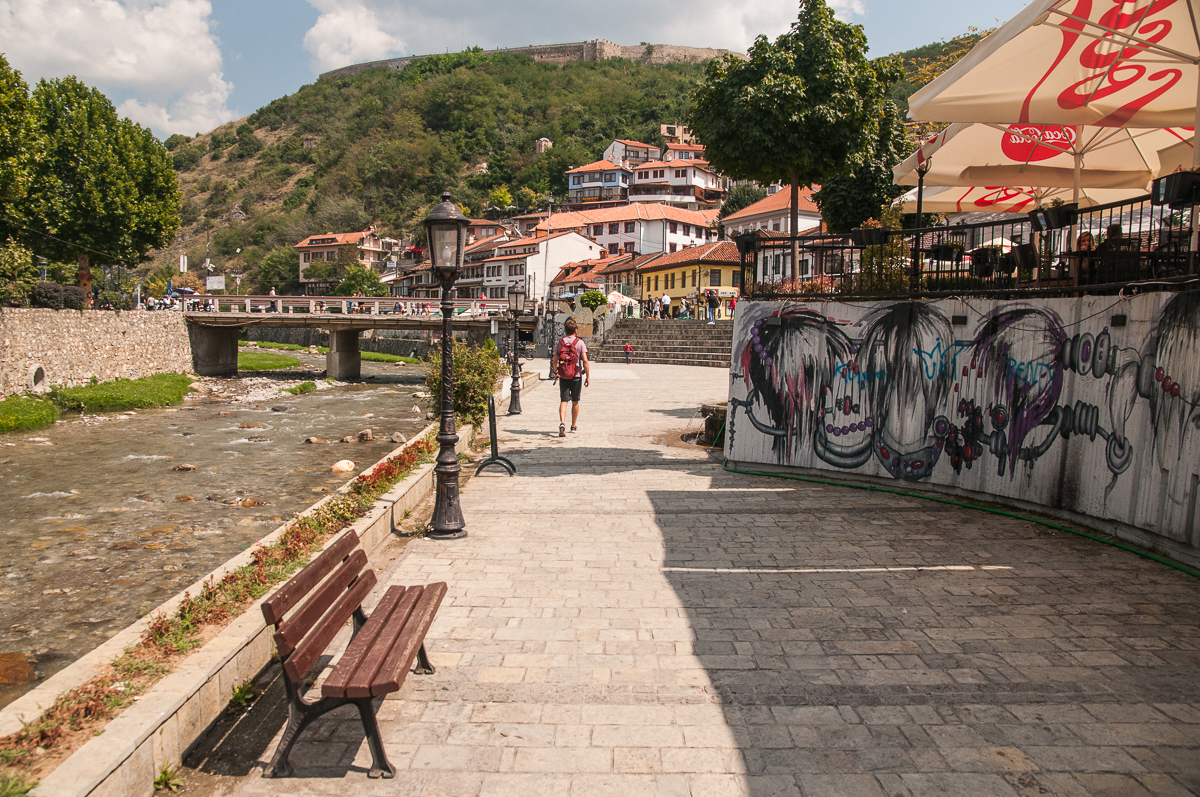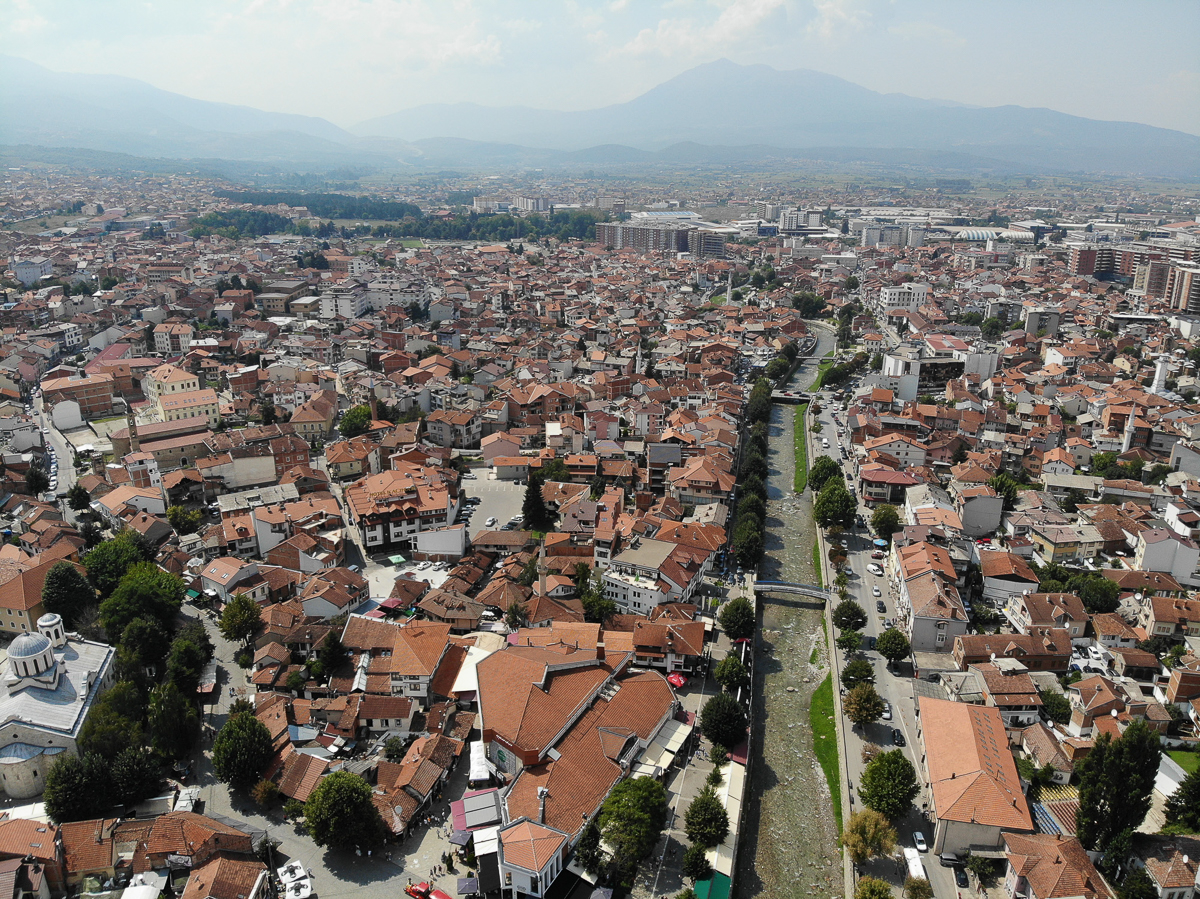 Despite the lunch taking a bit of time and being a bit chaotic, we'd had a great start in Kosovo.
But then…
Back at the bus the group chatted enthusiastically about our next stop. Would it be the bazaar, a church, or would we go to a castle now? No one knew, and the guide kept silent, until he a bit later told us all to get our passports ready as we were entering the border over to Albania. …wait what?! It was 14.30, and we'd only seen a mosque and had lunch? Everyone in the bus started questioning each other if we'd heard him say "border to Albania" too?
Eventually, Thomas walked up to the driver and said that there seemed to be some confusion in the group? We'd heard him saying we were on the border of Albania, but, we'd been told we'd see old churches, a bazaar and a castle? The driver then proceeded to lash out against Thomas – over the speaker system in the bus. We were adults, and had to pay attention. He could not baby sit us, and he had pointed out the way to the castle (and mumbled about churches). Also, apparently when he pointed vaguely in one direction and mentioned shopping, that was the direction of the bazaar. At this point, I was fuming. Who did this guide think he was, not only ripping us off for our day trip, but now lashing out against Thomas like that? I felt like saying something. I felt like walking up to the driver and slap him in the face. I did no such thing, I swallowed hard in order not to cry in disappointment.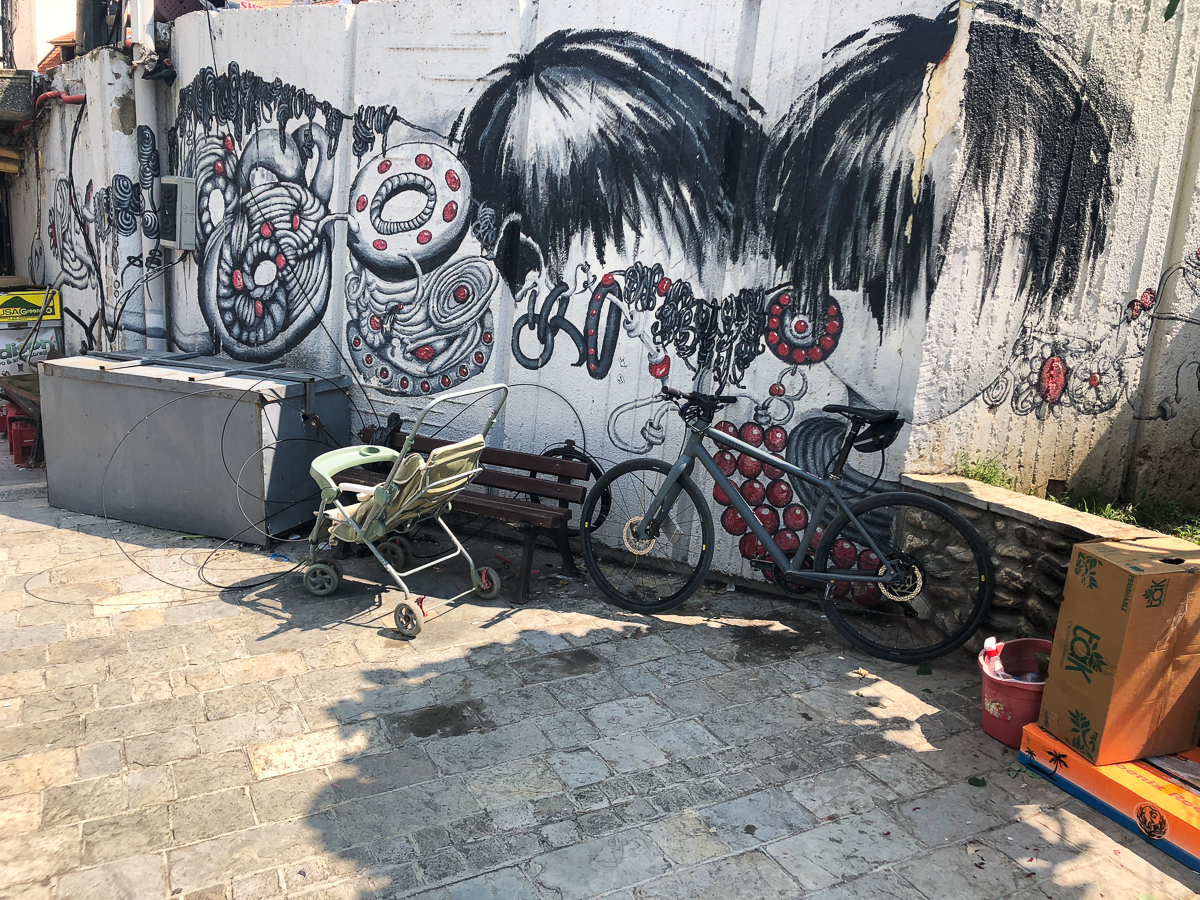 Everyone stayed awkwardly silent in the bus. Passports were handed out, border crossed, and little by little us passengers started talking again. Several of us were fuming, both from having to spend a total of 9 hours for a 15 minutes visit to a mosque, a lunch and 30 minutes spare time, but also for the money we'd paid, the entire day of the vacation wasted and obviously, the attitude of the guide. Outrageous! To top it off, the guide proclaimed there would be a change of which hotels we would go to first, as he'd parked his car at the one supposed to be the last one, but needed to go back to Tirana. I have no idea what was so important in Tirana that he felt it was ok to ruin the trip for the guests (and trust me, if there had been a good reason I'd understood). At the end of the day, this meant we arrived at our hotel last yet again, and even so, we were 1,5 hours earlier back than the schedule for the trip had said.
I'm so glad this was not my first meeting with a guided group tour, as this would have left me with no wish to ever do so again. I guess this shows exactly why I prefer to do adventures outside a group, and arrange things myself – I don't like being dependent on someone else making sure my day becomes as I want it to be like. Both Thomas and I sent complaints to Apollo during the bus ride, and a lot of the other passengers said they would too. I hope they did.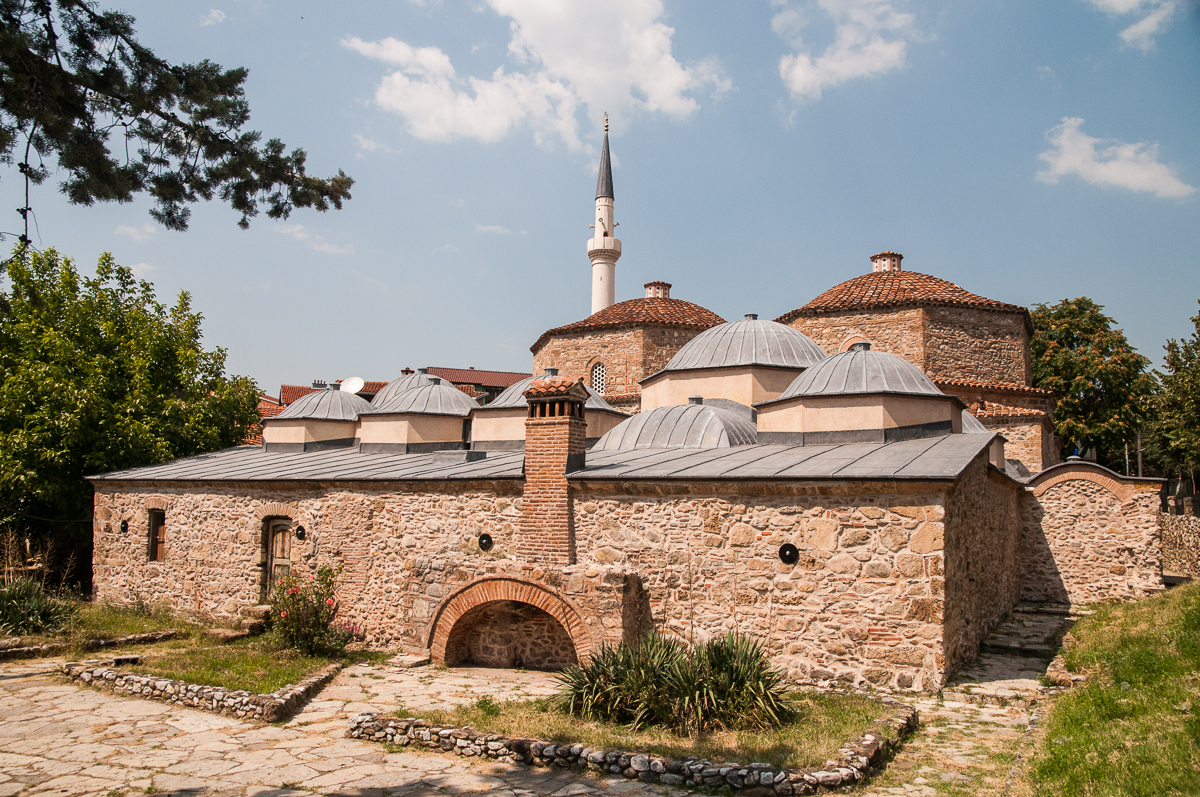 Epilogue
After sending our complaints, Apollo contacted us, and told us we could have half our money back for the day trip. They also told us that this particular guide was new, and that they would, in light of the things we'd told them, not work with him again. I was impressed with how Apollo apologized and sorted this out quickly, however, they sadly of course could not give us back our entire day of holiday that had been wasted.  I'd much rather spent it at the beach, or on some other excursion. I'd love to one day go back and do this tour with a proper guide, though, as I think it has great potential (and also based on how amazing the other two tours had been). I'd still recommend people to try this daytrip as well – just not with that guide we ended up with!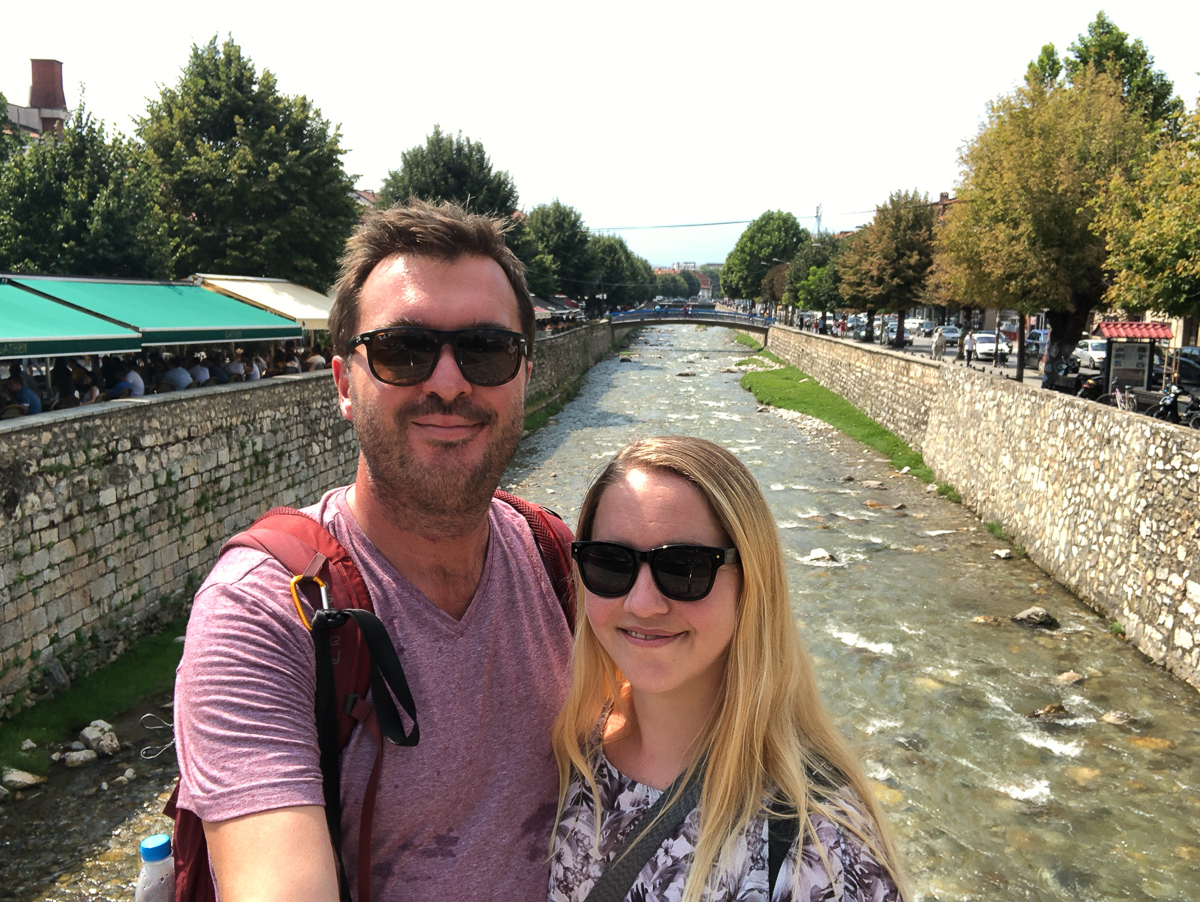 I know this post might be a bit negative, but I've decided I wanted to share our experience. After all, traveling is still real life, and not everything might be perfect. I wanted to share our experience with a tour gone wrong, especially after sharing how amazing Ohrid and Berat was. So just remember when you go traveling that things can still go wrong, don't be afraid of complaining/standing up for yourself if something is not what you paid for, and don't let one bad experience ruin the rest of your trip. Again, Apollo handed all of this very well, and we'd both love to go back and visit Kosovo again.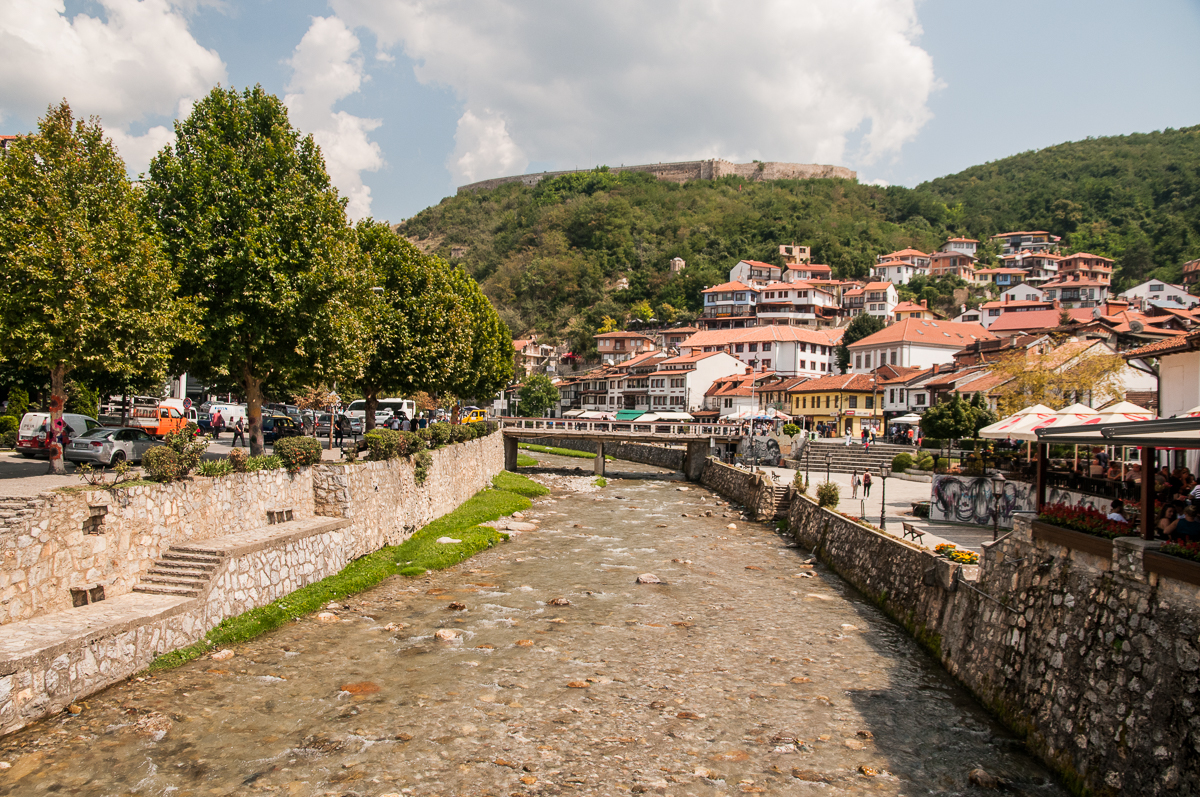 Thank you Thomas, for letting me use some of your photos in this post.
---