Kraków is a popular destination for travelers, both due to it being one of the biggest and oldest cities in Poland, and to it being such a budget friendly city. Kraków offers a great variety of culture, history, music, churches and amazing food. In my humble opinion, you'd have to work hard in order to not find something you'd enjoy in Kraków.
When I turned 30 back in May, my mum and step dad treated me with a long weekend together to Kraków in Poland. Of course they also invited Thomas, and so it was that after several months of excitement we finally flew out on a Thursday morning in September.
I'd actually visited Kraków once before, back in 2003 when I was only 14 years old, so I was excited to have one more time to actually see the city (and being able to document it with a decent camera this time). Kraków is a really diverse city, in which all of us ended up having a blast in. And being the travel blogger that I am, I thought I'd share some of my favourites with you.

Here it is, my guide to 15 things to do in Kraków

1. Start your explorations at Stare Miasto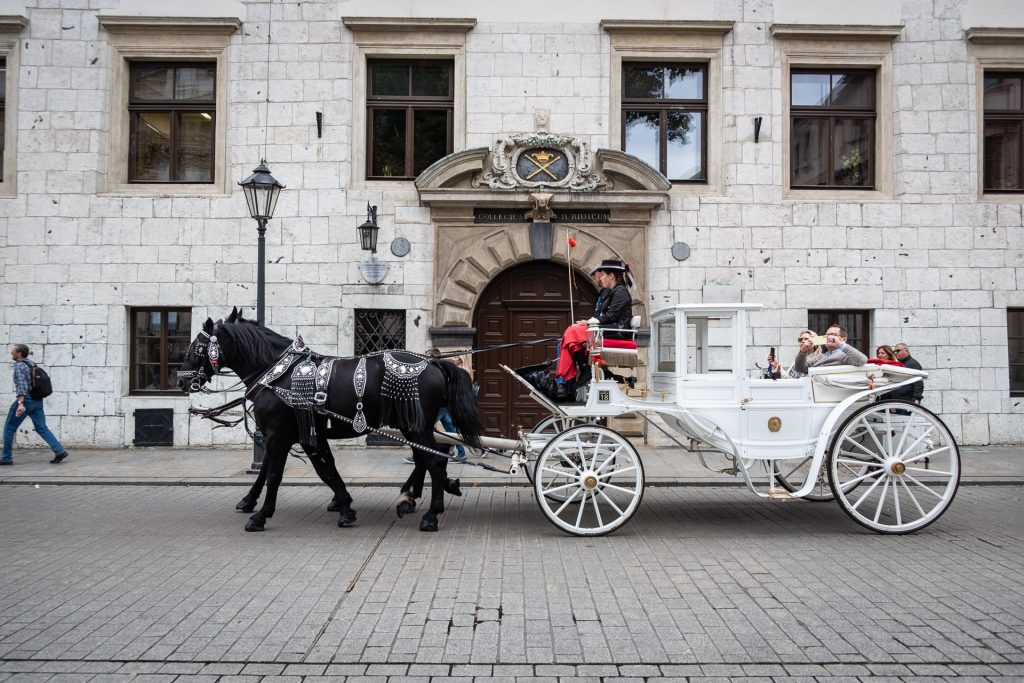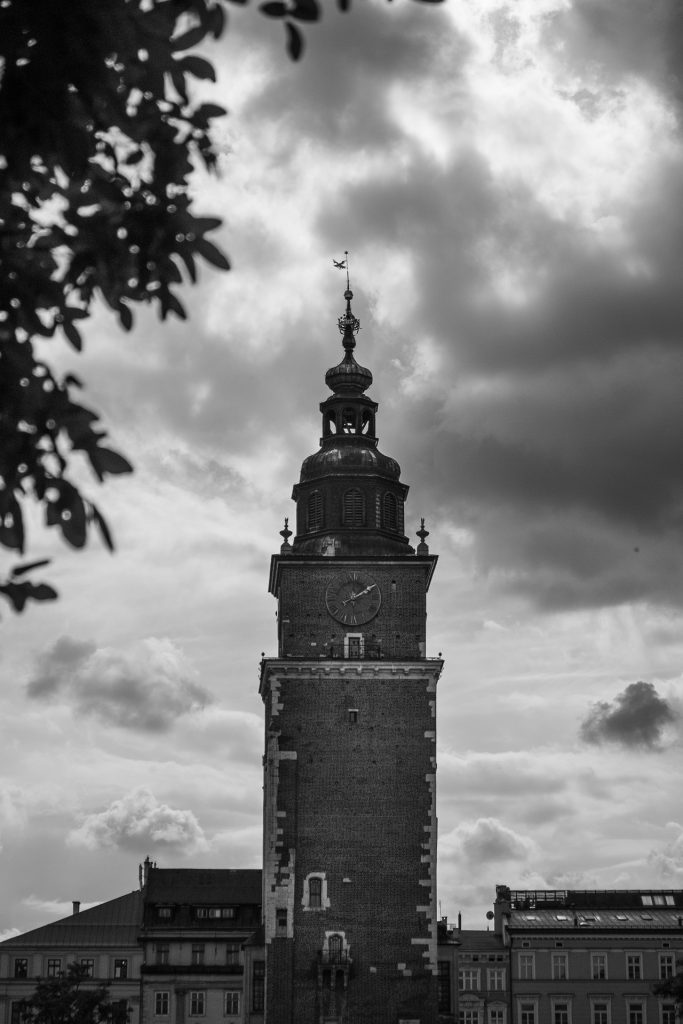 No matter how much time you have in Kraków, I'd say Stare Miasto, the old town, is a good place to start your adventure. Here you'll find plenty of Kraków's cultural sights within walking distance, not to mention all the options you'll have of eating and drinking, both inside and outside on the square.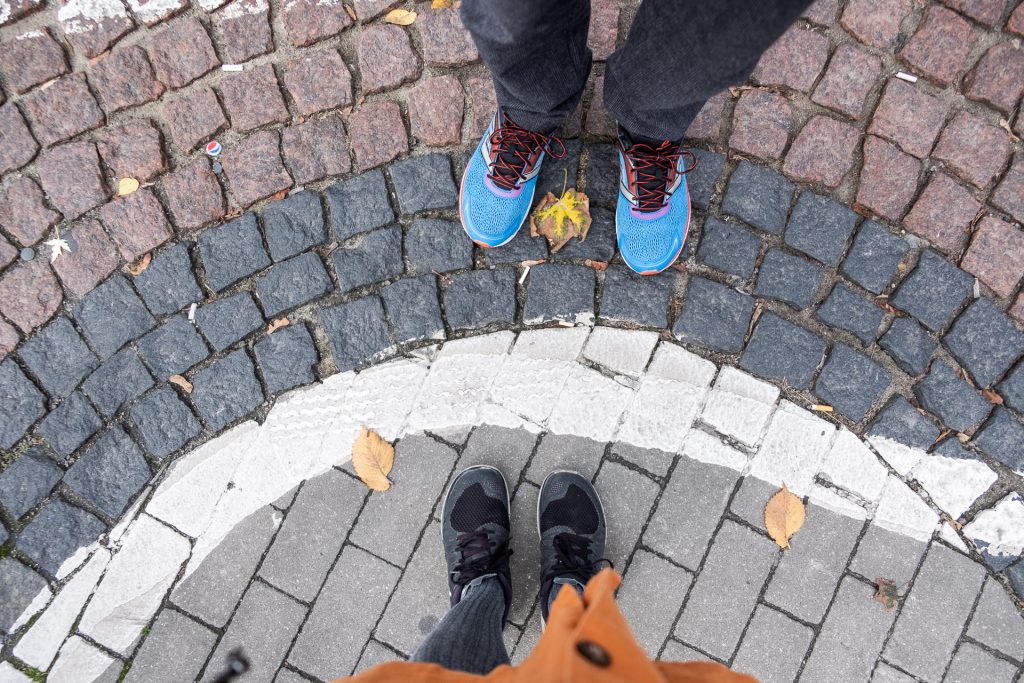 2. Admire all the details in St. Mary's Cathedral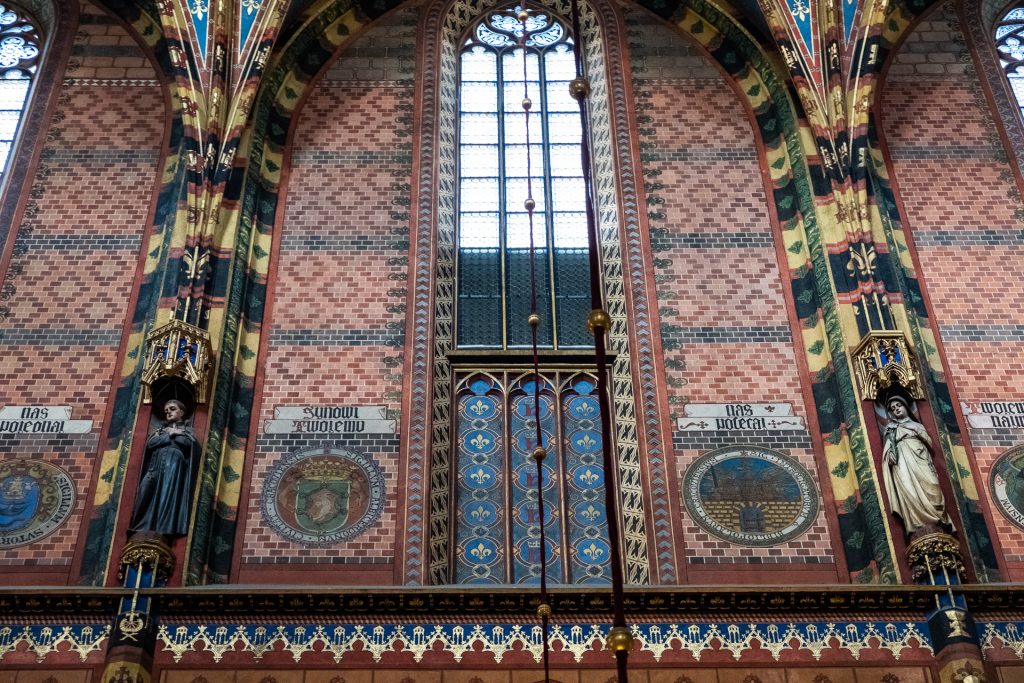 One thing you'll definitely notice while in Kraków is that they do have a lot of churches. Pretty churches, smaller churches, and on the main market square, the Rynek Glowny, you'll find the St. Mary's Cathedral. This gothic style cathedral is well worth the 10 Polish zloty the entrance fee is (24 NOK / 2,6 USD), with loads of exciting details inside.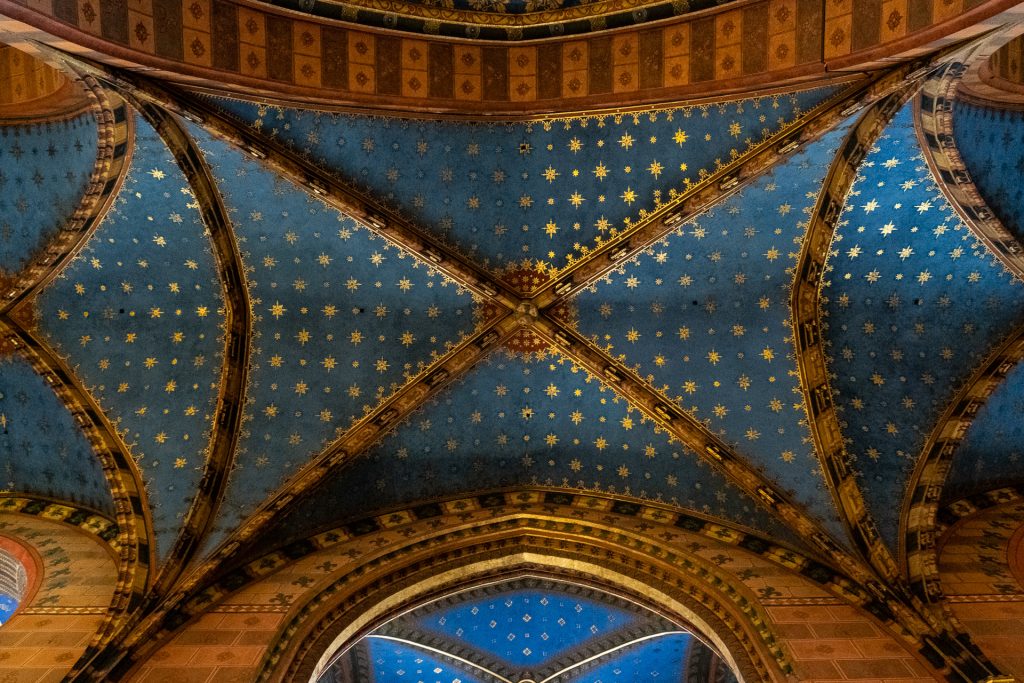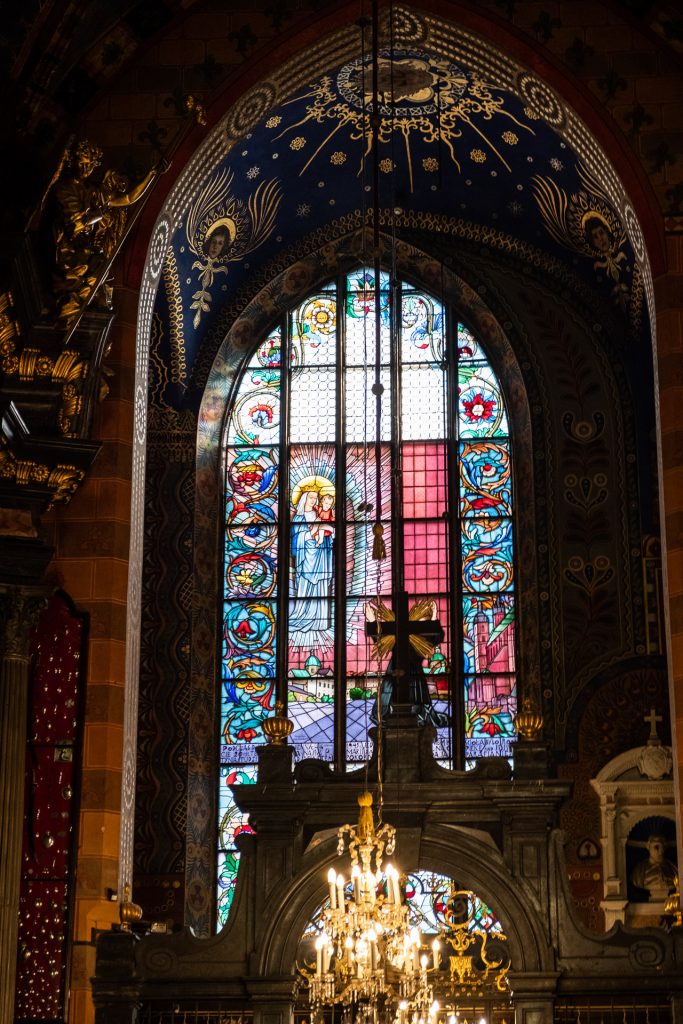 If you, like me love, cathedrals, basilicas and other religious sites, maybe you should visit Budapest as well? I loved the St. Stephen's Basilica there!

3. Visit the old Sukiennice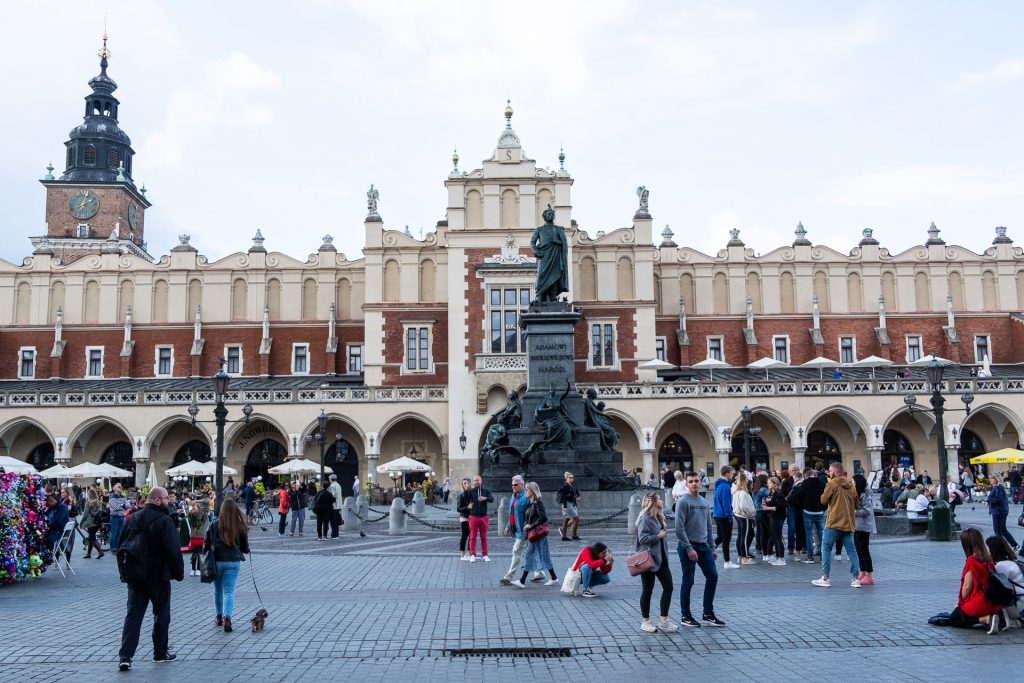 Smack down in the middle of Rynek Glowny you'll find this old building, the "Sukiennice", which is the old market, known as the Cloth Hall in English. Here you can get some shopping down, and it's particularly their amber jewellery that's popular amongst the tourists.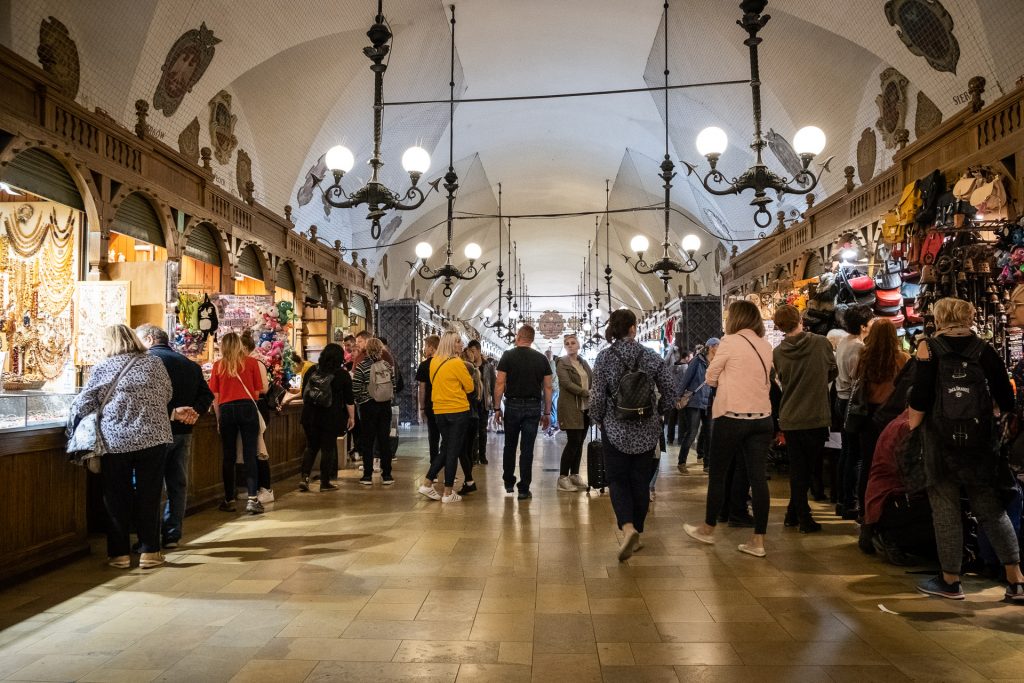 You can also see (and visit, even climb its 100 stairs if you want to see Krakow "from above") the clock tower while visiting Stare Miasto.
The Rynek Glowny is also famous for housing an incredible amount of doves.
4. Eat traditional Jewish food while enjoying live music at Klezmer Hois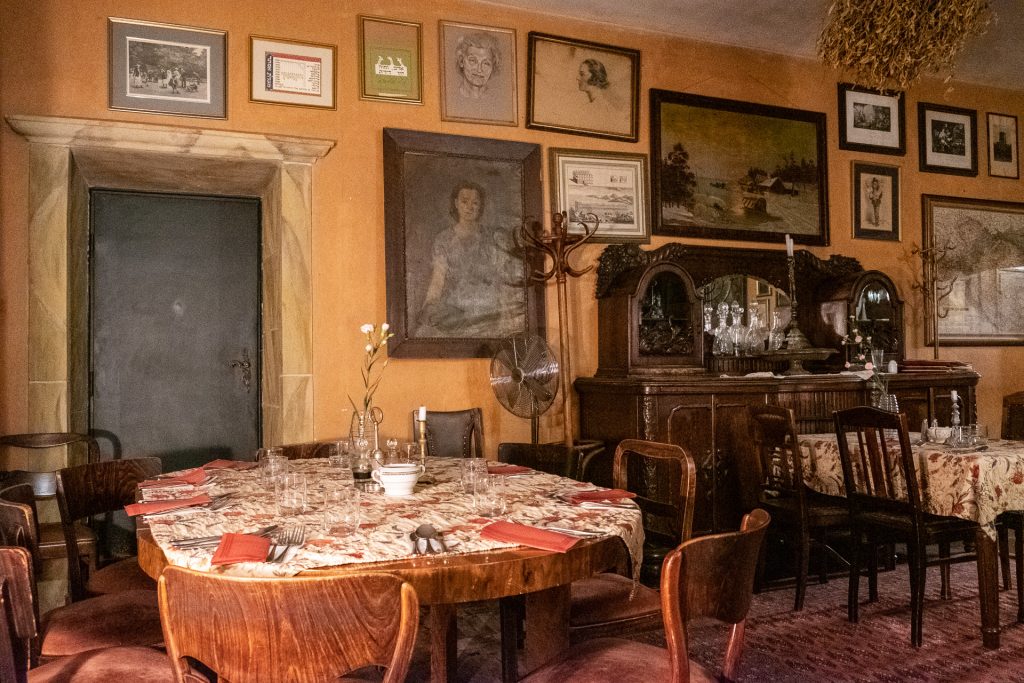 Several places in Kraków you'll be able to experience traditional Jewish folk music combined with delicious Jewish food. My mum had read about several places, and chose Klezmer Hois as our venue to experience this.
Both the food and the entertainment was amazing, and if you have the time and an interest for Jewish culture, do yourself a big favor and spend a couple of hours here!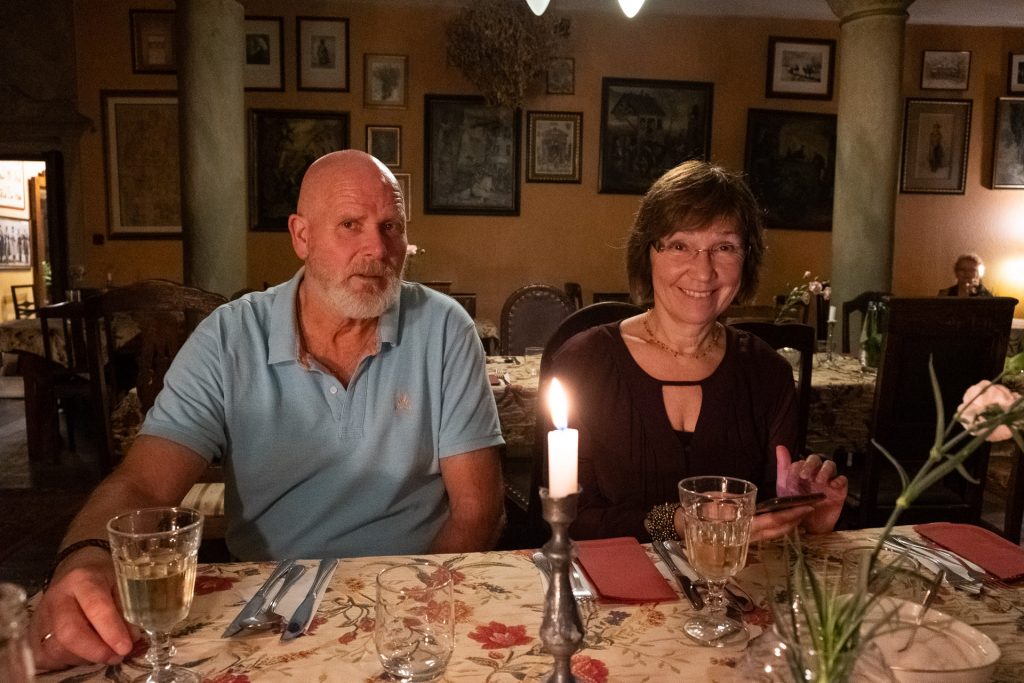 5. Check out the area of Kazimierz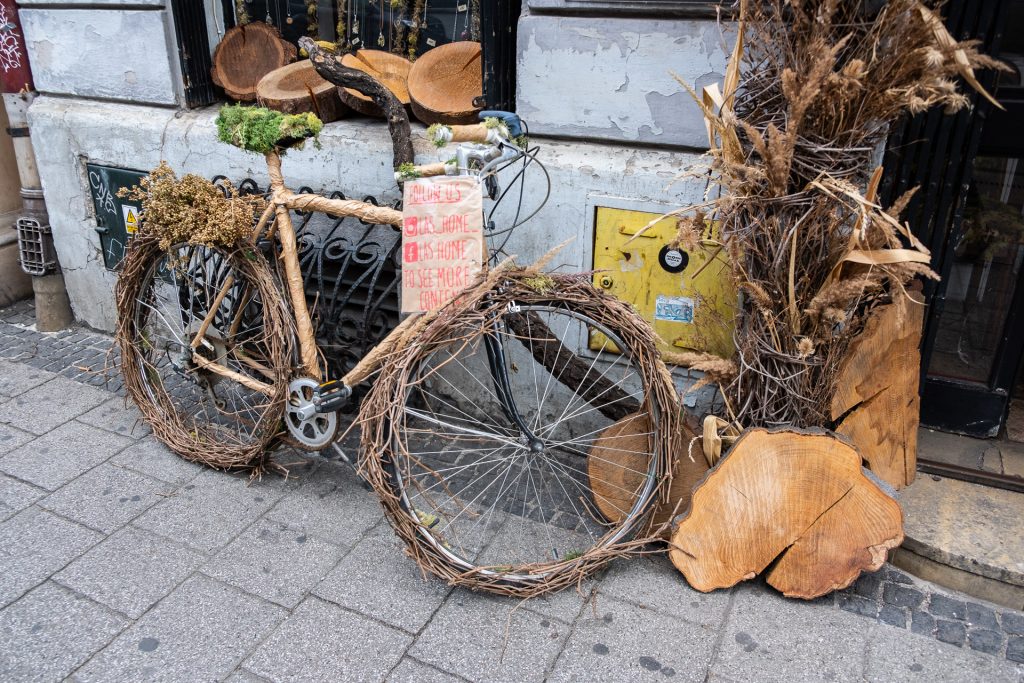 This is the old Jewish part of Kraków. During WWII the capitol of Poland, Warszaw was bombed to pieces by the Germans, but Kraków luckily did not. As a result, this old part of town is popular both with regards to its rich culture and new cafés. Spend at least a few hours just walking the streets here, chances are you'll find several places you wanna "pop in" just to see, have a coffee or something to eat.
6. Have dinner at Szara Kazimierz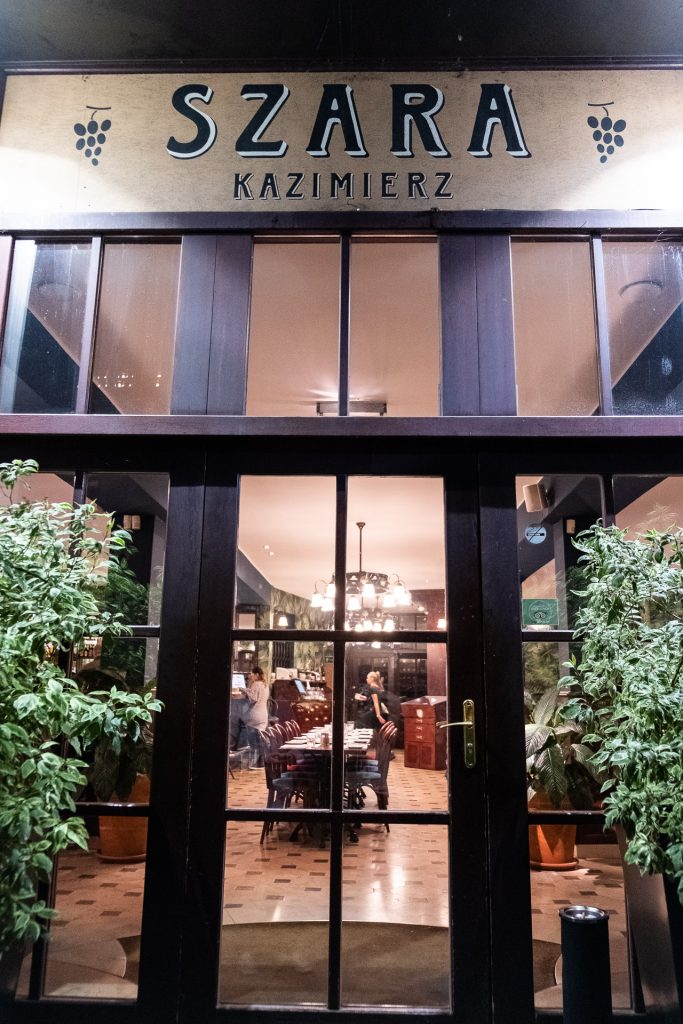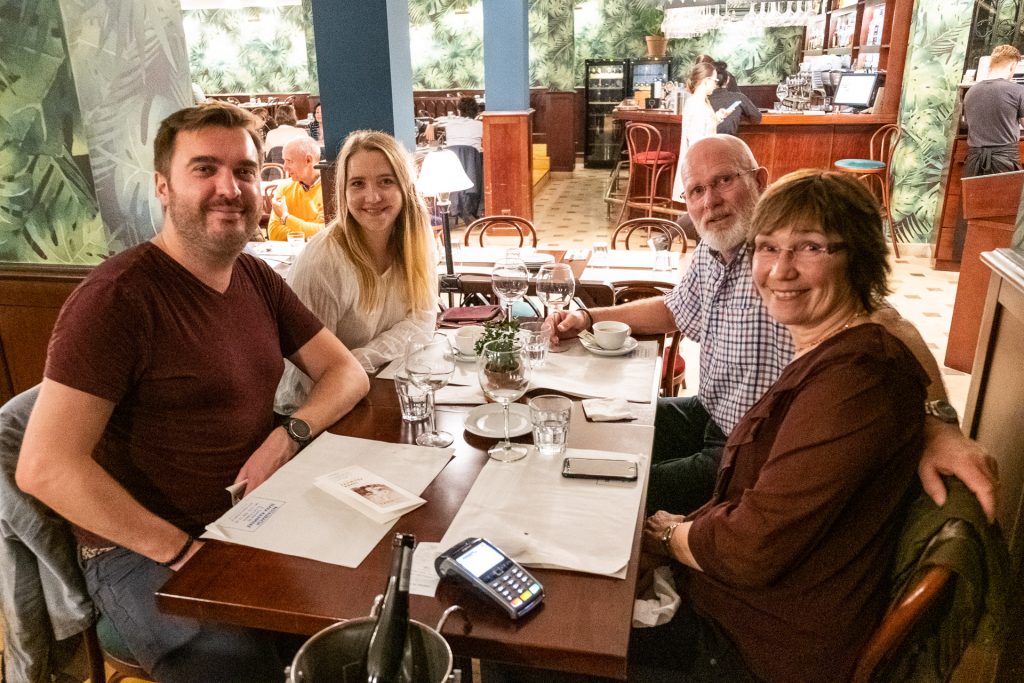 This restaurant is recommended by the Michelin Guide, and serves both traditional Polish and other Scandinavian dishes. Located in the Szeroka Street you'll find no shortage of other places you can drop into for a drink, hotels, a bookstore or several synagogues you can visit if you wish to. A lively area well worth visiting, and the food at Szara Kazimierz is absolutely delicious. Make sure you try some of the Polish wine – it's actually really nice!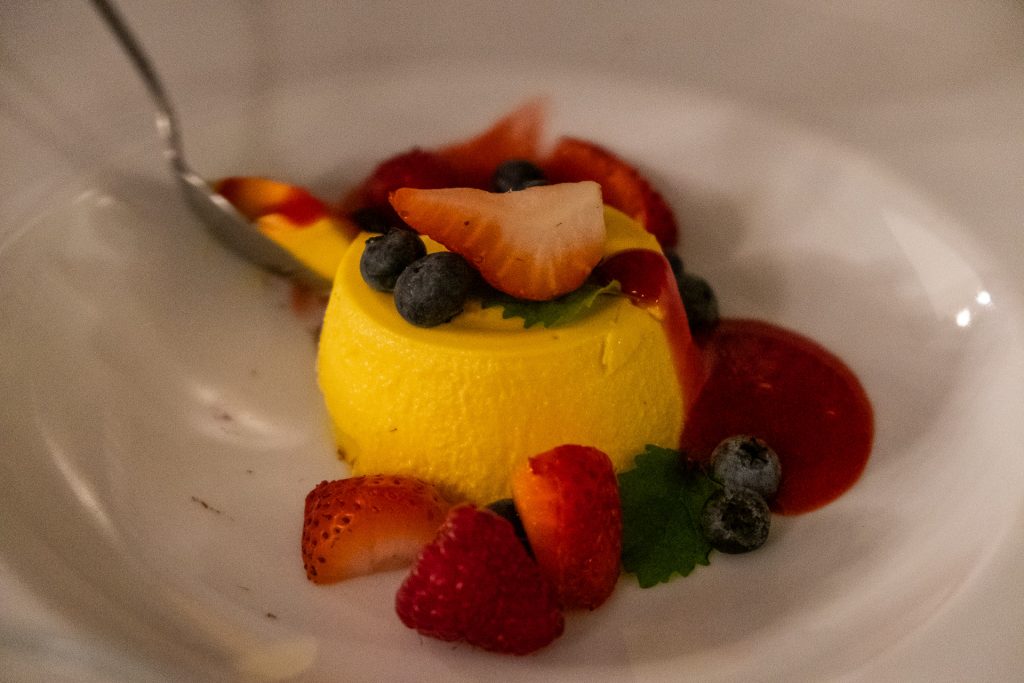 One thing which probably should be mentioned is that this is a really busy place. The shape of the restaurant and acoustic makes the general volume of noise to be rather loud. Probably not the best place to propose or have an important business meeting!
7. Shop until you (or your credit card) drop at Galeria Krakowska and Galeria Kazimierz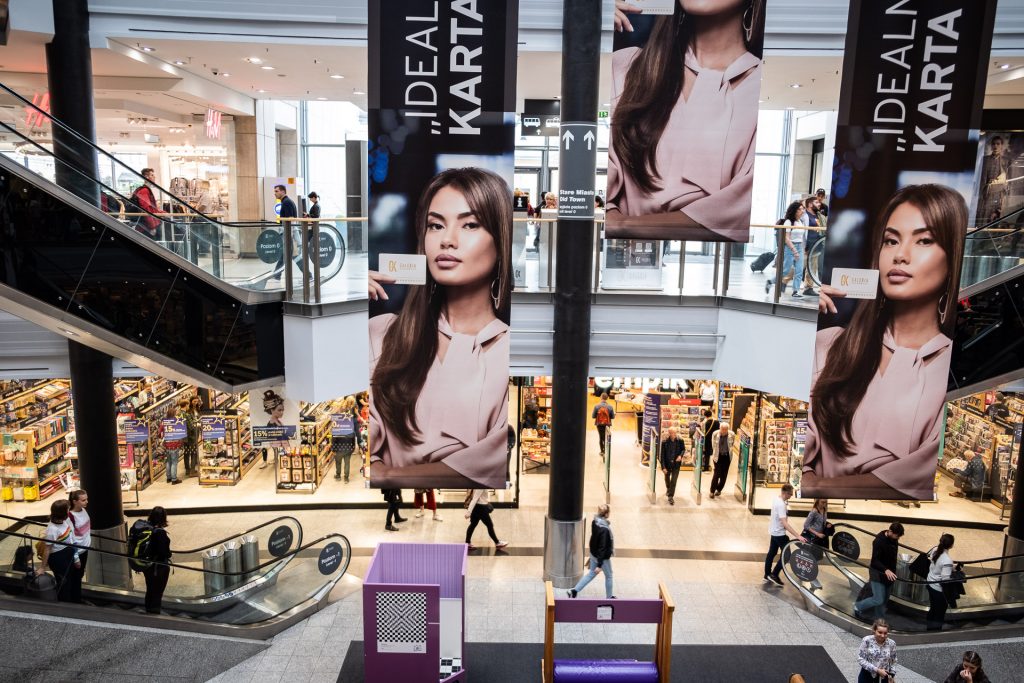 If you're looking at going on a solid shopping spree, Galeria Krakowska is definitely the place to go. With more than 270(!) stores, this gigantic mall should have something for everyone. This mall was so big it got me light headed, and even though we spent several hours in here we barely scratched the surface with regards to seeing all the different shops.
Located only a short walk from where we lived at Hotel Qubus another big (but not as big as Galeria Krakowska) shopping mall lies. Galeria Kazimierz has loads of shops, bakeries, cafés, restaurants and everything else you'd expect from a mall.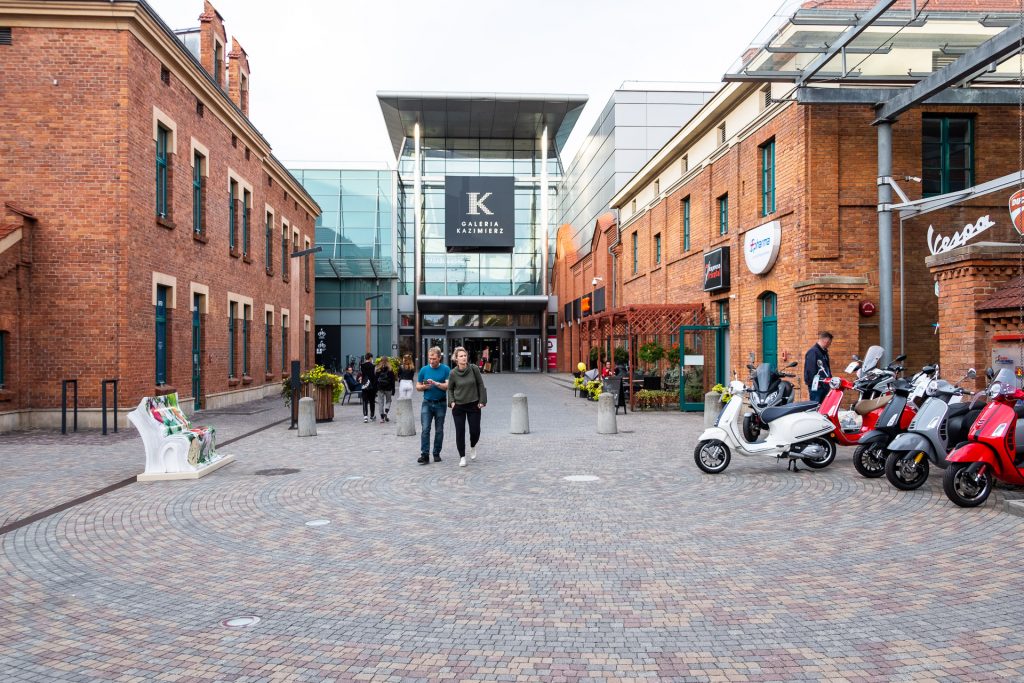 8. Stay at Qubus Hotel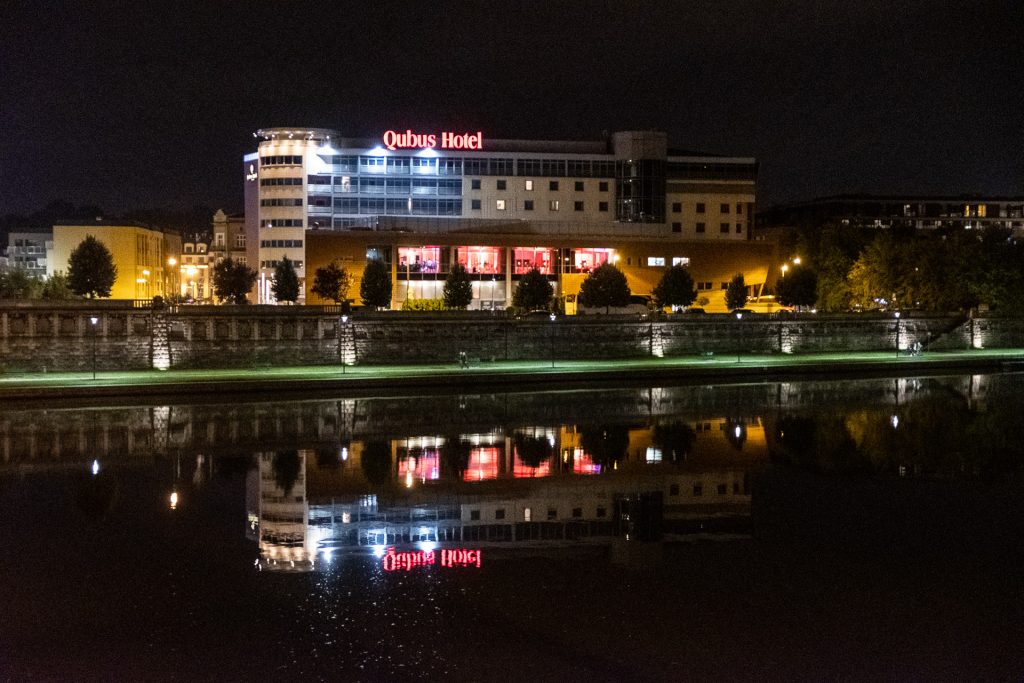 Located just next to the river Wisla, the Qubus Hotel was an absolutely amazing place to stay while in Kraków. Friendly staff, great rooms, comfy beds, and with both a work out-room and a pool (also with two saunas and a jacuzzi with a gorgeous view out over the river Wisla).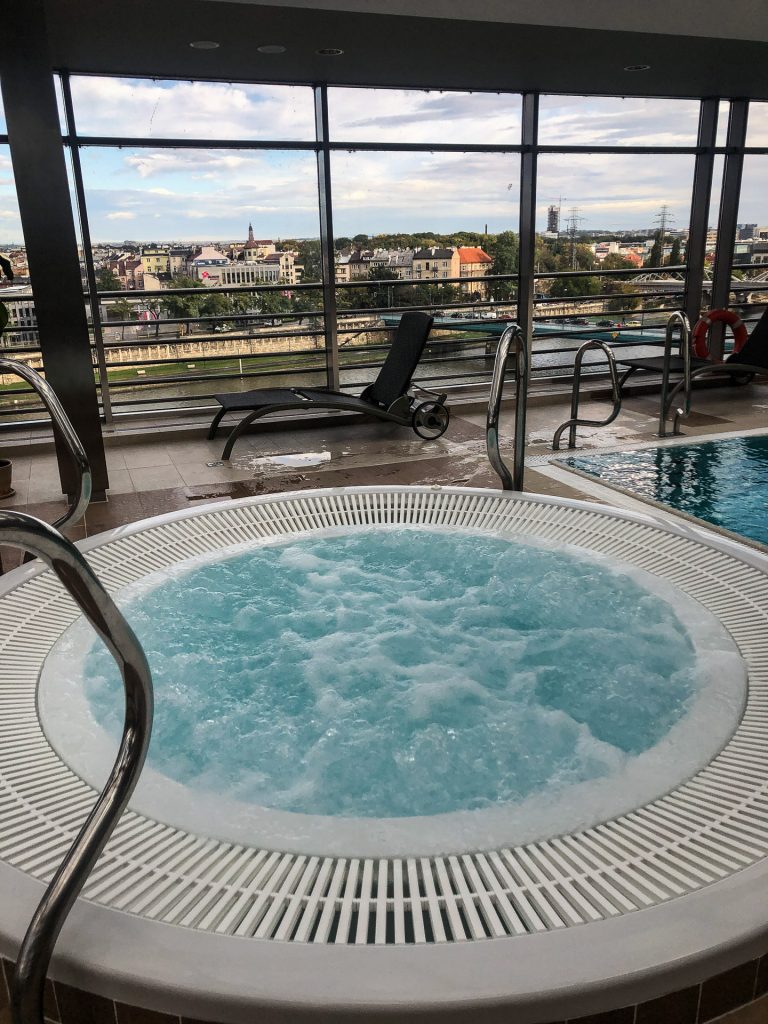 The hotel also has its own boat, which several times a day takes the guests over to the area of Wawel.

9. Admire the area of Wawel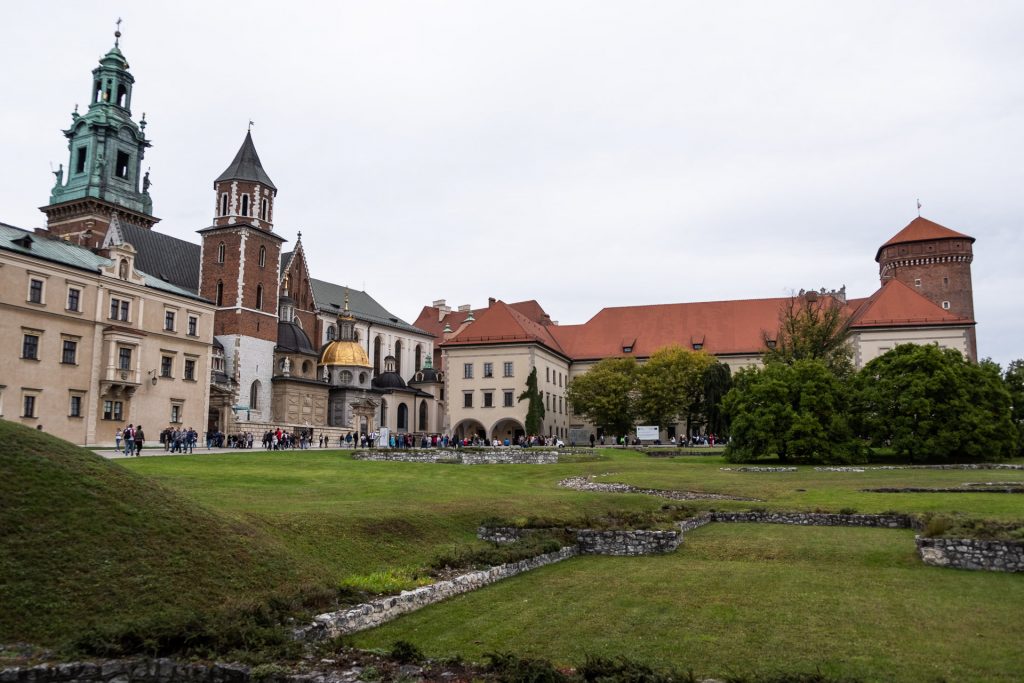 Wzgórze wawelskie is "a fortified architectural complex" (Wikipedia) in Kraków, with a huge symbolic value for the Polish people. It's importance lies in the historic importance of this area – it's been important both with regards to religion and political matters. The Royal Castle and the Wawel Cathedral are two of the most important (and well known) buildings here.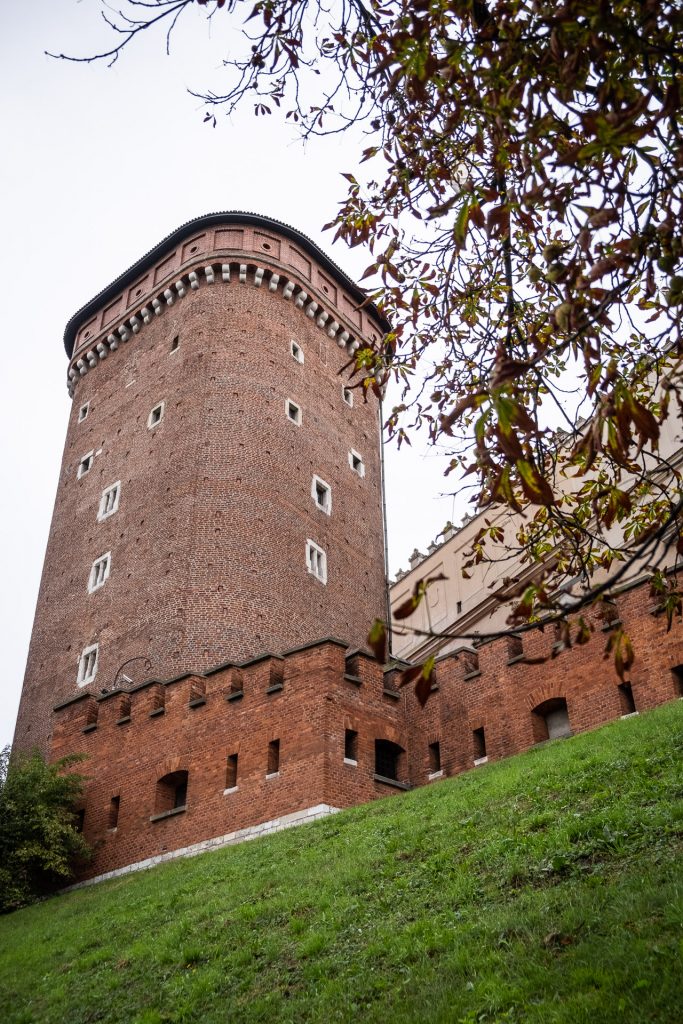 This area, beside important buildings, also has a lot of gorgeous gardens. Take a walk amongst the flowers, enjoy the view over Kraków or learn something new about Kraków's history here.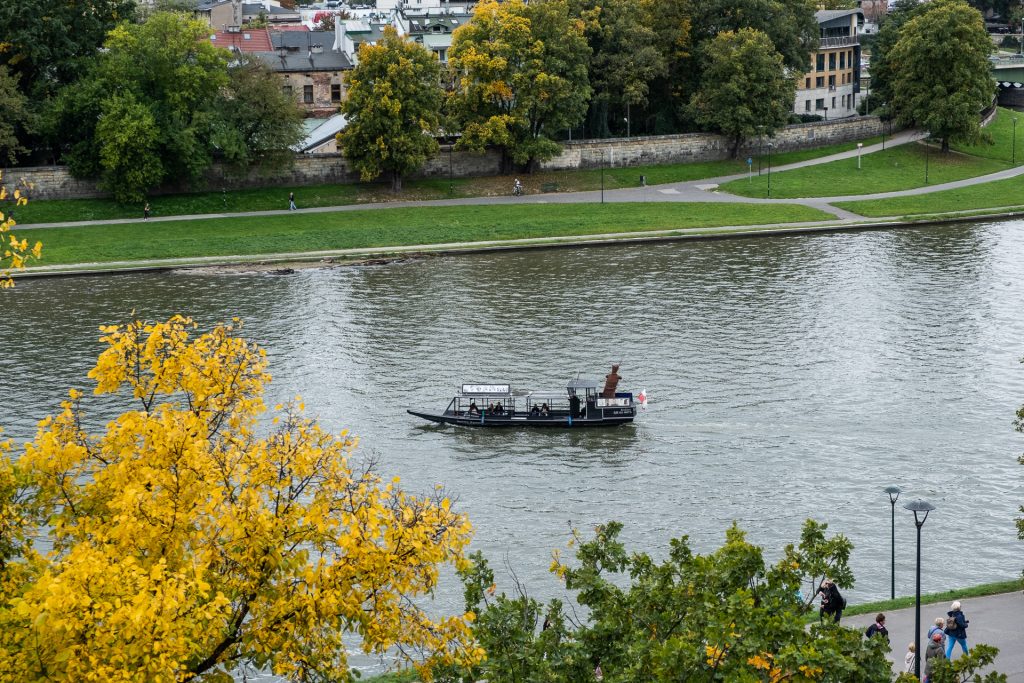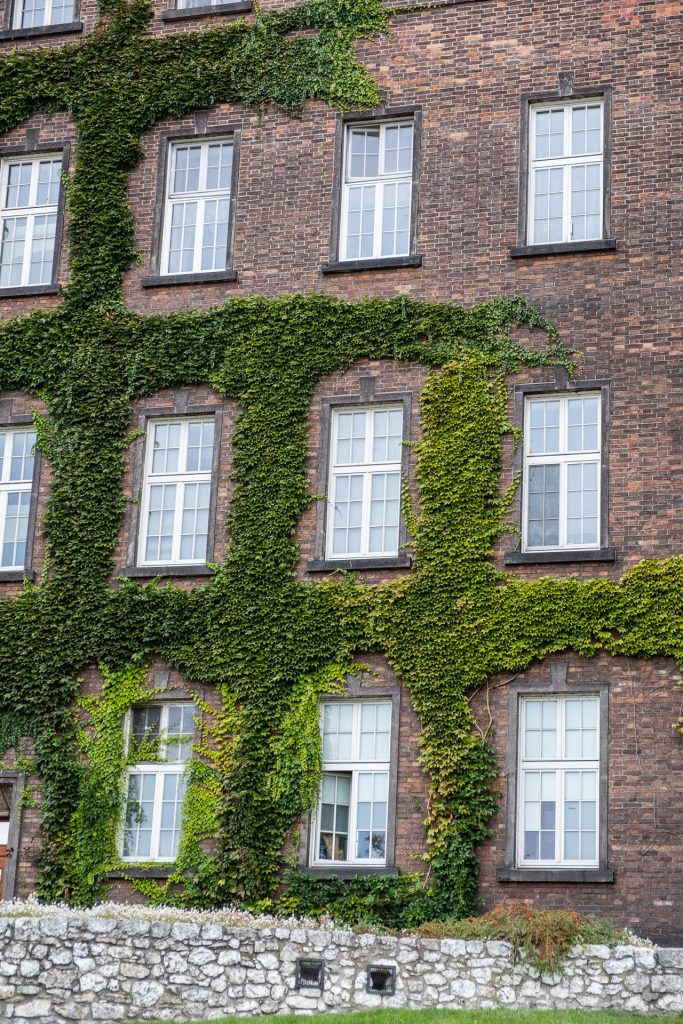 10. Go for a stroll along the river Wisla, rent a bike or do a boat trip on it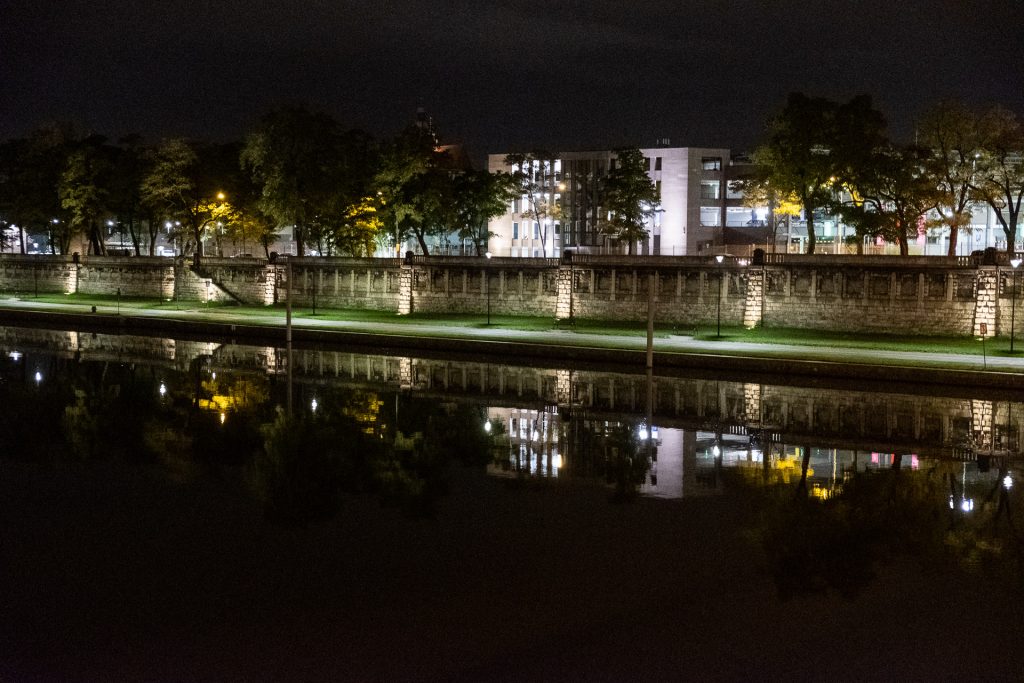 Wisla, or in English, The Vistula, is the longest river in Poland, and it goes through many of it's biggest cities, including Kraków.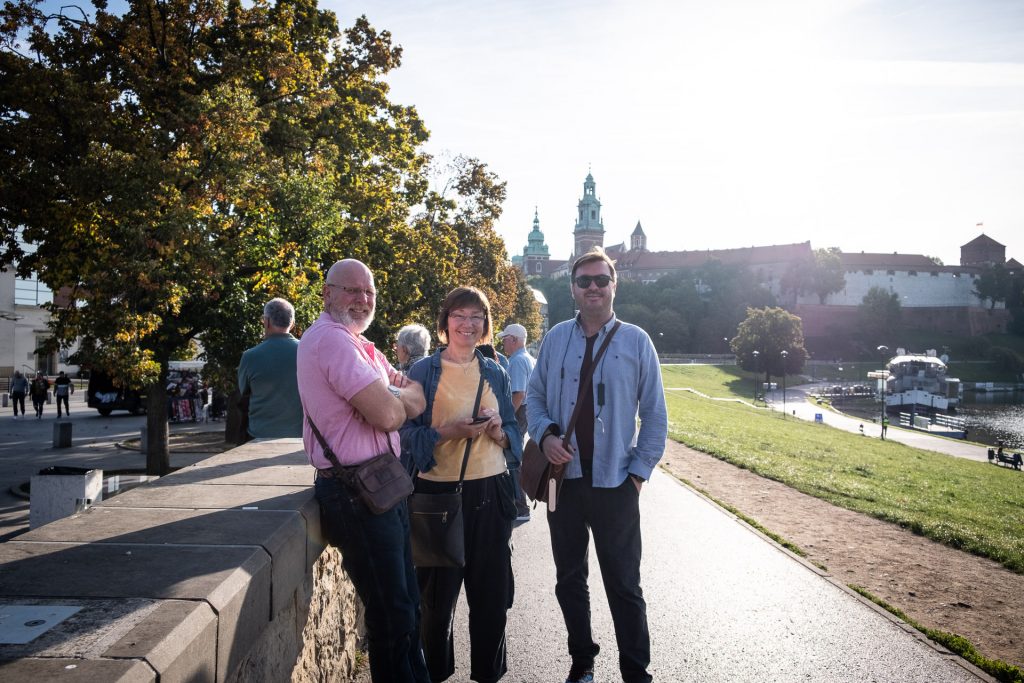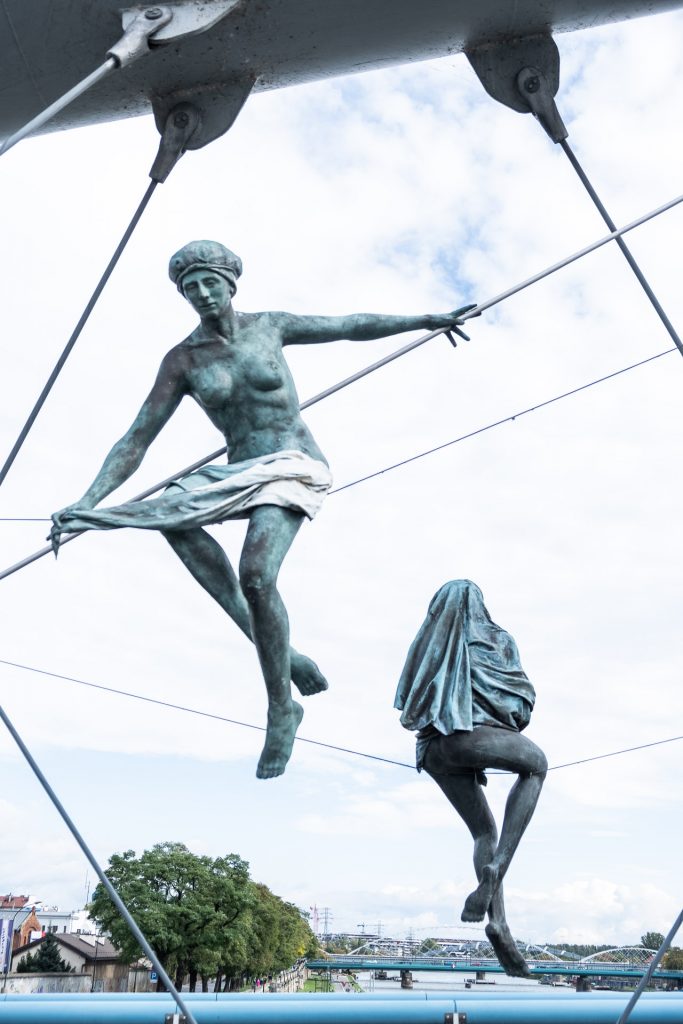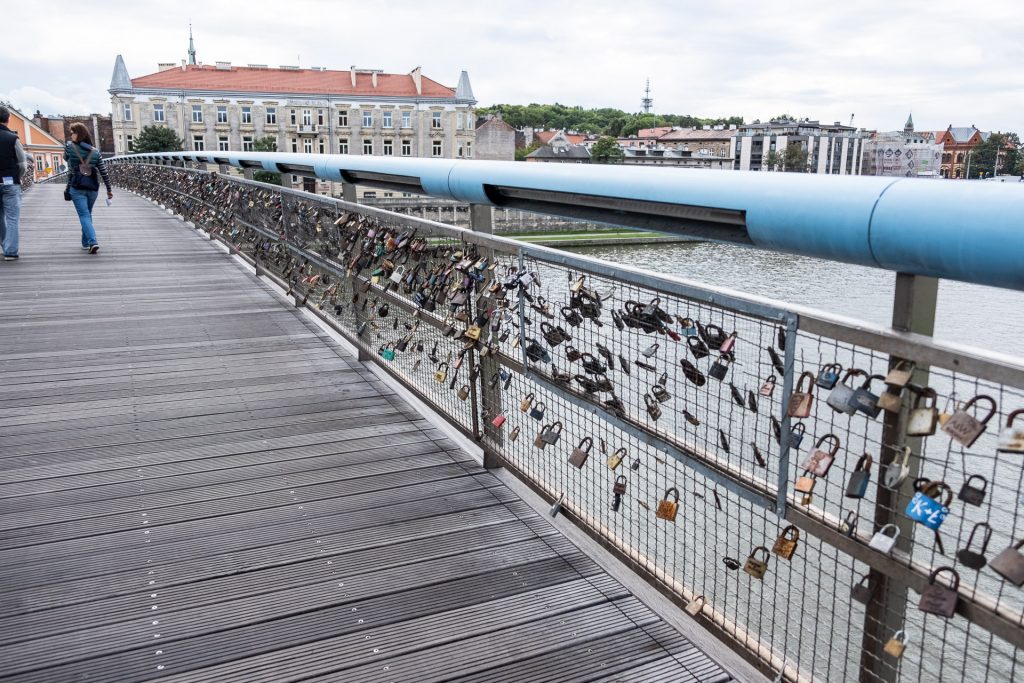 In Kraków you can enjoy the river in many different ways – from walking amongst it's shore (there's a lot of nice pathways here, so it should be accessible for everyone, also those in wheelchairs or with strollers).
A lot of places offers bike rentals, where you can rent bikes cheap for half a day or 24 hours – even our hotel had this service (which I really wanted to do, but in the end we did not have enough time to actually do it). Of course there's also several boat trips offered on the river.
11. Spend an entire evening at Pod Aniolami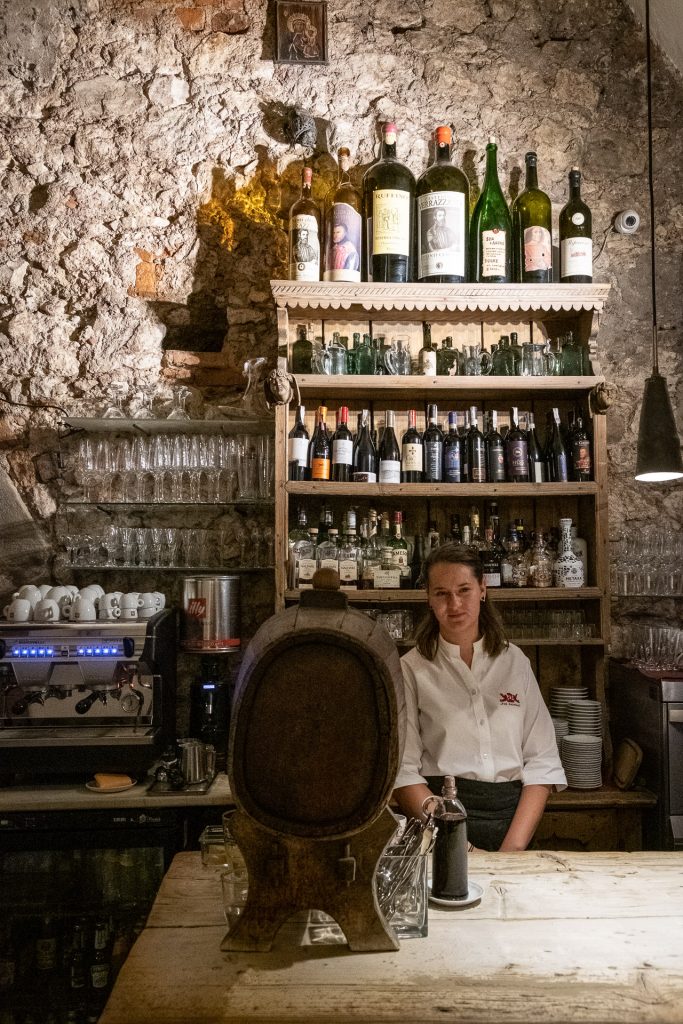 "Pod Aniolami" means "underneath the angels", and is a well kept restaurant in a cellar. Here you can spend an entire evening eating as medieval kings did in Kraków, with traditional Polish culinary and delicious wine. Served by staff who really knows what they're doing, Pod Aniolami really is a restaurant I'd recommend you to spend a night at. This is where we celebrated my belated birthday, and boy was it worth waiting for.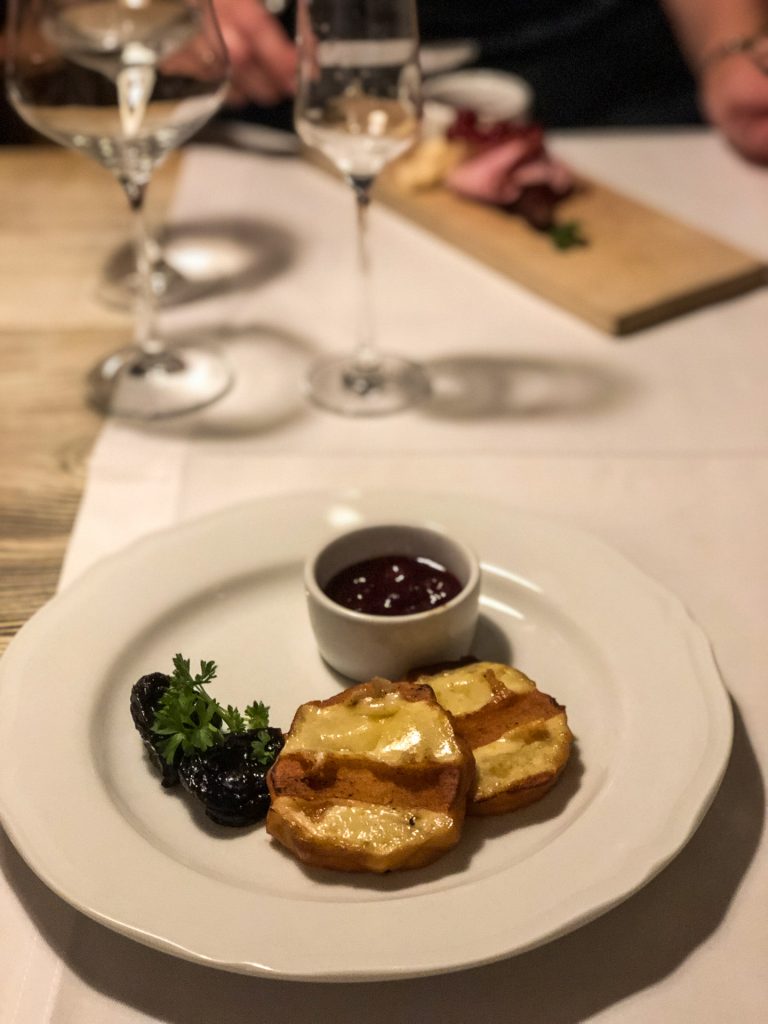 Not only is the food to die for, and the service extraordinary, but the venue itself is also worth mentioning.
12. Have a green timeout in Planty park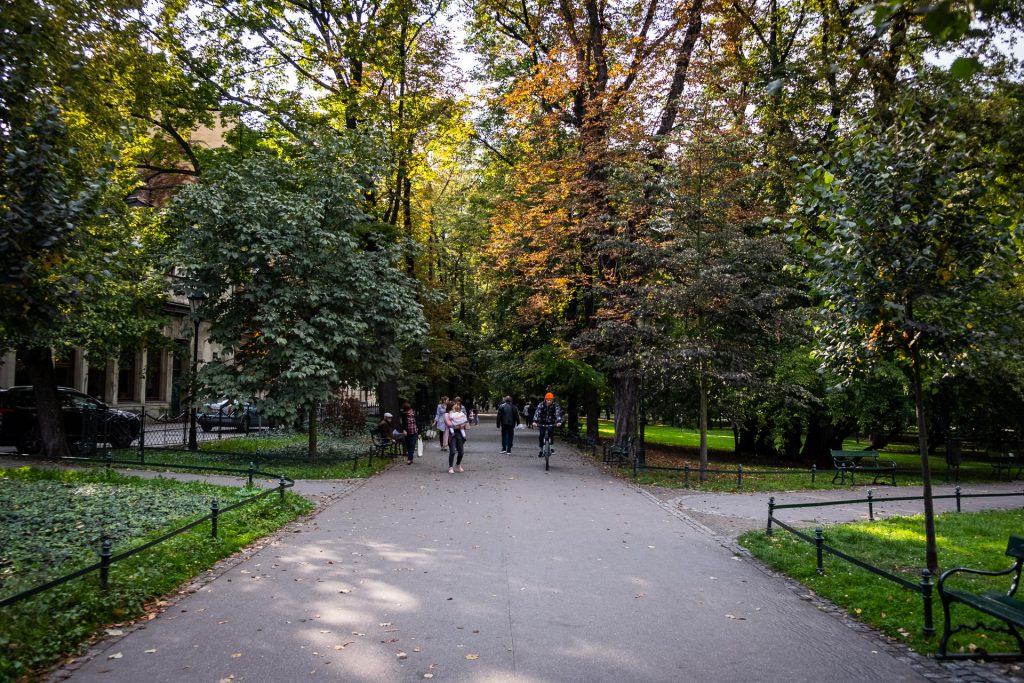 As great as Kraków is, spending all day in a big city (big at least for a Norwegian like me) can be exhausting. Luckily, there's several parks in Kraków, with Planty being the biggest green lung. A perfect spot for a walk, a run, or just to drink your coffee while getting away from the crowds.
13. Have dinner on a boat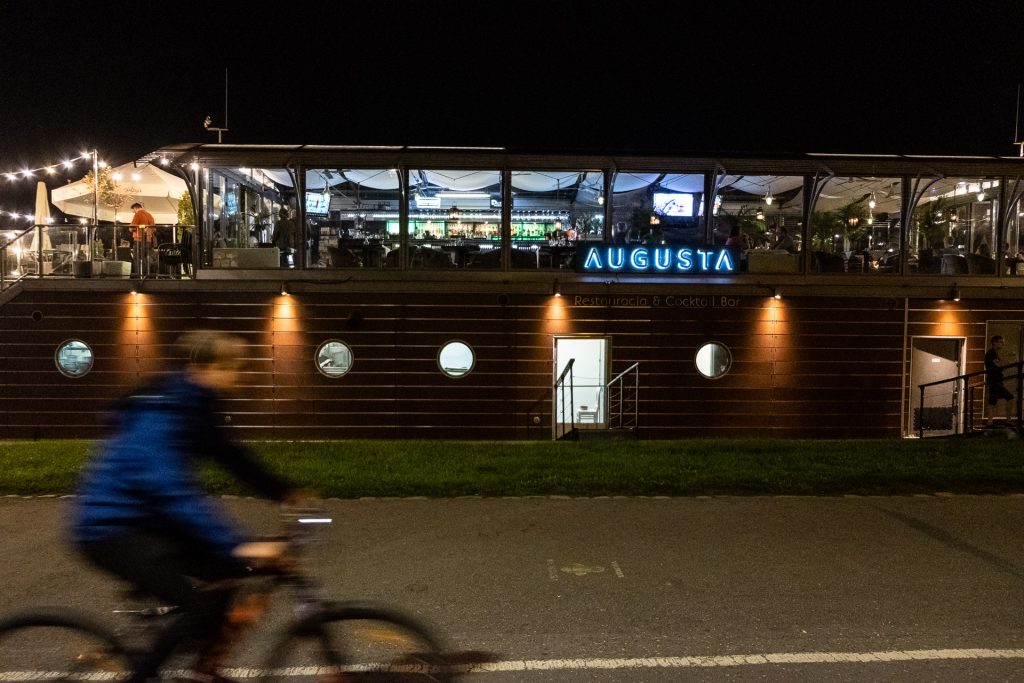 Not that you can't eat on boats and ships elsewhere in the world, but in Kraków you can do it for cheap, yet with a great class. We ended up on Augusta by pure accident (it started to rain just as we were close by), and definitely did not regret our decision to pop in for shelter.
14. Enjoy budget friendly, delicious burgers and beers at the Beer House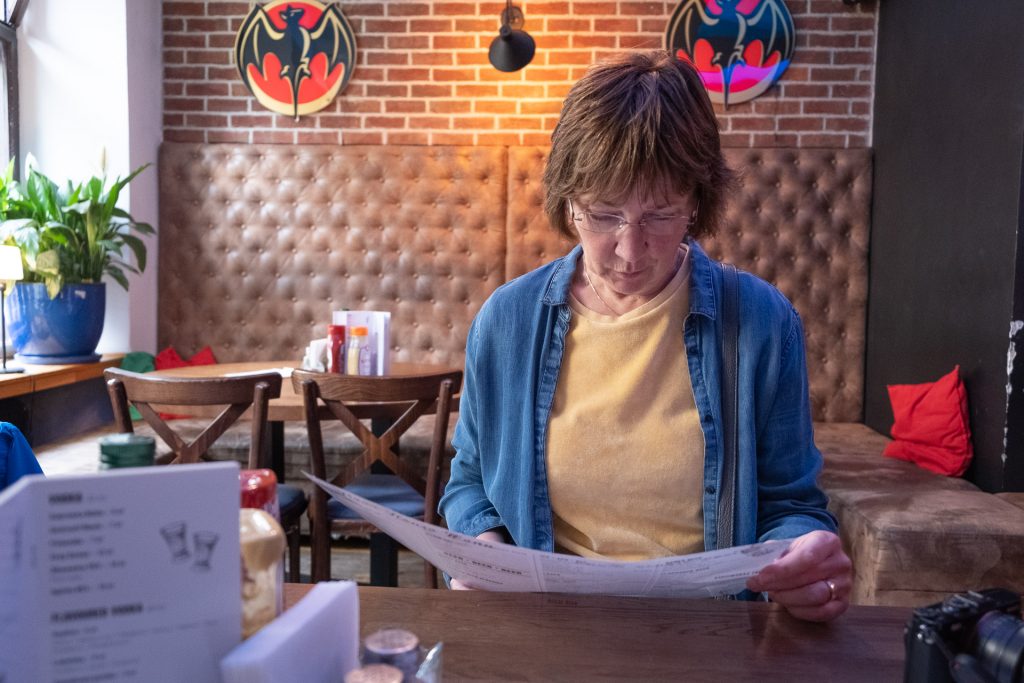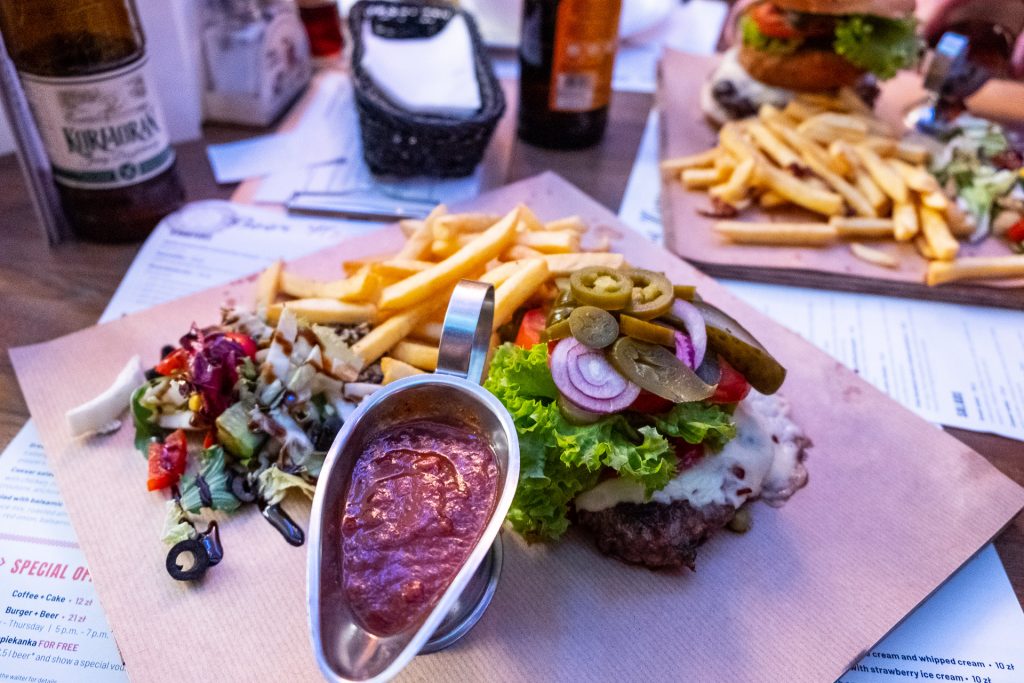 The Beer House did not have Gluten-Free burger bread, but the portions were huge, so that was okay. A lot of the time I find places which might not have Gluten-Free alternatives available for their dishes, but most places are more than willing to not include bread once I explain that I cannot eat it.
However, they did have Gluten-Free beer, and if there's one thing that makes me excited when I travel it's finding Gluten-Free beer. The burgers were also delicious!
Do you love food? I surely do! In 2019 I went solo to Milan and ate the entire weekend. Read more about that here!
15. Just roam the streets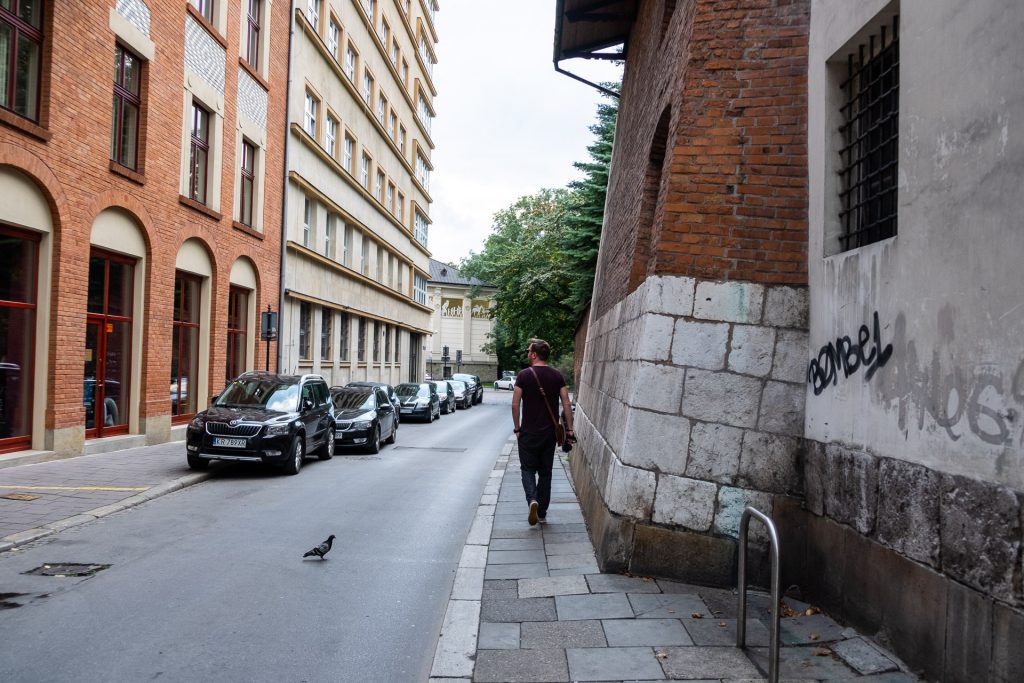 If people watching, just roaming the streets and see what the next corner brings you or taking photos is of any interest to you, then Kraków is perfect for you.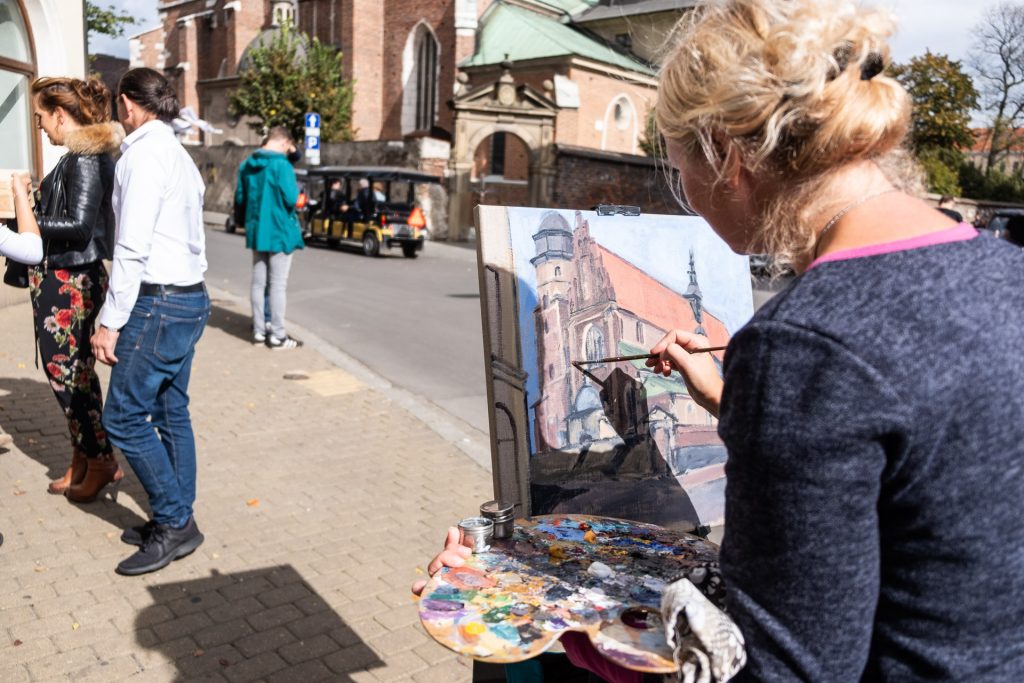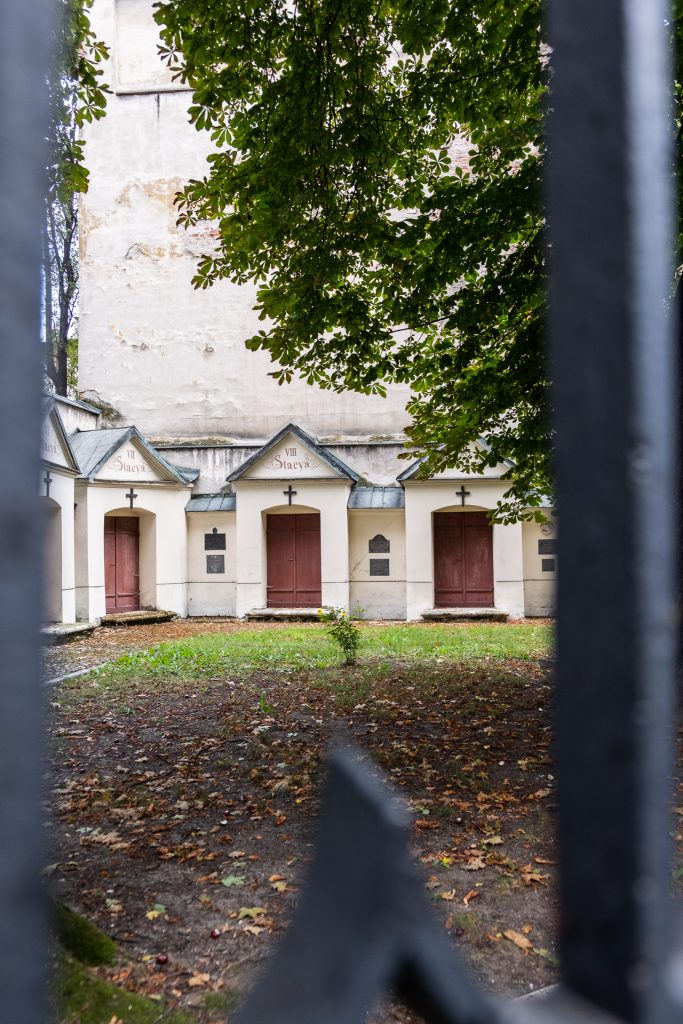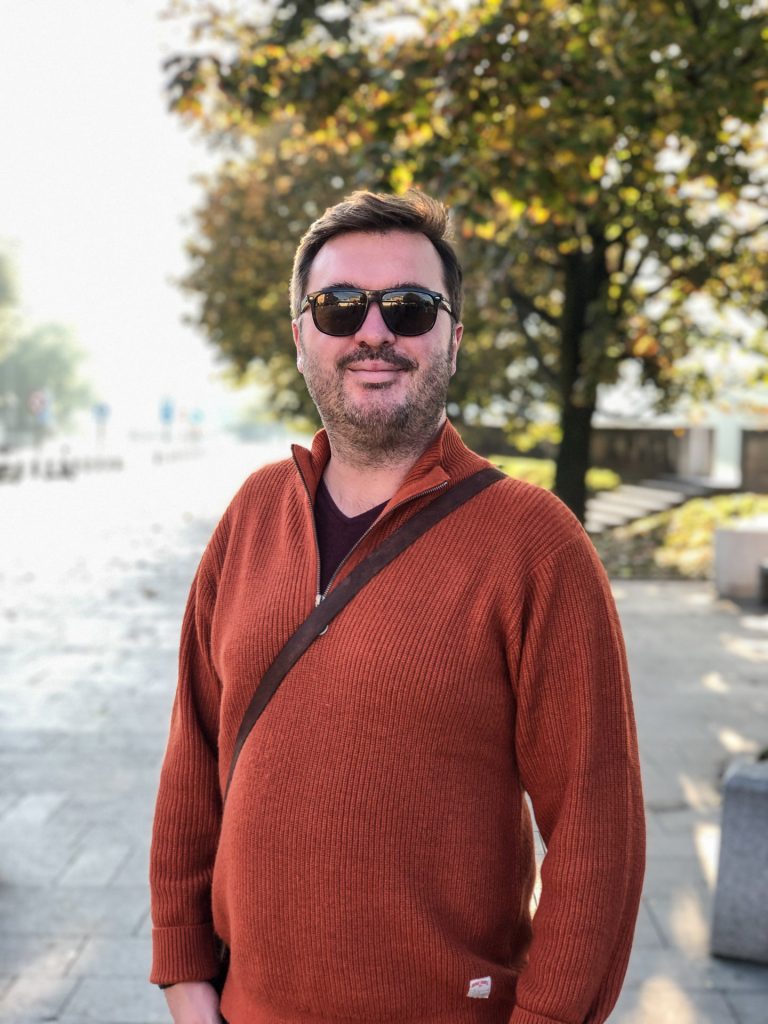 The same goes for if you have any interest in street art, or architecture.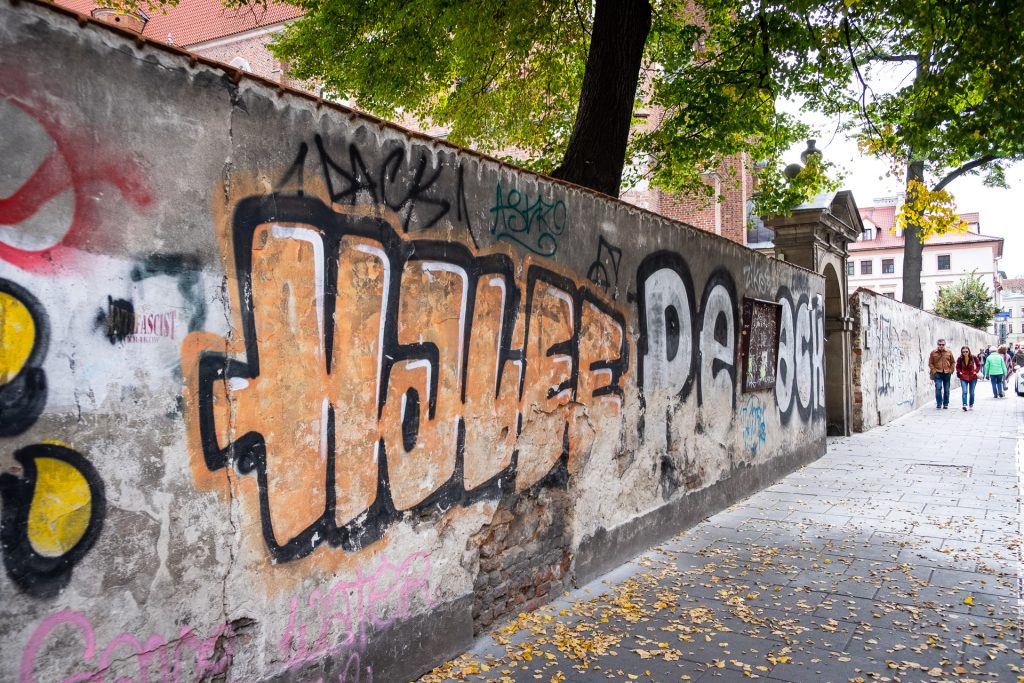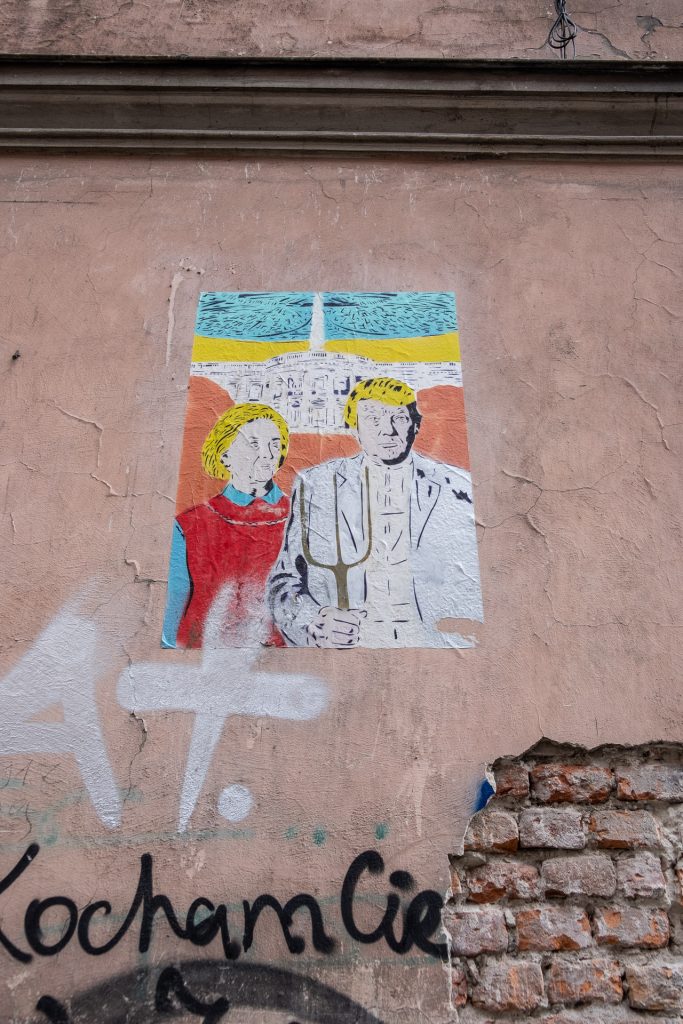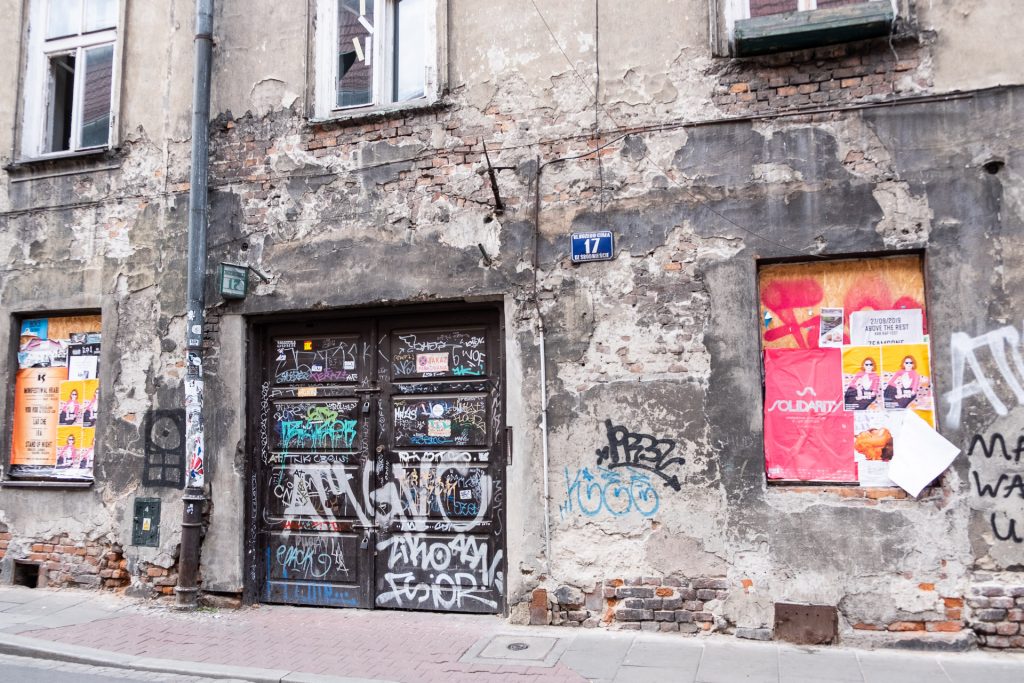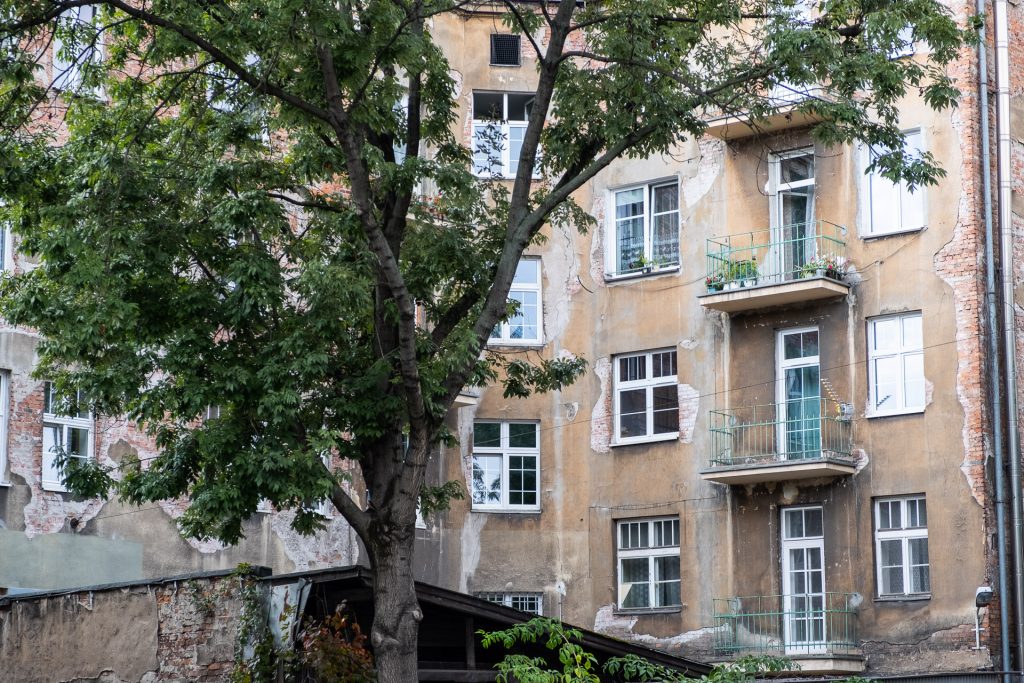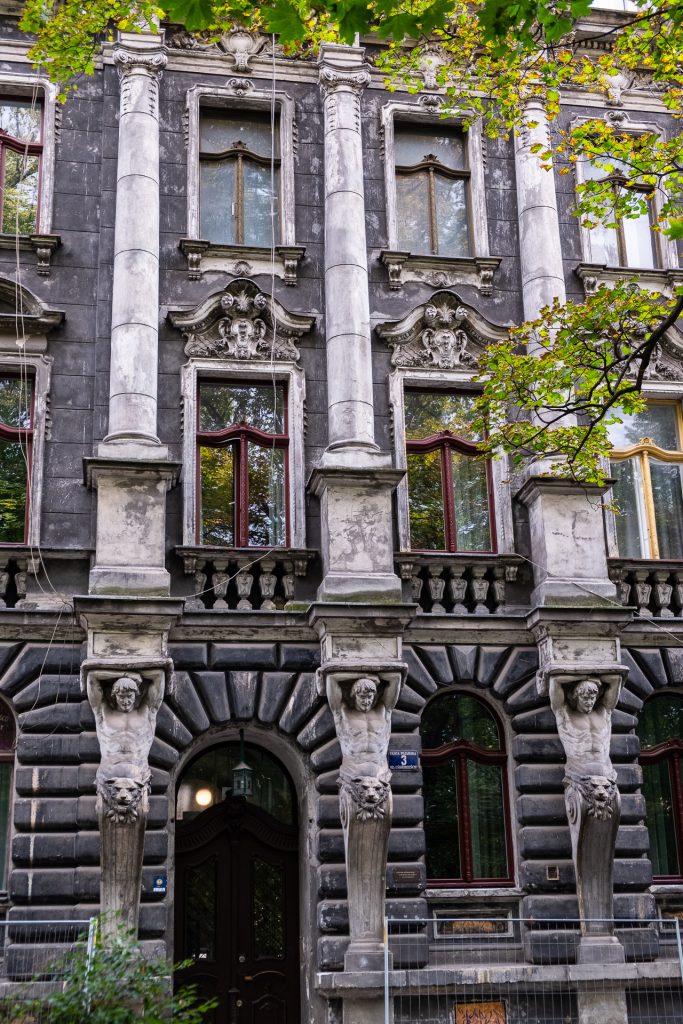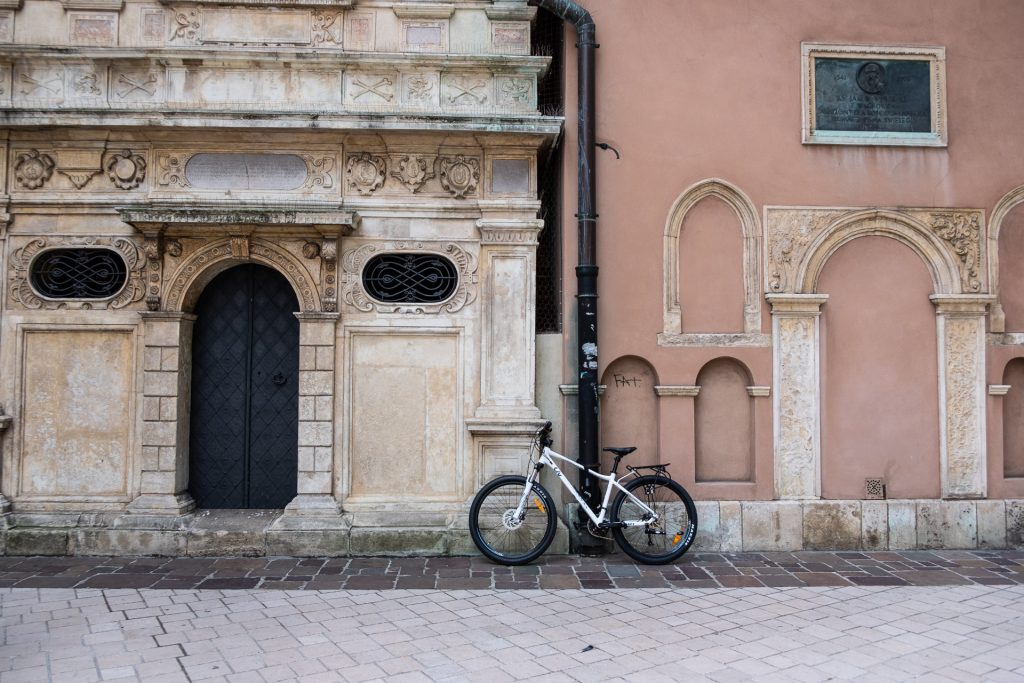 If you like roaming the streets and watching street art and architecture, you might want to visit Prague as well. Read about my visit to Prague here!
Two bonus ideas, excursions outside of Kraków:
16. Admire the Wieliczka salt mine (half day excursion)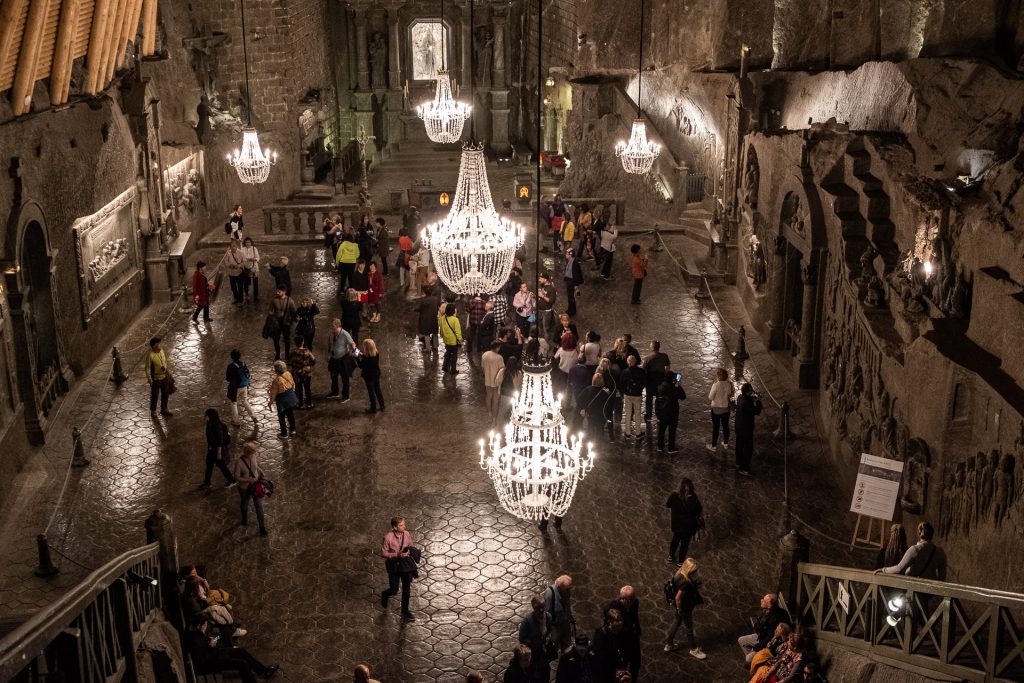 The Wieliczka salt mine is listed on the UNESCO cultural and world heritage list, and is one of the main attractions in all of Poland. More than one million people visit this important site each year.
Located about 40 minutes from Kraków, the salt mine is a perfect half day excursion, and it can be done both as a guided group tour (as we did) from Kraków, or you can get yourself out there and get a guide.
Note that it's a bit chilly in the mine, as you're after all pretty far below the ground, so bring some warmer layers in your bag. Also, bring good shoes as there's quite some steps both to get down to the mine and as you walk around.
16. Make time for reflection in Auschwitz/Birkenau (full day excursion)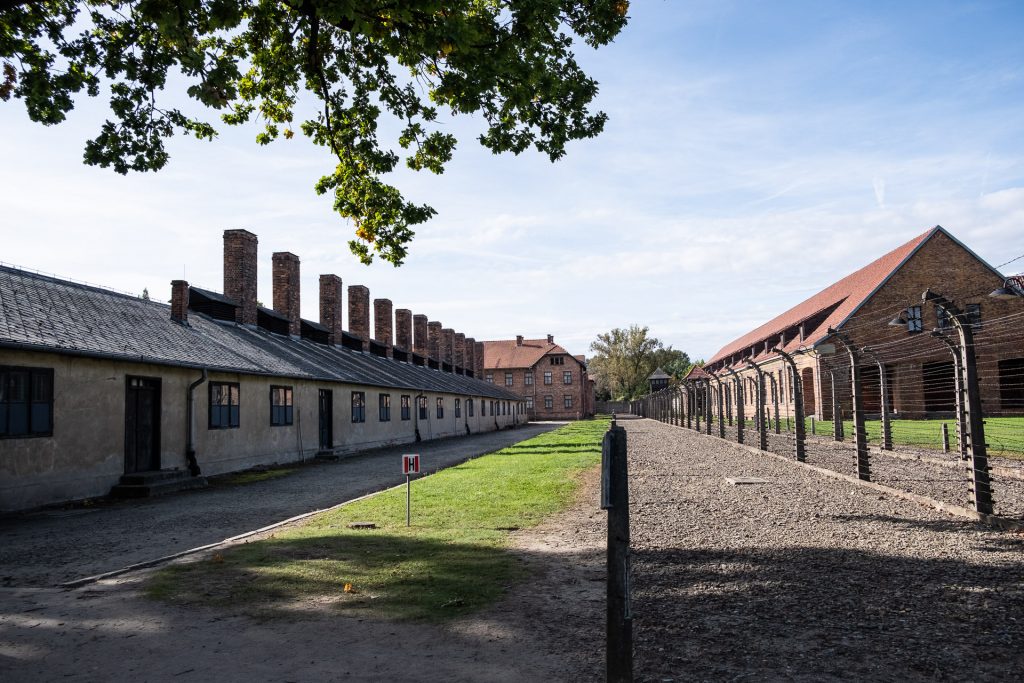 I already wrote a dedicated post about this full day excursion, as I feel like it's not something you can just include in a "normal" post about Kraków. This is definitely not a lighthearted, fun thing to do – but an incredible important and meaningful one. If you're traveling here with smaller children, or on a first date, maybe save this for another time. If not, I definitely recommend making time for this.
---