How we discovered 14 great things in Prague – entirely by walking there (aka Prague in 88.469 steps)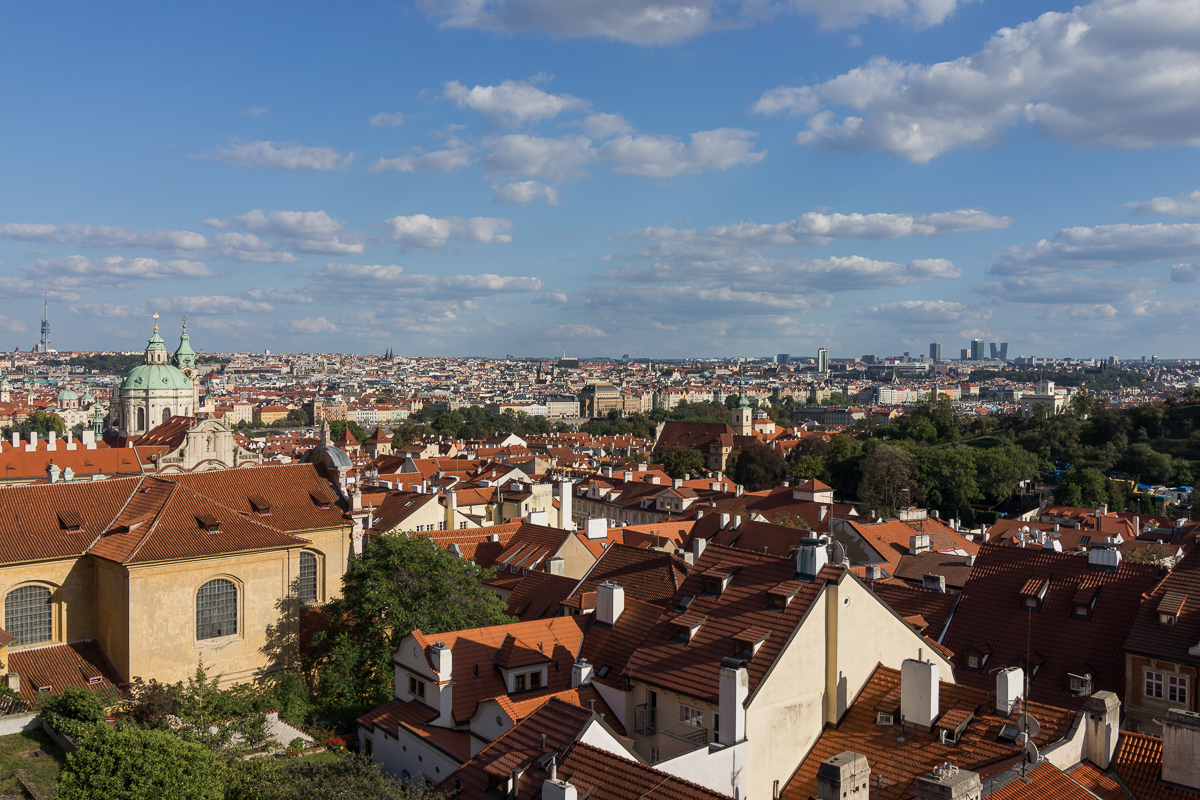 After our one week trip to Croatia and Bosnia Herzegovina in 2017, my friend Caroline and I both agreed we should have a new adventure in 2018. Just as last time we somewhat let the prices of flight tickets decide this time as well, and after some research we this time ended up with Prague. Neither of us had been anywhere in Czech Republic before, and upon asking people who'd been for recommendations of what to see or do, most people said "drink cheap beer". Cheap beer is great (and you can even find gluten free beer), but with 4 whole days and nights we came to the conclusion we should probably do more than just beer.
"So, do you have anything specific you want to see or do in Prague?" I asked Caroline as we waited to board the plane. Turns out, she did not. As I had been pretty busy with other travels just before, and then loads of work to get back on track once back home, I had done less research than usual. We both laughed. "I'm sure we'll find plenty to do once we're there" I assured Caroline, as we got into our seats on the plane.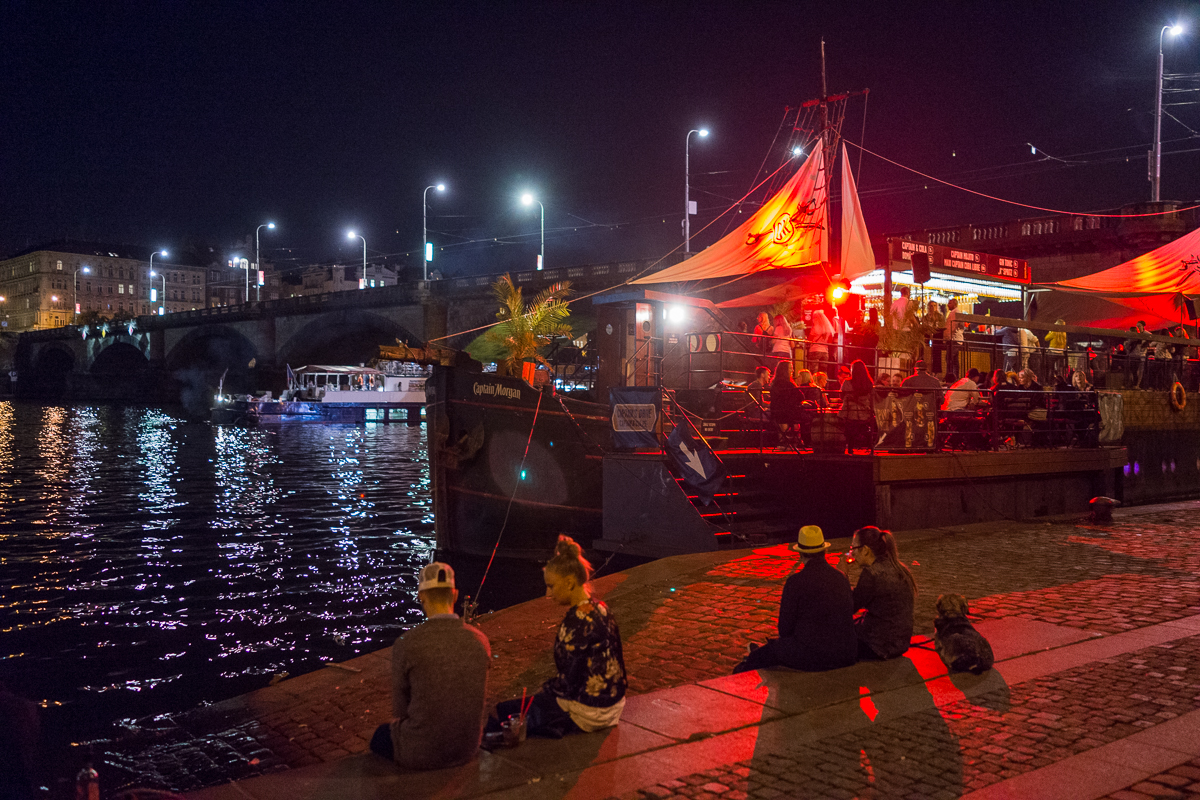 The first day we basically roamed aimlessly around in Prague. We set off in one direction, and just decided to see where the road would take us. Luckily, it seems like most of Prague is amazing and beautiful, so that was not a decision we regretted. But after walking past several buildings and monuments which we saw loads of tourists taking pictures of, still with no idea of what we were really seeing, we decided to have a pit stop and do some research and planning.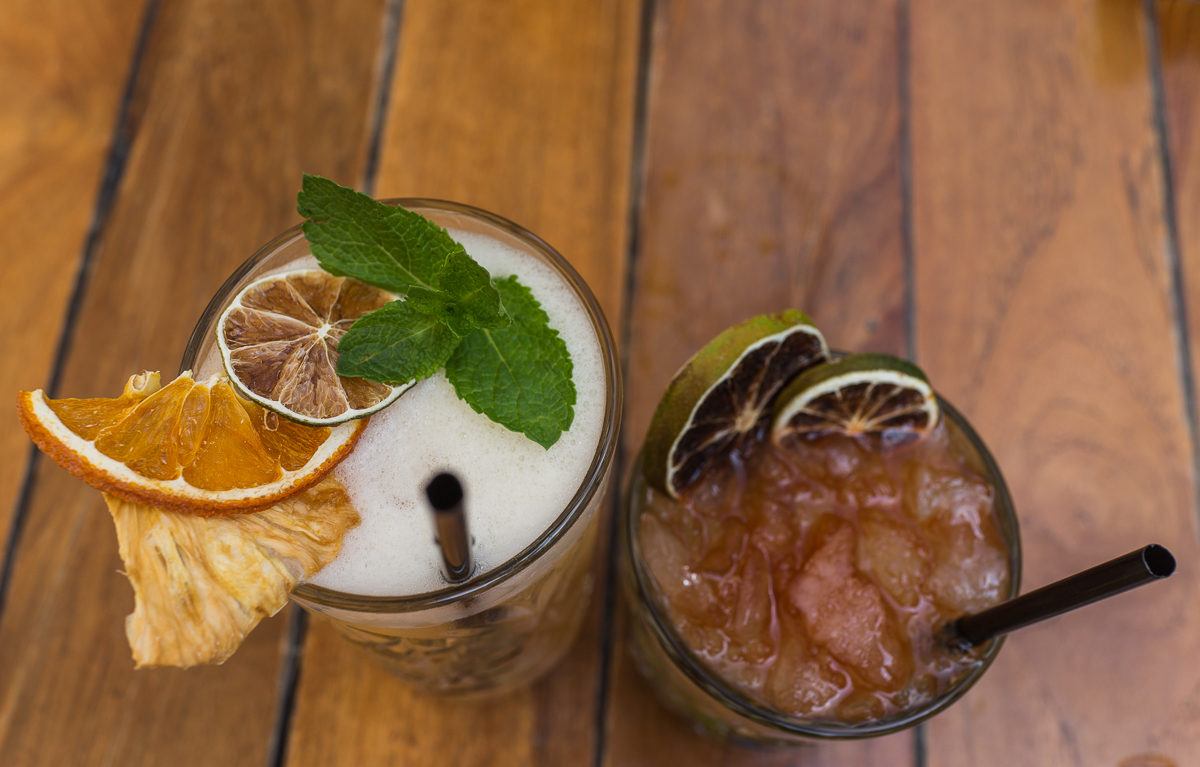 Equipped with a guide book in one hand, phones out on the table, a map over Prague and a strong drink in the other hand, we made somewhat of a plan for our stay – a plan loose enough to change while on the go.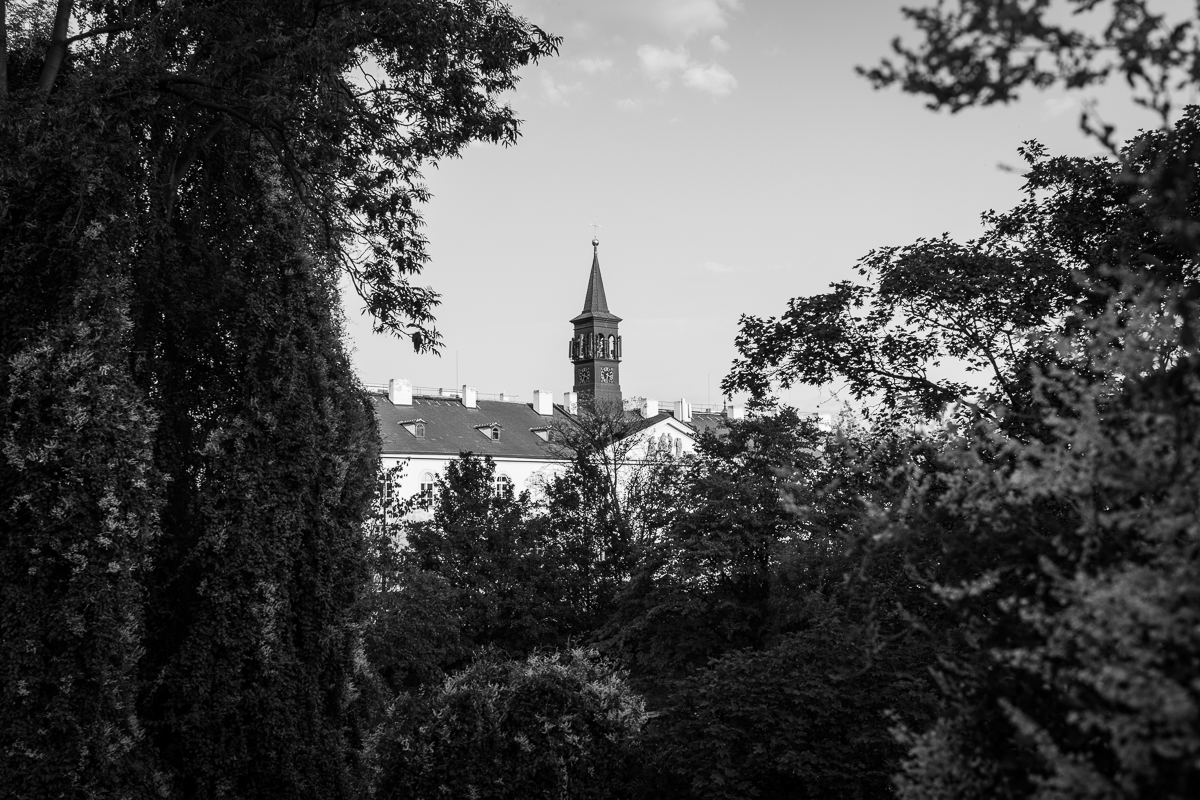 ---

Here's what we ended up seeing and doing during our unprepared long weekend walking around in Prague.
(The whole "walking everywhere"-thing really began with that we did not know how to purchase a ticket for the tram in Prague. We could not find either a ticket machine nor any information on any of the many stations we walked past. And, Caroline had read that they were really strict with controls on the trams, so using them without a ticket was not an option. After a while it kind of became a thing that we's walk everywhere. And that's how we ended up walking 88.469 steps through the streets of Prague. I tell you, my back and legs felt rather sore at the end).
Beautiful architecture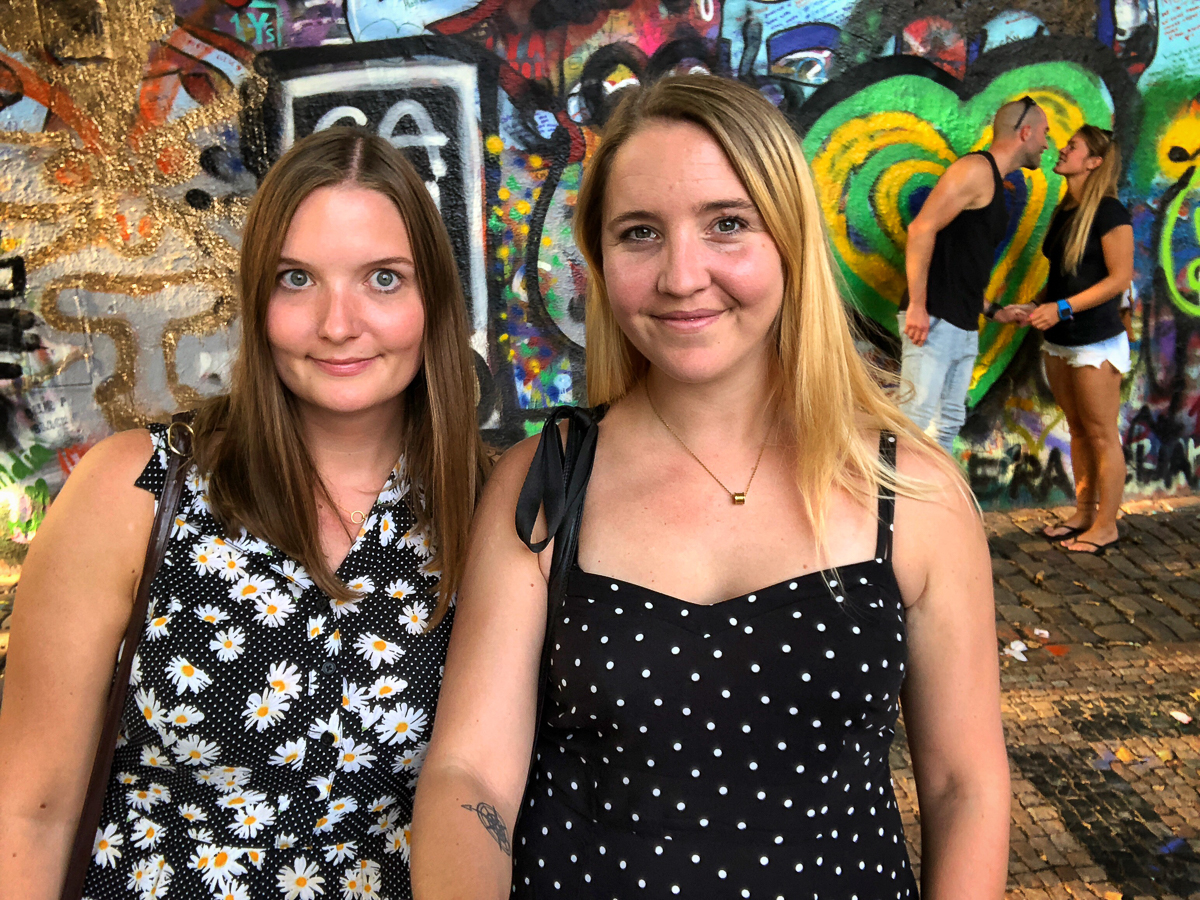 Since the 1980's, The John Lennon Wall in Prague has been filled with painting, song quotes and all things else related to John Lennon. Located in the area of Mala Strana, our visit to this wall was a mere coincidence of us walking around and all of a sudden finding ourselves next to it. The wall symbolizes young ideals such as love and peace, and the graffiti on it is permitted.
It was, however, not always like this, and in 1988 the communist regime of Gustav Husak did not approve of the youths writing on the wall. This lead to clashes between the youths and the police. Both a nice sight with an interesting, political history and of value and at the same time, a cool backdrop which many people takes photos in front of. (While we were there a newly-wed couple had their photos taken in front of the wall).
The streets of Prague in general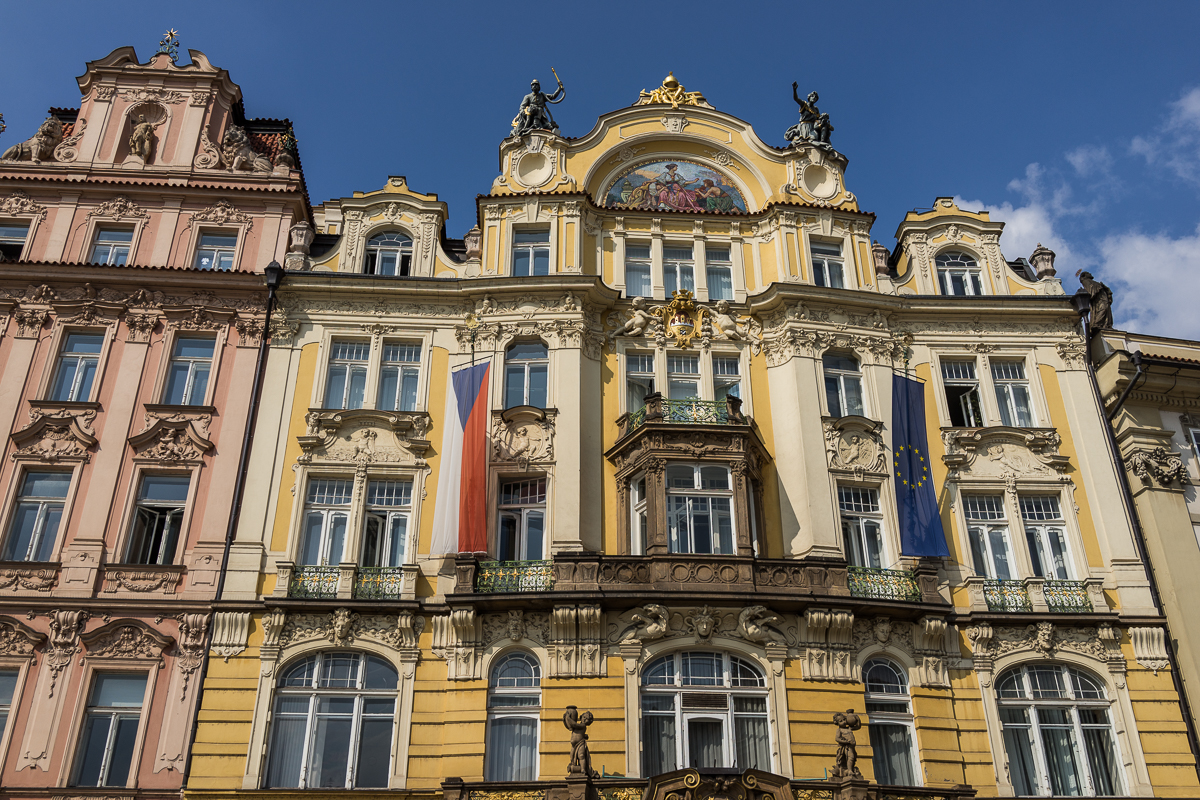 Karlùv Most (the Charles Bridge)
Built over the river Vltava, the Charles Bridge is one of the most famous sights in Prague. This also meant it's one of the busier places in the city center, filled with musicians performing, people selling art/jewelry etc., and sadly, several men with giant snakes offering you to take photos for money. (Please, please do not participate in this! This is animal cruelty! Snakes are normally drugged to be calm, and their teeth might be pulled out in a violent way to remove the danger. Snakes are wild animals, not a prop for photos). The bridge has 30 statues decorating the sides, all depicting various saints and patron saints.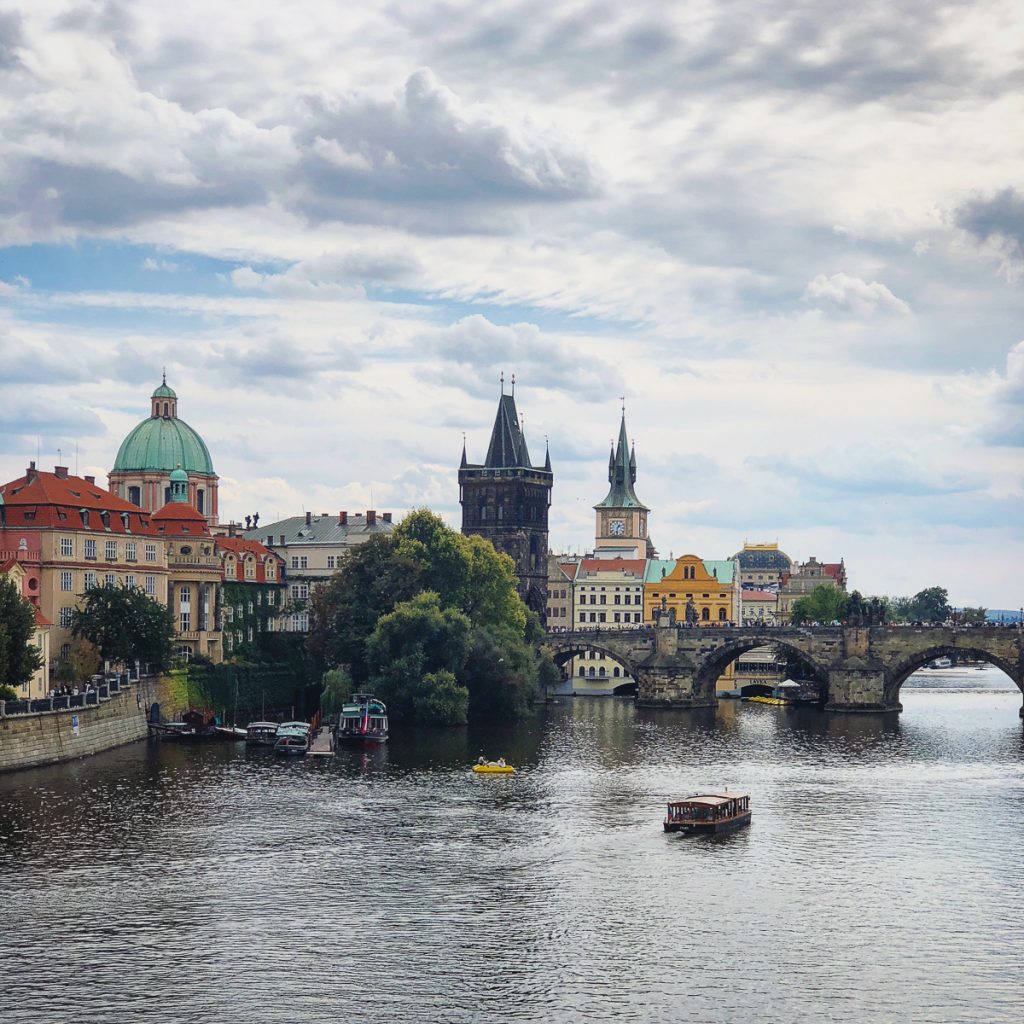 The Prague Castle is one of the main tourist attractions in Prague, and also the largest ancient castle in the world. The neighborhood around is called Hradcany, and here you can find churches, palaces, halls, towers, gardens, and other important buildings. When entering the site you pay a fee based on which places you want to visit (we came rather late in the afternoon, so we did not get to visit too many places, sadly). St. Vitus Cathedral is one of the more famous sites in Hradcany.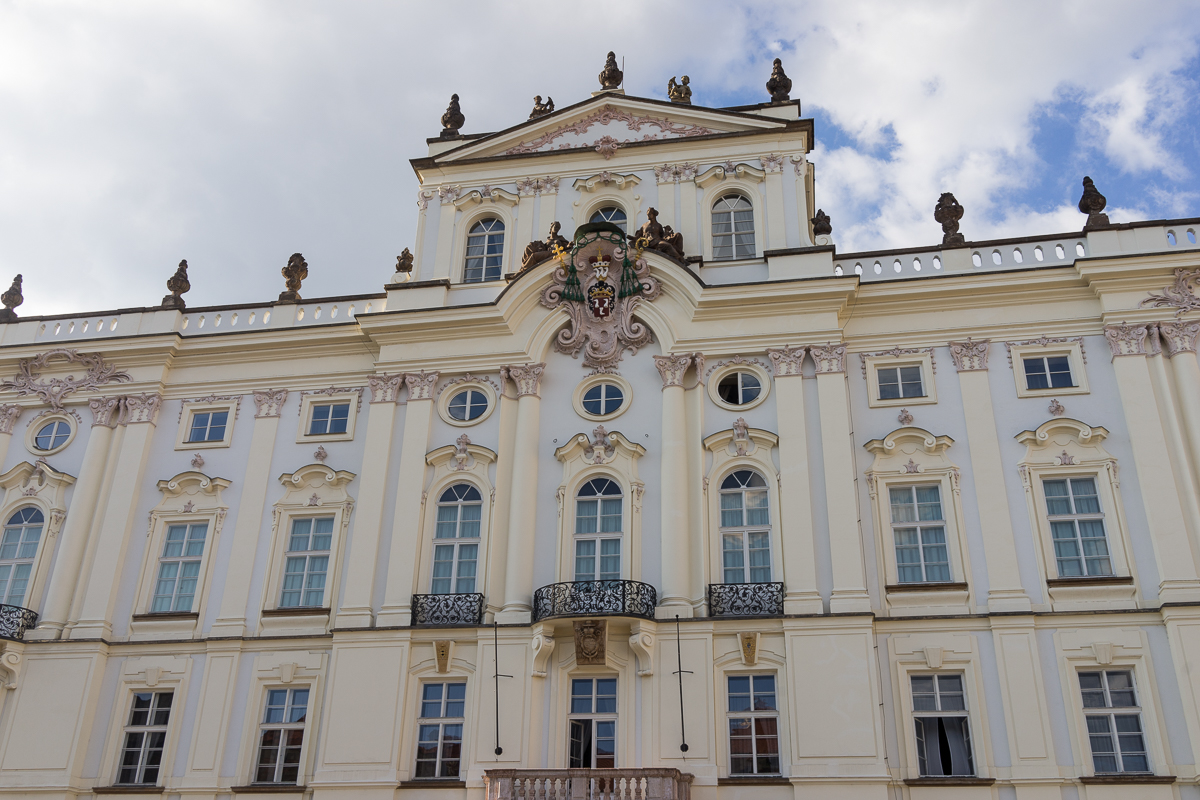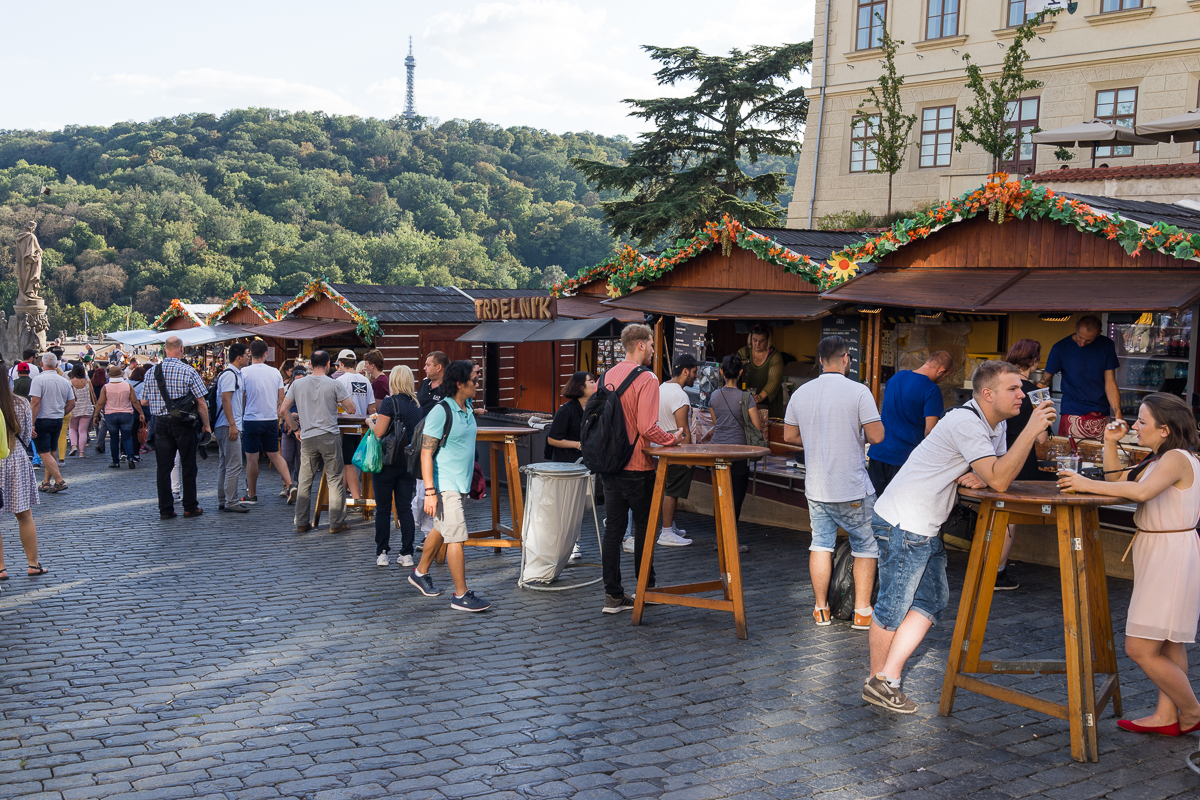 St. Vitus Cathedral is the largest and most important cathedral in Czech Republic. Being a prominent example of Gothic architecture it's rather impressive to look at, and the current church was built in 1344.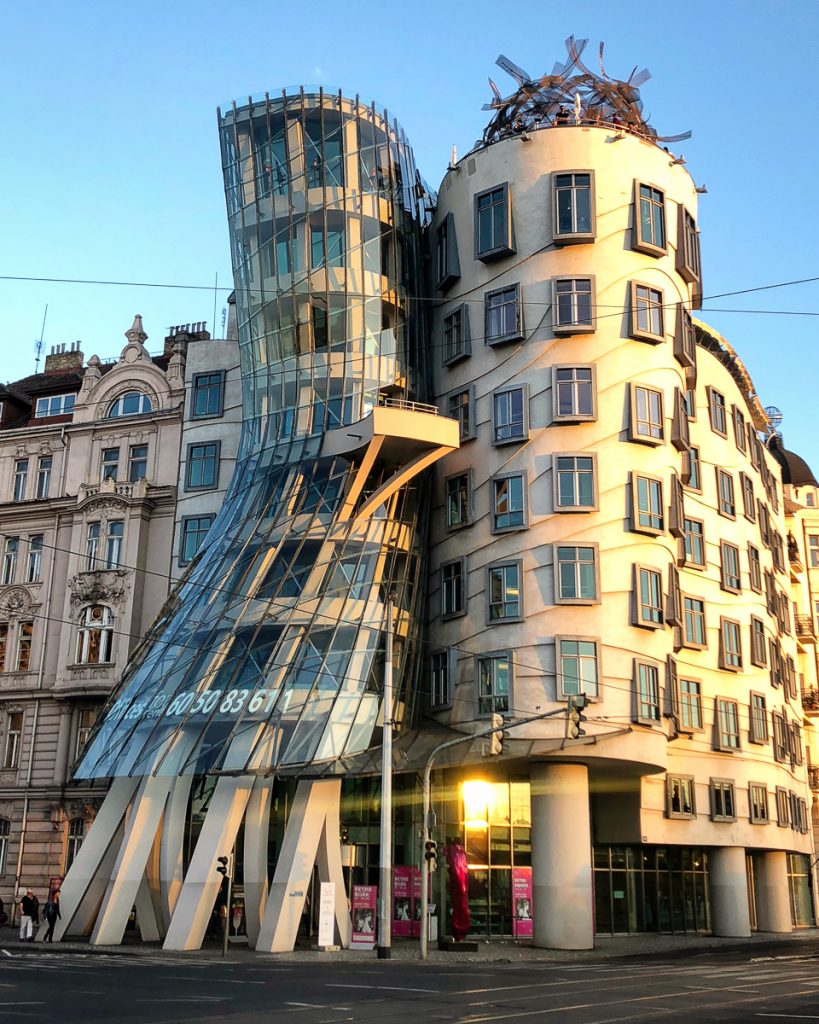 Dancing House was designed in 1992, and finished in 1996. The house is built where a house was bombed by the US destroying Prague in 1945. It's built in a style called deconstructivism. This was a site I'd seen pictures of on Instagram, which we happened to randomly pass by as we were out walking looking for a place to enjoy drinks in the sunset.
The Jewish Museum + The Old Jewish Cemetery
The Old Jewish Cemetery is one of the oldest of its kind. The oldest gravestone is from 1439, and the final gravestone is dated in 1787. The cemetery is now administered by The Jewish Museum. The Jewish Museum is one of the most visited museums in Prague, and just like at the Prague Castle you can pay different prices depending on what you want to see (true to some extent, there's at least two different price packages, so you can't just pay for, say, the cemetery).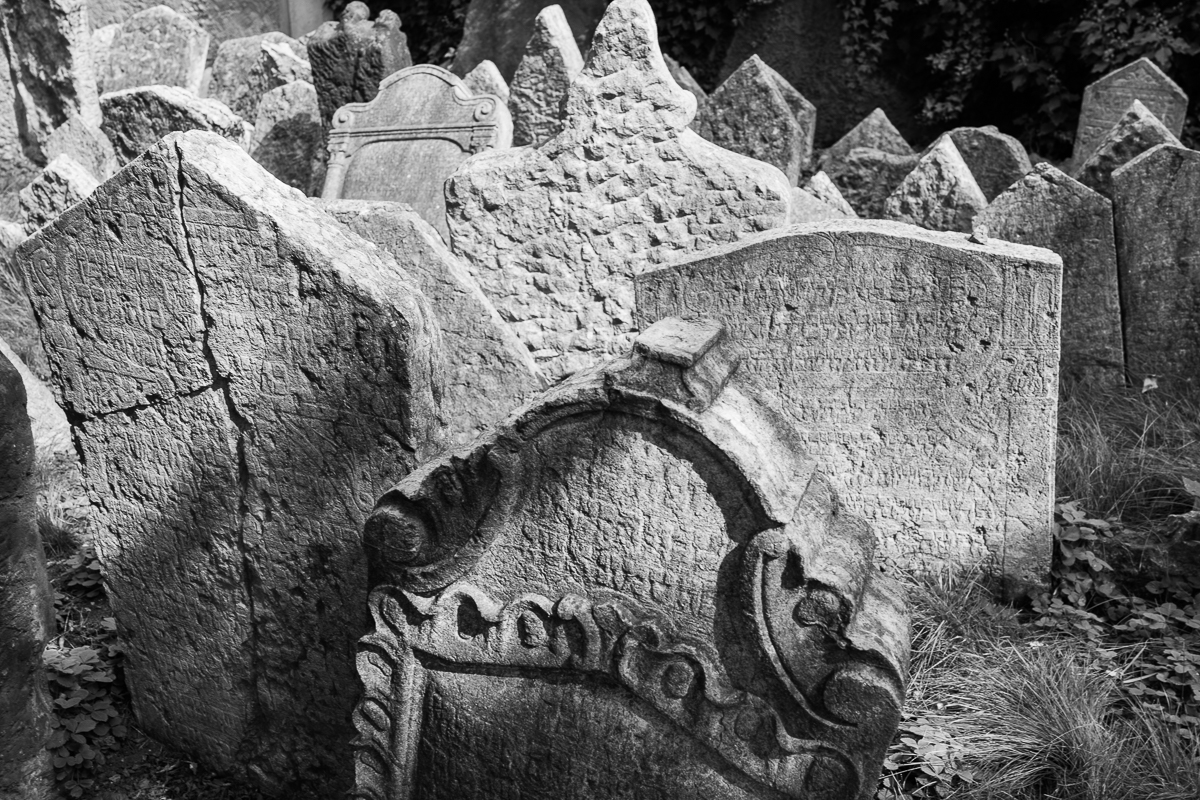 Food and drinks in Prague
If it were not for the entry I'd seen at Ingeborg's blog, I'd never end up at Vnitroblock. To be honest, at some point I thought I would not end up there even if we had walked several kilometres just to get there. We followed Google Maps, and just as it said we should be near it, we found ourselves standing near several buildings, some grass, and nothing that looked like what I was looking for. Turns out, it was on the other side of the road, and with an extremely anonymous entry.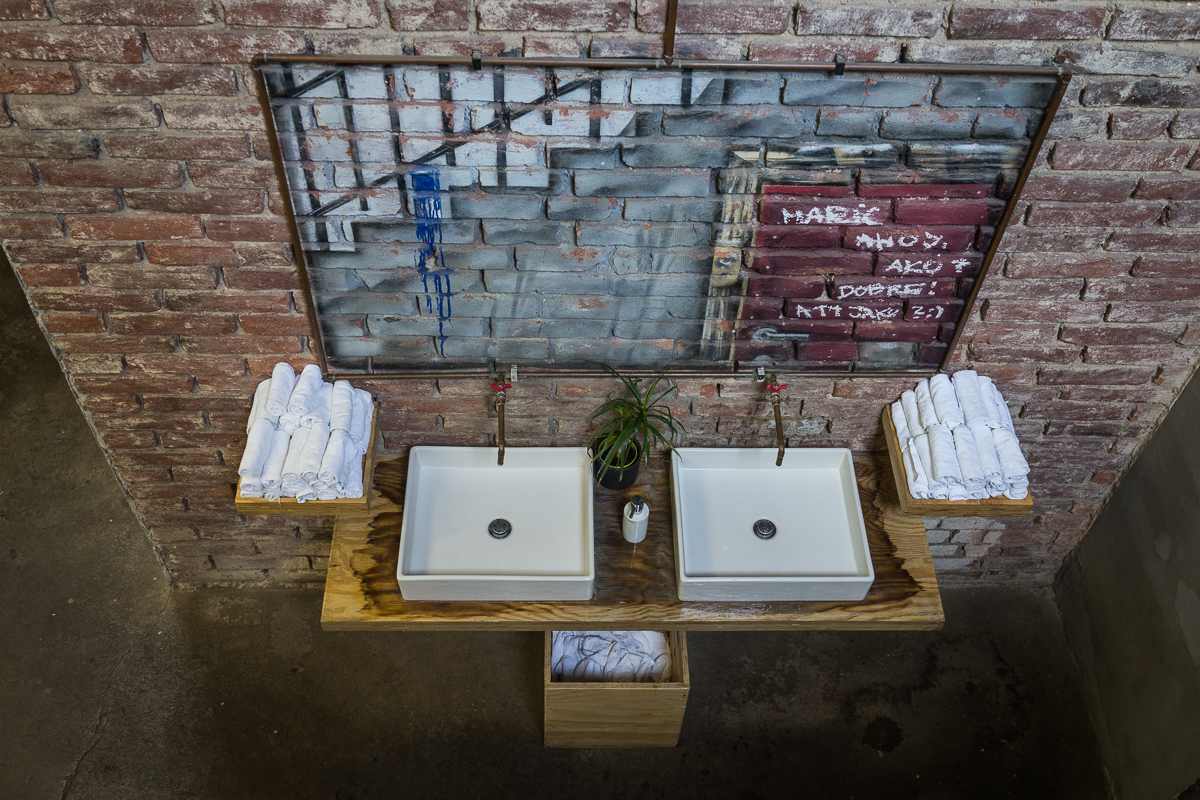 In this building, who used to be an old factory, there is now a multi-functional center, with both possibility of dancing, a cinema, a store, a coffee shop and art. We mainly went for the coffee, food and photos, but it was definitely worth the walk. Vnitroblock is located really close to the museum Dox if you're into contemporary art.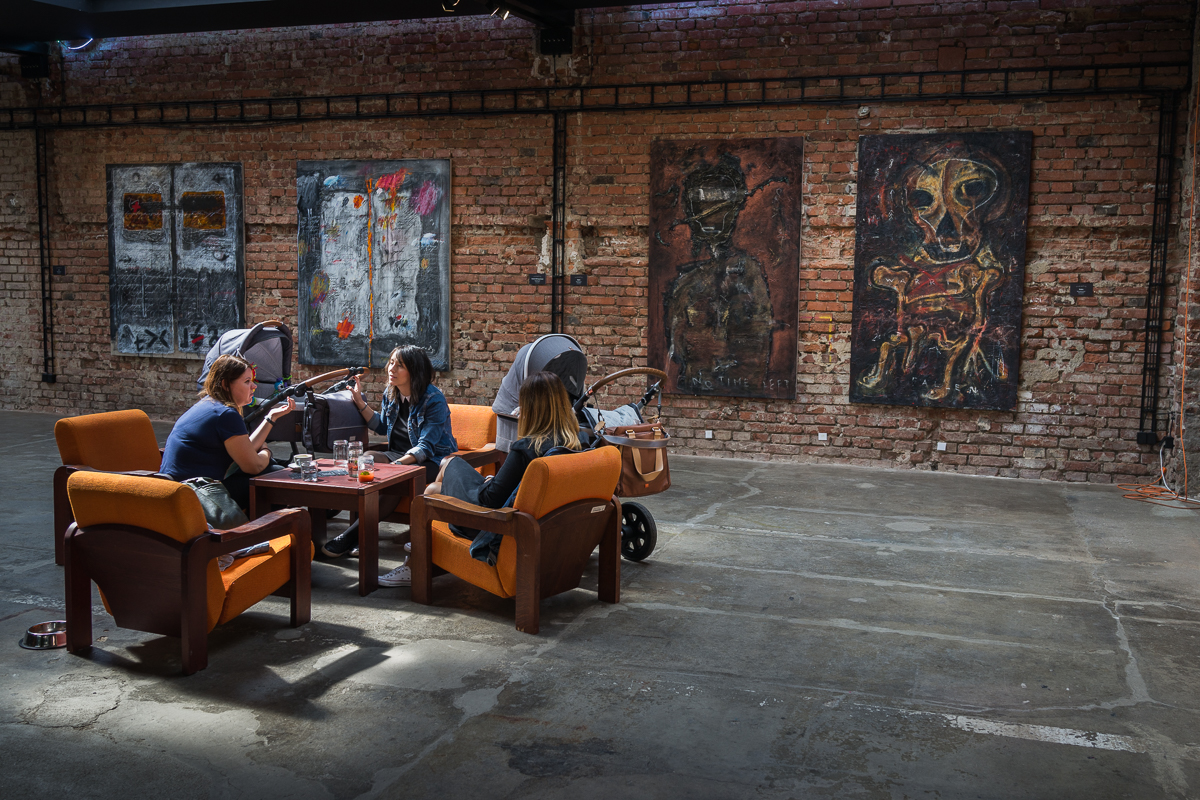 The John Lennon is a pub with loads of memorabilia. The theme is really cool, and it's located really close to the John Lennon wall. When we went, however, the service was pretty bad, staff were busy arguing and shouting at some customers just about to leave (great first impression?) We were hungry and thirsty, though, so we stayed, and it turned out to be ok. Not amazing, but ok. I'd still say it's worth going there for a drink though, since you can spend your time looking at all the cool details.
With ciders for 15 kroner/beer for 14 kroner and fried cheese on the menu, Létna Park let's you enjoy it's beautiful views with a drink in hand without ruining your budget. Filled with both youths, families and adults, this park seems like a central spot for people to gather and relax in the sun.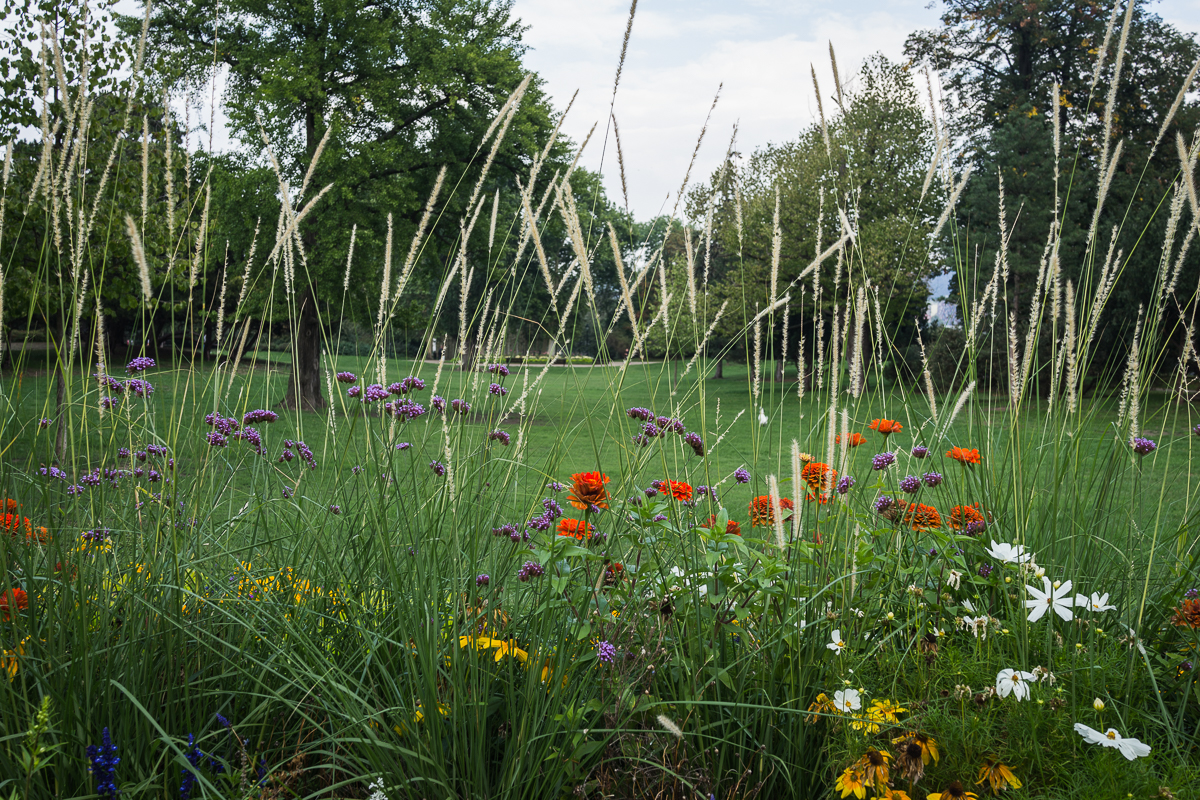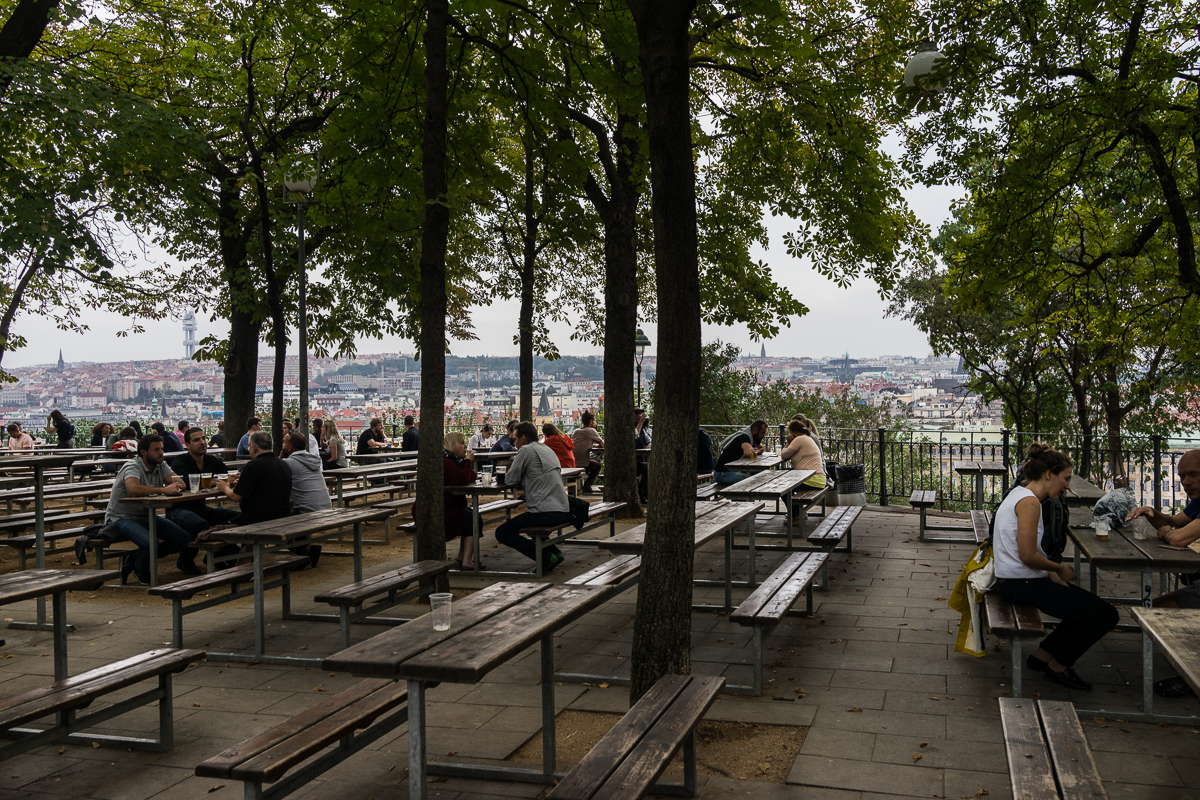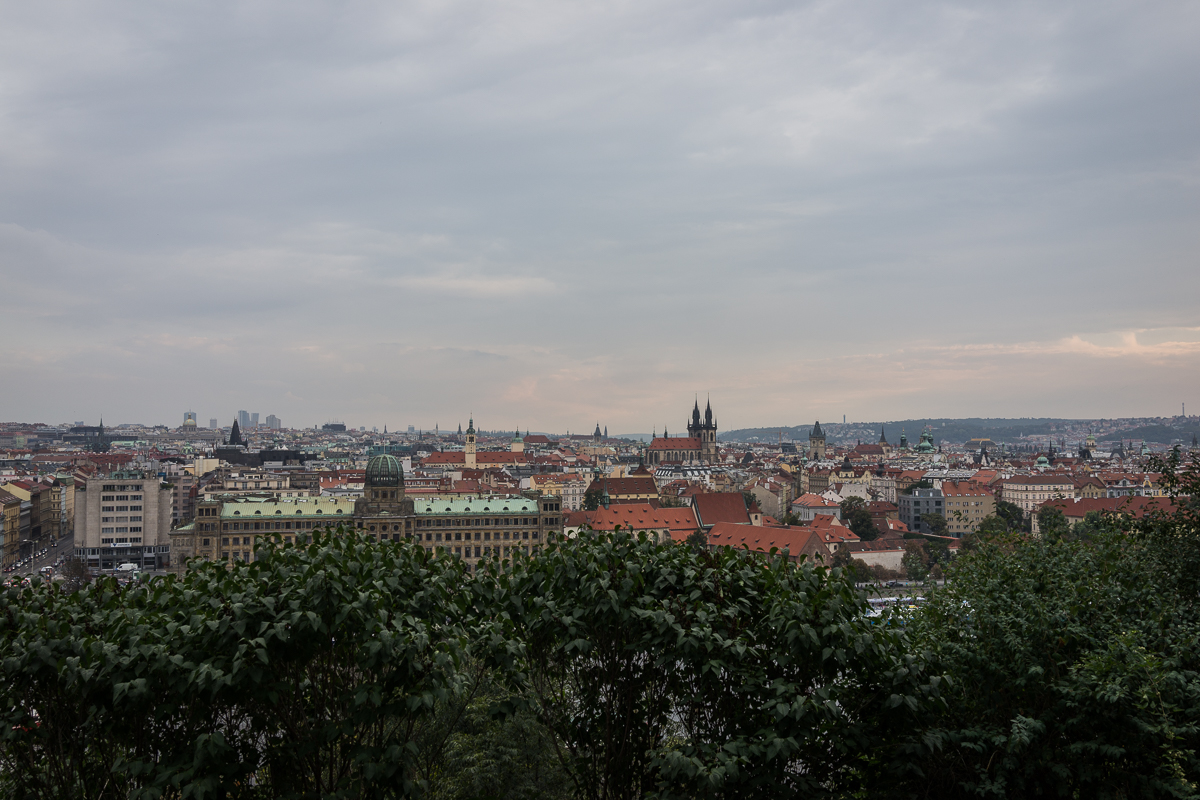 Located close to our hotel, this nice restaurant Adele had great cocktails and a fancy iPad menu to order from. Yum!
Uno is a restaurant in the top of the Palladium mall, which has gluten-free beer, pasta, cake and beer (and other food too). Delicious! My co-worker had bragged about starting to drink beer at noon while in Prague, so when we found this place, and it had a beer I could actually have, we started the day with a beer at 11.30. No regrets!
Museums in Prague
While we visited, the exhibition at Dox was a contemporary art exhibition – about hating contemporary art? Not exactly my cup of tea tbh, neither contemporary art nor the exhibition (I don't really get it? Is it something I should get?).
However, there's a giant, wooden zeppelin at Dox, which you can walk into, and that was worth the entry ticket in itself. It's also located really close to Vnitroblock, so it's a great combo.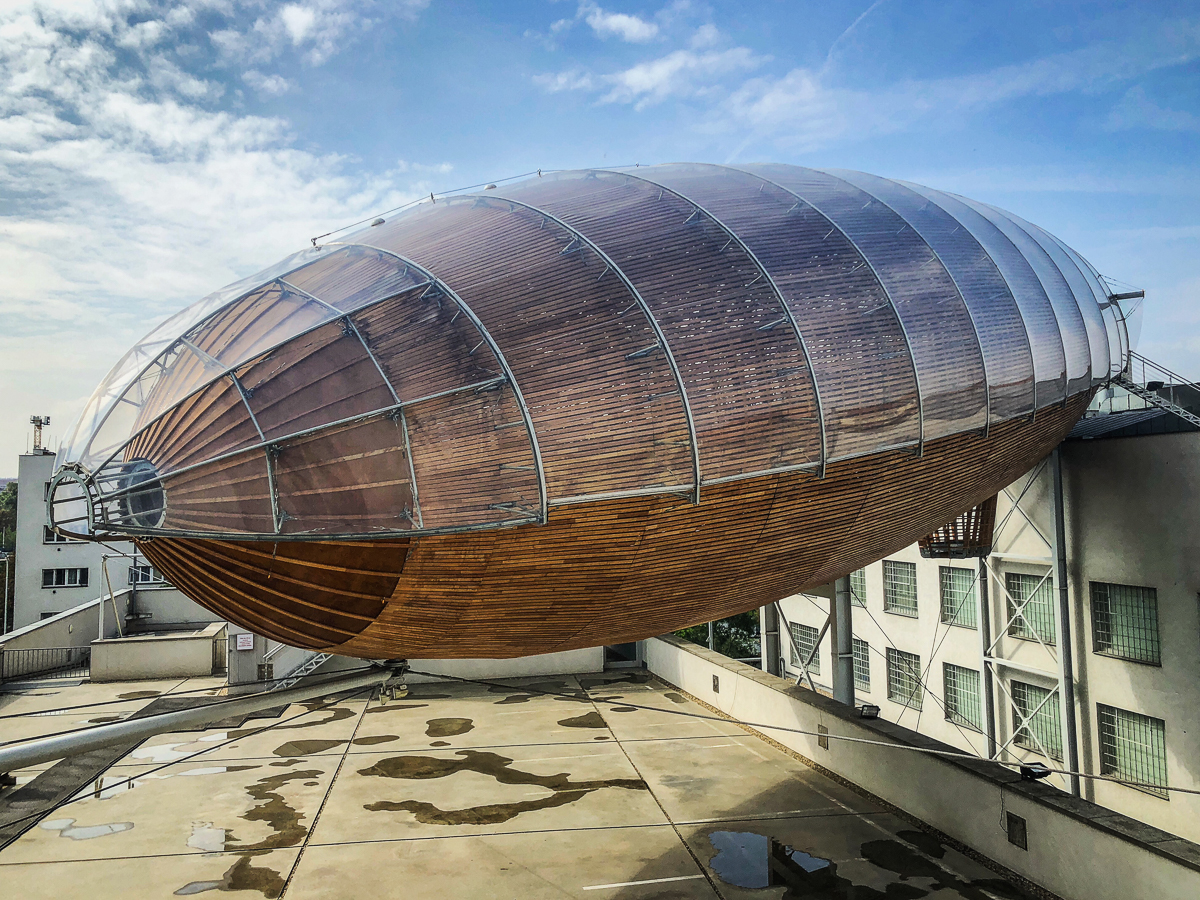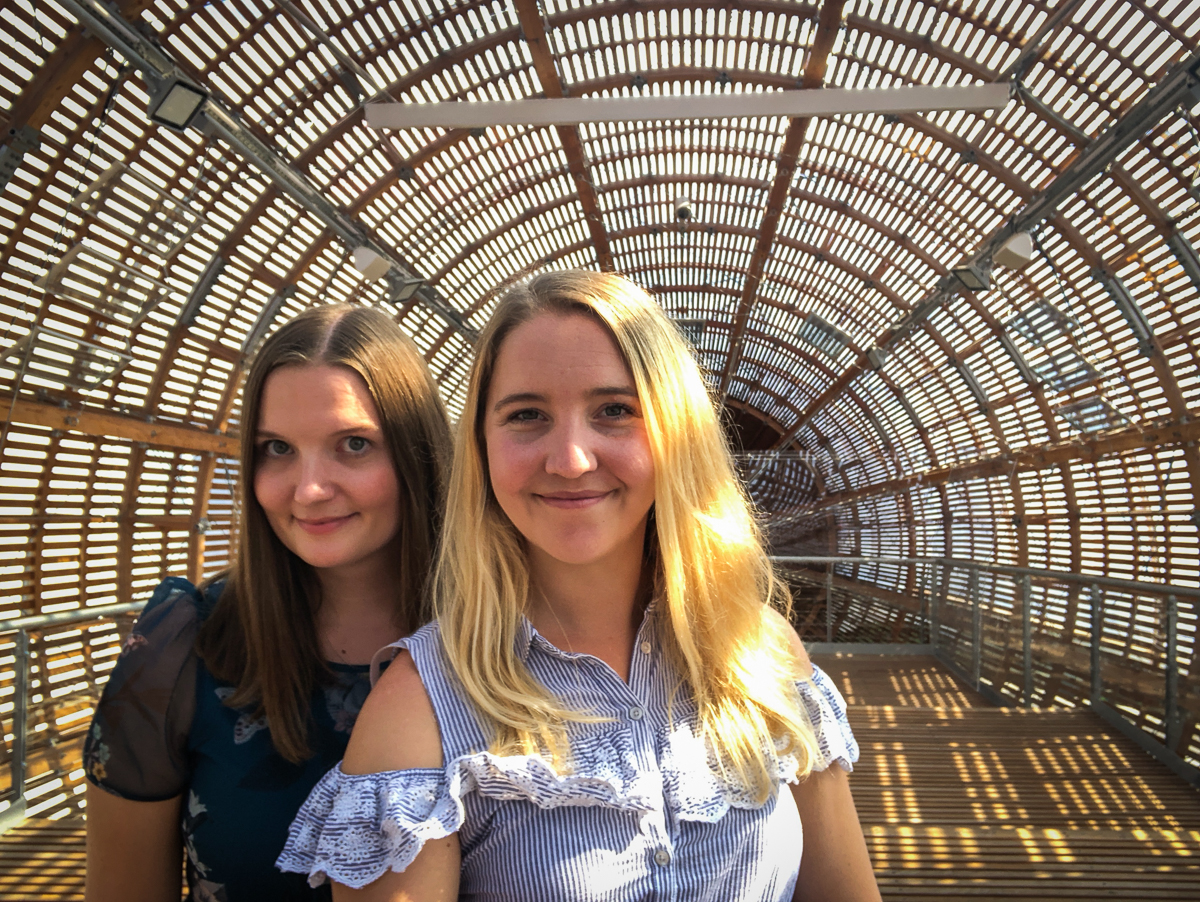 This museum could have easily been called "the guy who runs the KGB-museum"-museum. The owner really puts up a one man show, guiding you through the history of KGB, showing weapons used by KGB, making his own sound effects and it's just… Like nothing I've ever seen before.
The KGB museum has set hours of when the "tour" is on, which is when you can visit the museum, as it's really tiny, and as I said, the owner is the main attraction. The audience laughed out loud so much, even though the story of KGB is not what you would usually expect being hilarious. Awkward, but in a really funny way. Definitely worth spending an hour of your time doing.
---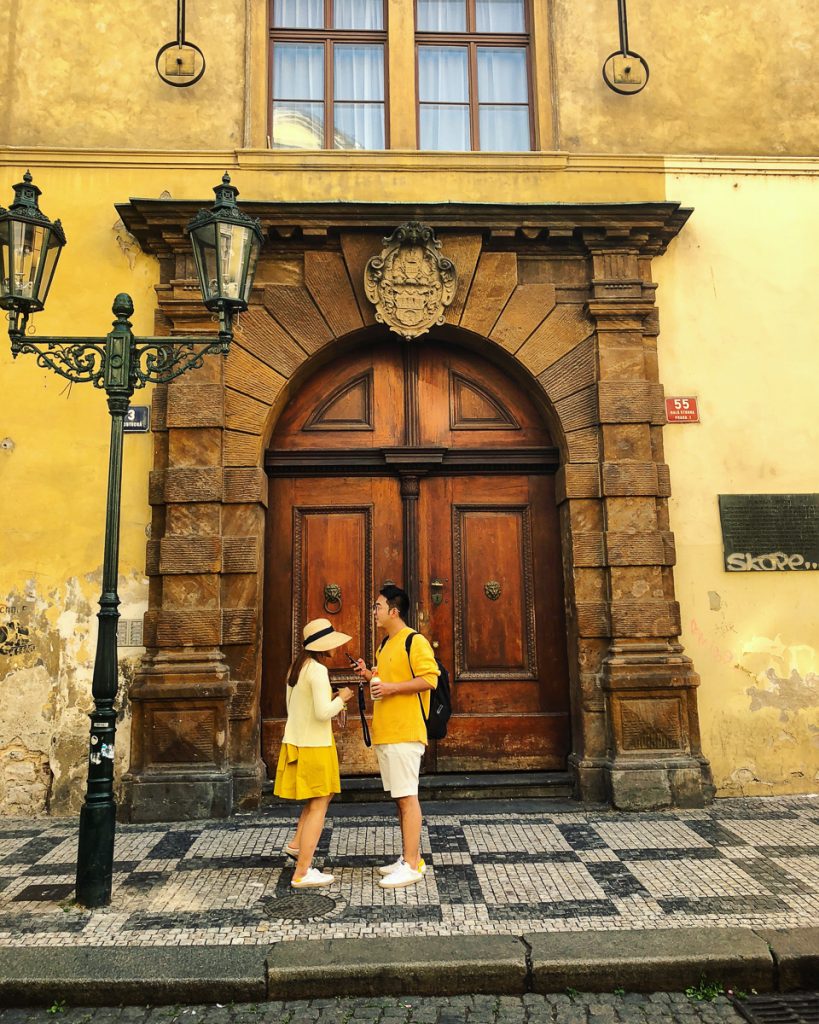 ---